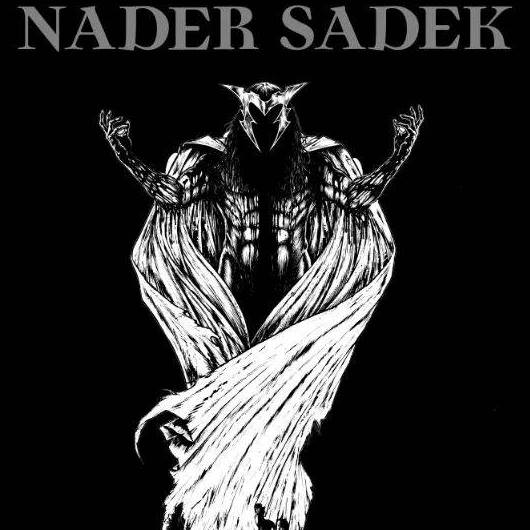 WELCOME TO THE EXTREME METAL UNDERGROUND
NADER SADEK: The Sticky Situation of a Petroleum-Based Society
On March 2, 2018, I was lucky enough to be in the right place at the right time to sit around a hotel table to talk with some of the world's most well-known musicians, and their leader, American-Egyptian artist, Nader Sadek, who loves to put together sound and music. They had gathered in Kathmandu, Nepal, and played the day before in a special show. Performing as a headliner for the Nepal Deathfest V [Fifth Anniversary], of the Extreme Underground Metal Society of Nepal [EUMSN], I was privileged to speak with them to try to understand this unique group.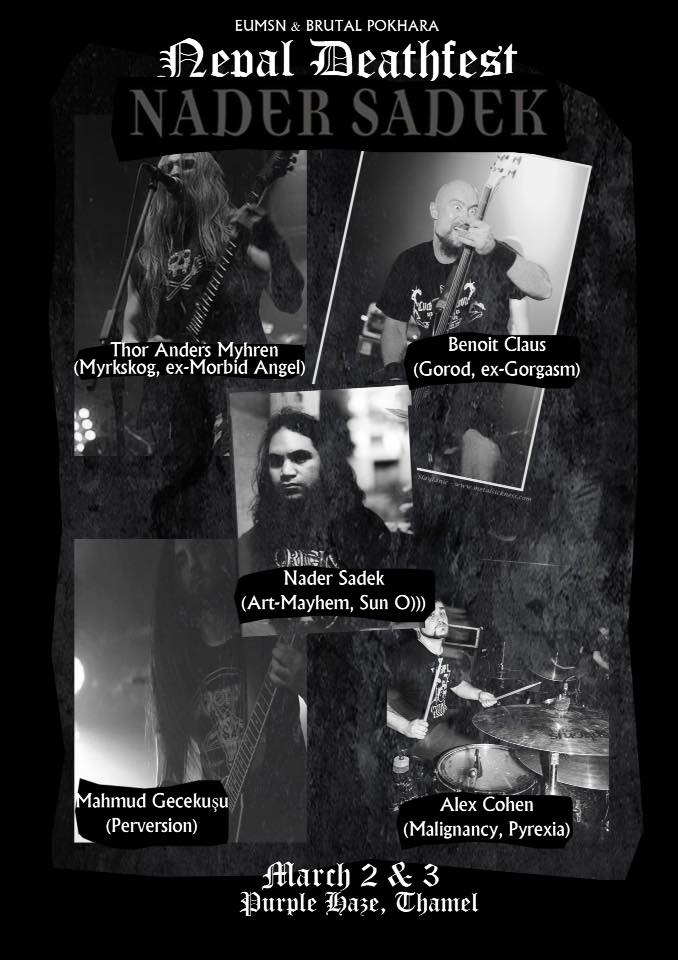 Nader Sadek's extreme metal art projects create soundtracks to illustrate his passions and he creates Super Group bands that use his name. His first project, "In The Flesh" [Season of Mist, 2011], focuses on the evil of the petroleum chemical companies that rule our world. His latest project "The Malefic chapter 3", 2014, was released as a free bonus with some magazines around the globe. To create the musical background of this horror, Sadek lined up the following Super Group death metal musicians; Mahmud Gecekusu, Ben [Benoit] Claus, Thor Anders Myhren (AKA Destructhor) and Alex Cohen.

Speaking first to Nader Sadek [vocals] who appears as an unassuming man but who has a giant view of our world, I asked him how he gears up for his impressively dark image on stage. He said he feels power coming from the floor and then goes into a freaky kind of place in his mind. He explained that his whole life becomes crushed together, and because he wears a head covering, he cannot see the audience. This allows his mind set to go into a strange consciousness. From reading the Bible's description of hell in his youth, he can imagine the earth being mixed with sulfur, which is a chemical produced by petroleum. [Sulphur is its own compound but is present in the petroleum reserves beneath the earths crust.]
Petroleum is like heroin, says Sadek, because the whole world worships and fights over it. But he is not interested in finding an answer to this problem, only to make us feel our own voices, and believe in ourselves. What a priceless gift he gave at his performance! Wow!

His background is as enchanting as he is. Sadek is half Egyptian and half American, was raised in Egypt, and sent to German schools there. In the year 2000, his father moved the family to the US, due to the suppression of the people in Egypt. The family became US citizens and lived in the remote state of Minnesota, which was a change from noisy and crowded Egypt.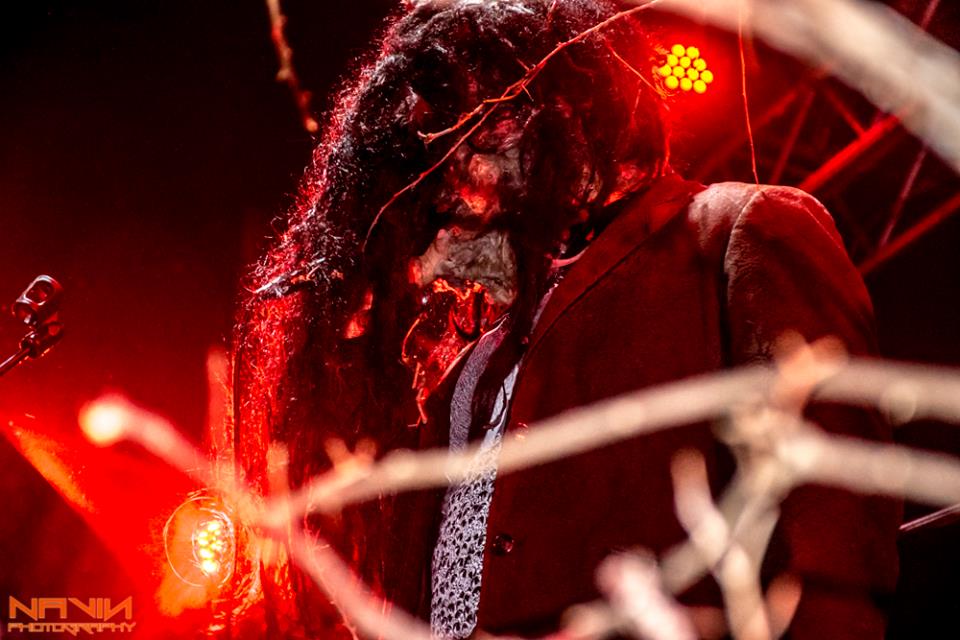 Singer Nader Sadek by Nabin Photography

But let us get back to his images of hell. In writing this project, "Nigredo In Necromance", Sadek's mind can see the creation of oil, which is made from rotting ancient life down deep in the earth. Like two lovers in an underworld, pushed together to become one, skin-to-skin, rotting and turning black. With the stage decorated with dead sticks of wood, fans were offered the look and sound of the greed for oil against undying love. Wow, again. What vision!

When I sat down with Mahmud Gecekusu, guitarist, [Perversion], I couldn't help noticing how much his long black hair and spellbinding looks added to his knockout personality. I asked Mahmud how he had connected with Nader. He explained he had met Nader through a friend years ago and had really "dug" Sadek's music. When Sadek [whom has described Gecekusu as "Middle East's sickest and tightest guitarist"] asked him to play guitar for a couple of shows he could not say no, and so he just does it! Evidently, the chemistry is such that Mahmud really appreciates being part of the dynamics of Nader's line up. He feels valued and praised the other band members on even helping carry his instruments!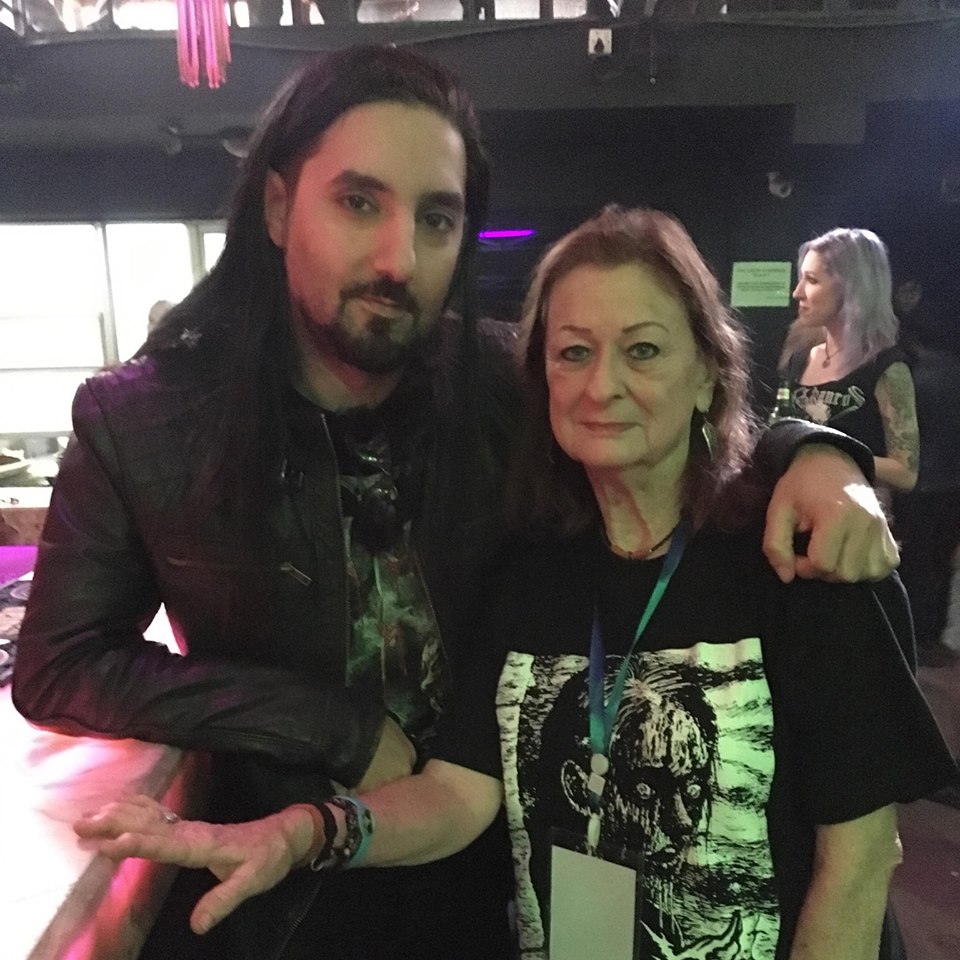 HeadBangers LifeStyle contributor Joan K. Matlock with guitarist Mahmud Gecekusu

Ben Claus, [Gorod, The Great Old Ones], bass player from France, known for playing 90s thrash and jazz, has played in many of the metal scenes in Europe. Clause said he got a call from Sadek asking him to replace someone who was leaving the line-up, and has contributed to Sadek's projects for about a year now. Claus acknowledged he had a lot of fun playing for the Nepal Deathfest V and loved the audience response. Claus went into detail about how the band, which is constantly touring, is fortunate to have Nader Sadek as a leader who is willing to take care of all the tour details, freeing the band members to concentrate on their playing and being creative.

Alex Cohen, drummer, [Malignancy, Pyrexia, and Involuntary Convulsion] [ex-Pyrrhon and ex-Imperial Triumphant] became a student of drums at the age of 12 because he was bullied and thought becoming a drummer would stop it, but he was bullied anyway! Cohen's versatility allows him to tour the world with death metal acts, work with and play with notable artists, and teach [gives drum lessons] and write [Drumhead Magazine, Sick Drummer]. When he was young, he admitted his mother only let him listen to Backstreet Boys and NSYNC. When he was fourteen, he began buying CDs of Meshuggah, Dimmu Borgir, and Slayer. His first band T-shirt was Slipknot. A modest but talkative guy, he accepts offers to play with Sadek as he loves to improvise and has the freedom to play challenging materials. The down side he admits is traveling country to country, and jet lag takes a toll on him, but coffee keeps him going. Loved talking to this guy as he speaks his mind and has strong opinions about everything in U.S. politics. All hails to free speech! I hope we can get drunk together some night. Find out more about Cohen here.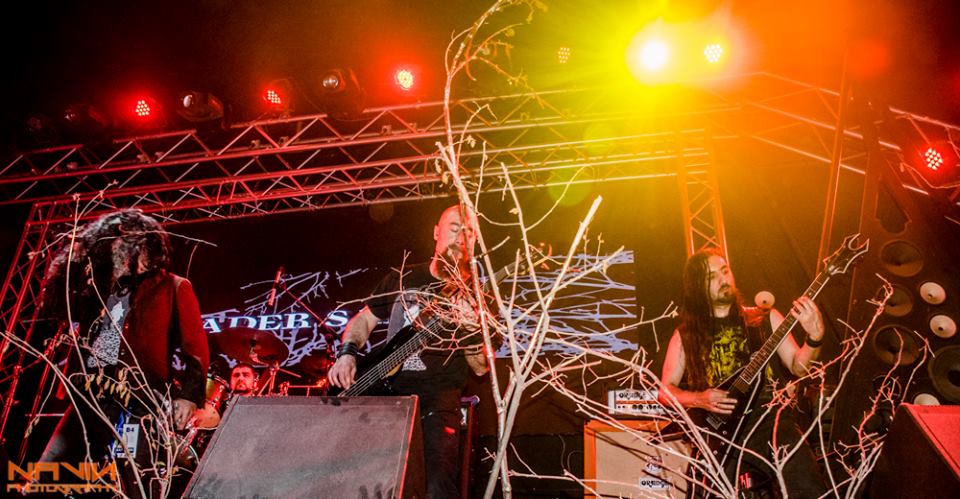 Nader Sadek is moshing Nepal Deathfest V 2018

In closing, I felt like I was glowing neon from the presence of these mighty metal giants! I would like to thank them for gracing the small country of Nepal with their big music! These guys had never been to Nepal before, and were down to earth with all of us common folk who loved every minute of it. We thank you from the bottom of our hearts for coming and hope to see you again. This interview and the Fifth Anniversary Show of EUMSN would not have happened except for Vishal Vof, Co-Founder/Booking Agent/Manager of NEPAL DEATHFEST & Extreme Underground Metal Society Of Nepal & Wakk Thuu, and Zivon Gurung, Founder/Manager at NEPAL DEATHFEST & BRUTAL POKHARA, and we tip our hat to both of you.
May we all live to see the Sixth Anniversary, but it will be hard to top this one.
—
Live photos by Nabin photography
Follow Nader Sadek on Facebook