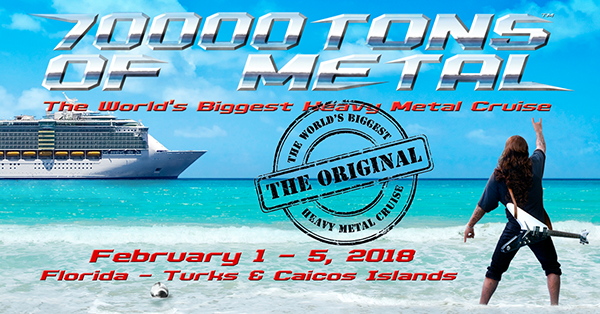 70000 TONS OF METAL CRUISE
By Johanne James
Greetings from a jet lagged human of sorts.

The 70.000 Tons Of Metal Cruise experience is something that every metal fan on the planet should experience at least once in their lifetime.

Well, it started at Heathrow Airport for us.
And after boarding the plane it was then a 9 hour and 13 minute flight. Wow. We landed in Florida where the temperature was pretty, let's say, warm. Nice, no more thermals for a while. So after checking into our hotel for the night and an evening meal, the next day was, well, a lot of waiting, but luckily the ques for the artists were a lot quicker, hence the next thing I knew I was on The Independence Of The Seas. It was massive! You could get lost on this thing, and I did, frequently and totally disorientated! The trip was to last 4 days sailing from Port Everglades Florida to Grand Turks in the Caribbean, and with 60 bands to choose from, the world of metal was your metaphorical oyster. All the bands played 2 sets in different arenas and let me tell you, these venues were better that anything I have ever played in on dry land! The only problem was that sometimes whilst playing you'd feel the boat/ship sway from side to side. Disconcerting indeed! "Captain. Iceberg ahead!" Listen sonny, not even God can sink this ship! Sound familiar? I wouldn't take my chances with that one, Ahab!

This thing was a floating city and had everything you could possibly want.
From a climbing wall, gymnasium, restaurants, surfing facilities, a library, internet, shopping facilities and even a casino, if you're that way inclined. No chance of one getting bored, or you could just stay in your cabin and enjoy the ride. Anyway, the view from my cabin, which had a balcony, was nothing less than breath taking. Once we hit the open seas I was presented with a vast deep blue and as I sat there in wonder I then burst out laughing and said to myself, how lucky I am to be here where millions of others would love to. Karl, Steve and myself went to see the band opening the festival. Primal Fear were playing in Studio B and if you like your metal straight ahead, then this was the band for you! METAL IS FOREVER! Then ooh, let me tell you about Deck 11. This is where one can spend a lot of time and with such culinary delights on offer. Everything to satisfy the awaiting pallet and I did! Oink, oink! I'm sure I've put on at least 10 kilos, as my trousers don't fit me anymore. This is where I met the wonderful Lilo. Yes, you guessed it, the queen of HBLS. We sat and chatted and tested all the delights that were on offer, including the music. We contemplated the universe and decided that counting all the grains of sand on every beach on earth was far easier than counting all the stars in the universe. Dear Lilo, it was a pleasure hanging out with you. Thank you.

Anyway, back to the bands.
My favourites were most definitely Sepultura, who played on the pool deck. Seven Spires and Battle Beast, who both graced the Alhambra Theater. They all presented themselves with such gusto that you couldn't help but be infected by their performance. In a good way of course.. The whole event was well organized and the choice of equipment on offer was astounding. I was spoiled for choice as they even had a left handed Yamaha DFP 9500 double pedal at my disposal and a host of other goodies like unbroken cymbals! We played our first show in Studio B and it seemed that Primal Fear and ourselves were shadowing one another, even at the abysmal and non-eventful signing session we shared a table. Our second gig was at the Alhambra Theater, a wonderful venue befitting of Threshold. We played two great shows and to those who came to see us and enjoyed it, we thank you. A great time was had by all and the gigs were more of an inconvenience as we were having too much of a good time on Deck 11 and other activities to do anything else! Pah! Glynn, bless him ended up being a judge in the ever entertaining Belly Flop Contest held on the pool deck. I must say that some of the contestants were very amusing indeed.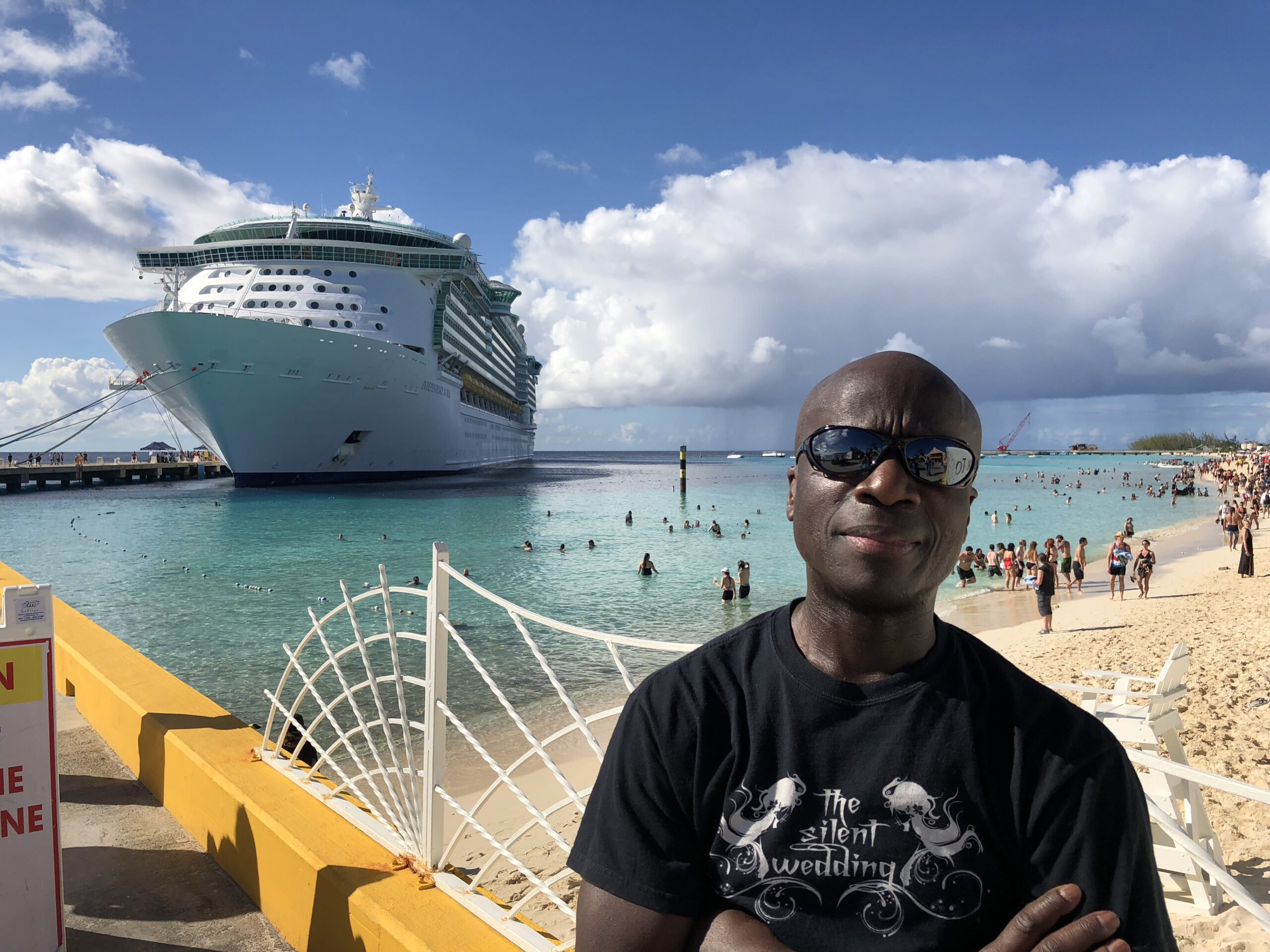 A day off on the beach of Grand Turks was hot, sunny and very relaxing.
To the point where Steve not only decided to take a plunge in the sea, but also spread himself on a towel to do a bit of sunbathing. I said to dear Lilo who joined us, that if he lay there any longer Ahab would harpoon him! And yes, I did take pics of this specimen, but dare not share them for fear of me harbouring an Alien! And yes, he did get sand in those far off places?? It all ended too soon for as quickly as we were on the ship, we were off and back to the airport to make our journey home, which took some 20.5 hours. We waited longer at the airport than it would have taken us to get back to a cold place called London. Yes, the flight was a mere 7 hours and 45 minutes at night. Very strange, but there you go as that's what in flight movies are for, there and back. If you can stay awake? On our arrival back in London, on went the thermals again and back on the tube. I feel the jet lag coming on.

Let me say that once again.
It is an experience all of you who love your metal should do. As I have tried to share mine with you, there's no substitute for doing it yourself. And to all the bands that made it possible. METAL IS FOREVER!

Thanks for listening and to 70.000 Tons for organizing this great event. I can't imagine the legislation that went into it and therefore I take my hat off to you all. Thank you and thank you Lilo.

Johanne James