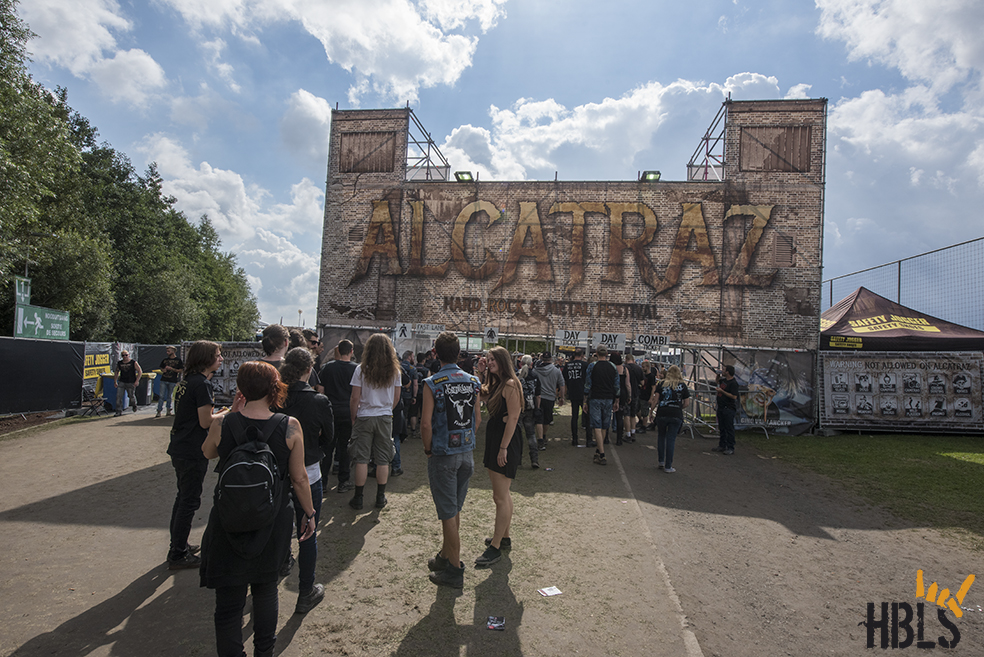 LILO'S BLOG (XXL)
Alcatraz Festival Is The Place To Be! (August 11-12-13 2017, Kortrijk, Belgium)
Visiting the Alcatraz Festival this year definitely had a high priority on my to-do-list, simply because I just love its vibe and attitude, the diverse line-up and the colourful and tolerant crowd. Alcatraz Fesival is well organized and still has an old school hard rock and intimate atmosphere, while some other rock and metal festivals unfortunately became way too big, impersonal and commercial. I really had a blast these 3 days, as did the 25.000 fellow metal heads obviously, because they were rocking like hell in Kortrijk, Belgium.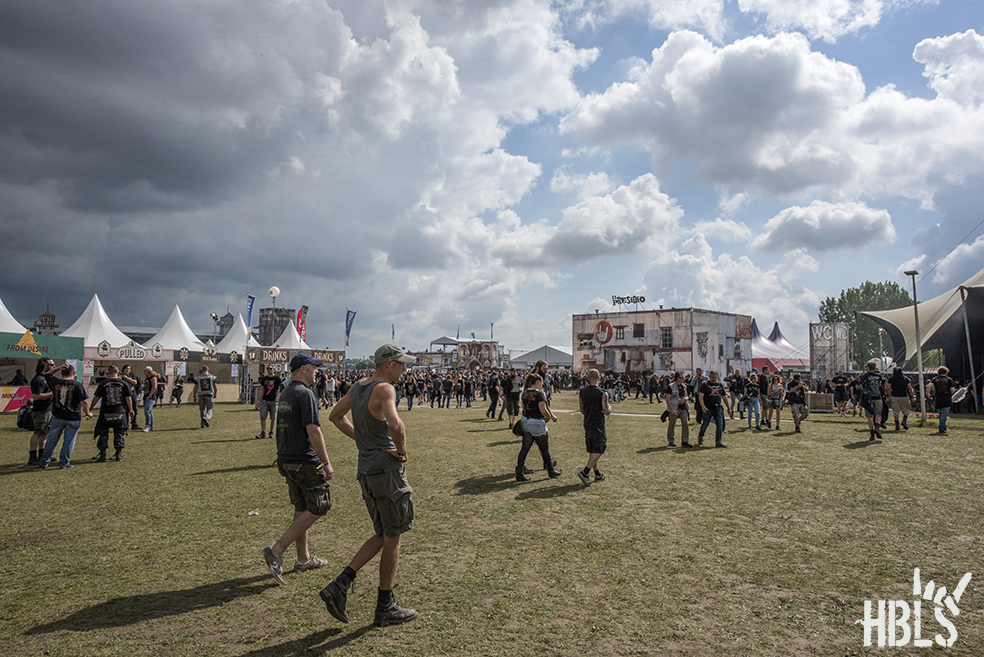 10TH ANNIVERSARY
This years edition was extra special as Alcatraz Fest celebrated its 10th anniversary. Doing so they invited the locals for free on Friday and had 40 bands in total on the bill, an extra third festival-day and a new second tent stage: The Swamp. Because bands were not playing at the same time you could go to the max and witness all performances if you wanted to (unfortunately I didn't manage to see them all because of my press appointments). Prices of food and drinks were acceptable (2,50 € for a beer or soda) and there was not only Pulled Pork and French Fries (3,75 €) on the menu but also enough tasty bites without dead animals. 😉 The Dutch 'frikandel' seemed to be very popular, because the first day they were already sold out (2.500 pieces). Also SOLD OUT were the tickets for the Sunday, but still it was easy to bump into an old friend or acquaintance. Besides the regular hangovers and passed out folks on the area field there were no incidents.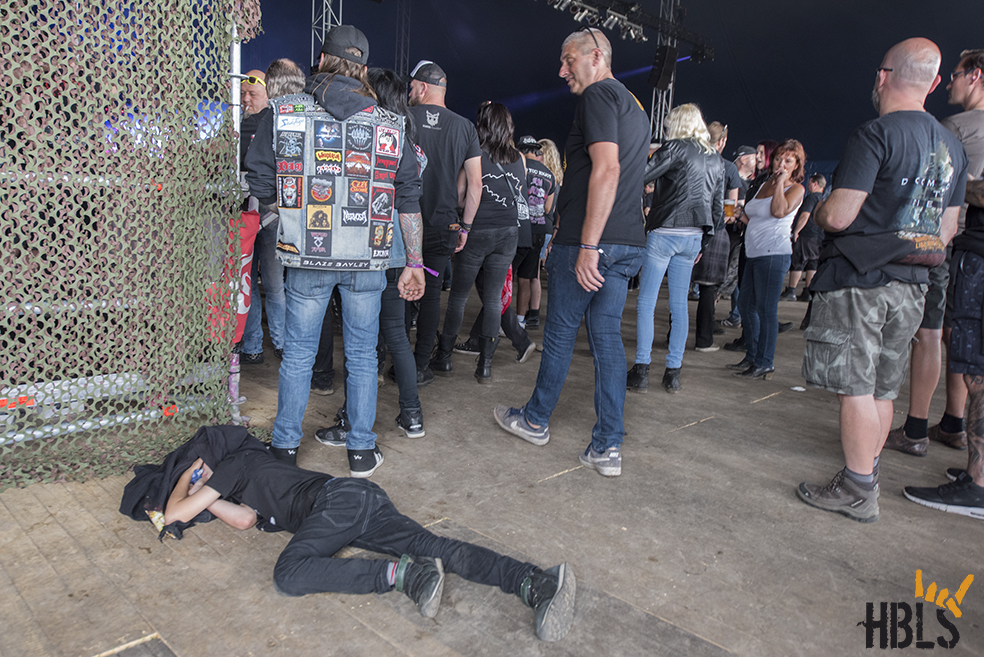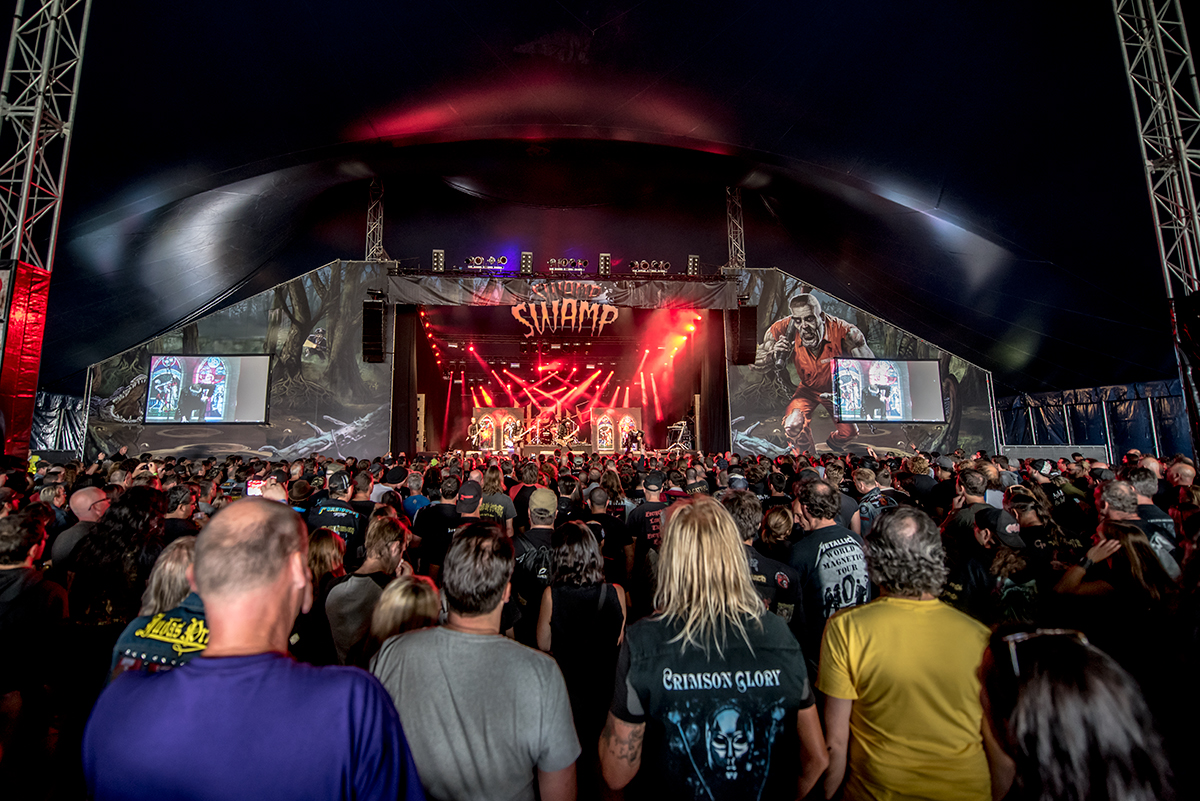 The amazing prison-like decoration, graphics and props were topping the cool vibe of Alcatraz Fest and it reminded me a bit of big brother Hell Fest. Shopaholics could visit the relative small metal market or the official Alcatraz merchandise booth (cool stuff b.t.w.), the Cocktail Bus was a hit, (500 cocktails already served the first day), as well as the indoor Rock & Metal bar El Presidio. Needles to mention, the signing sessions in the Rock Tribune booth were a successful fan magnet.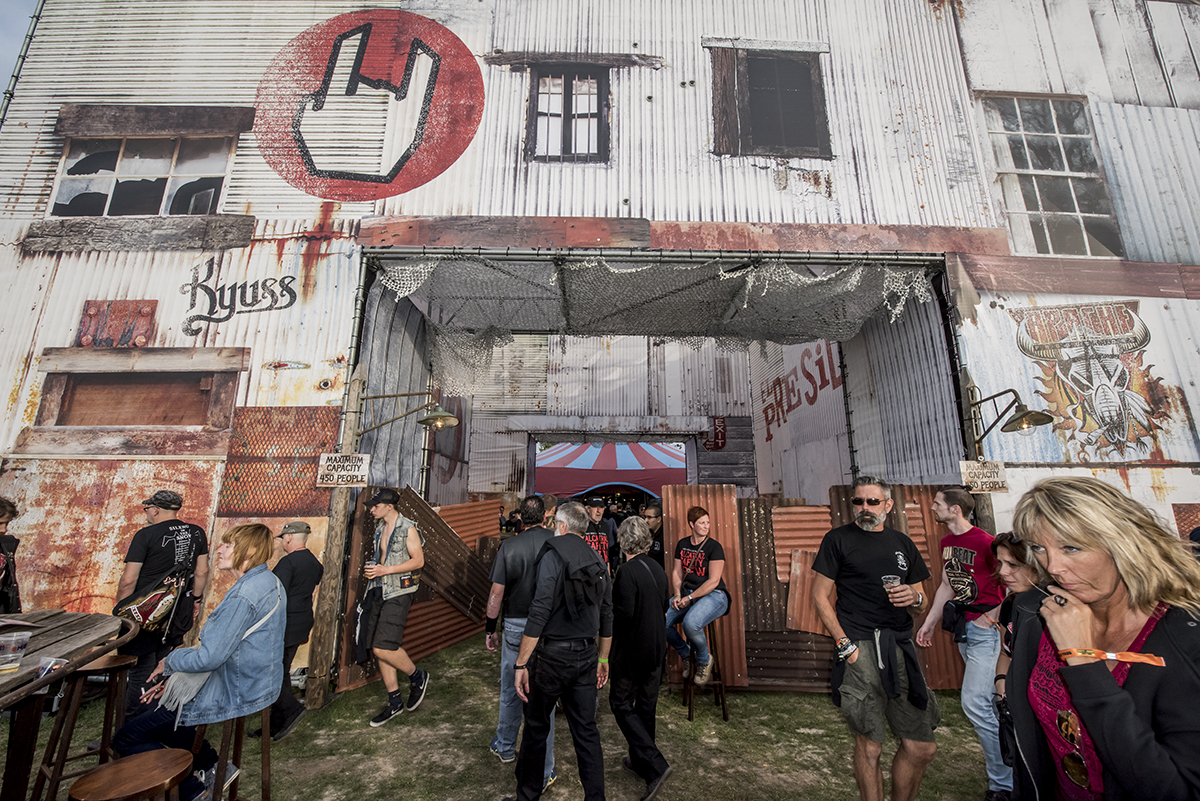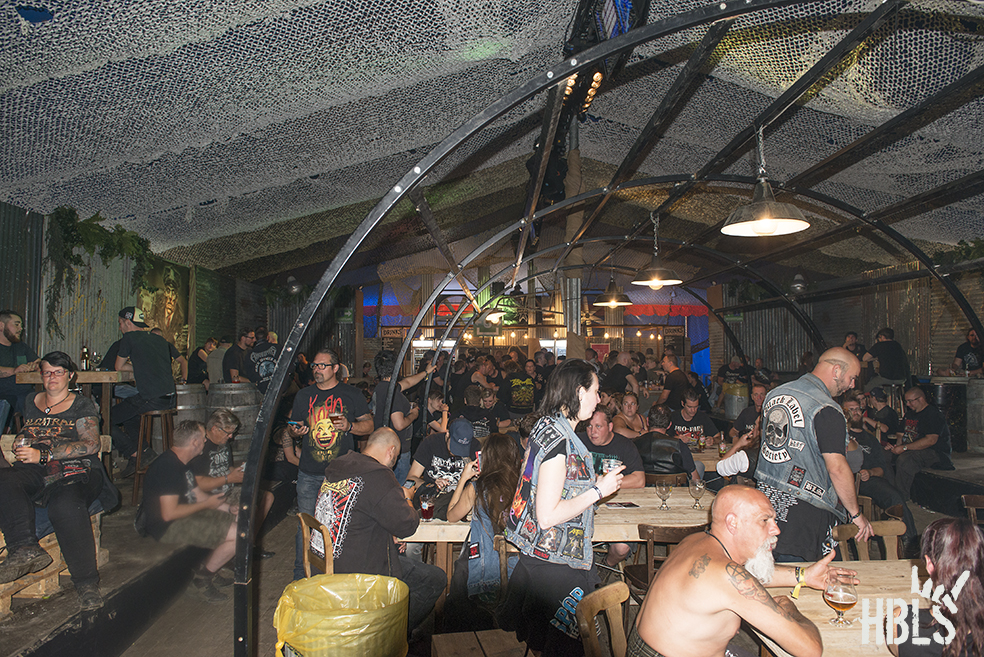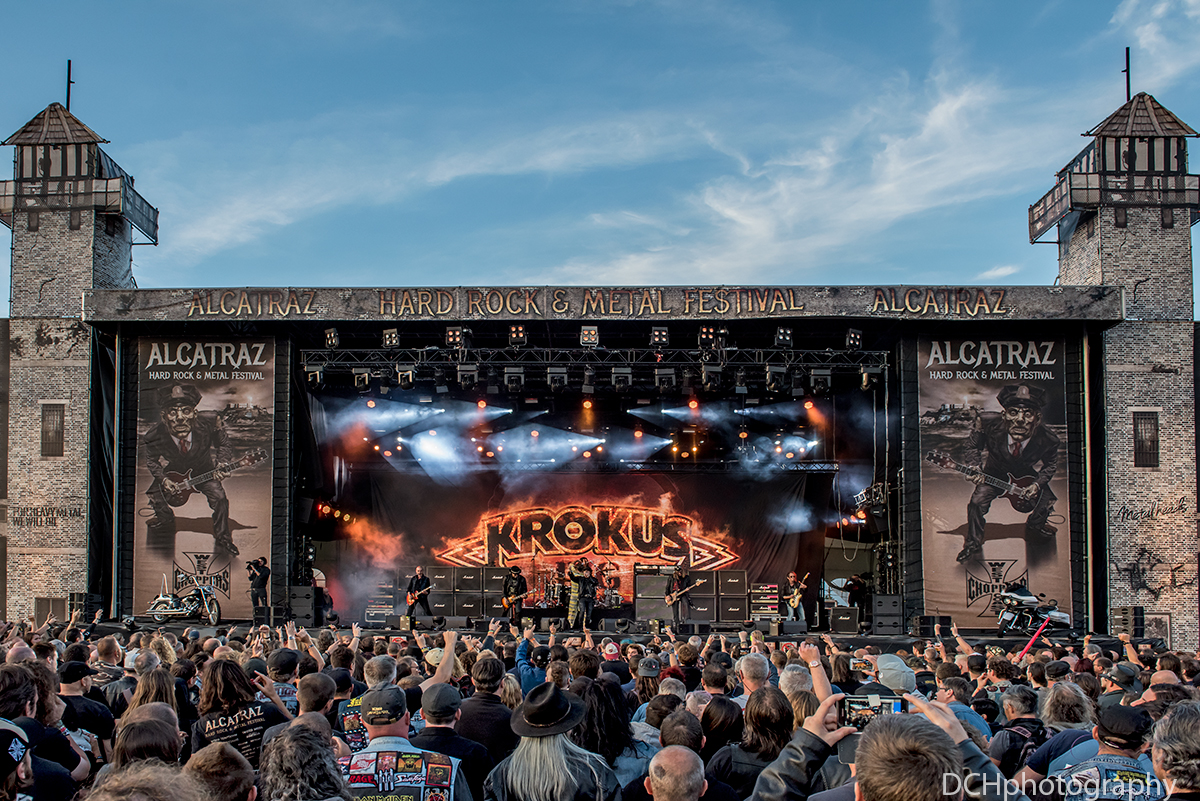 ROCK TILL YOU DROP
This year's line-up covered (as former editions did as well) various metal genres and there were no "weak'' performances. It was just a matter of taste sometimes. The Belgium based and talented "youngsters'' Evil Invaders, Carnation and Dyscordia got the opportunity to serve as openers during the weekend and all three proved their skills and potential. On Friday a few "disciples from hell" were passing by: Veteran Hell impressed with its theatrics and Denner-Shermann hailed successfully back to the glory days of Mercyful Fate but they also made a strong imression with their own material (both on The Swamp Stage). The phenomenon Ghost was a true headliner the first evening on The Prison Stage and their show was very entertaining, intriguing and tight as fuck. One of my ol' time favourite bands Pretty Maids had some technical problems earlier that day but eventually made it through their set list, not the strongest though. Dirkschneider frontman U.D.O. made a glorious move with his all-star band by playing only classic Accept tunes with military precision.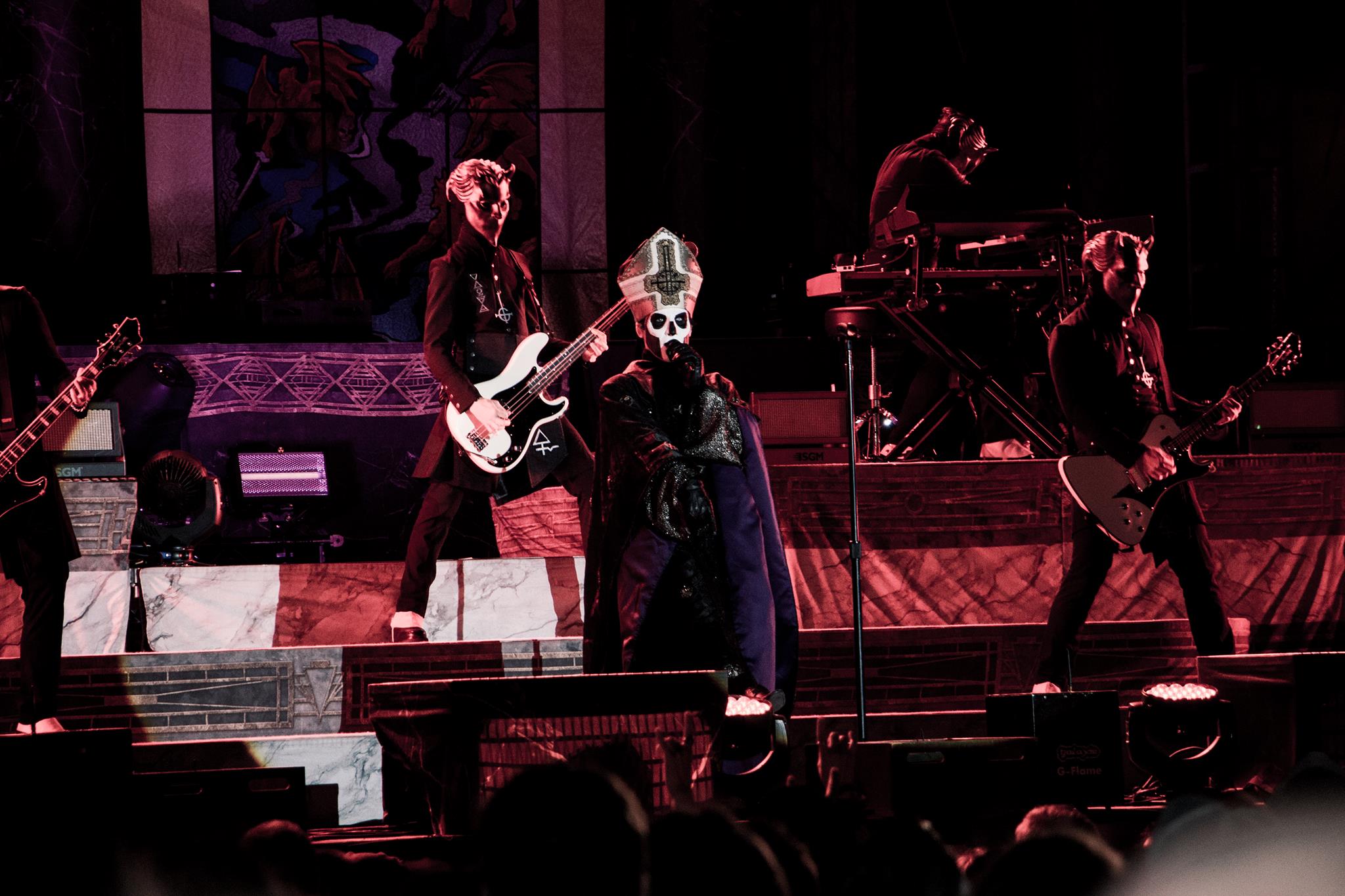 Ghost

The rain and muddy field on Saturday morning didn't stop the crowd, and opener Rage got what they came for. As guitarist Marcos Rodriquez puts it afterwards, when I spoke with him on the VIP Deck: "To play that early in the rain didn't stop us from having a good time. A lot of people showed up, so yes, I'm happy.''
While old school bands such as Death Angel, Testament and Iced Earth (all The Prison Stage) created circle pits on the field, the crowd in The Swamp Tent took off to outer space with psychedelic, stoner acts such as King Hiss, Monkey3 and Brant Bjork.
Occult act Abbath lured a lot of folks to The Swamp Tent later on as well, but honestly, this character is not my cup of tea. Black metal pioneer Venom brought back the old school days and they have definitely improve over the years. The homage to one of the best singers of all time, Ronnie James Dio, performed by Last In Line gave me goosebumps, but the true highlight of Saturday was the mighty Saxon, playing their classics mixed with new songs with style and pleasure. A worthy headliner on The Prison Stage.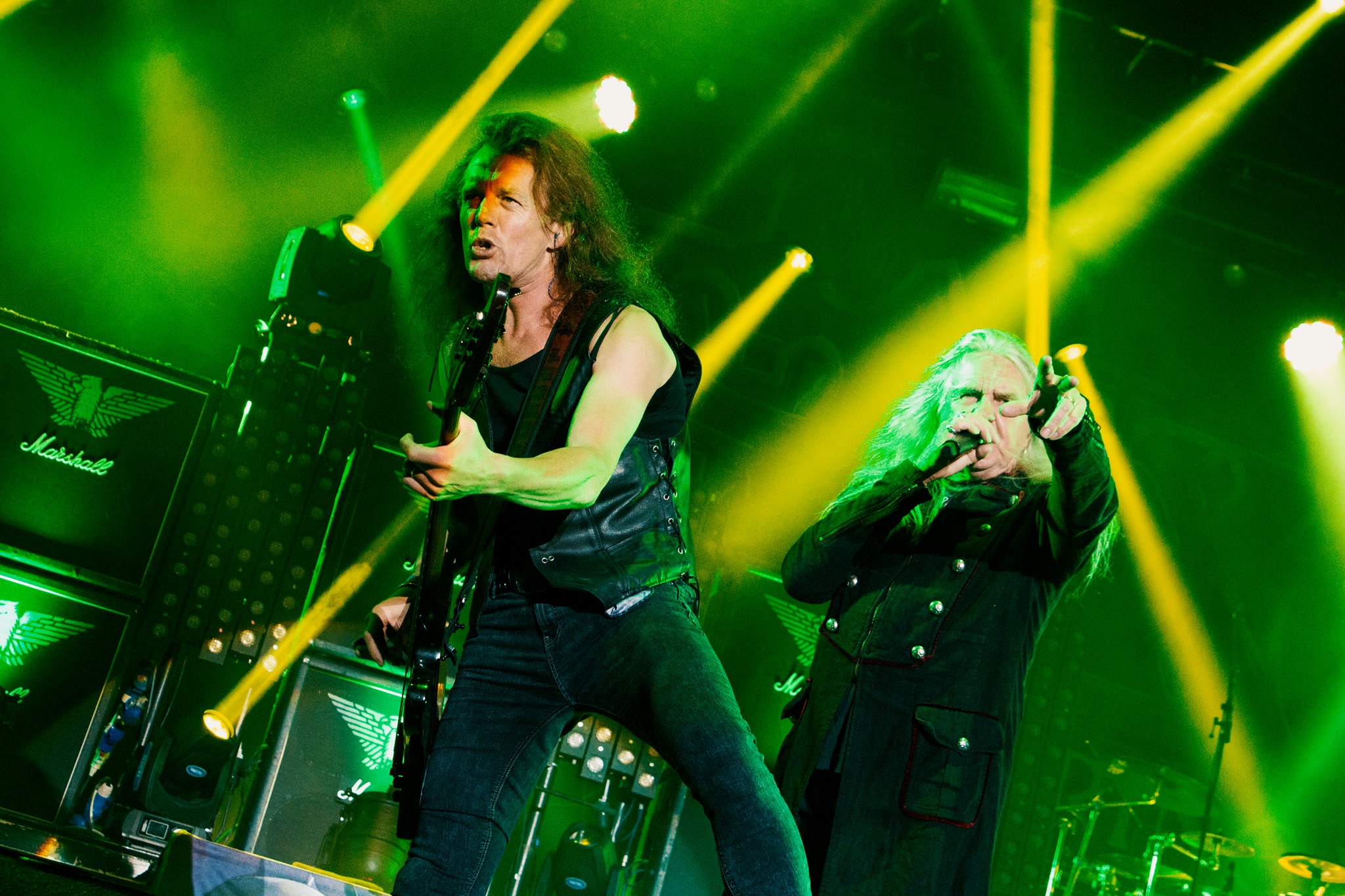 Saxon

Because I did some interviews during this weekend as well (see my videos below), I didn't manage to check out as many bands as I wanted on Sunday. Though I made sure I was on time for veteran UFO who played an excellent classic hard rock set around noon. The super energetic performance of Dr. Living Dead (sounds like Anthrax on speed) took me by surprise, their skate outfit, skull masks and stage moves are one of a kind and the audience went through The Swamp Tent roof with pogo and circle pits. I met these Swedish guys later on and had a few crazy laughs with them.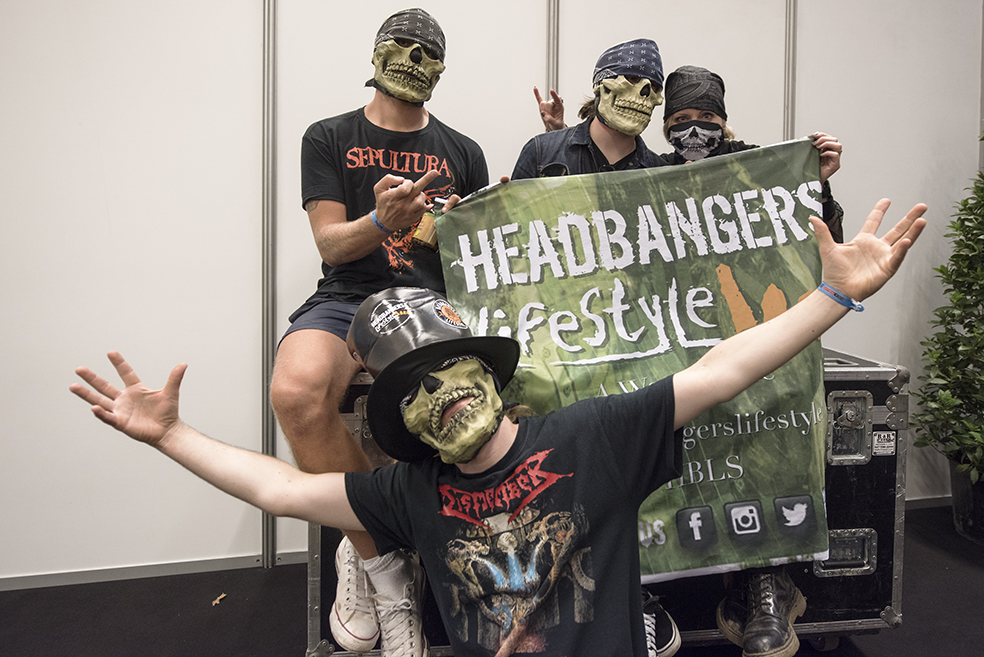 Dr. Living Dead trivia: Who is not an official band member on this pic? 🙂

The return of Life Of Agony at Alcatraz was well received by the audience and although the show was good, it seemed that front lady Mina was not in her best mood. Which was confirmed later on because she cancelled all her interviews after the show (including mine) due to illness. Instead I got myself a very interesting conversation with bass player Alan Robert about his graphic designs and art (see video below).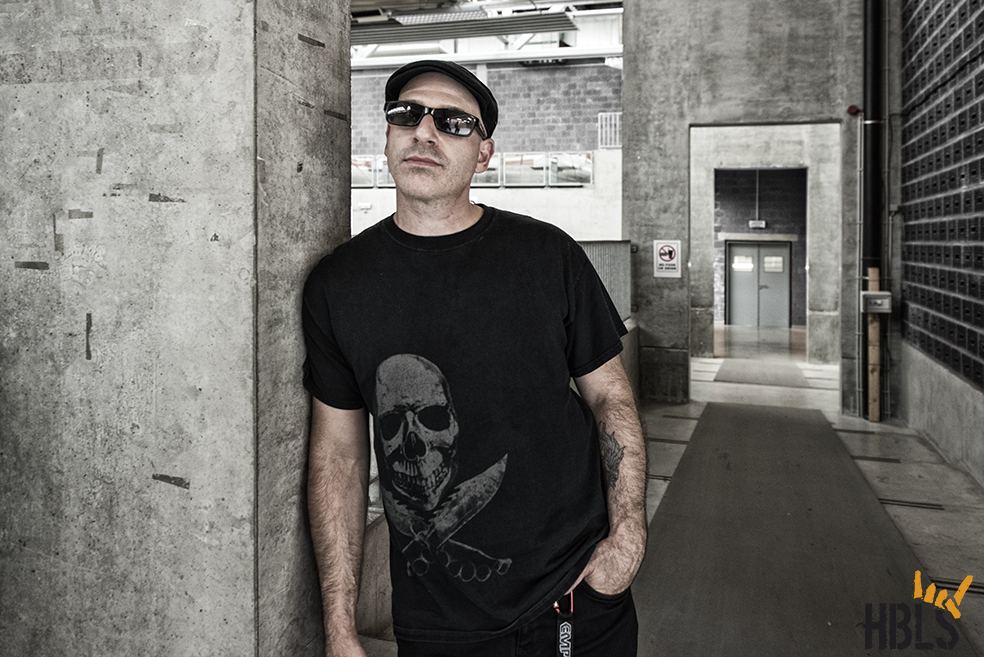 Alan Robert, bass player Life Of Agony. Photo by Dirk van den Heuvel-DCH Photography

I heard a few Doro tunes. Well, what can I say; this metal queen still owns her throne. About Amon Amarth I can only say: WOW. This band climbed the ladder of fame and treated us to a very strong, heavy performance, not to mention the super cool Viking stage props and lightshow. Headliner Korn is a well-oiled machine and knew how to roll and please the audience. It was a guaranteed successful closure of Alcatraz Festival 2017.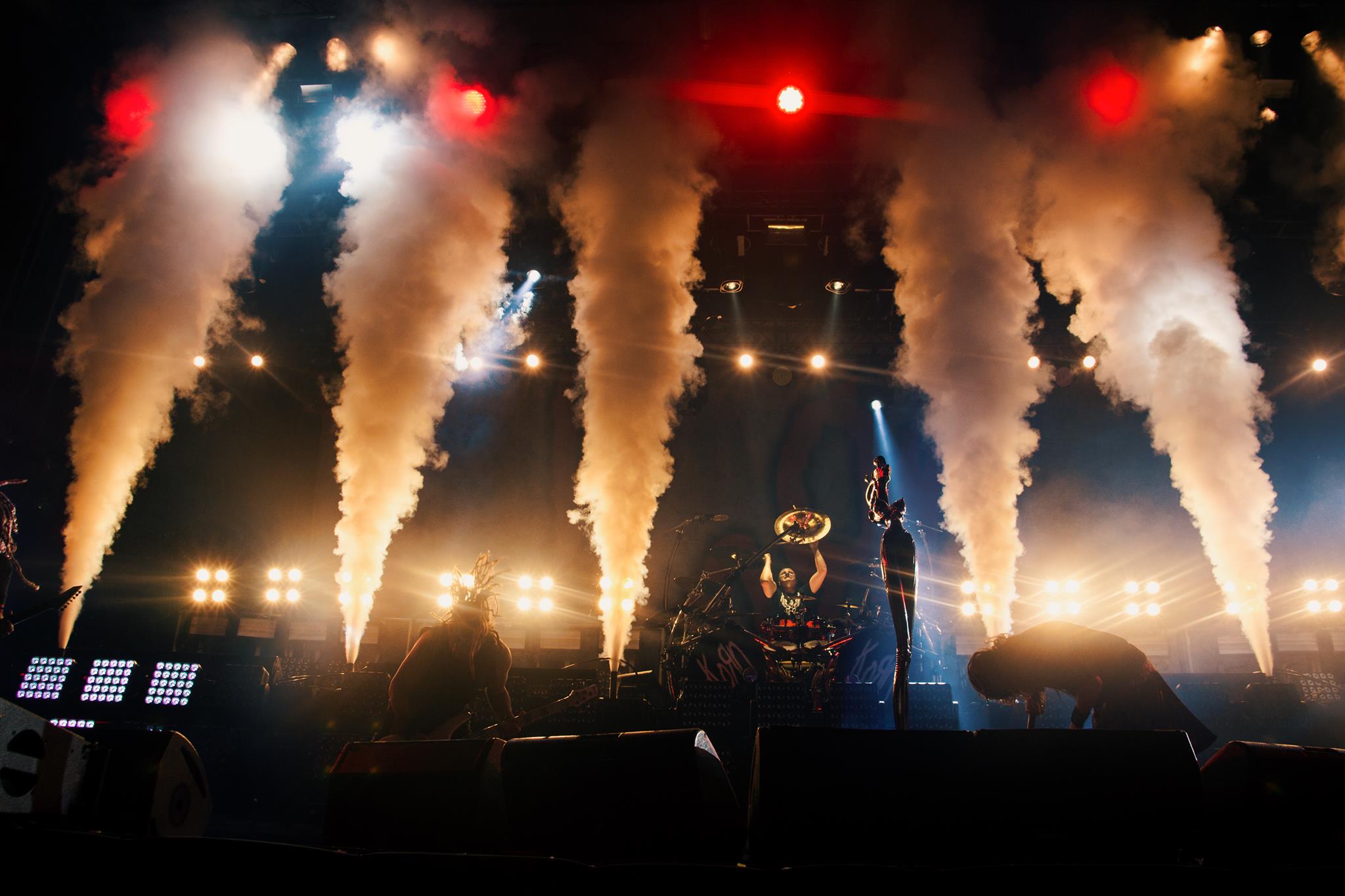 Korn

BEHIND THE SCENES
I realize, as a journalist I have extra privileges which gives me access to the backstage press area for instance. This fortunate position gives me the opportunity to catch a good glimpse of what goes on backstage, the area were artists, promoters, label managers and crew are working and hanging out and prepare for their shows. It is really a world on its own. It is always great fun to meet (old) friends at the festival area but it is an extra bonus to be able to meet some of the artist I have worked with over the years and also to get introduced to new people as well.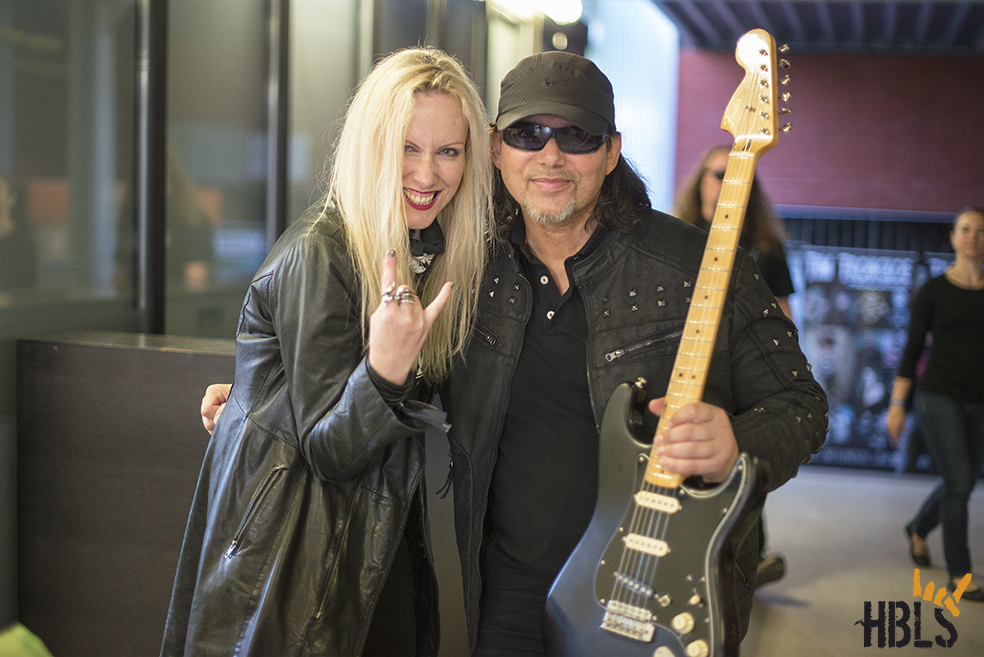 Great to meet Hank Shermann again after several years (photo by Conny van den Heuvel-DCH Photography)

I had my little `press corner' above the dressing rooms to do video interviews (with Carnation, Evil Invaders and Dyscordia, Brant Bjork, Life Of Agony bass player Alan Roberts, Monkey3, and Moonspell) and together with one of my photographers (Dirk van den Heuvel-DCH Photography) we made it a fun experience for everybody involved (at least I hope so).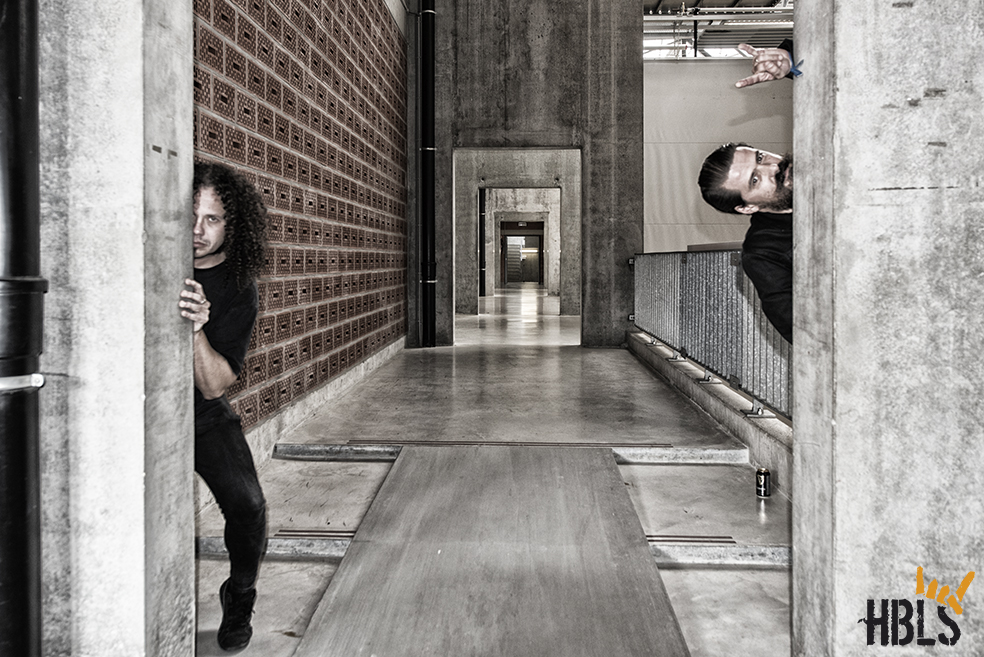 Dirk van den Heuvel-DCH Photography made this killer shot of the Moonspell guys after the interview.

From our press corner we could also peak into the dressing rooms, and there was a lot going on but because of discretion I only show you these two glimps: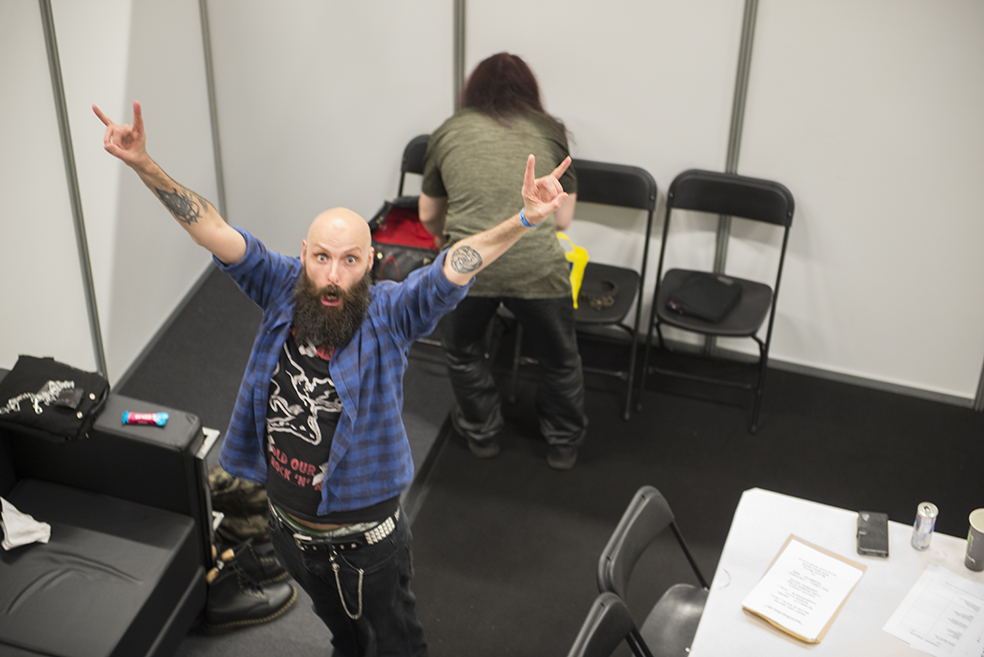 Venom dressing room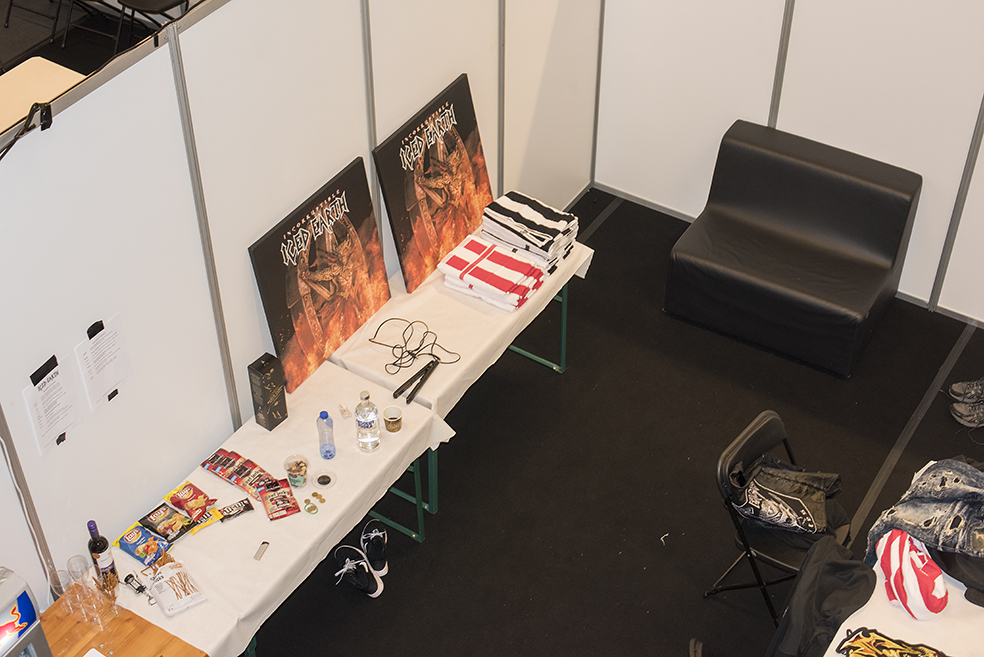 I guess it is obvious which band temporarily lives here.

Star photographer Tim Tronckoe showed us his temporary photo booth and told us a few behind the scene stories.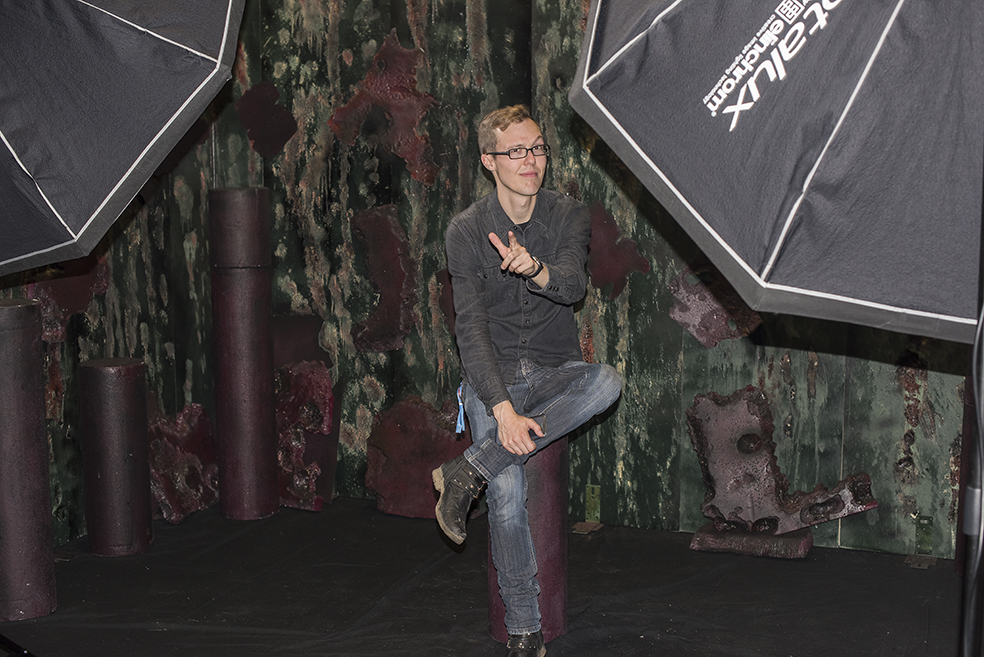 Tim Tronckoe

One of my personal high lights was an unexpected, spontaneous interview with Bill Hudson – a well respected guitarist you might know from acts like Trans-Siberian Orchestra, Jon Oliva, Dirkschneider and I Am Morbid – in a funny little vehicle outside the artist building (see below).
During this weekend I had a lot of laughs, met a lot of interesting and very kind people and had some good conversations with colleague journalists, who all had the same mission: enjoying good hard rock and heavy metal music and having a great time. To me, this mission was accomplished.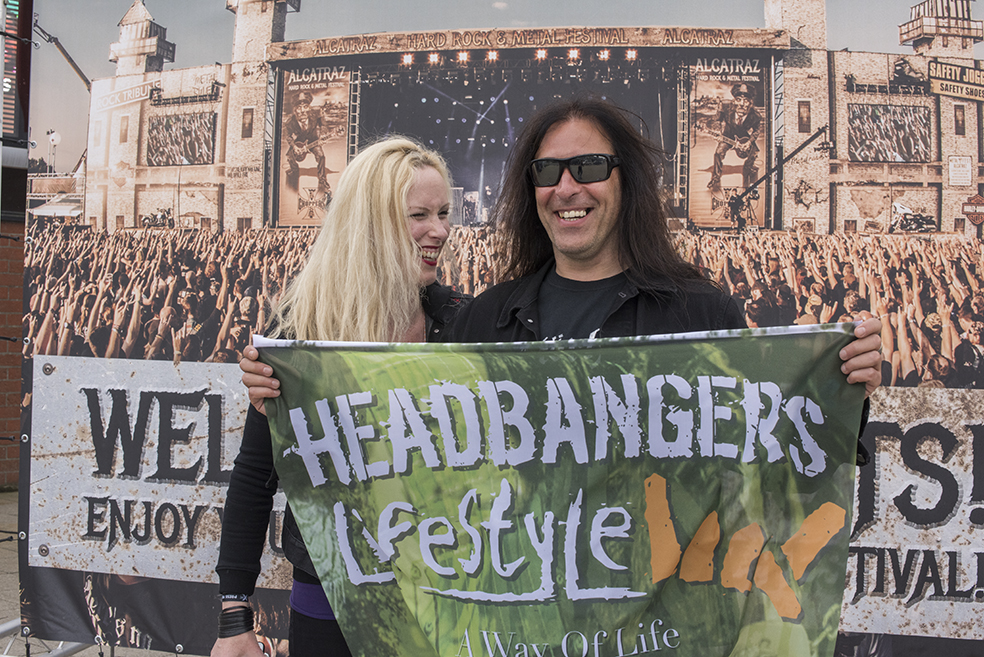 Thanks Filip Alcatraz for having us.

TEN REASONS WHY YOU SHOULD VISIT ALCATRAZ FESTIVAL NEXT YEAR
It is a festival organized straight from the metal heart.
It has a true metal vibe.
Crowded but not too crowded.
Great bands/various line-up.
No overlap in playtime.
The festival area is not a marathon.
Reasonable prizes for food and beverages.
VIP Deck (cost a bit extra) with a good view.
Option for camping and a mobile home parking lot (which both saves you money for a sleep over).
Officer Nice and his police squad keeps an eye on order and neatness.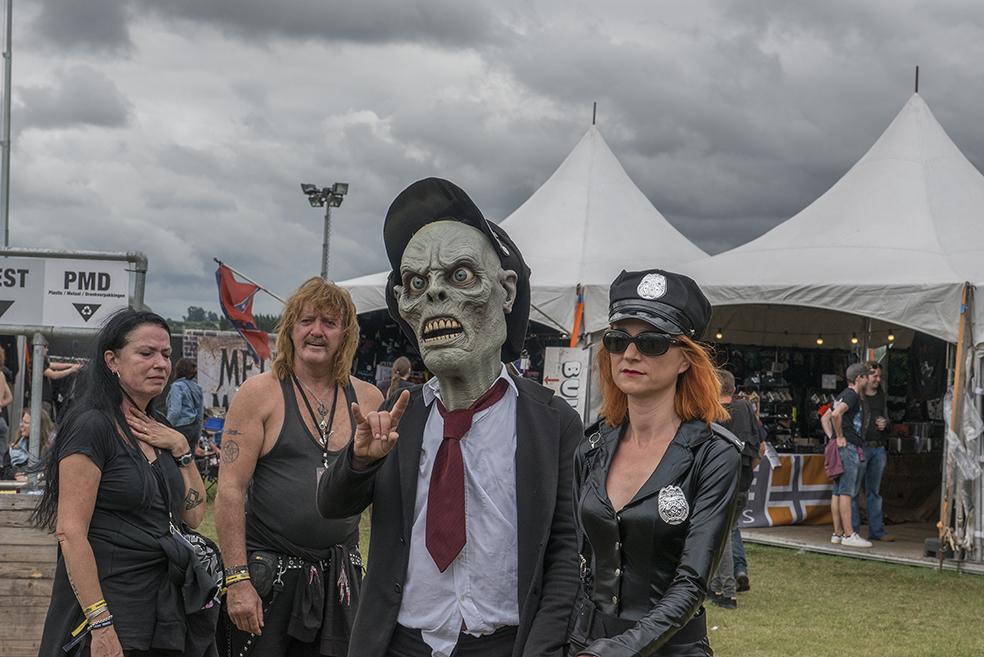 Officer Nice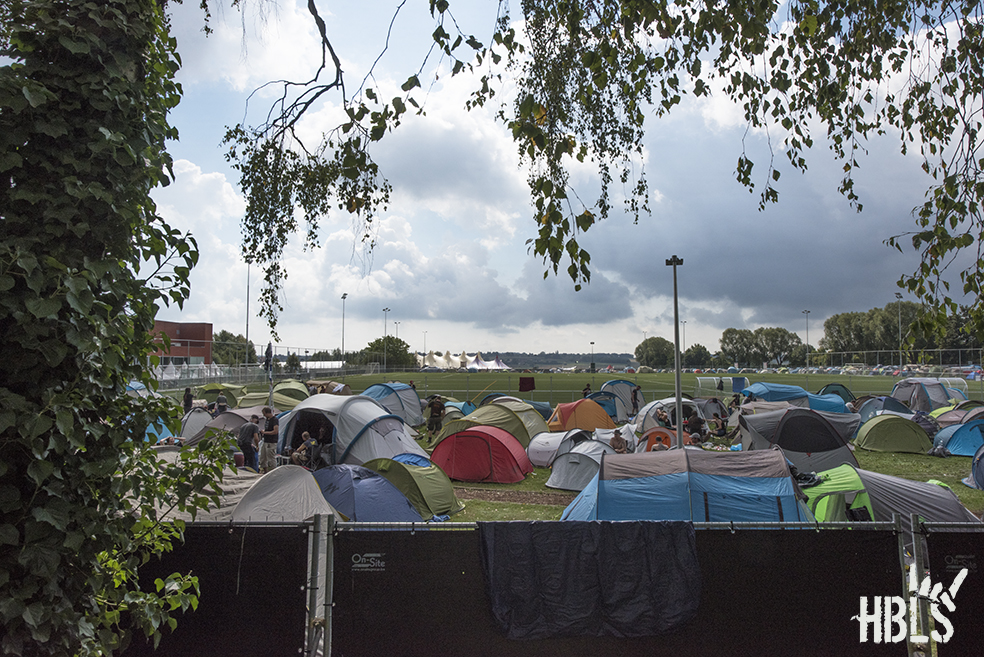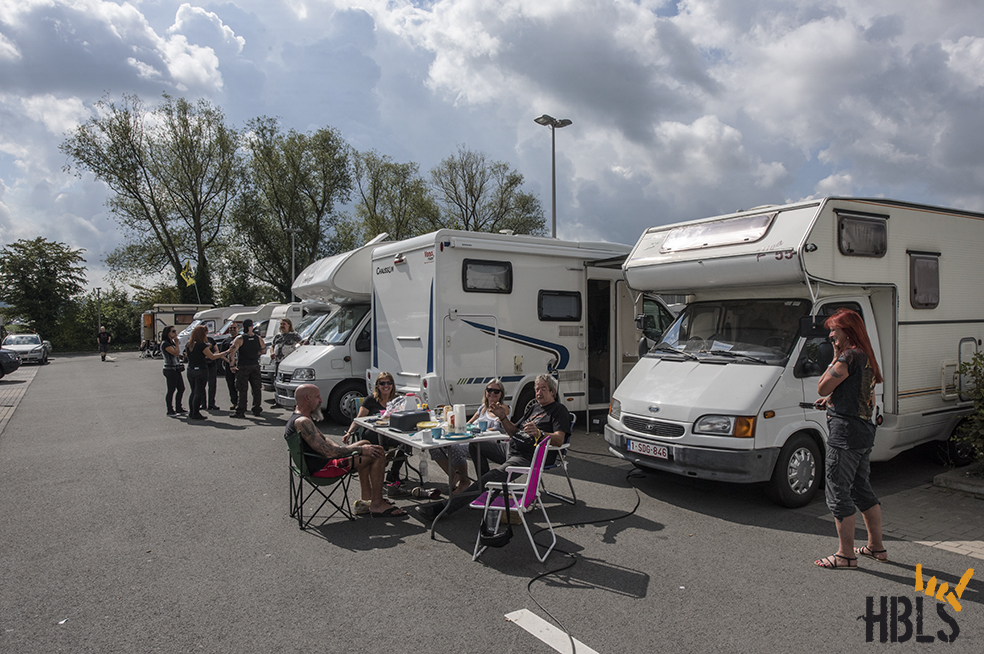 ALCATRAZ FESTIVAL LIVE IMPRESSIONS (or any time soon):
Website Alcatraz
Facebook Alcatraz
Facebook Rock Tribune
Festivalinfo
Metalfan.nl
Amped-up.be
Aardschok Magazine (Dutch printed magazine)
HORNS UP & SEE YOU NEXT YEAR!
—
Ghost, Saxon and Korn live photos are made by Eliaz Bruggeman (official Alcatraz photographer)
All other photos are made by Dirk van den Heuvel-DCH Photography

THE VIDEO INTERVIEWS



A FEW MORE PHOTOS BY DCH PHOTOGRAPHY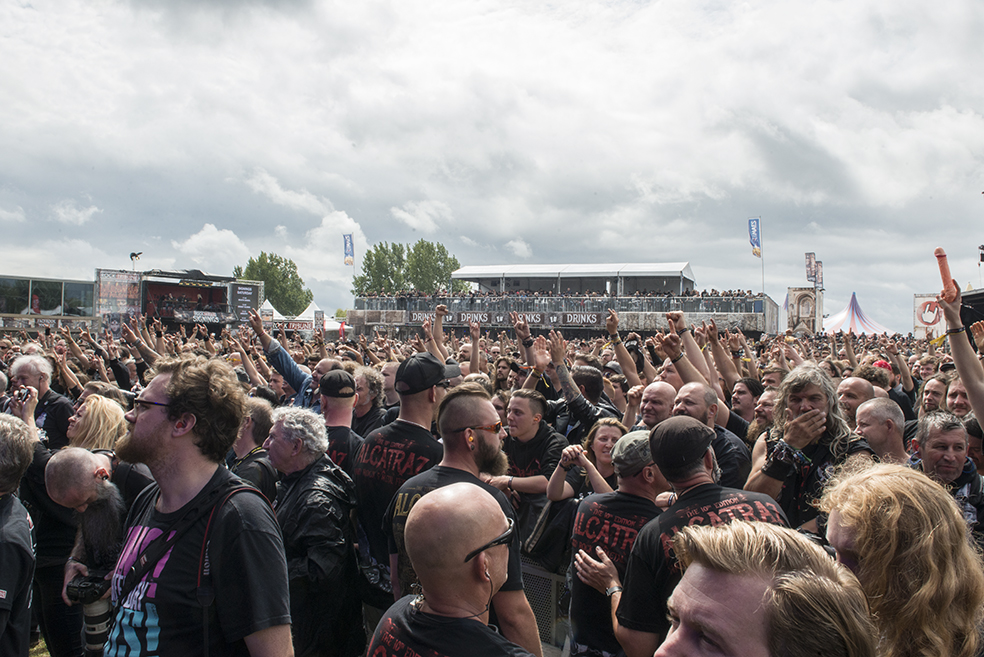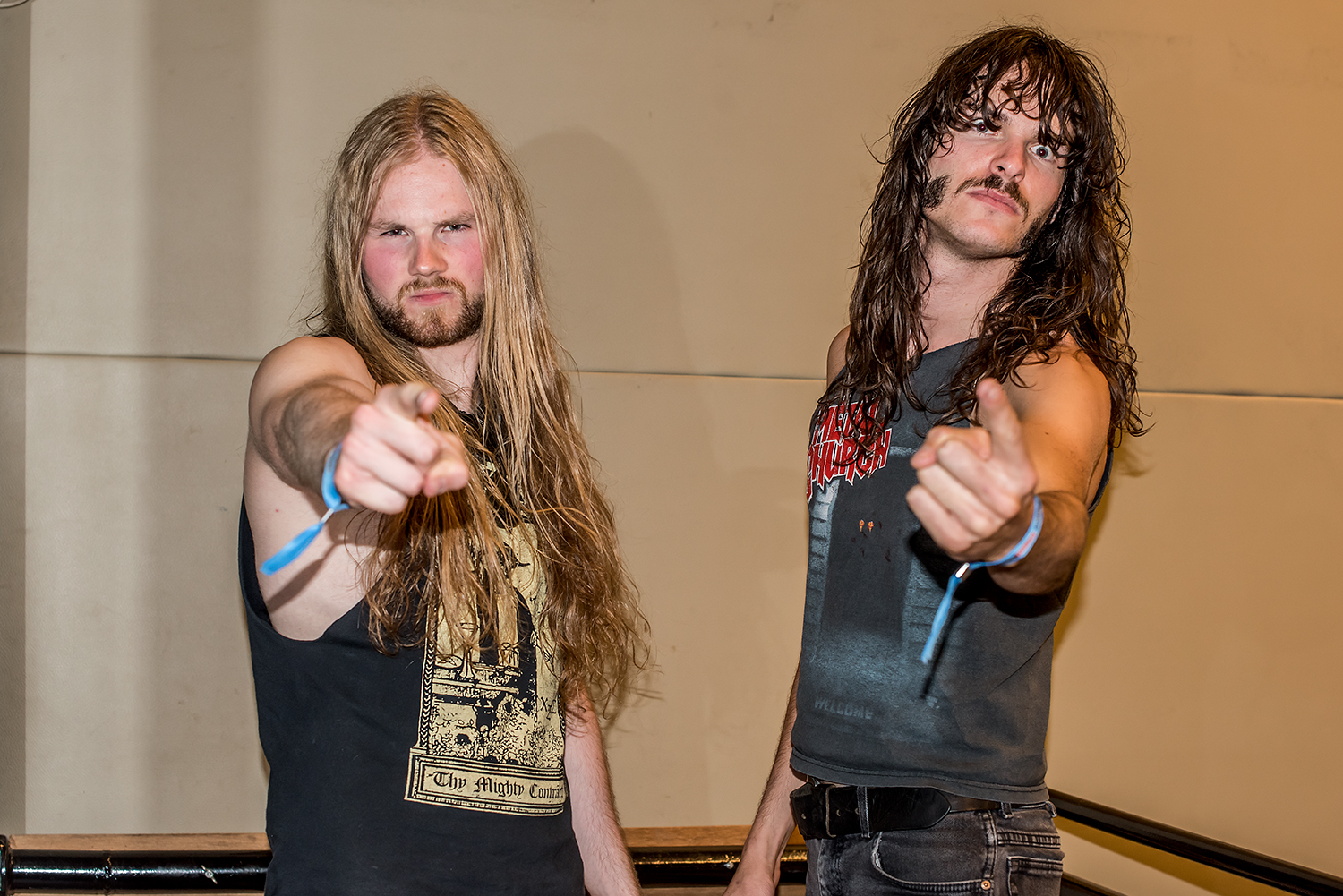 Joeri and Joe of Evil Invaders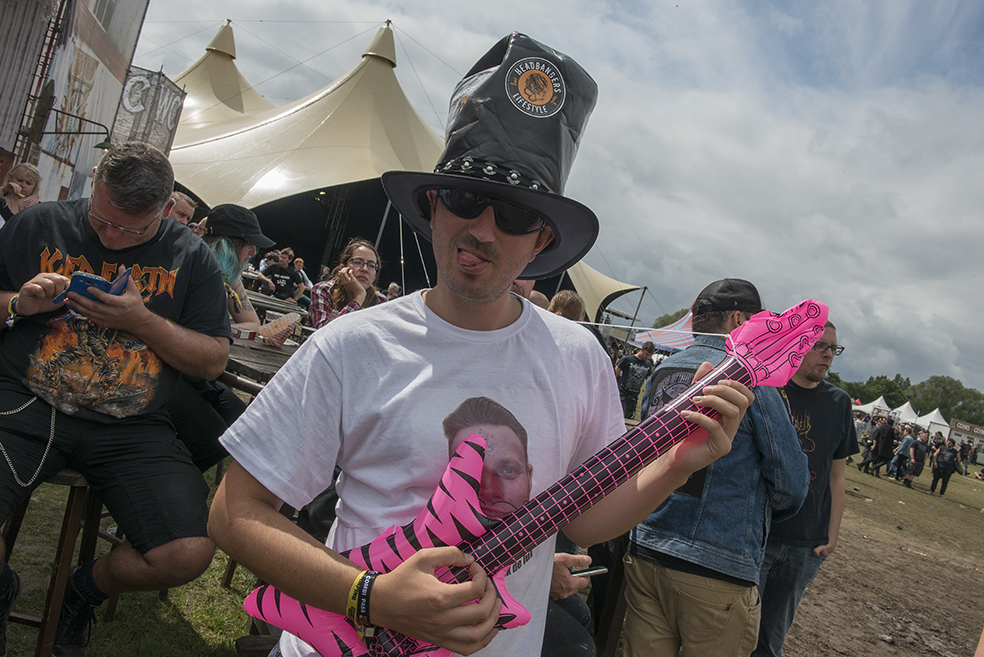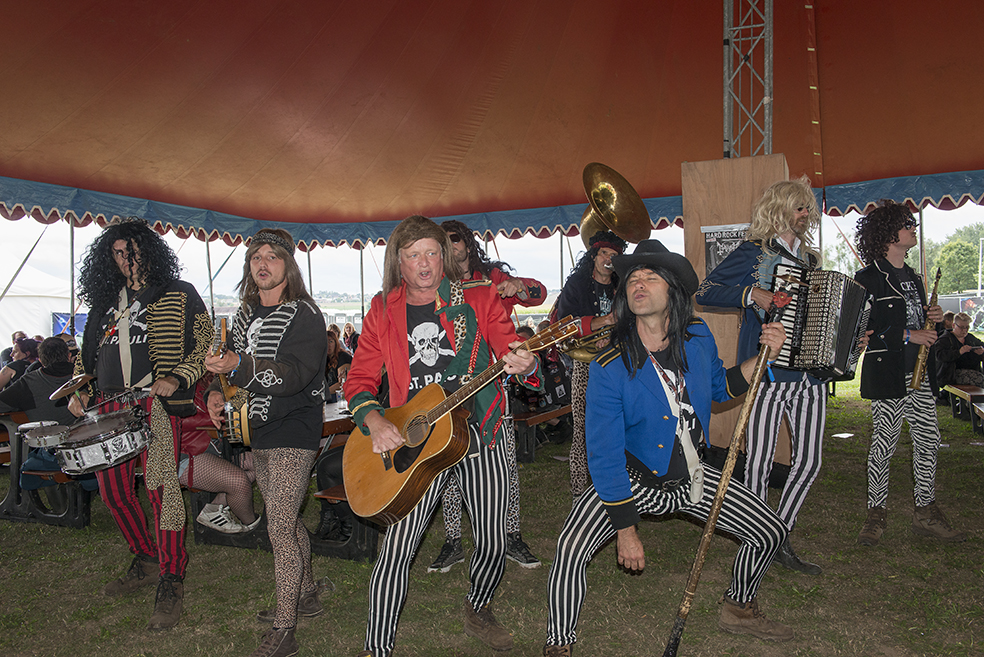 Blaas Of Glory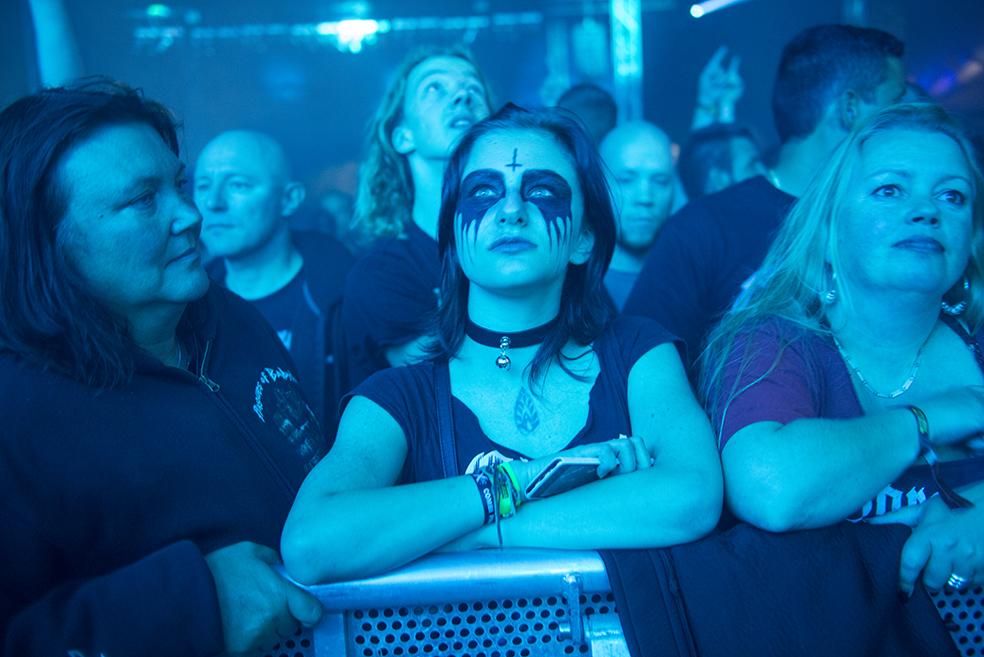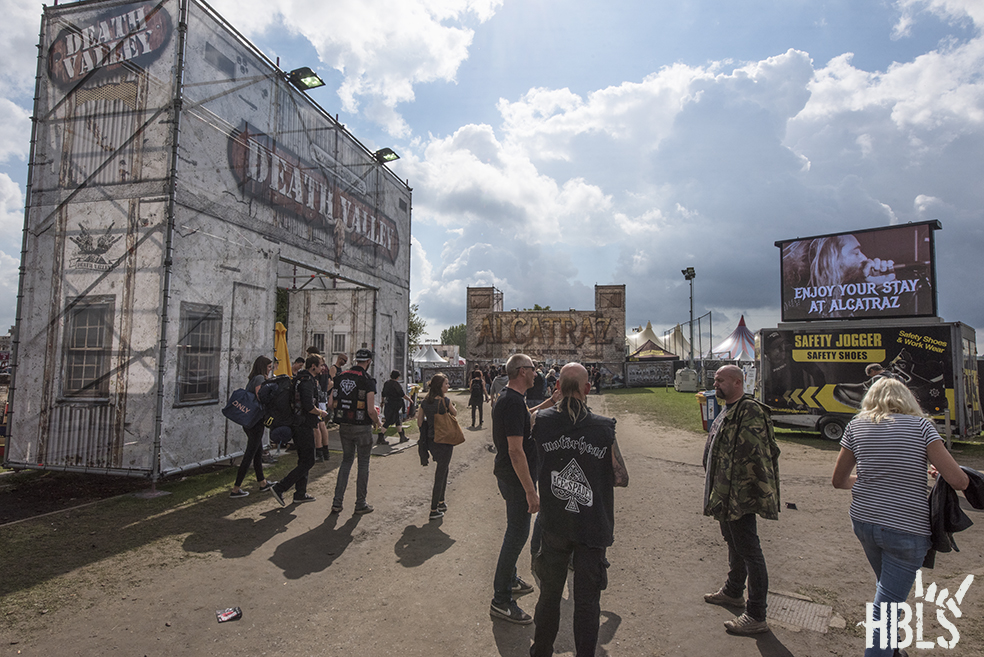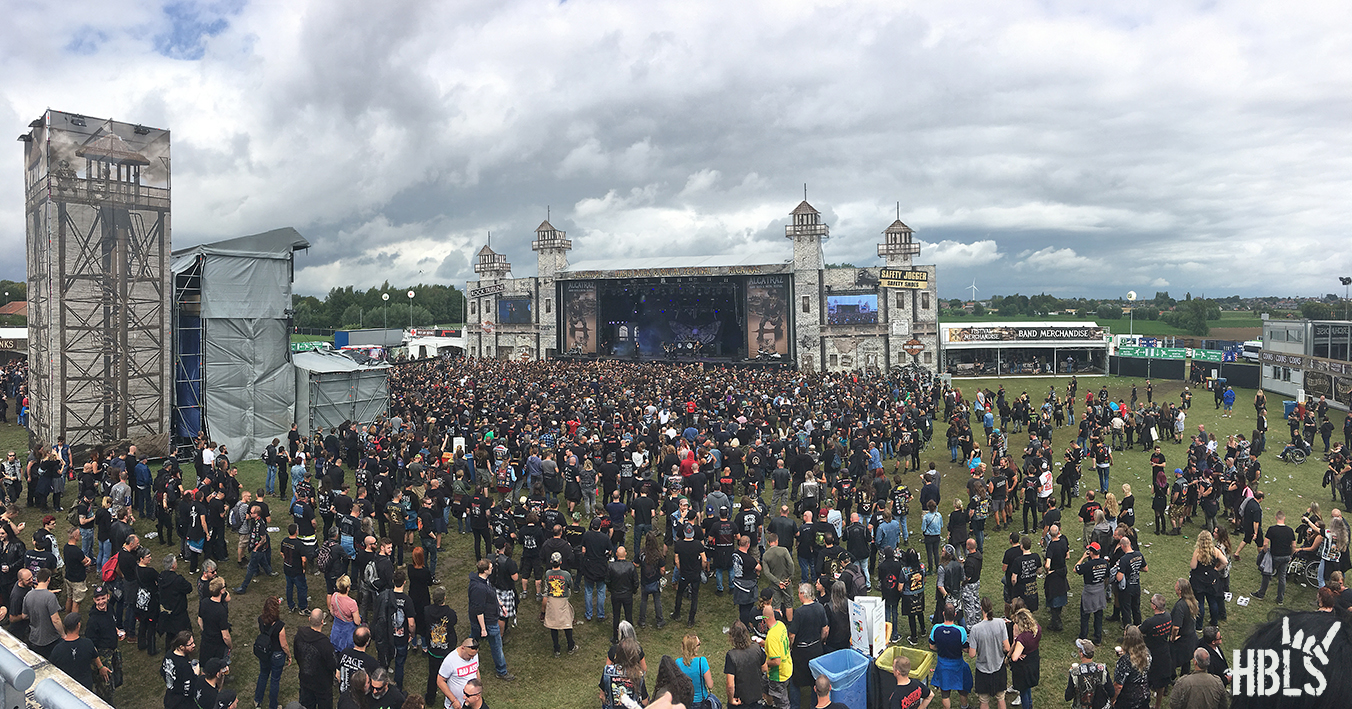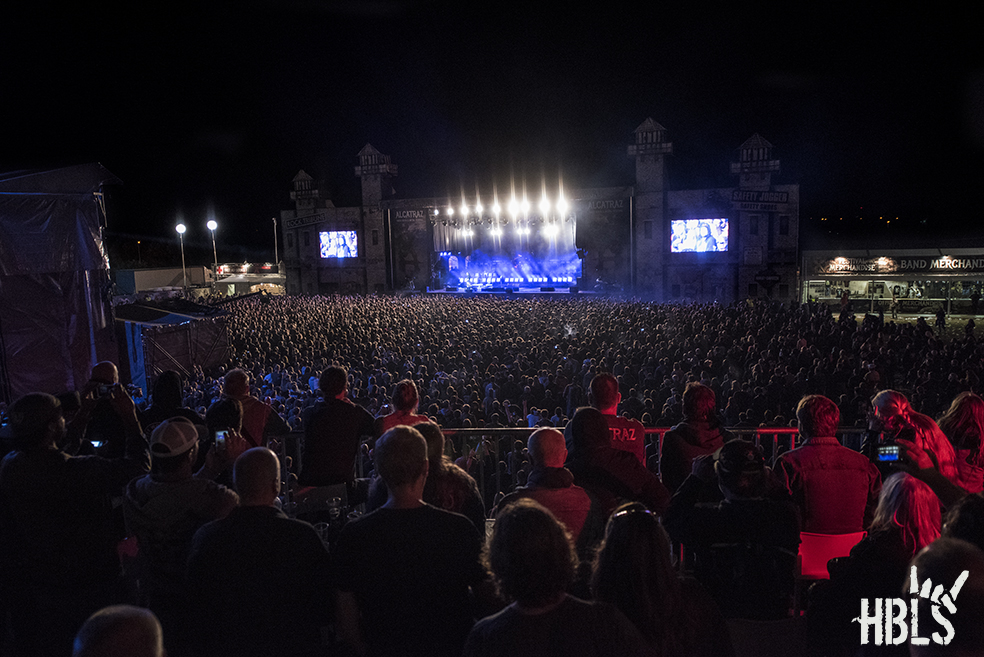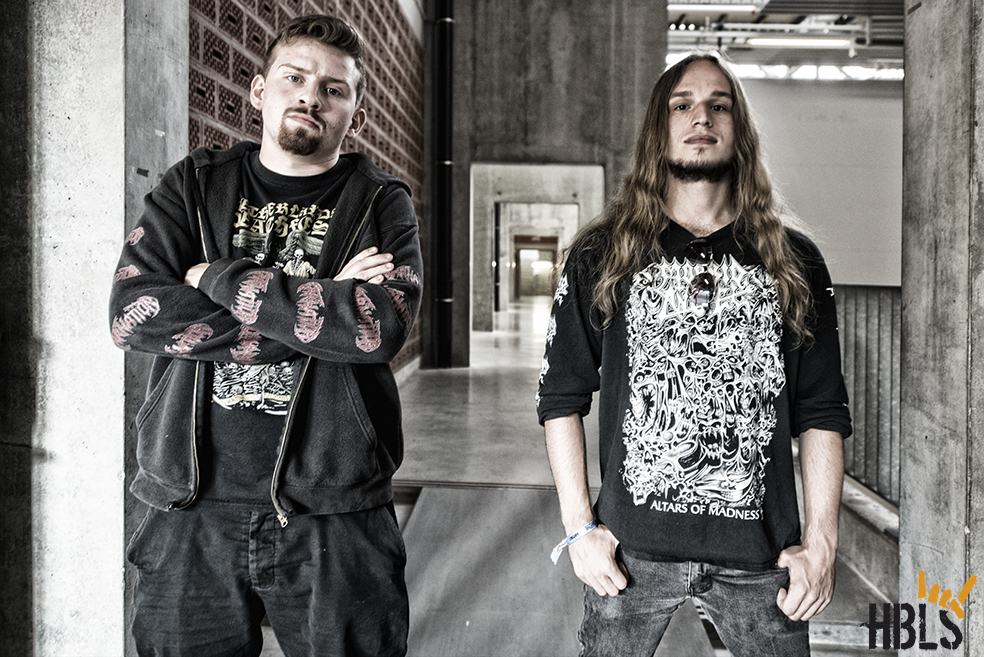 Simon and Yarne of Carnation