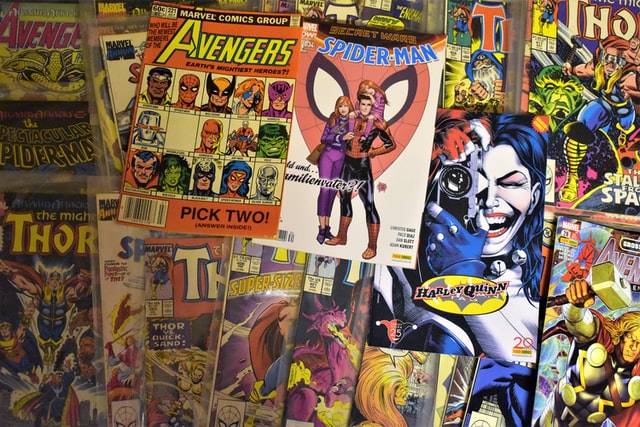 MY OLD TIME FAVOURITE COMICS
By Johanne James
Good day dear people and how are you? Still enjoying the lock down? I am. I can go wherever I want, and without wearing a mask! So much for lock down!
Anyway, my topic today is my old time favourite comics. Now many years ago there were a few that I absolutely adored. So I'll give you my top three. You may have to forgive my memory on some of the characters as it was ???? years ago!
Dandy. If you remember any of the characters in this wonderful piece of nostalgia? This comic first appeared in 1937, even before I was born and with its mascot character Desperate Dan, a Wild West figure who was proclaimed to be the world's strongest man. He was able to lift a cow with just one hand! He also ate like a horse!
There was also Bananaman, who was a schoolboy who would turn into a muscled superhero and fight crime as muscled crime fighters do. Minnie Minx and Lord Snooty whom you wanted to give a slap! There was Gnasher the dog who belonged to Dennis the Menace, and a host of others I could mention. I suggest you look them up if you're interested. Unfortunately you can no longer acquire this comic, but if you can get a copy, it may cost you a small fortune!
Next on my list is Whizzer and Chips, which first appeared in 1969 and was last published in 1990. It merged with the comic Buster, which meant that half was in black and white, and the other half was colour. It was brilliant, for you must remember this was long before mobile phones, laptops, desktops and any other top you wish to mention. Sid's Snake, Fuss Pot, Bumpkin Billionaires and Shiner were my favourite characters. I couldn't wait to get my pocket money and head on up to the corner shop at the top of the road with my 2&6d, 25p in today's money and purchase my weekly read.
Now my favourite of all time old time comics has to be Cor!! I would most definitely look forward to a Saturday morning to grab a hold of this highly entertaining read. It was launched in 1970 and its last publication was in 1974. It was a full colour 32 page and full of entertainment. Ivor Lott and Tony Broke was the story I would read last. A tale of a rich and poor kid that would always try and outdo one another with Tony Broke usually coming out of top.
Whacky, Kid Chameleon, Tricky Dicky, The Gasworks Gang and Teacher's Pet were all hilarious. It was a time of innocence when the only thing we were most concerned with was getting a hiding if you turned up late from school with your uniform in a mess! These comics were talked about at school when the weekend was over, and did we laugh. Cor!! Introduced two newer characters in later additions, Sheik Oleg, an Arabian misfit who would find himself in all sorts of bother and Nightmare, a rather unruly horse. These bring back some rather fond memories for me and if I could go back in time, I'd bring some of those comics back with me. My brother and I would be in stitches most of the time reading them. It was testament to the creators whom I thank for all the laughter they gave us.
Thanks for listening.
Johanne James