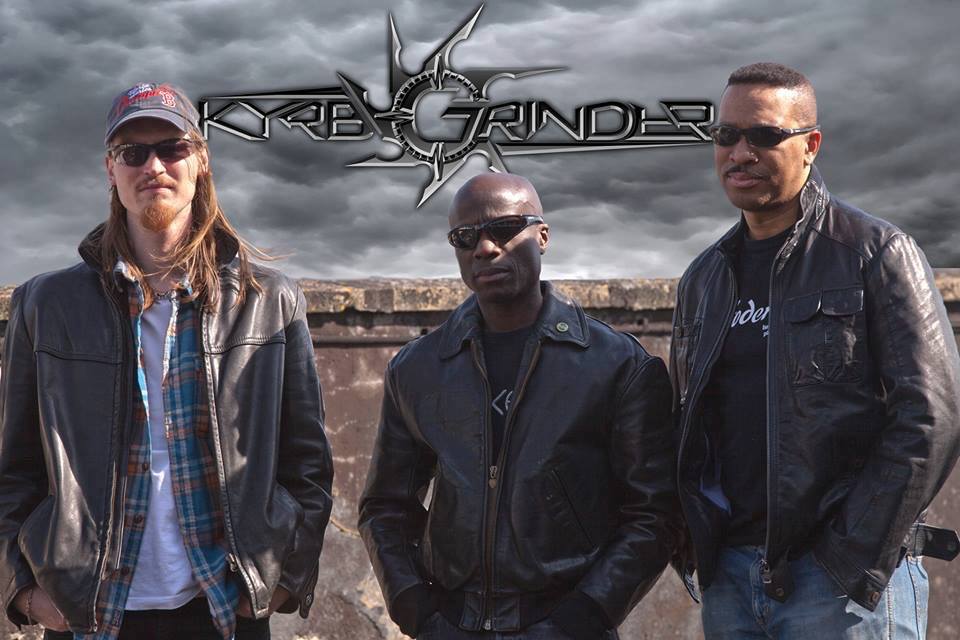 THE KYRBGRINDER EXPERIENCE
By Johanne James
Hi there.

Let's talk about the Kyrbgrinder experience. In brief!
For those of you that have been fortunate, or unfortunate as the case may be, to see this band will find that it's an all-inclusive show. They are very much a live act as the comments have come, and I quote "They are so much better live and their album does them no justice" unquote. Since KG is a three-piece band there is nowhere to hide, so each member has to carry his own, which I guess is done well enough that the comments have been such. They have done three albums now, `Defiance', `Cold War Technology' and `Chronicles Of A Dark Machine'. The last two albums being produced and recorded at Thin Ice Studios in Virginia Water, Surrey under the guidance of a certain Mr. Karl Groom of Threshold, who I must say does a wonderful job. It may not be to everyone's taste that the drummer is also the lead vocalist who is front and centre stage, which is their USP. Many a time have they heard, "don't you want a front man?" Well no, tried that and it didn't work so the drummer got the job. It's sometimes a little strange for people to accept that when they do see them they are somewhat confused as they are looking around to see where the singing is coming from. Oh it's him? That's just so weird! I know! All that is left to be said is that you will be sure to have a good time and even if it's not what you like, you can't say it isn't good.
The members are Dave (Scoop) Lugay on bass and Aaron (Fingers) Waddingham on guitar. You need not know who the drummer is as he is currently wanted by MI5 for terrorising his drum kit and demolishing his cymbals. If you do see this man please do not approach as he is armed and extremely dangerous! Not!

Peace my friends!

Visit Kyrbrinder on their facebook here.