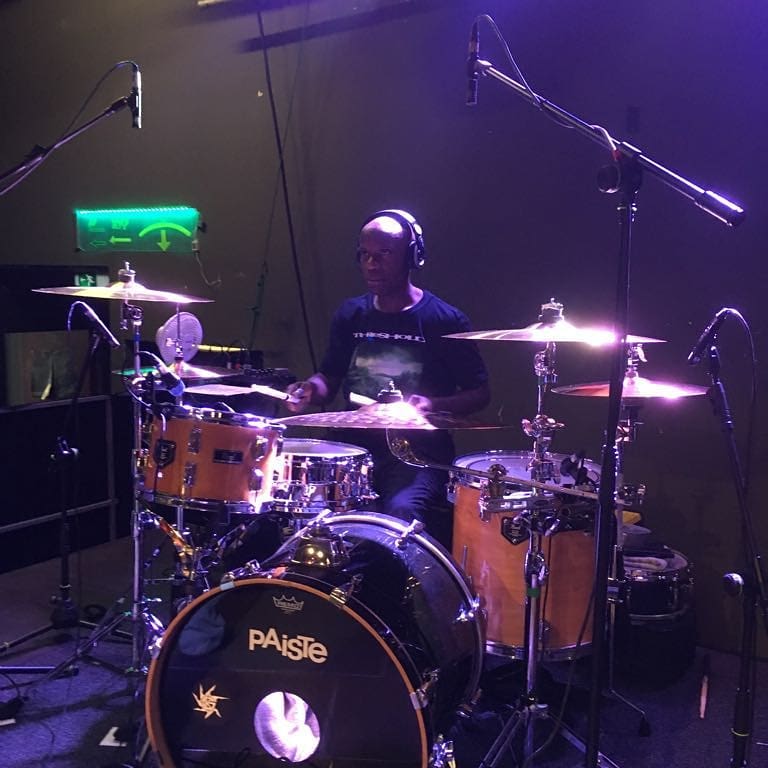 The Legends Of The Shires Tour 2018
By Johanne James
Greetings dear people.

As you know Threshold recently completed an album tour earlier this month from the 10/10/18 to the 21/10/18.
`Legends Of The Shires' is the latest in a long line of albums and considered one of the best, so last year the decision was made to tour the album. Now considering that there was a tour in November last year, it was wonderful to see so many people at the shows. It seems you can't get enough of us. Lol. It all began on the 9/10/18, meeting up at Thin Ice Studios in Virginia Water and when the German bus arrived at 4 pm on the dot [German efficiency for you] with its trailer, we knew it was game on and time to load up. Tour buses are much of a muchness with a seating area downstairs and bunks, toilet and kitchen area with a lounge upstairs, it's essential to pick the best bunk and settle in. Seeing as we have no bulky cabs and amps I have now inherited the mantel of bulky equipment, because all my drums are now in flight cases, and very heavy indeed, but convenient, because at the end of the night I'm not looking for individual boxes to put my stuff in. Plus there were loads of bodies at hand to help carry the gear.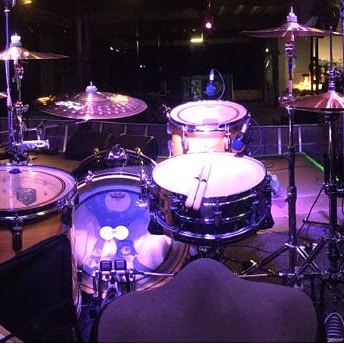 Off we go to meet the ferry at Dover.
And after boarding and a smooth crossing with a customary canteen evening meal of chips and peas, or should I say bullets disguised as peas as they could be considered lethal weapons in the wrong hands, didn't do my digestive system any good either. So we arrive in Calais and drive overnight to the first gig in Aachen Germany to meet the two bands who would be traveling with us, Maxwell and The Silent Wedding. I made an awful mistake though as I had brought the wrong floor tom legs and had to find a drum shop that could accommodate me in that capacity. So off David, our sound engineer and tour manager, and I went and to our delight were successful. Twenty Euros later we head back to the venue to load in and set up only to discover the legs are still the wrong size! So out comes the tool kit, drills and cutter to start cutting and leave evidence of my handy work. Yeah, iron filings everywhere! Problem solved and off we go. Set up, sound check and dinner! The Musikbunker was very special for me. The very name implies no lights or windows. It has a relatively small stage, still, the perfect performance! After the show, tear it all down, pack it all away and load it into the trailer. A quick shower and all aboard and the show hit the road! There were 18 people on the bus! 18 people! There wasn't enough room to swing a cat's whiskers, which would be considered animal cruelty, but you get my point! All on board were as cool as cucumbers, it was a blast!!

After a lengthy drive to the Z7 in Switzerland, history repeats itself and the routine begins.
Get in, eat, load in, set up, sound check, relax, dinner, relax, then show time, tear down, pack away, load into the trailer, shower and all aboard and off we go to the next venue. Did I miss anything? When you are in such close proximity to others for long periods of time things can get a bit frayed to say the least, you find things to do. I had a DVD player and a host of movies to keep me occupied, care of The Vegan & Drum Rescue Service to whom I am eternally grateful. Off to the Colos-Saal in Aschaffenburg Germany where the live album was recorded last year. Can you imagine a king size 18 berth tour bus driving down a tiny high road in a small town? We were the highlight of the day! The bus of course had to be moved some kilometres away as it would have caused a major problem. Again, get in, load in, you know the rest. Richard had the foresight to bring along a GoPro camera and record some of those special moments, which you can now see on the Threshold Facebook page. After another memorable performance it was off to De Boerderij in Holland which is a favourite venue of mine with its clean dressing rooms, showers and toilets. Wonderful.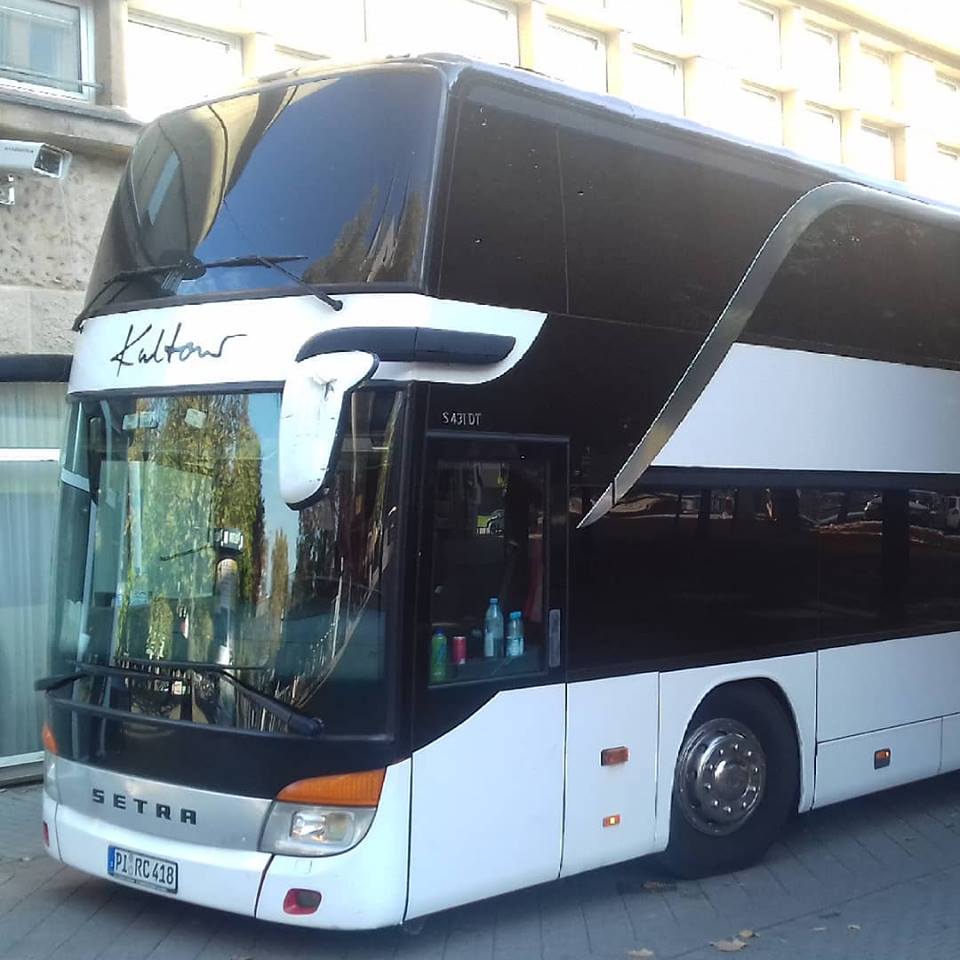 The next day however was rather eventful, you see.
When leaving the Markthalle in Hamburg after a successful show, there were road works in the car park, and there was a rather large and thick metal sheet covering a gaping hole and whilst driving over it, it ruptured the oil sump, and low and behold out drained all the fluid onto the road, leaving a trail of black liquid and the engine came to a grinding halt! Ohhhhh noooo!!!!! So what do we do now? Well, it was a unanimous decision taken by David the tour manager to spend the night at the Ibis Hotel located no more than 100 meters away. Phew! We were very lucky that the next day was a day off and the bus mechanic had to be called as we were in for a long wait! The next day was of course a waiting game, so with time on our hands a bit of sightseeing was in order, along with lunch and a trip to the local drum shop in Hamburg. Come the evening there was no progress to our plight and time was beginning to run short. Were we going to make the next gig? Then, hey presto, the mechanic arrived and immediately got to work. Well, some hours later I heard the engine roar into life and our problems were solved, or so I thought! You see, the damage was beyond repair as the driver made the mistake of driving the bus with no oil in the engine! Ooops! It was far too late to requisition another bus, so we had to wait until the next day and this meant another night in the Ibis Hotel, which was fine as the beds don't move whilst you sleep! Well, the next day our new bus finally arrived and very nice it was too! Very boy band indeed, luxury to the highest degree and a toilet that you could actually sit on! This was far beyond our wildest dreams but not long lived as it was only taking us to our next destination as it didn't have enough bunks to accommodate the needs of the tour, and time was running short so straight onto Jena F-Haus. We had not been to this part of Germany before, therefore new stomping ground and for the people who had been waiting for us in this pretty little town, we put on a good show. After, it was onto another bus and to our disappointment it didn't match up to its predecessor, ho hum.

It was then onto Prague in the Czech Republic.
But this time we were on the outskirts of one of the most beautiful cities in Europe. Shame really, as this part looked like it had been sent back in time. Again we had not been to this part of the city before and Club Nova Chmelnice was packed to the rafters, so a good time was had by all. Okay, this is the part when I tell you that we packed up the gear, put it into its perspective cases and so on, then back on the bus after emptying the fridge of beers and such like for an overnight drive to the next venue.
It was back to Germany, to Munich, Feierwerk, a place we have played on a number of occasions and has always been a good gig, in spite of this night being the same as a festival it was holding in the smaller venue in the same building. Was there a conflict of interest going on here? You tell me? We weren't sure who was going where. By this time we were beyond half way through the tour and just warming up! So again after another great gig and satisfied audience, we packed up, put away, loaded up and back on the bus to Mannheim. This place looked very much like a smaller version of Z7 and come show time had the same barriers in front of the stage to stop the adoring crowds from mauling us superstars. Sorry, I was talking about Wham. You remember them, don't you? Yeah, Wake Me Up Before You Go-go! Ha ha ha ha! Anyway, to our astonishment there was a lady who had travelled all the way from Japan to see us, and she brought gifts for each member. Now that's real dedication for you. The funniest thing though, she went to see Sons Of Apollo the night before and spoke to the drummer Mike Portnoy. She told him that she had flown all the way from Japan to see, wait for it, Threshold! Oh dear. Sorry Mike. Here we go again, pack it up, and you know the rest. Then onto Essen and the Turock. We have also played here before. Funny, the equipment entrance is down a side street where you would believe something rather unsavoury might happen. I do like this venue, but the strangest thing is that as soon as you finish you have to pack up and clear out as they have a metal disco after the live show. You see all these people who don't look old enough to be out without their parents banging their heads to the latest and hippest bands. Go figure?

This was our last show in Europe.
So now we have an overnight drive to Calais and after passing through passport control we board the ferry back to Dover and another customary ferry breakfast of beans on toast. I dare not tell you what the others had as it didn't resemble anything that any plant, bird, animal or human would consume! Well, maybe an alligator? Hmm? Onto The Dome in North London and my old haunt. I have played here more times than I can remember and am therefore very familiar with the surroundings. This wasn't a pleasant load in as there were a flight of stairs to negotiate. Yuk, all those heavy drum flight cases. Anyway, this would be the last set up and sound check for a while, so best get on with it. Due to the engineering genius of our David Sievers, who had the foresight to bring his own desk and an assortment of other little goodies, sound check didn't take very long indeed, as everything was already there at the touch of a button, and was just a case of balance. We were done within 15 minutes which left the other two bands with an age to get what ever they needed to do, done, with time to spare…
This show was special as we were greeted by a home crowd. There were some truly memorable moments for me on this tour, including the bus tragedy! Aachen, Mannheim, Munich, Essen and London left an indelible mark in my memory and I can't thank everyone involved enough.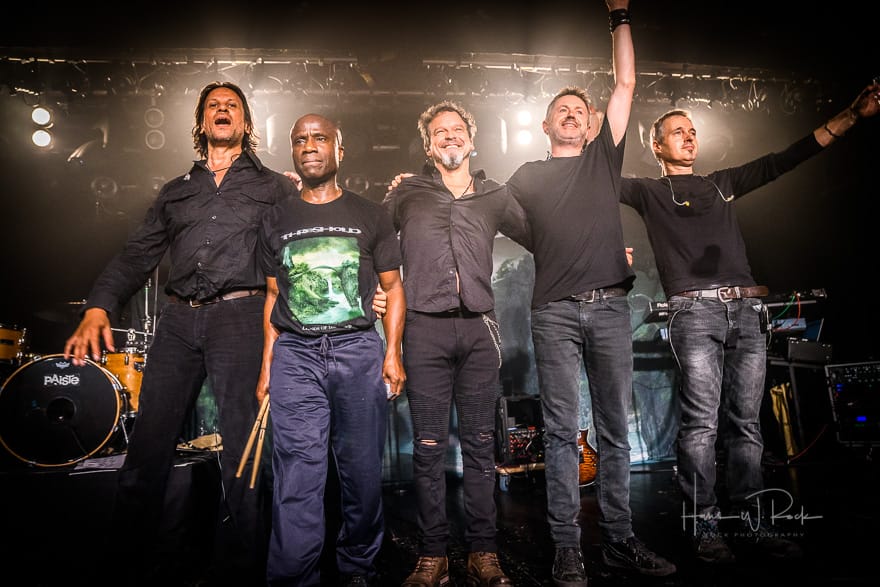 So it just leaves me to say a big thank you to the two support bands Maxwell and The Silent Wedding for all their help and being so selfless, and for the great music. Thank you.

To David, our sound engineer and tour manager. Thanks for the sounds David, as you are the 6th member of Threshold. To Chris, who did our merchandise and made me a few Euros that kept me in Tofu and drumsticks. I know, a strange combination. To the driver who got us to and from our destinations safely in spite of the mishap in Hamburg. Sounds like the title of a book. Mishap In Hamburg? Hmm. Not bad. Anyway. And to our mascot A D R who is also known as the Vegan And Drum Rescue Service. I cannot thank you enough. But a special thank you goes to Christine. This dear lady came to see us in Quebec, Montreal, Gettysburg, Essen and London. She had navigated her way from Detroit. I jokingly said, "We have to take an injunction out on you". Thank you so much. I think the least we can do is stick you on our permanent guest list, for if you can make such an effort then so can we! It's supporters like you that make this worthwhile. So a big thanks to all the Threshold fans out there who have followed us through the year, and I hope you continue to do so.

Thank you Karl, Rich, my groove brother Stevie A and our kid Captain Morgan. Hope you enjoyed your Ruby? Lol.

Thanks Threshold, for the best is yet to come!

Thanks for listening

Johanne James