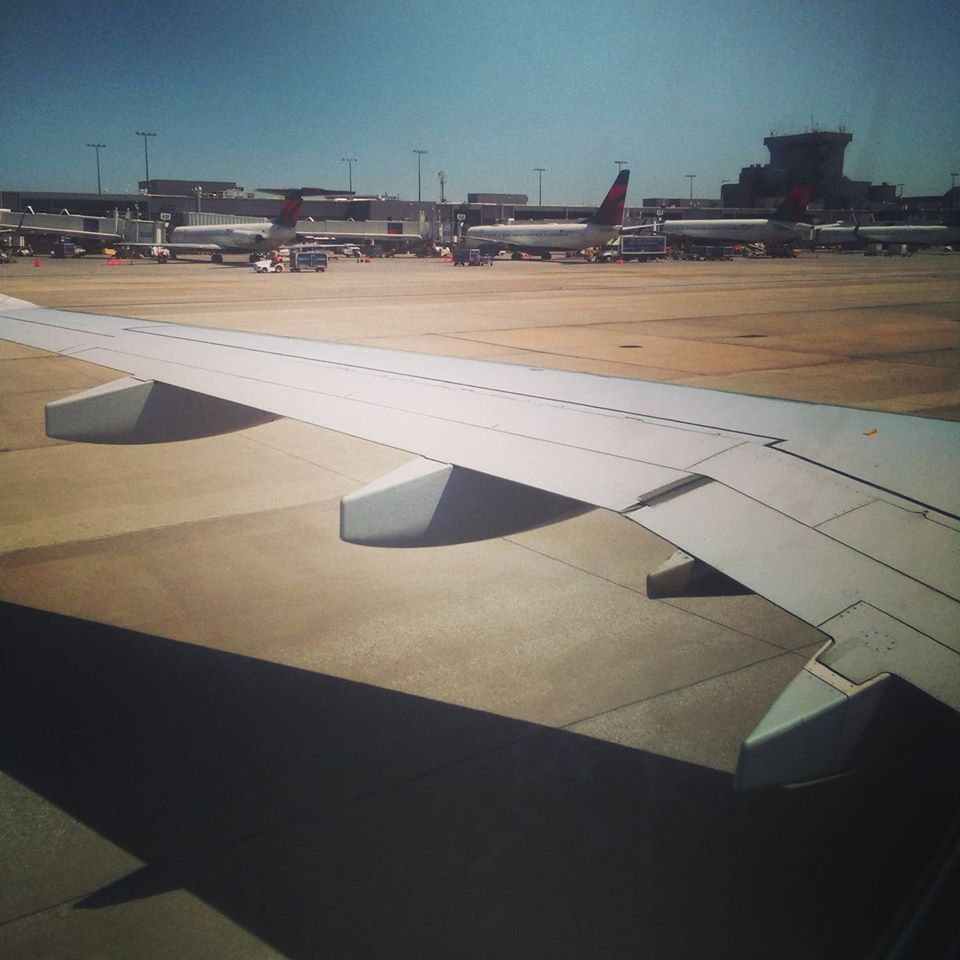 THRESHOLD 2019
By Johanne James
Hello there and how are you all this week? Good. Then let me begin.

Threshold had a good year this 2019.
Seven countries on two continents. Finland, Norway, Estonia, France, Canada, America and Spain. AGHHHH! I don't like flying and consequently I spent more time in the air than I did on stage! I must say that we had a wonderful time, but I was most disappointed with Norway! Yes, Norway! And why, I hear you ask? I didn't see not one Troll! Not a one! I looked high and low, therefore I shall not be visiting there again unless I can be assured that Steve and I will get to see at least one. Well, you've all seen Troll Hunter, have you not? Anyway, moving on. I must say that my two favourite places have to be Estonia and Finland. Oh and Norway! Okay, all of them were for different reasons and we had some fine performances along the way. Tallinn, Oslo, Helsinki, Quebec, Montreal, Atlanta, Barcelona, Toulouse and Madrid. I can barely remember the names of the venues we played so if anyone out there can remind me, then please do so. I suppose it'll be on the Threshold website somewhere?

Here's a brief account of the journey.
Estonia, we played in an unfamiliar venue called Rockclub Tapper and I had no idea that we had any fans out there, as the last time we were there it was a festival, but there you go. We were very pleasantly surprised to see that many people. The get in was a case of, oh no, stairs, but not to worry as there was a lift, phew. I didn't fancy hacking that lot up before sound check! I had a beautiful Pearl Masters maple shell kit at my disposal, and even Steve said "That's a nice sounding kit, Grimes". Shame I couldn't use it for the rest of the shows. When soundcheck was over, it was off to get dinner before the show and we had a great time to a very appreciative audience. Thank you Tallinn!

The next morning we were taken to the port to catch the ferry to Finland. Now for me, this was a little less taxing on my nervous system. It may have taken a few hours, but at least I was able to walk around and buy myself a watch from the duty free, that was after boarding and finding ourselves some relatively comfortable seats for the journey ahead. Funny thing about this watch? Every time it was near Glynn, it seemed to lose an hour! I just couldn't figure it out! Maybe he has more electricity in his body than he realises, or he just likes playing with watches, especially mine! Helsinki was a blast. I have been to Finland twice before and I was enthralled by this city, and they also have a great ice hockey team. Finland I mean. The venue, Travastia, would rival any mid-level venue on the planet. Over 430 fans rolled in through the doors to see us. It was a hoot for band and fans alike. I had a wonderful Tama Starclassic kit at my disposal this time, and now I'm torn between using either Tama or Pearl. The bass drum was like a cannon. Boom! Any offers? Guess not. This was definitely the best show we did of these three dates. We'll be back! Thank you Helsinki.

Norway, Oslo, in fact it was some two hours out of Oslo, at a festival, in a barn! A very big barn I must say, but a barn all the same. We played two shows, Saturday and Sunday. One fan travelled all the way from Mexico to see us, and a family from Russia. I wouldn't look at myself in the mirror let alone go and see myself play in a band! Lol. A good time was had by all. We take for granted what music does for people as we deliver a performance and leave the stage either content or discontent with what we had just done, not realising the affect that our music has on an unsuspecting public. Thank you Norway, but next time, please bring some Trolls!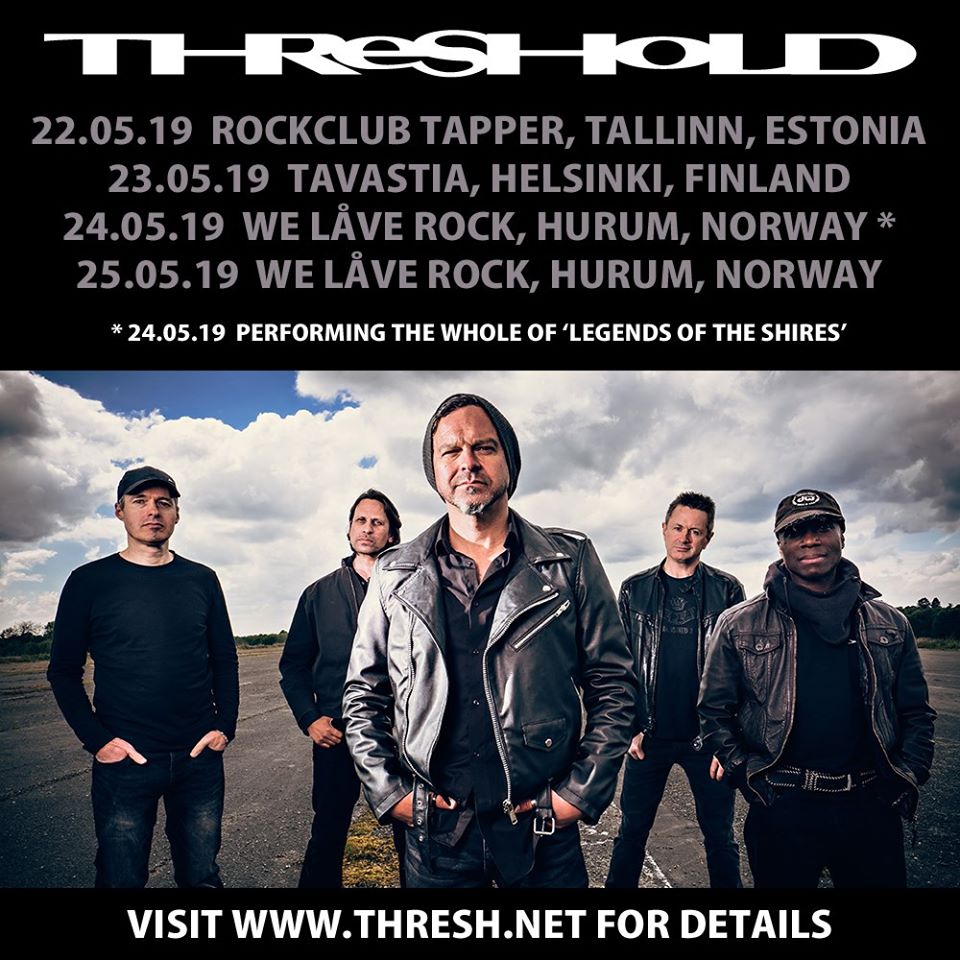 Quebec. Le Buche we had played the year before in what looked like a bar come restaurant. Seeing as it was a new territory to discover, I wasn't sure as to how the band would be received. I didn't have to worry as a fair number of the audience were very happily singing along to the songs and as to which I guess by the number of albums we signed afterwards they were already familiar with it. I do look forward to the next time we play there, in fact we all do. Thank you Quebec.

Montreal at Foufounes Electrique we also had been graced the year before to a small but very noisy crowd indeed that you would have thought that we were playing to thousands. One dear lady had commented that she had been waiting 12 years to see us, to which I replied, "We got here as quick as we could". Thank you Montreal. You were wonderful.

Atlanta ProgPower USA. Now, we haven't been here since …. ? Well, Damian was in the band at the time and this being the third appearance at PPUSA with the third singer it was familiar territory. The funny story is that our flight from Philadelphia to Atlanta was cancelled and consequently we had to spend a night in a hotel which may have suited the Munster's, but that's just my opinion. When we finally arrived in Atlanta we were met by a dear lady who was sanctioned to do the airport run for all the bands that day. "How ya'll doin?" she asked. We did the usual stuff, like booking into the hotel and I got a room to myself. "How did you work that one out, Grimes?" said Steve. "Ha ha, it comes with age, boy". We were the second to last act to Demons & Wizards and setting the kit up was a nightmare as it was a rack system, and a lot of it too. Those of you who know how I play know that I use very little indeed and this was overkill! Finally sorting out the where and how with a nice roadie to assist me, we got it sorted and off we went! It was great to be there again and thank you PPUSA!

Six flights in 1 week is far too much time to be 30.000 feet in the air! On the flight home, on take-off as the plane was hurtling down the runway, it seemed not to be going in a straight line, I could feel it swaying from side to side. Glynn, my nemesis intimates to me that the pilot has been drinking and not to worry because planes only crash once! Thanks Glynn! Next time, I'm taking the train!
The last time we were in France was 2014. The Ready For Prog 2 day festival was held in Toulouse, and it being its second year was good, and great to see our old friends Eldritch whom we have not seen since 1999 when we toured with them along with Pain Of Salvation. We headlined the Friday night to a packed house at a superb venue and we look forward to playing there again sooner rather than later. Thank you Toulouse.

Here we are in Barcelona at Sala Boveda, a venue that we hadn't been to since 1997, when I first joined the band. The stage was a good 1.5 meters from sea level, and when you're as short as I am that's a long way up! It would have made a good drum riser! Lol. There was a wonderful support band whose drummer was kind enough to lend me his kit. I did give it back to him in pieces but he didn't seem to mind. It made a nice jigsaw puzzle. The show was amazing as the crowd again made more noise than the Castle Bravo detonation. They were even cheering when we came back on stage to pack away our gear. Well, that's Spaniards for you, very enthusiastic. Thank you all so much.

Madrid being the last show of the year, what was the name, look, when you get to my age the nnkbbb is a little blurred. It was called the Sala Caracol. Anyway, oh by the way, I must give a mention to dear Pedro, the driver who was kind enough to drive us from Toulouse to Barcelona to Madrid. He was a rotund fellow who spoke very little English, but that didn't matter at all because not only did he get us to our destinations safely, he was a friendly face and very accommodating. Thanks Pedro. We arrived at the venue and once again I was at the mercy of a support band drum kit. But with the help of the V&DRS, we got it sorted and away we went. The hell of it was, the kit had to be rebuilt after the support band had played, which always takes up more time, but that's the curl of the burl! We did put on a show for those who were there, and looking out into the audience, there were quite a few!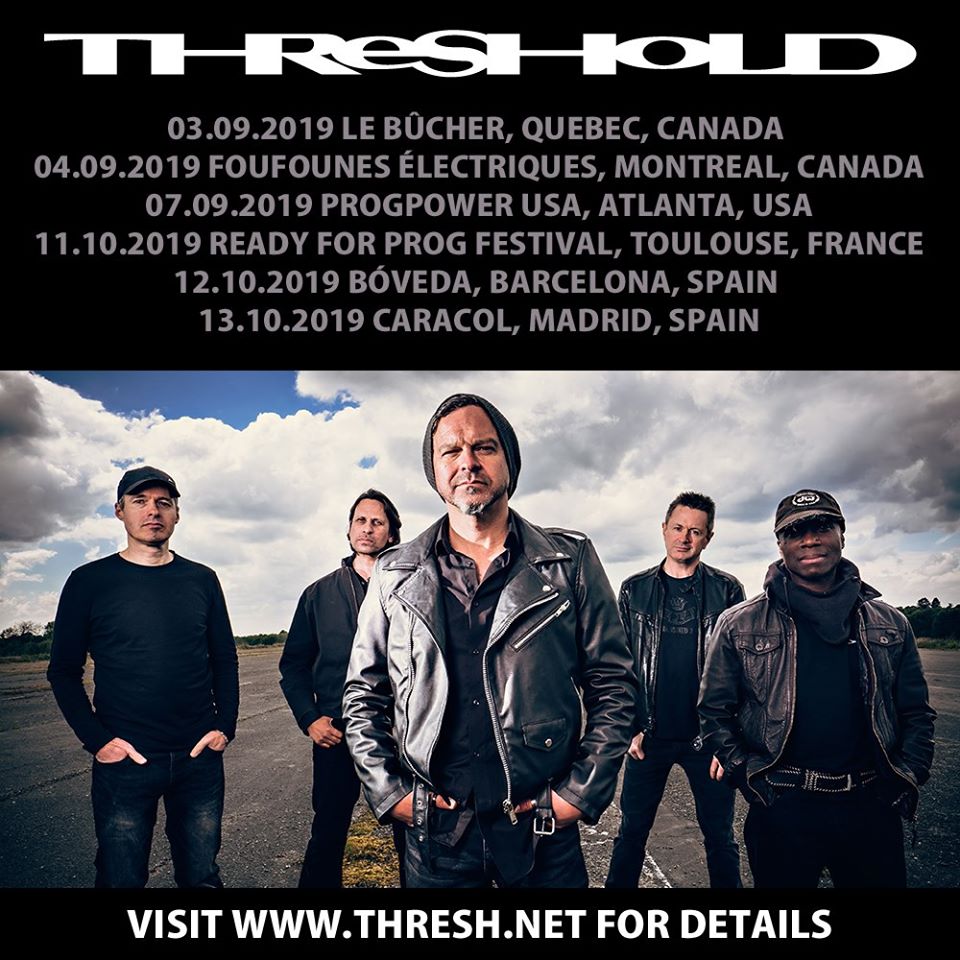 I'd like to thank all the venues we played and the organisers that made it possible for Threshold to do what they did this year. To PPUSA and READY FOR PROG for putting on such great festivals and to the sponsors of PPUSA for their kindness, appreciation and that wonderful meal at that beautiful Thai restaurant. Tell you what, that meal alone was worth the journey to Atlanta. I'd buy that for a dollar! Lol. To the two support bands in Barcelona and Madrid whose drummers were kind enough to let me use their equipment. I don't think they knew what they were letting themselves in for, it's a bit like asking the fox to look after the chickens! Cheers to the V&DRS for her undying support. Thank you to Pedro for his safe driving and a big thank you to Threshold for being such a good bunch of lads, apart from Glynn of course, who makes my flying experiences a nightmare.

Thanks to all the fans who made the effort to come and see us. We will see you in the new year, so watch this space.
All the best for the new year.

Thanks for listening.

Johanne James


#threshold #headbangerslifestyle #hbls #awayoflife