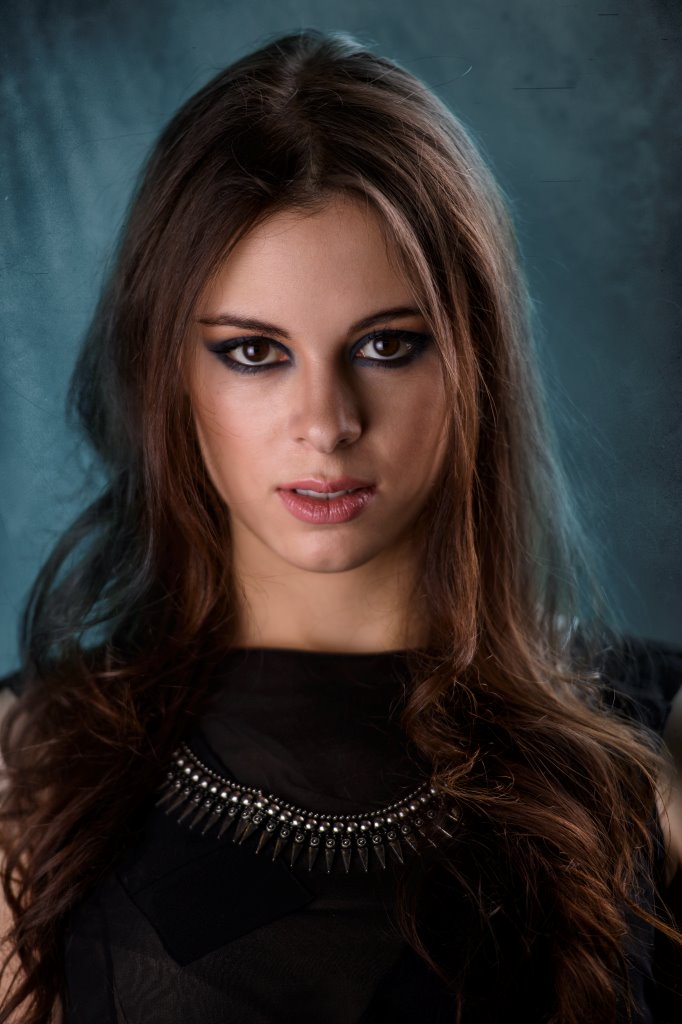 BEYOND THE BLACK
Exclusive Tour Diary European Tour 2017! Pt.5
German symphonic metal band BEYOND THE BLACK is conquering the world. Their new album 'Lost In Forever' has just been released through UDR Music and now they are on tour with EPICA and POWERWOLF. HeadBangers LifeStyle asked them to write a tour diary and they agreed. We proudly present part five of that diary: The last dates of the tour.
January 31th – Hamburg, Mehr! Theater, DE
Last day of January and last day of touring in Germany, actually! It's Hamburg, the city where we played a sold-out gig last year in November which was just awesome! After a well-needed day off in Hannover with lots of sleeping and good food we arrive at the Theater, a modern and rather huge venue with a good vibe. As always, Powerwolf are in the middle of setting up when we arrive, and it's always good to meet up with both other bands after a day off. It's four more shows – this one included – before the tour ends, so the feeling of saying goodbye is slowly creeping in, but we all are ignoring it for now. We have some guests tonight that we always love to see, so the day goes by rather quick and we are ready to hit the stage! There is lots of space and lots of people as well! A great audience that rocks with us for 30 minutes before we have to say goodbye to the German part of the tour…and get ready to leave for Belgium. See you !

February 1st – Brussels, Ancienne Belgique, BE
So here we are, Brussels, Ancienne Belgique…man, what a legendary location! It seems that you can feel the history of this building in every place. So many amazing musicians and artists were here and the overall vibe is just fantastic! The venue is a great spot to play, and it's actually sold out! 1.800 people will be our guests tonight, and we could not be happier! The Ancienne Belgique (or "AB") is covered with amazing photographs in the backstage area that show so many familiar faces that I don't know where to start…and now we play here. Amazing, just amazing! Belgium is actually quite well known for its supporting Female Fronted Metal scene, so we are curious to find out how the audience reacts to us. The lights go out, the intro rolls, and we hear the roar of the audience…no better feeling for a musician, believe me! The audience is great, we have people singing, cheering, jumping, just having a good time with us! Such a lovely gig in such a lovely place, cannot thank you guys enough for this evening!

February 3rd – London, Shepherd's Bush Empire, UK
UK it is! I actually love London, it is probably my favourite metropole I have ever visited, it has good food, good people, a long and interesting history…and it has the Shepherd's Bush Empire. Just look at that!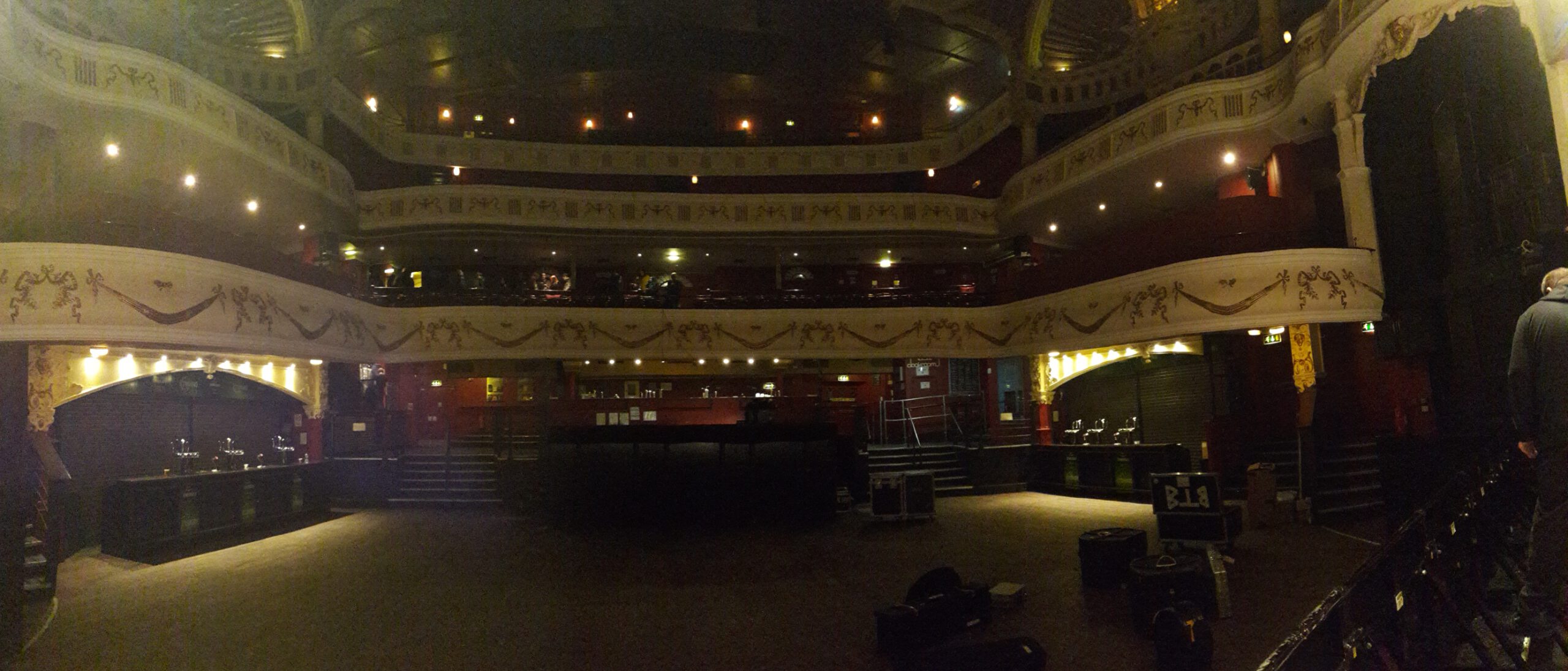 The Venue was used as a BBC broadcasting Theater for a long time, so it surely would have some amazing stories to tell. The athmosphere is amazing, and we really like being there. I personally decide to take a walk outside, though, because I get in a tourist mode immediately when in London. It's such a pity we don't have time, all I can do is walk around a bit. Kai joins my adventure, and we end up in an amazing burger restaurant around the corner! There are a lot of "not so good" stories about English food, but this burger was – hands down – one of the best I ever had! So England, you have redeemed yourself 😉 After we return it's time to set up and get ready to do what we did on 16 gigs so far: warm up the crowd for a great evening of metal music! But it seems you guys didn't even need to get warmed up, craaaaazy! What a night, it made me love England even more! Thank you for singing with us, we hope to come back as soon as possible!

February 4th – Paris, Le Zenith, FR
The last show, the grande Finale, it is finally here. Over 4.000 people have gathered to witness this last show on this tour, and the Zenith is well worth of this event. It's a huge and modern venue, the stage is 26m wide which is just AMAZING! So much space to run around! I wonder how the French crowd would react to us as I have no experience in touring France whatsoever. As they say, a picture says more than a thousand words…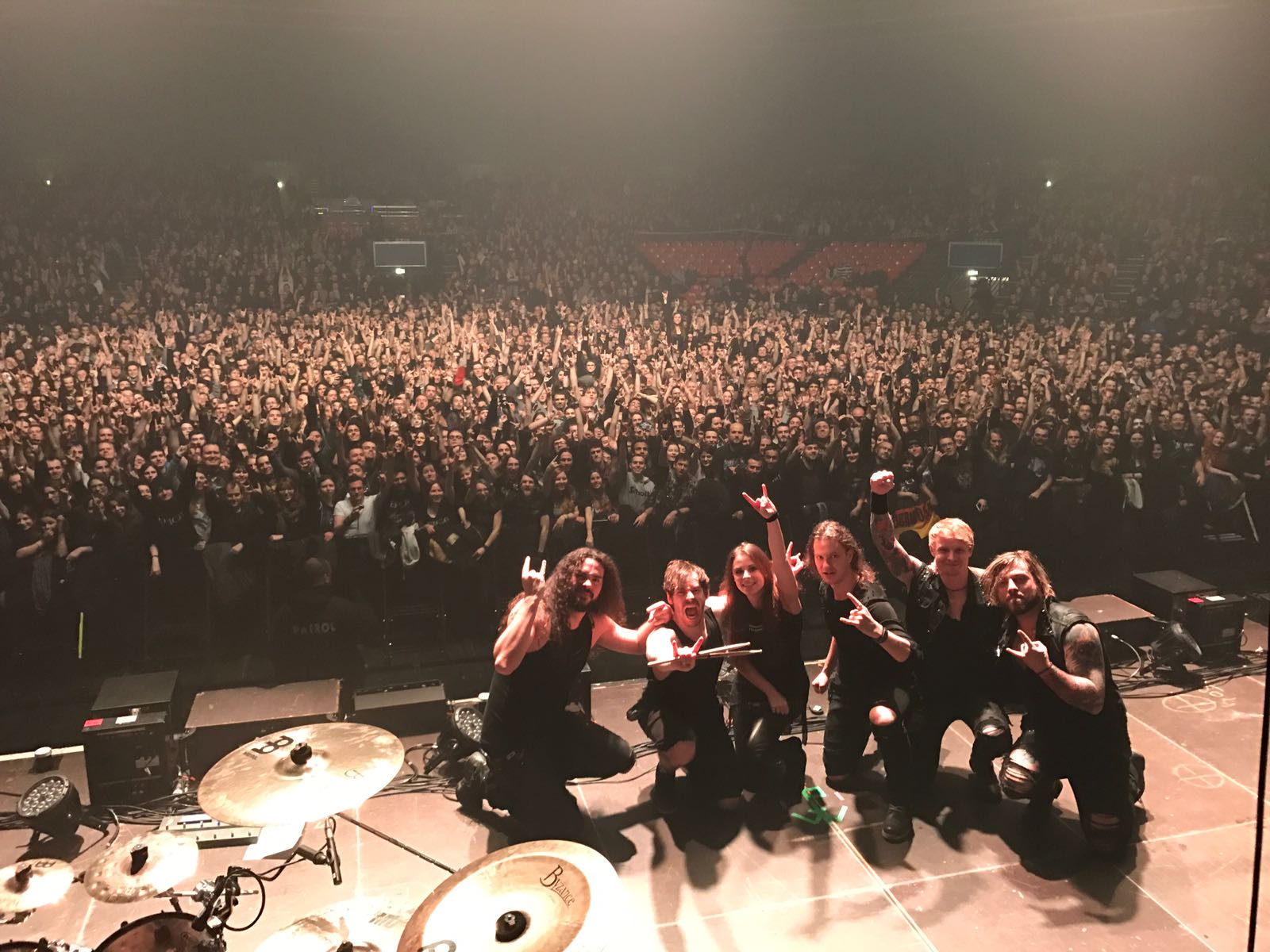 Do I need to say more? This evening was such a fabulous way to end the tour that I really and honestly have no words to describe it. I feel humbled, elevated, tired and wide awake all at the same time, but with this bittersweet feeling that this tour has now officially come to an end. One last evening to spend with our new made friends in Epica and Powerwolf, and also time to celebrate Chris' birthday today! So let me be quick about it because I have to join the party: Everyone, I cannot emphasize enough how grateful I am for the experience! Thank you for coming out to the shows, for demonstrating that the metal scene is still alive and appreciates live music like never before! Thank you for the talks, the drinks, the food and the impressions that will last a lifetime!
Step out, and see you on the road!

BEYOND THE BLACK
—
You can read Pt.1 of Beyond The Black's Tour Diary here
You can read Pt.2 of Beyond The Black's Tour Diary here
You can read Pt.3 of Beyond The Black's Tour Diary here
You can read Pt.4 of Beyond The Black's Tour Diary here