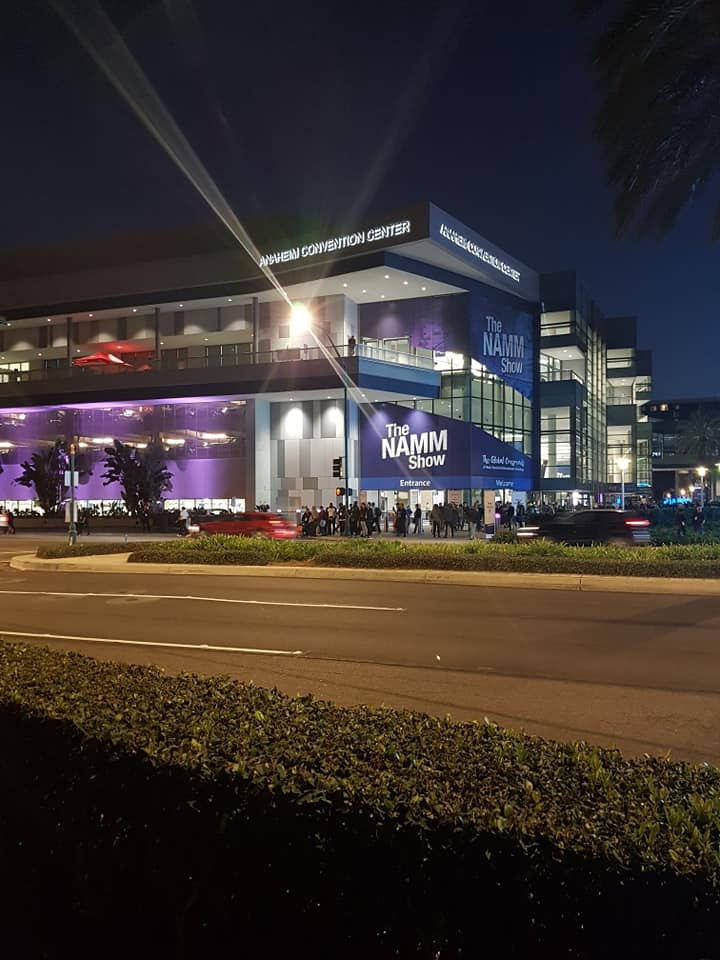 EXCLUSIVE NAMM 2020 Report By
MARTIN HELMANTEL (7 MILES TO PITTSBURGH)
One of THE places to be recently was NAMM 2020. A music convention where every who is who of the music industry was present. This year drummer Dirk Bruinenberg and bassist Martin Helmantel (both of the very promising Dutch rock band 7 Miles To Pittsburgh) went to this Walhalla for musicians. Exclusively for HeadBangers LifeStyle Martin wrote a personal blog about his NAMM experience.
"Wanna go to Namm?" Dirk Bruinenberg asked me this in November after we did the last 7 Miles to Pittsburgh gig of 2019. He was planning on going with Rob van de Loo (Epica) but Rob couldn't go due to recordings, so Dirk asked me. "Let's go" I said and after confirming our presence with "our" companies Warwick basses and Dirk with the British drum company, all we needed to do was pack our bags and wait for January the 14th! Since the album `Revolution On Hold' from our band 7 Miles To Pittsburgh had just officially been released in the USA a few months ago, we contacted our promo guy Dustin Hardman to set up some interviews while we were in Los Angeles, killing two birds with one stone!
Flying to San Francisco first to meet up with old friends and from there, we cruise down the pacific coast highway (good idea Dirk!) to Anaheim, Los Angeles on thursday the 16th. After soaking up the scenery and a 12 hour drive (LA traffic is the worst) we arrive at the hotel. After settling in, we head to the House of Blues (where we run into Kamelot drummer Alex Landenburg and former Ruffians guitarist Craig Behrhorst who happens to be an old friend) to grab a bite and hope to see Metal Allegiance play…..no luck, all the concerts around the NAMM convention are sold out well in advance. Rumour has it that on saturday when Steve Vai played the House of Blues, around 6000 people were sent away at the door?! This would become the "theme" of our trip to NAMM, lots of people attending everywhere which meant long lines at the doors, restaurants and standing in line for about 45 minutes for an overpriced cup of coffee in the morning.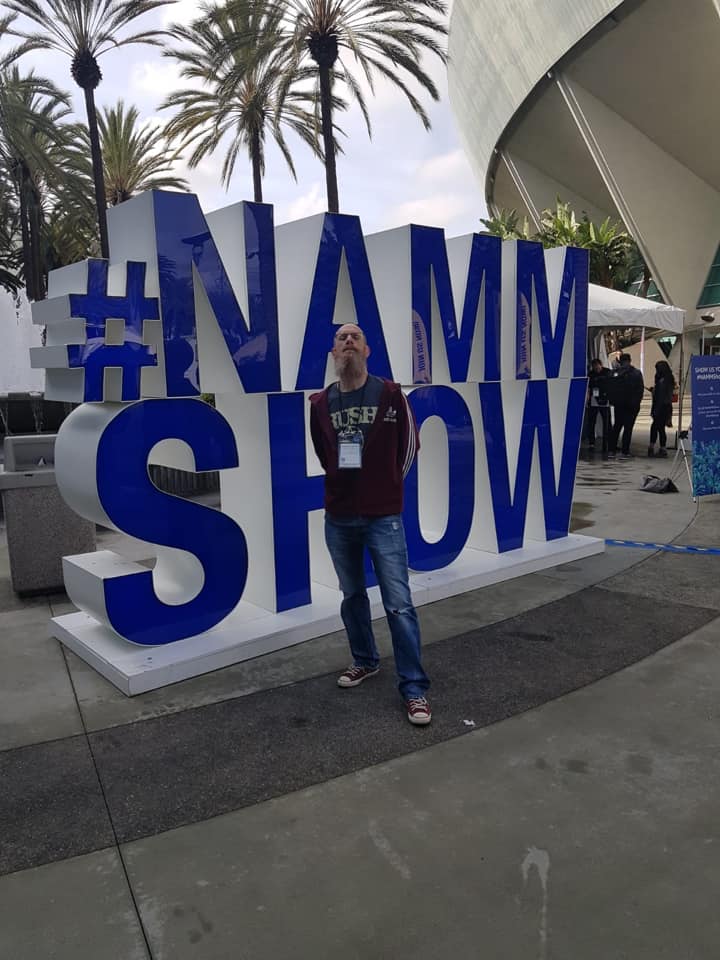 Friday 17th of January, my first time at NAMM. Dirk had already attended NAMM 2019 and it seems that he knows everybody there, after walking around with him the first couple of minutes! Literally every 2 minutes he spots someone he met there last year, all drummers obviously, I guess these drummers "stick" together.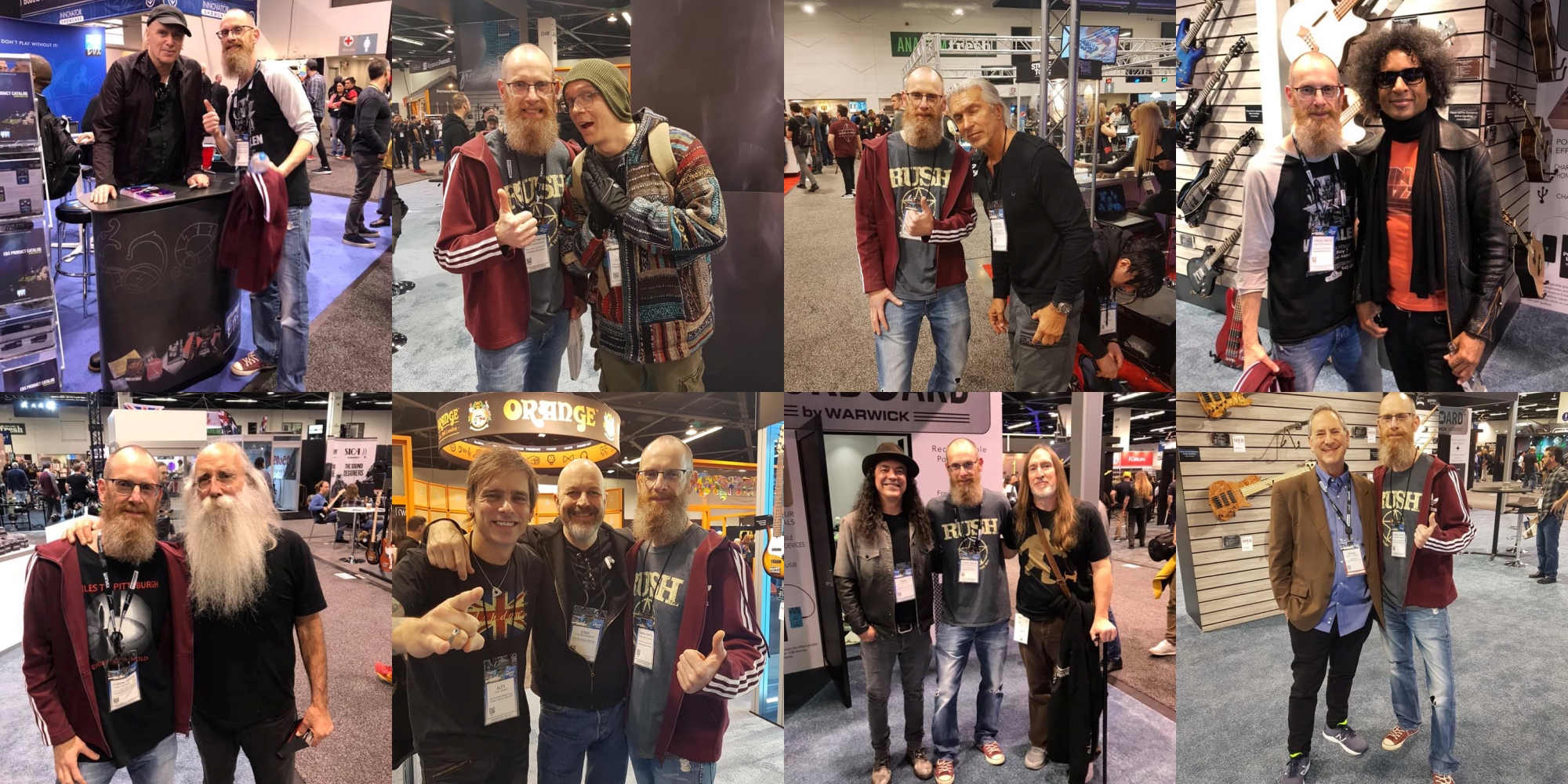 After roaming the halls of the Anaheim convention center we finally reach the Warwick/Framus/Sadowsky booth were I finally meet some people I know. I meet with Warwick/Framus founder and owner Hans Peter Wilfer again after meeting him 25 years ago! For the rest of the weekend this will become the meeting place/hotspot for interviews, meetings, photosessions and ofcourse trying out the latest gear! Imagine yourselve playing the instruments that you can never afford talking to the artists that you normally only see on a big stage from far away. While talking to my A&R guy Marcus from Warwick I get introduced to people like Devin Townsend (who ended up singing "Happy Birthday" to my son!) Mike Inez & William Duvall (Alice in chains) Leland Sklar (Genesis, Toto) and Scott Reeder (Kyuss) and many more. Later we find out through social media that everybody goes to NAMM, from the guitarist in Slayer to Stevie Wonder! And you can find every kind of instrument and every genre of music right there at NAMM. Sometimes it all seems a bit much but it is all there!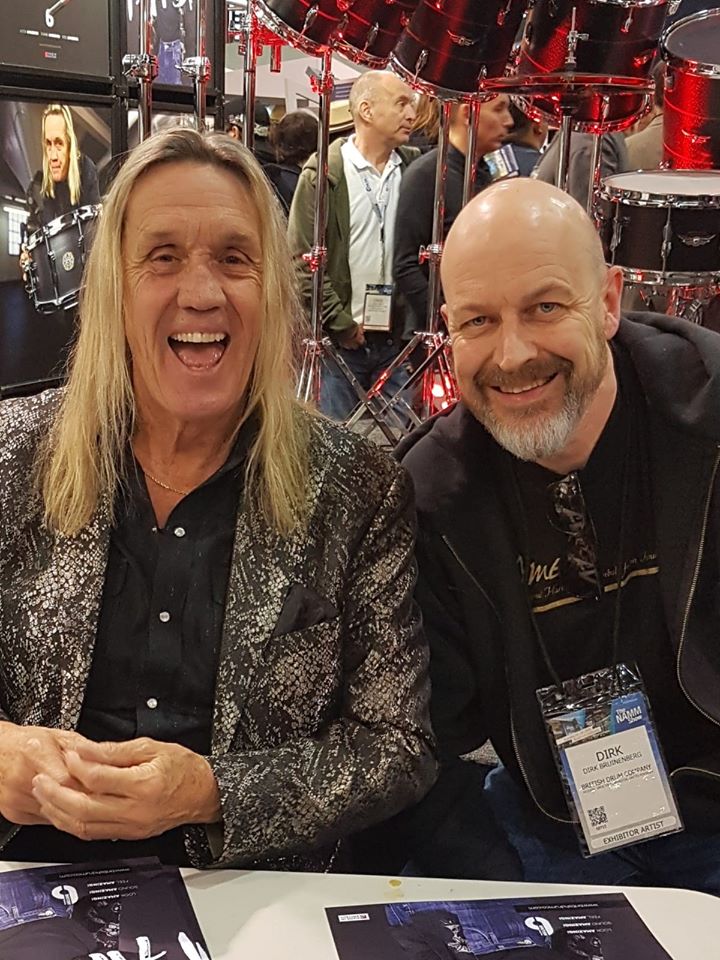 Saturday is the busiest day at NAMM with around 100.000 people attending! And trying to find someone in this crowd becomes quite a challenge. The only having no problem in doing so is…….Dirk Bruinenberg?! At the booth of his sponsor the British drum company he meets up with fellow endorser Nicko McBrain (Iron Maiden) and his A&R guy Gabriel Laurens (EMD music/Remo) who does a great job navigating Dirk to meet the right people. What I notice is how easy going eveybody is, you can just walk up to the biggest names in music and just chat to them about whatever you want to talk about, wheter it's instruments, gear, politics (nobody cares!) or even what we're going to eat later. Saturday night is traditionally the night to go out for dinner with the companies you endorse and fellow endorsers. So that evening I find myself having dinner with the whole Framus/Warwick crew and people like the beforementioned Devin Townsend, Alice in Chains members, famous guitar and bass builder Roger Sadowsky and everybody involved with the distribution of Framus/Warwick wordwide.
Dirk finds himself having dinner with a selection of Dutch finest drummers and companies present at NAMM (drummers from Vandenberg, Anouk among others and companies like Rotterdam drum department, Amedia and Balbex) arranged by Gabriel.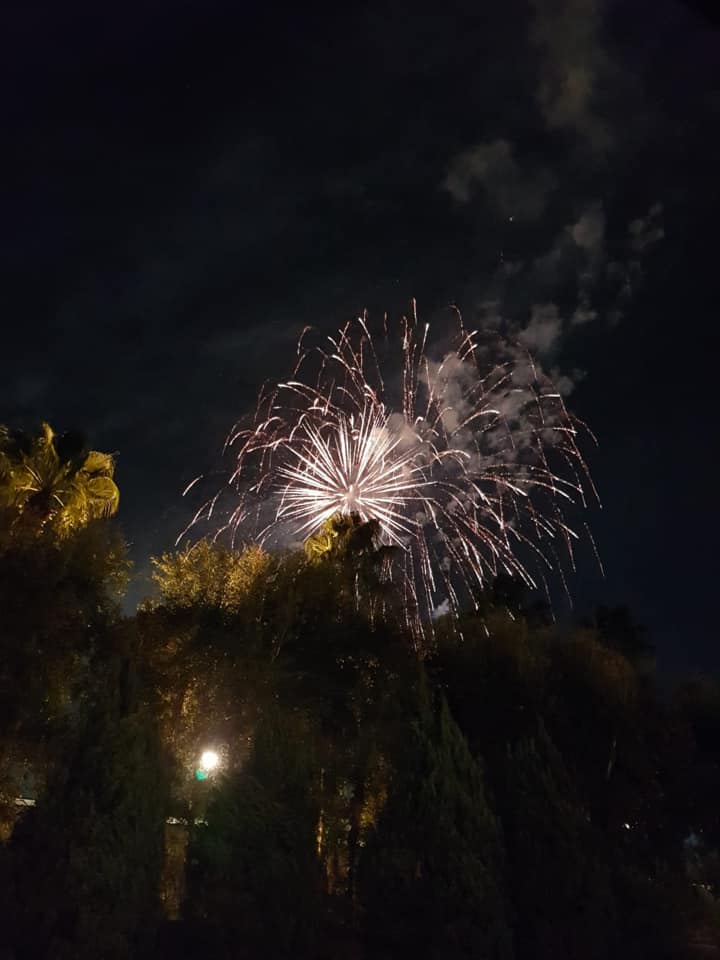 Since our hotel is located at the back of Disneyland, going to sleep early is no option because of the fireworks late at night, free show for us at the end of every day!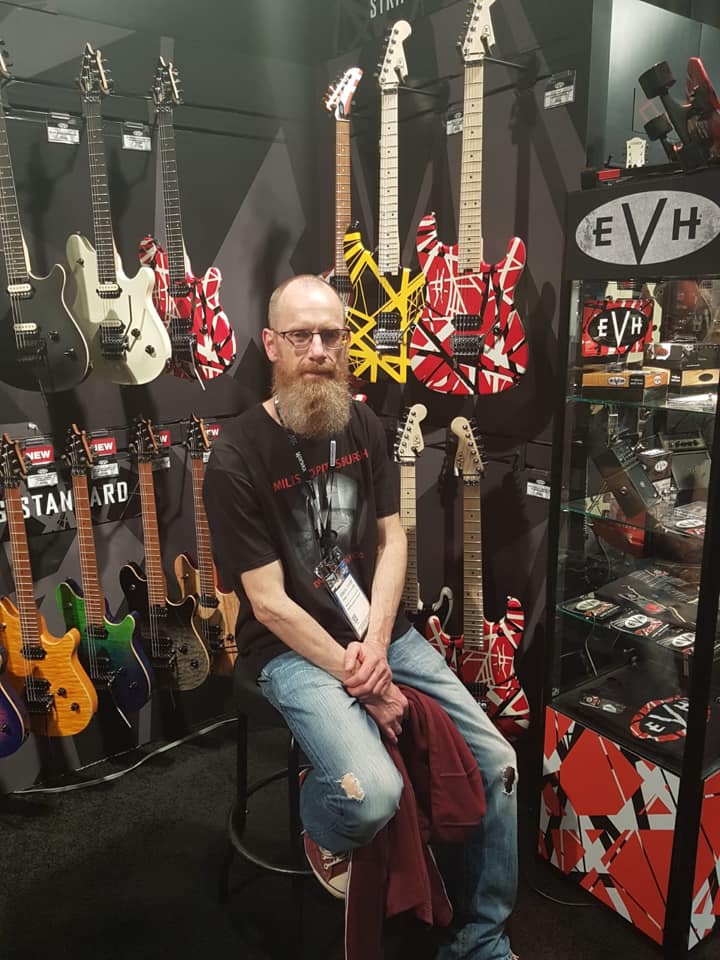 Sunday is the last day of NAMM and most exhibitors seem to have lost there voice and some of them sound as if that could audition as Mickey Mouse voiceover at Disneyland! This is a slow day compared to Saurday but still thousands attend the NAMM convention. I walk a final round to see if I didn't miss anything. So I end up spending another whole day and figure I still haven't seen it all yet! Later I found out through social media that I missed most of the people I planned to see there but it was simply too busy to see it all.
So if you ever get a chance to visit the NAMM convention, I recommend it. Imagine every musical instrument company displaying their newest, hottest and best gear. You can try everything out, see the best musicians showing of their talents…..if you have enough time!


#namm #convention #musicians #7milestopittsburgh #blog #headbangerslifestyle #hbls #awayoflife