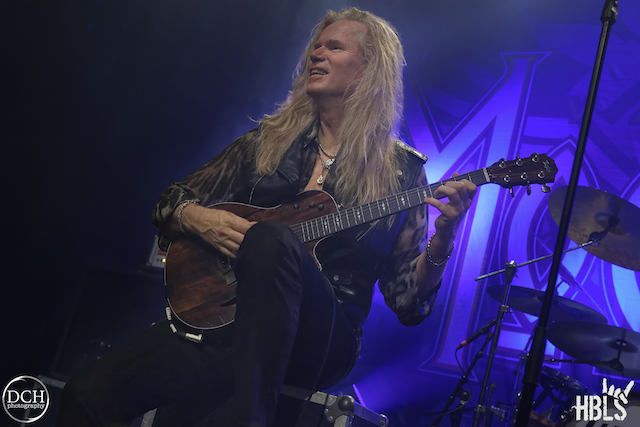 Spotify | Favorite car songs of guitarist Adrian Vandenberg
HBLS Spotify Hotlist
Adrian Vandenberg, guitarist, composer, music producer and art painter, is a household name in the music industry. The Dutch musician was barely a teenager when he started his first rock band. Later on he made name for himself with the blues rock band Teaser but Adrian had a real breakthrough in the early 80s with his then new band Vandenberg. It turned out to be the perfect stepping stone to the huge success he had with Whitesnake.
After that Adrian's career has gone through many different roads: he formed the bands Manic Eden, Vandenberg's MoonKings and Vandenberg 2020, he wrote songs for the TV show Starmaker and documentaries of National Geographic Channel and he also picked up his profession as art painter. Music has always been the center in Adrian's life but what songs does he prefer to listen to the most?
Exclusively for HeadBangers LifeStyle Adrian Vandenberg selected some of his favorite songs, which you can find on this week's HBLS Hotlist on Spotify. He also explains why he choose these songs.
LISTEN TO ADRIAN VANDENBERG PERSONAL HOTLIST HERE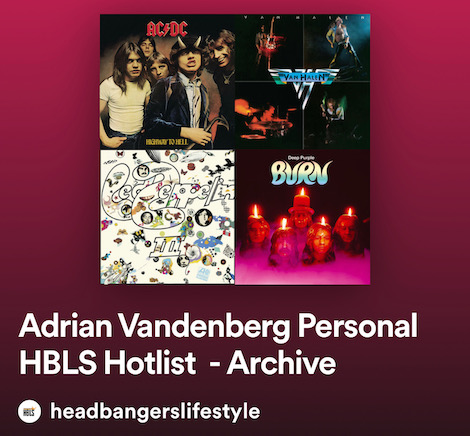 CAR SONGS
First of all I would like to say that my hotlist has no specific running order. These are all in fact great classic rock songs. Of course there are a lot of new cool rock bands, but when I was selecting these songs my starting point and criterion was they had to be "car songs". When I'm driving my car and one of these songs come along on the radio or on one of my playlists I immediately will turn the volume to the max.
HIGHWAY TO HELL – AC/DC
To me this is one of the most ultimate "car window loose – arms in the air – speed with 180 km per hour on the highway" song. There is actually no party that as soon as ,,Highway To Hell" is played no one does not get wild and crazy. Whether there are 20-year-old or 80-year-old people present, age doesn't matter. This song is such a hit.
RUNNING WITH THE DEVIL – Van Halen
When this song was released and we all heard it on the radio everyone was perplexed. It was even a number one hit in The Netherlands, the only country if I'm correct, thanks to radio DJ Alfred Lagarde. Such an awesome song. It is timeless. It still has a great production and it doesn't sound dated at all when you listen to it now. And of course, there is the fabulous guitar playing of Eddy. What more do you want? This song has also this vibe that you want to turn up the volume f****** loud!
IMMIGRANT SONG – Led Zeppelin
Led Zeppelin is actually really hard to choose from, because I like so many of their songs. But, ,,Immigrant Song'' is one of those songs, just like ,,Rock And Roll'' for instance, that when the guitar riff starts the song you feel it in your bones something is about to happen. There are actually a lot of elements in it that made Led Zeppelin such an amazing rock band. Besides that, they also have written a lot more folky-oriented songs as well which only shows how broadly oriented this band was. And how unbelievably stupid it still is that some media portrays Led Zeppelin as a metal band or hard rock band, because they have so many different colors on their pallet. But obviously ,,Immigrant Song'' is a straight in your face rock song.
BURN – Deep Purple
I didn't know what was happening and I couldn't believe my ears when I heard this song for the first time. I was already a Purple fan but the combination of Glenn Hughes and my good friend David Coverdale is really amazing here. You can hear both of their timbres and their voices fit so incredibly well together. "It blows like hell" and I think this is one of the strongest Deep Purple songs and they have a lot of them of course that are very good. ,,Burn'' definitely is ranking in my top three Deep Purple songs. Again, a great car song.
SUNSHINE OF YOUR LOVE – Cream
This is one of my favorite Cream songs. When I heard it for the first time, I was about one and a half years old or something. This is one of those songs that shows the importance of a really strong riff in a song. A recurring instrumental short theme that is played, for example on the guitar or in classical music on the cello or violin. The riff of ,,Satisfaction'' by The Rolling Stones is also such an example. It's only three notes, but it's a riff that you immediately sing along to. Or ,,Smoke On The Water'' by Deep Purple. I think the riff of ,,Sunshine Of Your Love'' is amazing. I'm pretty sure that bands like Led Zeppelin and God knows who else, are influenced by it. Fantastic song. Awesome singing. Amazing guitar solo. What else do you want?
YOU SHOOK ME ALL NIGHT LONG – AC/DC
I realize that I selected two AC/DC songs [laughing] but this is also the perfect example of a car song. The moment you hear it on the radio, BAM you turn the volume to the max and you shout the chorus out loud. Bon Scott is my favorite AC/DC singer, like for many people, but of course Brian Johnson does a great job too.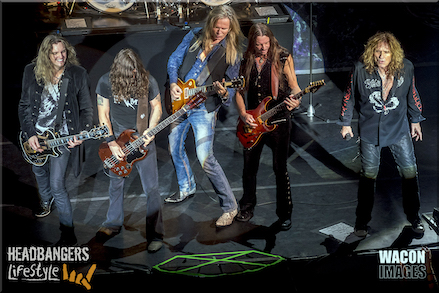 STILL OF THE NIGHT – Whitesnake
Of course, there had to be a Whitesnake song in my list. Not because I played in the band for "just" 13 years, but because I think this is such a kick-ass song. I can safely add this track because I don't play the guitar here [smiling]. In fact on the album I only play in the song ,,Here I Go Again''. I just think ,,Still Of The Night'' is awesome. Coverdale is in absolute top form here. You have Aynsley Dunbar on drums here and in fact just an awesome line-up and production.
TAROT WOMAN – Rainbow
This is definitely one of my favorite Rainbow tracks. Everything is in there too and this is by far my favorite Rainbow line-up. And they had quite a few … but Ronnie James Dio…. Simply every singer sounds flat comparing to him. ,,Tarot Woman'' has actually all the elements that made Rainbow so great. It has that medieval atmosphere, the typical Blackmore dark coloring sound, amazing vocals and guitar playing. Cozy Powell on drums, wow what more do you want?
VOODOO CHILD – Jimi Hendrix
It is an absolute must to have a Jimi Hendrix song in my list but at the same time it's hard to pick one because there are so many Hendrix songs I absolutely love. But this song is one of those pearls that has so much of his elements in it. It starts with his incredible signature Wah-Wah pedal intro that every guitarist tries to imitate the moment they have bought a Wah-Wah pedal. And there are just so many elements in it that made Hendrix so awesome. Some mystic, some voodoo, amazing guitar work. Absolute great drum work that actually always has been a little underexposed.
Mitch Mitchell is one of the greatest drummers and definitely of that era. His drum work still sounds fantastic when you listen to it now. He plays so freely without cutting the song short. Mitch has a jazz background, the big band style but it works so well. Just like with John Bonham and Led Zeppelin. I think it is so interesting that these guys from the 70s had such a rich musical history to pick from when it comes to musicianship. But nowadays, and I don't want to sound like an old asshole, kids are influenced by bands who are influenced by bands, who are influenced by bands, etc. They don't go directly to the source. And that's what I like so much about drummers such as Bonham and Mitchell. They were true pioneers in terms of technique.
PANAMA – Van Halen
I can't resist to add this extra song of Van Halen because this is also the perfect car song. ,,Panama'' need to be played LOUD. What I like so much about it when you compare ,,Panama'' with ,,Running With The Devil'' is that you can also hear the development of Van Halen. They have really evolved whatever singer they had. Although I must say I'm a bigger fan of David Lee Roth because of his vibe than of Sammy Hagar, even though he may be technically better. And how big of an AC/DC fan I am there's not such a big development. But then again, AC/DC always sounds great, especially in the car and every AC/DC concert is fantastic. But like I said, Van Halen has developed which you can also hear when you listen to ,,Jump'' for instance.
So here you go ten songs instead of nine…. Ah well, what the fuck… you only live once… 🙂
Stay tuned…. More news is coming soon…..
Credit header photo: Dirk van den Heuvel of DCH Photography
About
Dutch guitarist, songwriter, music producer and art painter. Adrian is best known as guitarist for Vandenberg and Whitesnake.
Genre
hard rock, classic rock
Website
https://vandenbergband.com
Social
Related links
Tags