MARTYR TOUR REPORT
The Dutch Metal Legends heading back to the Far East
A little more than one year ago Dutch Metal Legends MARTYR embarked on a plane to Japan for the first time in their career to play a handful of shows in Tokyo and Sapporo. A dream came true, as gigging in the Far East has always been one of the primary objectives to start the band back in 1982 as MARTYR is strongly influenced by 80's Japanese metal.During that first Japan tour Rick Bouwman (guitars) visited his old time Facebook friend and owner of "Rock Stakk Records", Mikitoshi (Miki) Matsuo in Osaka. Miki also happens to be the main guy behind the prestigious international True Thrash Fest, which is held every year (this year with bands from The Netherlands, Germany, China, Australia, Japan, India). Due to mutual respect, which is a very important matter in Japanese culture, MARTYR was invited to perform on day 1 of the festival on February 8th and the Cross Breed Device Heat vol. 24 festivals on February 10th 2019. Japanese thrashers RIVERGE organized the last festival.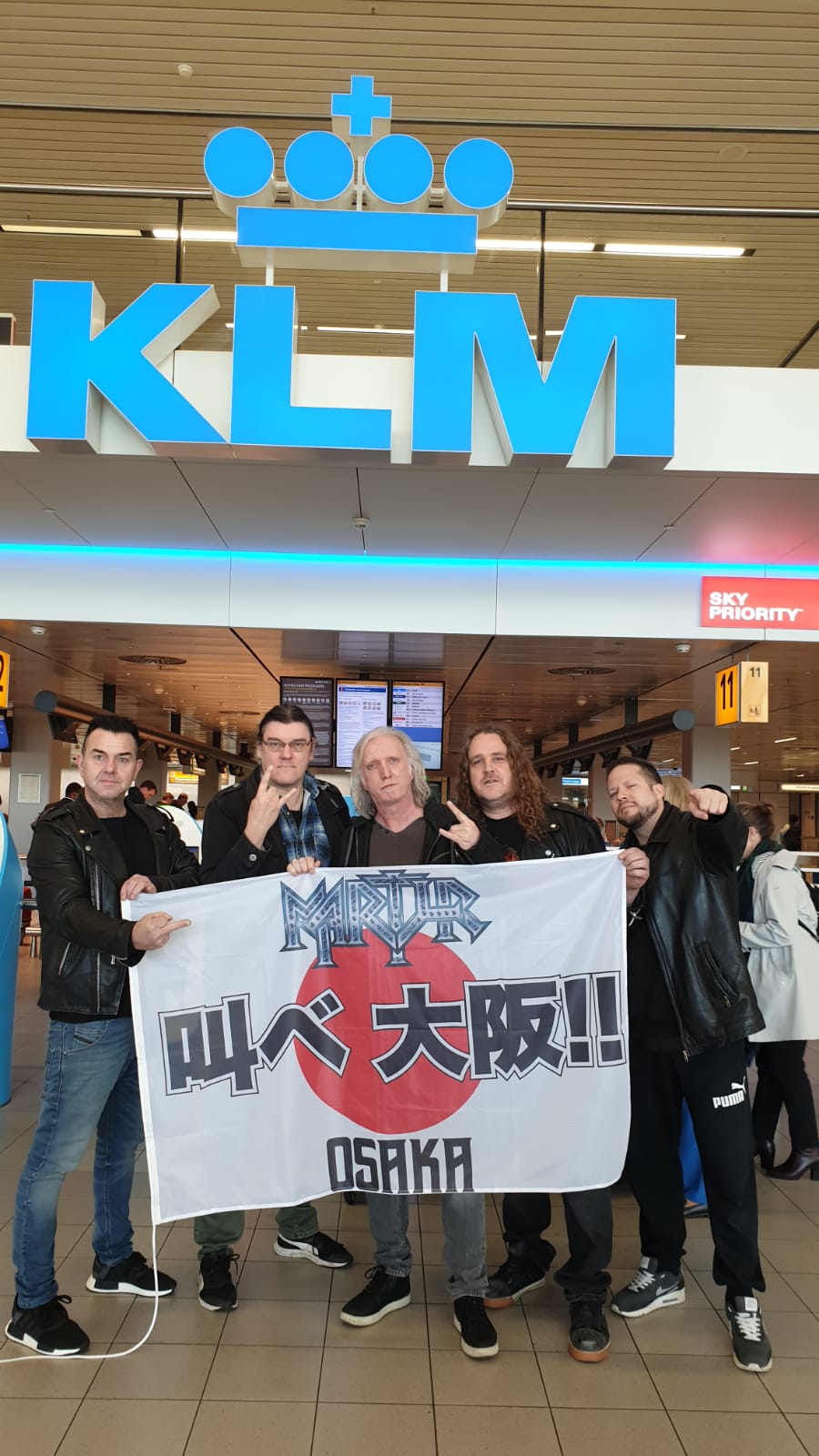 Many of you may know MARTYR had some severe line up changes in 2018. But as MARTYR always proves to be unstoppable and continued touring and gigging throughout the year, now being rewarded in one of the most exciting trips for both the old- as new band members returning to the Land Of The Rising Sun.

The travelling companionship on this tour consisted of Rop van Haren (vocals), Rick Bouwman (guitars), Geoffrey Maas (guitars), Vinnie Wassink (bass, backing vocals), Rick Valcon (drums), Koen Bakker (Wayland Management), his wife Patty Bakker and Vinnie's wife Sabine Wassink.
THURSDAY FEBRUARY 7TH 2019: TRAVEL DAY
Today we flew with KL867 on a direct flight from Amsterdam (departure 14.50 PM local time) to Osaka Kansai International Airport (arrival 09.30 AM local time). After gathering at Schiphol and sharing the merchandise between different suitcases to share some weight, we checked in and had some way too expensive beers first. The start of a trip we will never forget was about to begin. It is an 11 to 12 hour flight, so enough time to enjoy ourselves on the plane with beers, movies, more beers, the lovely flight attendants and some whiskey.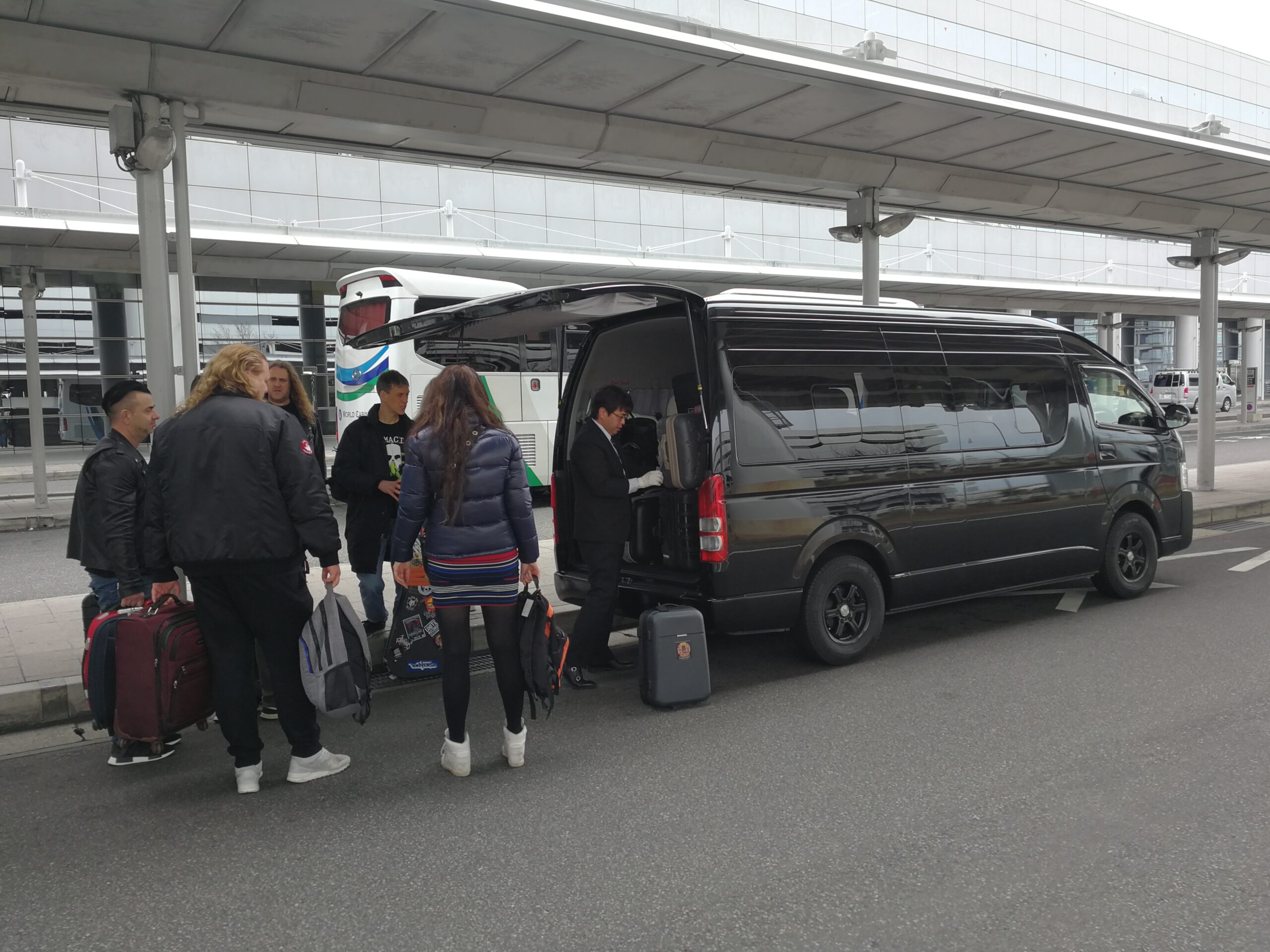 Flying to the East means travelling against earth rotation. Besides that, the time difference between Osaka and Amsterdam is 8 hours. But hey, we were having loads of fun and our flight attendants seemed to be very interested in the band. They passed on the word to all staff in the plane where the pilot also was checking us out. "My son is a death metal maniac but you guys are sounding way better haha", he claimed.

Then however, suddenly one flight attendant came to us and asked if the person lying on the floor was part of our company. "No" we said, but shortly after our denial it seemed that Geoffrey passed out. Maybe it was the fatigue, the excitement, the beers, the whiskey? We had no clue but a little panic occurred. Mainly because when we arrive at KIX Airport, Geoffrey needs to be able to walk out of the plane by himself, otherwise there might be a possibility the Japanese authorities might want him in quarantine. And as the performance is already that day, that would be a shitty situation.
Fortunately Geoffrey was able to do so, and we would like to thank the great KLM flight attendants and staff for their good care.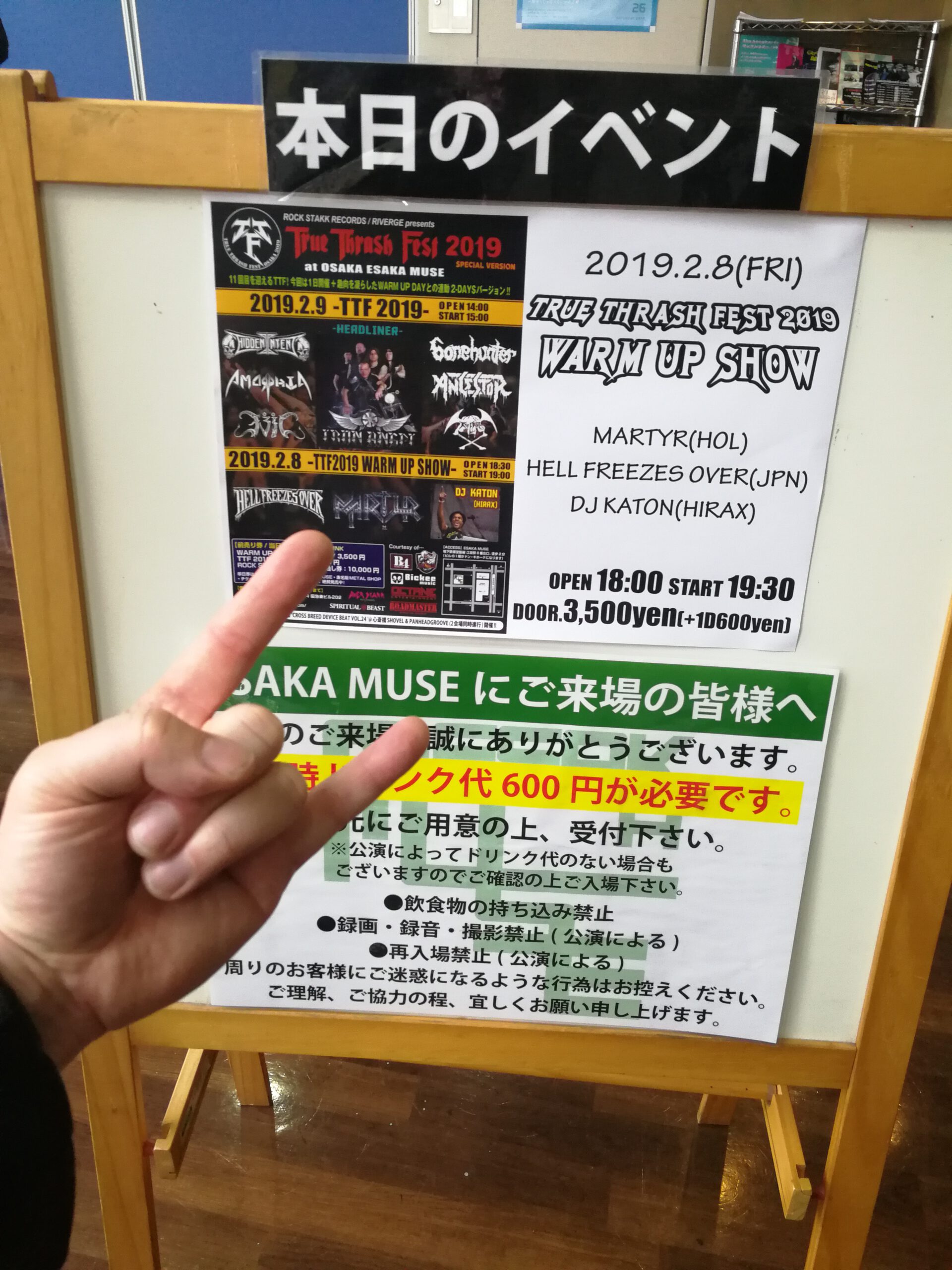 FRIDAY FEBRUARY 8TH 2019: ARRIVAL AND DAY 1 TRUE THRASH FESTIVAL – ESAKA MUSE, OSAKA
So when we arrived at 9.50 AM local time we were picked up by Brian Wojtowicz, how's that for a typical Japanese name huh? Without kidding, Brian is a Canadian guy, living in Osaka for about 15 years and a close friend to Miki. Having him around as our guide here in Japan was of course extremely valuable being able to assist us and translate for us. Although we have been here before and know the way things work a bit in Japan, there are always many situations where a translator comes in very handy.
First thing after arriving at the airport and taking the mandatory pics, was loading the gear in the van to go straight to the Esaka Central Hotel. Geoffrey took some more rest while the rest of the gang met "Nobu" and we were off for the first good Japanese ramen and other food. Hell yeah, we missed these food orgasms for sure.

After lunch we decided to check out the venue Esaka Muse, which was really close to the hotel. The venue is on the 5th floor above Don Quijote Supermarket (some amazing stuff they sell here) and the Karaoke-kan. An amazing venue, great stage and awesome sound equipment. This would be LOUD! Back at the hotel we got our gear and went back for the soundcheck (still without Geoffrey) to make sure all was set for the show. No sleep yet since yesterday so we decided to head back for a one hour nap at the hotel after the soundcheck before we moved back to the venue with the merch and with Geoffrey! Thank God.

Four acts were on the running order tonight, kicking off with the amazing Japanese youngsters HELL FREEZES OVER, a quartet from Tokyo that released their debut mini album, 'Speed Metal Assault', worldwide via Spiritual Beast. What a performance and what an energy! These guys really are a promise for Japanese metal, we need to get them to Europe too (tip: Heavy Metal Maniacs festival 2020)?

Next up was HIDDEN INTENT from Australia. This Adelaide-based thrash metal three-piece knows how to rock. Already quite established, also in Europe, they laid down a solid and very heavy set. Quite a unique style as well, reminding us even a bit of Faith No More meets Testament or something. As we are used to in Japan, the standards are very high when it comes to quality, sound equipment, stage management, hospitality etc. That means also for us, we needed to give it 200%, no less. The fans deserve the very very best and that is what we are about to give em!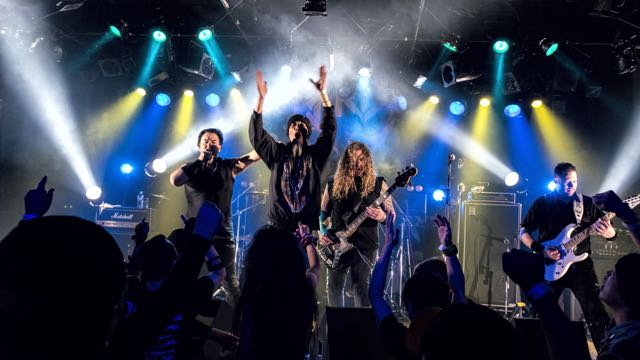 After HIDDEN INTENT the curtain closed and our gear was being set up by the awesome Esaka Muse stagehands. Showtime at 20:35, a full hour set. And we were excited! Some sake and the regular Jagermeister tradition (we brought with us from Schiphol, can't go anywhere without it) and the intro kicked in. Suddenly Aidysho from HELL FREEZES OVER came up to Rick with his guitar. But as he does not speak English, but only said "gita, gita, gita" we had no clue why he wanted to give it to us. Until we suddenly remembered we asked Miki if there could be a backup guitar next to the stage tuned in D#. Talking about details and a perfect organization!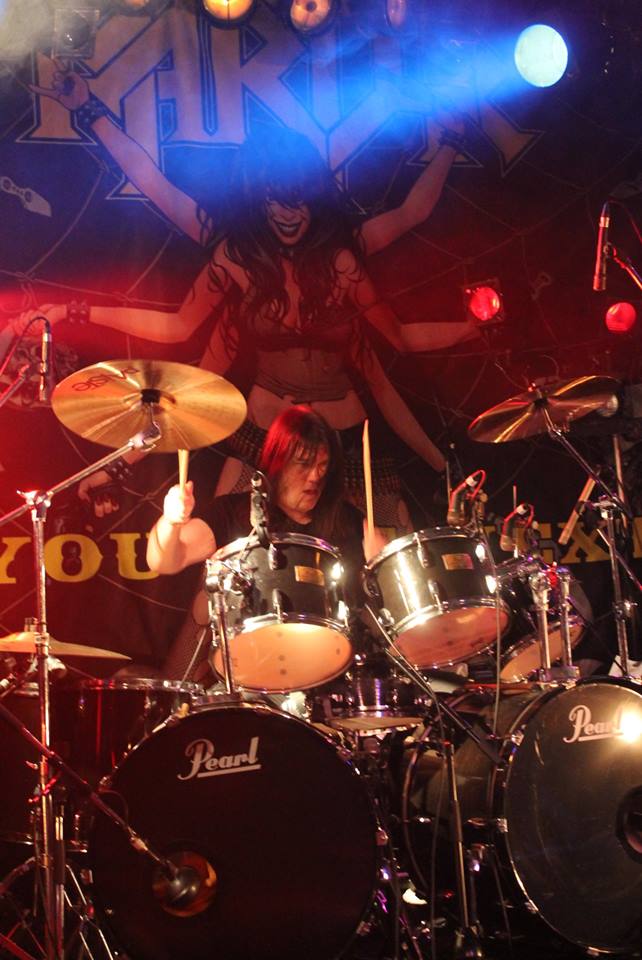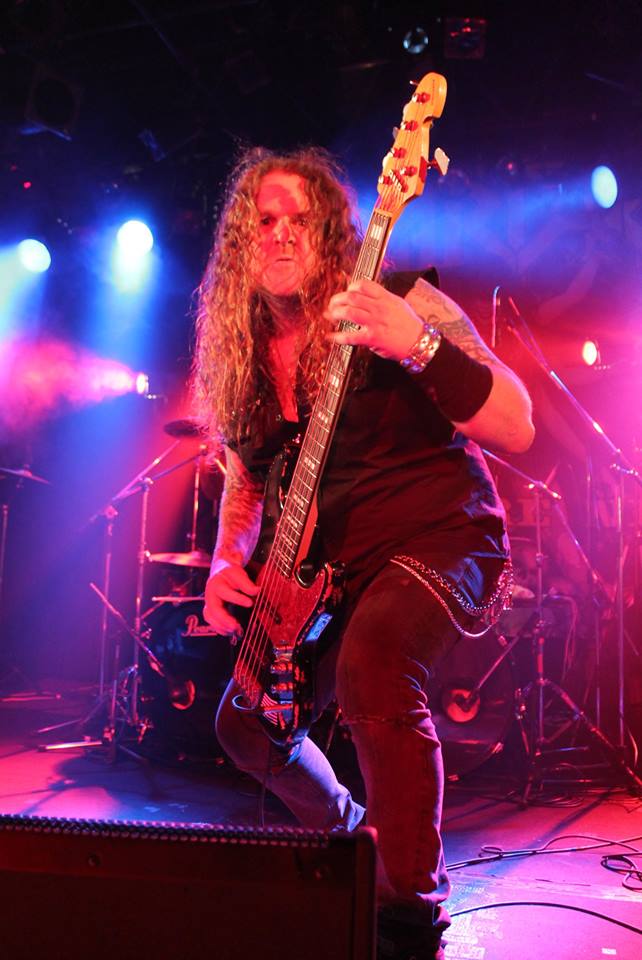 With a lot of crowd surfers, mosh pits and a very noisy crowd MARTYR is welcomed to Osaka. From the opening tune ,,Into The Darkness Of All Realms'', the Japanese crowd was going wild and sang along with all the tracks. Amazing!!!! Even promotor Mikitoshi came on stage to dive into the crowd during the classic ,,Speed Of Samurai'' track. It is always a special thing to play this song in Japan as it is dedicated to Japanese metal when we started the band in the early 80s and still is one of our most popular classic songs. Our setlist for tonight:
Intro
Into The Darkest Of All Realms
Infinity
Drum intro/ Snow & Fire
Afterlife
Inch By Inch
Unborn Evil
Art Of Deception
Guitar intro / Speed Of Samurai
Monster
Outro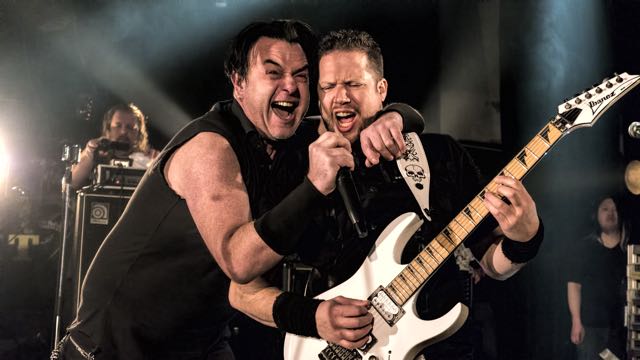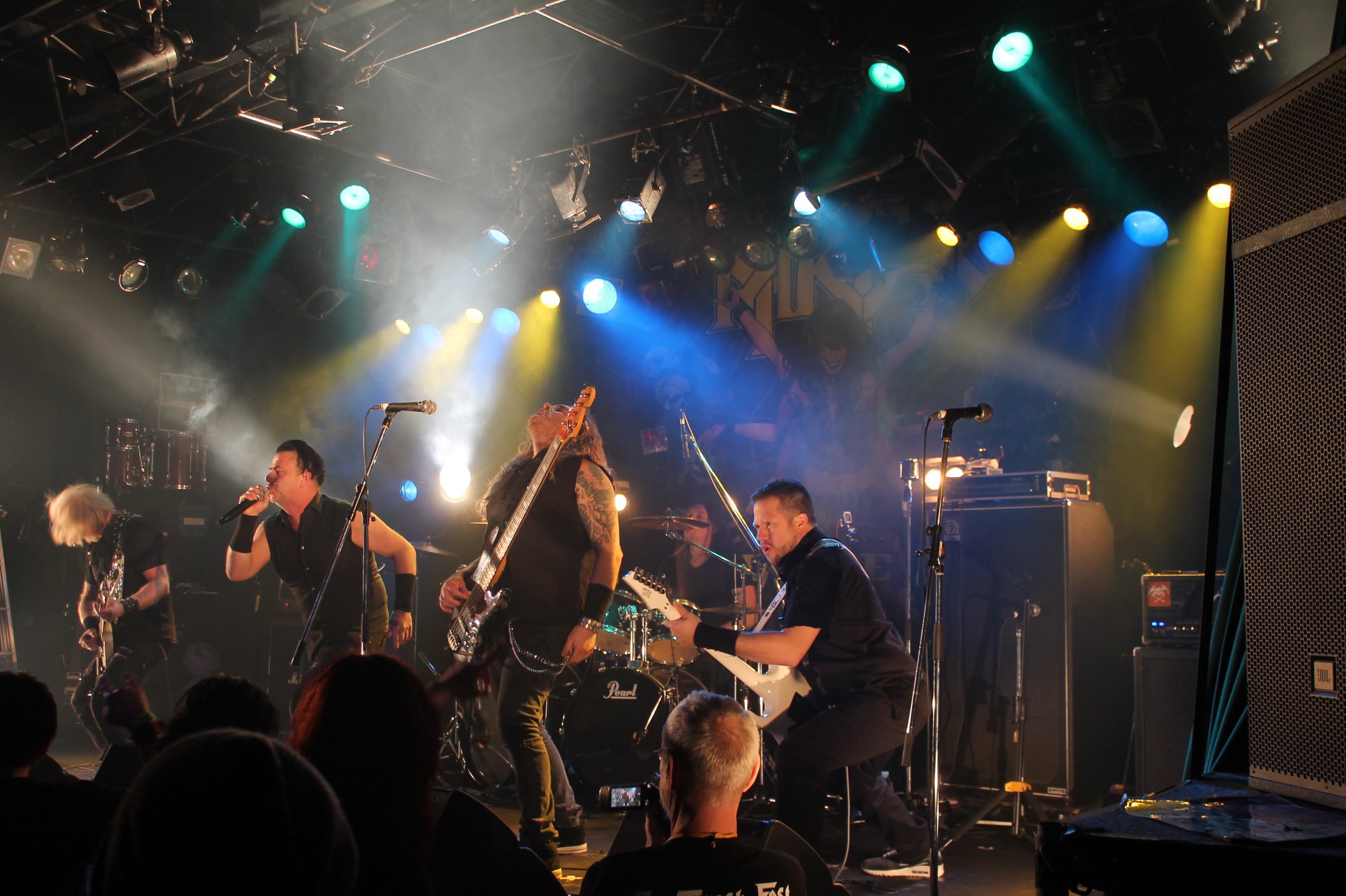 After the show DJ KATON (Katon W. de Pena from HIRAX) started the afterparty playing only great and cool metal songs and the crowd was going crazy again. Also some guys from MARTYR and their management were banging along on stage and playing air guitar.
After a good time with the fans, a lot (really a lot) of pictures, autographs and good merchandise sales around midnight the venue closed. Time for the second after party, Tomi Tanaka from RIVERGE showed all of us the way to a traditional Japanese restaurant in the area and we already looked forward as we know how the Japanese like to after party. All you can eat (with amazing food) and all you can drink. What a blast, enjoying the Japanese hospitality with the Japanese staff, fans, and members from the different bands. We met a lot of nice and friendly people here and again Japan felt like a warm bath to us. And this was only just the beginning.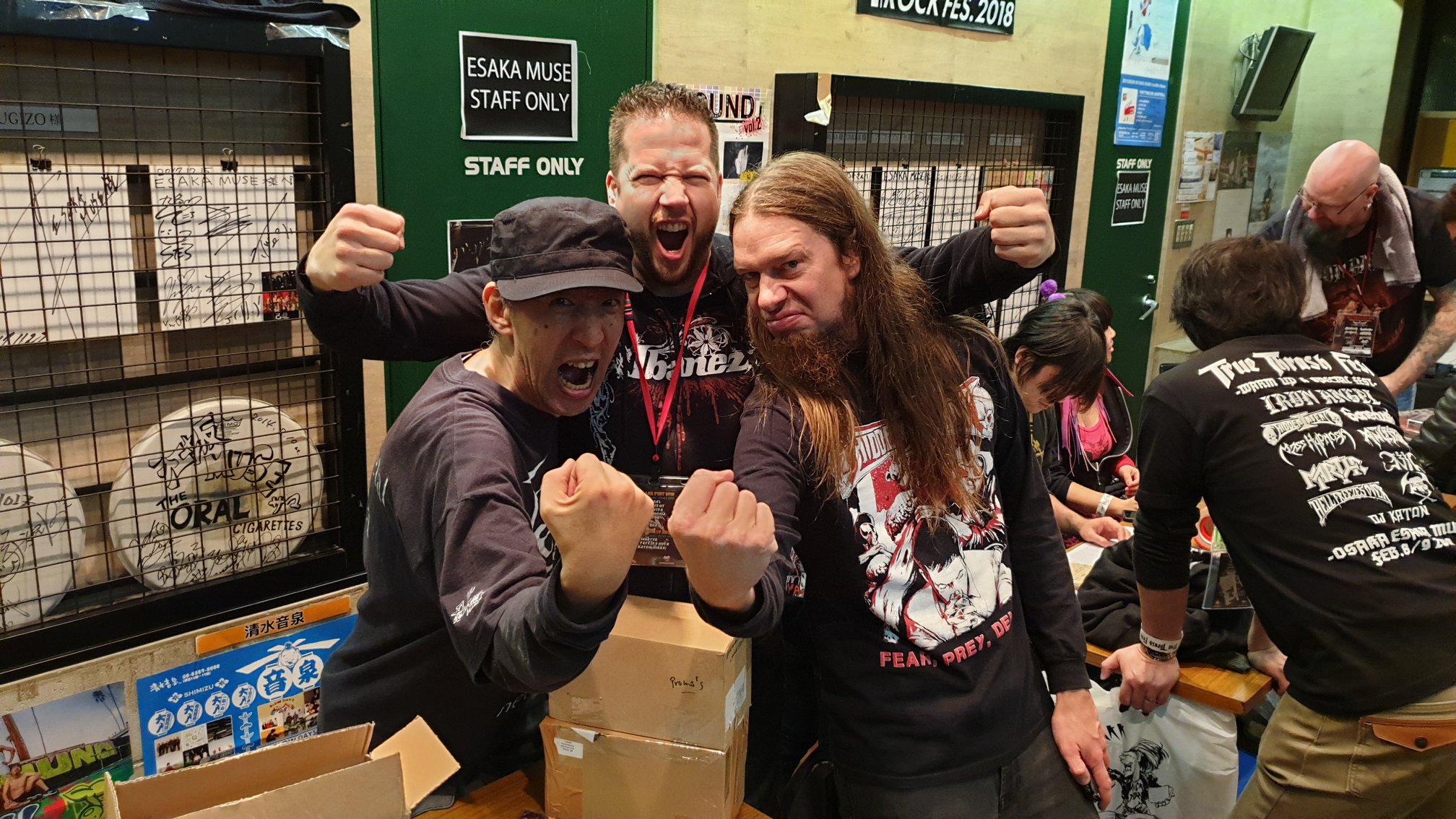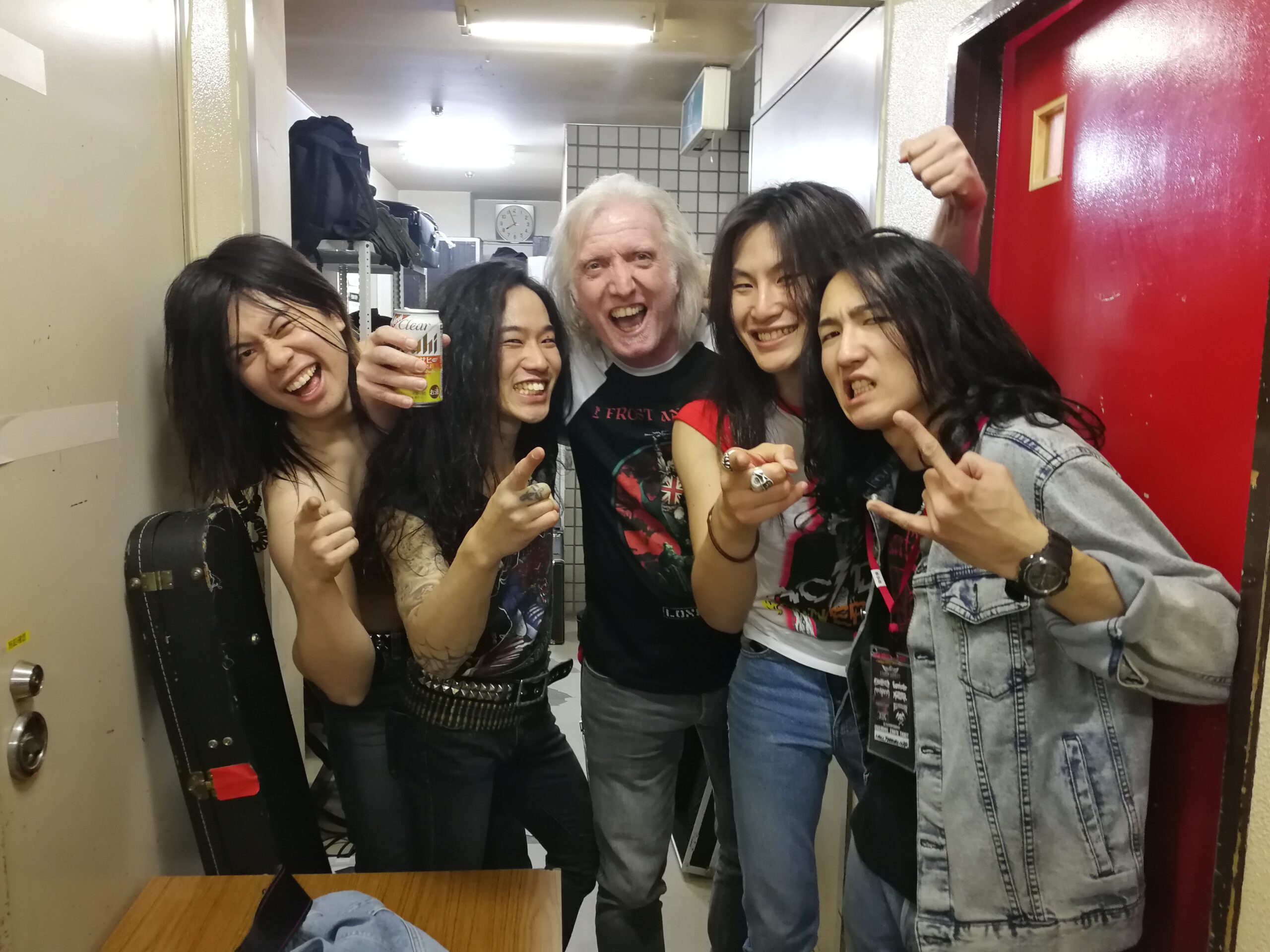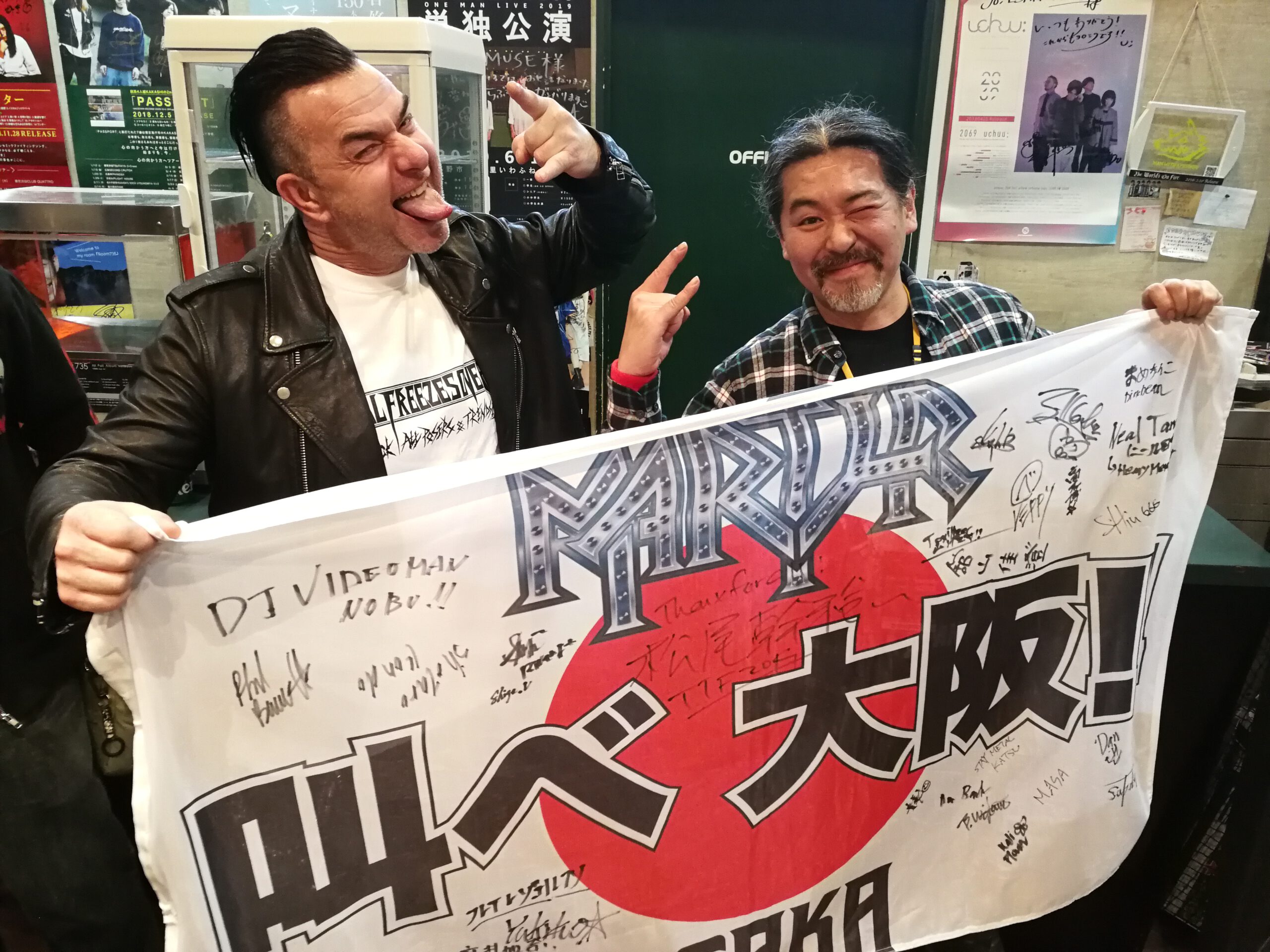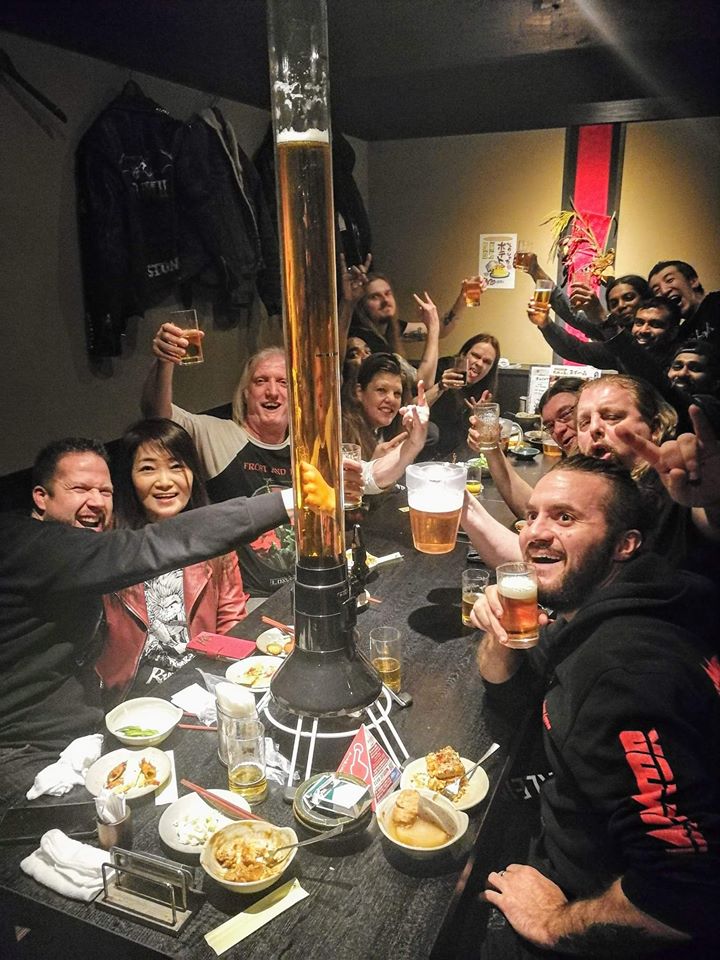 SATURDAY FEBRUARY 9TH 2019: TIME OFF AND DAY 2 TRUE THRASH FESTIVAL
Due to the after party and the long day we had yesterday we were not getting up too early. After gathering in the lobby we ate some breakfast and drank awesome coffee at Sandakan Cafe next door we decided to go for Osaka Castle by subway. As we were planning to do live recordings of the Japanese shows we liked to do some photo shoots as well at different typical Japanese or Osaka sights.
After visiting the castle and America Mura and some traditional Japanese food (like Takoyaki) and non-traditional food (pizza) and strange drinks ('Green Maccha' beer) we returned to the festival late in the afternoon to meet the fans, bands and support the festival. With mega bottles of rare sake backstage good times were guaranteed again. In time for the shows of RIVERGE from Japan, HIDDEN INTENT (playing 2 shows on the fest) and headliner IRON ANGEL from Germany we enjoyed the beers, the sake, the crowd, the fans and the bands. Our merch stand was still in the lobby of the venue so business continued properly as well.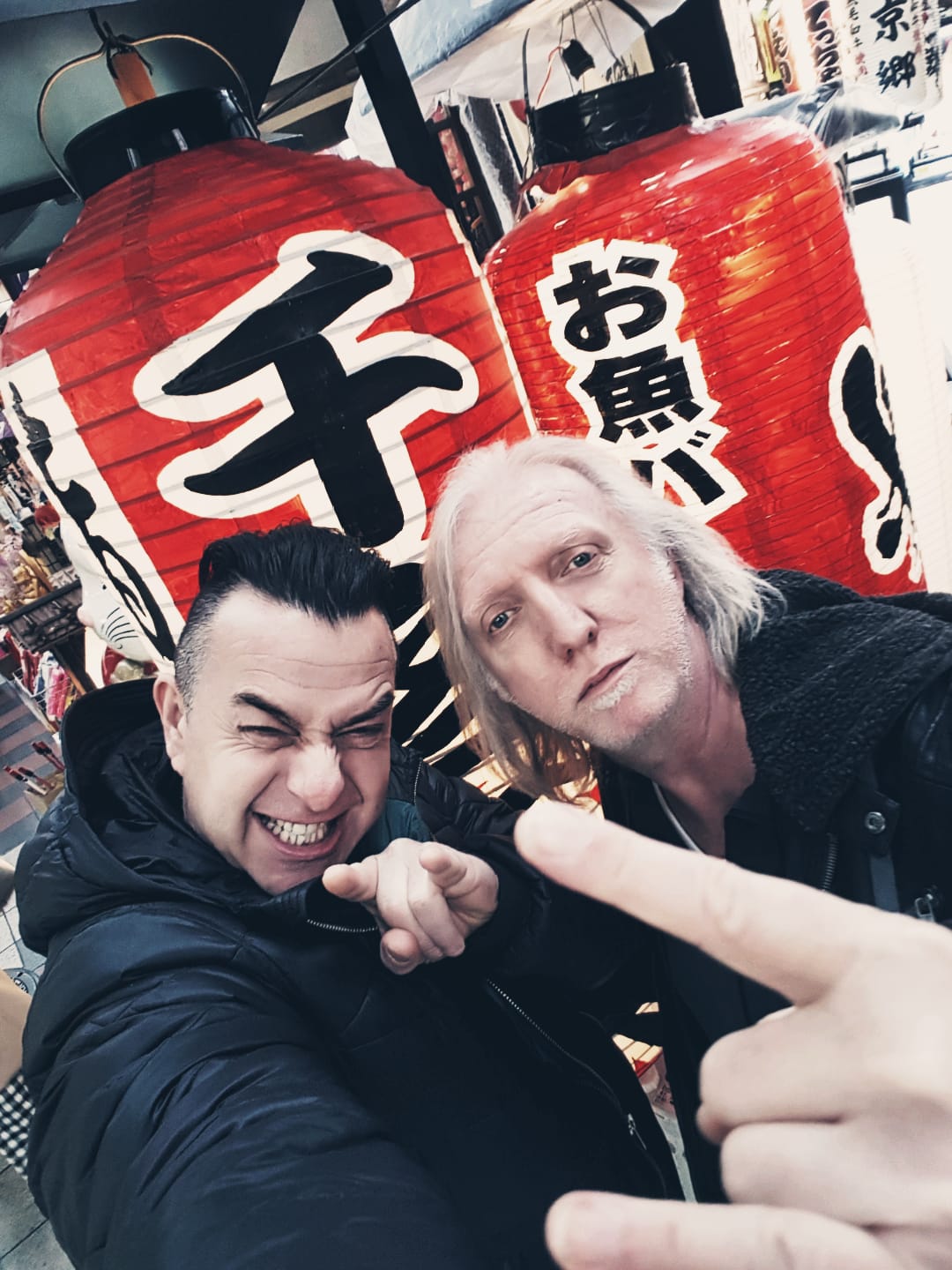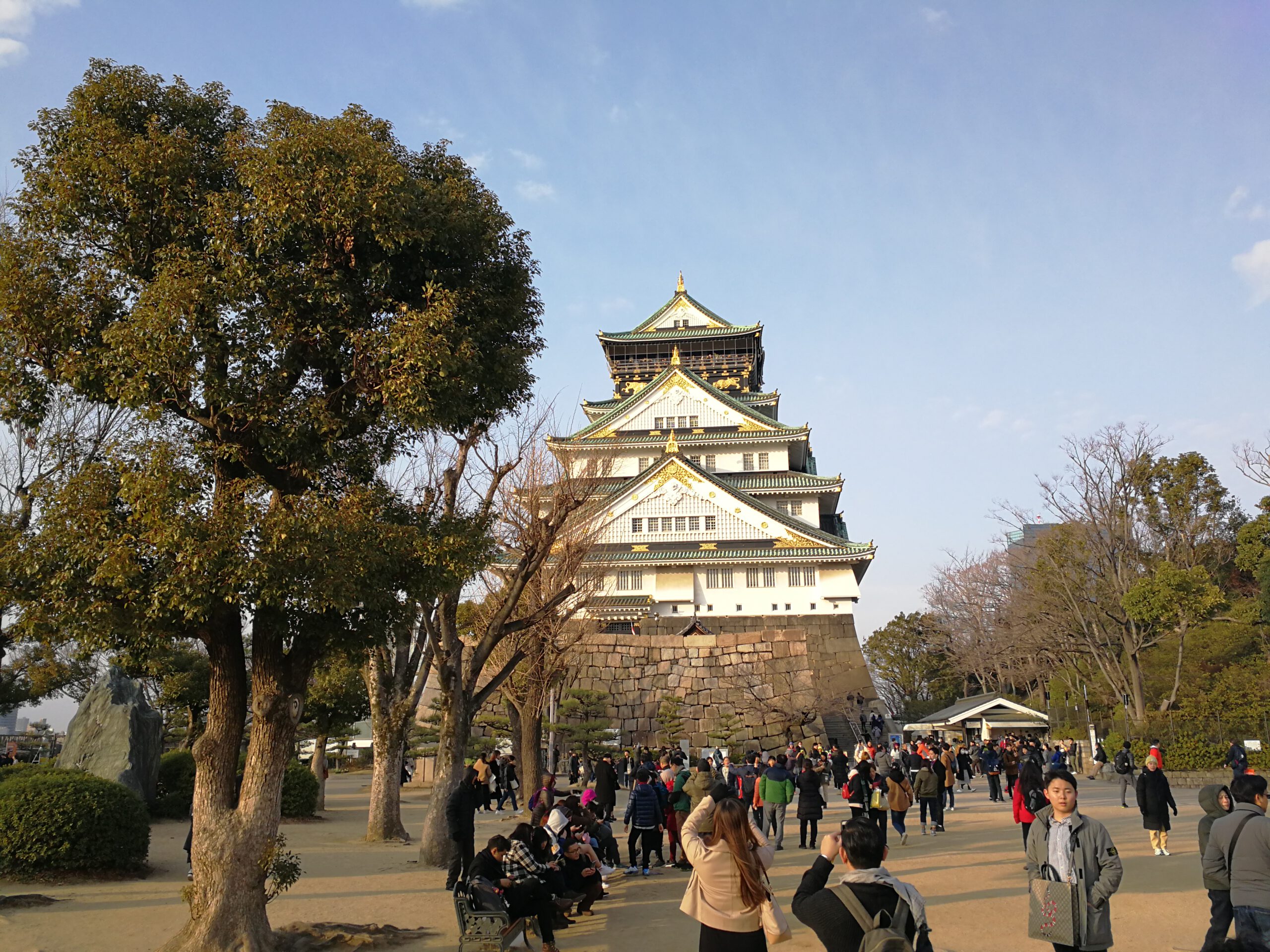 The after party was at the same restaurant as the night before but this time even crazier. Some good Dutch and German traditional songs were being performed by Koen and Rick Valcon, which brought some hilarious moments when the Japanese tried to sing along. The food was amazing again and the beer tubes caused a battle between the different tables. It needs no further explanation the Dutch were the first to empty the 1,5 m beer tubes, which more or less confirmed the infamous saying "Don't drink with MARTYR"! At 5 AM it was time to hit the sack.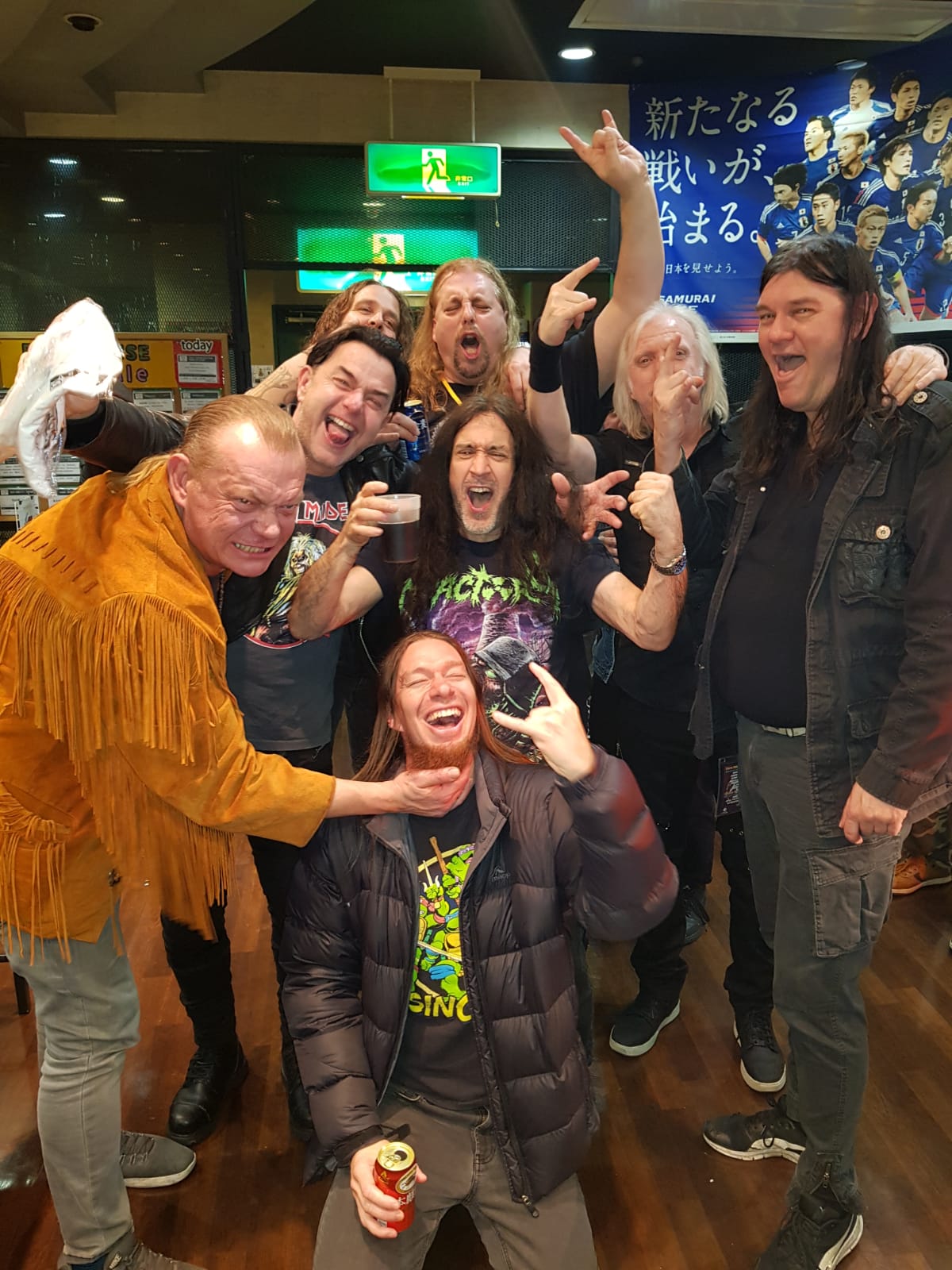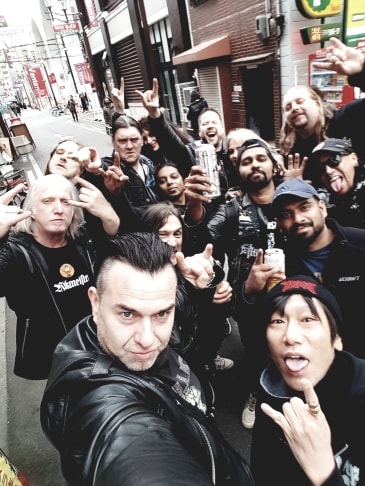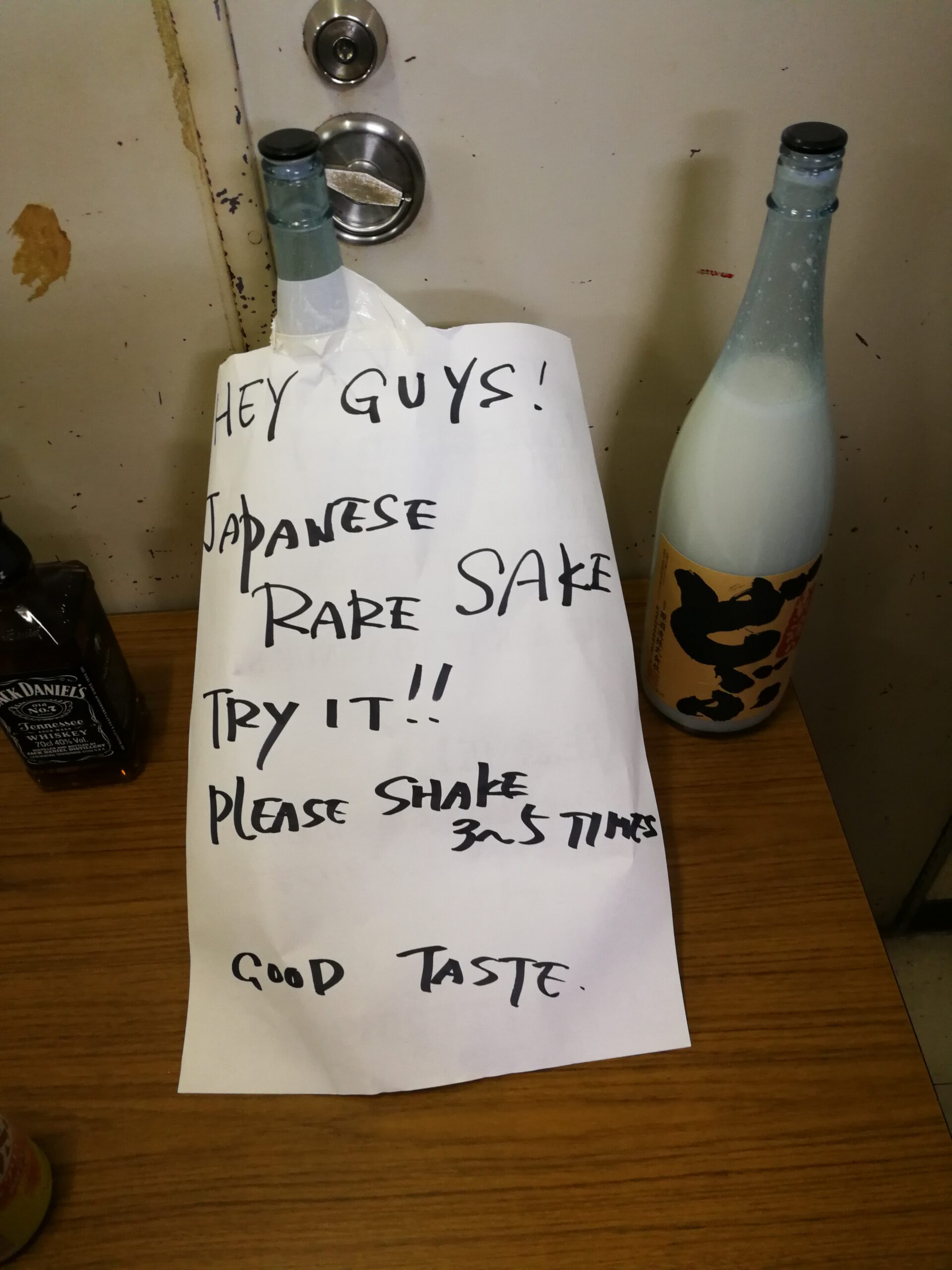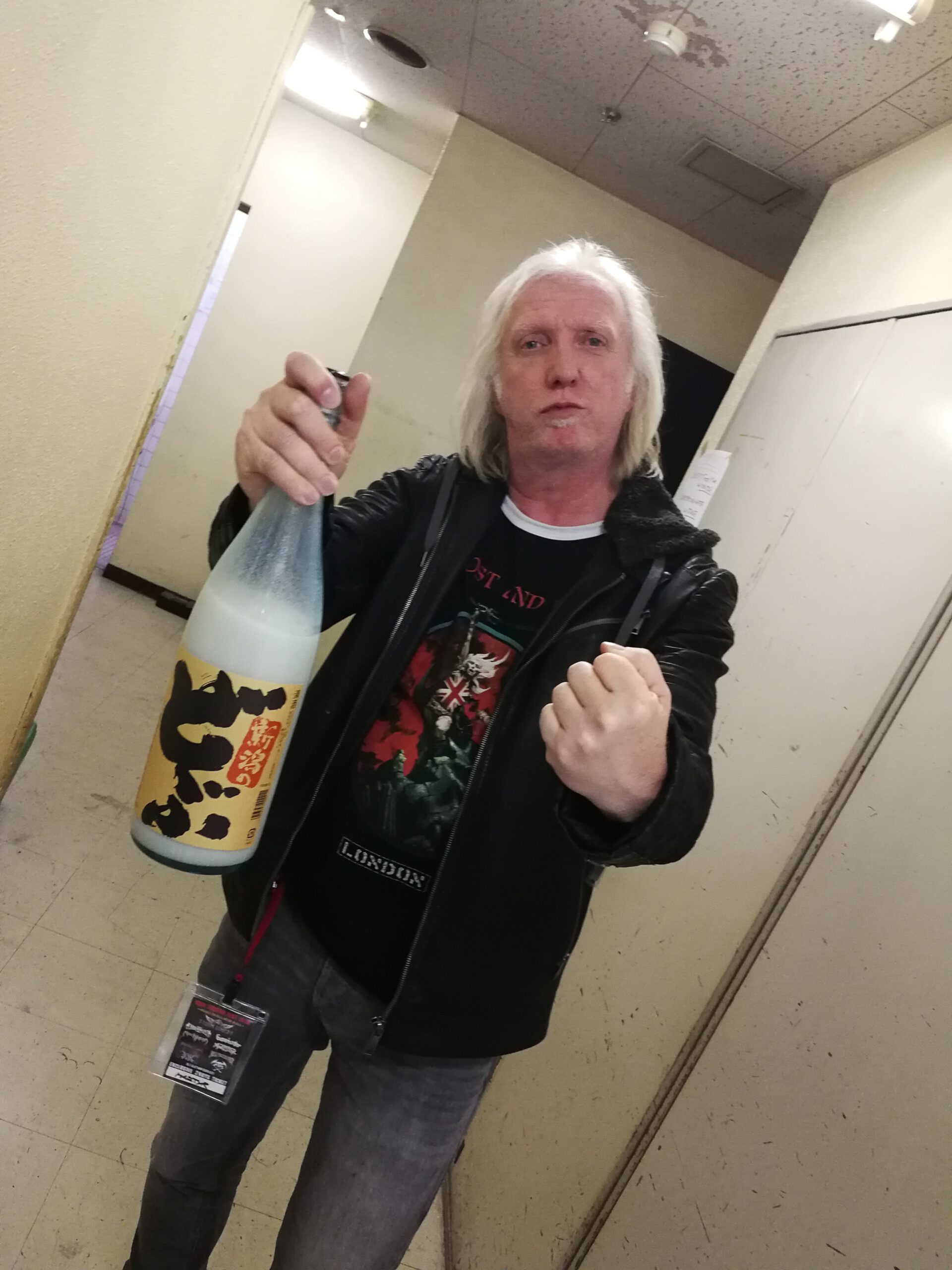 SUNDAY FEBRUARY 10TH 2019: CROSS BREED DEVICE HEAT FESTIVAL VOL. 24 – PANHEAD GROOVE, OSAKA
Sunday was the day of the Cross Breed Device Heat Vol. 24 festival, which took place at Big Twin Diner Shovel & Panhead Groove. The festival is organized by the thrash metal band RIVERGE from Osaka.
At noon, all bands and visitors staying in Esaka Central Hotel were guided by Brian by subway to America Mura where the venue was located. There were 2 venues to be precise as Shovel is the venue downstairs and Panhead Groove is the venue upstairs. Both venues are amazing clubs, maybe not even that big but with good stages and terrific sound equipment, lights and P.A., RIVERGE is soundchecking and damn it is LOUD. No decibel rules here. We will be playing at the upstairs venue and after dropping our gear backstage we checked out the place. It breathes metal and rock and many quite popular bands also performed here like SABER TIGER, LOVE BITES, BAND MAID and many, many more. Today 6 bands per venue will perform and MARTYR will headline at Panhead Groove at 21.10 with a 40 – 45 minute set.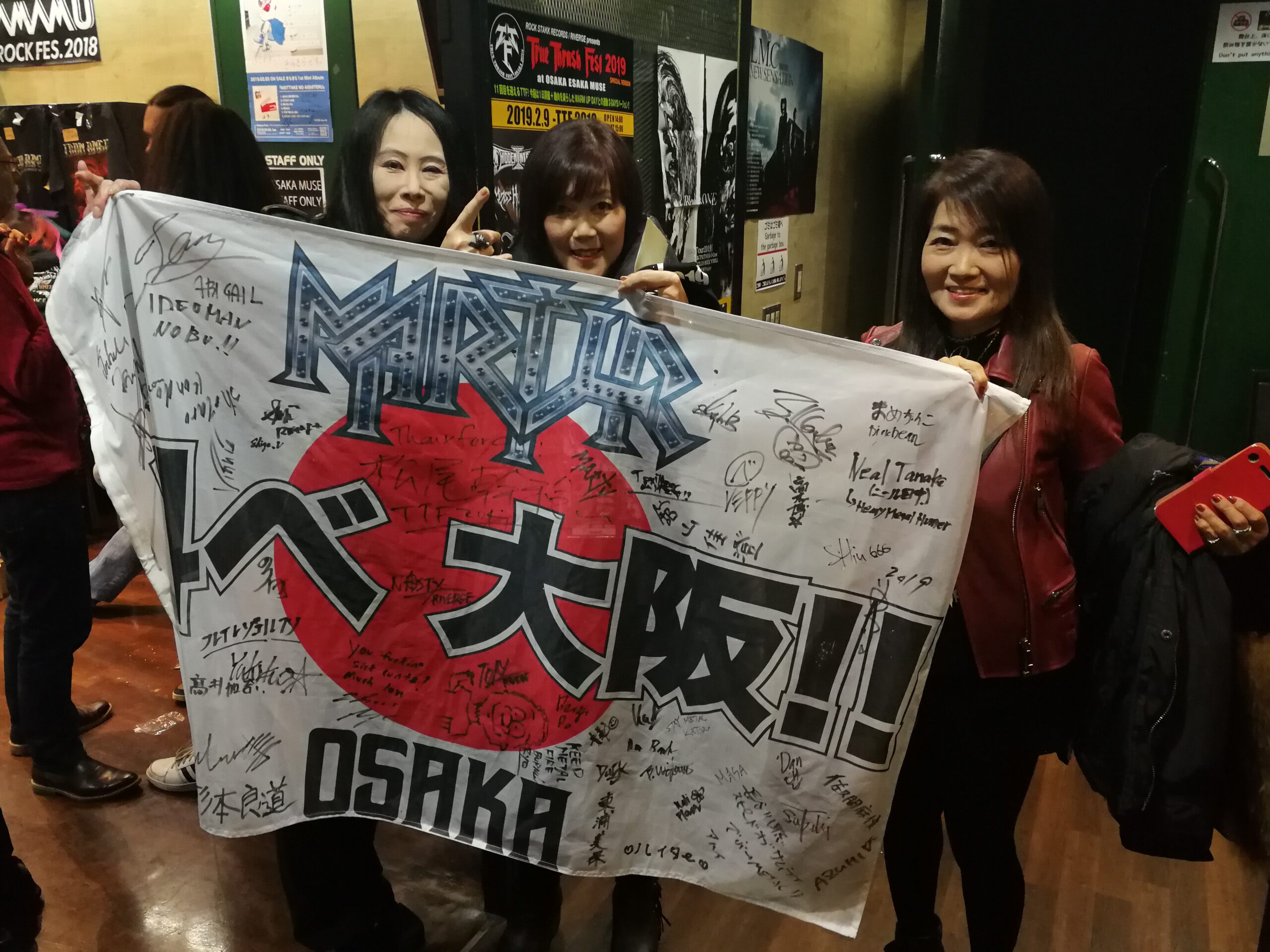 We decided to do some sightseeing in Dotonbori, the bright heart of Osaka, a crazy and crowded area in Osaka full of neon signs, shops, restaurants, street food, bars and entertainment. Amazing! AMORPHIA from India was joining us when we visited the famous Osaka spots like Dotonbori River, Glico Running Man, Kani Douraku (recognized by the giant moving crab on its shop front) and more.
After some excellent sushi we returned to the venue to watch the other bands. And again, the standards were high. We were hopping from one venue to the other to get a glimpse of every band. Highlights were definitely the Japanese bands GALAMITA, HYDROPHOBIA, GAMY, ROSENFELD and UNITED, but also China's old school thrashers ANCESTOR are a band you should check out.
All bands were very very energetic and the crowd, probably around 300 to 400 people today, absorbed every second of it. Due to the shows being divided in the 2 venues we had quite some time for a line check and change over. With only a 5-minute delay after 10 bands that already played today, you can say that the Japanese precision is top notch again!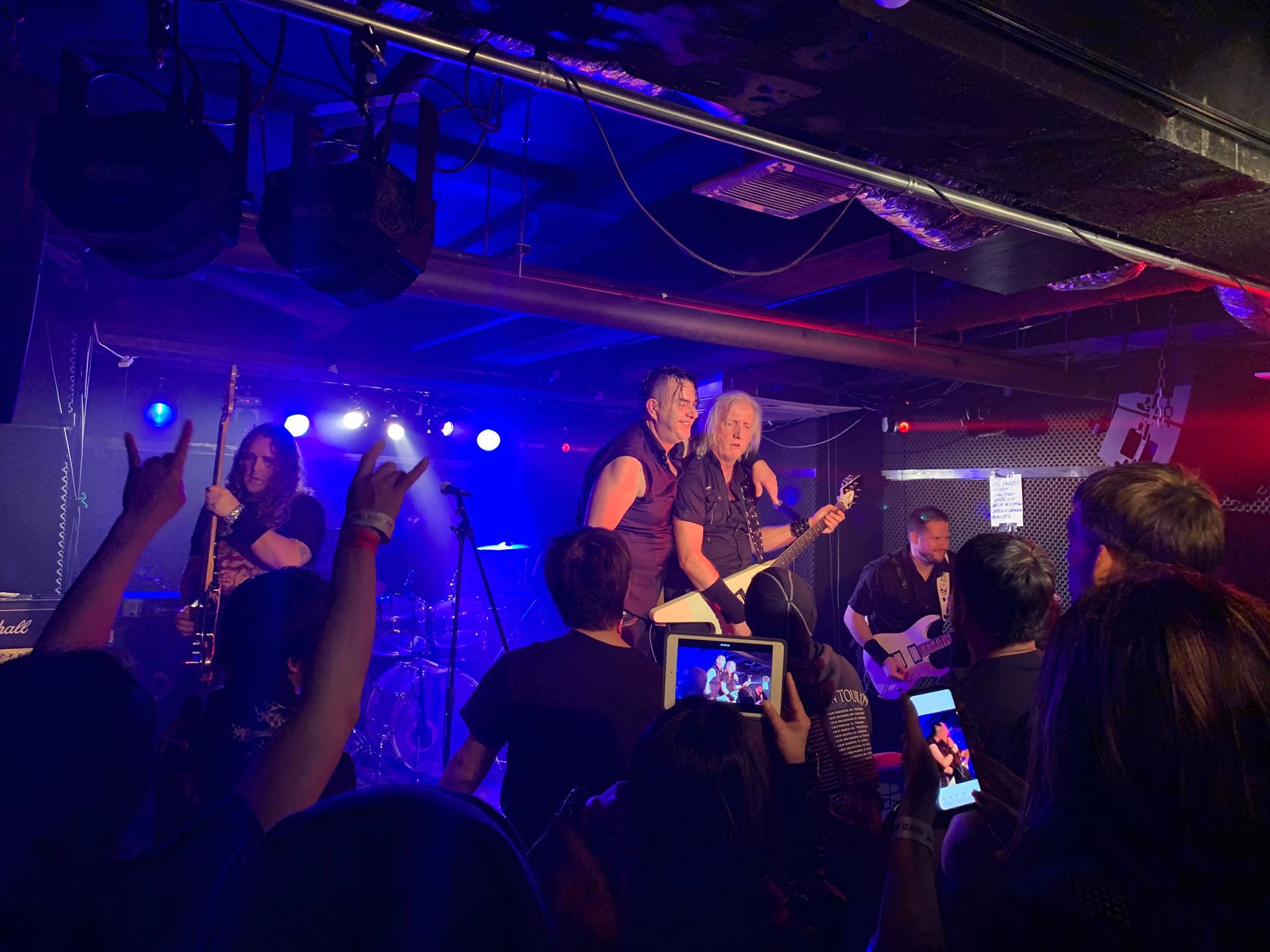 As usual, as soon as the curtain opened, MARTYR kicked off with the intro with Rick on guitars. The hall was packed, the crowd was excited, thrilled and curious at the same time. You could feel the excitement. Also awesome to see some familiar faces from last Friday front row, shouting and banging along and amazing to see they just seem to know all the lyrics. Also here everything is arranged so well, the backup guitars provided by RIVERGE this time was there again, the stage management really knew their job, the sound guy, wow….what a killer sound! Every time we are flabbergasted by the Japanese way in arranging the shows with every detail in such high quality. Our setlist tonight was:
Intro
Into The Darkest Of All Realms
Infinity
Drum intro/ Snow & Fire
Afterlife
Art Of Deception
Guitar Intro / Speed Of Samurai
Monster
Outro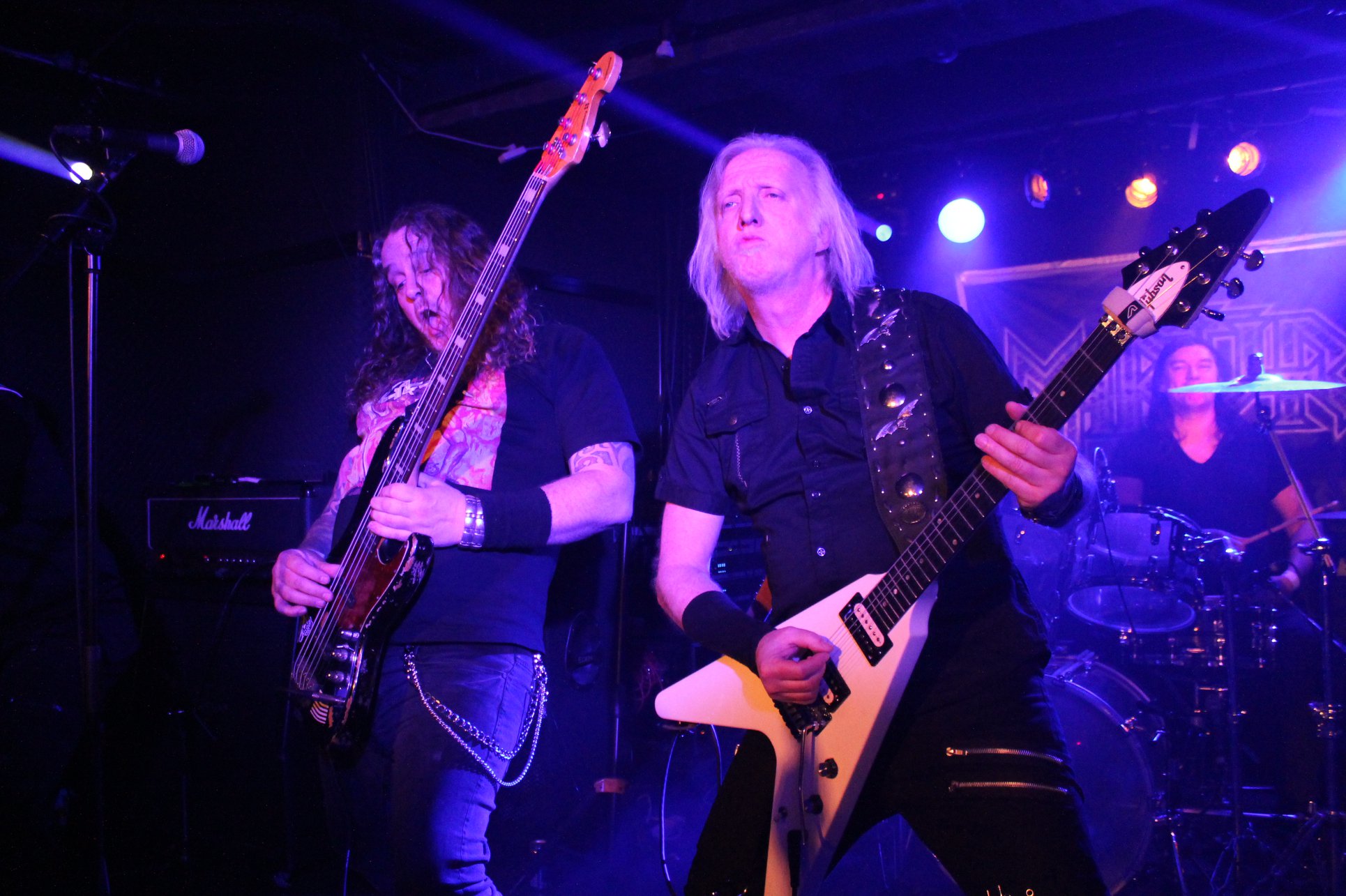 During the set Rick thanks everybody involved and Rop was very interactive with the audience off and on the stage. The set was powerful and heavy again. Vinnie and Rick V. were pounding as usual and Geoffrey, it seems he has always been in this band, smiling and enjoying every minute of this adventure.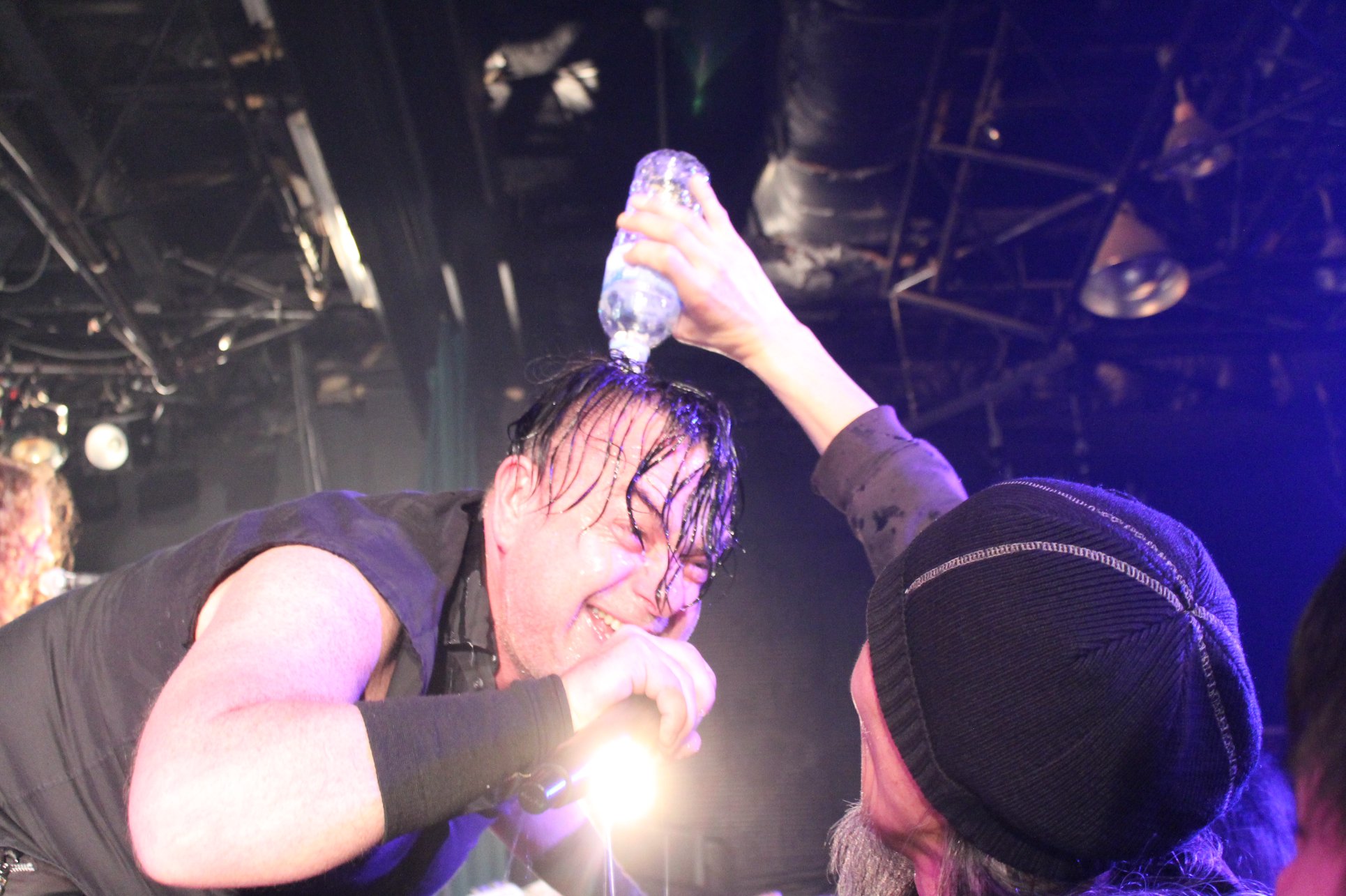 After the show RIVERGE is on, what an amazing band, cool guys and a guest performance by Katon from Hirax made the crowd go wild once more. Also Miki joined the stage, as he is the guy that everybody needs to thank for the amazing times we all had so far in Osaka.
At 22.20 the shows were done and the next party begun. We gathered at the merch booth to meet the fans and lots of laughs and connections with the fans, the other bands and the crew are made. To perform in Japan, it is extremely useful to keep connected with everybody. Japanese really appreciate you taking the time for them. MARTYR is a band that is common to hang around with the visitors and fans (we do that everywhere we go or is it just because we like to party so much haha). A lot of new friends were made again.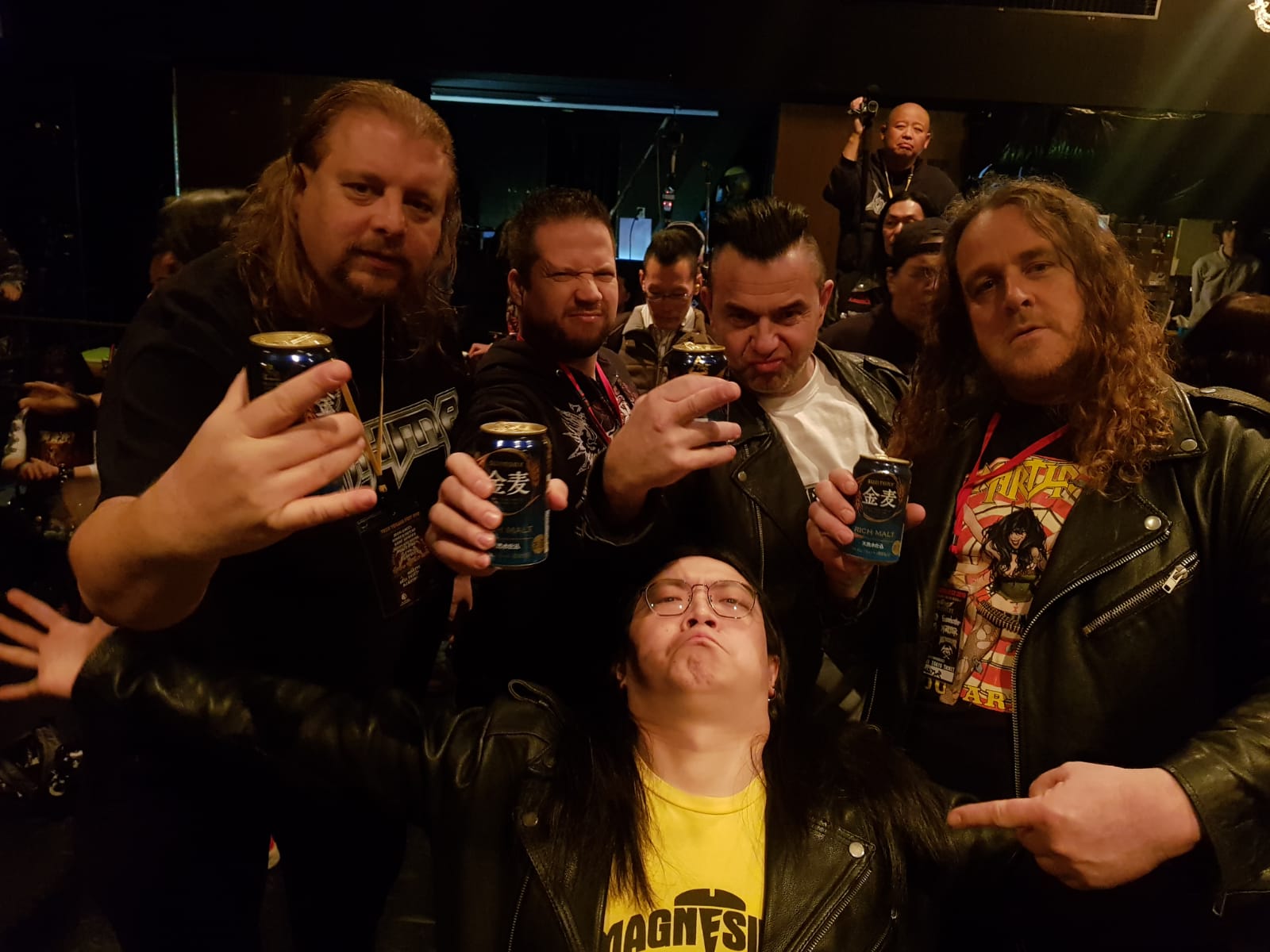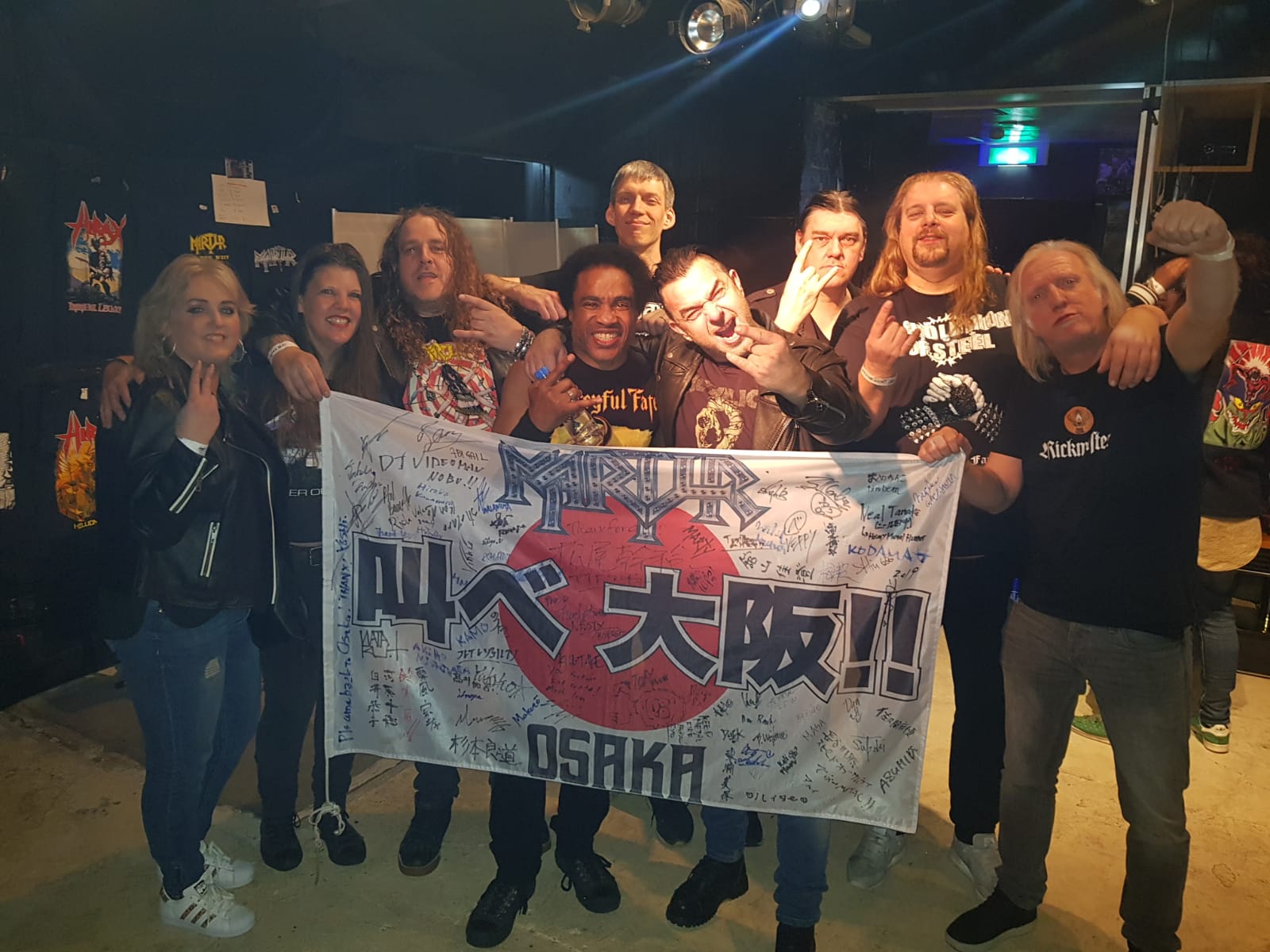 Although the venue closes at 23.00 there was an after party with the bands and fans at Panhead Groove. We however decided to have our own after party in the Esaka area where we found this amazing restaurant where as soon as we arrived, the guests suddenly seemed to transform from decent Japanese (and some Chinese) guests to some extreme party animals, shouting, singing, drinking, eating along, making pics, videos and having the best time of their lives with us. Although normally the kitchen and bar closes at 02.00, the restaurant personnel opened it again to serve us some more beers and food and danced along with us around and on the dinner tables. This was FUN!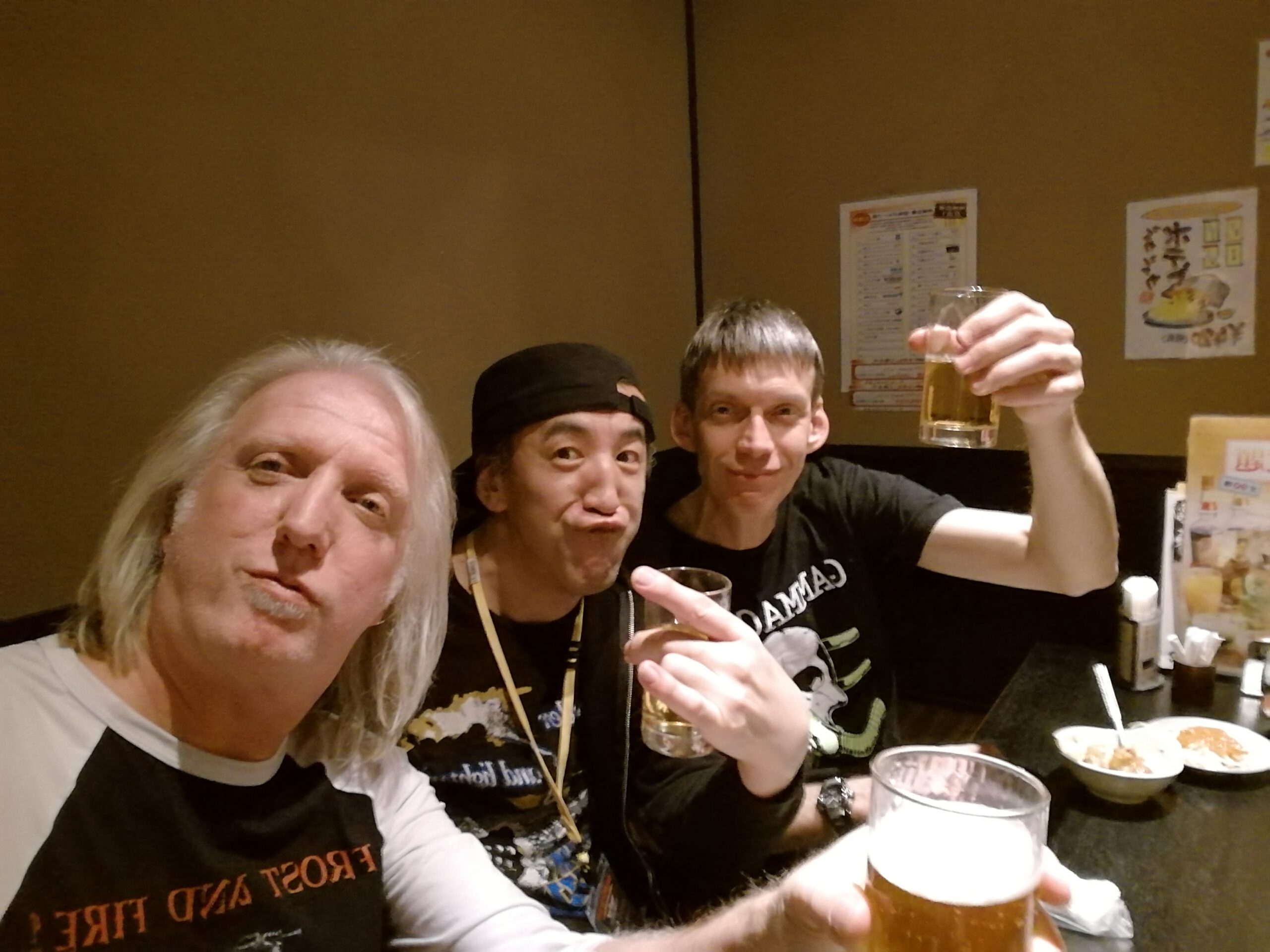 MONDAY FEBRUARY 11TH 2019: DAY OFF
It was a long day and night but after a good rest we got back to Osaka center in the afternoon for some more fun and good times. More manga, anime, and a lot of hentai this time in this area, next to the regular spectacular food and drinks. Porn shops 7 floors high, anime shop multiple floors high are no exception in this area. Also we visited Tower Records where we found our album 'You Are Next'. It is such a cool feeling to see your album is being properly distributed. Especially in Japan!
As we have recorded the Japanese shows for a possible live album, we asked Patty to make some pics in the Dontonbori area with the neon lights as well in the evening. We might use them for the album cover art. Rop and Koen joined the after party in the hotel lobby with Katon W. de Pena, his lovely wife Anne, Mikitoshi, the one and only Thomas Dargel from Iron Shield Records and lots of other crazy and drunk Germans. What a morons!!!!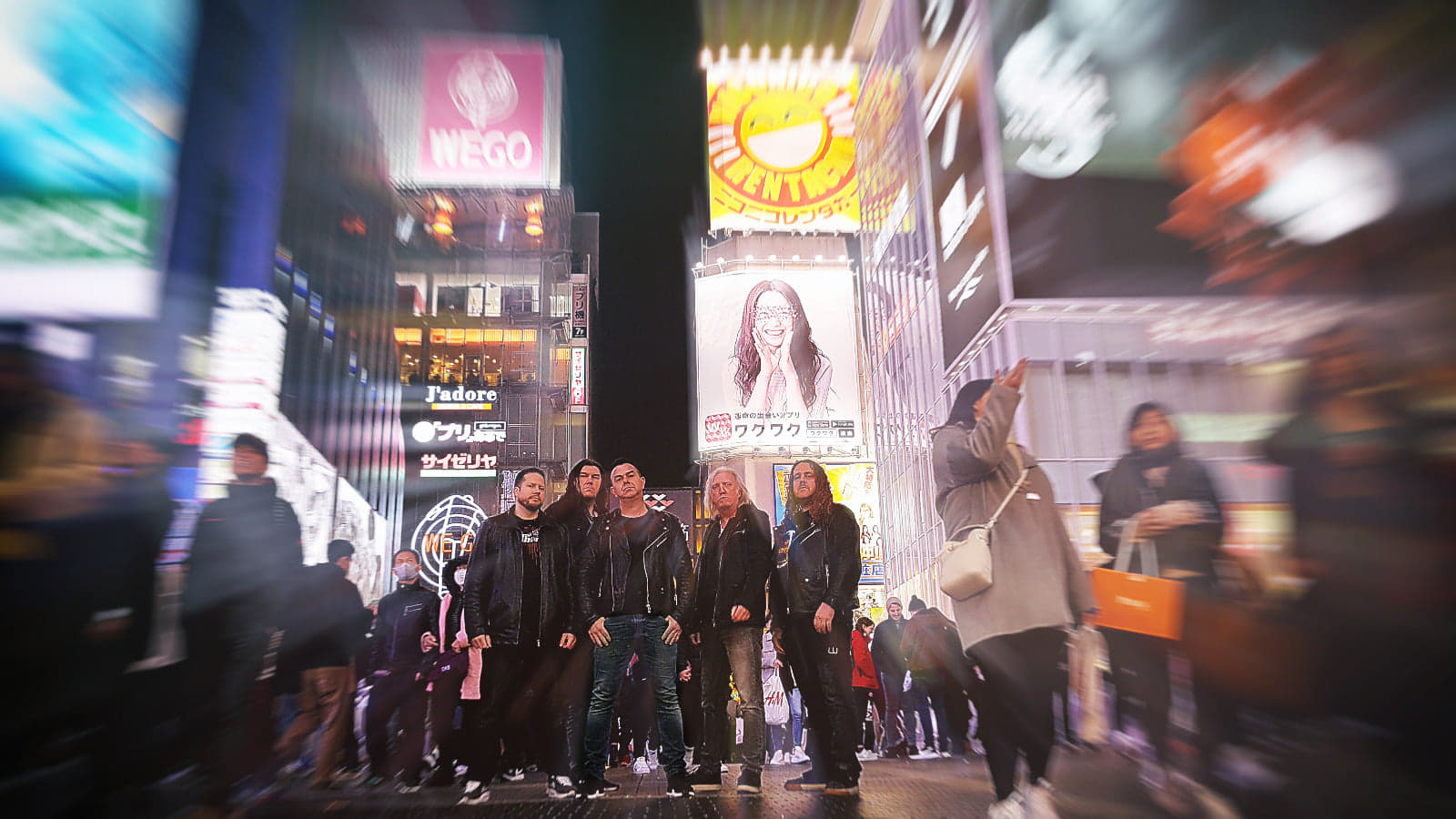 TUESDAY FEBRUARY 12TH 2019: SPINAL TAP DAY
Early wake up call at 5AM to be picked up at the hotel for the airport. Miki was there to say goodbye (still a little drunk from yesterday's party, he also had to be exhausted) and our friend and amazing guy Meguru was joining us to go to Kansai International Airport (KIX) for an indirect flight with Japanese Airlines to Tokyo and then back to Amsterdam with KLM on the KL862 flight.
We thought.
Arriving at KIX it seemed we were at the wrong airport and needed to be at Itami Domestic Airport. Some panic occurred at the Japanese Airlines counter and also Meguru was stressing out a bit.
The beautiful ground stewardess' helped us to find a taxi but we ended up with 4 taxis for 8 people and our gear to hurry up towards Itami Domestic Airport. Normally a drive of 1 hour where we still would have 1 hour and 20 minutes left. An undoable job but overwhelmed by all that is happening we jumped in the taxis of which we knew they were EXPENSIVE and started driving. Again Meguru joined us, he is by far the sweetest guy we know. Of course as it is morning rush we lost a lot of time in traffic jams. No way we were going to make it and the meter went fast, faster than the taxi itself!
And yes…. arriving too late at the Itami Airport and feeling a lot lighter losing so much YEN (approximately 600 euros) we needed to conclude we had to stay in Osaka for a little longer. We MISSED our flight back home. So immediately we started contacting KLM to rebook our flights for the next day, informed the family back home, went back to the hotel and what else than make the best of it and do some sightseeing Osaka again? It is such a cool place so we weren't bored, hell no! Of course we thank our friend Meguru for his support, gave him some merch and were off to our hotel in Esaka where Miki arranged another night for us. Back at the hotel we went separate ways as Rick and Geoffrey decided to visit Shinsekai. Rick Valcom took some rest and Rop, Vinnie, Patty, Koen and Sabine did some more shopping in America Mura. Another wonderful day in beautiful Osaka.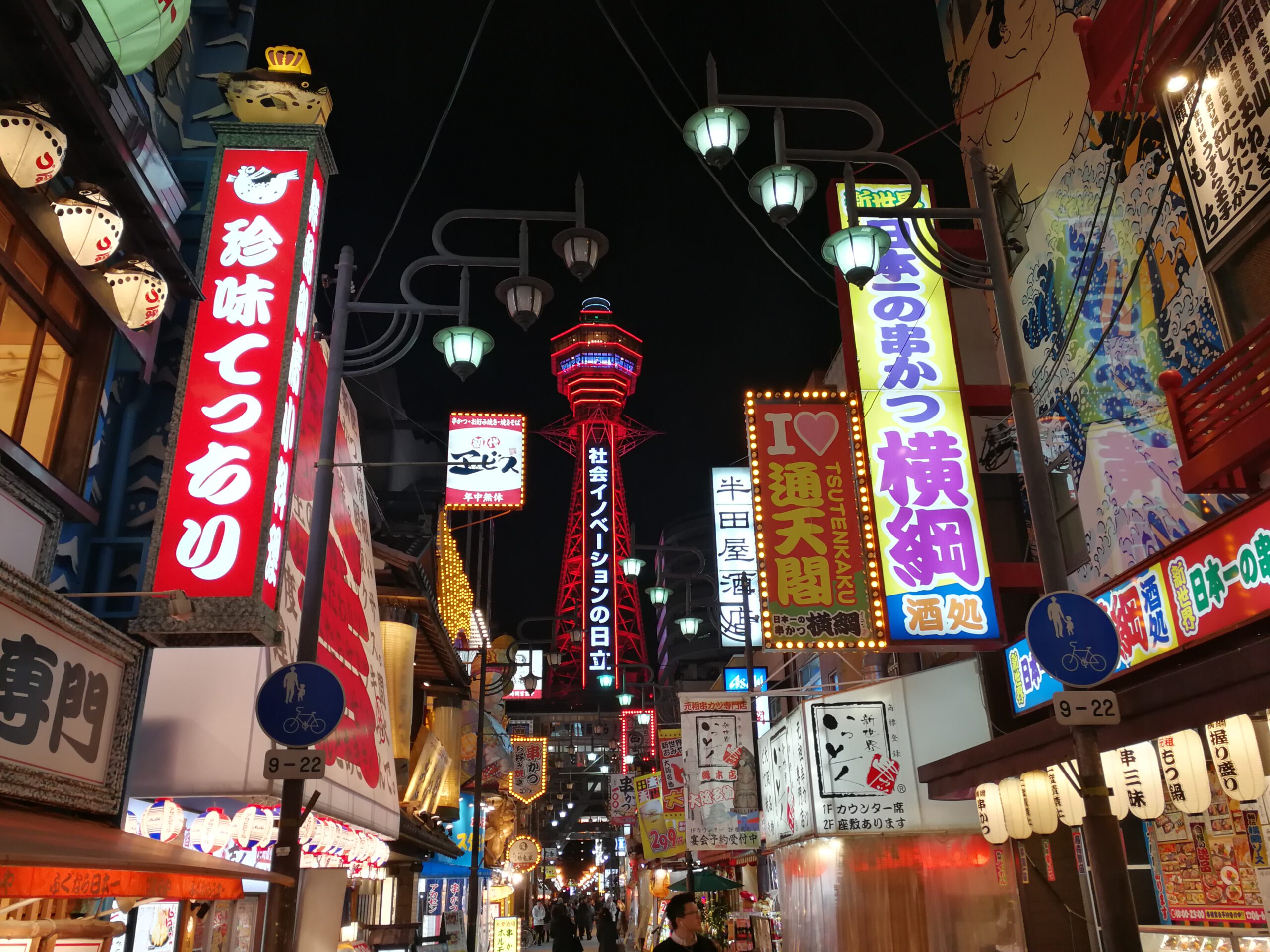 WEDNESDAY FEBRUARY 13TH 2019: TRAVEL DAY
This time we were really going back home. Our flight went at 11 AM and we made sure we were in time at KIX (we had a direct flight to Amsterdam with KLM). We had one more obstacle to manage, as KLM Japan suddenly wanted to charge us 300 dollars per guitar case extra, as they were not within the allowed sizes for the "Hold baggage". Fortunately we were able to persuade them with our beautiful smiles and blue eyes (although it took us like 45 minutes) that we weren't charged and were really on our way to Amsterdam.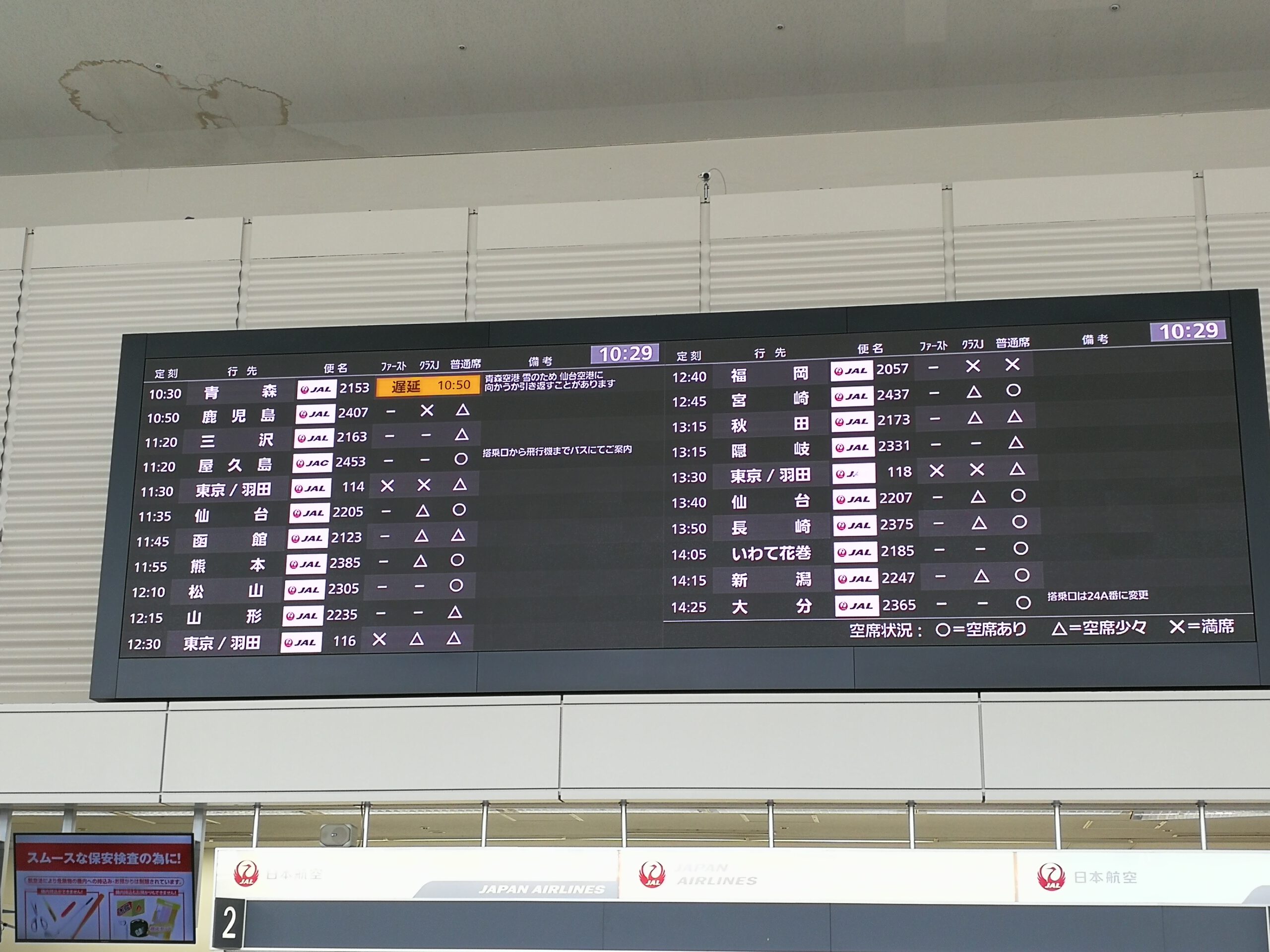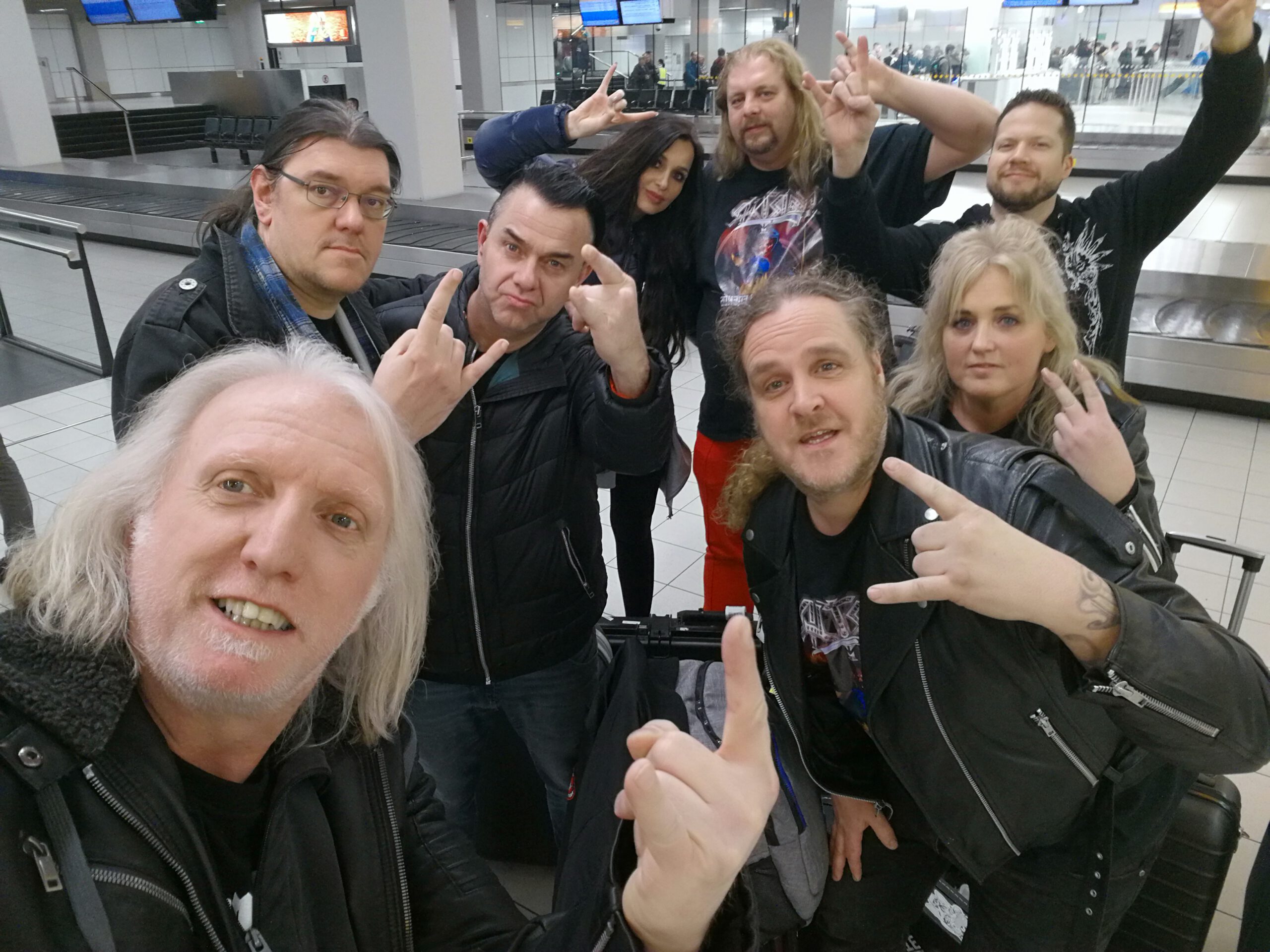 In the plane we celebrated a week of good times, success, and fun. An experience we will never forget again and hope to re-live very very soon again in the Land Of The Rising Sun..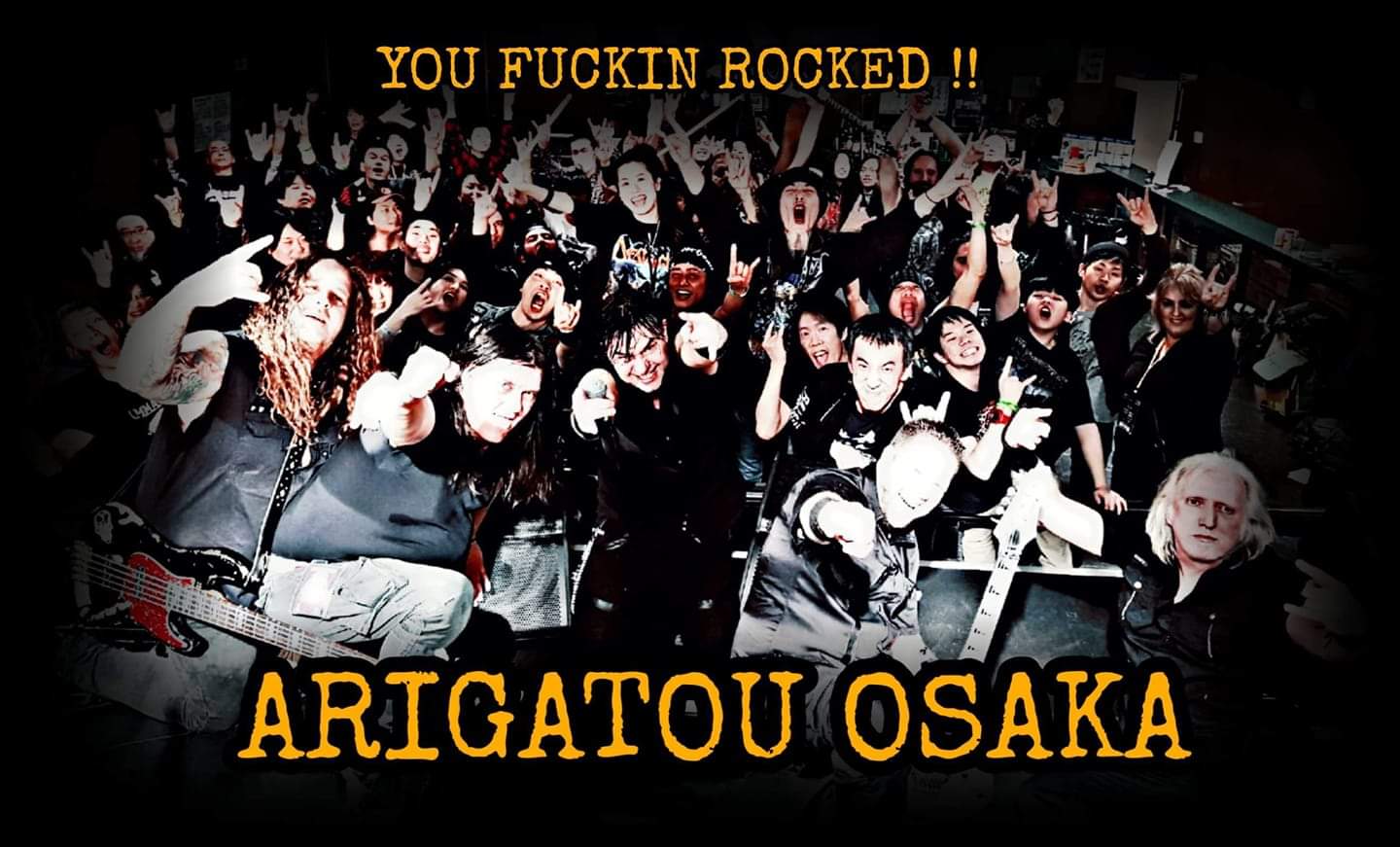 A big ARIGATOU GOZAIMASU goes out to:
Mikitoshi Matsuo, Brian Wojtowicz, Meguru Aoki, Muramatsu DJ Videoman (Nobu), Katon W. & Anne De Pena (Hirax), Rock Stakk Records, Wayland-Management, Riverge, Hell Freezes Over and all the other bands, crew of Esaka Muse and Shovel & Panhead Groove, the KLM crew and the council of Utrecht. Also thank you Patty Bakker and Sabine Wassink for your company and help!
This tour report was written by Rick and Koen for Headbangers Lifestyle exclusively.
Pictures are made and provided by Patty Bakker, Sabine Scholten, Ami Kurenko and ourselves.
—
Martyr Website here
Martyr Facebook here
Martyr BandPage on headbangerslifestyle.com here


#martyr #osaka #japan #tour #report #headbangerslifestyle #hbls