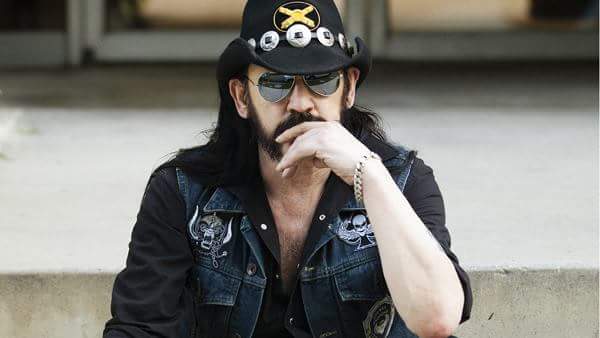 MOTÖRHEAD MEMORIES
On the Road with Lemmy Kilmister by Armand Vanderstigchel
Notorious for its 126 decibels live shows, England's Motörhead was alongside Manowar one of the world's loudest metal bands. Called upon as an inspiration by countless bands such as Guns n' Roses, Saxon and Metallica, the band aggressively toured the earth like a band of raiding pirates leaving a path of loyal fans, bewildered music critics and deaf ears.The late bassist/vocalist Lemmy Kilmister (RIP), formerly with psychedelic British band Hawkwind, formed Motörhead in 1975, and the group released its moniker debut album in 1977, in a year when Punk music reigned supreme. The indefinite break-through album released in 1980, `Ace of Spades', made the British chart, resulting in a huge concert draw in the U.K./Europe and a cult following in the U.S.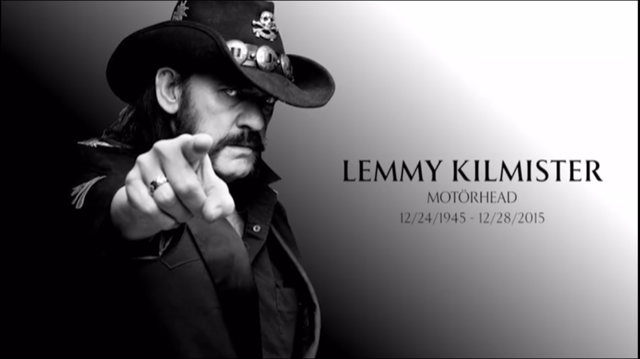 Lemmy was admired by many as a force of nature, who shamelessly soldiered on during many ups and downs in the music business, ignoring all trends and critics. He ingeniously established his band as a referendum of metal and a cult hero, who in the sanctity of true late and living rockers such as Jimi Hendrix, Keith Richards, Janis Joplin, Bon Scott, Phil Lynott and Ozzy, truly lived, breathed and acted out the rock n' roll live style to the very end. Only several months prior to his unexpected passing, Lemmy could be seen playing to thousands of metal fans at festivals across Europe under the motto "die with your boots on".
As a recording artist of the 80's premier Dutch metal band Highway Chile, I had the opportunity to open for his band Motörhead during the European leg of the Iron Fist Tour in 1982, while promoting our up-coming debut album `Storybook Heroes'. I would also meet him on various occasions in the following years in different settings with fond memories. I decided to write this article to give you a perspective of my experiences meeting him and the band. On the other side of the Atlantic, a fellow musician friend of mine- Heavenly Chillbillies bassist/body guard Earl Irving "The King of Buffalo", experienced first-hand real backstage experiences with Lemmy as a friend and body guard. We both affirmatively agreed that there is more to know about Lemmy as a human being in terms of kindness and intelligence. Here is our story about the man and the legend….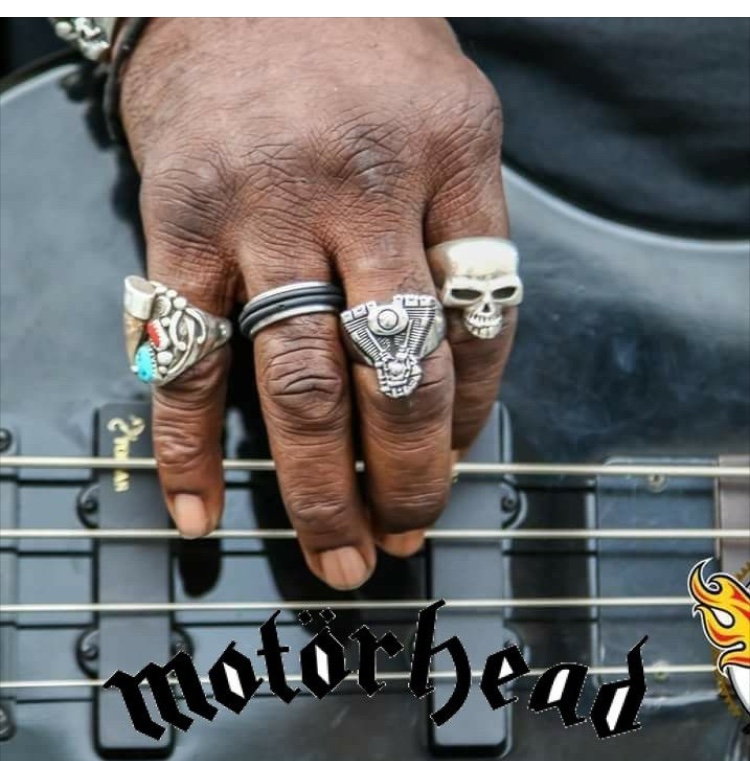 Earl bass
During late summer of 1982, I was still functioning as a self-made booking agent for the becoming popular Dutch metal band Highway Chile. As the vocalist, I had been instrumental in association with founding member Martin Mens, in producing more gigs than any unsigned music group in the county, by sheer fanaticism, ingenuity and hard work. Following in the publicity stream of guitarist Ben Blaauw personally receiving a priced Gibson Birdland guitar from international superstar Ted Nugent, our bookings increased and eventually led to a record contract. Up until our debut album release, I found myself glued to the phone calling clubs, promoters and venues in anticipation and excitement of our latest victory. I had gotten wind of a pending European tour of Motörhead and the absence of an opening act. In my bold ambition and dogged follow-up, I proceeded to follow the lead-trail of who to bombard with phone calls and demo cassette/bio-stuffed manila envelopes in the days of snail mail. After countless calls, I received a call back from the suspicious promoter, who probably was tired of incessant calls from a contending English speaking Dutch booking agent. He hesitantly bowed to my pressure to have Highway Chile open up for Motörhead based on the fact that he liked the up-coming album tracks submitted to him for review. After hanging up the phone, I needed to discourse my sheer excitement with a cold Heineken and a shot of Jägermeister. This was our first major opportunity of more to come gigs with some major acts.
LEIDEN, THE NETHERLANDS, EUROPEAN TOUR
On a chilly sunlit October afternoon, 1982, I find myself comfortably seated with my HC bassist Rick Finck, on-route to the Dutch medieval city of Leiden in the comfortable Mercedes Benz of HC fan club founder and Dutch cheese guru Margreet Karsemeijer. On bumpy cobblestone roads accompanied by canals and charming draw bridges, in the archetypal Dutch city fashion, we reached our destination of the Stadsgehoorzaal of Leiden. After a confusing attempt to find the back stage entrance, we entered the old creaking steel-laden doors as if entering a forbidden castle entrance. The concert hall was rightfully absent of chairs in anticipation of a rowdy leather and metal stud clad crowd with an alleged great passion for motorcycles. Previous metal shows here established a lack of sympathy for chairs as they got thrown around or destroyed. Upon awaiting the road-weary crew of Motörhead to finish set-up of the endless walls of Marshall Amps and "filthy" Phil Taylor's double-bass drum kit, we decided to go over our set-list with the by now arrived remaining HC band members. Upon discussion in our modest dorm-like dressing room, Lemmy popped his head in the door and introduced himself to our sheer astonishment, since normally the headliners segregate themselves from opening acts. In his classic dressage of black, a bullet belt and white boots, he nonchalantly popped open one of our beers and asked us about the music we played. He had a great interest in the Ted Nugent Gibson Birdland guitar, proudly displayed on a foldable stand in the corner of the room and asked" "How does that bloody thing sound for ya?"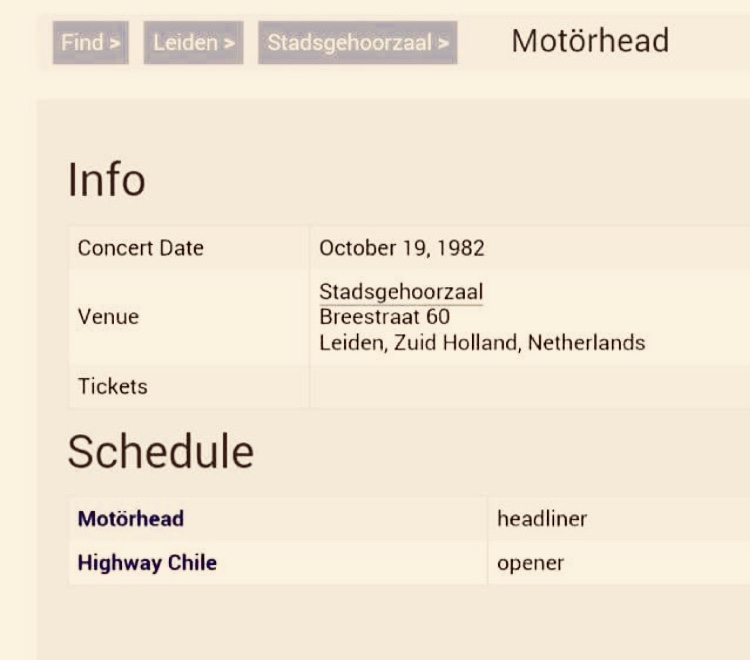 As he left us baffled in the dressing room, he turned around, grinning; "You better damm well play some real loud heavy stuff in anticipation of my wild rabid Motörhead fans who will rip you to pieces if you play wimpy crap!" In unison we assured him not to worry and to please watch our set. After compiling a set of our heaviest songs and picking out our most appealing grimy wardrobe for the occasion, we headed out to witness the Motörhead sound-check. As Lemmy plugged in his massive war-torn Rickenbacker bass into the mountain of amps, he walked over to the edge of the stage and summoned us in his hoarse English accent; "Don't stand to close to the speakers, if you want to hear your own music tonight!" The sound-check in the empty venue was consistent with standing on the flight deck of a battleship aircraft carrier during take-off- you needed protective headgear for the engines roaring while your pants would flapper in the wake of winds and decibels. Like scattering rats on a sinking ship, any observer in the murky-lit venue room sought refuge away from the excruciatingly loud towering sound system.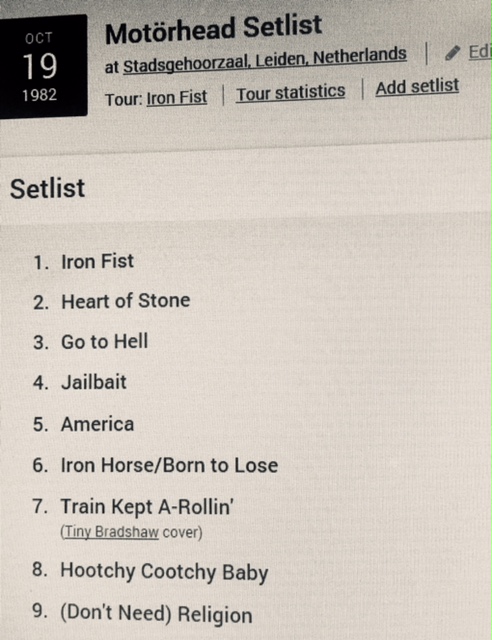 After the ear-splitting sound-check which ended on-time and thus fair for the opener, we quickly had our crew set-up our Marshall stacks in front of the Motörhead speaker armada and proceeded to quickly run through our picked songs. To our delight, Lemmy and ex-Thin Lizzy guitarist Brian Robertson stood on the side of the stage smiling and nodding in way of approval of our songs. Back in our dressing room, the Motörhead boys entered our inner sanctum to whip up a conversation and garner some opinions regarding instruments and Dutch booze from the band. While carefully navigating through the empty beer and liquor bottles, I managed to have a quick chat with one of my favourite guitar players Brian Robertson who briefly joined Motörhead after tumultuous years with Thin Lizzy. Even though I was a little disillusioned he had cut off his amazing guitar-hero flowing curly red hair, he was pleased to hear that he was my favourite guitarist and polite upon my question how he screwed up with Thin Lizzy; "I couldn't keep my hands of the bloody whisky, ripped my hands in a bar brawl before an important American tour, had fights again in every bar we visited and simply could not keep up with the crazy Phil Lynott who had similar substance abuse issues." Upon asked how they made that special Thin Lizzy guitar sound; "We would down-tune our guitars a half step to get a deeper sound and to accommodate Phil Lynott's limited but beautifully deep vocal range."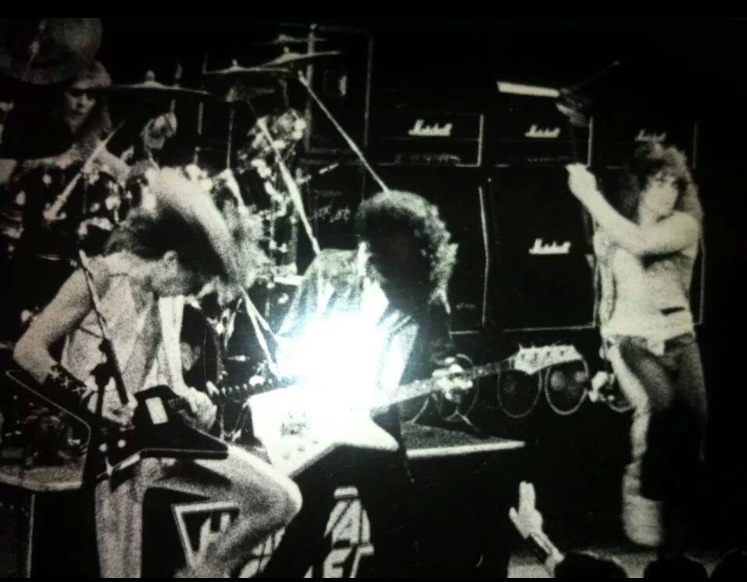 Highway Chile live opening with Rick Finck, Ben Blaauw, Armand Vanderstigchel

Lemmy himself was impressed by our youth in terms of talent, especially our 18-year-old gifted guitar player Ben Blaauw. "You blokes sounded good during the check, I see a loud future pending you don't let the record company tell you to go soft, just stick to your guns and play what you love!" Lemmy joked while pointing his finger to all of us in a warning-like gesture. It was clear that any misconception of Lemmy being a mindless alcoholic with memory-loss or simply an indifferent person was far from the truth. After our well-received opening set without any hostile crowd related occurrences, it was time for Lemmy and company to hit the stage under the roaring frenzy of fans as the lights dimmed. From the opener ,,Iron Fist'' to the sing-along ,,Ace of Spades'', Motörhead ripped through the set like a roaring chainsaw peeling the paint off the century old buildings ceiling. A captivating evening for all assembled metal-heads who were fortunate to have tickets and a reminder that Motörhead is a force to reckoned with.
POPERINGE, BELGIUM, EUROPEAN TOUR
In the early summer of 1984, our drummer and myself were invited through a public relations firm of a renowned music publicist to visit the Heavy Sound Festival in Poperinge, Belgium featuring Motörhead, Twisted Sister and Metallica. After a long drive from Amsterdam on the crowded highway into Belgium, we entered the vicinity of the festival located on a large soccer field. We swished by the tour bus carrying Twisted Sister who through the large glass bus windows seemed to be acting like children on their first school trip. [More on that later.] Once provided with back stage passes at check-in, we proceeded to head out to the artist area, to socialize and grab a few drinks. Oops……there was Lemmy and the gang in the artist tent washing down drinks and nibbling on snacks with his new band member's guitarist Philip Campbell and ex-Saxon drummer Pete Gill. In downright shock and disbelief, he recognized me from our shows about 2 years back, a reoccurring characteristic proven in the future underlining his amazing memories and awareness. We brought some Highway Chile T-shirts with us to hand out, but unfortunately by mistake brought the wrong box with ONLY pink t-shirts designated for female fans. As a token of well-meant generosity and a little dark humour, I handed a pink t-shirt to the surprised and chuckling Lemmy; "What the F…. is this shit! You want me to wear this crap on stage and have my fans throw rotten tomatoes at me! Are you crazy selling this nonsense or did you guys go soft on me!" In an instance he threw the t-shirt at our female publicist who giddily proceeded to have him sign it. At this point the whole band is laughing and now everyone wants a shirt as a memory to give to their lady friends. I took a deep breath, happy to survive this incident and in an ironic way established a memory with Lemmy that he would revisit again in the future, in concurrence with the famous pink T-shirt.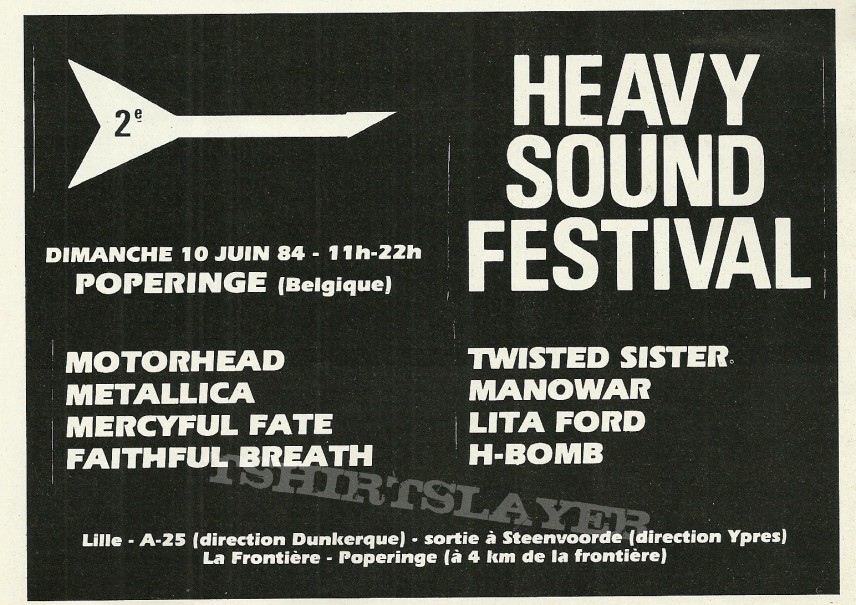 While observing the back-stage action I could not help but notice the stark difference between the assured professionalism of the Motörhead boys and opposite the members of Twisted Sister who in assessment were acting loud and brazen, like arrogant big shots amid the media and bands. In retrospection, I fully comprehend why Motörhead in terms of longevity survived for decades while Twisted Sister had a short comet-like career. In addition, throughout the Metallica and Motörhead sets, singer Dee Snider was striving to attract attention away on the side of stage as an on-looker, banging his head up and down in simulation with the crowd in attempt to win some sorely needed brownie points away from his more popular competitors. A gesture received with mixed feelings by the bands and audience who did not know how to distinguish his sincerity.
After the day-long festival, Motörhead invited us to follow their tour bus to the hotel to cordially have a drink at the bar. Drummer Pete Gill seemed to be smitten with our publicist and was more than happy to share a drink with her. Upon arriving at the hostel-like hotel, everyone hit the bar except Lemmy, who stone faced stepped into the elevator with his latest trophy groupie. "Goodnight fellas, I got some business to take care of upstairs!" he brawled while the elevator doors made him disappear before anyone could respond. The residual band partied way into the wee hours and drank at an electrifying pace. We eventually had to start driving home, since we had to travel the next day to the famous Dutch music festival Pinkpop featuring Dio, the Pretenders and Marillion as headlining attractions.
LONG ISLAND, NY, USA TOUR
Years later, while living on Long Island, New York, I would frequently gig and rehearse at the famous Sundance Rock Club in Bayshore. I was thrilled to be notified that Motörhead was coming to town to gig at the club, and made sure I would be available that night to hopefully hang with the band after the show. Sundance was packed to the rafters as Motörhead ripped through its set of favourite songs while folks were spurting beer like champagne all over the place. The police eventually paid an unannounced visit, after many called-in complaints of a super loud noise, especially since the club was situated on the same block as the towering South Shore hospital. It was one of the wildest nights for the club with the most beer consumption ever and fights all over the parking lot. Afterwards I was able to meet up with the band backstage, who were semi-passed out on the old couches strewn around the back room. Beer bottles, Jack Daniels and packs of cigarettes everywhere were a typical representation of Lemmy being present. Almost 6 years had gone by since our last meeting and again it happened-I was recognized and put on the spot by Lemmy as the crazy Dutch singer who gave Lemmy and his band pink Highway Chile T-shirts at the festival in Belgium years back. It was also the last time our roads would meet.
MOTÖRHEAD MEMORIES FROM SUPER-FAN/BODYGUARD/BASSIST EARL IRVING
In 2004, after I had efficaciously overhauled my music career into being a TV chef/author, and started visiting every Labor Day weekend, the all-American city of Buffalo, New York to visit and judge at the National Chicken Wing festival at Coca Cola Field baseball stadium. I befriended the musicians of the local band Heavenly Chillbillies, who were the designated musical festival performers for many years to come, performing their heavy blues music to the crowds of thousands. I could not help but notice bass player Earl Irving wearing Motörhead T-shirts and parahelia while strumming his bass on stage. We got into a Motörhead related discussion while sharing drinks at an after-festival party at the newly opened Casino in downtown Buffalo. I was pleased to hear some very interesting stories of his time spent with Lemmy while touring the USA.
While sitting along the green vinyl fence behind the festival stage, our shoes dusted from the red gravel prevalently used in baseball stadiums, I revisited my conversation with bassist Earl, one of Motörheads' greatest American fans about his interactions and friendship with the legend Lemmy. This time it was an interview, which turned into an emotional odyssey for Earl, since Lemmy had recently passed on.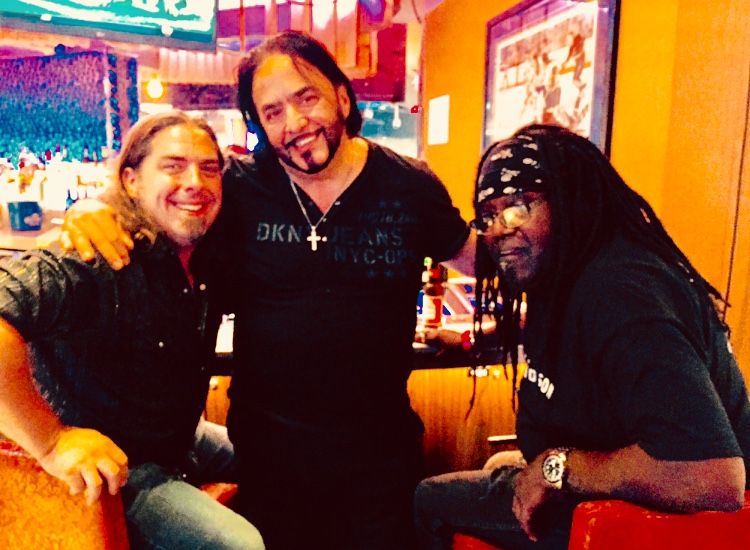 Armand (m) hangin with Earl (r) in Buffalo Casino
EASTERN SEABOARD, USA TOURS
AV: ,,Tell us about your first experience with Lemmy and Motörhead?''
EI: ,,It was during the "Orgamastron tour" when Lemmy was dating the notorious Wendy Williams of the Plasmatics. Motörhead was to perform at the Buffalo State College and the band needed some good smoking weed if you know what I mean. I was known as the alleged man for the job in downtown Buffalo and gladly proceeded to make the delivery. Upon arrival with a 1/4 lb. of treats, I was summoned by the soundman to go backstage and hand the bounty to a guy called Lemmy. Happy to receive his treats, he chatted a little about Buffalo with me where after I proceeded to prepare myself upon request to work as his security guard for the evening front-stage. Even though I was handed earplugs with a fair warning, I passed on it and now regretfully find myself semi-stone deaf and with an infrequent ringing in my ear! After the show I chatted with the ever-friendly Lemmy again and indeed have trouble hearing him. "I warned you, didn't you heed my friendly advice? You are a stubborn son of a gun!" Lemmy blurted while taking a slug of Jack Daniels. In many ways I was never the same after my first Motörhead experience.''
AV: ,,When were the next encounters?''
EI: ,About 3 years later I am visiting a girlfriend from Brooklyn and receive a call from my friend Rob Hobbs who was the American tour soundman for Motörhead. They were playing at Irving Plaza in NYC, a pretty nice venue. I strolled in late afternoon passing security under invitation of Rob and proceeded back stage to visit Lemmy. While lounging on the sofa, Lemmy's eyes lit up as I entered the dressing room. "Holy shit, I'll be dammed! Its "Buffalo", my favourite guy who brings me treats! Got anything on you?" Lemmy snickered while gesturing me to have a seat. From that point on I would be nicknamed "Buffalo" for life by Lemmy, who again had proven to be a clear-minded chap against all misconceptions about him. During the sold-out show I watched the band rototiller through their set of classics, while standing next to soundman Rob Hobbs, this time with earplugs in. LOL
My next encounter was at The Palladium in Worcester, Massachusetts. I was playing in a band called The Irving Band, which was the favourite band of the east coast Hells Angel chapter. A friend from the chapter invited me to see Motörhead. Since the Angels were VIP and secured a special theater box, I managed to walk past security and meet Lemmy backstage. As I walked into the Broadway-like dressing room under guidance of Hells Angels members, Lemmy stood up in amazement from his chair and shouted; "Buffalo, I'll be dammed!" He had found out from Rob, that I was a bass player, and asked me to see my bass, which at the time was a 5-string. After producing the instrument, which was in the back of my car, I had him autograph it while he was inspecting and strumming on it. "Too many bloody strings!" he declared while handing the instrument back at me. "This is the real shit!" he declared while grabbing his trusted Rickenbacker. Sheepishly I agreed, while quickly changing the subject to other talking points. We spoke about tattoos while he proudly showed me his "Born to Lose" skin marking. "If you want to prove to me you are a real rocker, you better have a tattoo next time I see you. Got it?" Lemmy summoned me while pointing to his tattoo. I promised him I would oblige to his request and have one next time we meet.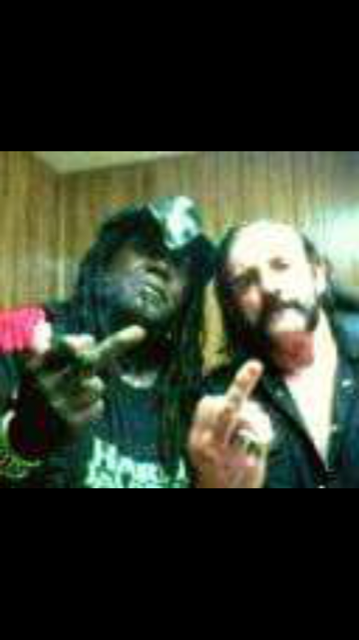 Earl with Lemmy in Hamburg, NY
Sure enough 2 years later I got the news that Motörhead was returning to the Palladium. In a state of panic, I scheduled an appointment the day of the concert to get an identical tattoo to present to Lemmy. I knew he would berate me if I didn't, so there I was in the tattoo parlor taking the needle disbursing the ink. After months of wearing basketball sneakers to recover from a broken foot, after a fall on the stage, Lemmy greeted me backstage wearing his trademark white leather boots. This time he remembered my name to my sheer disbelief. "Hello Irving from Buffalo! Did you get the bloody Motörhead tattoo you promised me?" he mocked while dragging on his cigarette. With a sigh of relief haven gotten the tattoo, I proudly took off my leather motorcycle jacket and displayed the freshly needled tattoo. "Holy shit, you really did it! I am proud of you my friend. Great job. Welcome to the official Motörhead club!" Lemmy professed like a proud father to a cum laude college graduating son. We took a picture together showcasing our tattoos and chatted about politics like old buddies. Very noticeable about Lemmy was the fact that when he talked to you, he would respectfully focus on YOU regardless all the typical noise and attention to be expected in a dressing room of a star. From that point on, my level of acquaintance with Lemmy would turn into an eternal friendship. This progression came to light a few years later during a Motörhead concert at the Hampton Beach Casino in New Hampshire. The Hells Angel chapter retained me to take pictures of the show since they knew of my friendly relationship with Lemmy. Before the show, as I stood front-stage in the left corner, the guitar technician of guitarist Campbell, heckled me not to take pictures of him, perhaps related to an FBI warrant. LOL. It became somewhat of an uncomfortable brawl, whereby the Hells Angels had to intervene while I was pointing out to the exclusive Motörhead T-shirt I was wearing, as a gift from Lemmy, to simmer down the tensions. "Do you see what I am wearing?" I exclaimed, pointing to my T-shirt. "Lay the f…off me bro!" Yelling off the top of my lungs while surrounded by my protective Hells Angels.



Earl at Palladium showing off Tattoos with Lemmy

After surviving this altercation, I headed backstage after the show, with ears still intact to meet up with Lemmy. After a heartfelt greeting, I explained to him what happened. With steam literally coming from his ears, he stood up and said; "This is bullshit! Follow me!" Obediently I followed him out of the dressing room to the backstage area where the guitar technician was dutifully packing in the gear. While looking up from his task and seeing me with an angry looking Lemmy, his facial expression turned to grave concern. "Do you see this guy next to me? His name is Earl from Buffalo! He is not just a fan, rather he is MORE, he is a friend of the band! Don't ever treat him with disrespect again!" Lemmy sneered while he turned around, pulling on my coat to follow him back to the dressing room. "I apologize for my overzealous crew, you are always welcome as a friend of the family" Lemmy assured me while sitting down in his chair again, lighting a cigarette. This was one of the greatest days of my life hearing I had become a friend of Lemmy.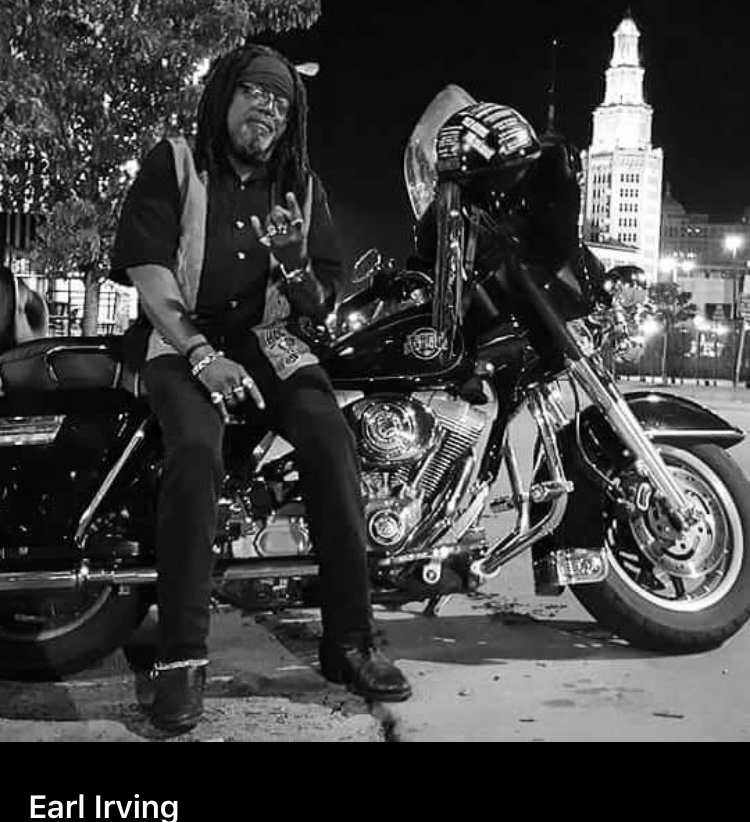 My final meeting with Lemmy was at the Erie County Fair in the town of Hamburg in western New York.
Motörhead was on their "USA Roadwork Tour" and featured on the bill at this huge open air festival with Heaven and Hell featuring Ronnie James Dio. Motörhead was scheduled before Heaven and Hell and literally blew the headliner off the stage to the chagrin of Ronnie James Dio and Tony Iommi. Please keep in mind that western New York is a pure blue collar working man's "Motörhead' country, lest thy not forget! It had rained the day before and there was a lot of muddy stagediving and slinging going around. After having witnessed the show from the soundboard with engineer Rob Hobbs, I slushed my way through the muddy field to the backstage area. I suddenly found myself in a covered area loaded with beer next to the band trailers and makeshift dressing rooms. As I reached to grab a Heineken, a voice right behind shrieked; "Hands off the beers, that stuff is for Dio!" I instantly responded to F…..off, since there was no harm in grabbing a beer for the sound guy assistant and friend of Motörhead! Immediately upon speaking, a trailer door swung open and there- like a battle hungry Viking- stood Lemmy who had heard my voice. He promptly told the berating girl to go F…….herself and explain that the beer was anyone's beer. Seemingly overjoyed by our unexpected reunion, he invited me into the trailer and handed me a bottle of Jack Daniels. After I took a slug and tried to hand it back, he said; "No, you have your own bottle, since we both are going to finish one. Our tour bus is stuck in the mud and we won't be getting out of here until early morning when a tow truck is available!" Even though I did not comprehend at the time it would be our last meeting before his death, it surely was the most special time. We played poker all night, talked about war and politics and indeed finished our bottles of Jack. He even expressed interest to visit my home for a BBQ one day, since I was concerned about his bad road eating habits. Upon my departure, Lemmy bid me farewell with six special Motörhead T-shirts and waved me off while I was clumsily straddling my Harley Davidson, wondering if I would make it home alive in such state of being smashed. I can only recall waking up the next day surrounded by Motörhead T-shirts and an inability to get out of bed. Yes indeed, if I only knew then that this was my final Swansong with good ole Lemmy.''
AV: ,,In a brief tribute, describe your thoughts about Lemmy in memory of your time with him?''
EI: ,,In my eyes, Lemmy was one of the greatest human beings on this planet. A humble and down to earth person, free of any signs of racism or preconceptions on people. A sharp memory and a deep caring for his fans. That's how he managed to survive musical trends by building a loyal fan base and staying forever on the road. He was and still is my hero. I play his songs while riding my Harley, hoping he will look down upon me while his music carries in the wind of the endless highways he once roamed.''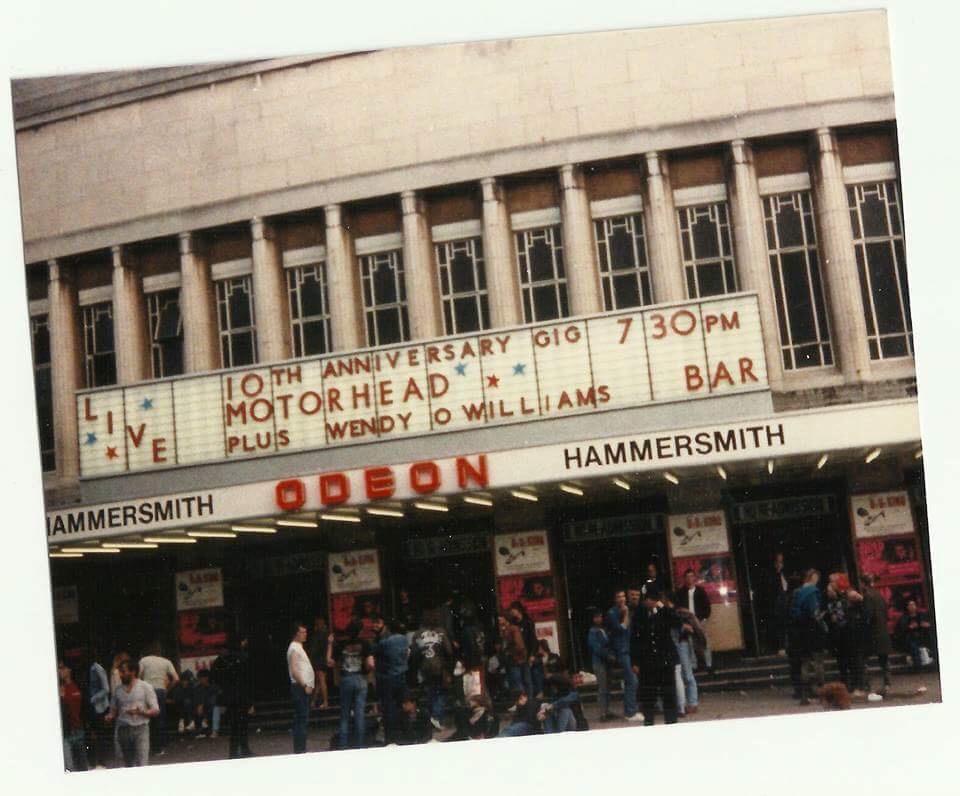 The famous show
LONDON, HAMMERSMITH ODEON 1983
In the final days of finishing this article, my friend Gregg Reiter, an Emmy nominated guitarist and co-songwriter, tipped me off on a musician friend of his who did some major touring with Motörhead, as band member/drummer of the notoriously Queen of shock rock-Wendy O. Williams [former Plasmatics] and once rumoured girlfriend of Lemmy. Drummer TC Tolliver is considered one of the great metal drummers in the northeast USA, having played and toured with many great bands and musicians such as Motörhead, Kiss, Wendy O. Williams and members of Angel. Drummer Tolliver was the original drummer of the notorious band Angel- on the famous Casablanca Label with Kiss. Previously before the formation of Angel, he played with the Aerosmith Joe Perry project singer Ralph Mormon and Angel guitarist Punky Meadows in the their first band Daddy Warbux. He has recorded and been featured on more than 15 albums and currently playing progressive rock/Alien Funk in his current Tolliver Franklin Project. On Thanksgiving eve I spoke with him by phone from New York regarding his personal experience with Lemmy from Motörhead.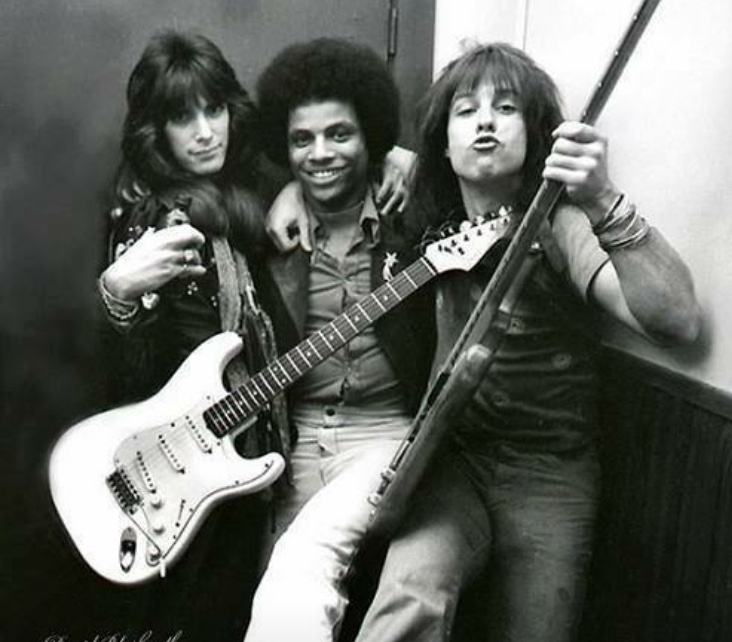 TCT in early Angel line up with Punky Meadows and Mick Jones
AV: ,,Tolliver, you were part of a legendary show at the Hammersmith Odeon in 1983 featuring Motörhead and Wendy O. Williams. Bring us back in time about that experience.''
TCT: ,,The band Wendy and I played in was originally famous in the punk era as The Plasmatics. When I entered the band, we switched to a heavier sound and became the Wendy O. Williams band. Playing with Motörhead was a perfect marriage, because Wendy was the female version of Lemmy. Both bands brought the house down with Lemmy and Wendy sharing this legendary stage. After the show we went upstairs to the bar to share a drink of Jack Daniels and Coke at the bar. Lemmy was such a funny guy as he egged us on to talk and flirt with the attractive female bartender. When he noticed we were seriously trying to invite her to our hotel, he started laughing hilariously; "You idiots, she is not what you think she is. Why don't you take a close look at the Adams apple? Got it…it's a man for Christ's sake!" Yes indeed, a transsexual who probably had been a subject of previous Lemmy setups at this venue. A moment indeed to remember. A year or so later we ran into Lemmy and guitarist Wurzel at the Namm show and we were gently reminded of the incident while we chatted at the hotel and received as a consolation gift a copy of his new album.'' LOL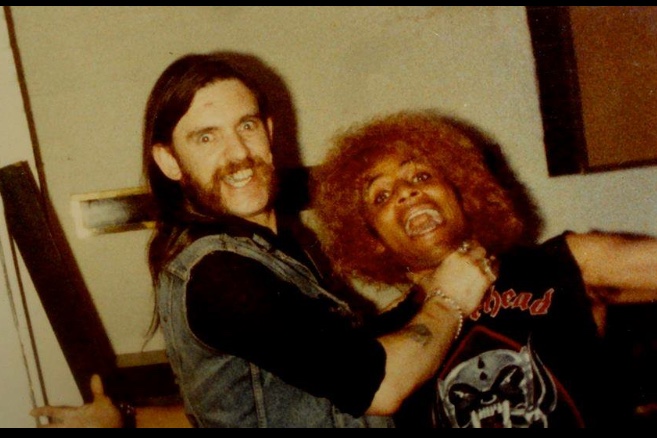 TCT with Lemmy in London
AV: ,,At one of your final shows with Wendy in London, there is a video circulating on YouTube of Lemmy and guitarist Wurzel joining you guys on stage?''
TCT: ,,Yep, in 1985 we were playing at the Camden Palace Theatre in London. While Wendy was singing in barely any clothes, Lemmy and guitarist Wurzel jumped on stage and played with us the Motörhead song ,,No Class''. Wendy affectionately watched Lemmy pound on his bass while she danced around him like a love smitten kitten. The crowd went absolutely nuts when this happened and it was of course the best and most talked about show of the tour.''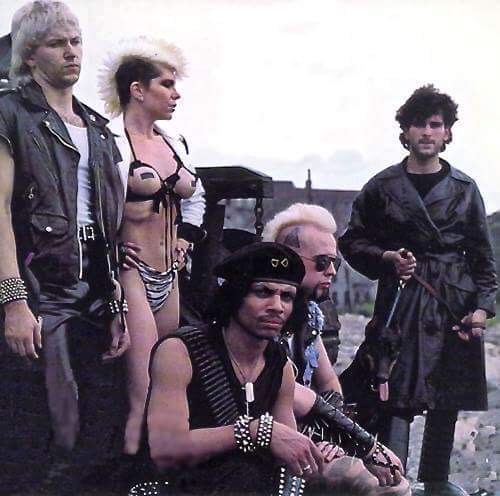 Wendy O. Williams band
AV: ,,Tell us a little about touring with Kiss?''
TCT: ,,The Wendy O. Williams band was doing a tour of the southern part of the USA with Kiss, doing the Creatures of the Night Tour. Since Gene Simmons had produced and written songs with our band, we thought the tour would be a good fit. A one point during a video shoot for LICK IT UP, my drums were used for the video, since Eric Carr's drum-set was mirrored and too reflective for the cameras. A great honour. Regarding the tour, we had some rough patches in the "Bible Belt", where they thought we were too extreme. After a few shows, word got out how great we were, and we started getting calls for encores to some extent at the dismay of Gene Simmons.'' LOL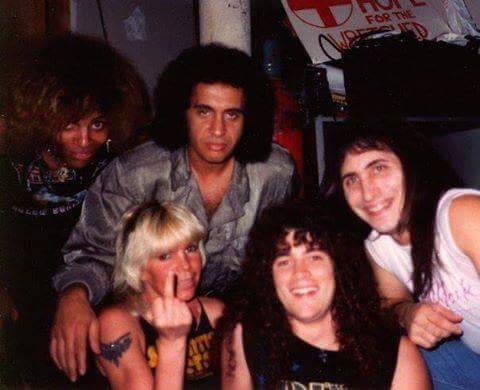 Touring with KISS
AV: ,,Can you sum up your assessment of Lemmy as a celebrity you spent time with?''
TCT: ,,What you see is what you get with Lemmy. Even though a wild man on stage, he could at times be quiet and reserved backstage. But in general he was just a regular dude, fun to be around and extremely caring and protective of his friends and associates. You could always talk to him about advice. I will always miss him and treasure my time playing with his band on the road.''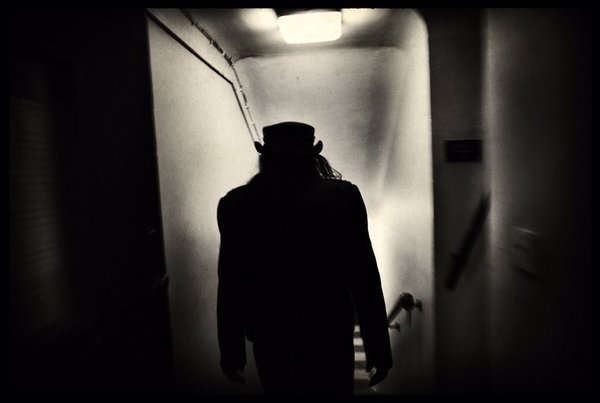 IN CLOSING, MY FINAL THOUGHTS ON LEMMY
In today's age of Rockstar wannabees and the recycling of eighties metal bands due to a lack of new talent and charismatic acts, we can look upon the legacy of Lemmy as the embodiment of metal and rock & roll lifestyle. Lemmy was addicted to his music, lifestyle and fans. The hum of the Silver Eagle tour bus rolling down the endless highways, the airports, hotels, soundchecks and constant change of scenery was in his blood. He would always be on the road, eager to play anywhere in the world in any size venue that would have him. He managed to inspire hundreds of bands and lead the way of thrash metal, reminding folks that you don't have to sing like Journey's Steve Perry to front a band.
He turned Motörhead into a cult status and ingeniously branded the Motörhead logo as something cool and hip to wear, even if you were not a fan. Famous bands such as Metallica, with greater sized audiences than Motörhead, would beg him to jam with them on stage in front of thousands.
In recent Motörhead footage of videos, legions of today's teenagers can be seen banging their heads to Motörhead music, front row at European metal festivals as a symbolic gesture that his music is timeless and rediscovered by the new generation. It's undeniably that Lemmy and his music will live on forever in the hearts and memories of thousands of metal-lovers around the world.
—
Visit Highwaychile.com
Visit THCbillies.com
Visit TCTolliver.com