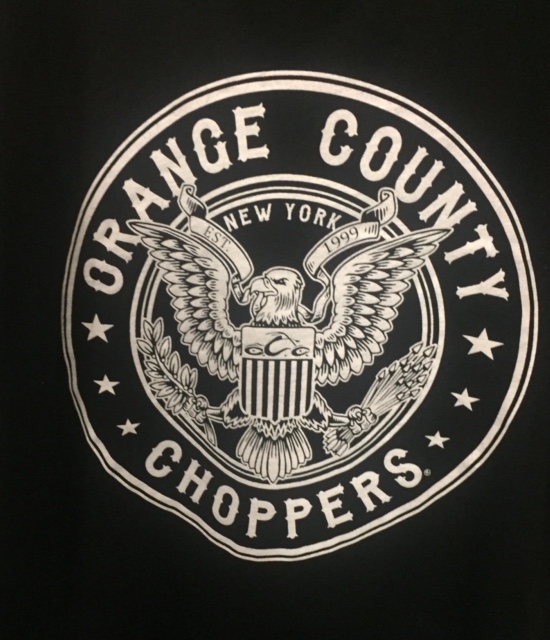 ORANGE COUNTY CHOPPERS WORLD TV PREMIER
NEW SEASON 2018-An Exclusive HeadBangers LifeStyle Interview With Cast Members
On a rainy Thursday night in early March I find myself cruising on Interstate 84 while listening to Motörhead downloads vigilantly watching for the exit sign of Newburgh Airport in Orange County, New York. This is Orange County Choppers territory and tonight is a special evening at the OCC Headquarters adjacent from the military airport. The world premier party of the new wildly popular series "American Chopper" Season 2018 is airing tonight on the Discovery Channel and there is a party to go along with it featuring the cast at the OCC café adjacent to the workshop. Before I continue my story, here is a little info in case you need a refresher or update!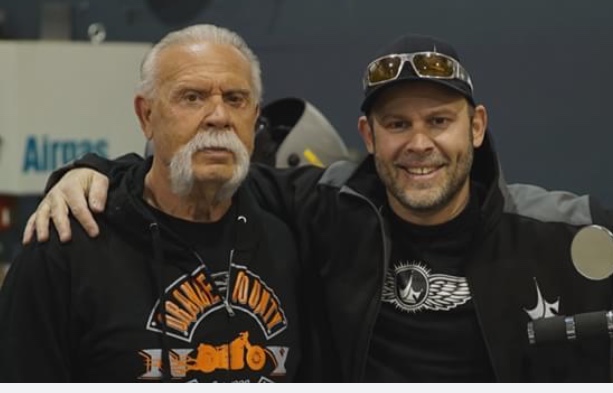 Paul Sr. and Paul Jr.

American Chopper stars Paul Teutul Sr. and Paul Teutul Jr. have had an estranged relationship in recent years. But the father-son duo is hopeful for a peaceful reconciliation with the new 2018 show back on the Discovery Channel.
,,We just started filming like three weeks ago, and so the transition to try and coexist in a new environment is just starting, and it's going pretty good so far,'' Paul Jr. said in a November 3 interview with WPDH.
The Discovery Channel announced past October that the reality series, based around a father and son who manufacture and design motorcycles, would be officially returning in 2018. According to Nielsen ratings, the show was a major success for the network, averaging about 3.4 million total viewers and ranking as Discovery's highest-rated original series at that time. It initially aired for a whopping six seasons from 2003 to 2010. On an international scale, the show was wildly popular from the Netherlands in Europe to deep down under in Australia.

In the late 1990s, Paul Teutul Sr. began manufacturing custom motorcycles as an extension of his welding and steel business (OC Iron Works), and in 1999 he founded Orange County Choppers. The company's first bike, "True Blue," was debuted at the 1999 Daytona Biketoberfest for an enthusiastic crowd.

A casting crew for the network picked OCC from a bevy of contending bike builders to have a show and the rest is history. The family feuds between Paul Sr. and Paul Jr. were aired unedited to the initial chagrin of Paul Sr., who complained to the producers that it was a private matter. Once the ratings came in, Paul Sr. quickly changed his tune, realizing that viewers appreciated the honestly and dysfunction of this modern day "Blue Collar Soap Opera" that millions of viewers felt a strong association with.

OCC is known for building custom theme bikes featured on American Chopper. Additionally, OCC launched a limited-edition production line of motorcycles in July 2007, priced beginning at $31,000 to offer an affordable option for bike aficionados.
One of OCC's most treasured bikes is "The Fire Bike", to commemorate the New York firefighters who lost their lives on 9/11. The bike itself has been modeled after a fire truck, and an actual steel rivet derived from the World Trade Center has been integrated into the bike itself, mounted atop the bike's gas tank. Paul Jr. stated that the bike was named "343", the number of New York firefighters who sadly gave their lives on 9/11.

The popularity of American Chopper led the United States Air Force to commission a $150,000 "Air Force Bike", first put on public display in March 2005. The motorcycle is ten feet long and is modeled after the F-22 Raptor, complete with Air Force symbol rims, riveted gas tank, Raptor exhausts and rear-view mirrors in the shape of US jets.
,,Everyone is eager to see what the Teutul family has been up to'', Rich Ross, group president of Discovery, Animal Planet and Science, said.

Paul Jr. told WPDH that a lot has changed in the family, including a new addition and a new attitude. ,,I have my own son now, so I have my own list of reasons for why [my father and I] should try and make it work'', he said. ,,We're all getting older and I'd like to see it end well, and it didn't in the last run of American Chopper.'' Paul Jr. was fired on camera from his father's shop, Orange County Choppers, in late 2008, which led him to form his own company, Paul Jr. Designs. ,,I want to get my relationship back with my father'', Paul Jr. said in the radio interview. ,,I think he wants the same.''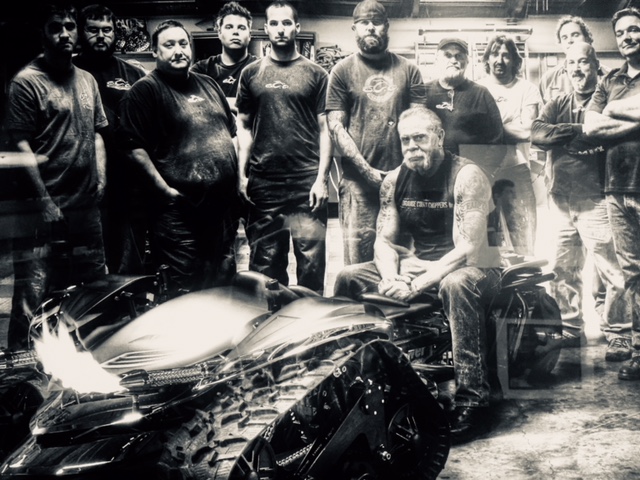 The Team

Back to my story:

Upon arriving at OCC headquarters, the packed parking lot presented an indication of a possible fun-filled evening shared with the fans of the show who came here tonight to celebrate the return of America's beloved dysfunctional family and great builders of custom-made choppers. Upon entering I located OCC publicist John to ensure my planned interviews with Paul Sr. and the cast. Since the show was going to be aired later in the evening, I decided to browse a little at the large merchandise store connected via the in-house bowling alley. In the OCC store you will find many of the popular bikes such as the POW bike on display with show memorabilia. Jackets, T-shirts, helmets, hats and sunglasses are everywhere proudly stamped with the OCC logo. For a modest fee, fans can participate in a workshop tour to get a rare glimpse of the intense bike fabrication and meet up with some of the cast when on premise.

Walking along the many displayed bikes in the store, I could not help but remember the day I took my visiting mom from Holland to the original modest store location in Montgomery, NY. She was thrilled and excited to visit the store and purchase gifts for my sister's young boys Mike & Melvin, who were big fans of the show. The staff on hand was thrilled to have a visitor from Holland and mom was an instant celebrity at the store while proudly posing with the custom bikes. Prior to the store visit, we drove by the original shop directly down the road, which was shy a simple garage compared to the beautiful new headquarters currently in Newburgh. These warm memories instantly bonded me emotionally with the show. A year later I found myself recurrently preparing dinner for Paul Sr. and his family as executive chef at a nearby restaurant I was associated with as a consultant in the sprawling town of Goshen. Paul Sr. as always, the husky guy he is, ordered a big piece of carnivores delights such as Braised Pork Shank or a huge juicy Steak. In conversations at the table with them, they were always down to earth and gracious about the sudden success propelled upon them.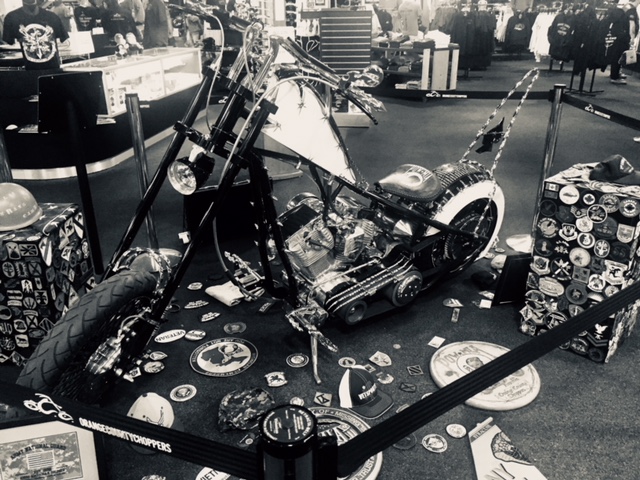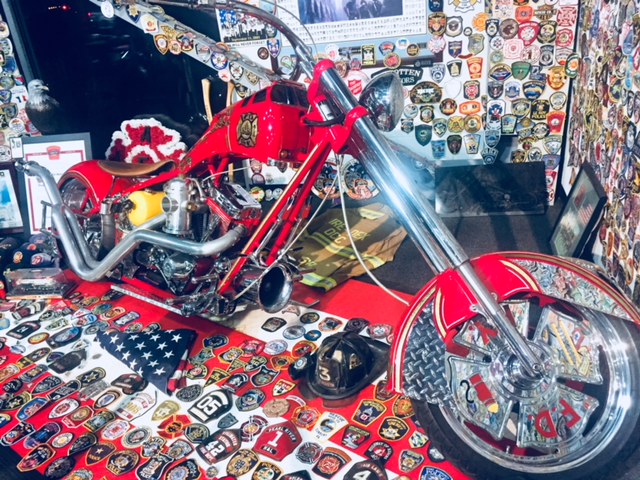 Pow bike (L) and 9/11 bike (R)

The show became a huge success and economic stimulator for the region. Wherever you would go in Orange County, New York- you could find a connection with American Choppers and this fantastic show which rapidly set this beautiful part of New York State located adjacent the majestic Hudson River on the map.

After the quick tour of the showroom, I secured a spot at the packed bar, strategically across from the large screen and roped off area where the premiere show 2018 will be displayed. After a sip of a cold Belgium Ale, OCC publicist John beckons me to sit down with the now arrived cast of OCC. ,,Now is a good time to interview these guys before the show starts in an hour'', John assures me while guiding me past the roped off area. I first sit down with senior designer Jason Pohl, a popular cast member who has a great knack for designing concept bikes and has comfortably filled in the void after Paul Jr. had notoriously left the company as designer and fabricator as seen on past episodes.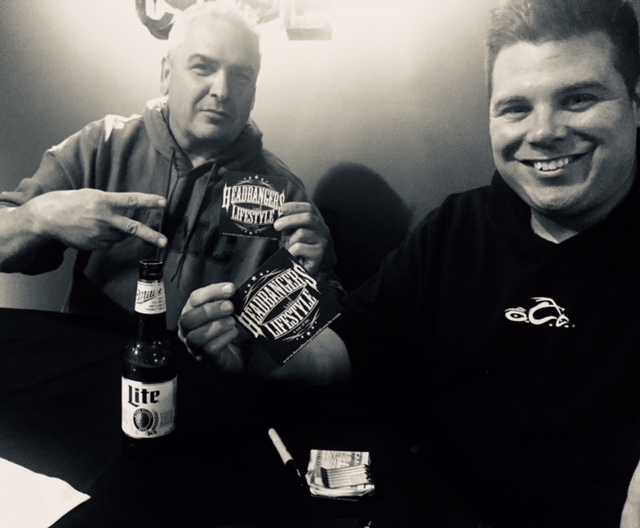 Designer star Jason Pohl (R)

After curiously studying the `HeadBangers LifeStyle' business card I hand him, and him complimenting the logo design, we are ready to talk. I ask him about his thoughts on the new show to be aired and to tell some interesting experiences during his time on the show. ,,The new show will breathe a new life into the company. We really missed the cameras being around us and the adrenaline rush every time a new episode aired. I am very excited about the new bike I designed for the Casino in the Philippines to be showcased in the first episodes. We have gone to building bikes in the USA, Europe and Australia and auspiciously now entering the Asian market…very cool!'' Jason remarks while smiling proudly showcasing his trademark boyish grin. ,,It was not easy taking the coveted role of Paul Jr. as designer, but I have stuck it out and find it easy to work with Paul Sr. who has definitely mellowed out more and is a father figure to me. Being part of the show has changed my life and really has given me an opportunity to see the world and endure some strange situations. How can I not forget being in Ireland at a bike show, sitting drunk unrecognizable on a bench, only to be pointed out by a mob chanting OCC. In a similar fashion I was taking a piss outside a café in the Irish town of Kerry, only to hear some guys chanting "Newburgh" behind me. Hysterical!'' Jason laughs while glazing at his beer. ,,Even in Germany we are huge, a country we deeply admire for its fabrication skills. One of our fabricators is from Germany, and he does an amazing job. Craftsmanship starts early in that country, that said you start your apprenticeship at an early age and must be certified at different levels before you get a master's degree. I mean come on, just look at the German automobiles such as Audi and BMW how advanced they are…. you can't beat the engineering. While I was there doing a project with international star David Hasselhoff, I could not believe also how good the beer and food is there. Just high-quality artisanship in terms of quality, taste and presentation. Just walking into a bakery, will make you gain 10 pounds because you want to have everything!" Jason chuckles while raising his beer in a gesture of a toast. I ask him about meeting with any metal musicians who love the show, since motorcycles go hand in hand with metal music? ,,Believe it or not, Gene Simmons of Kiss is a big fan of the show!'' Jason proudly asserts. ,,Upon meeting him, he typically in his bravado business-like gesture said he was proud of us and we are one of his favourite shows to watch. We are just waiting for that phone call to build a bike for him!''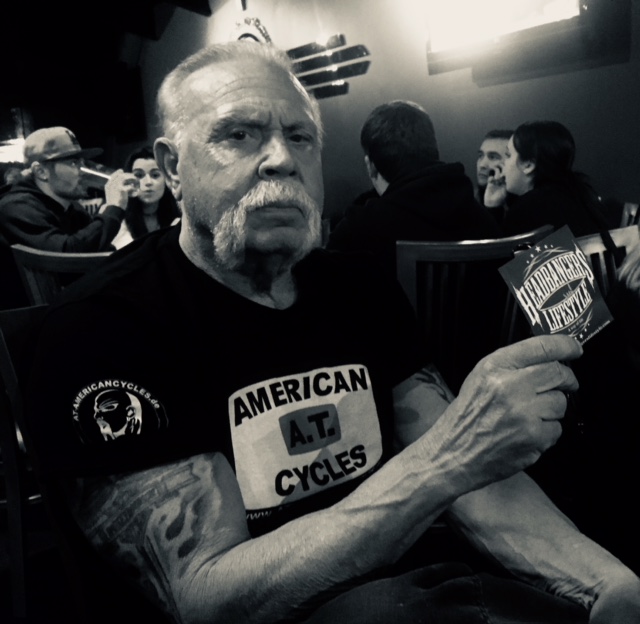 The Man Of The Hour Paul Sr.

Next to interview is the man of the hour Paul Sr. In a special secluded area cordoned off for family, he is sitting on a table surrounded by friends with his lovely girlfriend Joannie Kay next to him. She is a class-act, an animal rescue activist and chopper lover like Paul. She adamantly encourages me to sit in her chair to do the interview with her beau Paul. In comparison to past shows, Paul Sr. has lost weight and looks very athletic. His love for lifting weights in the gym has done him good and he seems ageless to the eye. I hand him the HeadBangers LifeStyle card and kindly ask him to pose for it. I quickly let him know that he has many fans in Holland and this is part of his core audience. ,,I like this logo!'' he declares in his trademark husky voice, while he slips the card into his pocket. ,,What up Holland!'' he barks to my amusement.

I asked Paul how it feels to back on TV and why the 3-year hiatus? ,,I think the show had run its course and everyone, including the viewers needed a break!'' Paul answers carefully choosing his words. ,,It gets to a point where things become repetitive and scenes that once were interesting become played out or almost seemingly staged. It was also a difficult time with the departure of my son Paul Jr. as seen on the show. These tribulations were never staged and certainly an emotional rollercoaster for everyone. Show business puts great pressure on everyone and taking a little break from filming was refreshing yet in an ironic way missed as well. My personal life was also in disarray and I needed to sort things out to focus on the big picture and filming again. The show was also missed by millions of fans across the world, which motivated the television network and myself to get back on board. The saying "distance grows the heart fonder" certainly applies to this scenario!'' Paul chuckles as he proudly looks around the packed room with fans awaiting the premier show launch. When asked about his son OCC star "Mikey", who is back on the show, Paul starts smiling. ,,Yes, Mikey is back with a vengeance. We have become close again and he is back to his typical shenanigans again! Is he a fabricator? Certainly not! Is he just simply talent on the show? Yes! We really get along and I will have to live with the fact that Mikey will never have a real job in his life, even though he tried a failed attempt on opening an art gallery as seen in past episodes. I guess he is a wandering ghost of the Woodstock generation!'' Paul grins with a hint of exposed sarcasm intertwined with a great love for his curly haired son.

What contribution do you feel OCC has made towards upstate New York, especially Orange County, I ask Paul, who has been a business owner his whole life in the region? ,,A very good question I like to talk about!'' Paul remarks seemingly proudly. ,,I have been in business a long time in this region always associated with welding and Iron works when no one knew about this area and the economy was decent here. The show has put Orange County on the map and spurred enormous growth in the area. For example, you have the Newburgh airport that soon will be an international airport. Builders are erecting commercial and apartment buildings all over the area. Across from our OCC international headquarters is a Hilton owned hotel that does brisk business every time we do an event. In addition, we organize an enormous amount of charity events in the area because we are compassionate people and love to give back. My shop and entertainment center employ many young people looking to make some extra money and a start in the hospitality business. Orange County is on fire and we will keep the flame alive!''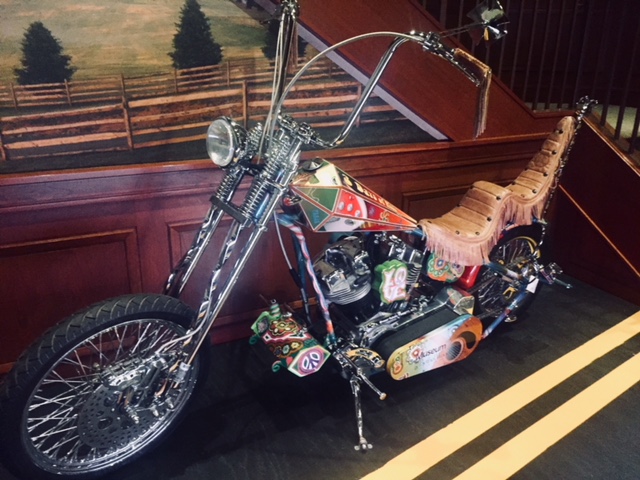 Piece chopper at Woodstock locale

On his volatile relationship with Paul Jr., who know runs Paul Jr. designs? ,,The relationship in the show as you will see has dramatically improved!'' Paul utters softly with a touch of sentiment. ,,We are getting older and wiser yet have a deep love for each other. We simply cannot work together, like people who get divorced. Some people cannot live together but will always have a love for that person in an emotional way. Paul Jr. and his wife have a child and I want to be able to get to know the child as his grandfather. In the show we will work together on a bike and heed each other's advice on bike related issues. My son Mikey found it important that I rebuild by relationship with his brother to feel comfortable being back on the show as the goofy guy he is!'' Paul stresses getting his point across.

I thank Paul Sr. for his time with a firm handshake. It's time to talk to his son "Mikey" Teutul who has just finished signing autographs. He is a very kind person and gracious. He is excited to hear that I am representing a Dutch media entity and glad to pose for a picture.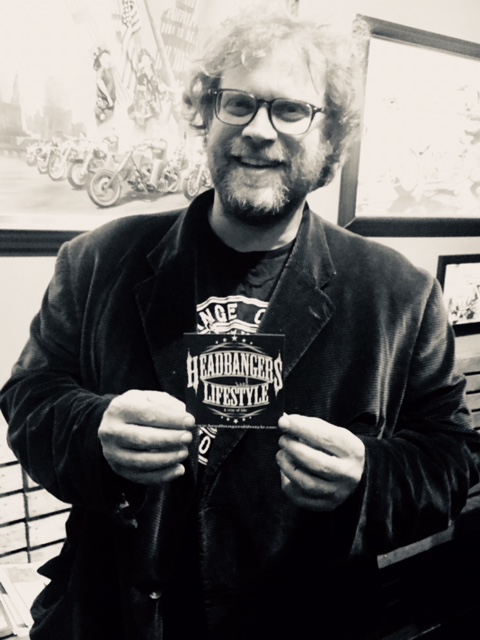 The joker Mikey loves HeadBangers LifeStyle

How do you feel about being part of the new show, I ask him as we seek a quiet area away from the fans? ,,I love it!'' he proudly beams while adjusting his spectacles. ,,I have been bored out of my mind and feel I have a new purpose in life entertaining my fans who have never ceased writing me when the show was off the air! I am back to what I do best, which is hanging around the shop and creating mayhem and chaos! Heck, maybe I will start running for president or the governor of New York. My political ambitions have never stopped, and I feel I can make the place a more funny and peaceful place. Instead of missiles, I would shoot boxes of beer to hostile countries, so they can learn to relax while they watch me on TV. A great solution to world peace and a lesson to all world leaders who I am anxious to meet with. We can use OCC headquarters as the new white house or governors' mansion!'' Mikey rambles seemingly loosened up after a few OCC brews from the adjacent bar.

I ask him carefully about his art gallery? ,,Ooh, that was an interesting phase of my life!'', he concedes while scratching his head. ,,It simply was too much work and I made too much money, so I had to retire it!'', he laughs. ,,Occasionally I do a little painting, but honestly, I get bored quickly and move on to other things. My father knows that, so he has given up on me ever really working for him. I guess he is at peace with it and will have to live with the fact that one of his sons is a happy go lucky do-nothing kind of guy. In a way I serve a purpose keeping the show funny, so my destiny is being an entertaining talent on the show. I feel I have also been a peacemaker between my brother Paul Jr. and my father. I really worked hard getting those two together and I am proud it is working!'' Mikey proudly claims while greeting a few fans walking by our interview area.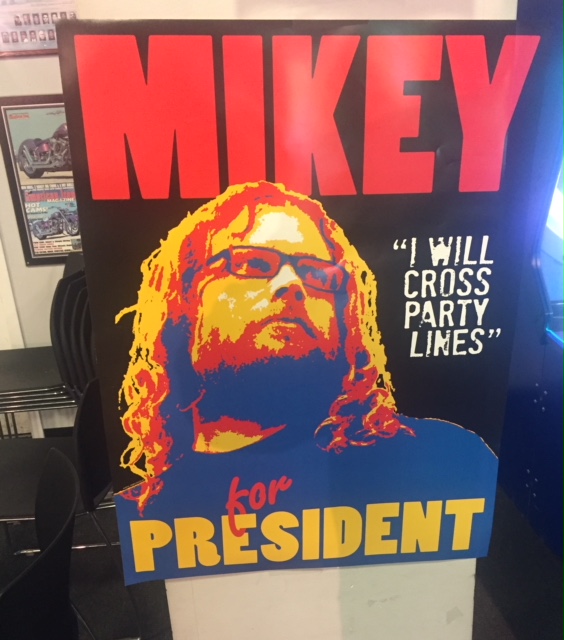 Mikey running again?

Whatever happened to the beloved mechanics/fabricators Rick Petco and Vinnie DiMartino who were really fan favourites I ask Mikey, who I believe will give a fair answer? ,,Aha… Rick and Vinnie!'' Mikey exclaims in a shroud of mystery. ,,Yes, we all miss them, but Rick will make a few cameo appearances on the show to help out. Rick lives now in Stroudsburg, Pa and has his own shop of building bikes and helping a local Harley dealer. He is such a nice and classy guy. Regarding Vinnie, who for a while worked with my brother after leaving OCC, he now has a Motorsport repair store in the Montgomery area and occasionally still helps my brother. He is happy and doing very well!''

On a message to the Dutch and European fans? ,,Thank you all for being loyal. I love you all and can't wait to come to Holland to put on some wooden shoes, visit a windmill, eat raw Herring from a market stand and walk the streets of Amsterdam. We Love you guys'', Mikey exclaims with great joy.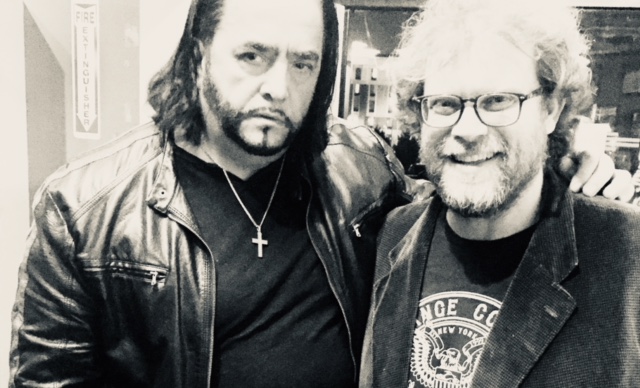 HeadBangers LifeStyle USA correspondent Armand Vanderstigchel with Mikey

The interview ends, because it is time to watch the show. I thank Mikey for his kindness as we head to the viewing area where the show will be live on national TV at any moment. Indeed, already in the first minutes of the show, Mikey shows his cunning talent for sarcasm and fun as he takes viewers on memory lane regarding all the past tribulations of the show and the famous fight between his father and brother Paul Jr.. The show then continues to focus on the relationship building between father and son, and a new exciting bike build for a casino on Manilla, Philippines. OCC is trying to break into the Asian market and they are doing a good job.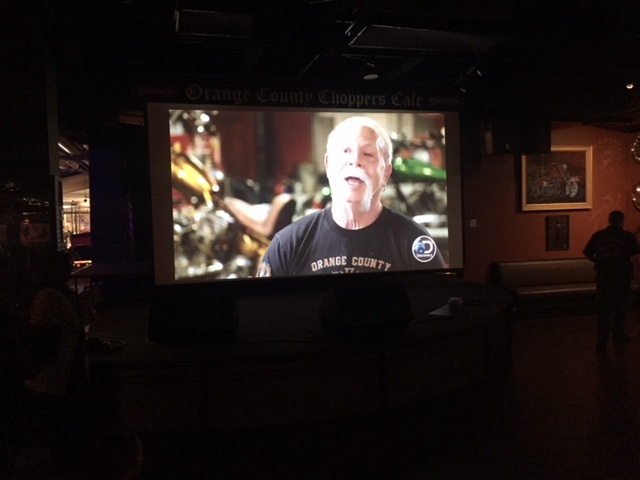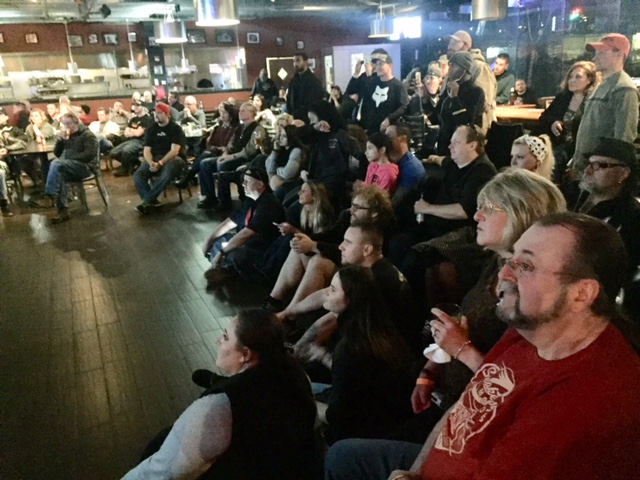 Live TV premiere (L) and Mikey and the fans watching the premiere

As the OCC cast sits on the designated leather couch in front of the large projector screen amidst fans, I cannot help but feel a great respect and pride for this amazing cast who have bravely shown that no family is perfect, but that love still reigns in the end for family and friends.

Enjoy the show.
—
Follow Orange County Choppers on Facebook and visit the website here.
Follow American Chopper on Facebook

Please visit also:
www.highwaychile.com
www.chefarmand.net
www.culinarysupportgroup.com