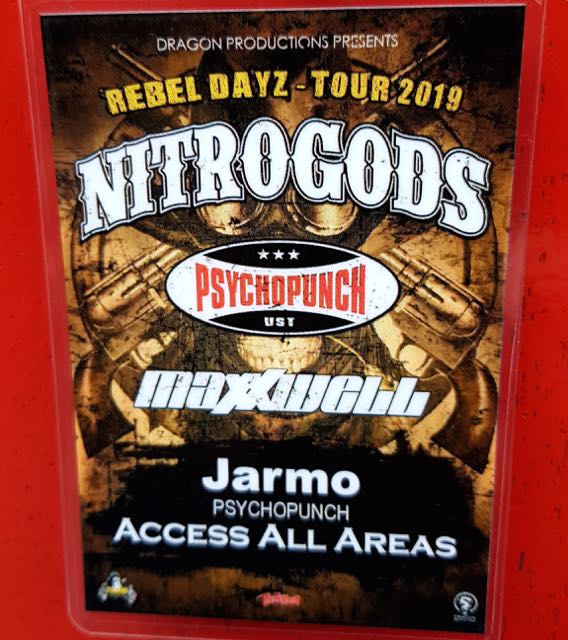 PSYCHOPUNCH-A Shout From The Road #1
Behind the scene blog by Jarmo JM Mäkkeli [lead singer & guitarist]
Dragon slayers, Whiskey and snails Think this is the way I felt starting this tour….messsed up in my head with all the things that needed to be done before we could head out for the tour. With Walle and Jonas not being able to join us on the tour we had to call in some super dudes. Mats aka Mumbles (Original bassist in the band) and Wally (Bonzai Kitten/V8 Wankers), a really good friend from Germany, to get this rock´n´roll train running. With Mats living in Canada and Wally in Germany it wasn´t easy to rehearse for the tour…but hey…who said it should be easy! Mats flew in a couple of days before the tour started so that we could rehearse at least one time, Mats, Johan and me that is.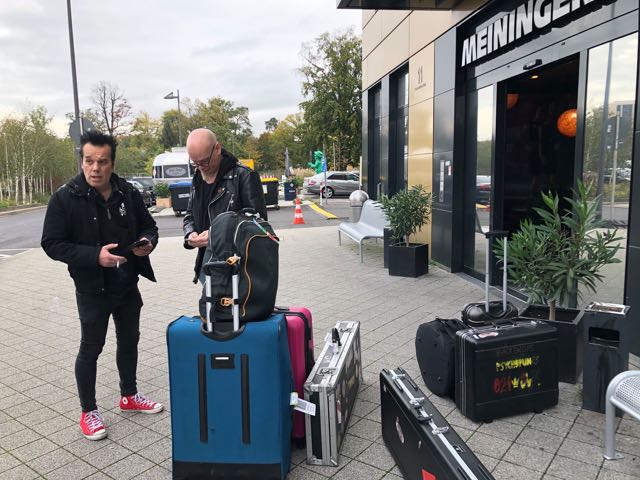 First Morning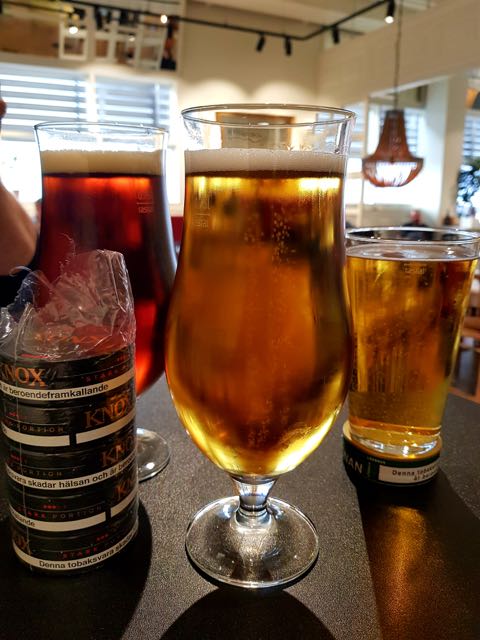 Airport

So…finally the day had come for us to fly from Sweden to Germany and it couldn´t have started better than with a big laugh. Waiting for the bus to take us from Västerås to Arlanda airport with smiles on our faces…eager to start the tour we loaded our guitars and luggage on the bus…just to find out it was the wrong bus…hahaha! At that moment you knew…it´s going to be an interesting tour with a lot of fuck ups…hahaha! We also got the news that our merch was sent to the wrong adress in Germany…damn…we needed to fix that asap so that we had all that in time for the tour start.
Nevertheless, we made it to Arlanda Airport, checked in and passed the security…heading for the bar and the "famous" expensive "Arlandaölen". I raised the glass and said "Boys we are on our way…let´s make this a good one..cheers!" Arrived in Germany feeling good and headed for the hotel to have some sleep before the Nightliner would pick us up the next morning. Really relaxed evening with the guys with a few beers and food.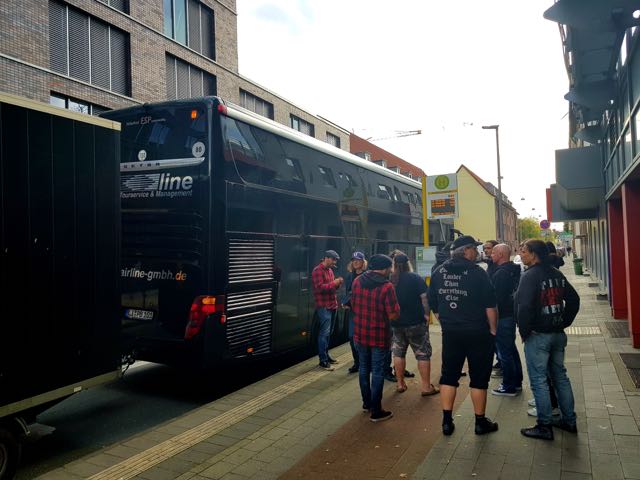 Nightliner

Friday 25th October-We were heading for the Nightliner for the first gig on the tour in Oberhausen (Helvete). Met up all the guys in Nitrogods and MAXXWELL..tourmanager (Hacksi) and the rest of the crew. Wally came directly from a show he had the night before. You instantly knew that this tour would be something else! Real cool and nice guys.
Arrived in Oberhausen and first day is also about getting the merch done and ready…check if we got what we ordered..and as always the first gig is special if you haven´t had the time to rehearse and talk about things, but I think that we did a super great job on stage! Meeting some absolute awesome friends and making some new ones, having some beers and party after the show was the highlight of that first day! The feeling when we all sat in the nightliner was…"Alright, now we are on our fucking way"!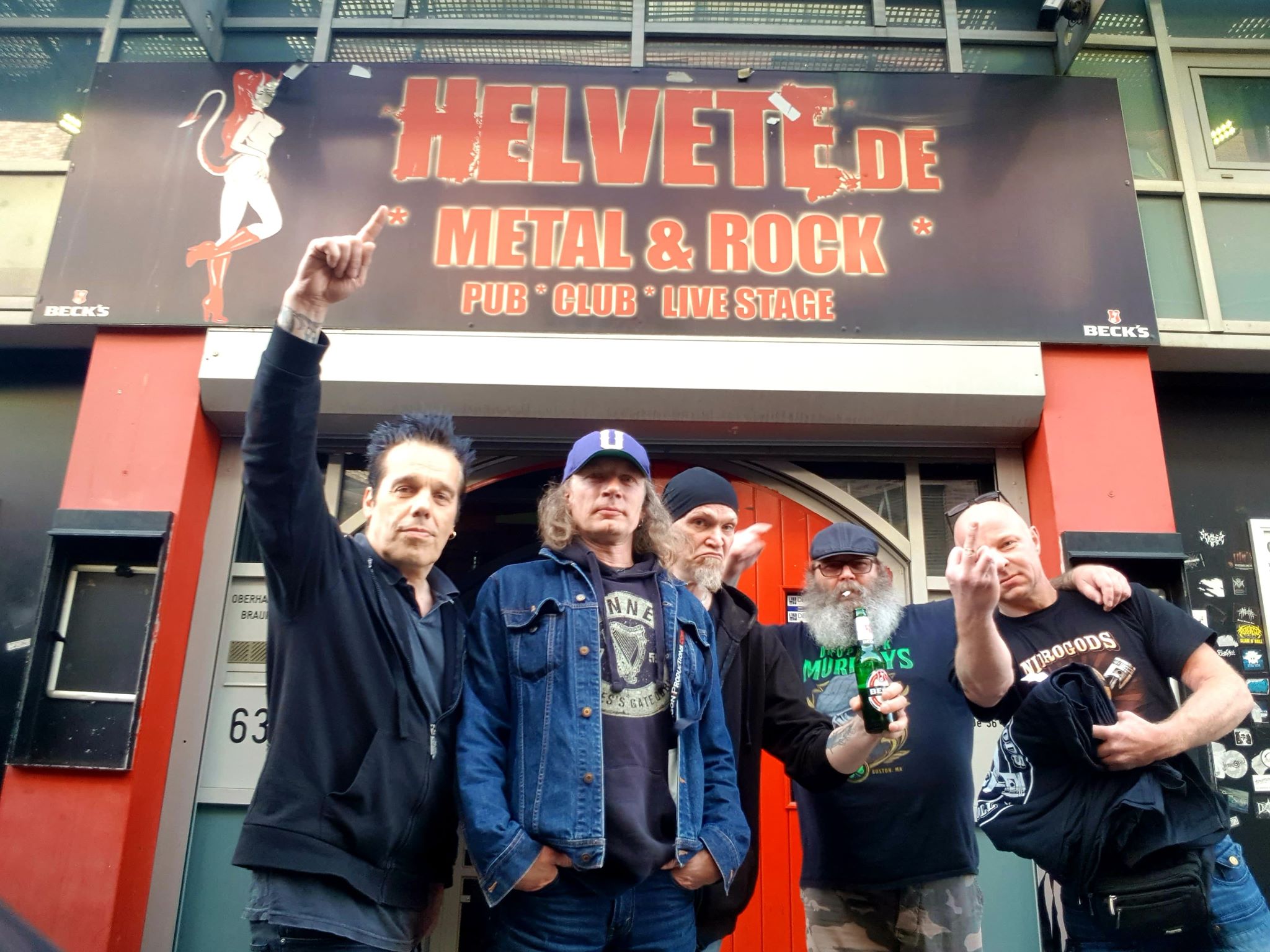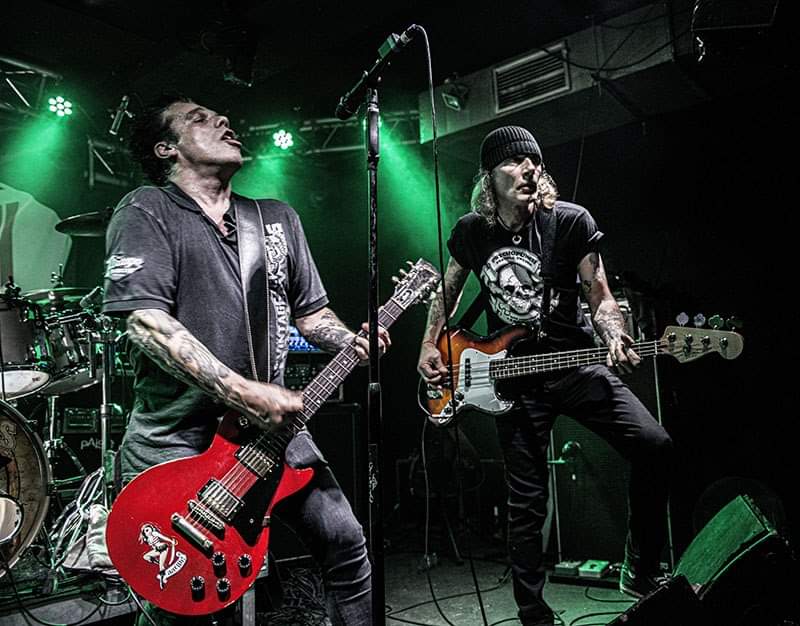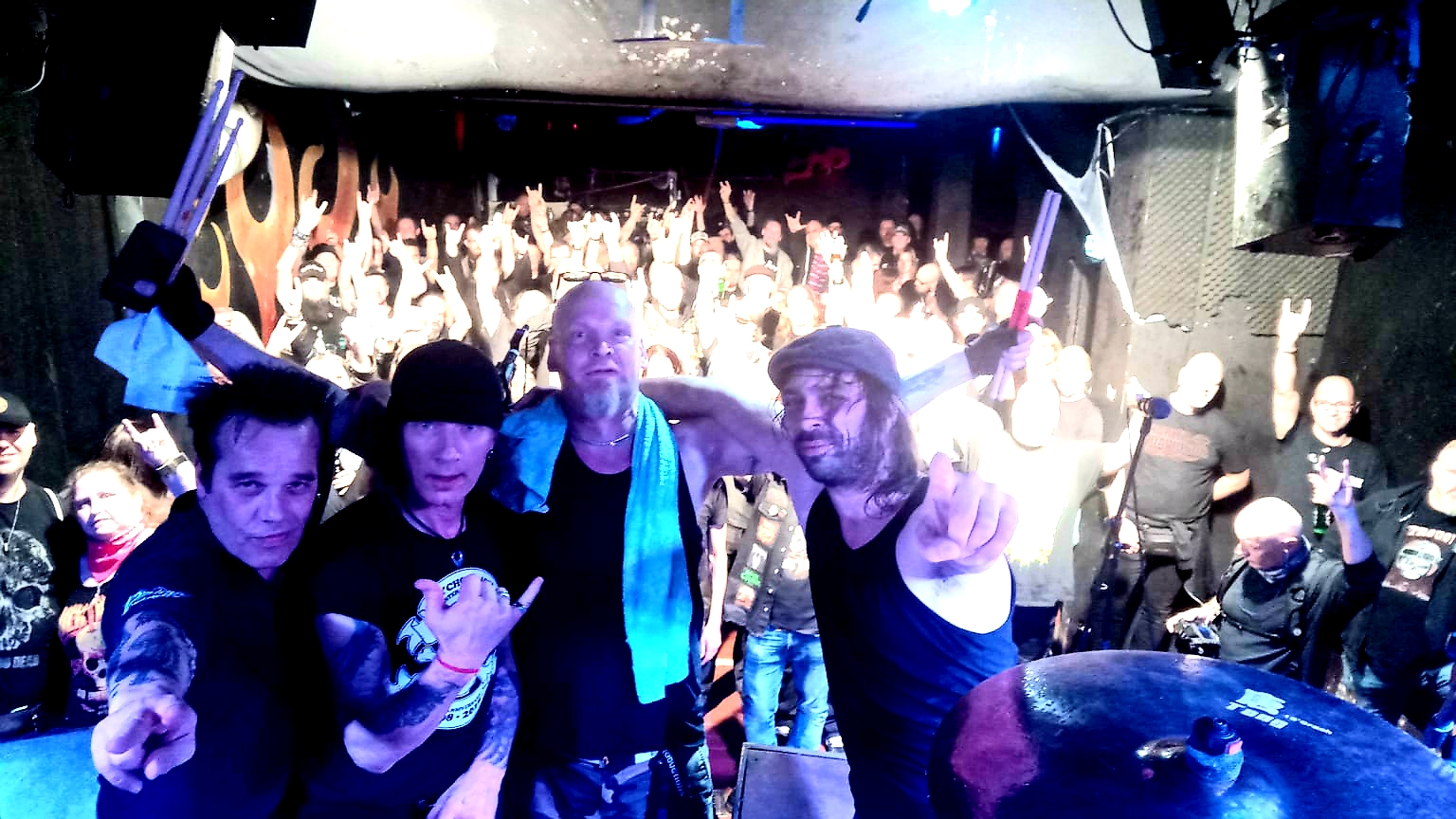 Oberhausen

2nd and 3rd Day on the tour-Woke up with a little bit of a hangover..but hey..that was worth it! Sunny day and walking around a bit and all went smooth getting all the stuff ready for the show. All fired up for the show in JUZ, Andernach, meeting some friends..having a few beers…what a start of the tour…wooohooo! Nightliner party when we left for Belgium. Show in Moonlight Music Hall in Diest, Belgium was fun because of course you met some old friends and that´s always super nice! Fun gig and then time to load the Nightliner again, heading for the next gig!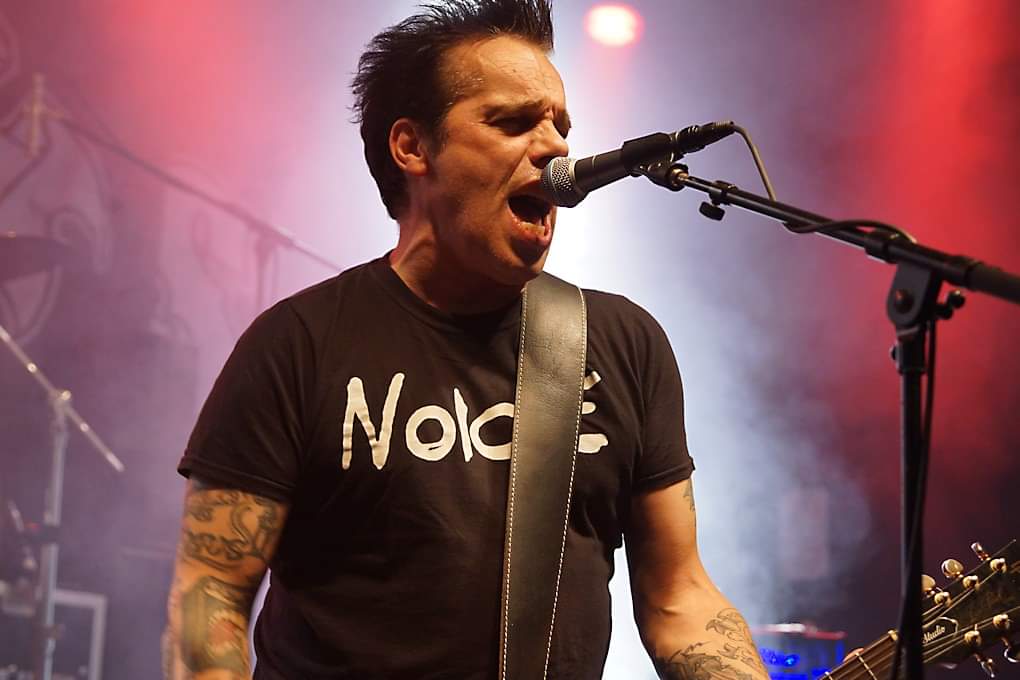 Andernach

4th Day and we were heading to Kassel-That city has a special place in our hearts since our first booking agency in Germany had their office in Kassel and Kassel is also the twin town of our hometown Västerås! We kind of knew what to expect…hahaha…meeting a lot of old friends, crew members, tour managers etc etc…Let´s party! Great show in this club called Goldgrube, with a lot of friends there and what to expect after the gig…well…you guessed it right…party time! Puhhh…think everyone got really …well..drunk…but hey…it was a night to remember or….hahaha.. and by now, we all in the nightliner got to know each other better and the jokes got worse and worse…hahahaha!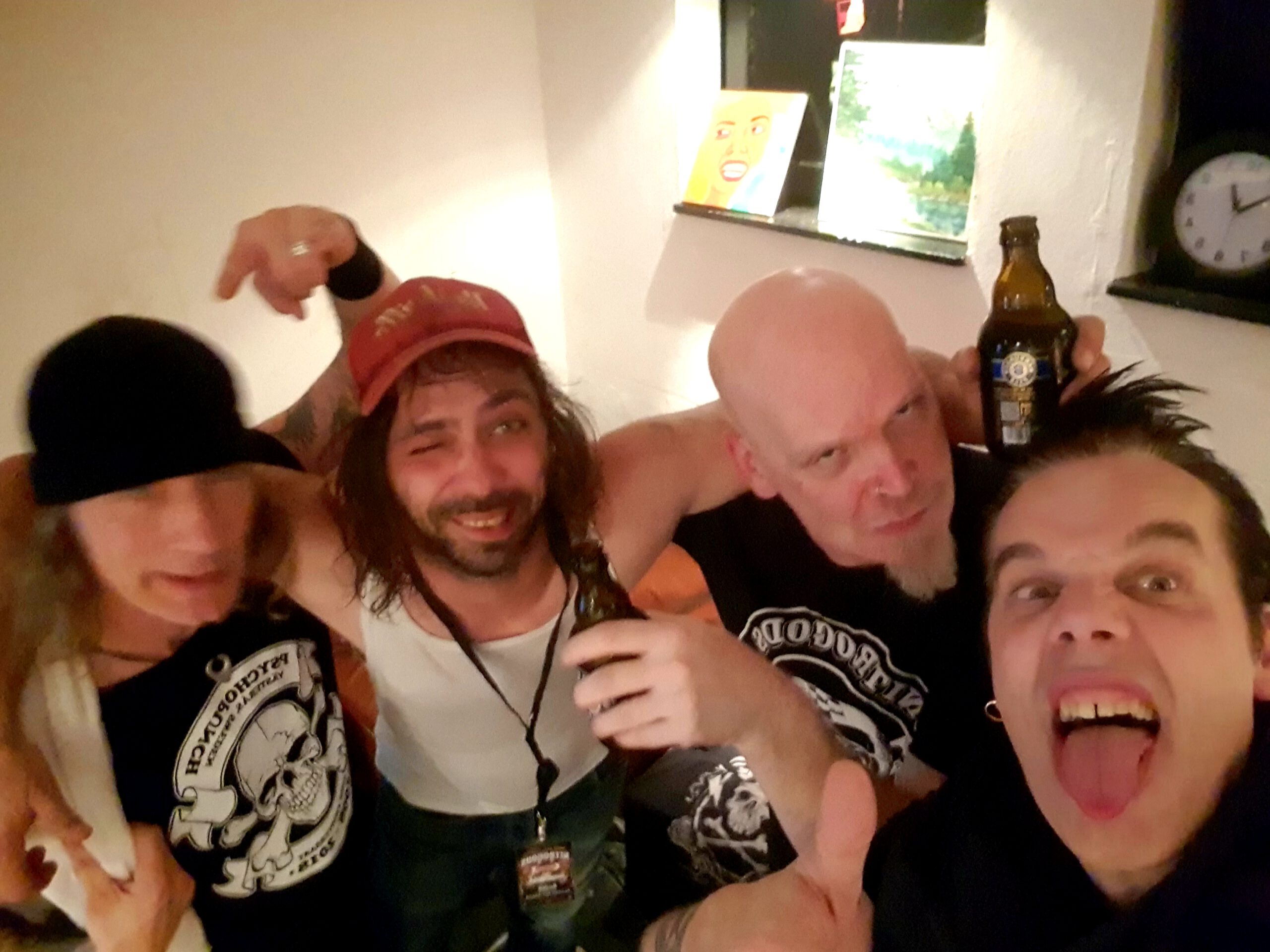 Kassel

Me and Wally toured together a couple of years ago (Psychopunch/V8Wankers/Kitty in a Casket/The Carburetors) so we already had a few old things we joked about…like that guitar players are from another planet and we can communicate without talking..just thinking what to say and the others would understand etc etc…hahahaha! So, we took that to another level now when Henny from Nitrogods were on this tour. He played with Primal Fear back in the days…so we of course started to talk about Metal…dragons and stuff.. and that made us come up with the idea that we guitar players were actually also Dragon slayers…hahaha! We were put on this planet to fight Dragons and play guitar and we could visit the sun for a few shows if we wanted etc etc..hahaha!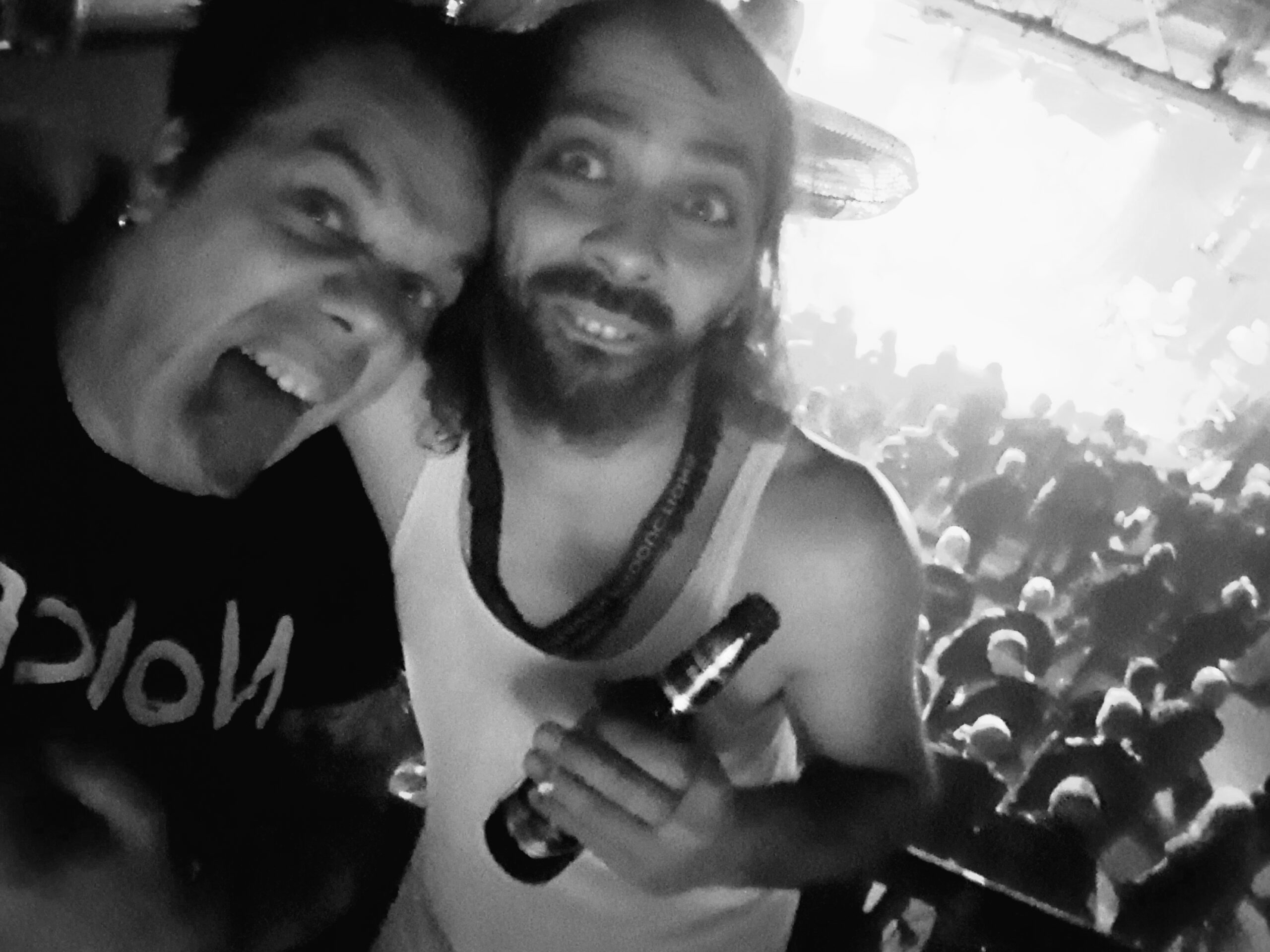 Wally & me

With that said…we were heading to Hamburg for our 5th show and oh yeah…Hamburg is Hamburg and we have a lot of friends there and also our booking agency (Dragon Productions) is located there! We arrived early in the morning at club Bambi Galore and it was a sunny day…so all good.
I also had an appointment with Tiger Lilly Marleen from Bonzai Kitten in Hamburg. We were going to record/sing a duet (,,Now Or Never'') for their upcoming album `Love And Let Die'. I got the song sent to me some time before the tour…but since I had tons of stuff to deal with before the tour I didn´t have much time to learn the song…hahahaha…so some "practice" in the studio…then ROCK`N`ROLL! Have to say that the song turned out really great and I like it a lot!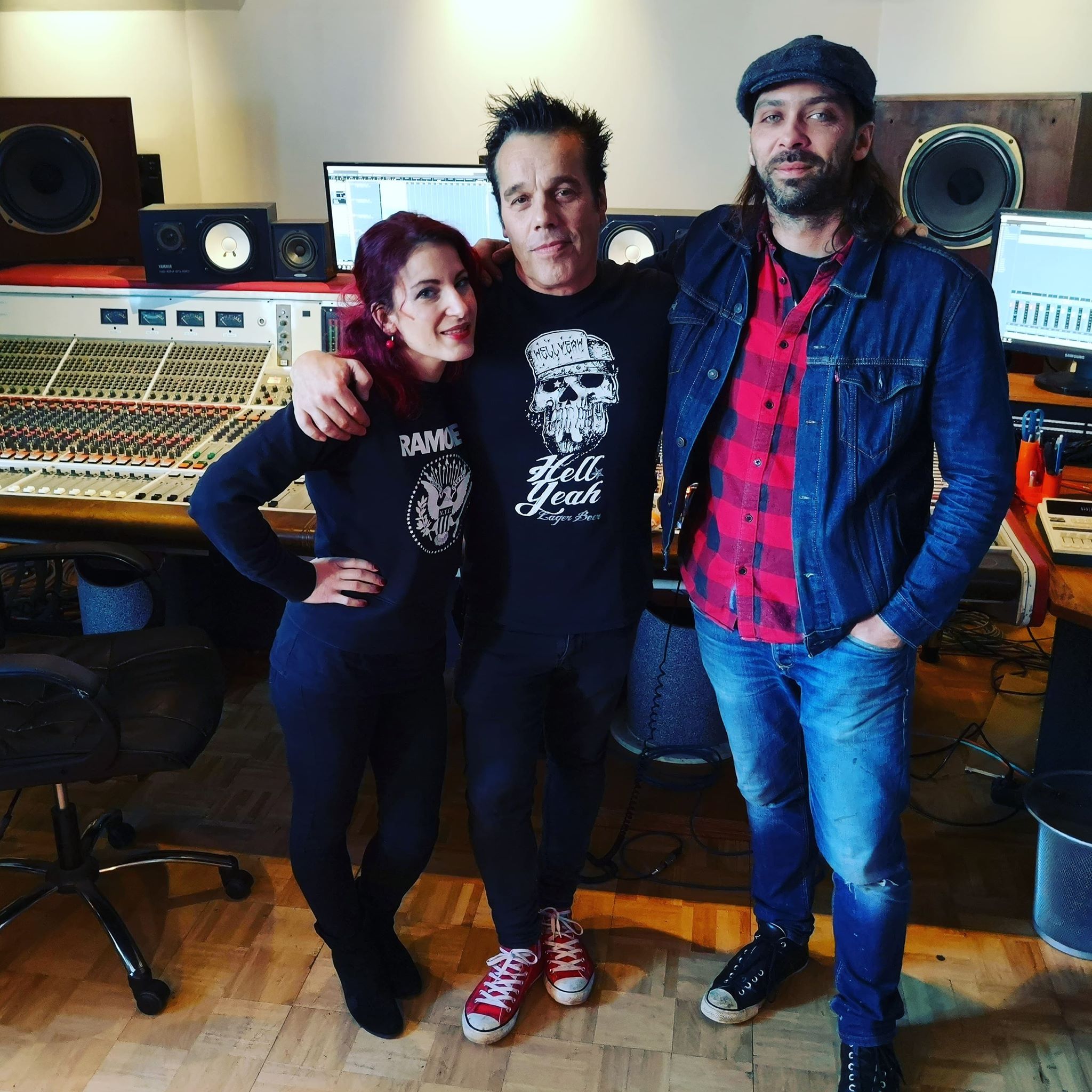 In the studio with Tiger Lilly Marleen

Then back to the club and get ready for the show. Damn…there are things that you shouldn´t say or laugh about…but that´s funny as fuck…hahaha..We meet a really crazy ass funny Metal dude that seem to have been stuck in the 80´s..you just had to love him..really nice and friendly guy! Stagetime and we had a little surprise for the audience..Tiger Lilly Marleen was doing the guestvocals on the duet ,,Forever And A Day" and damn that was soooo cool and sooo much fun!
After the show we hang out with friends and fans at the merch. Wow…so many nice people in one place…makes you sooo happy! Got to be a long night once again and less sleep that you wanted but I guess that´s rock´n´roll…hahaha! By now we finally seem to get our shit together on stage. I mean…no real rehearsals before the tour…so no time to make the songs super tight and the show the way we wanted. But now…oh yeah…we were on the roll!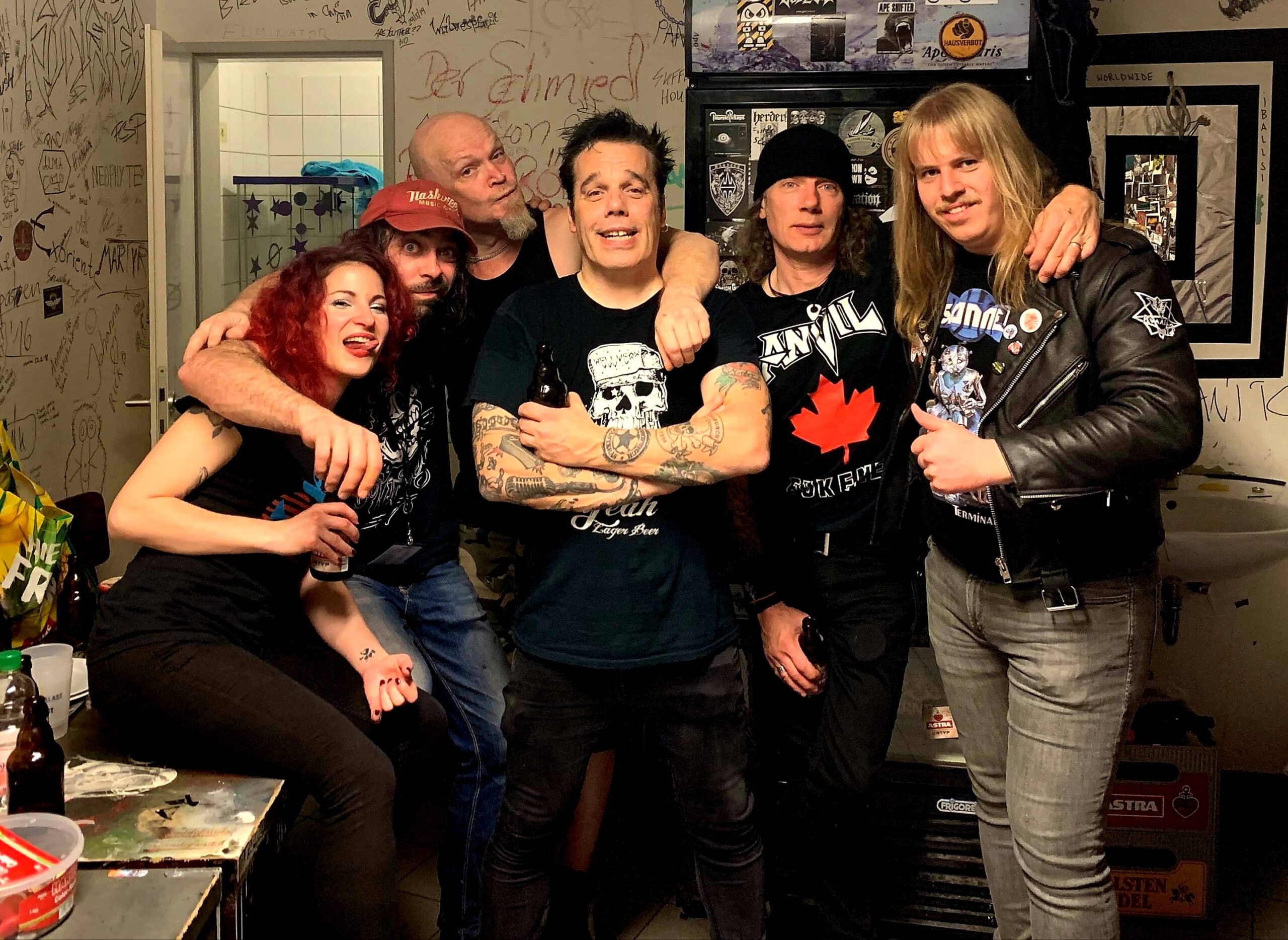 About the 80s

Really tired and was going to bed when.. imagine a nightliner full of guys …the bad sense of humor and the rest that comes with it. Someone (not going to say who) blew a really bad fart…the smell was…from out of this world…hahaha…at the same time as we could not breathe we laughed so damn hard we could not breathe! Some of the guys jumped out of their bunks..they couldn´t believe the smell…and we laughed and tried to talk at the same time…no success with that…hahaha. I almost fell out of my bunk by laughing soo much…almost fainted of exchaustion that might by laughing so much!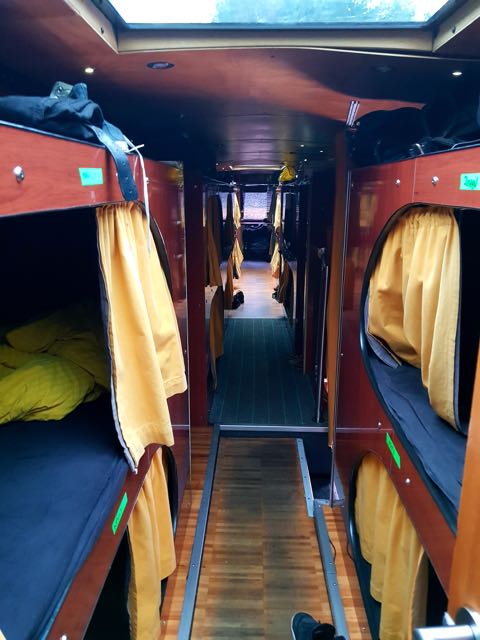 Bunk fart evacuation

Also one other thing…the food you get on tour is sometimes in a mixed quality in taste…so me and some of the other guys started to make jokes around that. It´s kind of well known that there are some good chefs coming from France when it comes to food. So, we started to make jokes around that…asking if the food was "Claude-approved" or not…pretending that we knew a chef called Claude. It got worse the longer the tour went…hahaha…we asked if the food was from this or that area in France and what the ingredients were…like snails…camenbert etc etc…damn bad sense of humour but when you´re tired is the best one…hahaha!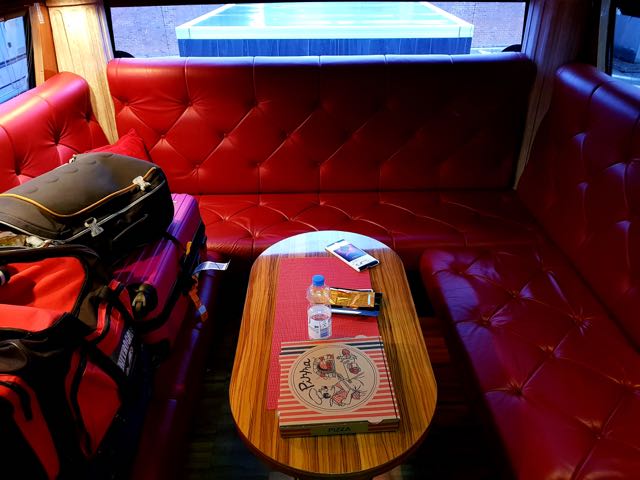 Food on the road

Time for gig number six in Osnabruck (Bastard Club). Got there pretty early and walked around a bit in the city…found a nice petrol station and decided it was a damn nice day for some ice cream in the cold! That day you could feel that we all wanted/needed to time to relax and have a warm shower and a bed…but all we got was a cold cold shower in the club! Well…not the worst thing that can happen on a tour. The gig was awesome and a lot of fun! We met some fans that had been waiting ages to see us live and that was so awesome! One girl was soo happy to see us and she couldn´t speak any English, so we had to have one guy from the crew to translate everything she said. Super sweet when she told us she had been a fan since she was 17 and she knew all our songs! Favourite one was ,,Six Days In Chucky´s Town" from our second album. It´s things and times like that, that makes it all worth the while to keep recording and playing live!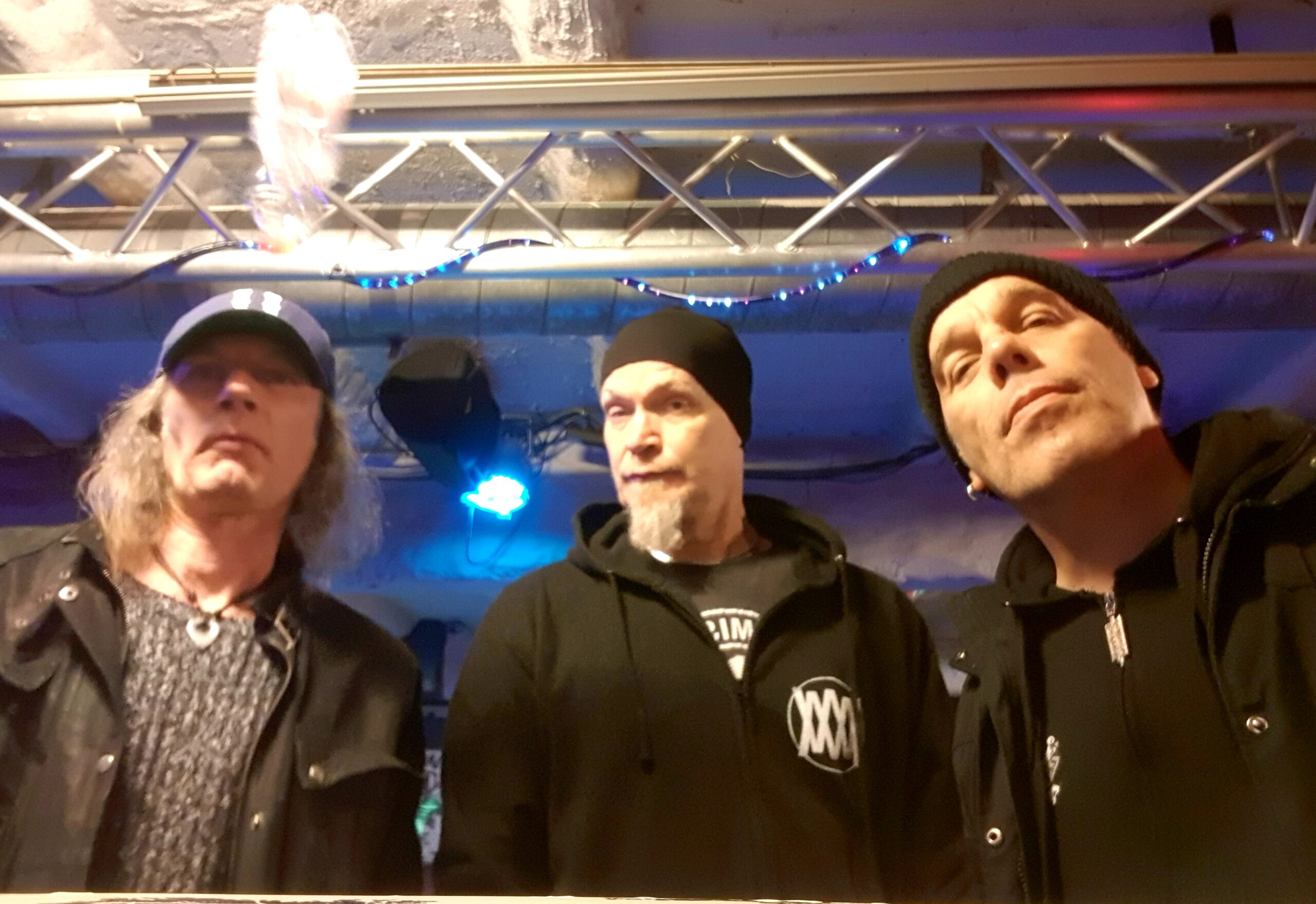 Osnabruck

Next gig coming up was in Husum, also Germany in a club called Speicher Husum e.V. and it was a real nice town by the water. Nice weather and we walked around checking out the town during the way. By this time my voice was kind of worn out…I usually like to have 5-6 gigs and then one day off…but now we had 10 shows in a row…puhhh!
So it was a lot of tea with honey and…believe it or not…whiskey! That seems to work for me. So Hacksi (our tourmanger) brought me a glas of whiskey on stage before the show and the voice was back in business! Once again a great show with a great crowd and the band was on fire! I was was totally exhausted after the show…but worth it! Got to bed kind of early that night…needed to regain my strenght for the next couple of gigs before we had a day off!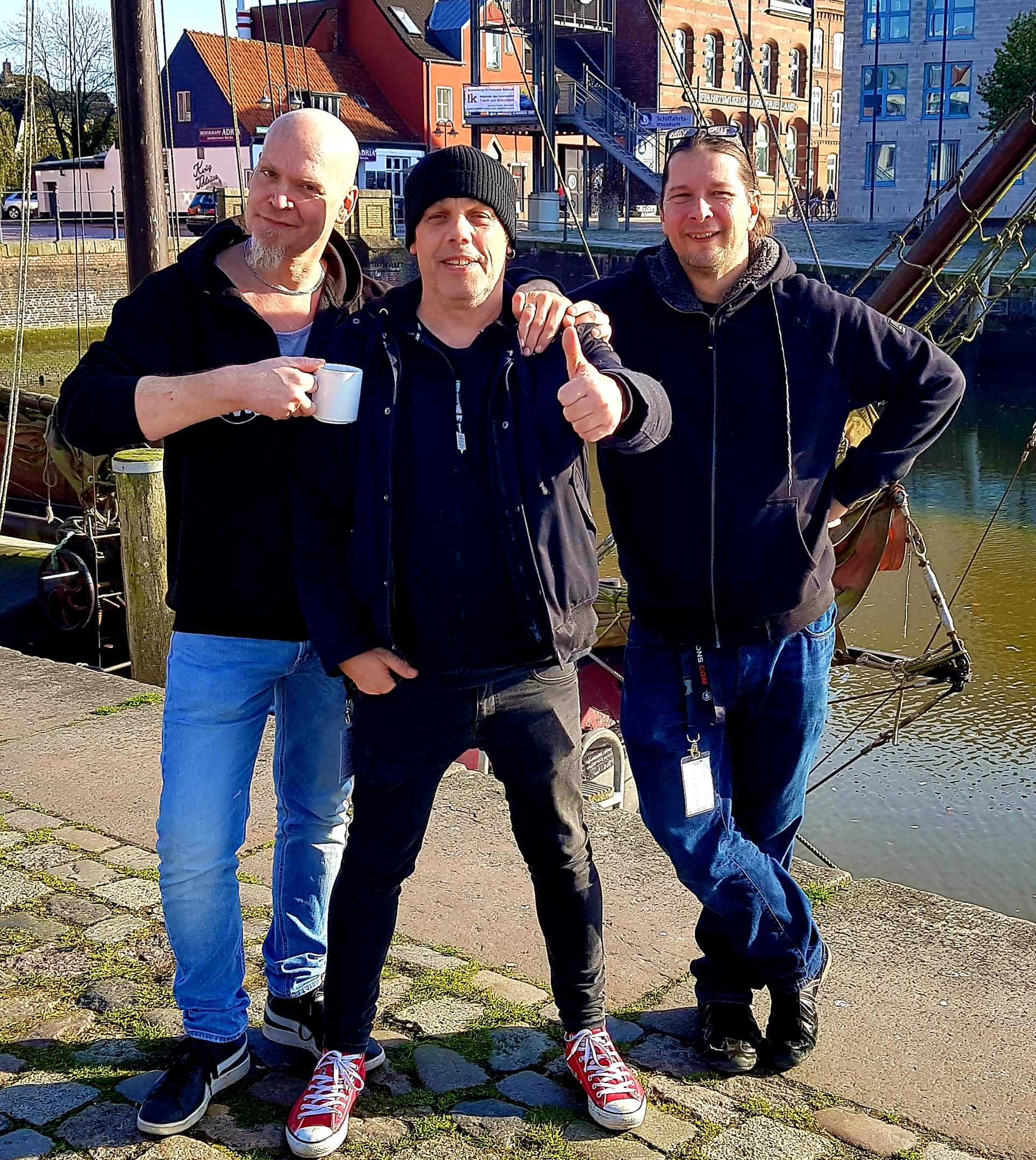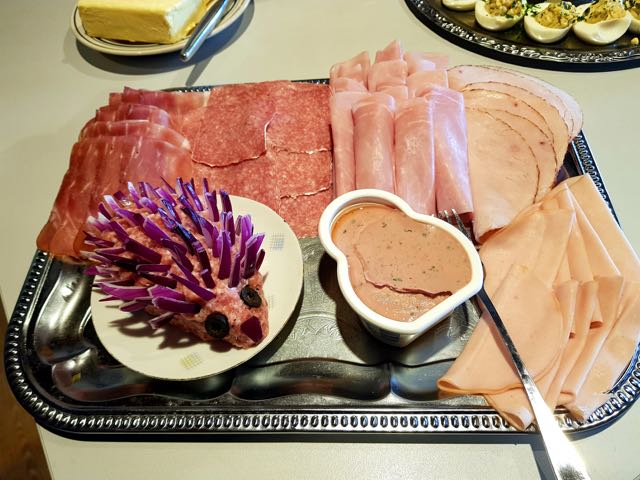 Husum Baby here we are…

Time for gig number 8 on the tour…a sold out show in Oldenburg, Germany! Great club (Cadillac) and awesome food…really "Claude-approved" if you ask me…hahaha! We spent the whole day walking around the city and did some sightseeing in the rain. We had some real big problems during the soundcheck with feedback all the time and thougth we never get rid of that. But luckily they fixed it and show was awesome and so much fun. For some reason me and Mats didn´t sleep that long any of the days…always up early for breakfast in the nightliner greeting the ones who woke up with a smile …hahaha. Have to say that getting up early has it advantages…you get to see more of each city and time to get to know each other better.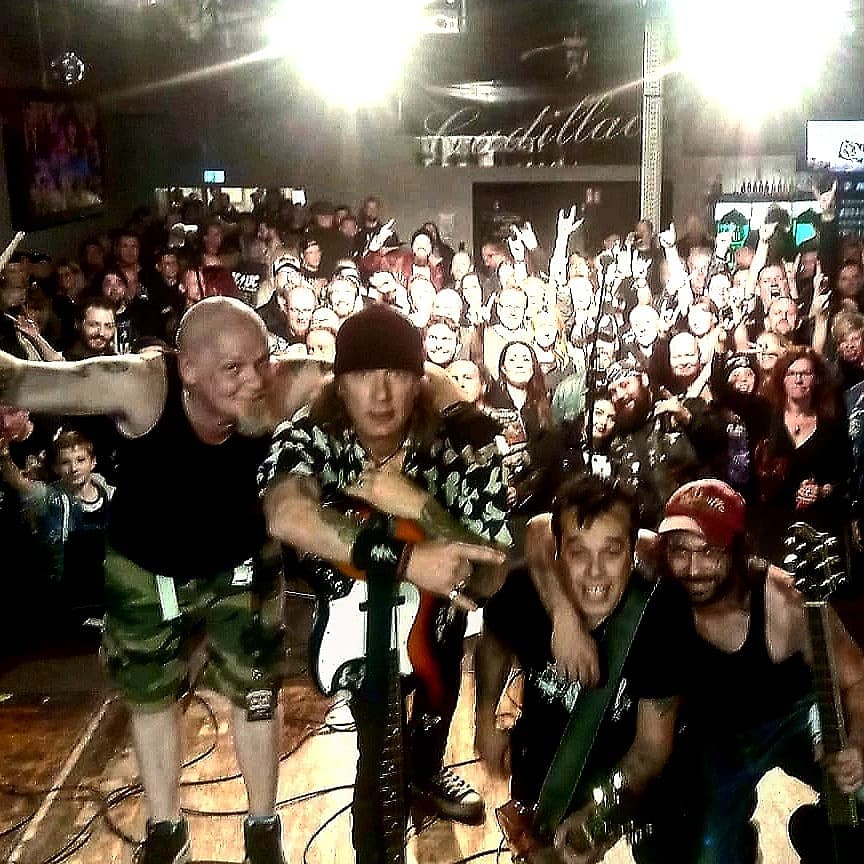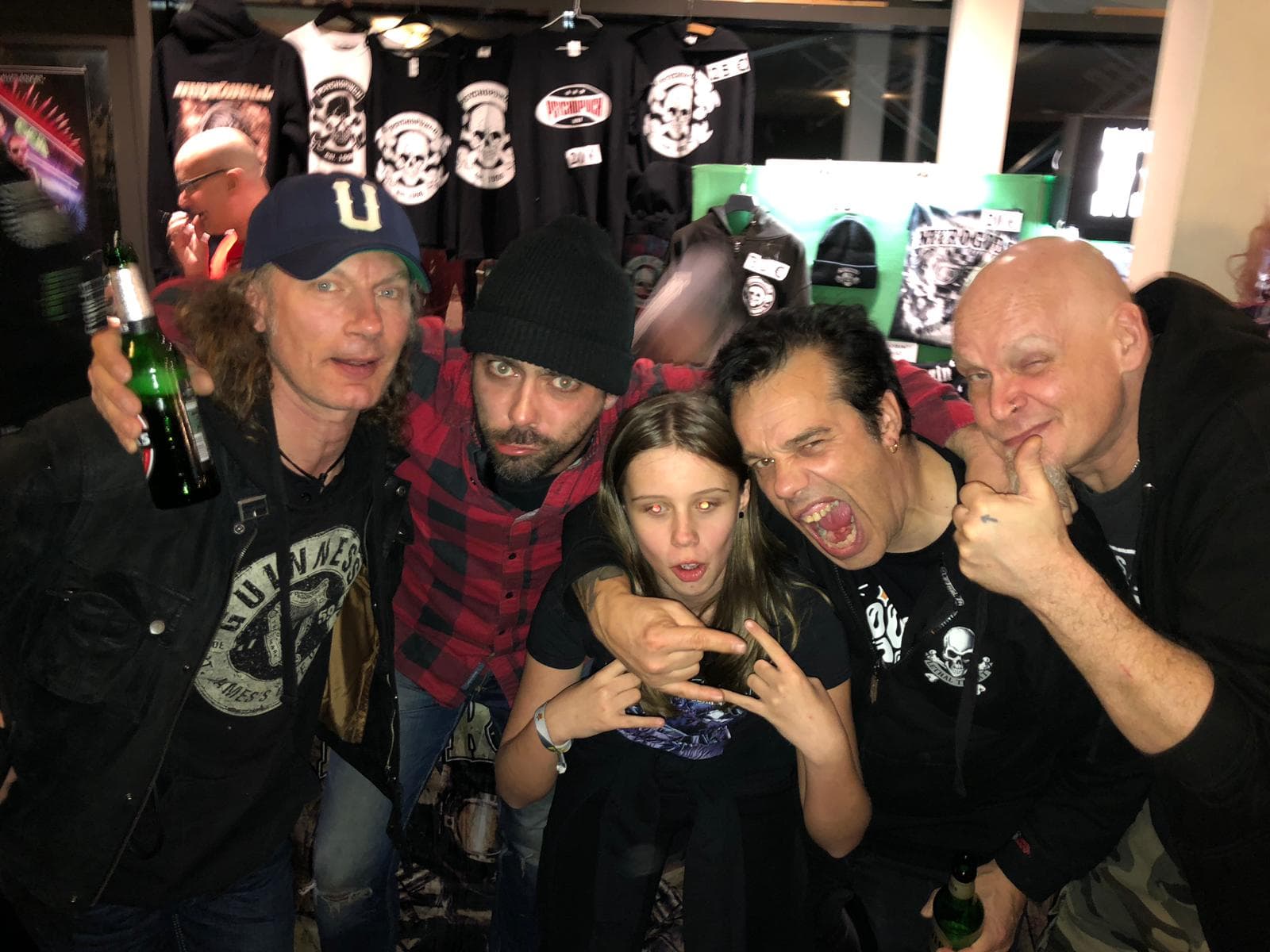 Oldenburg

Next up is Dresden, Germany (Chemiefabriek). Got there and everyone seems to be really tired. 9th gig in a row coming up and party almost every night…damn that´s hard! Happy about the fact that we had one more gig before one day off, we got ready for the show. Once again Tiger Lilly Marleen joined us on stage on the duet ,,Forever And A Day"! Hanging out with fans and friends after the show and I thought we never go to bed…but lucky me…the night turned out to be kind of quiet.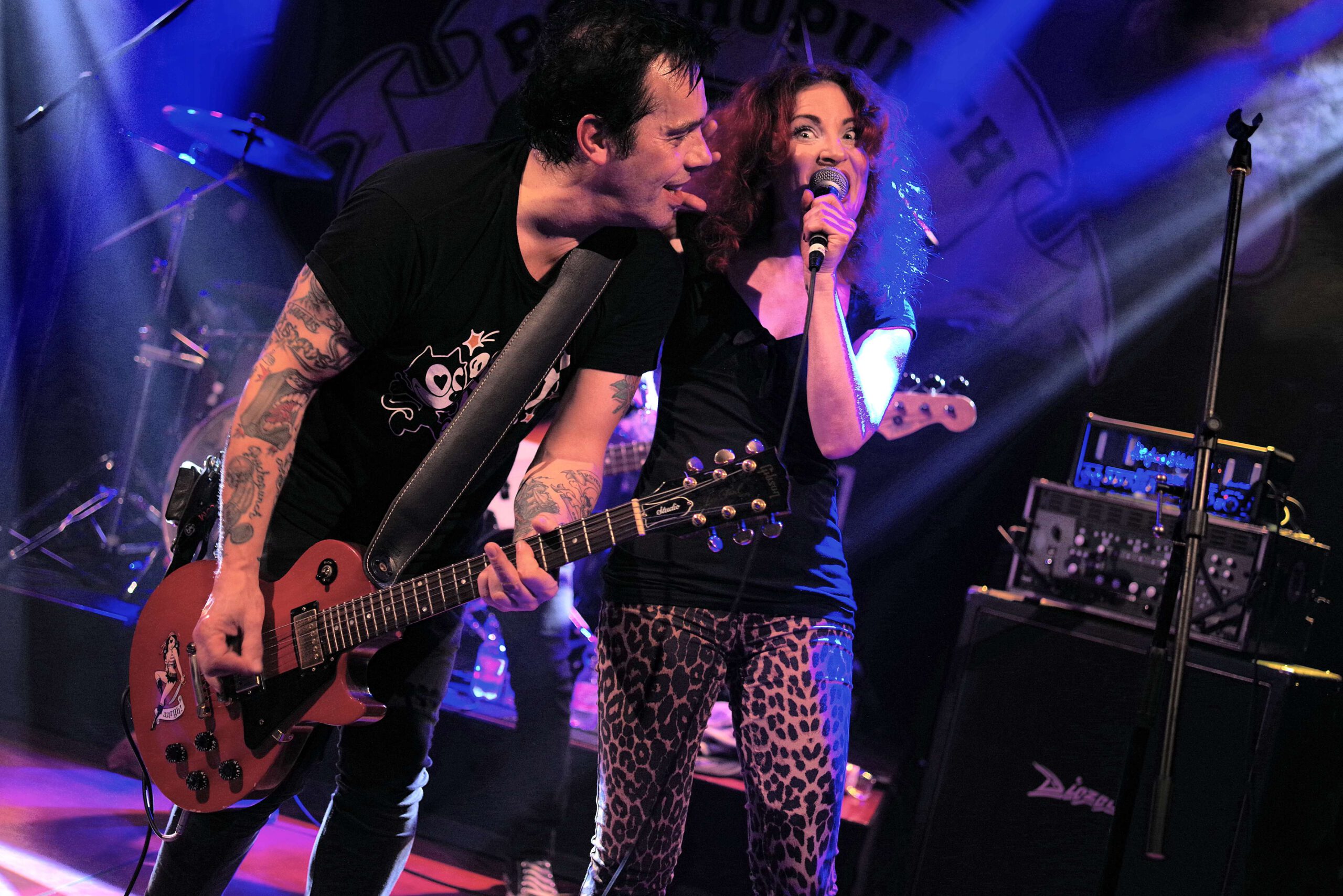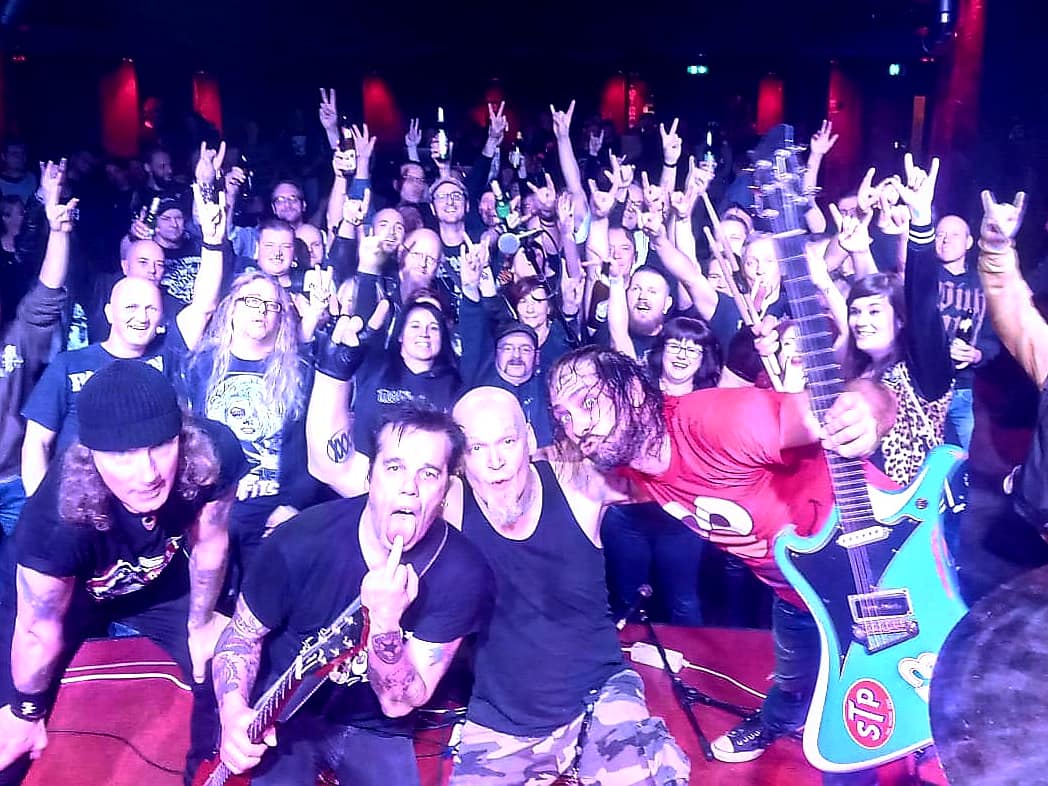 Dresden

10th Gig coming up. Nürnberg and the club was called Der Cult (Nightclub & more) and yeah…that more part we could see when we entered the club. The pictures on the walls…the dolls and the attirals that were there…a little bit different that you might be used to at a rock club…hahaha! But the night turned out real awesome…great crowd and people to hang with after the show. Met some long time fans that we haven´t seen for years and that was really amazing!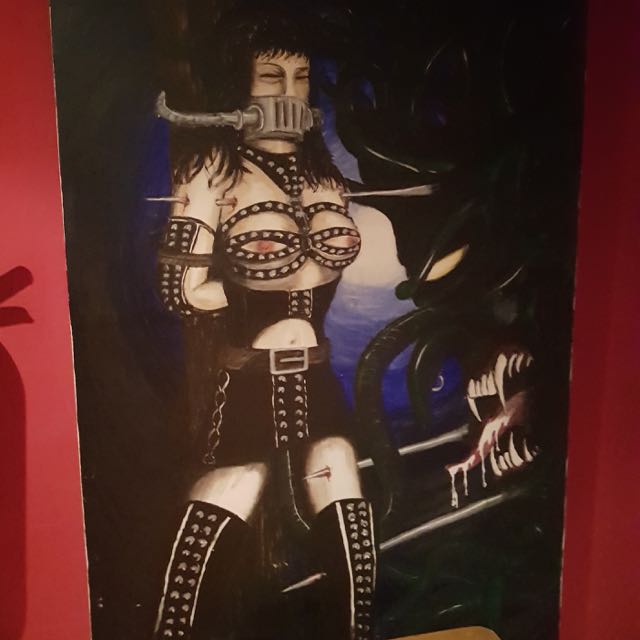 Hm?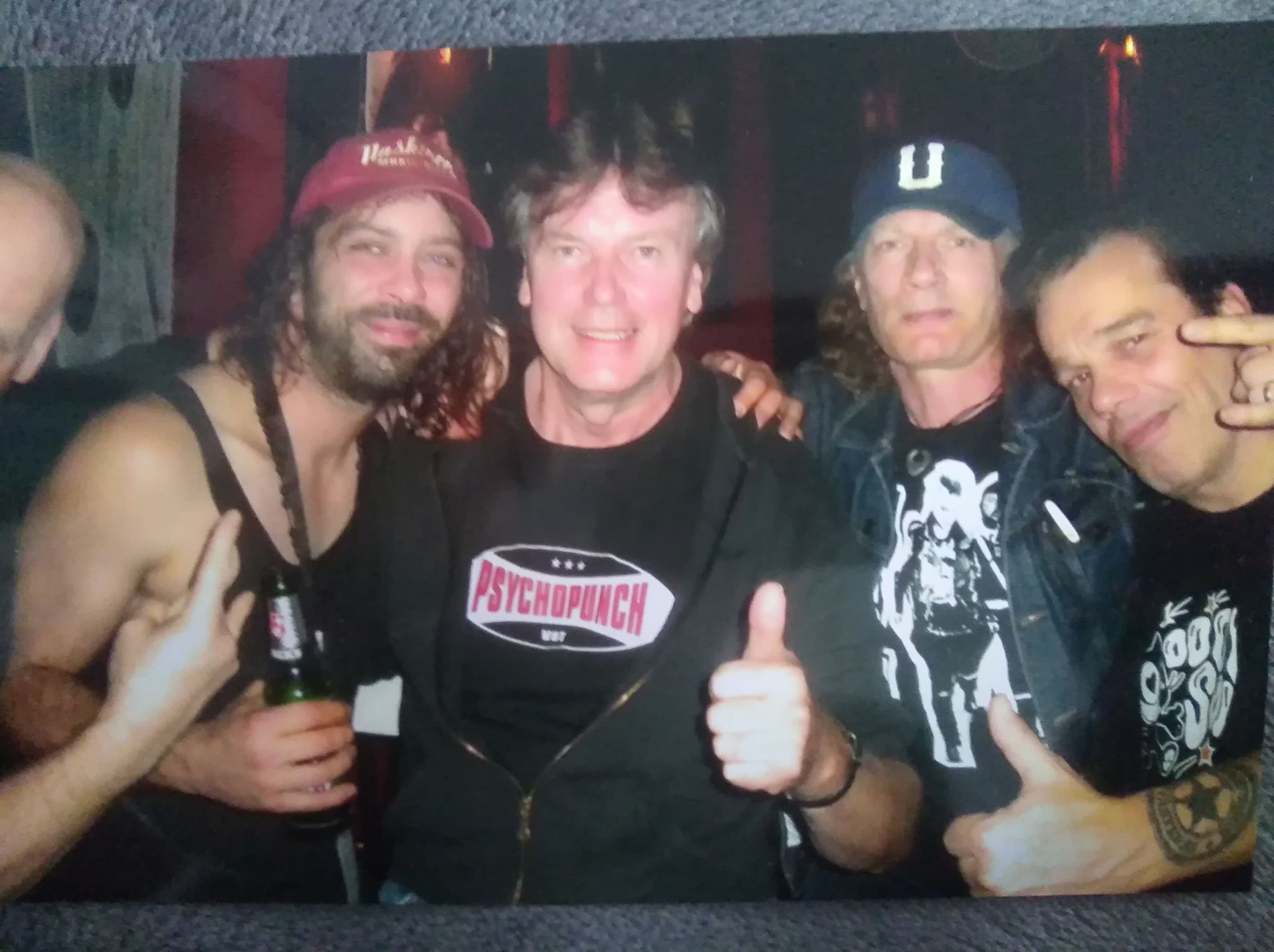 Nürnberg

Sooo…all things packed and ready to roll…soooo happy to be on our way to Munich and our day off! But once again…crazy and fun after party in the Nightliner…hahaha…cheers!
TO BE CONTINUED…….
Jarmo
#psychopunch #suckerville #tour #tales #nitrogods #maxxwell #headbangerslifestyle #hbls #awayoflife #rocknroll

[All photos provided by Jarmo]