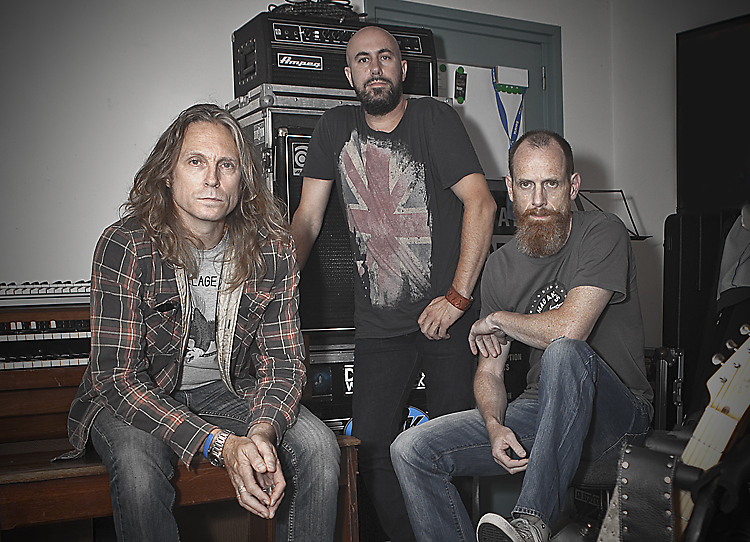 SEVEN MILES TO PITTSBURGH
Dutch Best Kept Secret
It has been brooding for a long time and the rumours spread as time evolved. Starting as the best kept secret in The Netherlands, the band slowly gained momentum. Names being dropped make tension rise. On a stormy evening I find myself in the studio for an exclusive listening session. Present are all three members involved and for HeadBangers LifeStyle I'm witnessing their first real band rehearsal in the process. Cold beer comes to the table as the storm gains in strength snapping two large trees only a couple of meters from the facility.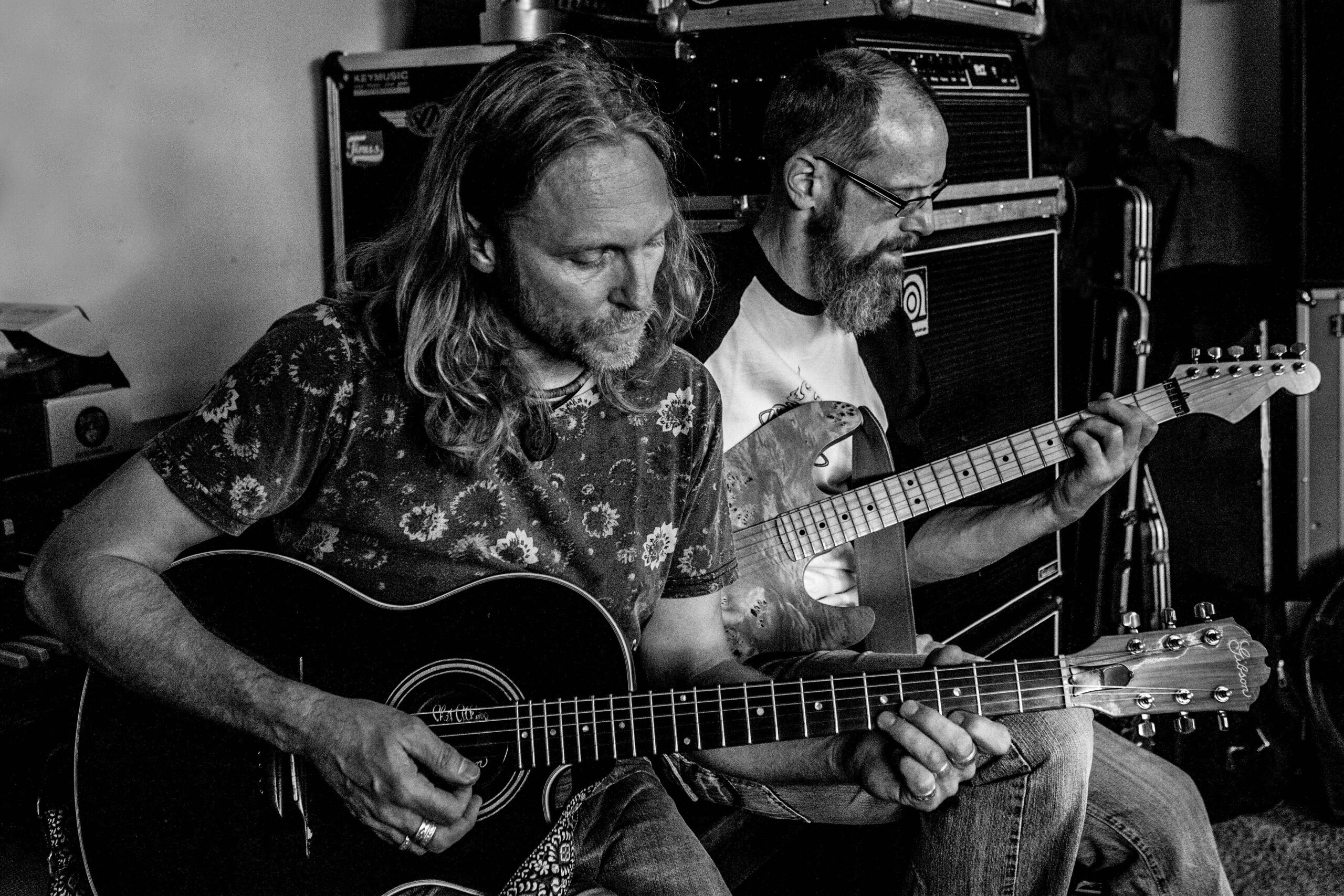 ,,We have been working on this for a long time… maybe a bit too long". Instead of the expected, Martin Helmantel opens our conversation. The former Elegy bass player who pulled the bandwagon prior to the band's demise looks over the edge of his glasses. ,,It was a long and hard process but we had so much going on. Andrew [Elt] has been touring off and on with many bands. In the meantime Joris [Lindner] and I kept working and recording tracks making it only harder for Andrew to choose."
On my left side Andrew is chugging, listening to his band member. The charismatic vocalist [Sleeze Beez, The Moon] takes over the conversation and explains; ,,… you have to know that Joris and Martin are real progressive minds when it comes to their song ideas. They record their ideas and these jams may run for several minutes! From all those long jams I have to select the best ideas and mold them into a song. Nine minute long instrumentals cut short. The copy paste of this took long and it also presented me with a whole new way of working. Usually I was presented a song idea, which I could add lyrics or some ideas to…. Now I found myself with hours of demo tapes and tons of interesting melodies needed to be sort out."
,,On top we kept on recording our ideas and music, especially when Andrew was on the road", adds Martin; ,,We literally kept flooding Andrew with new music. You have to know that we wanted to keep the momentum and keep this band going forward, a real challenge".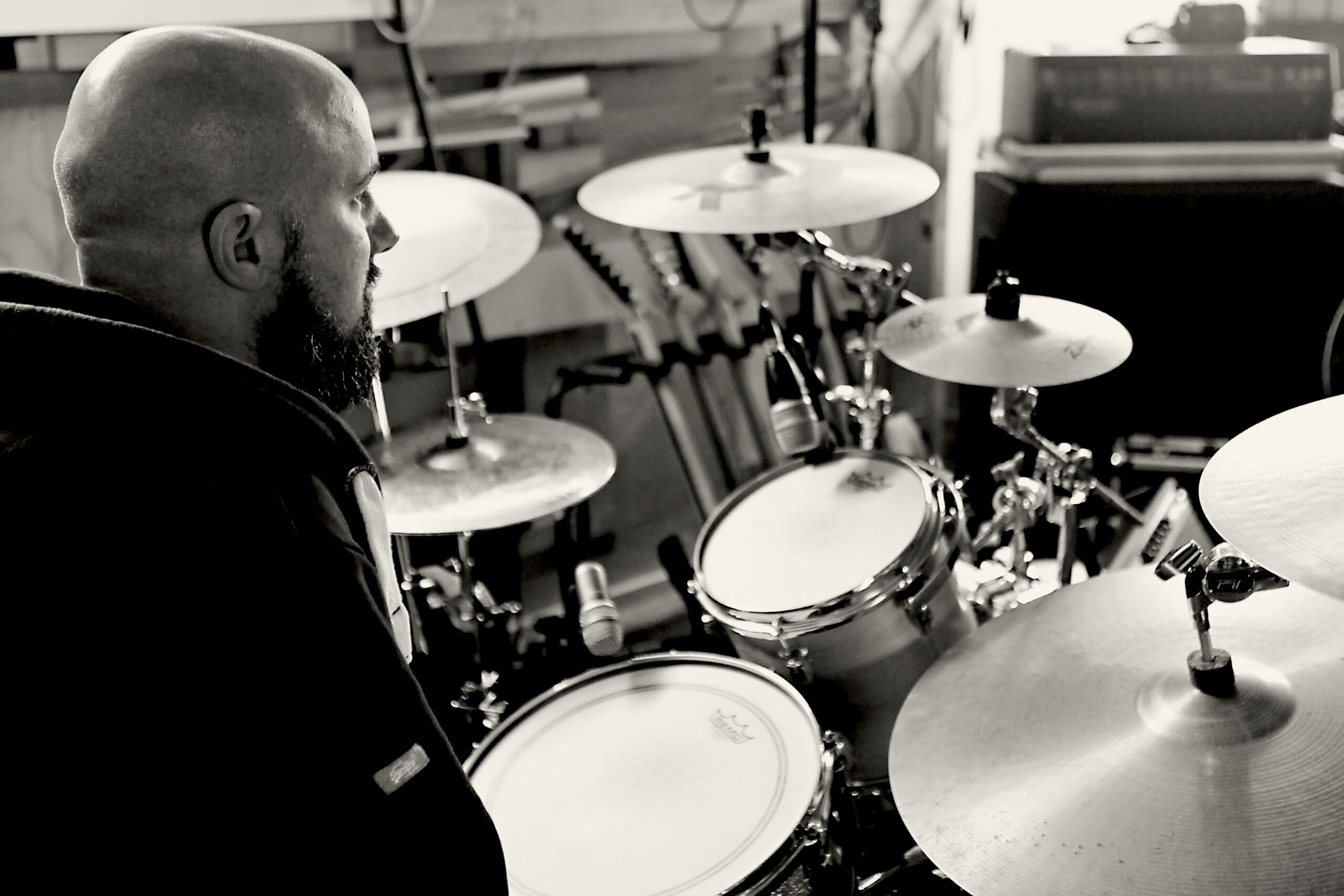 The recording facility is Joris' old rehearsal room now being crafted into a modern recording studio. All three chipped in and piece-by-piece the studio took shape. As we listen to the first raw mix of the tracks I recognize a couple of old demo's Martin played to me several years ago. ,,Indeed, it's the songs we recorded that long ago… some didn't even have lyrics back then and since we've come a long way." It is obvious the guys are proud of their work and accepted the long and hard process of recording. The music is turned up a notch and I'm surprised by the extraordinary sound of this production. ,,We invested in the best equipment for our own sake", Andrew continues. ,,We want to keep this band together and eventually tour where possible. For the future recordings we invested in our gear. It also kept us from being limited with our studio time. Studio's are expensive and as you can hear, the sound in here is just wonderful."
Indeed, the music is vibrant and powerful. Andrew Elt's typical raspy pitched voice blends in with the down tuned guitars and powerful bass. The drum sound is abnormal and full frontal, adding up to the poise. In terms of momentum, they exceeded themselves as producers, but certainly as musicians. Powerful and hard rocking with bluesy edges and tremendous drive, reminiscent to (who remembers?) The Mob. Highly melodic and sticky choruses with multi-layered choirs, sweet but powerful. At times King's X comes to mind, other moments I hear Bad Company shining through. Classic rock elements are deeply rooted in the band's background, as we might know from Elt's collaborations and constant touring with tribute bands alongside his management duties for Walter Trout. It's obvious they all take along a piece of their own history, which makes it all more interesting. The progressive and polyrhythmic drum breaks are carefully woven into the song structure and every once in a while a lush progressive guitar lick passes. ,,Of course the band's sound is the sum of our past and musical evolution. I [Andrew] play in a Led Zeppelin tribute band [Physical Graffiti] and perform with a Foo Fighter's tribute and Cheap Trick cover bands. It's the music that influenced me and it shines through as much as Joris and Martin's influences. It just took time to mold it and put things into place." A job well done, if you ask me.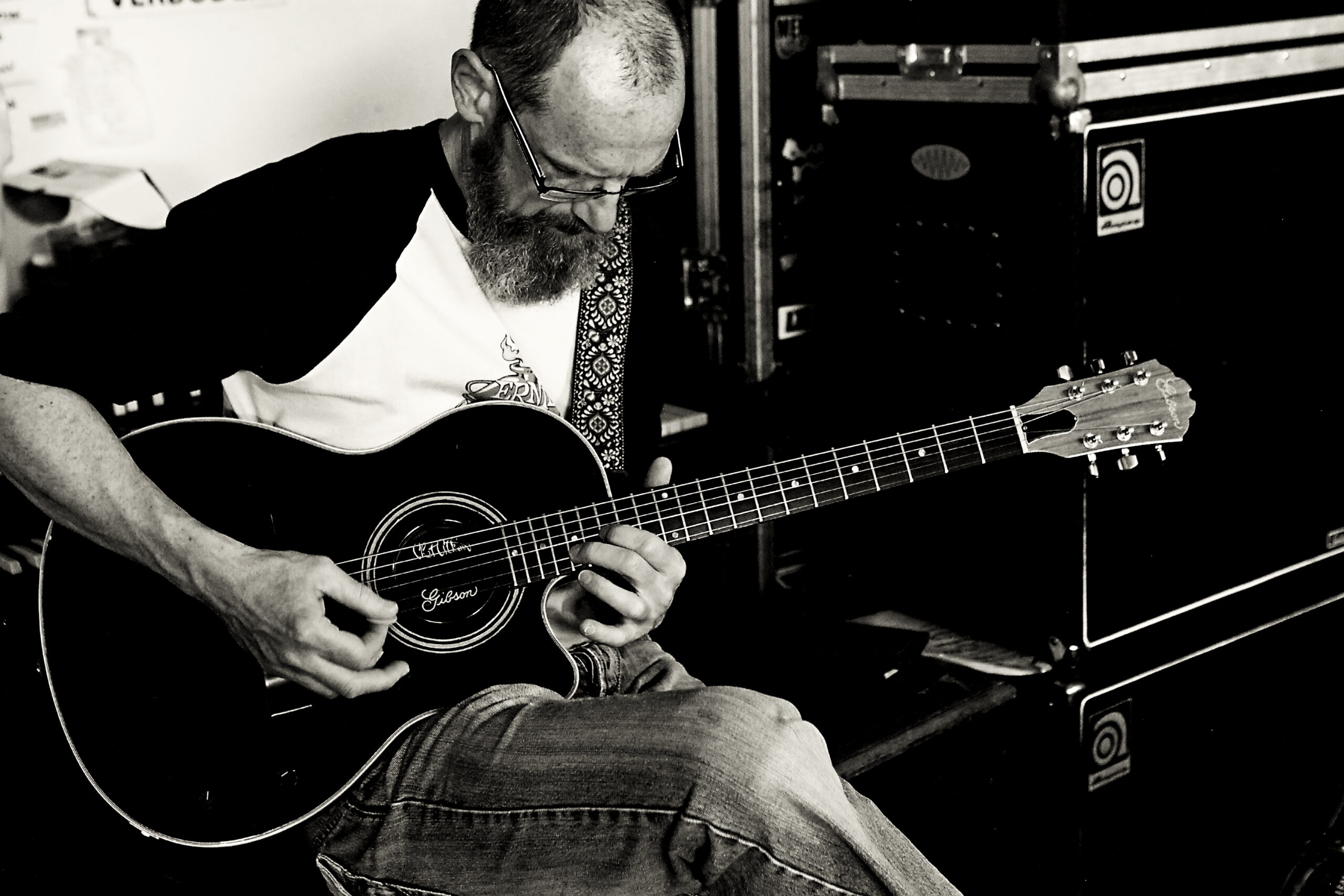 Joris keeps low profile during our conversation, but as soon as he sits down behind his drum kit for the band's first real rehearsal he blows me away. Being noticed in the Dutch scene for years with his party act Patatje Metal and several tribute acts, he is the person who might need introduction. However, since performing internationally with Komatsu, Lindner also established his name as one of rock's new talents, in and outside of the Netherlands. His powerful style is the driving force in SMTP and perfectly blends with Helmantel's progressive throbbing bass lines. But… things aren't all, as it seems, so I'm explained a little later: ,,You just witnessed our first performance! We composed everything without others being present. Tapes went back and forth all the time. We contributed our fair share but things came together in this studio. Here we crafted and recorded the songs and fine-tuned the production."
As Martin picks up Andrew's guitar he explains that this trio is not the typical band project one might expect from seasoned musicians. ,,Most of the fans from our previous bands might not know this, but I play guitar and composed music for years as well as Andrew. Same goes for Joris who is known for his drumming but also is a multi instrumentalist. On the album we all shared our duties and switched positions in the process."
As the conversations evolves I learn that Joris plays bass and solos on the album aside drumming, Martin handles guitars as well as bass duties and Andrew picked up his guitar as well as the microphone. It's this interaction, which offers unlimited possibilities but also makes it tough to realize bringing the band to the European stages Elt explains. ,,When the album is released we want to take this show on the road. Us being the key players however brings in a new challenge: we have to find band members for our live shows. That's not easy because we also need to decide who is playing what… even though it would be fun exchanging instruments during the show…"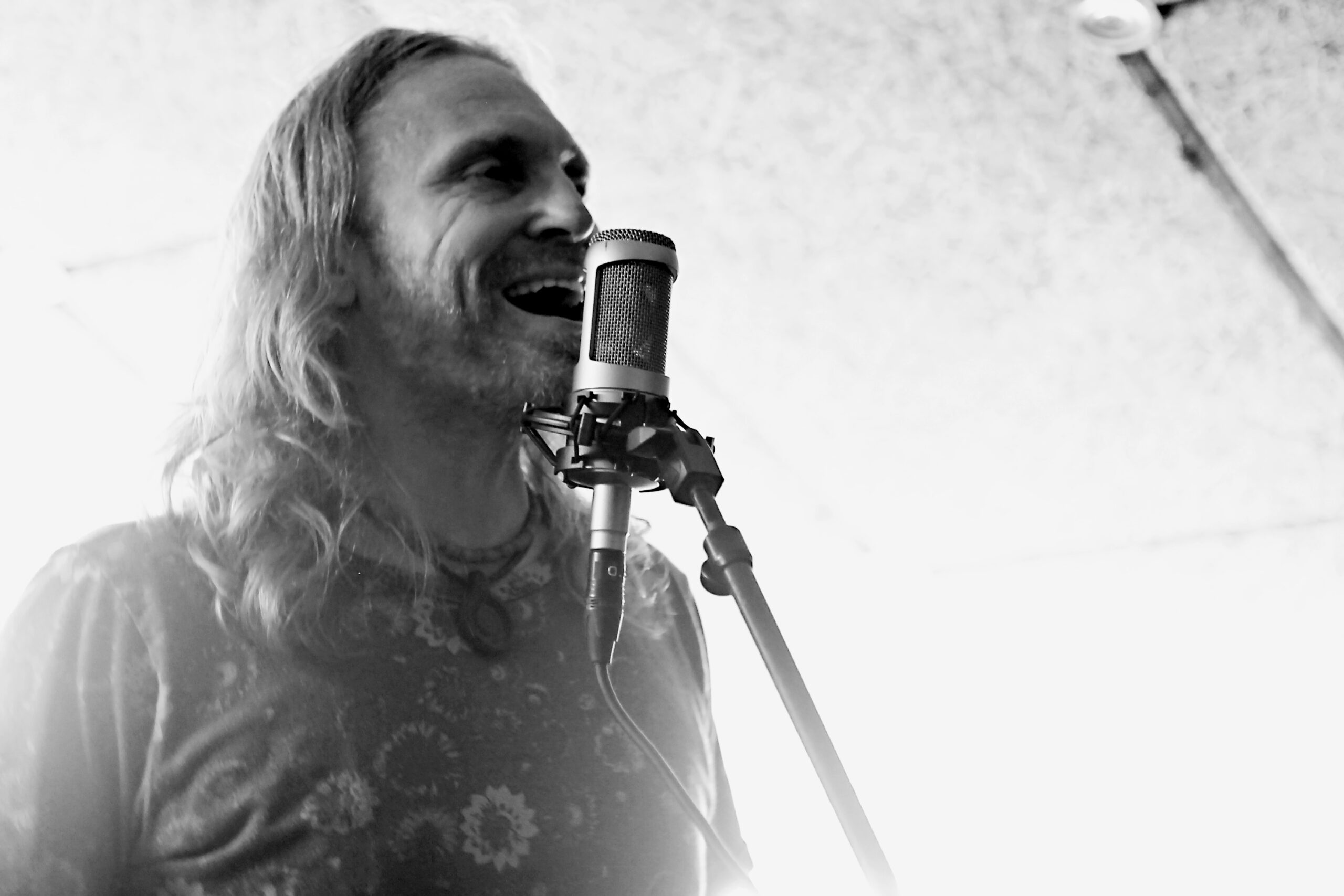 It reminds me of a conversation several years ago. I remember Martin told me he had a drummer for the band and they just laid down the drum tracks for the first recording. ,,In those days we recorded our demo and offered it to our mutual friend in the USA. Andrew worked as a tour manager in the past and toured with Kamelot whose drummer is a close friend of mine. He was psyched to add his drums to the recording and thus Casey [Grillo] was featured on those first recordings."
,,That's our heavy metal release of the same songs." Andrew laughs on this fond memory before Martin continues; ,,I'm sure he wants to help us where needed but we decided to rerecord all of the music with our new gear. As much as we love his drum takes, which are really powerful, we also realized it wasn't the organic drum sound we were looking for. When Joris laid down his tracks we instantly knew this was what we wanted… and needed."
Listening to the next couple of songs I really am taken by the band's enormous potential and drive. The music at times explodes with enthusiasm and the album is diverse, appealing to a wide audience upon release. With a production this solid I just wonder when it is going to surface and on what label.
,,That also set us back a couple of times", Andrew explains the tough process and struggle of getting it 'out there'. ,,We took our product shopping and with all the contacts we have established over the years, we had enough feedback and options. Our Japanese friends where interested as where a couple of other (smaller) labels, but no one wants to take it under their wings for a world wide release. The market is limited and even the A&R agents of bigger companies that where enthusiastic faced the same problems we did. Their US leg of the label found it to hard to market or they had an unwilling other manager. We had help from a lot of friends in the field but it all lead to nothing. It set us back a year with this debut and time has come for us to take the next step."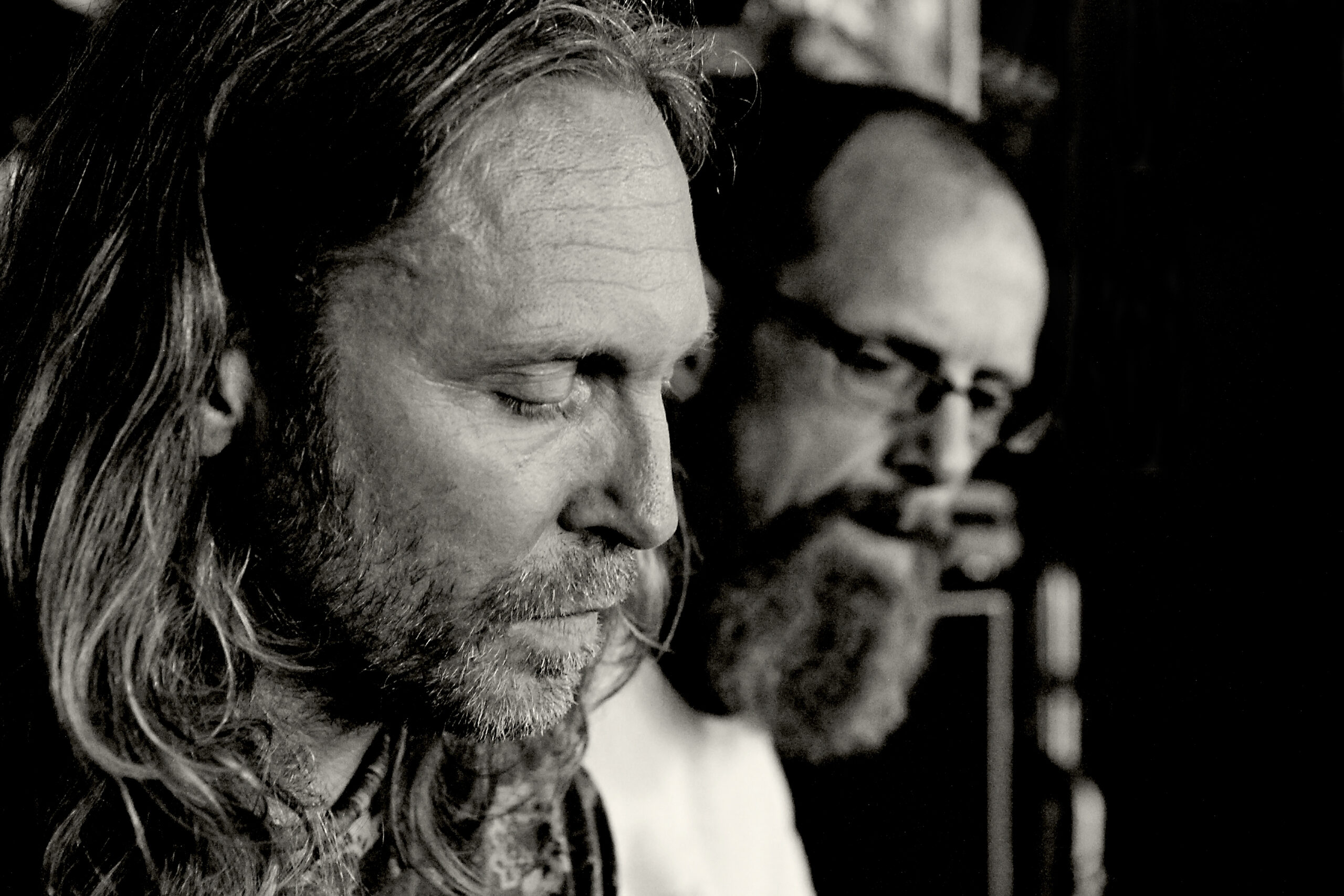 Martin adds; ,,In the meanwhile we have been fine-tuning the production as we learned more tricks along the way. The album is finished and we decided to go out and release it ourselves. We've invested so much time and money that it is time for the world to get acquainted with Seven Miles To Pittsburgh!" All three burst into laughter and talk me through their plans for the future. Joris finally steps out of the limelight. ,,Everything has changed rapidly so we changed with it. We decided this to be our calling card and we want to make a smashing introduction with it. We explored options and the album will be released in different versions to appeal to music addicts in the field. We even want to release it on vinyl!" when Andrew adds: ,,Right! I love vinyl and do spin a lot of old albums on my player. I prefer it over the clinical CD, but our album will also come as a regular compact disc. We are looking for ways to make it stand out in the flood of releases. Perhaps we release it in a regular jewel case, as a slipcase budget release, and an expanded CD with large booklet and an exclusive T-shirt or so. It's options we are exploring. See, the market has changed so much that we want to stand out and also make a great impression on fans. The money we recoup from the release will then be invested into the new recording for which we already have plenty ideas and songs put together."
,,No way this band is going to be the next Def Leppard!" Martin laughs, pinpointing the longevity of this session. ,,We want to introduce ourselves and we do realize that, aside our background and history, we are back at square one with SMTP. We're all well aware of the changed market and we do not release the next Sleeze Beez or Elegy album with this band. This is all new and exciting, for the outside world as well as for us."

To be continued….
—