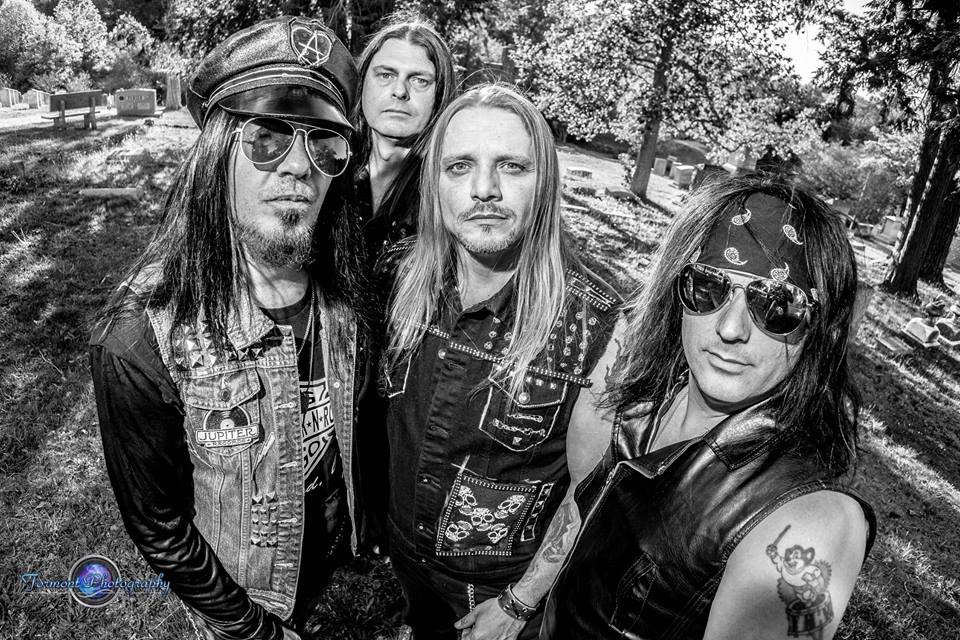 WELCOME TO THE AMERICAN UNDERGROUND (Pt.11)
Chris Taylor talks with Chris Clark of LAST CALL MESSIAHS
In Part 11 of the series 'Welcome To The American Underground' Kickin' Valentina's bass player and specialist of the American underground music scene, Chris Taylor talks with Chris Clark, lead singer and guitarist of LAST CALL MESSIAHS. Last Call Messiahs is one of the newest American sleaze rock bands I have come across, hailing from Raleigh, North Carolina. Originally from North Carolina myself, I can attest to the fact that its reputation is more along the lines of country music, jam bands, indie college music, southern style metal, and a plethora of cover bands. I'm thrilled to see a band from my home state going against the grain, and wearing influences like Spread Eagle and Faster Pussycat on their sleeve. They just released their new full length album 'Sermons Of Debauchery', so make sure to pick up a copy. I contacted lead singer/guitarist Chris Clark.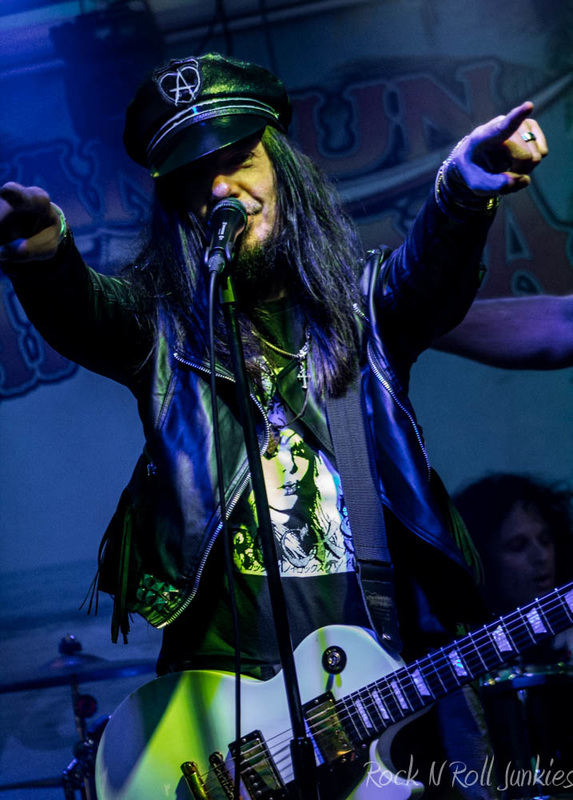 Hi Chris, always good to talk to you. Your band Last Call Messiahs is fairly new, formed in 2014. For anyone just now discovering you, give us a brief history and describe your sound.
,,Thanks Chris! Yes, the band got started in the summer of 2014 with myself, Stephen Blasko, Chuck Tipton and Jeff Young. I wanted to put together a totally, hard rocking, all original sleaze band, and I had played briefly with Steve and Chuck in a band called American Zero. I knew they had the same taste in music, so we started jamming together on a few originals songs I had. After a while, we really began to come together as a unit and we desperately needed a solid lead guitar player. We immediately approached Jeff, gave him a crappy demo tape and he showed up and just killed it. His playing pushed our sound over the edge and the band really came to life. We recorded a 4 song demo, and then debuted live at Marty Burn's Birthday Bash in December of 2014. Things took off pretty quickly for us. We got to play the M-Pre Party in 2015, and got lots of great exposure and press. Our sound is very much a darker, mid-80s sleaze metal type of sound. We all love LA Guns, Faster Pussycat, KISS and Mötley Crüe. You can definitely hear it in our songs.''

Your new full length album 'Sermons Of Debauchery' was recorded at Metal-Ward Studio and produced by Trey Richardson. What was the song writing process like for the album, and why did you choose Trey to produce it?
,,For 'Sermons', we pretty much had everything in the bag when we went in to record. Most of the songs have been in our set list for the past year and half. ,,Wonderland" and ,,So Far, So Bad" were newer compositions that we had just begun jamming on with the new lineup of the band. I write lyrics and come up with a basic song structure and present it to the guys and then everyone collectively adds rhythm, dynamics, harmony and solo parts. It becomes a total team effort at that point. We chose to work with Trey because he is a brilliant live sound engineer and a good friend. He remastered our EP for us and we were really impressed with the sound quality. He kept a bug in our ear for a long time about his recording studio and wanting to work with us. So in order to get some new product out, especially with the new lineup, we sat down with him and told him what we wanted and he played us some samples. We booked a weekend thinking we would record a couple of new songs, but that quickly turned into five when we heard how fantastic they sounded.''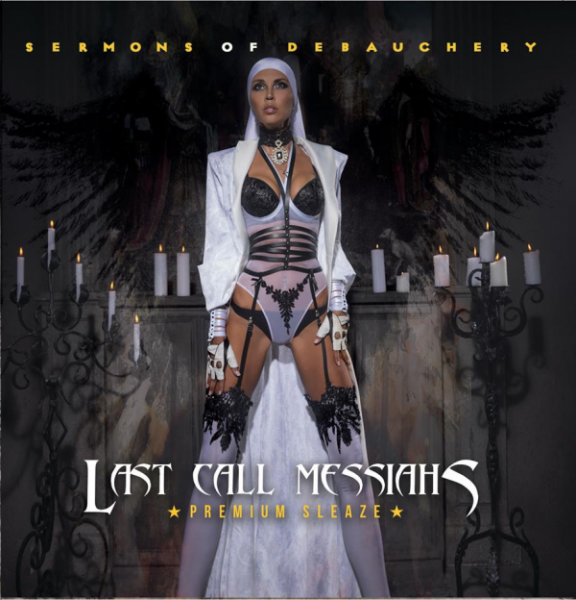 What is your favorite song of the new album to play live?
,,I would say right now it's ,,Wonderland". That song just kicks right into high gear and never lets up. Lyrically, it's about equating the high you feel when you first discover the music you truly love with recreational substances. Like being 13 and hearing ,,Looks That Kill" for the first time on the radio. You're in the backseat with your cooler, older friends, passing around a beer or a joint and just banging your head. We put so much into crafting that song structure and Jeff kept coming up with new and clever guitar parts to add. It has a real anthemic Mötley Crüe swing to it.''

You guys recently had some personnel changes in the band. Why the lineup change, and was it tough finding the new members?
,,Yes we lost a couple of founding members- Stephen (bassist) and Chuck (drums). I know with Stephen, he wanted to devote more time to his family and his children. I think Chuck maybe wanted to do something different. Something stylistically different. Both guys parted with us amicably and we are all still great friends. It was tough for a while but we knew we had some great music and tons of potential left in us, so we put the word out immediately. Finding Bill (bassist) and Dee (drums) was much easier than we ever dreamed of! Bill played in Mr. Blackwell, who were a great groove heavy band from eastern NC in the early 2000's, and Dee had been with Kings of Hollywood (a GNR/Poison/Mötley tribute). Both guys loved our material and jumped right in. They formed a tight rhythm section that just swings. We crammed about a month's worth of jamming in before we played together live at Sleazy, Slimey, Sunday on May 1st. They both add so much fire and energy to the band. Everybody in the band is a true scholar of rock n roll. We can all reference the most obscure glam bands without batting an eye. We are definitely firing on all cylinders!''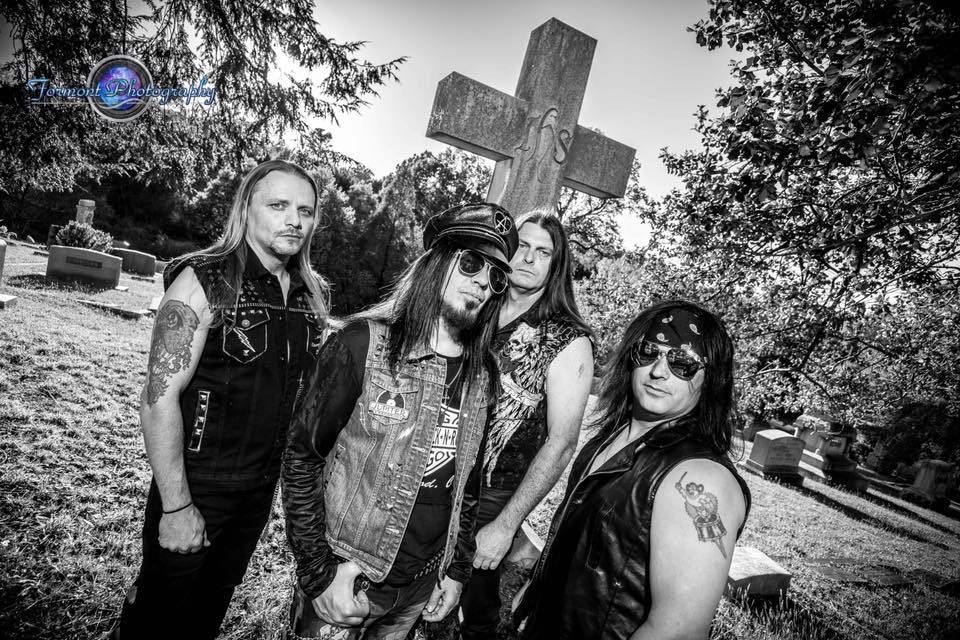 Are there any plans to tour in support of the new album?
,,Yes, absolutely. We are in the process now of booking some shows up north and the mid-Atlantic area for spring 2017. Baltimore, Philly, New York and New Jersey. We hope to get to Florida and Texas too. Fingers crossed!''

Last Call Messiahs definitely has an old school rock sound, and when I listen to you, I hear elements of Faster Pussycat and Spread Eagle. What are some of your influences, and who are some newer bands you are into?
,,Two of my favorite bands ever! That first Spread Eagle album is just incredible. Like a badass east coast GNR and Faster Pussycat to me, are just the perfect combination of Aerosmith and New York Dolls. Great swagger and attitude with killer hooks and songs. I've always been drawn to bands with over the top imagery. When I first saw and heard Hanoi Rocks in 1984, it blew my mind. They looked like they had landed from another planet, and my life's destiny was to somewhere get there. They had the urgency of punk, the catchiness of early rock n roll and the style of street gypsies. Mötley Crüe hooked me from the start. 'Too Fast For Love' is still one of my favorite records of all time. Never gets old. I bought 'Shout At The Devil' on vinyl with my allowance money and hid it under my bed because my parents weren't crazy about the big black pentagram cover. There are some great new bands I've been listening to here lately- Dead Daisies..Love Razer, Streetlight Circus, Kickin Valentina, Mach 22, Hammer Down, Station..I love that there is such a wide variety of new, independent hard rock out there..you just have to dig a little harder these days to find it, but it's there. Where's "Metal Edge" when we need it??"

Everyone that follows the "sleaze rock" genre knows there has been an underground resurgence over the past few years, primarily in Scandinavia. You guys were recently nominated for Best Rock Band at the Carolina Music Awards. Do you think more people in the US are starting to take note, or will it remain an underground movement?
,,I swear, the Sunset Strip just relocated to Sweden and brought all the hair spray and leather with it. But hey, thats the native land of Shotgun Messiah, so they got it right the first time in my book! Honestly, it does feel like there is a growing resurgence for sleaze rock. I think social media has been the big paradigm shift for how we discover new music now, and there are people from the US, and all over the world that are still very passionate about sleaze, hard rock and glam. We all have to navigate this wide open digital medium to discover it all. Without tv, radio and print it's like the wild west again. The old reliable support structure isn't there any more. I think the music festivals are integral in keeping the resurgence strong and growing, as well as providing exposure to new artists. The record industry has taken a beating, but live music is flourishing. I think that's essential to keep the fires burning. I'm very optimistic about the future of rock music in general, especially with a reunited GNR kicking ass all over the globe, the success of the new Kix DVD, the best Metallica album in decades and more and more music festivals cropping up every year.''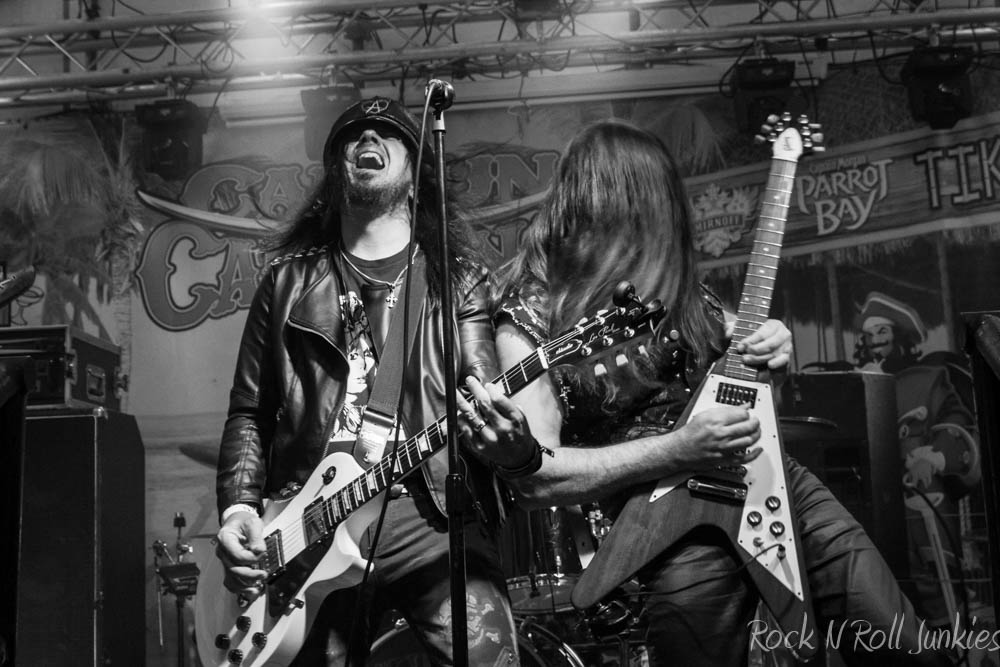 Being from Raleigh NC, what is the scene like there right now, and who are some other NC bands people need to check out?
,,Raleigh is the perfect rock n roll town. Not too big, but not too small. Indy record stores, good restaurants and bars. Great community of friends who are family and ardent supporters of live music. So much variety and talent right now it's really amazing. Some of my favorite NC bands are- Widow (a NWOBHM influenced trio from Raleigh that are top notch), The Gray (from Fayetteville, heavy, soulful, metal, alt rock) and Hayvyn (from Raleigh, total KISS inspired hard rock from guys who raided Steel Panther's dressing room).''

Anything else you want to share with your fans? How can people pick up a copy of 'Sermons Of Debauchery'? Thank you for taking the time to do this interview.
,,We have a big year end show in Raleigh on December 9th with Streetlight Circus and Mach 22 at The Maywood. We just want to thank you all for your support, and we look forward to seeing so many more folks on the road next year. Look for us in the northeast in spring of 2017. 'Sermons' is available for download at iTunes, Amazon, and CDBaby or you can order physical copies directly from us.
Thanks so much, Chris!''
—
Check out LAST CALL MESSIAHS Facebook page and their website.