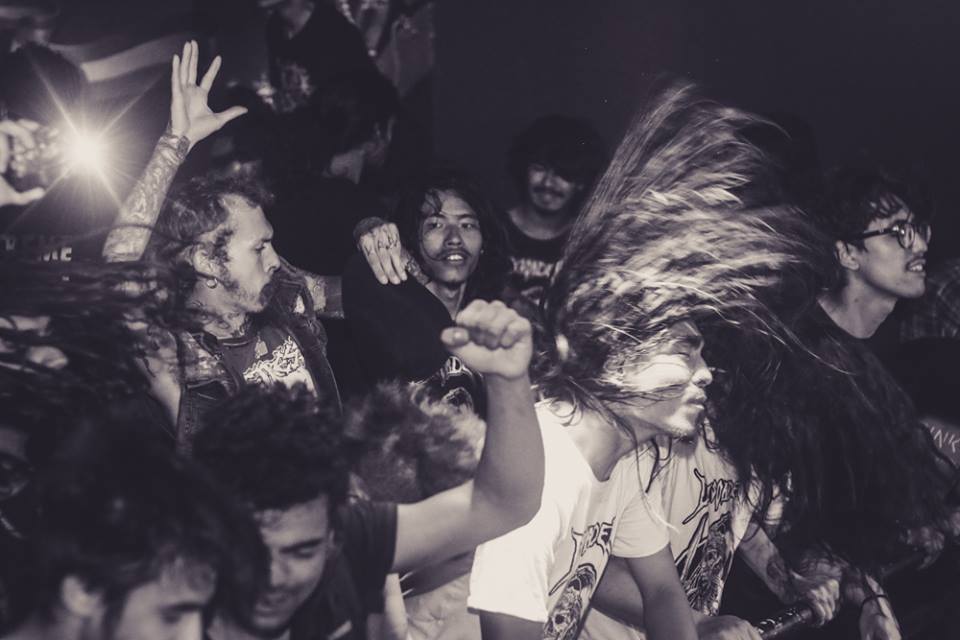 WELCOME TO THE EXTREME UNDERGROUND
METAL SOCIETY OF NEPAL. Kathmandu Thrashmandu: In Your Face Like No Other Place
THE ULTIMATE THRASHMANDU FEST, held April 29, 2017, Reggae Bar, Thamel, Kathmandu, Nepal, caused severe internal disruption and pain to all concerned. EUMSN (Extreme Underground Metal Society of Nepal) pulled off one of the craziest Fests of them all. Thrash heads got a quality based production and witnessed what they were waiting for, which was total fucking destruction and hell-bent aggression!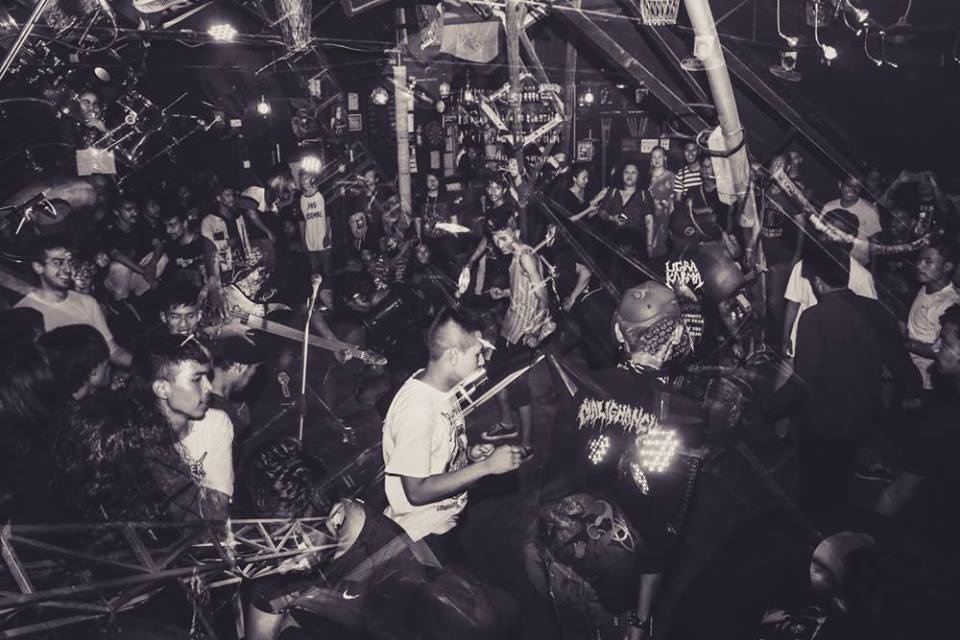 Photo credit: Anish Lama & In The Light Nepal

Exalter and THRASH hailed from Bangladesh, Armament from India, and Disorder was the headliner from Nepal. Guest band was the well-known UgraKarma. These guys were set up to play in horrified dimension for the first time to revive the old school. The Thrashmandu crowd was critically injured. It was very easy to see wounded people and scores of fans in the mosh pit spilling their anger and aggression with blood. The mosh pit was so huge & chaotic, it went like whirlpools of water. Even through the day was darkened with heavy rainfall, most of the fans made it to the venue to give their support. Many fans consider Thrashmandu to be one of the best shows of EUMSN.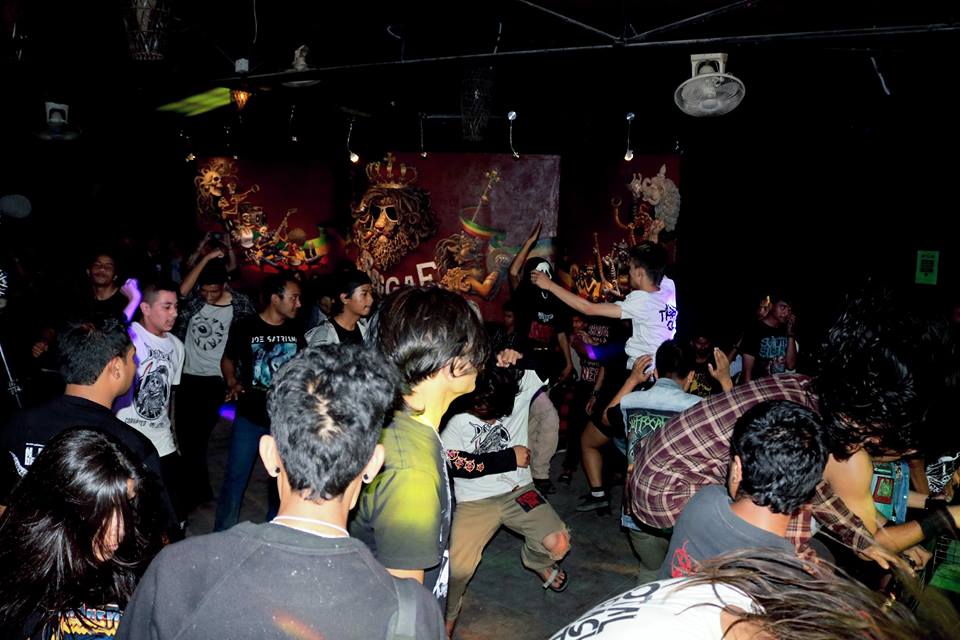 Photo credit: Extreme Photography
Armament from Kolkata, India, opened the show. They are a straightforward Extreme Thrash band, with War (Indranil) on vocals, Famine (Vivek) on guitar, Conquest (Savan) on bass, and Death (Subham) on drums. Standing up as the full line-up of Armament, they created raw, lightning-fast, no-bullshit thrash, dedicated to all those who are driven by old school extreme metal. Straightforward in your face thrash with evil riffs and crushing vocal attacks held together by a grinding bass and aggressively fast drums. Signed by Transcending Obscurity, Armament is devoted up to the hilt with the raw and aggressive musicality that is generated through sheer passion.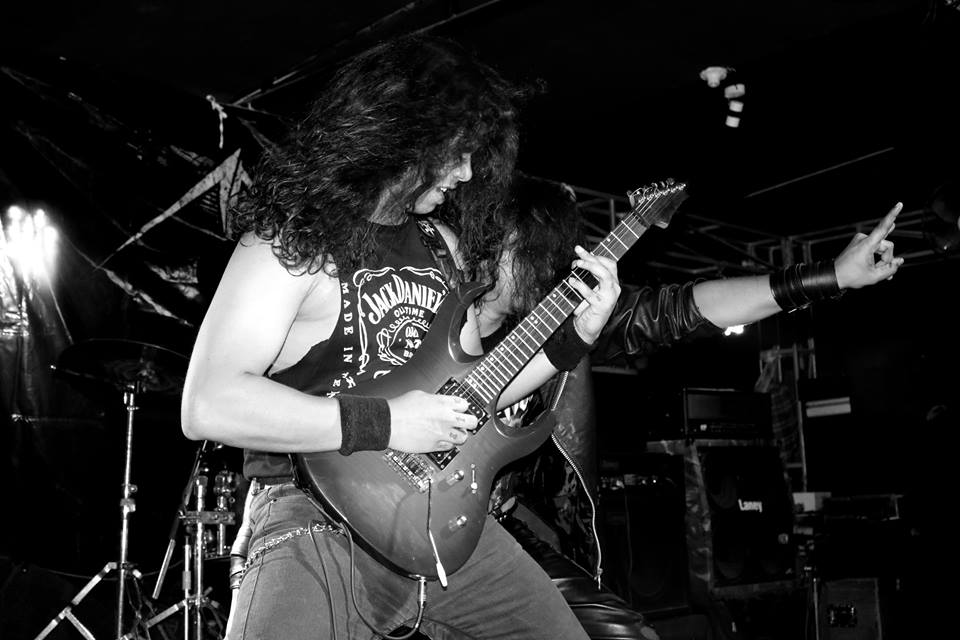 Armament (Photo credit: Extreme Photography)
Exalter, from Bangladesh, has only three members, which is unusual for a metal band. Tanim on vocals and guitar, Afif on drums, and Jamil on bass, pride themselves on insanely fast based drumming and heavy sounds, and rightly so. Their first EP is called `Democrasodomy' and was released in 2015. Their second EP `Obituary For The Living' was released in 2016.
They are soon going to release their very first full length CD.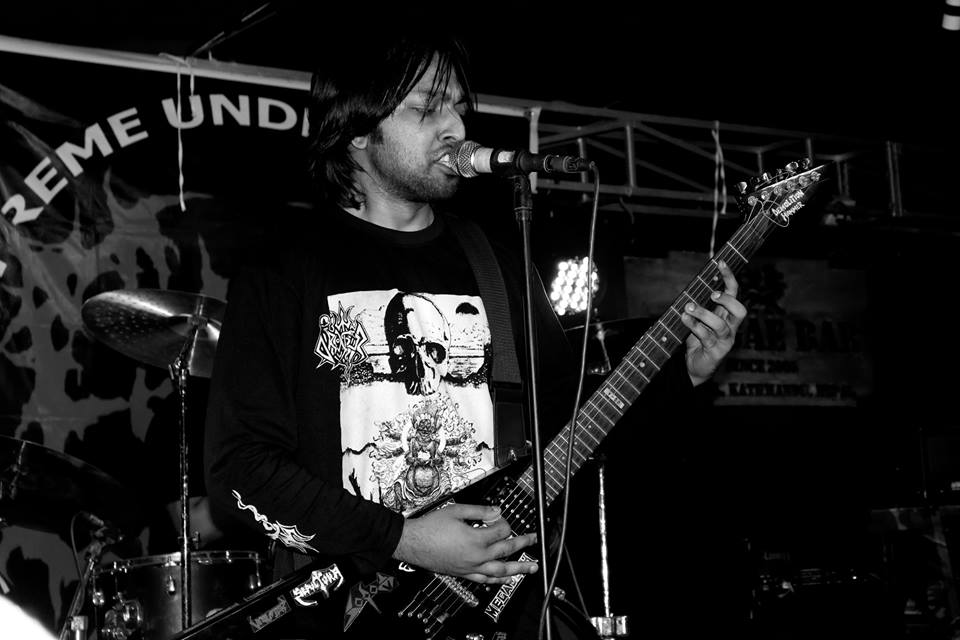 Exalter (Photo Credit: Extreme Photography)
Disorder appeared on the Nepali extreme music scene in 2013. They came up with the most intense style of thrash playing. The line-up consists of Romeo on bass and vocals, San JV on drums, Den on guitar and Pramod on lead guitar. They released their debut EP, `Corrupted Influence' in December 2016, along with grind core trio, Nude Terror. They made their invasion in Kathmandu, Damak, Dharan, and Pokhara for their album launch tour. The production of Disorder's EP 'Corrupted Influence' is a little more morbid, less raw and more aggressive than any other band in Nepal. Every song is wicked heavy and far more professional. Each instrument is played clear and their record lacks dirtiness. Romeo's bass sound could be louder in the 2nd track ,,Devastation", but sometimes throws surprises to their listeners with his evil sounding vocals, Romeo's vocals are down to earth and beyond deep anger. The drums are now destructive sounding and prominent in the mix. San JV pounded the skins like a madman with absolute sound clarity, offering violent punch and volatile skank that are never too simple. Guitarists Den and Pramod are more old school, unleashing relentless thundering thrash riffs. Pramod's guitar solo is a stunning display of top-notch musicianship. Disorder's EP `Corrupted Influence' reaches a level of complexity without ever diving into mainstream territory. They are not scared to show their listeners that they were just fast and horrendous. `Corrupted Influence' makes no mistake in this. Do not expect sappy emotional ballads, however, expect a shit ton of thrashy riffs. Every song bursts with complex assaults of riffs, but even when the tempos are slowed down, it is still effective and heavy as hell, and never loses the fact that they are indeed the best thrash band in Nepal. The best example of this would be my favourite, ,,Aslil Manabsavyata'', where they have gone to the next level of production in their song writing, having distinct, shredding riffs with Nepali aggressive lyrics. I consider this song to be one of the greatest songs that the thrash genre has to offer.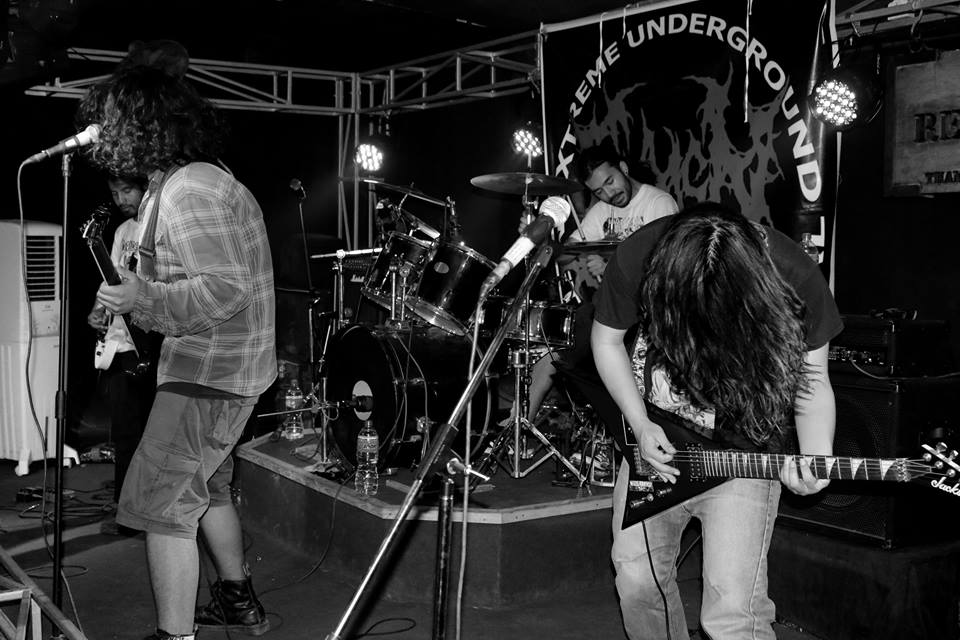 Disorder (Photo credit: Extreme Photography)
THRASH, from Dhaka, the capital city of Bangladesh, does not give a fuck about trends. Their motto is "Thrash To The Death''. The 4-piece band started in 2011 and released their debut EP, `A Lesson in Thrash' in October 2012. These warriors' passion for social protest adds power to their throbbing!!!!! Trust us guyz! The music was not only thrash it was totally EXTREME, raw sound!!!!YES, GUYZ THE POWER OF THROBBING!!!! THE POWER OF EXTREME MUSIC!!!!! AND THE POWER OF YOUR CHOOSEN LIFE!!!!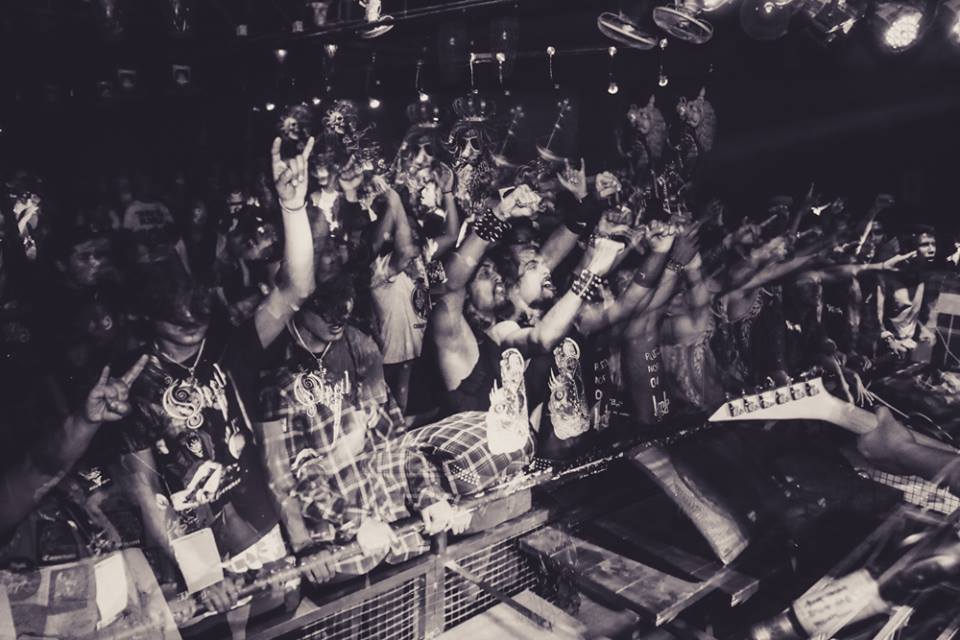 Photo credit: Anish Lama & In The Light Nepal

Bestial Hails to UgraKarma, a home-based Old-School Death Metal band, who released their first album in 2001 and had about 20 to 30 fans back then. Sunil, vocal, says being "underground" is simply "a state of mind and not listening to others but doing your own thing", and who should know better than him? UgraKarma played some classics, and for the first time anywhere, played some foul and inhuman tunes from their new set list. The rainstorm outside must have helped them rain shards of ripping solos and rattling bass line.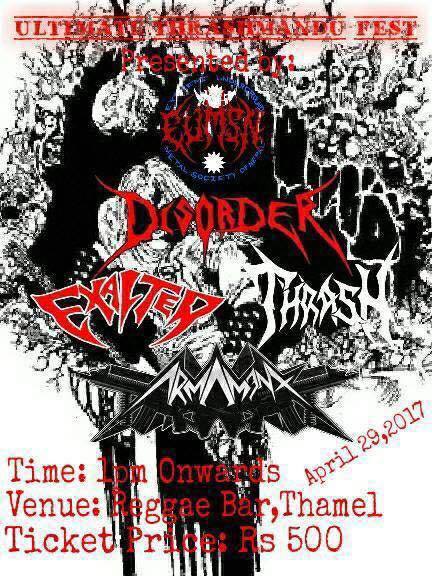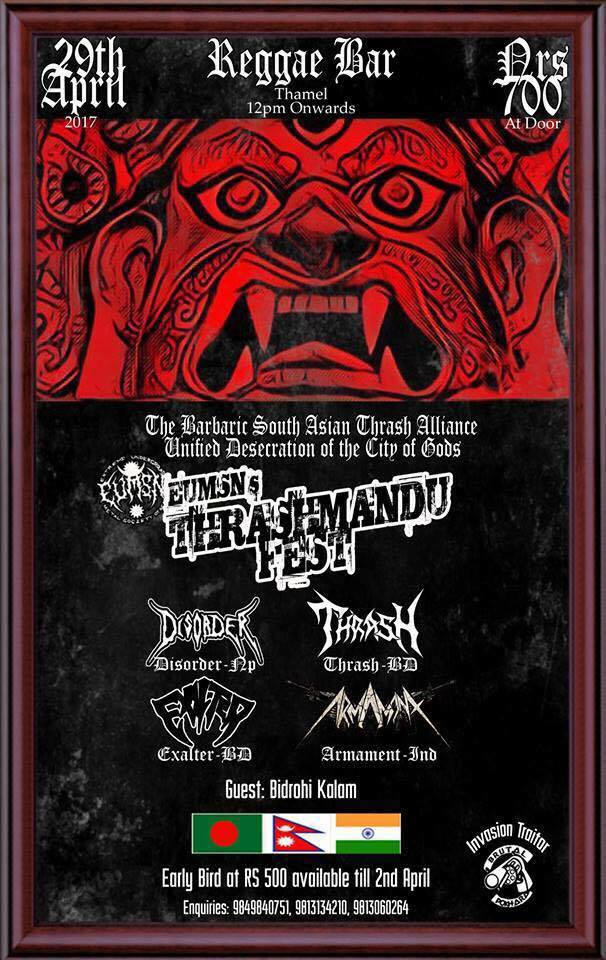 The Extreme Underground Metal Society's first attempt at bringing together the top Thrash bands of South Asia was a total success, thanks to the efforts of Vishal Vof of EUMSN and Zivon Gurung of Brutal Pokhara. EUMSN released another repulsive show crushing everyone who crossed its path. In the future, look out for some extreme promotion in supporting and co-operating with the expanding North-Eastern Music Scene, which includes Dharan, Biratnagar, Birtamode, Damak, and in India, the cities of Shillong, Gangtok, and Imphal. Powered by HeadBangers LifeStyle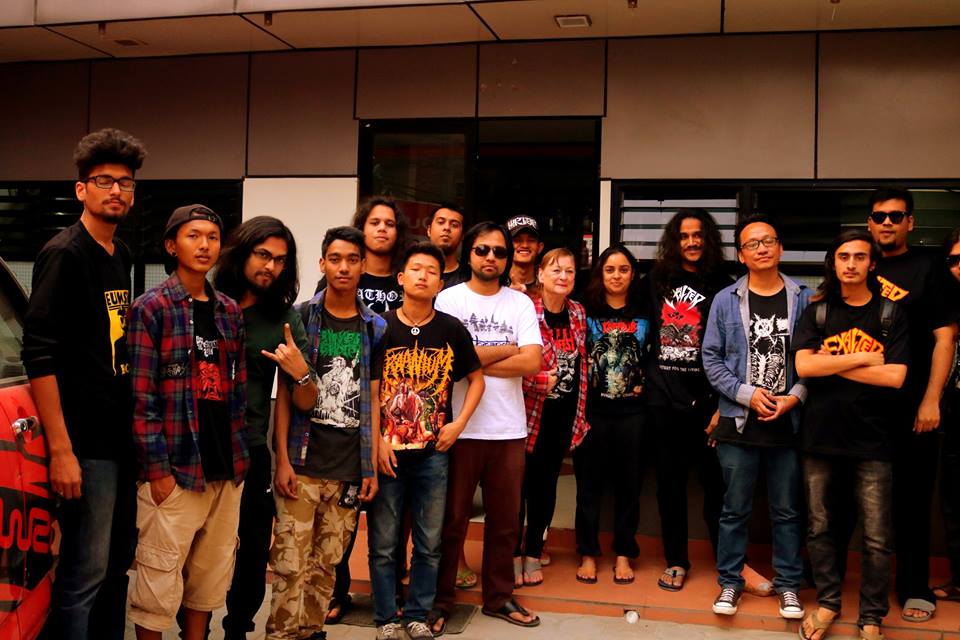 These folks made it all happen.
—
Header Photo by: Anish Lama & In The Light Nepal

Visit the official EUMSN Facebook Page here
Visit the Facebook Event Page of Nepal Deathfest 2017 here
Visit the official Facebook Page of Nepal Deathfest here
Visit the official Brutal Pokhara Facebook Page here
Visit Extreme Photography on Facebook here
Visit In The Light Nepal on Facebook here