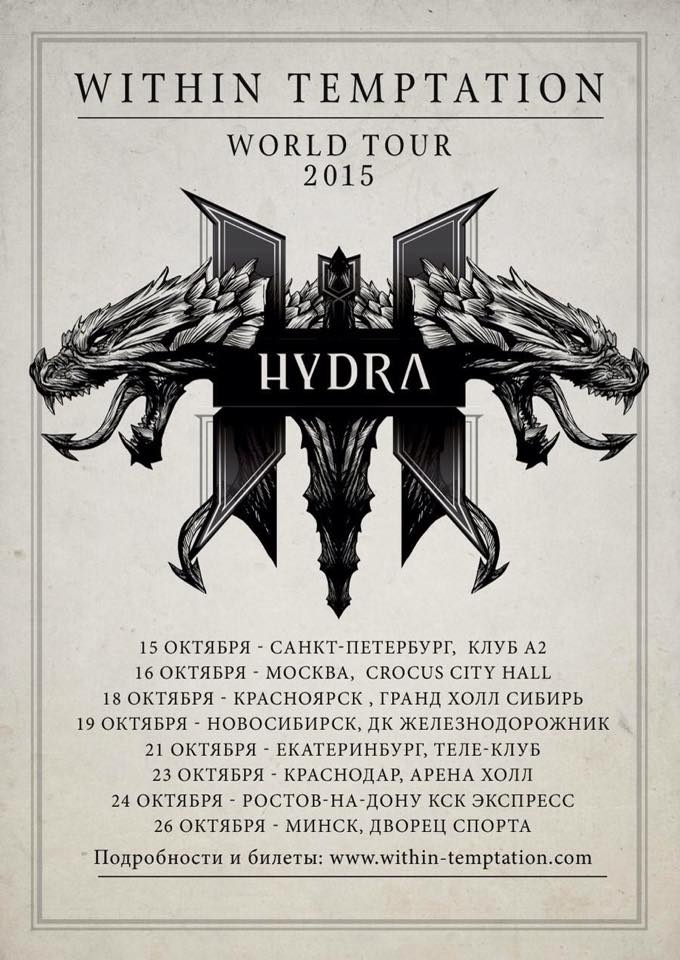 WITHIN TEMPTATION – RUSSIA & BELARUS TOUR 2015
Exclusive report by Ruud Jolie
Because HeadBangers LifeStyle wants to bring the music as close to the fans as possible what better way of doing that than having regular reports written by musicians themselves so you can experience, as close as possible, what they experience on tour. We are proud to have Ruud Jolie, guitarist of Within Temptation, to keep a diary of the Russian and Belarus tour that recently took place. Enjoy reading!
October 14th

Day of departure;
We were supposed to be at Schiphol airport at 10:45 so I took the 9:07am train. Not too bad when you consider we sometimes have to be at the airport at 6:30am in the festival season. Our last gig was the Metal Hammer Awards in Berlin last month so we hadn't seen each other in a while. When we arrived in St. Petersburg we were greeted by a handful of fans. There was one girl with a selfie stick who almost beheaded keyboardist Martijn when she was calling someone on the phone while walking with us to the exit. Obviously the selfie stick was sticking out to the left and hit Martijn in the head. I wish I had filmed it.
Of course we had to drink a beer and have dinner. We decided to stay in the hotel since it looked nice and we were tired and pretty hungry. Some American dude at the bar suggested a nice bar two blocks down the road. Apparently they have 40 beers on draft and 400 bottled ones. I decided to be wise and go to my hotelroom after dinner since I wanted to chill a bit and go through the setlist for this tour. I just heard that Stefan (our guitarist) and Jeroen (our bassplayer) did go so I'll find out soon enough if I missed anything…
October 15th
Show; St. Petersburg;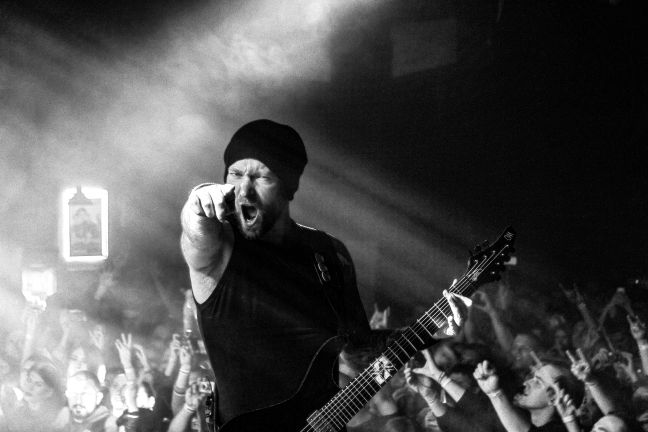 As it turns out I didn't miss that much from the bar except for some nice beers like Tripel Karmeliet. I love those!!! Today started as show days usually do; sleeping in just a little bit, have breakfast, do some emails, a visit to the hotel gym and some walking around outside. I love this city. I have been here a couple of times now but this city is so big, there's always something new to see. Our soundcheck was a bit longer than usual due to the fact that we hadn't played for about a month. We also have a substitute Front Of House engineer on this trip. Our main engineer had a pretty serious accident at home so he couldn't join. There were about 2500 people in the venue so it looked and sounded really great when we got up on stage. We played quite some songs that we hadn't played for a while so that always is refreshing for us as a band. After the show we had some sushi and pizza before we headed back to the hotel to catch some zzzzz's…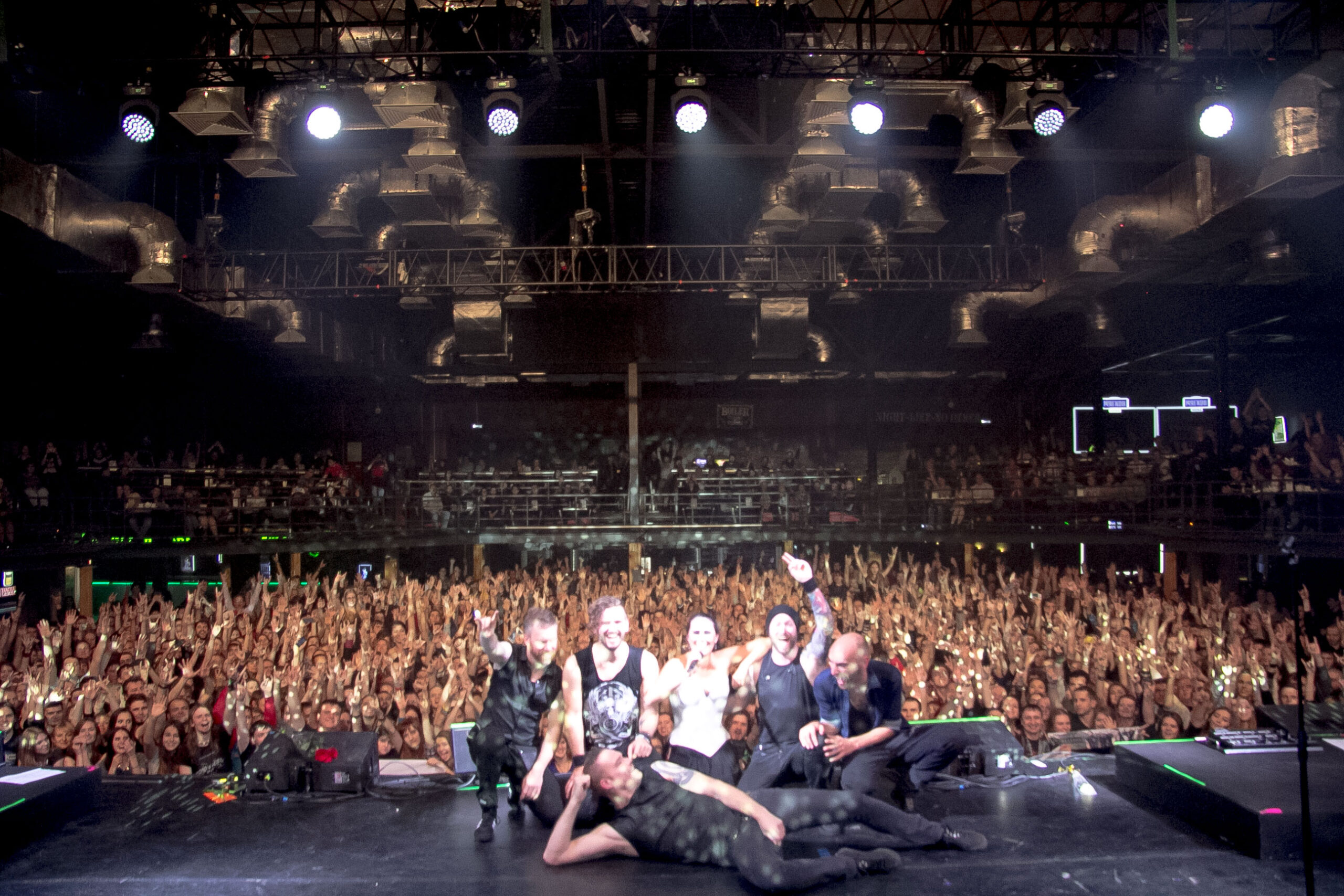 October 16th
Show; Moscow;
I'm lying here on the sofa in my hotelroom in Moscow where we have just arrived. I have about two hours to relax before going to the venue. Tonight we play in the biggest venue of this tour with a capacity of 6000 people. Two weeks ago there were already 4000 tickets sold so with the guestlist and walk on I expect this place to be pretty full. Looking forward to it 🙂
The show was really cool. The people were really enthusiastic and we saw a lot of smiling faces. That's one of the greatest things of this 'job'.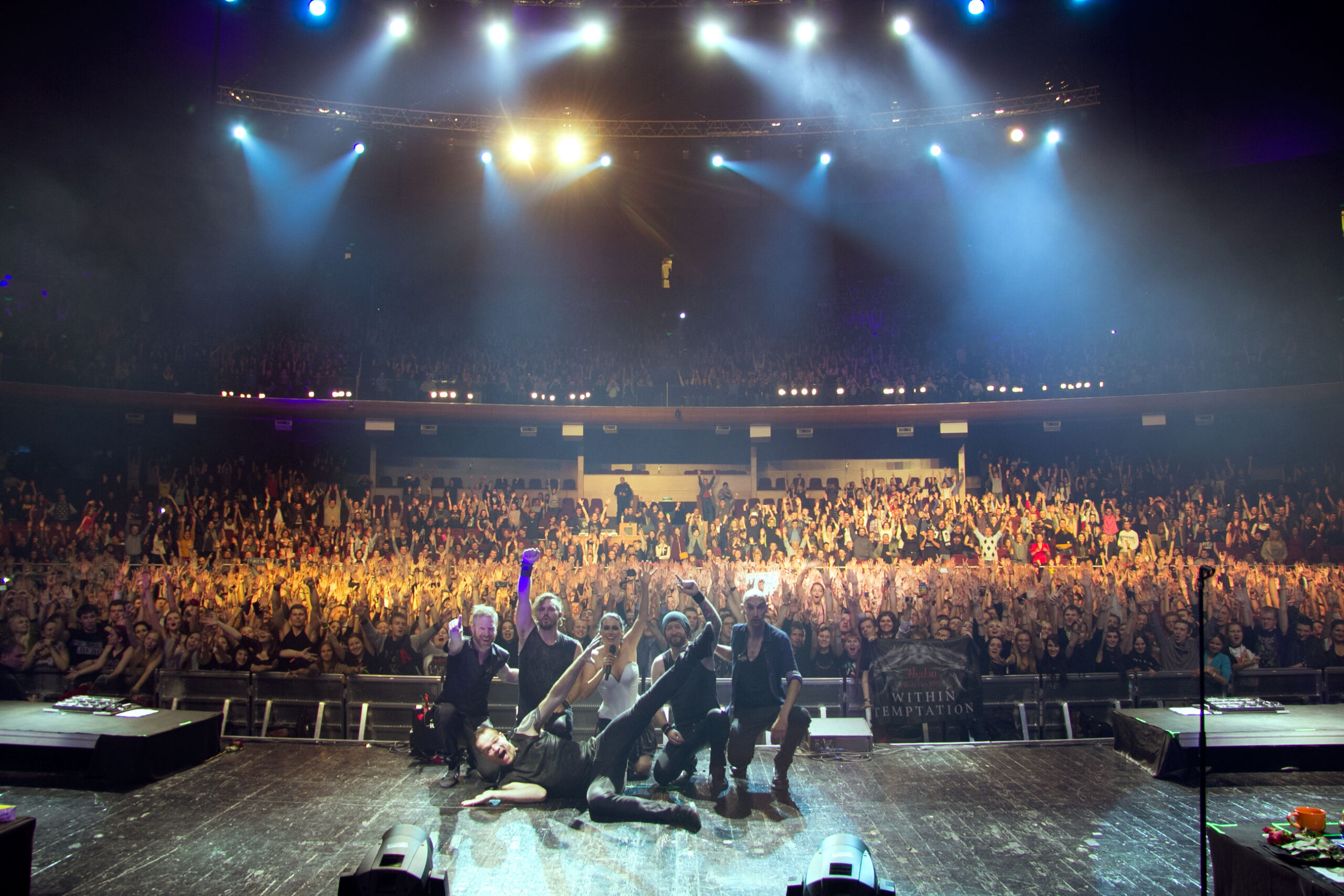 October 17th
Travel day to Krasnoyarsk;
I'm on the plane to Krasnoyarsk. Not that much to tell you. It's a four and a half hour flight and it's three hours later so it will be evening when we arrive in the hotel. Can't wait for a beer in the hotelbar. Fastforward to that evening; yes, they had beer at the hotelbar. And yes; I drank a couple. You know, 'When In Rome' and all that. Apparently the hotel was in the middle of nowhere so I decided to go to my hotelroom early and watch some Netflix. Damn… I think I'm getting old…
October 18th
Show; Krasnoyarsk;
As I said, we were in a very depressing neighbourhood so I decided to stay indoors and work a little bit. I also started reading Stephen King's 'Pet Cemetery' so that kept me busy…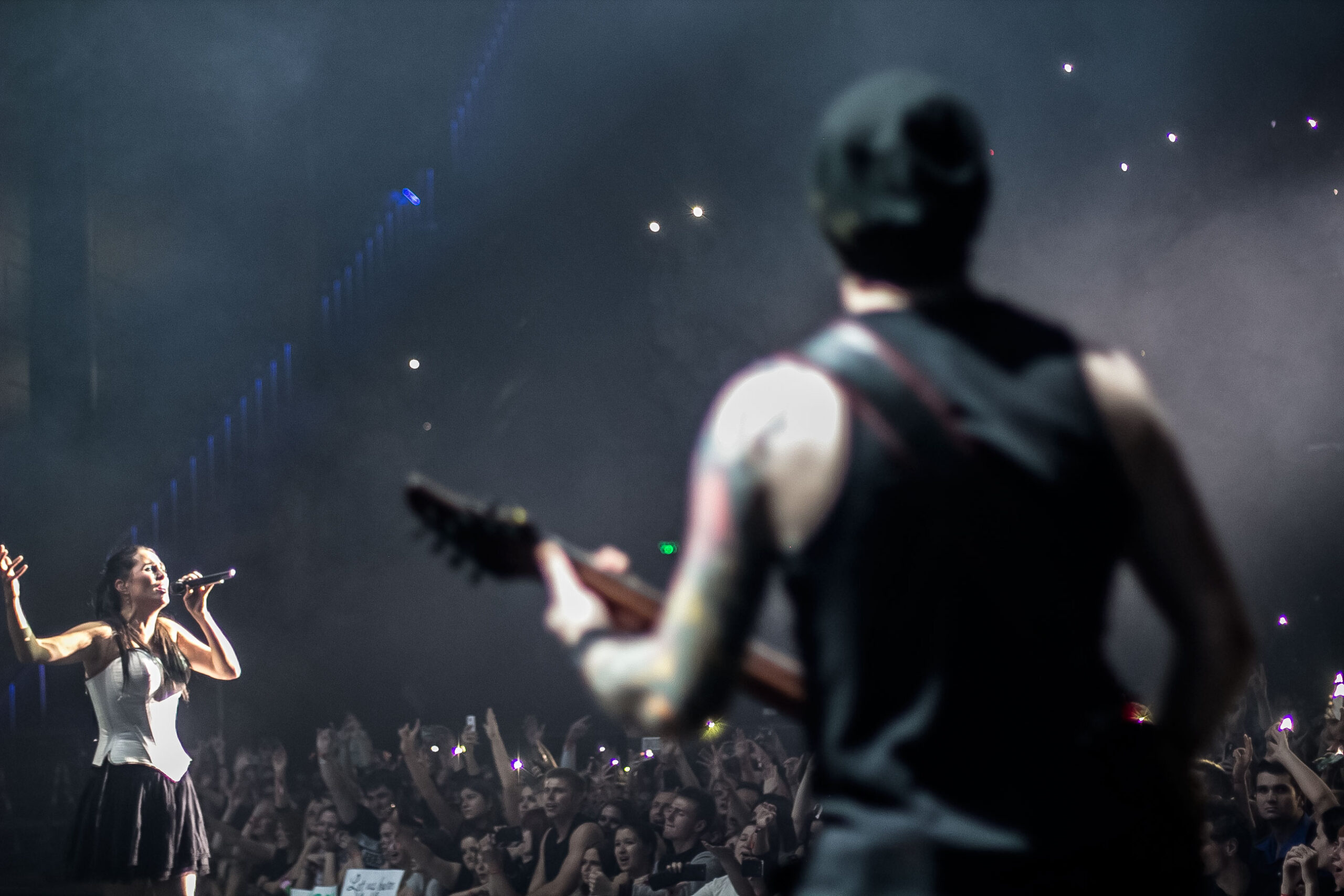 The show itself was nice. The venue was much smaller than the previous two. Part of it was seated which usually isn't that great. In those cases we want people to get on their feet and share some of the energy. Well, once we started playing they fortunately did. I guess there are not that many bands doing concerts in these regions (we were in Siberia for Pete's sake) so they really appreciated it. We saw a lot of smiling and yes, even crying faces in front of the stage. It's really humbling when people get so emotional.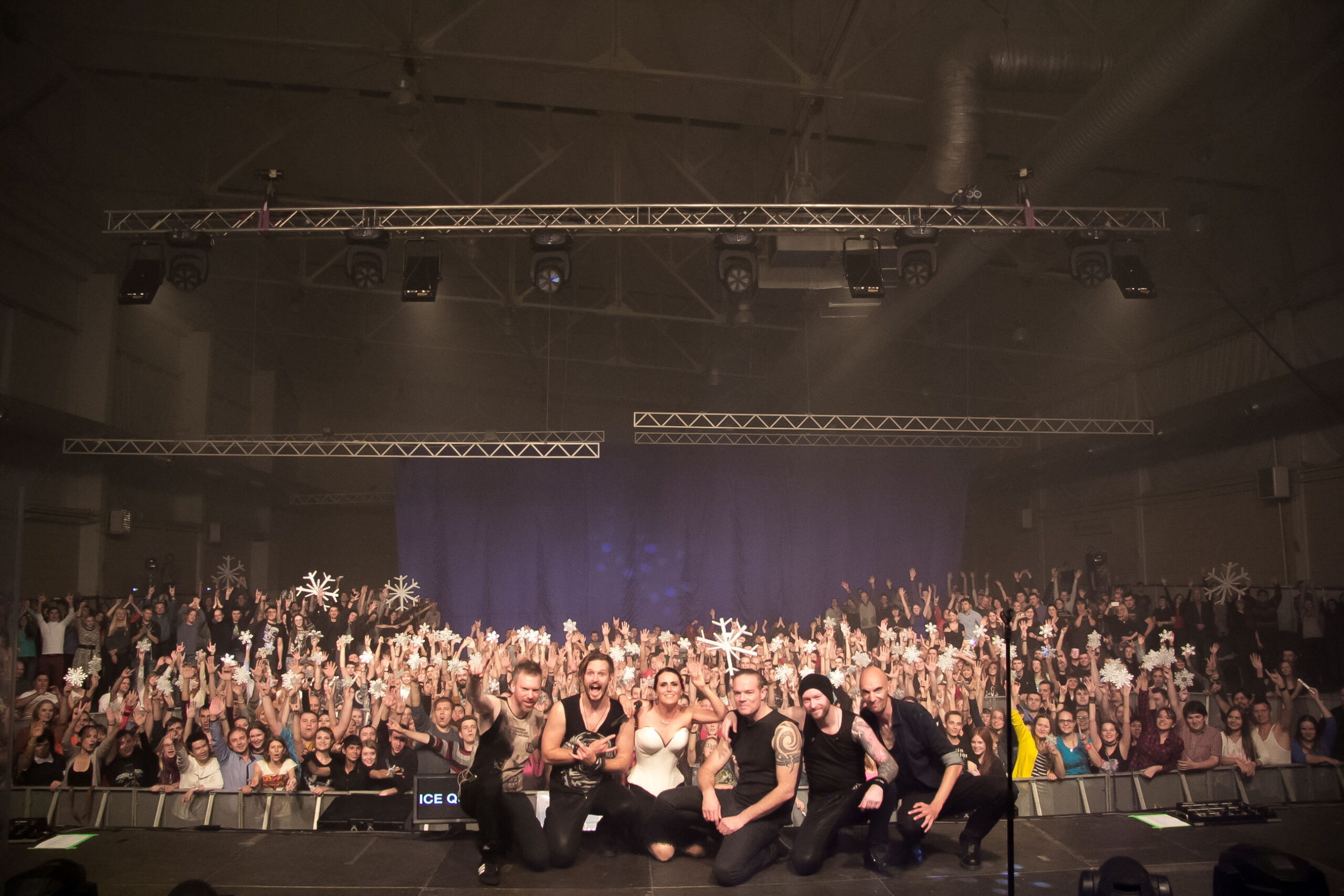 October 19th
Show; Novosibirsk;
We arrived in the hotel in Novosibirsk around 10am and we could still enjoy the breakfast. Food and the prospect of some sleep made me a very happy camper. I set the alarm at 1pm since I didn't want to sleep until lobby call. I wanted to go for a walk in the city so I asked the hotel staff which direction I should go to. I saw some nice huge statues of Lenin and a couple of nice churches. But it started to rain and I was getting hungry so I decided to go back to the hotel for some lunch.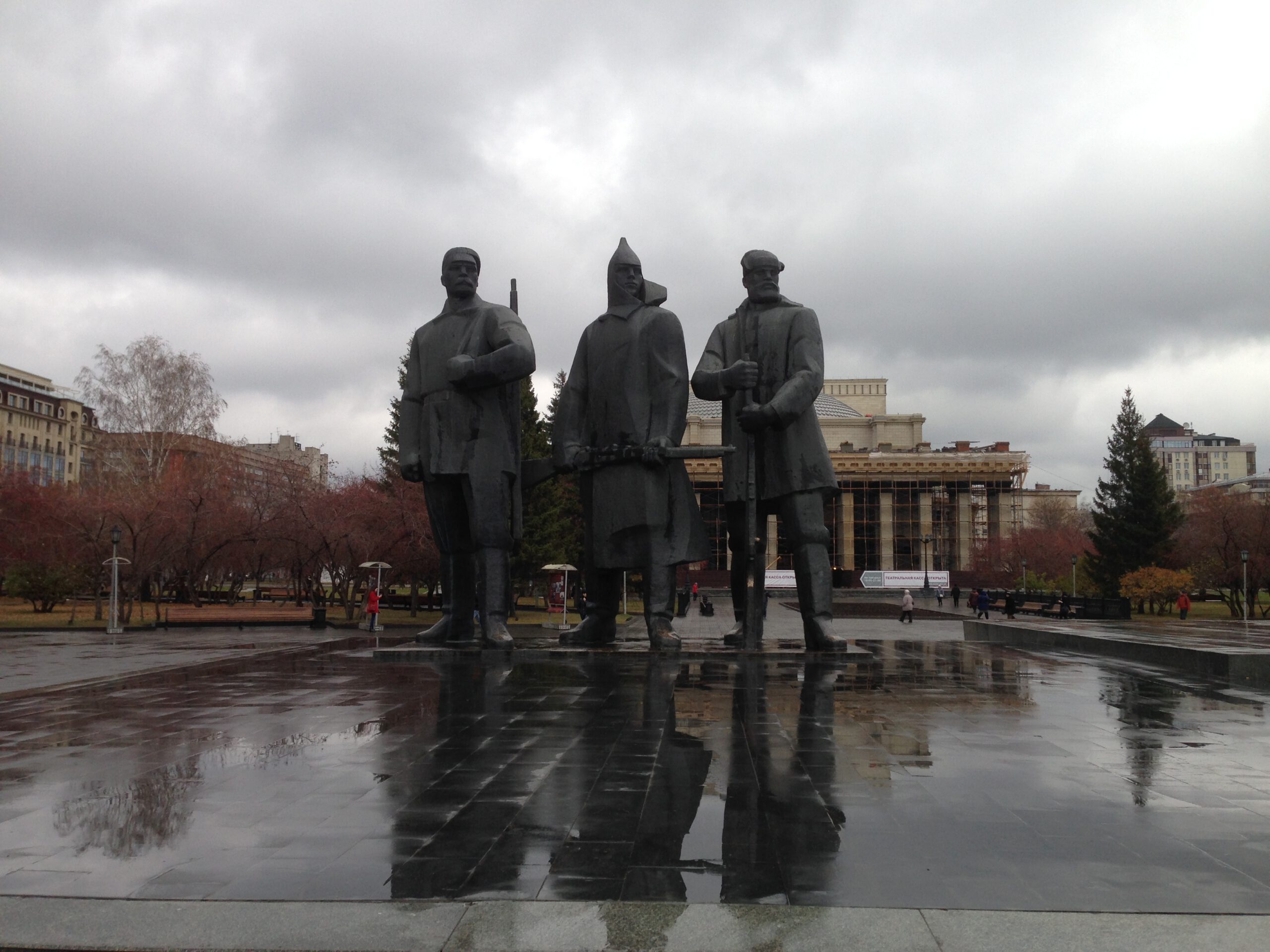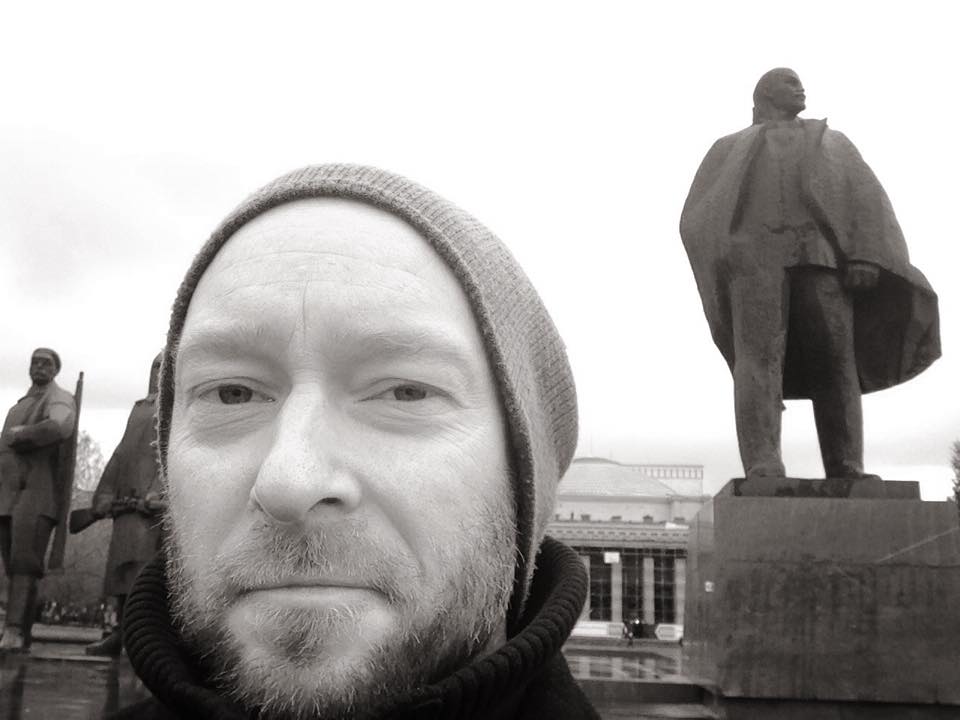 So today is our second Siberian show and the venue looked like a theatre with only chairs. I usually don't like that but fortunately everybody got up during the first song. Apparently they weren't allowed to get on their feet because the security staff made them sit down again. I guess it was for our safety because when Sharon asked one of the security people if it was ok for the audience to stand up they let them. During a particular song a young boy jumped on stage with flowers and gave them to Sharon. We're usually not that keen on people getting up on stage (we all know what happened to Dimebag Darrell for instance) but I could tell he wasn't dangerous. He looked so happy and ecstatic. Despite that he was brutally taken off stage by security. They made themselves pretty clear that it was not allowed to do that. The boy looked pretty shaken up after that. I kind of felt sorry for him. After the gig we went back to the hotel pretty much immediately after the show since we were expected in the lobby at 6am.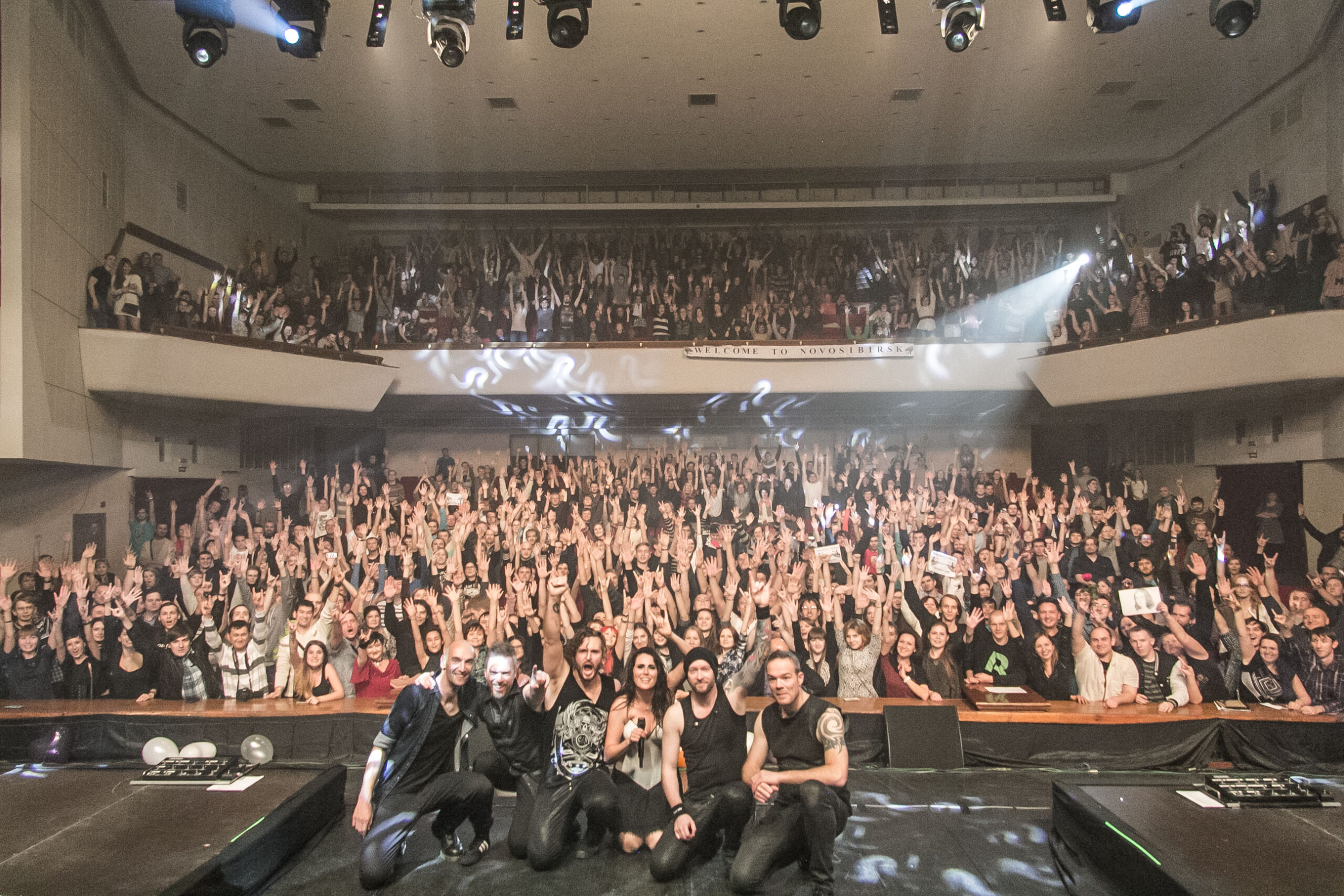 October 20th
Travelday to Yekaterinburg;
Yep, 6am lobby call. Not cool but that's part of the job. Another thing that sucks a bit is that we have to fly to Moscow each and every time since we wanted to travel with Aeroflot, a pretty reliable airline. Of course it would have been easier and shorter to fly directly from Novosibirsk to Yekaterinburg but the tourmanager didn't want to risk that. Upon arrival in the hotel around 6pm I decided to go to the gym immediately. I wanted to get a bit active after a whole day of sitting on a plane and an airport. And on tour one tends to drink a little bit more beer than usual so a work out is always good. After the workout I went out for dinner with keyboardist Martijn and tourmanager Piet. We were looking for the grill restaurant we saw from the van on our way to the hotel. I guess it was a restaurant from the 'Twilight Zone' because it was nowhere to be found when we were walking around. It was freezing (-11 degrees Celsius) so we wanted to go inside as soon as possible. Eventually we found a great place where they even had some Belgium beers. That Steenbrugge Tripel tasted great and so did that rib-eye steak…
October 21th
Show; Yekaterinburg;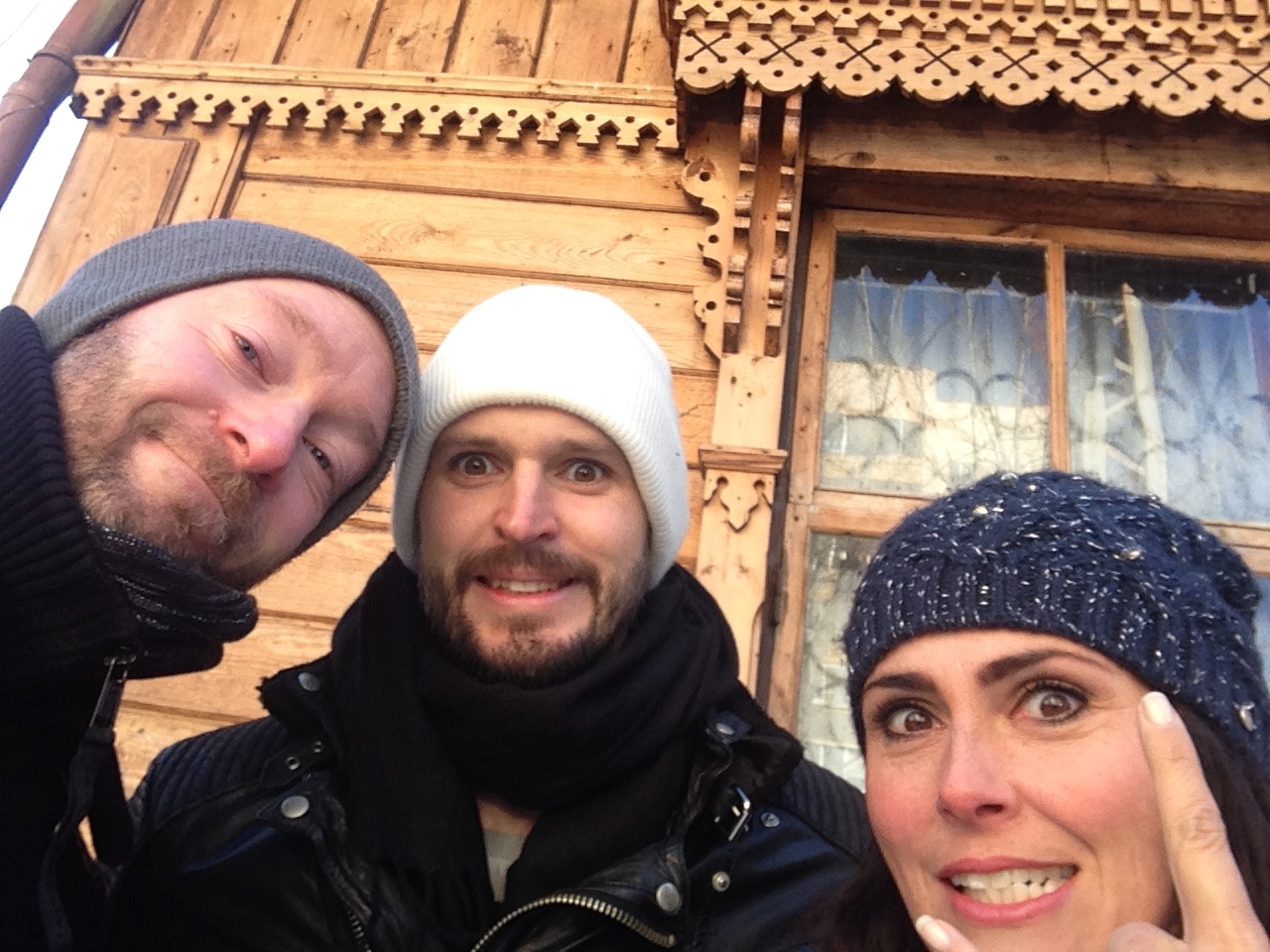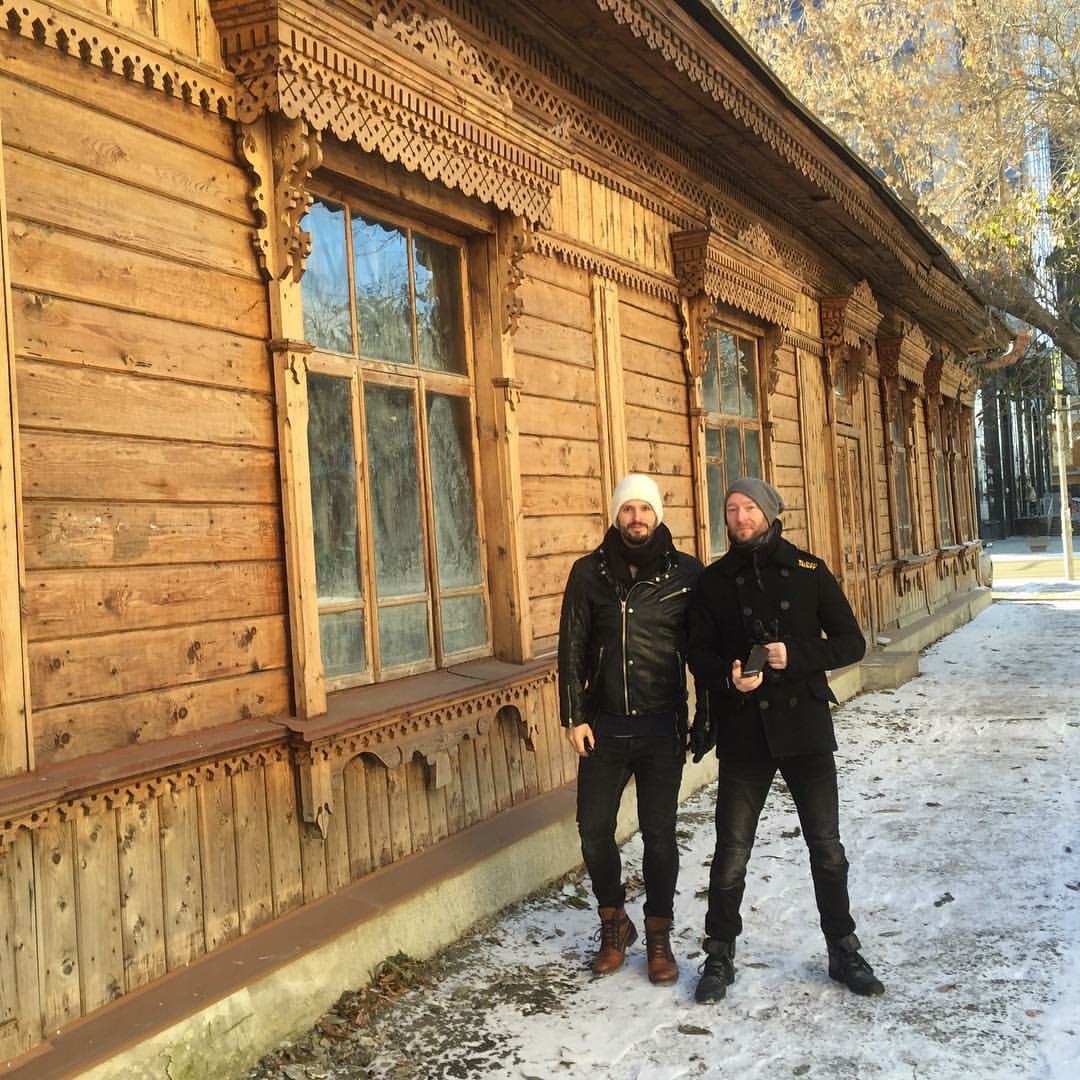 Got up for an early breakfast after which I went back to sleep a little bit more. After that Stefan, Sharon and me went for a walk. I found a great music store the night before and they sold quite some vinyl. I planned on buying some but when I did the calculation from Roebel to Euro it turned out the prices were incredibly steep. Had a nice lunch in a coffee place across the hotel before I went to the gym again. The venue we were playing in looked a bit more rock and roll than the previous ones. Finally. I prefer those places. The place was packed and the show was great. After the gig there were quite some people waiting for us outside. Again it was about -11 degrees!!! We signed some stuff before heading to the hotel for one more beer at the hotelbar…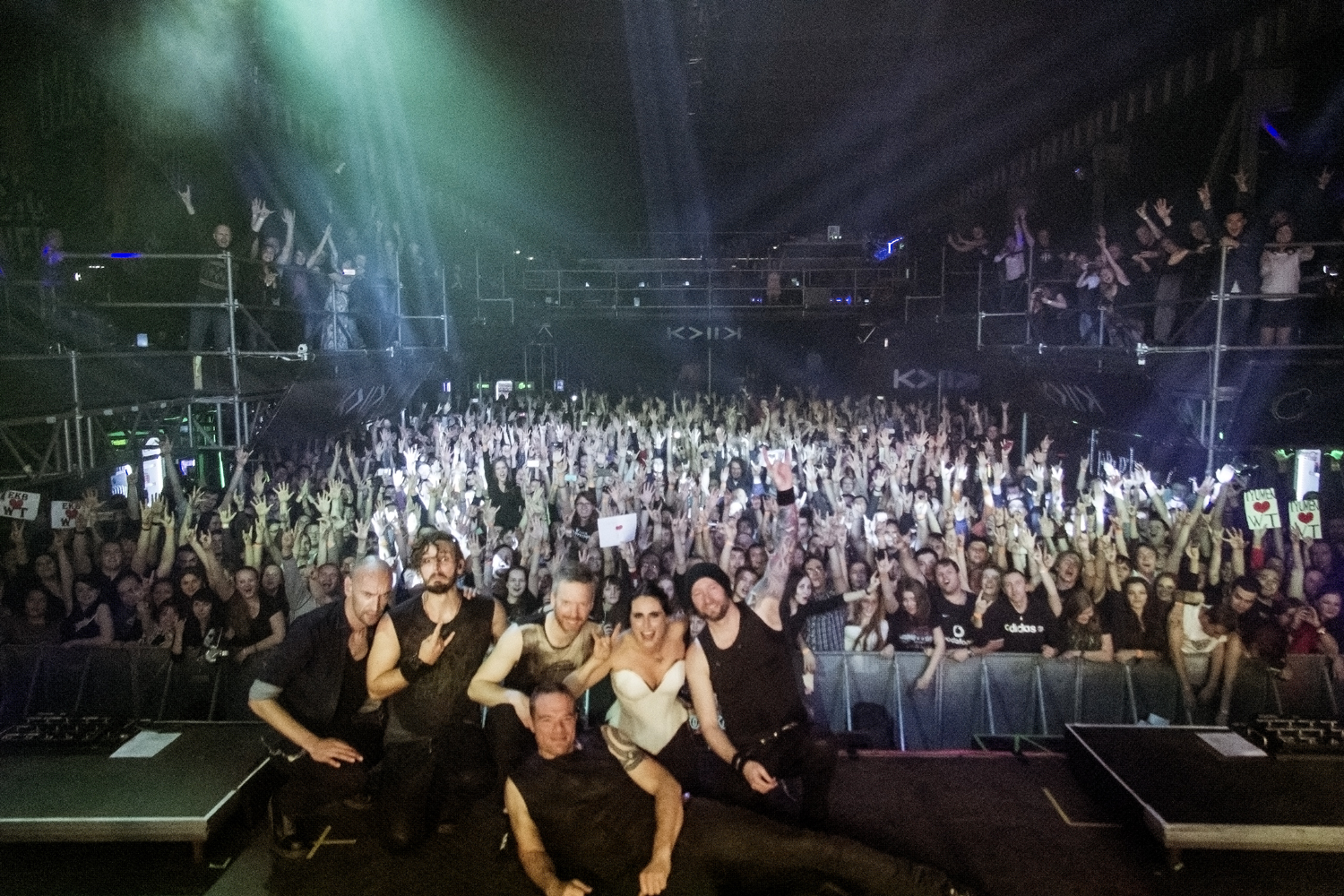 October 22th
Travel day to Rostov on Don;
Lobbycall this morning was 9:20am so not that bad. But again we're flying to Moscow for a layover. Since we're going back to the west we're going back in time which makes us arrive at the hotel kind of early. I understood we were all invited by the local promoter for dinner at the number three most popular restaurant according to TripAdvisor. Looking forward to that. I'll let you know how it was…
October 23rd
Show; Rostov on Don;
So yes, last night was great! The local promotor invited us to this restaurant that was only a seven-minute walk from the hotel. Everyone of the band and almost everybody of the crew joined. We started with some really nice wine and some appetizers. More wine and beer followed. More food and yes, even more wine and beer. Long story short; there was enough for us to eat and drink. And as it turned out the chef was a fan of the band so he came out to say hi and to offer us a special vodka that had some berries added to it. It came in a 10ltr bottle. We all got a bit scared but fortunately we only 'had' to drink one or two shots. It contained 50% alcohol…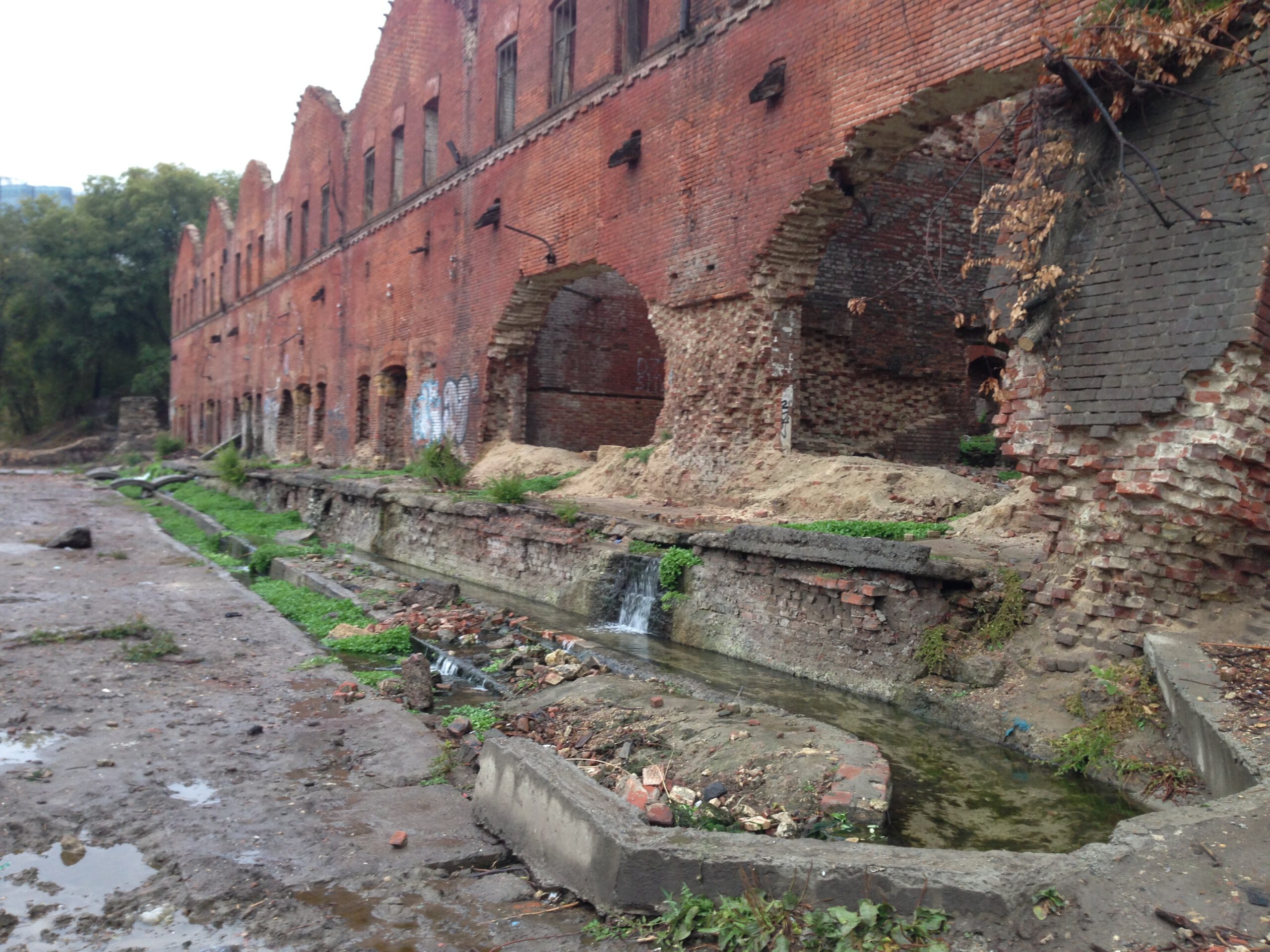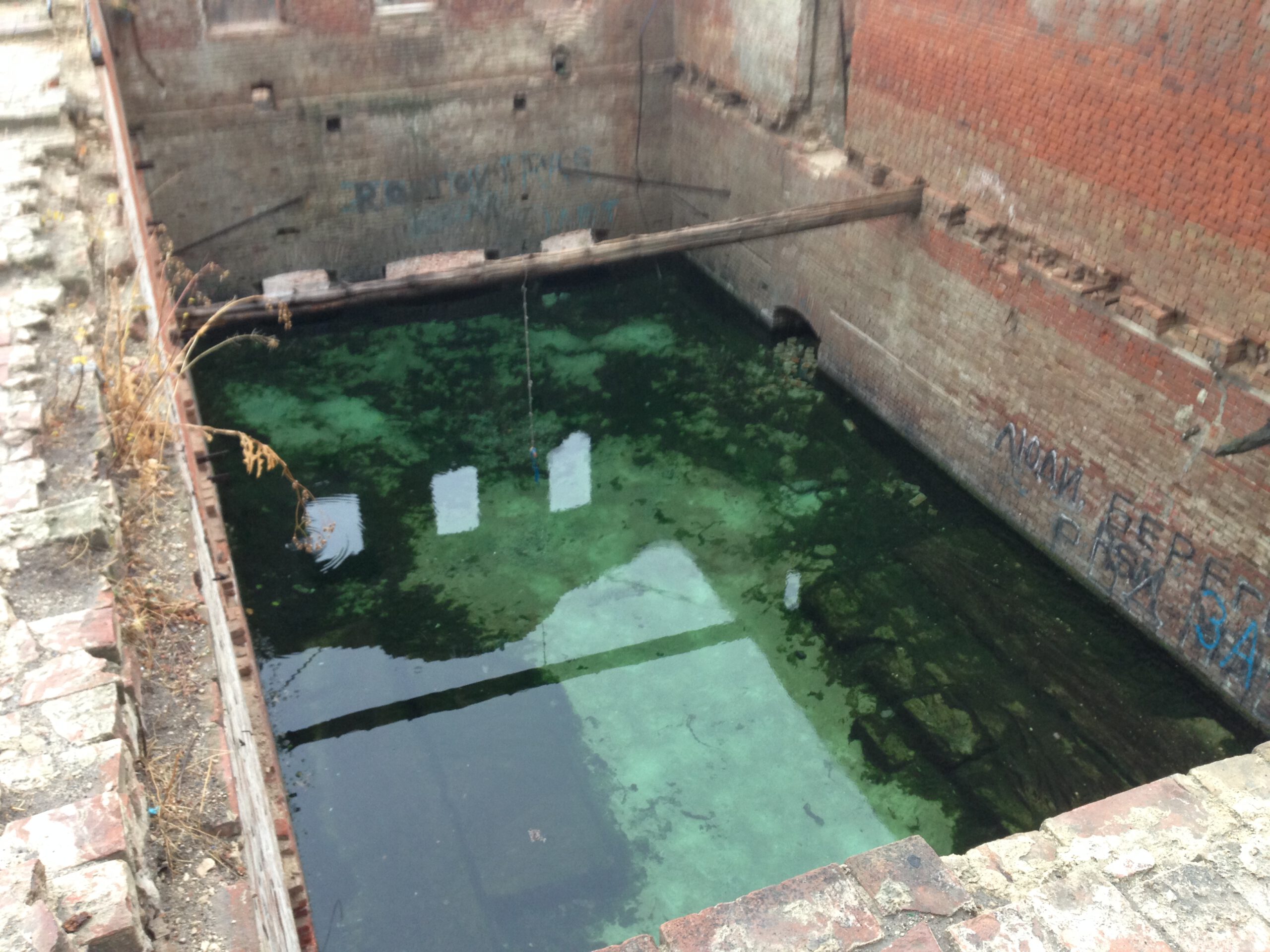 We had lunch in that same restaurant again (the local promoter has a deal with them I guess) and after that me and Mike went to this abandoned building which contained a spring where you could swim. The whole place looked very apocalyptic and eerie.
The show that night was really really interesting. We played in a theater so there were seats everywhere. But fortunately everybody got up their feet immediately. Halfway the set the PA stopped working. It turned out the Front Of House mixing desk broke down. Of course it took a while to fix the problem so I grabbed my acoustic guitar. Me and Sharon walked to the front of the stage and gestured to the audience to be quiet. You could hear a pin drop when I played the intro of one of our songs. It was great to play and sing 100% acoustically. And since this was a theatre everybody could hear it. Even in the back. But it wasn't fixed yet so Mike played an awesome drumsolo. The audience really liked these improvised things. After a while the problem was fixed so we could continue our set. This was one gig to remember…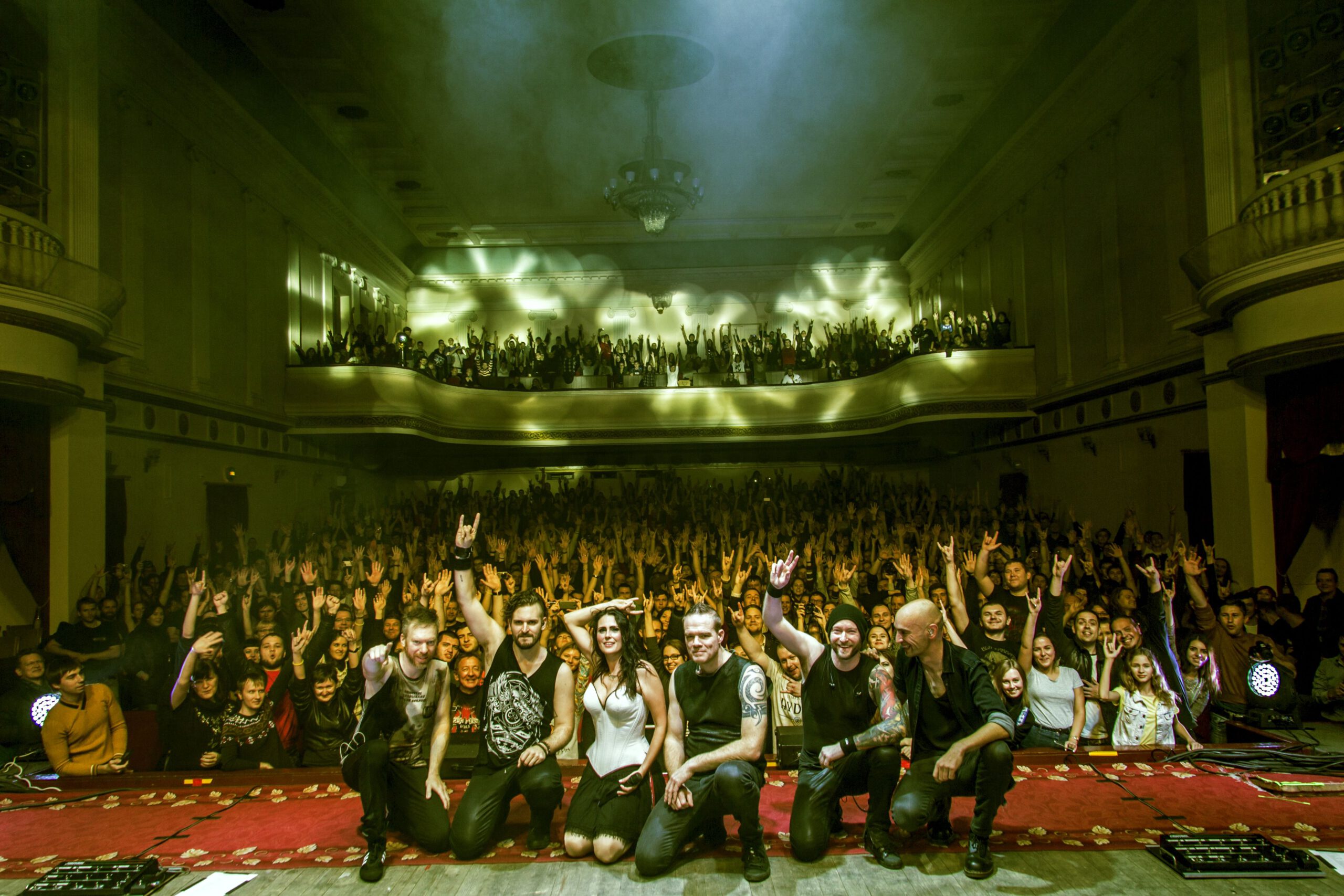 October 24th
Show; Krasnodar;
This is the first and only time we're traveling by van. It's a four hour drive and it's raining a lot. We arrived at the hotel around 3pm and lobby call was 5.30pm so I decided to chill out in my room for a bit.
The venue was an actual concerthall again instead of a theatre. We had dinner next to the stage. I had ordered soup during soundcheck already so my soup was waiting for me when I got down. Nice. The only thing missing was a spoon. And that literally took 20 minutes!!! The main dish came pretty late as well. Martijn's steak arrived eight minutes before showtime so he passed that on to tourmanager Piet. The crowd on the other hand was really terrific. After the gig we all had some sushi in the venue and later some beers and whiskey in the hotel bar.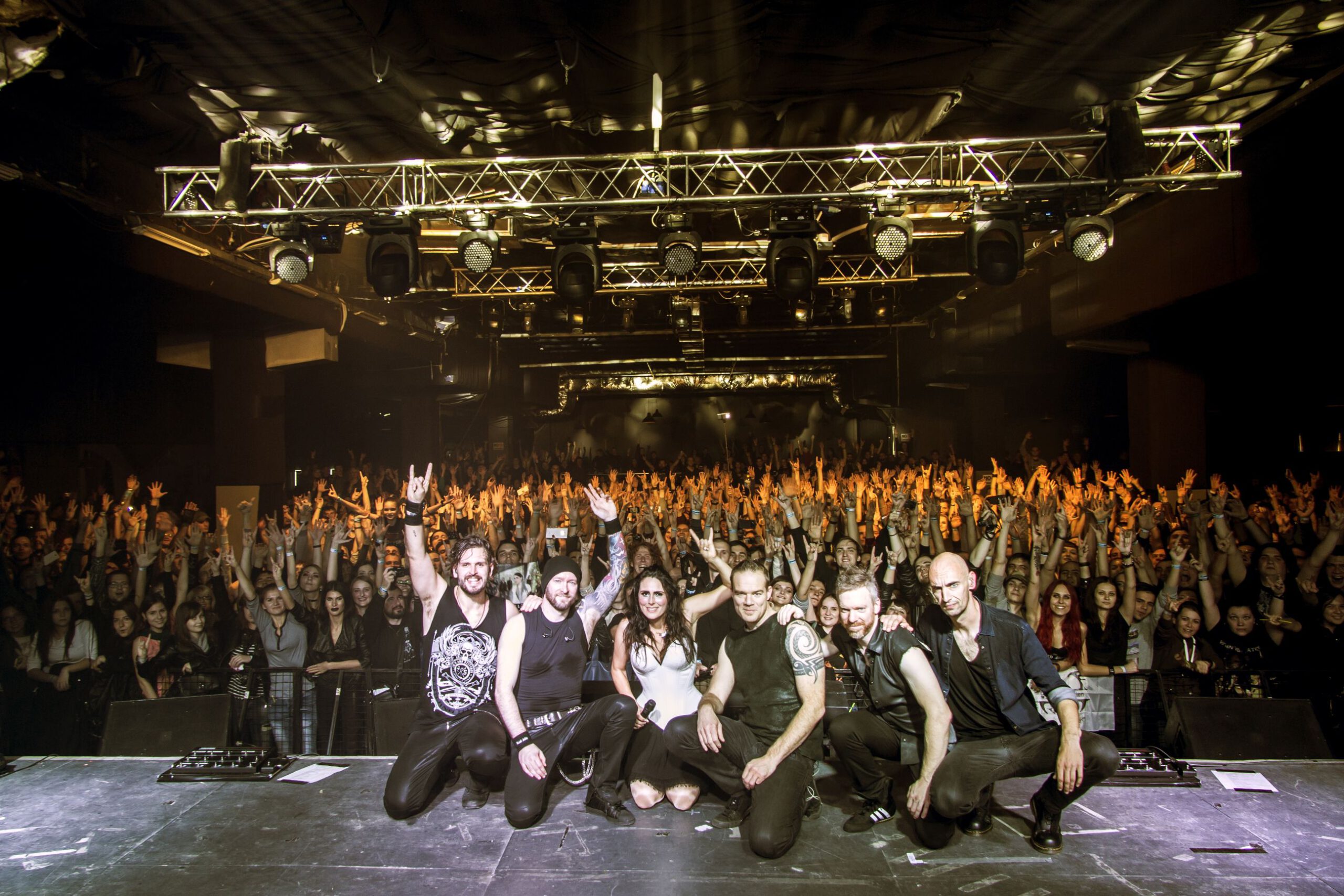 October 25th
Travel day to Minsk, Belarus;
Again a full day of travelling from Krasnodar to Minsk and again with a layover in Moscow. Yes, I know that airport like the inside of my pocket by now. We arrived around 9pm in the hotel and most of us went down immediately for a drink. It was Gene's (video-tech) 39th birthday. The hotel had arranged a cake for him so that was really nice.
So we were having our own little party in a corner of the hotelbar. After a while a pretty big Russian fellow, who was drunk out of his skull, came up to us and started telling us a story. We let him talk for a bit out of respect but after a while we politely asked him to leave. The story didn't make any sense and his English wasn't that great. And we wanted to have nice little birthday get together by ourselves. Unfortunately he didn't want to leave. After a while monitor-engineer Bennie and Martijn (who are both pretty tall as well) got up and tried to escort him out. Still all very gently. That worked for a short while but after 5 minutes he was back again.
Jeroen's (bassplayer) birthday is on the 26th and he had invited some female friends of his to
celebrate his birthday. After a while I saw that 'Big Russian Bloke' started to talk to one of them. So I checked it out. He was still not making any sense and was repeating himself constantly. I was getting a bit fed up with it so now it was my turn to ask him to leave. (By then Mike (drummer) had decided to tell the hotel staff.) When I took him by the arm (still pretty gently) and asked him to leave he started to raise his voice, resisted and pushed me back. Things were starting to get a bit ugly and unpredictable so I decided to apply a Krav Maga trick (I've been training Krav Maga (Israelian self-defense system) for a couple of years now) called an 'educational block'. It's a very easy trick ; basically you poke two fingers in the soft part of the throat just above the collar bone. It's completely harmless but very annoying when you're the recipient. This gave me time to assess the situation; would he go crazy and attack me or would he be taken aback by that. In other words I could prepare myself for whatever happened next. Fortunately the hotel security arrived just at that moment and they took over from me. The rest of the band and crew made me sit down and relax again. It still took a long time before those three security people were able to take him away. Big Russian Bloke wanted to apologize by shaking my hand but I kept my distance. You never know what he wanted to do. Anyways, long story short; it was an interesting evening and after that my mood to party was gone so I decided to go to bed early…
October 26th
Show; Minsk, Belarus;
Since I went to bed pretty early I was up pretty early as well so I decided to go to the gym after breakfast. Always great to start the day with a workout. After my workout we were taken to a restaurant for lunch. Since Mike and Sharon read their day sheets wrong they were late so we left without them (we thought they weren't coming anymore).
We all were very much looking forward to the gig. The venue is a big ice hockey hall and we had played there one and a half year ago on the Hydra European tour. I remembered it was a great gig. Before the gig we had a meet & greet with the Belarus fanclub and they gave us a stage and puppets that represented us to scale totally made out of metal. That looked so awesome. And since it was Jeroen's birthday they gave him a really nice cake and a fishing rod (he likes fishing).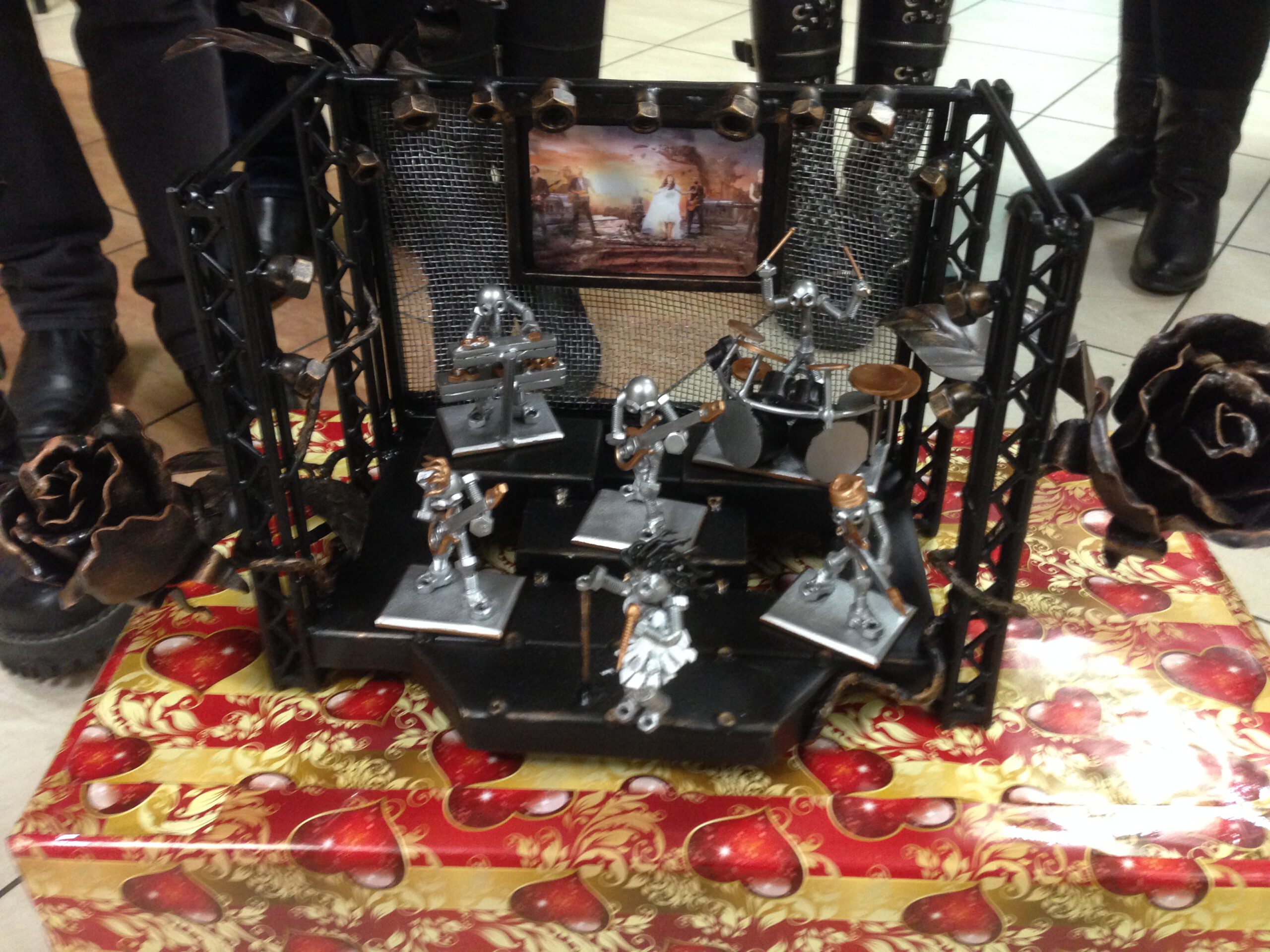 Today there would be less people than last time but there were still about 1500 people in the audience so it still looked great. So much energy! It was a great way to end this tour. And by now you probably already guessed it; yes, we went back to the hotel to have some drinks again in the hotel bar. We ate Jeroen's birthday cake and ordered some pizza and stuff.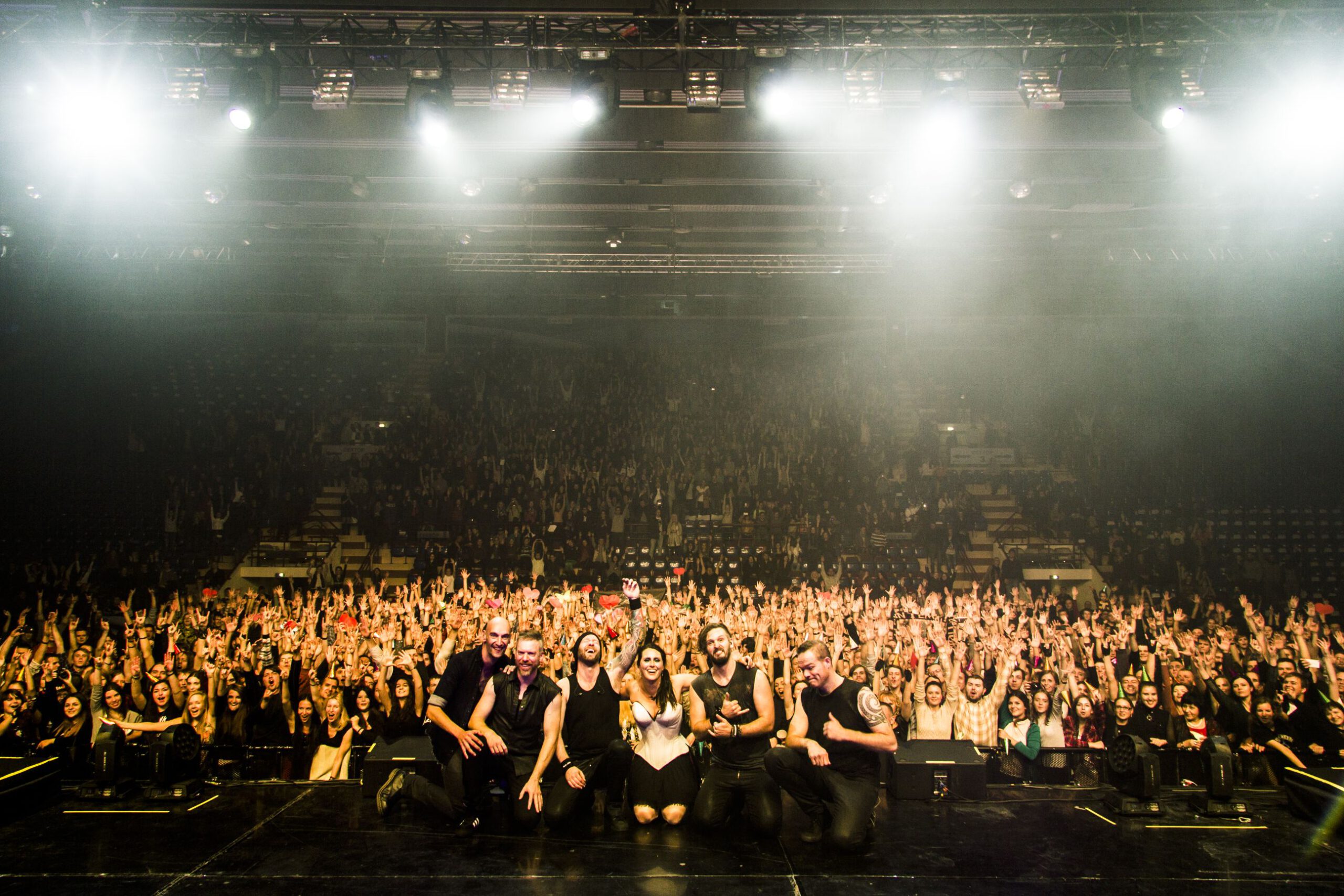 October 27th
Travel day to Amsterdam;
Right now I'm in the plane from Vienna (we had a layover there) to Amsterdam enjoying a beer. One of the things I noticed is that everywhere you go, whether it's a hotel, restaurant, venue, airport, van etc., they crank up the heating to at least 27 degrees. That's really too much. Especially when you're wearing a sweater and a thick jacket because it's cold outside. I don't see the point. Sorry, I just had to get that off my chest. Other than that I really had a blast!!! (But, as always, I'm looking forward to go home…)