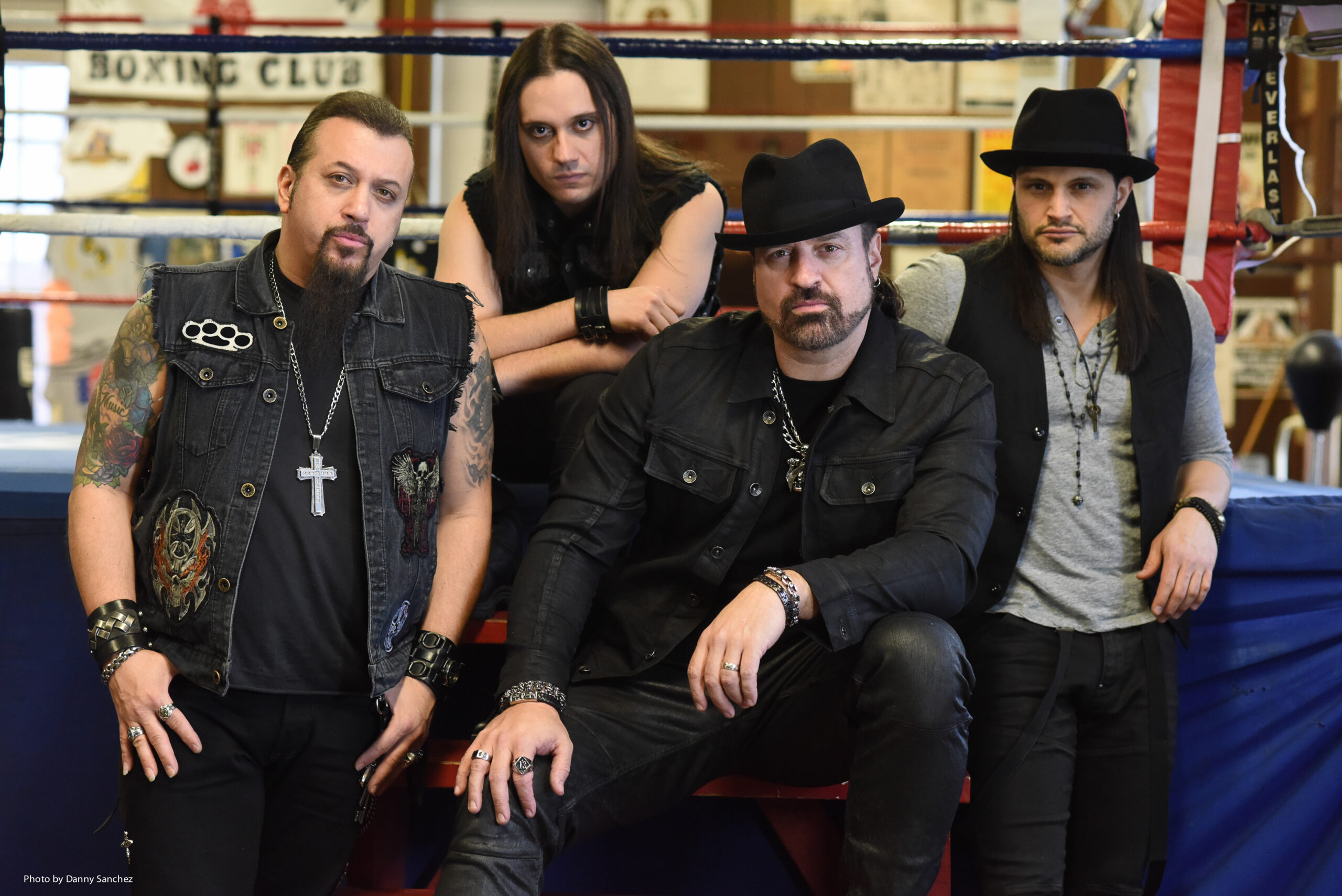 ADRENALINE MOB guitarist MIKE ORLANDO
,,I'm the adrenaline fuelled junkie of the band.''
Adrenaline Mob was founded early 2011 by Symphony X singer Russell Allen and guitarist Mike Orlando. They had their fair share of line-up changes but always knew what they wanted. Orlando talks with HeadBangers LifeStyle about the ups and downs of the Adrenaline Mob ride so far.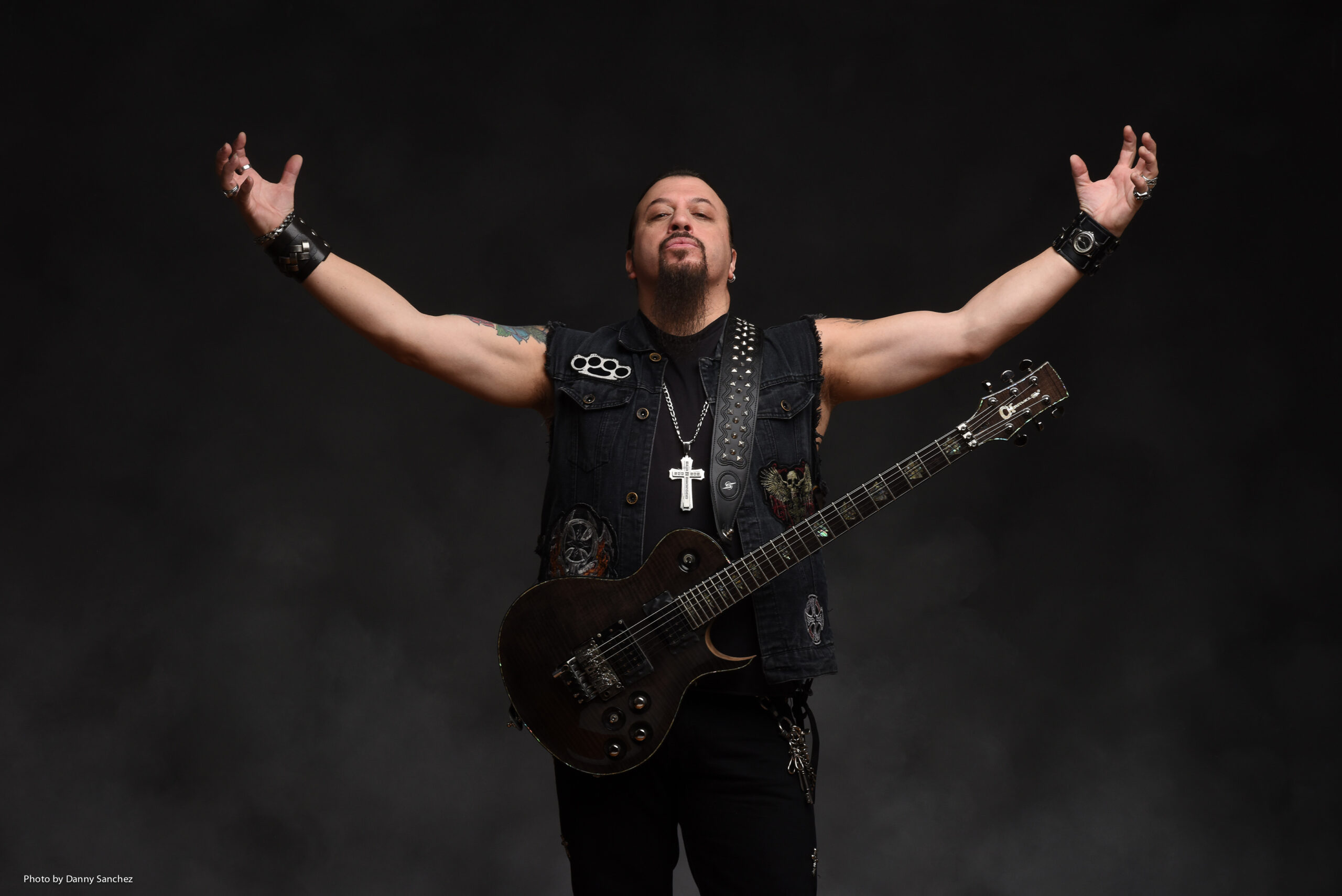 A lot has happened between the band's second album 'Men Of Honor' and the new one 'We The People'. Never thought of disbanding the group?
,,No, we had to take a break after the last tour. We had our dear friend A.J. Pero pass away on tour. That was rough, he was not only a bandmate but also one of my best friends for more than 20 years. I had to take time to decompress and take it all in and when the right time was there we would continue, which we did.''

What was the original plan when you started the band with Russell in 2011?
,,Me and Russ had been working on stuff together for a few years before I even approached him with Adrenaline Mob. Nothing short of my love for this style of music, and to create something amazing, was the spark. He's an amazing singer and we have a great writing chemistry together. We really had the drive to get it going. Once I had approached him in 2011 with a bunch of the tracks and he laid down his vocals on them it was like wow, this is killer.''

You started with Russell and then you had to find the other musicians. How did you pick them?
,,Yeah, we brought in Mike Portnoy on drums. Easy choice, one of the greatest drummers on the planet and we were thrilled to death that that line-up was going well and from there on we had a few changes here and there but that's basically what started the Adrenaline Mob train rollin'.''

It has always been a coming and going of members. How did this influence the chemistry in the band?
,,Well, the 'Omertá' line up was myself and Russell and Mike and bassist John Moyer. We did not only record the debut album with that line-up, we did the 'Covertà'-EP as well, so we did two albums. Obviously we have split ways with Mike with schedule conflicts and stuff and we wanted to keep going so we brought my dear friend AJ Pero into the vault and kept rollin' with Eric Lindhart on bass. It's tough when you have guys who have other scheduling conflicts and you have to figure it out. That's basically what went on. I don't consider the new drummer another replacement being that A.J. unfortunately passed away or he would have been with us. That being said, we had a couple of changes but we couldn't be more excited about the new line up.''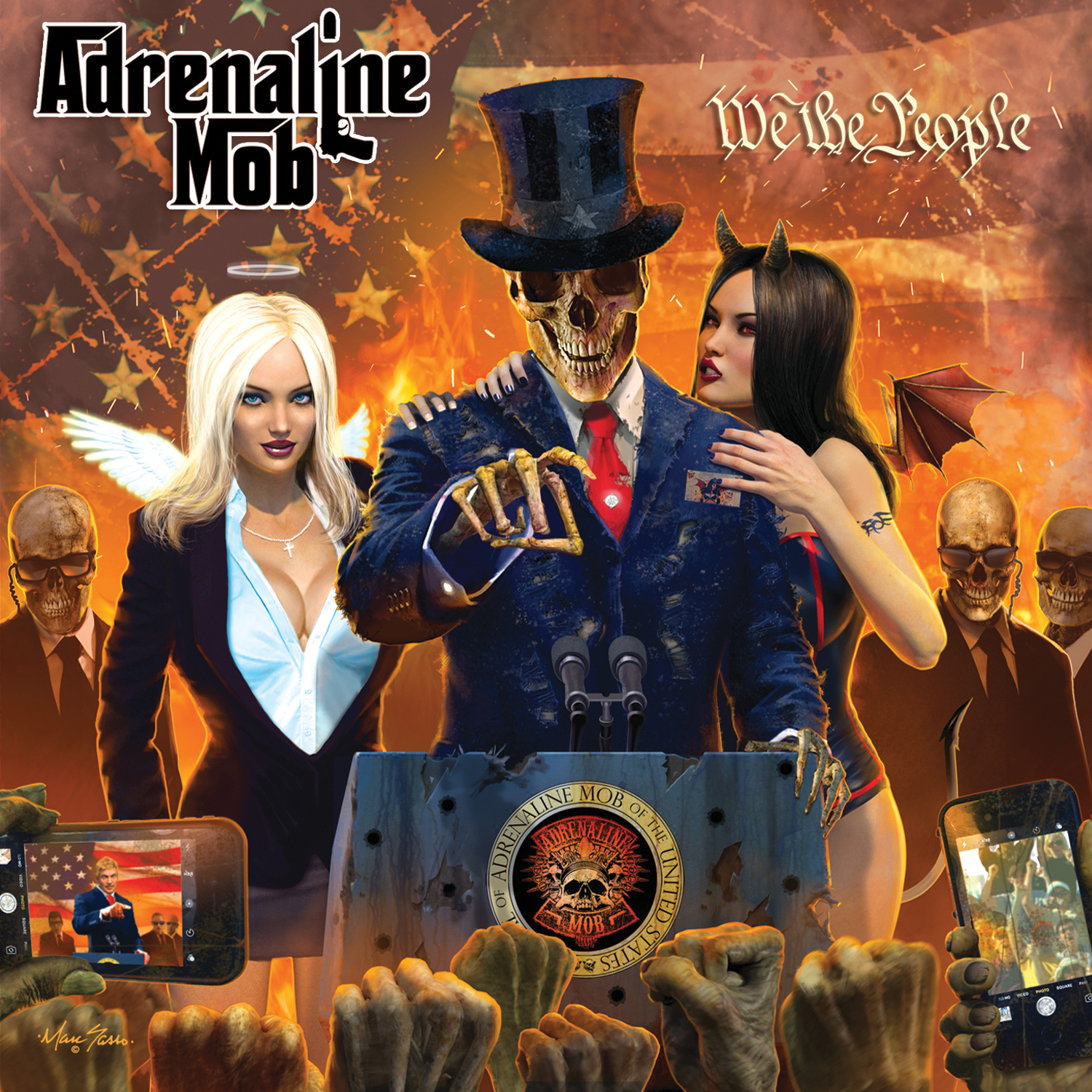 How did the writing for 'We The People' go?
,,We put a lot into the production of it. Production and composition wise it's always the same. I do all the music and get everything written as far as possible, then Russ and I get together and we work on vocals and lyrics, that has always been the composition part of it. The new drummer Jordan Cannata is absolutely incredible. He came down and kicked the crap out of these songs, haha.''

When you start working is it always from scratch?
,,Usually I'll sit myself into my studio for a couple of months, start working on old/new ideas. It starts with all the music, drums, bass en guitar parts and I pretty much record everything and get it to a production level where Russ and I can work on the lyrics and the vocals and melodies together. I lay down some vocal ideas that I have and some lyrical content but once me and Russ come together that's the team of vocal production and lyrics. It's always been that way. I had some ideas from previous albums, specifically ,,Bleeding Hands'', a track that I've worked on for 'Men Of Honor' but I only completed it with this album. And ,,Lords Of Thunder'', a track Russ and I did way back but never wanted to release until the time was right. That was one of our babies.''

You have your own studio, Sonic Stomp. Does producing in your own studio make life easier because there is less pressure and it's always available?
,,Sure, without a doubt. It's all I have ever known. I record everything in my Sonic Stomp studio. I like the laid back, comfortable atmosphere which is what you want.''

Was it an easy process? The situation had changed, not so much between you and Russell but the world around you had changed?
,,It's funny. The first track I had written for this new album was a track called ,,Blind Leading The Blind''. It started with lyrics and everything. It was basically the climate of what is out there in our world today, the title tells it all.''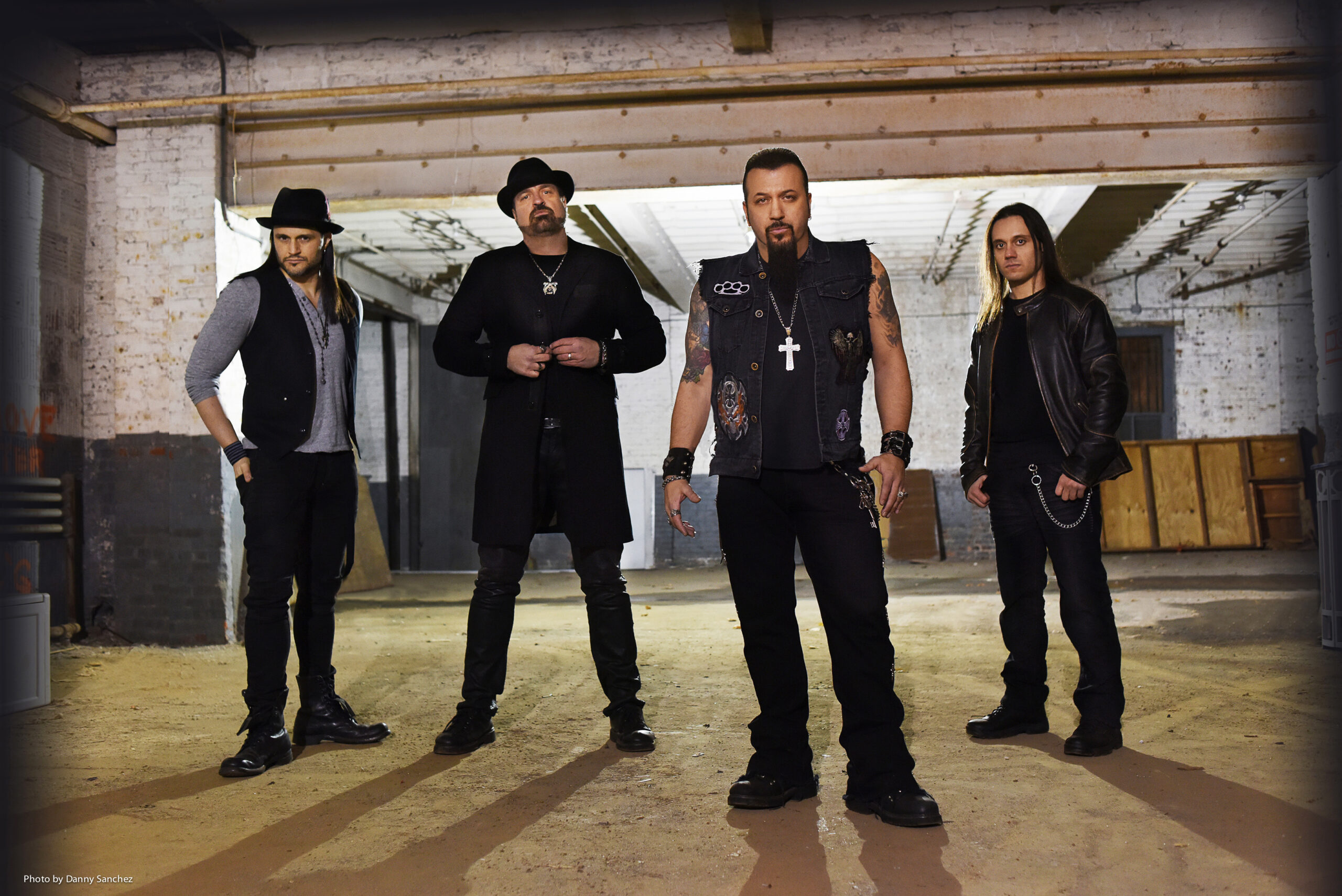 Is there something like an overall theme on 'We The People'?
,,There are 3 or 4 tracks that are politically charged, there's no doubt. The way of the world is a little upside down; you can't help but write about it. We don't take sites. I tell a story about what we see.''

What are the ingredients for a good song?
,,For Adrenaline Mob it's got to get the listener groovin', it's got to have a good hop to it. A good amount of power, intensity but at the end of the day it's all about the song. Especially on this album we wanted something more involved to say so there are topics about politics, drug addiction, some retrospective topics about life in general. We try to keep it interesting so it must be hoppin' and groovin'.''

When did you personally knew that you wanted to become a musician?
,,Man, back when I was 8 years old. My dad started teaching me and once I heard a guitar it was just all I wanted.''

What sparked your interest in music?
,,Les Paul! My father always played me Les Paul and Mary Ford albums and it was so intense and he was so clean and fast and these were the fifties. It blew me away and I always wanted to be like Les Paul. And then, once I heard Eddie van Halen and Randy Rhoads it was game over, rock 'n' roll.''

What would you have become if not a musician?
,,Probably still something in the musical field. Because when I'm not playing guitar I'm in my studio mixing for people, producing, so when the guitar is not actually in the hand I can be found behind the console. So I would still be involved in music.''

What is the last thing you do before you go on stage?
,,There are a couple of things. I'd like to sit and play and warm up just like every guitar player. You have your warm up ritual. Plus every time since day one, me and Russ and the guys will get together in a circle, put our hands in and say some good words, encouraging and scream out A M O B and get on stage.''

Is there a special item you have to take with you?
,,We have an Adrenaline Mob bat with us, which Russell uses to hit shirts out every night, that's always with us. It's funny, it's cool to grab on to it before stage rituals.''

What is the ultimate kick of being on stage?
,,I couldn't even begin to tell you all the things I love. The interaction, seeing people's faces enjoying themselves, the excitement, the feel of the power of the music, the whole aspect of a live show. Listening to an album is wonderful and I love it but I live for music, it's the background of my life, it is always there, 24/7 but there is something about a show that brings music completely to live, it's just that pure adrenaline. Adrenaline Mob is called that for a reason. I call myself an adrenaline fuelled junkie. I've been a race car driver, I raced motorcycles and dirt bikes so I'm the adrenaline fuelled junkie of the band.''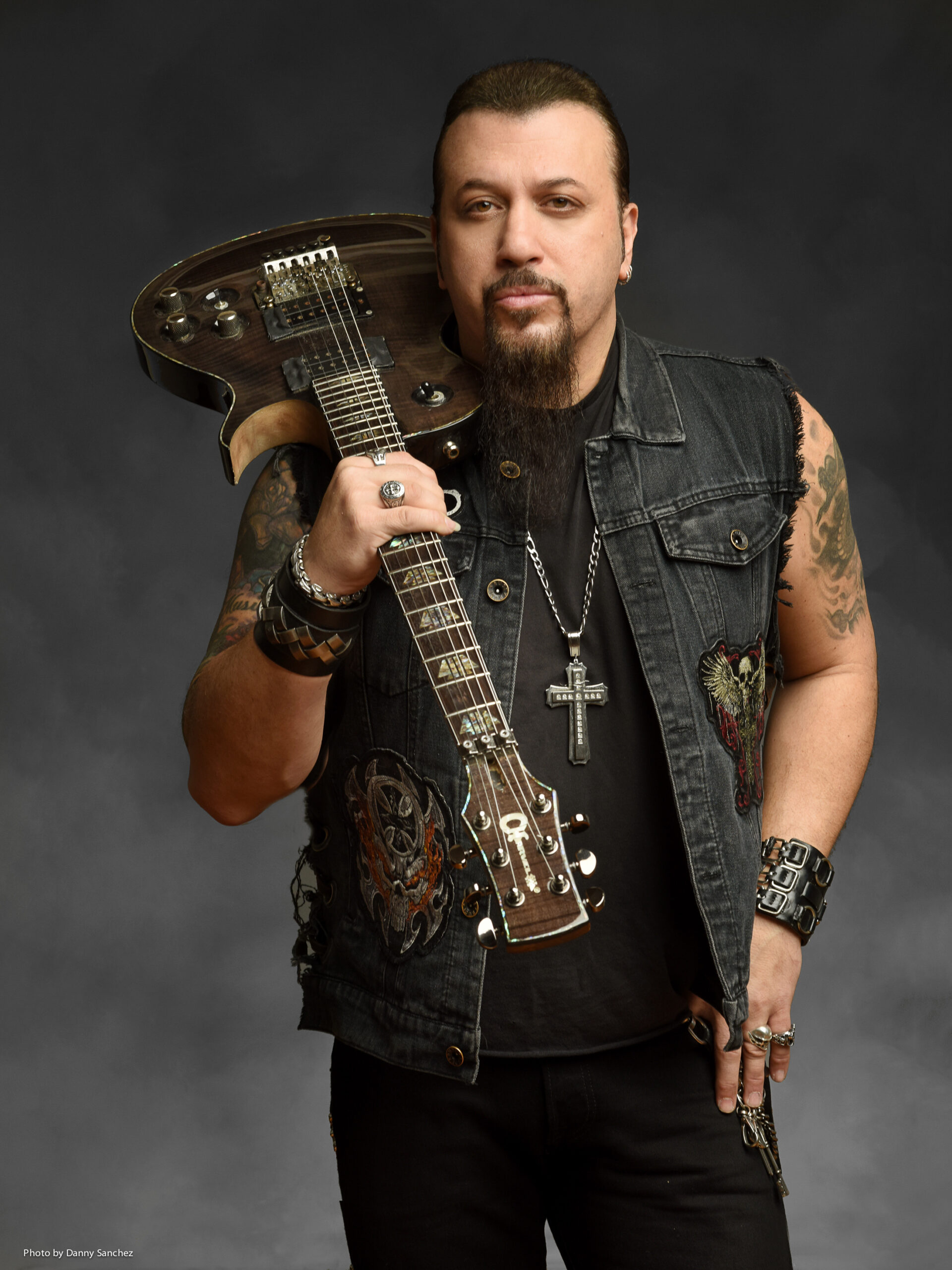 Is there a difference between you on stage and off stage?
,,I'm definitely more quiet off stage, without a doubt. Once I grab the guitar and I get on stage I'm always having a good time. You'll see me smiling from ear to ear during the whole show because I'm having a great time and that stays on when I'm off stage.''

What advice would you give to kids who want to become a professional musician as well?
,,Don't stop! Sometimes it takes a long time to get there. Strength and determination is such a key in getting somewhere in this industry. Always try to be the best and if you're honest, put honesty in your music, people will get it.''

There are a lot of touring plans. A US Summer Tour, the second leg in the fall and Europe at the beginning of 2018.
Is touring a necessity to keep a band alive?
,,Without a doubt. You can never stream, download or take away the experience of a live show that's why we always will play live. Go support the band, go see them live that's the biggest best thing you can do for your favourite band or musicians or just to support music in general.''
—
Follow Adrenaline Mob on Facebook

.