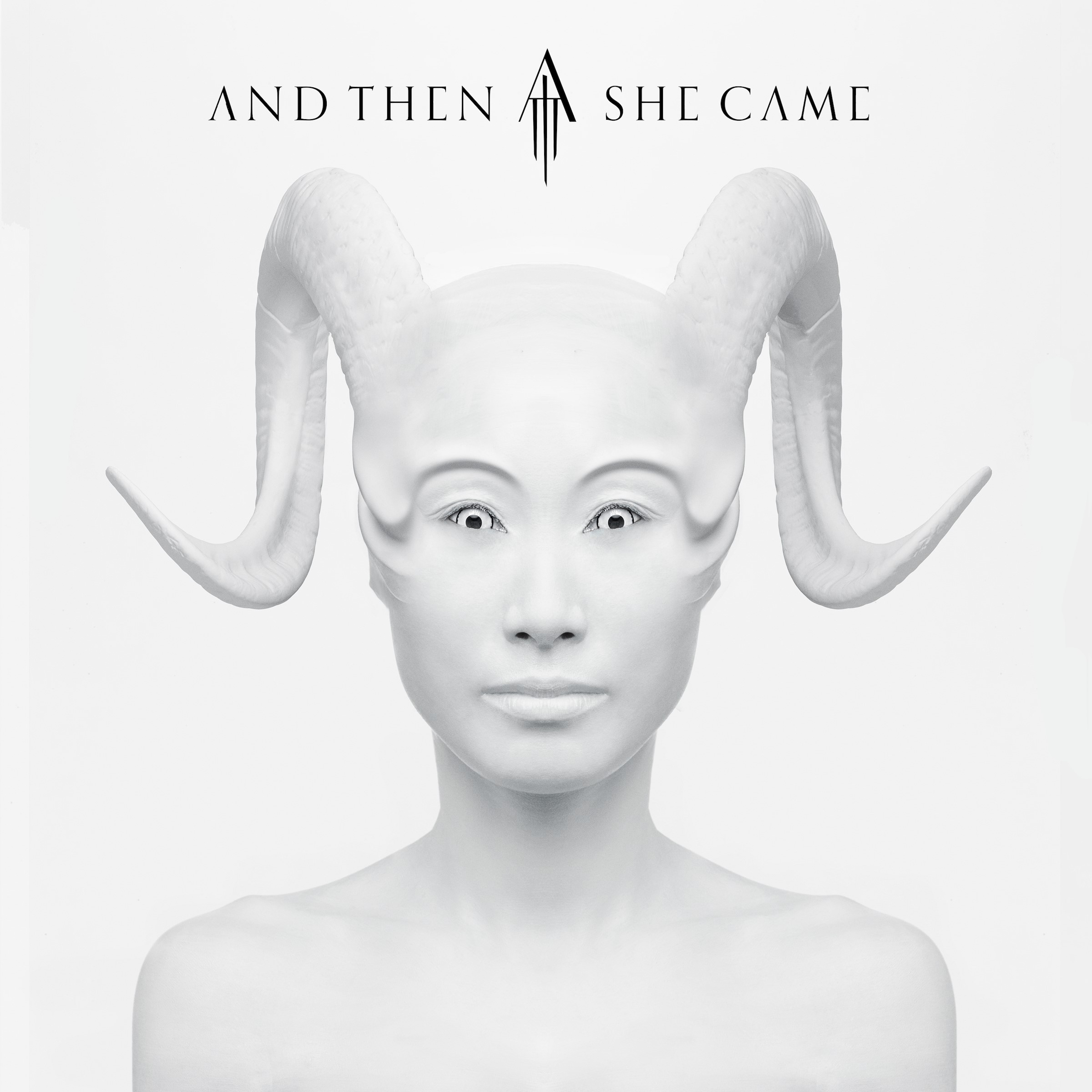 AND THEN SHE CAME
The re-birth of Krypteria
On June 24th 2016 the German-Korean four-piece And Then She Came will release their debut album `And Then She Came', an energetic, powerful and hybrid sounding rock album that will be appealing to many of you out there for sure. I guess hearing this band's name probably doesn't ring a bell but when I mention this four-piece once formed the band Krypteria, I am pretty sure it does. Kryptera, fronted by lead singer Ji-In Cho, has been an established band in the gothic/metal scene for many years, formed somewhere late 2004, and released six successful albums, toured the world and was known for an energetic live performance. Therefor it was a big surprise for the gothic/metal scene when Krypteria announced to take a break indefinitely in early summer 2012. But the pause is over because Ji-In Cho and her guys, guitarist Olli Singer, bass player Frank Stumvoll and drummer S.C. Kuschnerus, are back in business with their brand new, strong band And Then She Came. Confused? HeadBangers LifeStyle talks to Ji-In and Kuschnerus to clarify the situation.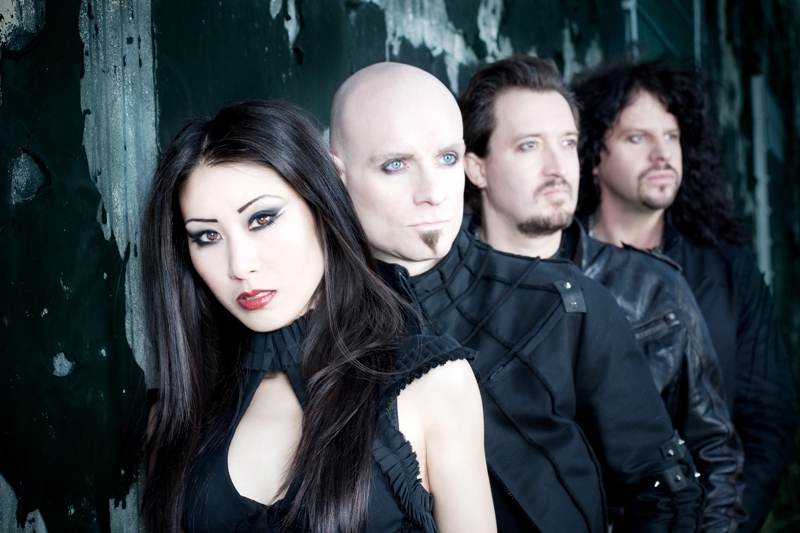 First of all how does it feel to be back in business?
Ji-In: ,,Exciting! I have become a mother a while ago and that means a totally different life [laughing]. So now to be back and to work with my guys again, that is just amazing. It wasn't planned at all, but here we are. Preparing this album, writing and recording the songs was great and exciting and so much fun to do, but now we need to go out in the open. We need to hear from other people what they think of our music, our new album. Yeah, everything is so thrilling!''

If you look at the line-up of And Then She Came we can conclude it is in fact a re-formation of your old band Krypteria. Why didn't you continue as Krypteria?
K: ,,Like Ji-In said, we didn't expect this to become a real band. Our bass player Frank [Stumvoll] was asked to do a soundtrack for a German-American movie production [`Bad Trip']. Frank called us to help him, since we are still very good friends, and so we started working together on that project. New ideas came in and it felt so comfortable working as a band again. It didn't take too long for us to realise this could be our new rock band. We decided to go for it and we never looked back, because continuing as Krypteria would have hold us back during the creative process. This was a totally fresh start for us. We had a white canvas and we could try whatever we wanted without chasing a specific sound or genre that people might expect from us. As a complete new band we had all the flexibility making And Then She Came a new full act. Everything we did on this record felt natural and organic to us. All of us can't wait to get back on stage because it just feels right!''

What is the musical difference between Krypteria and And Then She Came?
Ji-In: ,,We are definitely more rock sounding then we were with Krypteria, so I would describe the music of And Then She Came as modern rock. We don't use any backing choirs and all, like we did with Krypteria. Besides the usual suspect of guitar, bass, drums and vocals we have incorporated many electronic elements. It was like a new playground for us and we had unbelievable fun doing it. We just had one rule, which was not having any rules. This was a new experience and it was very refreshing.''
K: ,,Indeed, we have a lot more electronic elements on this record than we used to have with our previous band but still we feel that this album is a lot more organic than anything we did before. We wanted to make sure `And Then She Came' sounds raw, rough, fresh and not artificial.''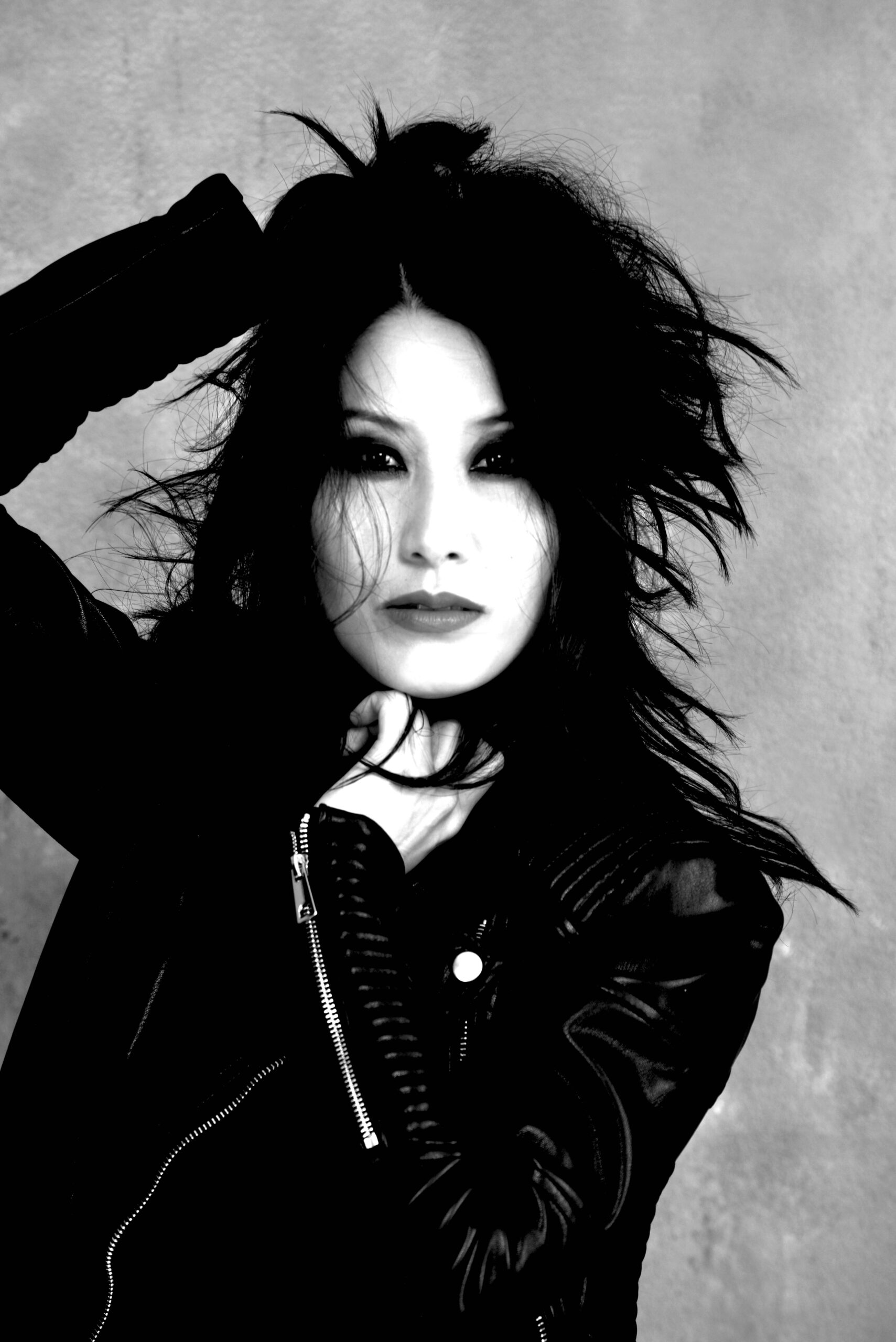 Are you a different singer with And Then She Came?
Ji-In: ,,If I think about it in a technical way, I think I sing less classical with And Then She Came. But during the creative process I didn't think about it because the music and the lyrics just made me perform and to let out everything I had inside myself.''
K: ,,I would call it a little bit more primal than what Ji-In used to do before. And another thing is Ji-In hasn't sung in English, German, French and Spanish in one song before, like she does now in ,,Public Enemy #1''.The idea behind this song is the fact how destructive it can be if people, for instance in the media, just repeat what other people say without even checking the facts. This wildfire can turn into an avalanche of hatred and it can ruin a person's life, while this person hasn't done anything. And to make sure the gravity of it all, we wanted to incorporate these four different languages.''

Arch Enemy singer Alissa White-Gluz features in the opening track ,,Five Billion Lies'' and Evanescence guitarist Jen Majura is joining ,,Spit It Out''. How did these girls end up on your album?
K.: We know Alissa for a couple of years now, since we did several tours together. I really appreciate her, both as a performer and as a person and with us as a band trying to have a little bit of a rough edge we thought it would be great if Alissa would guest star on the album. We gave it a shot and it didn't even take her a minute to say: ,,All right let's do it! I am up for it.'' It means a lot to us to have her do that, she is a wonderful performer and a wonderful human being.''
Ji-In: ,,I know Jen Majura for over ten years now and I love her professional confidence. She is very kind and uncomplicated and we just asked her and glad fully she said yes. So now we have two fantastic women on our album, we can't have enough!''

Which song is the most personal one on the album?
Ji-In: ,,I am very proud of the song ,,Spit It Out'' because in one part you can hear my parents sing a Korean lullaby. I am so glad and so thankful to have them in this song. It is very emotional when I hear them, even though this part of the song sounds a bit scary.''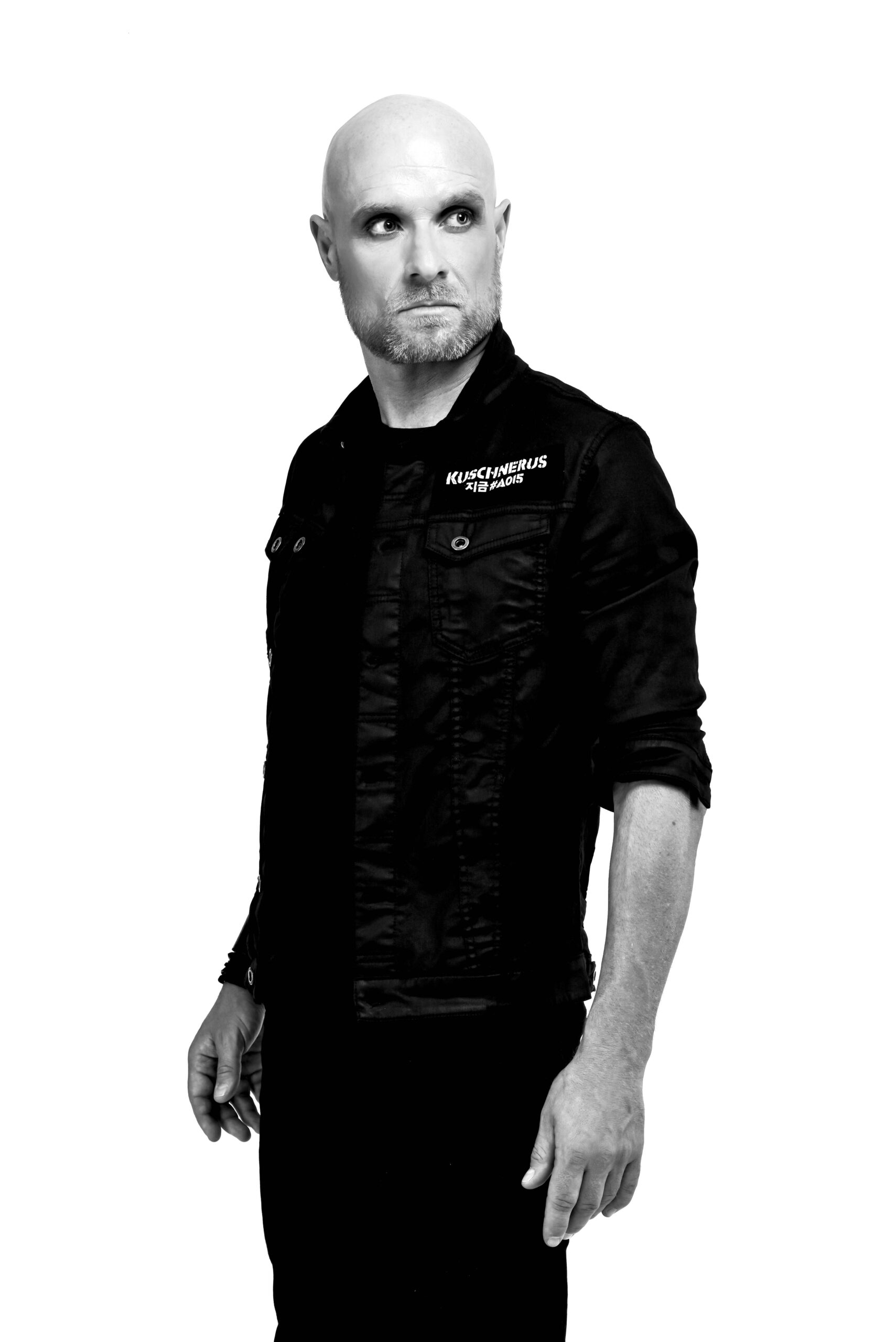 Why did you choose ,,Hellfire Halo'' to be the first single and to be the introduction of And Then She Came?
K: ,,We are trying to have a very unusual approach this time. A few weeks ago nobody even knew that this band exists. We kept it a little secret so we could surprise everybody. You don't surprise people by knocking on their door and kindly ask if it is okay for you to come in, no you just kick in the door. For that reason we wanted to take a song that has a lot of raw energy and a good punch to it to introduce ourselves. ,,Hellfire Halo'' fits the bill.''

Are you nervous about certain expectations the Krypteria fans might have?
Ji-In: ,,I am very nervous [laughing], but this is what we do now and we cannot pretend something else. If people don't like it, well that is fair enough but hopefully we can get to them and convince them we have a lot of fun with our music and I hope they will have fun with it too.''

What are you most excited about in general with this new band?
Ji-In: ,,To get on stage. Really, we can't wait to go out to see, to hear and to feel the reaction of the audience when they get to see us and to hear and to know our songs. It is so exciting. I just can't wait to go on stage with these guys.''
K: ,,It is really great to have this new band. Everybody who wants to see us gets to see us. Normally when you first start with a band you don't have a perspective, it just happened. We are not exactly 22 years old anymore but we get the experience of a new band, and it feels very exciting and it is a very intense experience for us. We don't know what others will think of the album but the four of us love this album so much we can't wait to play live. You can't take something like this for granted, it happens or it doesn't happen. And in this case it worked and that is why we are so excited, we want to soak everything in that happens right now. You only release one first album and after that it won't ever be like that again.''
Ji-In: ,,Yeah, we may not be in our twenties anymore but I really feel like a teenager again.''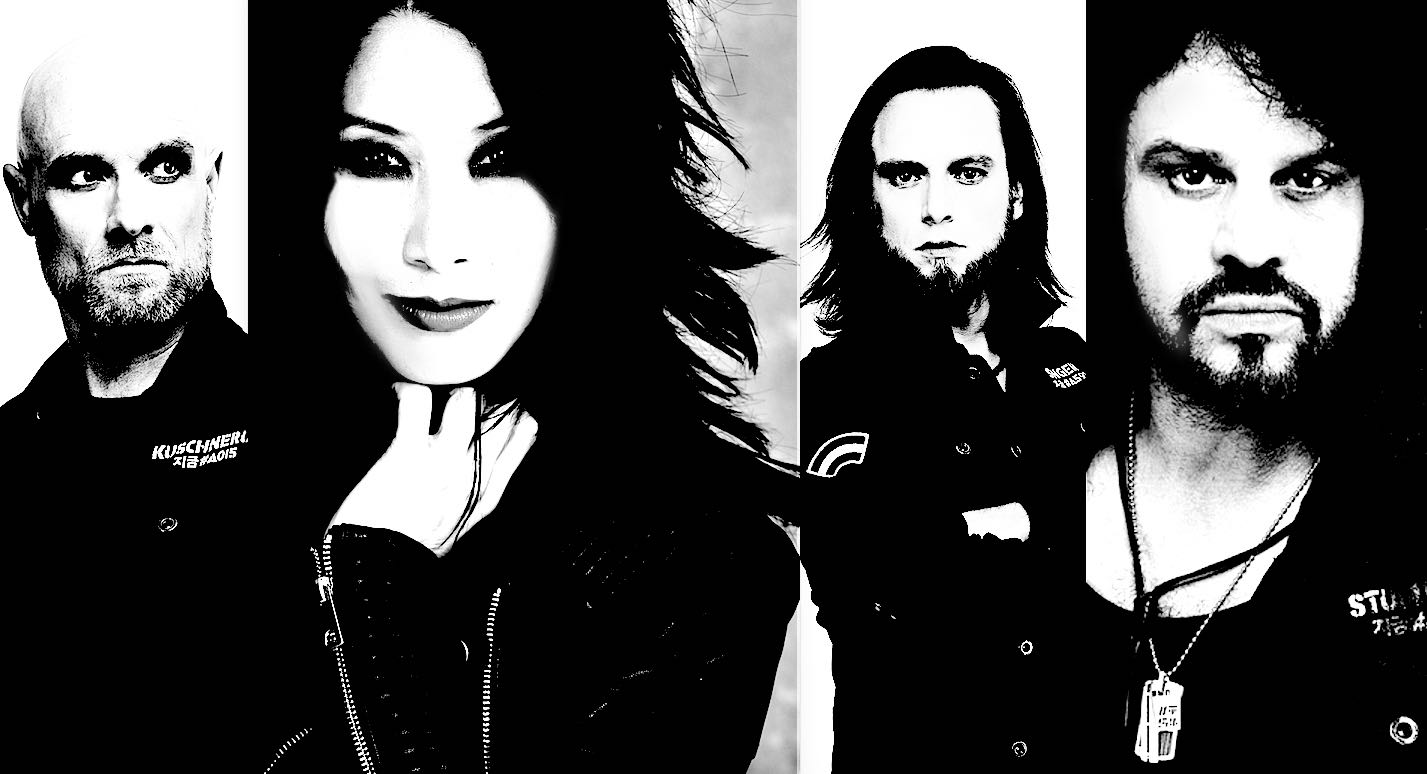 Having so much experience already as musicians is it easy for you to be smart thinking and acting with And Then She Came?
K: ,,We gathered a lot of experience, good and bad over the years and for us as a new band this is a really comfortable position. Plus you normally don't get Alissa White-Gluz or Jen Majura that easy as guest performers on your debut album. We have been part of this community for a long time now and that makes many things a lot easier. You know who to ask if you have a question and you are not out there on your own. We also made the conscious decision to not file on to a record label but to take matters into our own hands. Not because we think record labels are bad because we had wonderful experiences in the past, but with And Then She Came we wanted to have the freedom and the flexibility to do whatever we want to do as a band. An opportunity is there for a second and we just took it.''
—
Follow And Then She Came on Facebook and visit the website.