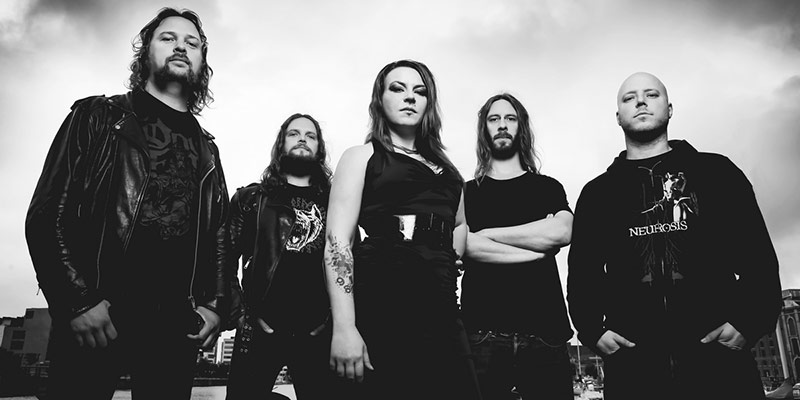 BLIKSEM
A Heavy Metal Lightning from Belgium
It all started back in 2010 when Belgium thrash metal band Bliksem released a self-titled five-track EP. The songs made an impact in the metal scene and the band quickly established a strong live reputation by doing tons of gigs and appearances on festivals. The acquired live experience was captured on their well-received debut `Face The Evil', released in 2013, putting the band higher up the ladder of success. Now, two years later they managed to surprise again with the follow up album that goes by the name `Gruesome Masterpiece' on which Bliksem is exploring the boundaries of heavy music and stroke the German metal-rock charts in a blink of an eye. HBLS talks with The Voice of Bliksem: Peggy Meeussen.
In terms of attitude, ambition and musical bottom line: what is the motto and band spirit of Bliksem?
,,I guess the sky is the limit. We are a five piece collective, we all have different musical backgrounds and tastes in music, but a strong drive to create songs that we like. That's why our new album is so eclectic, I think, even though each track still has a typical Bliksem sound. We never set off to write a certain kind of music or song, things just happen naturally, we don't like to be bound by a certain kind of (sub)genre.''
What makes your new cd `Gruesome Masterpiece' for you a real masterpiece?
,,Wow, talk about an easy question (smiles). The fact that we made the album we wanted to make, and not the one that people expected from us. I love that I got the freedom to experiment with different kinds of singing and that the album is so varied.''
What was the hardest part of making the album?
,,The fact that we are a democratic band makes the writing process a bit difficult, sometimes. We all have strong opinions about how things should sound, or how we want things to be done. And even though I think this is one of our greatest strengths, it can also lead to fiery discussions and a lot of grey hairs.''
The album already hit the German metal-rock-charts. Bliksem is surrounded by big names like Ghost, Fear Factory, Bullet For My Valentine and Soilwork. The reviews in general are overall very positive. Did you see that one coming? And what is your reaction on this success?
,,Well, I would be lying if I said that I didn't think we would get some good responses to the album, I knew we did a great job. But this being in the charts and all exceeded my wildest expectations. Especially when, as you mentioned, your album comes out in the same month a number of big bands are releasing an album as well. At this point I just feel really blessed to see that a lot of people are liking our music.'' How do you feel about the focus on and high expectations of the ballad ,,Out Of The Darkness''?
,,It's kind of exciting. I love the song, but it is very different from everything people know or expect from us. It also was one of the hardest songs to write. I think it was the first time that the guys told me that they didn't like some lyrics I wrote. So I had to change them… twice. Thank God for Martin (Furia, our sound guy/producer). When everything else was recorded, ,,Out Of The Darkness'' was still unfinished. So we wrote it together in the studio and something magical happened. I'm very proud of our achievement, but again, it is a very different kind of song as opposed to, well, everything else we ever did.''

All the lyrics seem to be very personal. Is it easier to write your demons on paper then to talk about it?
,,I think that most people who write lyrics tend to draw inspiration out of their own life or experiences. It's the same with me. And even though not all the lyrics are personal, they all have to do with the darker side of the human psyche. It's just something that fascinates me and therefore makes it easy to write about. The reason that there are a few more personal lyrics on this album, is that I wrote them at a time when I was dealing with some issues. So writing this album was kind of therapeutic for me.''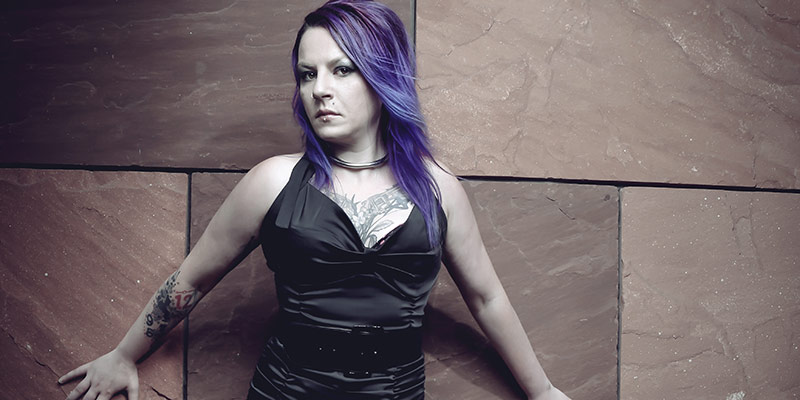 Photo's by Tim Tronckoe
When did you realise you are an artist and a lyricist?
,,Well, I never did before you asked me this question (smiles). Writing my own lyrics is something that happened naturally. It just made more sense that I would be the one to decide what I would sing about.''
What is your trademark as an artist?
,,I think I have a distinctive voice, I do not try to copy others, even though I do have my influences and idols, I never wanted to sound like somebody else. And of course I get compared to other singers, people sometimes need to put a label on your "sound".''
How far will you go for having success?
,,As far as I need to, without compromising my integrity or believes. I don't mind working hard to get our music out into the world, but not at any cost.'' —
View the official videoclip of ,,Twist The Knife'' taken from the new album `Gruesome Masterpiece' here:



View Bliksem's website or Facebook for info and live performances.