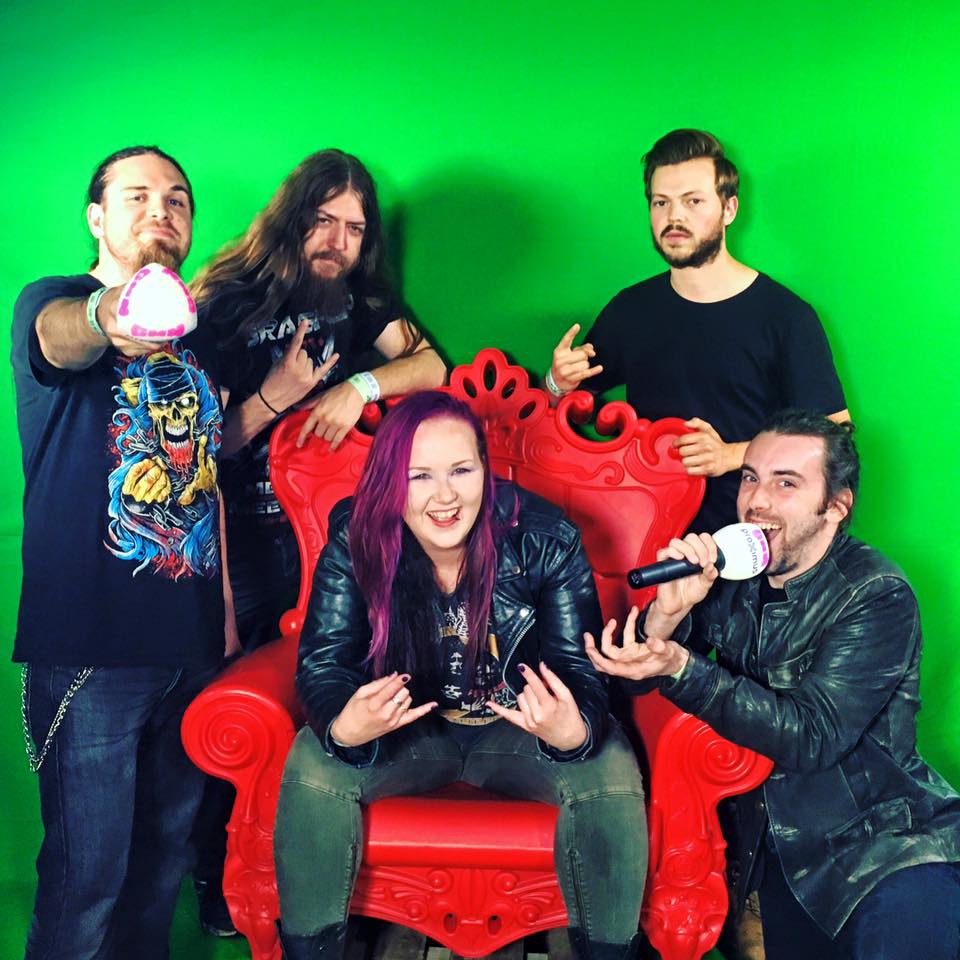 COLLIBUS
UNSIGNED TALENT FROM THE UK
`Do It Yourself' (DIY) became a new trend in the music industry, but in fact it is a necessity for bands to be able to put out their music since getting a record deal is a utopia these days. But then again with the access of social media it is much easier for a band to reach an audience or to be noticed at all by the public eye than in the early days. It also reveals how much amazing talent is out there today and one band that sticks out, having a lot of potential is Collibus, a five-piece-female-fronted progressive metal band, hailing from Manchester UK. After playing around for several years they released their debut `The False Awakening' early 2014 on which Gemma Fox shows to be a real strong and convincing singer. Collibus got in the saddle with good songs, built on heavy riffs and smart arrangements and got themselves playing on several important festivals. Queen guitarist Brian May became a huge fan of Collibus and while the band is now working on a full-length follow up album, in the meantime the release of a brand new four-track EP, has to keep the buzz going. HeadBangers LifeStyle met up with Gemma Fox for an introduction.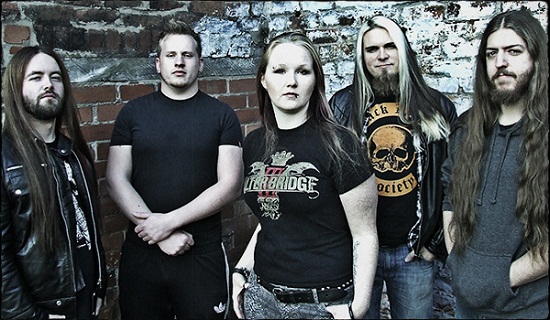 How and when did your adventure with Collibus start?
,,Before I joined, Collibus wasn't a serious band, actually they were more like a college project. But at one point they wanted to kick it up a notch and that's when I joined the band in 2009. Because my voice was very different from the guy that used to be the singer, we changed the sound of the band. I have been in a few bands before myself but nothing major, nothing serious too. Now here we are with Collibus. We have been gigging around, mostly in the UK and in 2014 we released our debut album `The False Awakening'. After that we played some big festivals like Graspop Metal Meeting, Download Festival, Sonisphere Festival, Wacken Open Air and Bloodstock Open Air and it is been going good since then.''

What makes Collibus different from all the other female fronted metal bands out there?
,,I guess my voice makes us a bit different. I don't have that feminine, kind of operatic style of singing. I am more of a rough singer, singing with balls and I really go for it. One of the singers I have been compared to is Lzzy Hale of Halestorm. I guess there could have been worse people to be compared with, you know! [laughing]. But it also often happens when people hear a Collibus song they first think I am a man. It takes a while before they realize I am a woman. I don't know if that makes us different [laughing]. But I see it as a compliment and I don't mind, because I am actually more like one of the guys type of girl. Wearing boots, leather and jeans, I am not so much into girly stuff. On and off stage, I kind of look the same.''

Collibus just released a four-track EP single called `The Last Time'. What can you tell us about this release?
,,Normally Stephen Platt, our lead guitarist, writes all the music for Collibus but this song ,,The Last Time'' I wrote. Actually it was meant for one of my other bands, DamageScape, which is more of a rock band, but when Stephen got a hold on ,,The Last Time'' it became a Collibus song. It has got one of those big choruses that stick in your head. When I wrote the music I got the melody instantly in my head and it was stuck there so when I recorded it, it blossomed. It is a good track and I am quite proud of it. We also made a video clip, it is on You Tube and already has quite some hits. There are three acoustic bonus tracks on this EP as well; ,,The Fallen'', ,,Break The Silence'' and ,,Leave It All Behind''. These are songs from our first album but we obviously turned them into acoustic songs. They got a whole different feeling and dynamic now and that was good to do. You hear a different and much softer side of my voice in these songs. We recorded them in Metropolis Studios in London, a really great experience too. I got to use the grand piano that Freddie Mercury used to play when he was there. That was touching, so we had to use this piano on all the songs [laughing].''




So far Collibus albums are `Do It Yourself' releases. Is that a conscious decision or is it just difficult to get a record deal?
,,Well, if something comes along sure, but right now we are doing okay by doing things on our own. We have a manager and he is really good in what he does. He got us on all the big festivals in 2014 and we also did a small tour with The Winery Dogs. Mike Portnoy and Dream Theater are definitely one of our musical influences so it was great to watch Portnoy drumming and Billy Sheehan was lovely too. Only Richie Kotzen couldn't remember who we were [laughing]. Every day he was like: Who are you guys? [laughing]. But for us as an unknown band doing all the important gigs was a big step and I am proud on that. But then again, if somebody wants to pick us up that is something to consider, isn't it?''

You got great response from the press and also musicians like Luke Appleton (Iced Earth), Brian May (Queen) have complimented Collibus in public. Did that help the band?
,,Yeah, Brian May actually became a fan of us and that is a little surreal. Our manager runs a competition in the UK called `Rock The House' which is all about raising awareness for stealing music. The message is: Don't Do It! Brian May came along, he introduced us on stage and he loved us. I didn't have stage fright, but I was just so very nervous, I was gonna cry because I am such a big Queen fan. Brian is my hero, but he was really lovely to me and he made me feel better.''

What do you do when you have stage fright?
,,I just go on stage and go for it. But a glass of wine or a beer always helps [laughing].''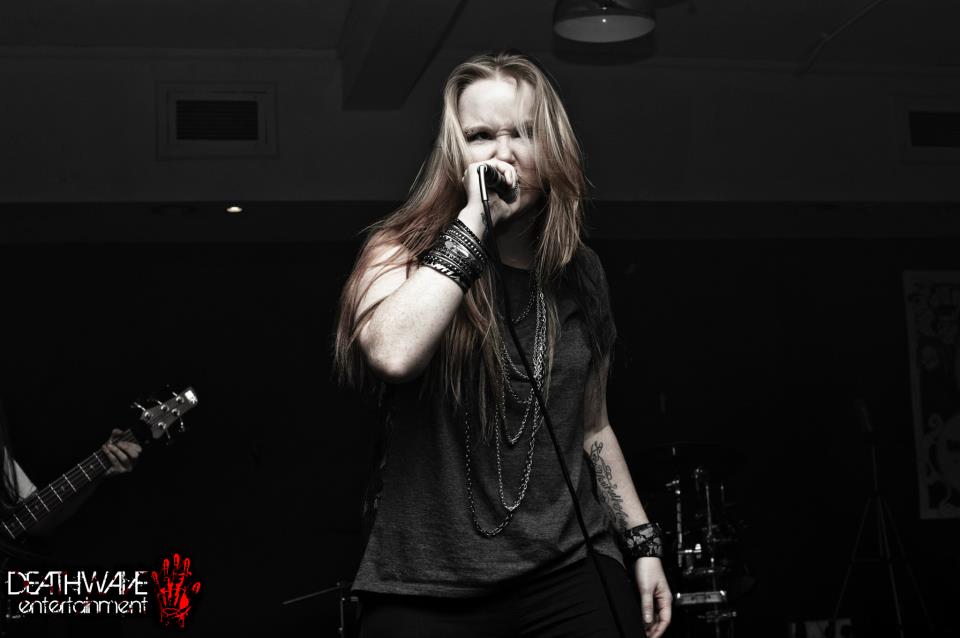 Who was your role model and moved you to start singing?
,,Freddie Mercury! Yeah, absolutely. And the last few years I got massively into Devin Townsend. I like rock singers, guys like Steven Tyler from Aerosmith. I just love these kind of rough voices. I always knew I was going to be a singer, because I have always been musical, I play guitar and keyboard. But I couldn't sing because I was too shy, but one day I just did it and from that moment on I was unstoppable. You just got to do it and you will surprise yourself like I did and progress from there.''

What can we expect from a Collibus live show?
,,A big sound and we just have fun. We just go out there and rock! I smile a lot although it isn't really metal to smile these days, isn't it? But I smile and I have a giggle, we have a laugh. Just come and check us out!''

I guess music doesn't pay the bills yet so what are you doing for a living?
,,I work as a waitress at the Hardrock Café. It is really a great job. We all do different things and we are busy all the time. So it is really hard for all of us to get together sometimes. Daniel [Mucs] our other guitarist for instance is a doctor and he recently moved to Sweden for a job in the pharmacy industry. Our drummer Darren [Pugh] works as a drum teacher and Stephen does demos and videos for a living and whatever else he can get his fingers into he does it.''

What is in your agenda this year?
,,We have a bunch of shows in the UK in July. Playing all the time is expensive so we have to do it in small bursts because we can't afford it. That is the sad part of it I guess. People just need to buy our album or a t-shirt, because that makes us some money so we can go on tour. Stephen has his own recording studio, so we safe money on that. We are already writing our next full-length album, but because we have been a bit quite the last few years we thought we better get the hype going and release this single and promoting our gig on Graspop Metal Meeting.''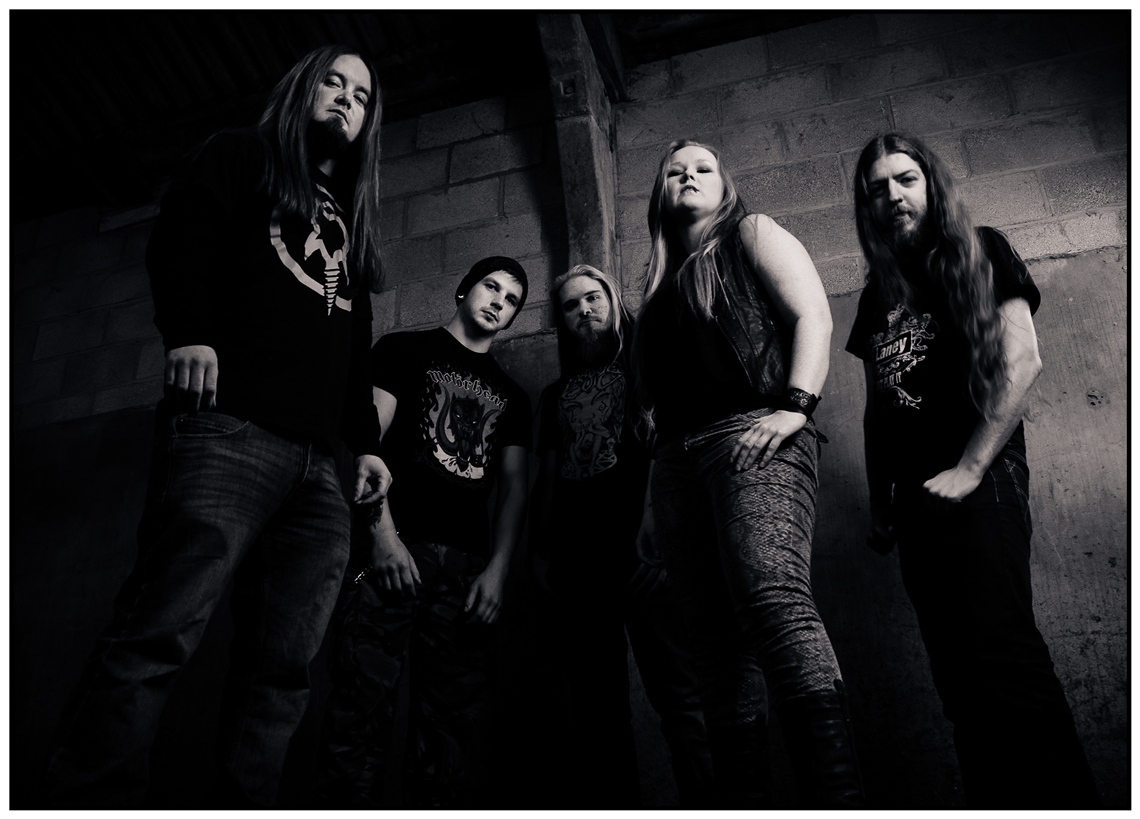 Where do you like to see Collibus in a few years from now?
,,Another album or two, playing bigger stages and build our career. It would be cool if a big label picks us up. But lets see where this all goes.''
—
Follow Collibus on Facebook and check for latest news Collibus website.