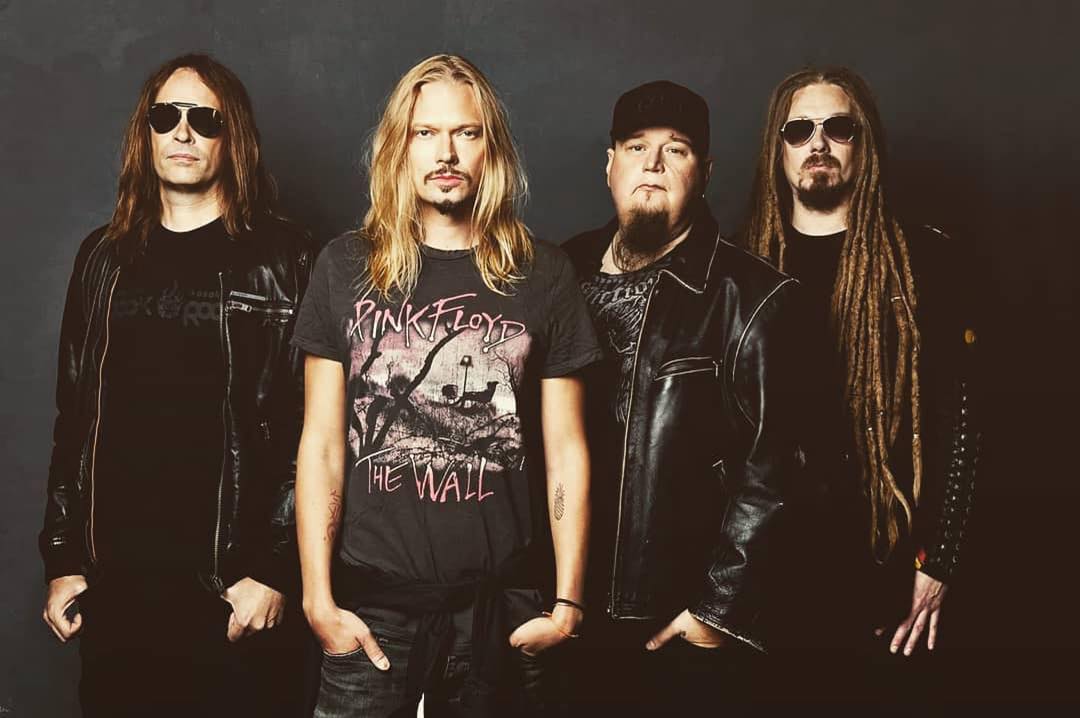 FLAT EARTH
,,Rock music for a post-pandemic world.''
FLAT EARTH is a relatively new rock band from Finland. However the individual members have an impressive service record. Bassist Niclas Etelävuori played in Amorphis, drummer Mika 'Gas Lipstick' Karppinen and guitarist Mikko 'Linde' Lindström were prominent members of HIM and singer Anttoni 'Tony Panties' Pikkarainen from Polanski. All in all interesting enough to introduce the band to our readers, so HeadBangers LifeStyle's Ron Willemsen contacted Niclas Etelävuori and the first question was if the band had a plan when they started at the end of 2017.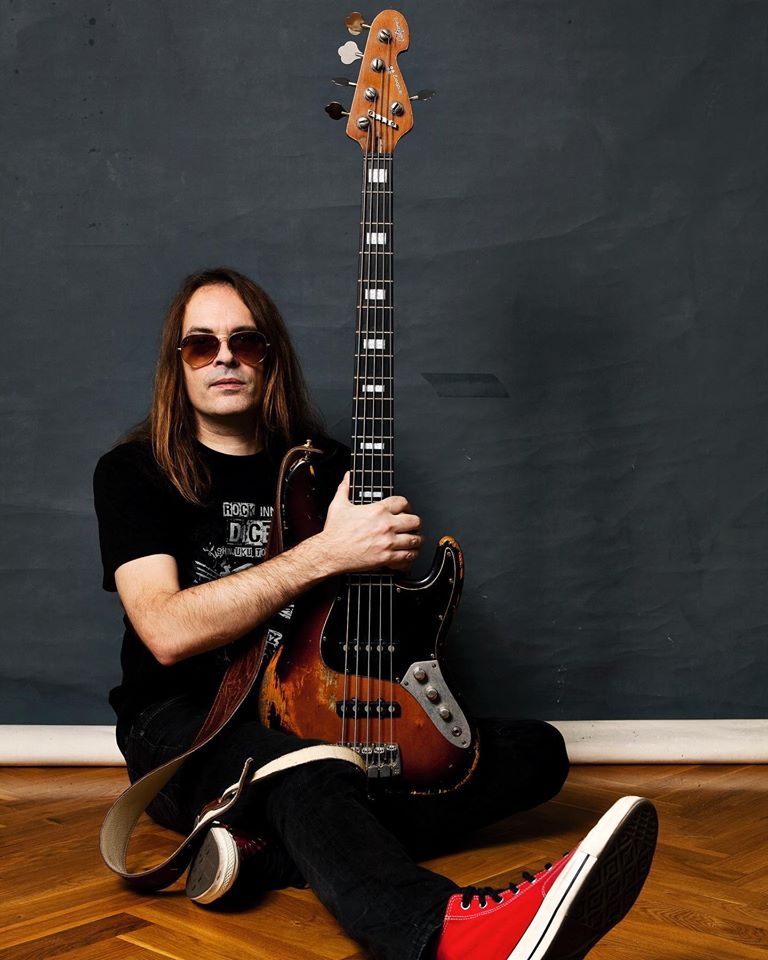 Niclas Etelävuori Photo by AJ Savolainen and taken from Facebook page Niclas
,,The plan was just to have something to do. I have always admired Linde's guitar tone and when I heard HIM was going to quit I decided to ask him. We've been friends for years but never played together before so now was the chance. After he was in it started to feel like this might turn into something real.''

How difficult is it to start something new?
,,It is very hard at this age. You would just like to chill but to get a band like this working takes a lot of time, but at the same time it's a lot of fun and we can do things on our own terms.''

You, Gas and Linde where once members of very successful bands and people will always compare, how does that influence you?
,,I guess in the music business there are some mistakes that are easy to make when you start out. I hope we've learned enough over the years to avoid those mistakes. We've seen a lot of the world already so with this band it is more about creating an enjoyable experience for us than focus on travelling all the time. I guess people will always compare what we do with stuff that we've done, that's okay with me. They just have to realize that we are not trying to do again something that we already done.''
What was the reason you decided to form a band together?
,,Most of us have been a musician for about three decades now so playing is a natural thing to do. I, Gas and Linde were all in a situation that we had no band. Since we knew each other since way back, it felt natural to try with these guys first and it's been working great, so there hasn't been a need to try anything else.''

Was there much discussion about the musical direction?
,,Not really. I had a bunch of songs for the first album and the guys liked them so we did those. It's also a lot about who plays a song, they would have been quite different if someone else would have played them. On the forthcoming album everyone has contributed more to the writing so I guess it's what our style has become for now.''

How would you describe the music from Flat Earth in short?
,,Rock music for a post-pandemic world.''

So far you've released the album 'None For One' (2018). What can you tell me about the songwriting process?
,,We have released one album 'None For One' in 2018 and a live recording of Nirvana's ,,School''. Our new album is ready and will be released in the autumn of 2020. It was mixed by Tim Palmer in Austin, USA. There's been some confusion on some streaming platforms with another band with the same name. I hope they get it sorted out some day. After 'None For One' I guess everyone work up and started writing so we actually came up with the songs quite fast and also it had been quite a long time since we recorded 'None For One'. Everyone brought their ideas and we demoed them all. After that was done we pretty much went to the studio right away.''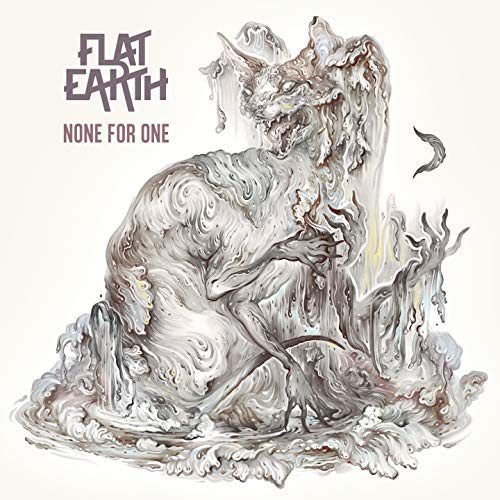 When you start working on material, do you start from scratch or do you bring in ideas and songs that were still in somebody's archive?
,,On the new one it's all fresh, on 'None For One' there was some stuff from the archives too.''

Do you already have something like a typical Flat Earth style and if so, what is it?
,,Nothing is written in stone. We try to stay open to new ideas, our sound comes from the guys playing their instruments in their own way instead of something fabricated. If we discover a cool new sound we will do something with it rather than stick to our old ways.''

Are there already plans for a next full album?
,,Yes' it's coming out later this year and the first single ,,Draining By Your Flame" is out already.''

A lot has changed over the last couple of months. No chance to tour to promote the album live. How did you adjust to the new situation?
,,All our gigs got postponed to the autumn. We did a livestream that's still available on our YouTube channel, at the moment it felt like the only thing we could do. I really hope things get back to normal soon for us and for all the other bands out there.''

Usually touring is a necessity to keep a band alive. Now bands and artists can't go out and play. What do you do to stay visible and interesting for the public?
,,It's all online now. Maybe people have more time to watch that now, so I guess it's the only way to go now.''

Like you mentioned you've played a show in Helsinki without audience, broadcasted on YouTube. How did that go and is that the future?
,,It went really well. We had a great crew there and everyone did a great job. It was a lot of fun because everyone who helped us have had to stay at home doing nothing for weeks so everyone was excited to do something.''

What else have you planned to survive as a band in these unprecedented times?
,,I guess we just have to wait it out. We try to produce more material for YouTube to promote the new album and hopefully things get back to normal before we have more shows.''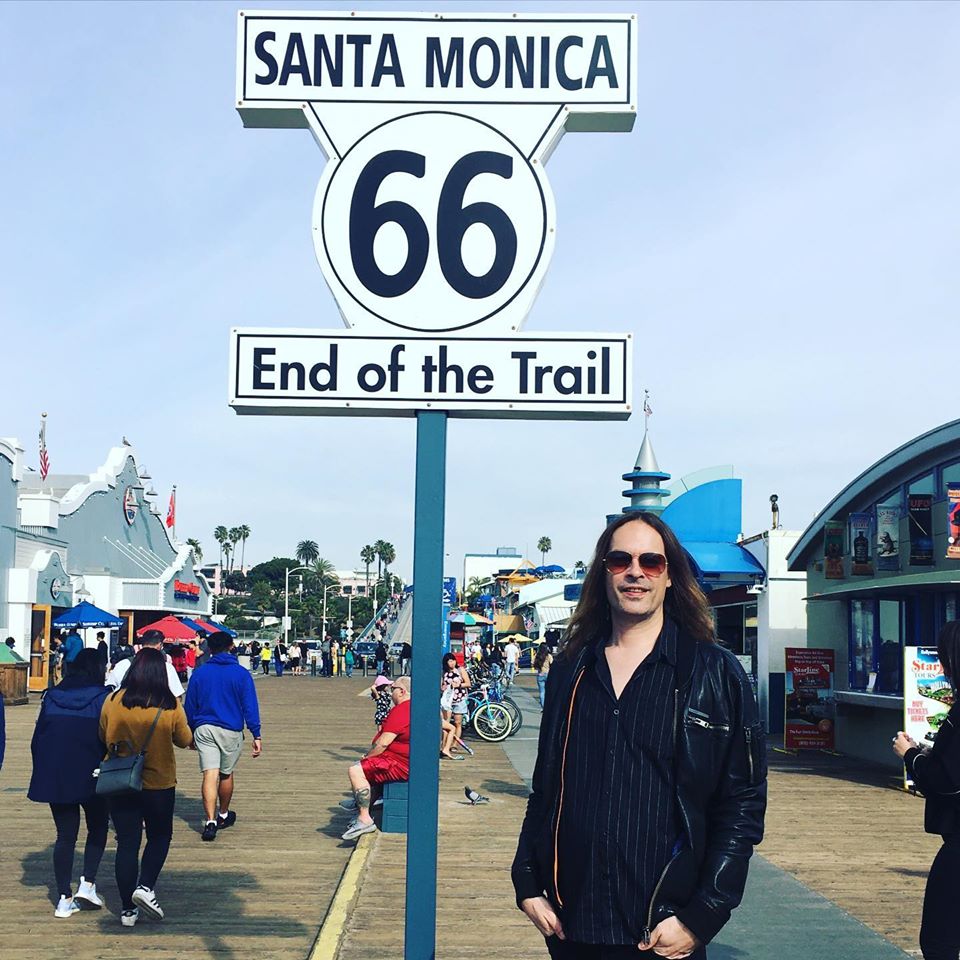 What sparked your interest in music and becoming a musician?
,,As long as I can remember I was fascinated by creating noise. Over the years it just grew stonger. I did a lot of sports first but later on music took over. I saw AC/DC in 1984 and after that concert I kind of decided that's what I want to do.''
When did you pick up the bass and knew that was the instrument for you?
,,It was in high school, there were 2 bands in our school and none of them had a bass player. So in the end I played in both of them. After some time I got more into learning how to play it for real.''

Was it your first choice?
,,I took some guitar and piano lessons when I was a kid, but then I was more interested in hockey and such things. When that started to get too serious I kind of backed off and then I started to get interested in the bass after I saw Iron Maiden live for the first time.''

When did you have the idea that you could do this for a living?
,,It was always a dream. When the day came that I could quit my day job it felt like a dream came true. Although I had no idea how much work was required to keep it going.''

What do you consider your biggest achievements so far?
,,I'm still alive. After almost 30 years of rocking I feel like it's a small miracle.''

What is your goal with Flat Earth?
,,To keep going and make good music. Hopefully we get to play it for as many people as possible.''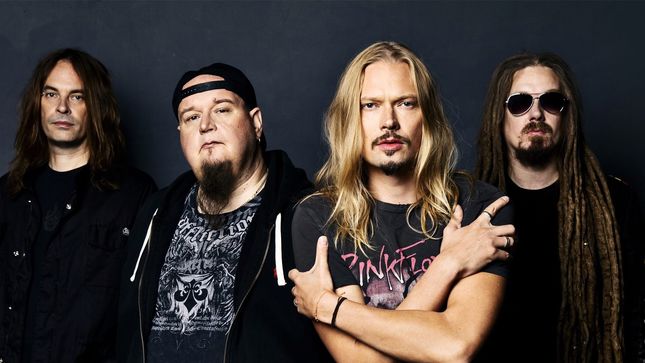 What would you have become if not a musician?
,,Maybe some kind of weird scientist. I always wanted to discover something but I never knew what.''

What is the last thing you do before you enter the stage?
,,Go to the bathroom.''

What is the ultimate kick of being on stage?
,,When you see that what you do actually touches some people.''

How difficult is it to plan a next step while the future is still uncertain?
,,It is almost impossible. Just have to stay positive and do what we can to fix the situation.''
—
Follow FLAT EARTH on Facebook
Check out the FLAT EARTH Bandpage on HeadBangers LifeStyle
Check out FLAT EARTH Website
#flatearth #hbls #headbangerslifestyle #awayoflife