HeadBangers LifeStyle proudly presents
The BandPage
You might have noticed: there is a new category that can be found in the top menu of www.headbangerslifestyle.com called BANDS. With this new category we proudly present a new chapter in the young existence of HeadBangers LifeStyle (HBLS): bands and individual artists are given the opportunity to build their own BandPage on which they can combine all their social media in one place. They can also promote and sell their music and merchandise without any hidden cost.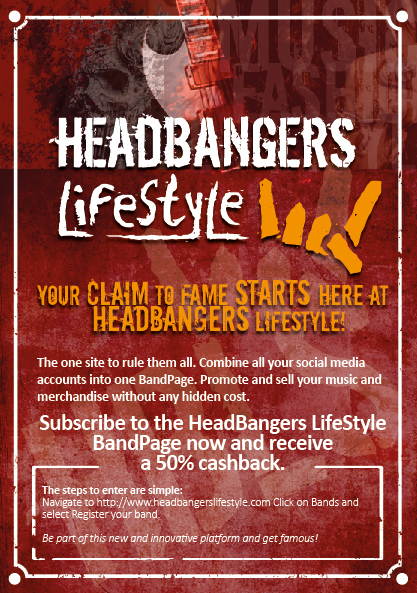 By having a BandPage on HeadBangers Lifestyle you get noticed a lot faster because you benefit from our traffic and promotional activities.
If you already have your website and webshop running this is also a good place to reach more people worldwide. We have provided fields for you to have your fans directed to those spaces.
Dutch heavy metal band Martyr, UK alternative rock, metal band Kyrbgrinder, US hard rock band Kickin' Valentina, rock 'n roll band Mortigi Tempo, Swedish prog solo artist Kristoffer Gildenlöw and progressive rock bands Unreal City and Summer Breeze Project already made their BandPage!
Go to 'FIND YOUR FAVOURITE BANDS' and see what their BandPage looks like!
HeadBangers LifeStyle is a young and growing online global platform focussing on rock and metal music, fashion and lifestyle. HBLS now also became a medium to promote and support you as artists.
You do not want to miss the 50% cashback!
The steps to build your own BandPage are simple: go to www.headbangerslifestyle.com, click on BANDS, choose register my band, or just click on the promotional banner on our website! There you also find information about the subscription fee.
Don't worry, we won't charge you anything until you push the Publish my bandpage button at the end.
If you want more information don't hesitate to contact us at info@headbangerslifestyle.com
Become part of this new and innovative platform and sign up now!