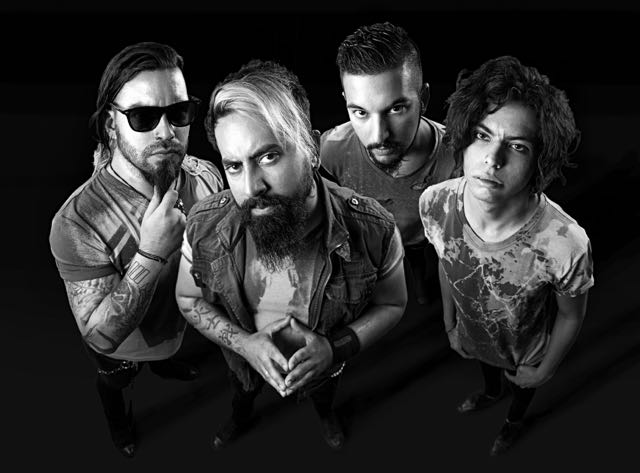 IN THE SPOTLIGHT: FALLEN FROM SKIES
Q&A With Singer/Guitarist Gino Bianchi And Bass Player Max Zuccarino
Recently HeadBangers LifeStyle teamed up with the nice people of ReverbNation to give 5 new promising bands or artists a chance to extra promotion and exposure. We were overwhelmed by the number of bands that submitted their songs. Believe us when we say it was hard to choose because there were many promising bands and artists between them. At the end of the day we received 1250 submissions and reached almost 800.000 people. Now it's time to put the winners in the spotlight. The second band we want to introduce to you is FALLEN FROM SKIES hailing from Latin America, but currently based in Mexico.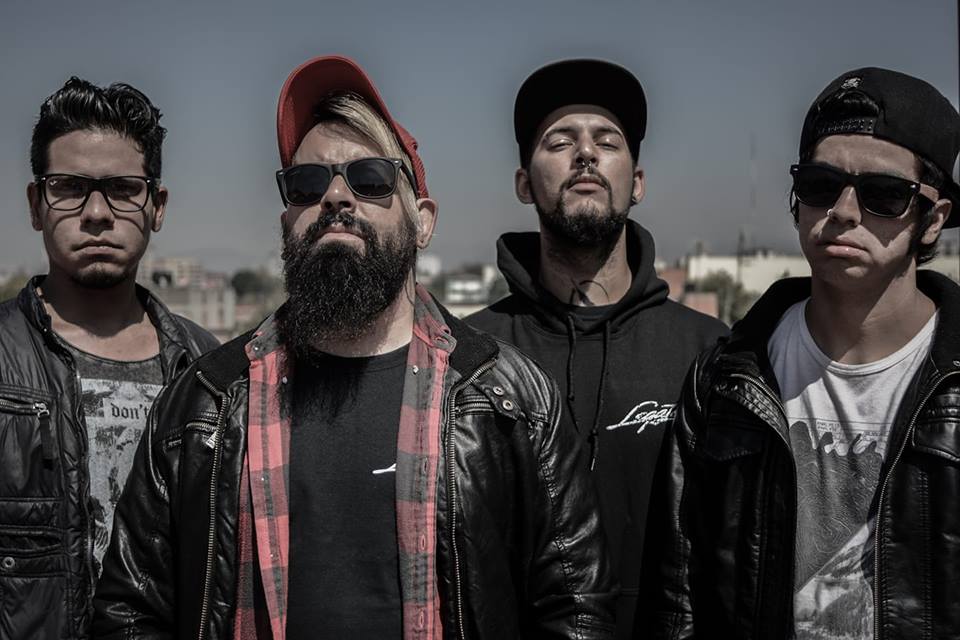 This four-piece has clearly more to offer than only a portion of good sounding Metal Core. Singer/guitarist Gino Bianchi, guitarist Gabo Perdomo, bass player Max Zuccarino and drummer Leo Carrero are working hard and with an unconditional dedication to reach as many people all over the globe with their songs, meaningful lyrics and live shows, hoping their spiritual message and positive energy will be heard and felt to make this world a better place. Since the formation somewhere in 2013, Fallen From Skies has released the 6-track EP `Lies In You' (2015) and the 3-track EP `Responsibles' (2017), supported by many gigs. On these two releases you can hear a great symbiosis between brutal guitar riffs, robust, harsh vocals, a grooving yet pounding rhythm section, all locked in strong melodies and choruses with memorable hooks. On top of that the band shows musical skills, long term potential and let's not forget a great energy. HeadBangers LifeStyle asked Gino Bianchi and Max Zuccarino a few questions as an introduction to the HBLS readers.

,,A life situation like that makes the artist put the heart on the stage like a soccer player on the court'', Gino Bianchi

First things first: Why should people listen to your music?
Gino: ,,Personally I feel that besides music, with Fallen From Skies we offer a lyric content based on personal experiences, in order to place the person in a spiritual context. It's not in a religious way, but spiritual and advocating a change to make this world a better place.''

What do you want to achieve with Fallen From Skies?
Gino: ,,We want to transfer a positive message that incites people through change, to have a new state of consciousness.''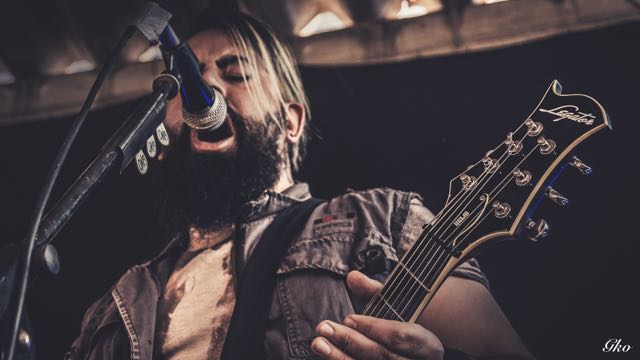 Gino

What makes you different from other bands in the genre?
Gino: ,,Hahaha, a difficult question to answer. Deep down every artist has something that he wants to say and show. What I can say is that Fallen From Skies is part of a community of the Latin countries URUGUAY, ARGENTINA and VENEZUELA, which were strongly affected at socio-economic level. Without going deeper, today we all know what happens in Venezuela; people literally die of hunger. Living like that makes you not only having the motivation to fulfil a dream but also want to generate a change in the lives of your loved ones and compatriots. Without going any further, the passion for something that in this case is music, plus a life situation like that makes the artist put the heart on the stage like a soccer player on the court.''

How would you like to describe your music in 3 sentences maximum?
Gino: ,,Passion for what we do up and down the stage. Unconditional love without ever lowering your arms. A contagious desire to jump and dance.''

The roots of Fallen From Skies are in Latin America, but the band is now based in Mexico. How are these roots reflecting in your music and the attitude of the band?
Gino: ,,Although we do not have a South American influence in our music, we do want to disseminate our culture by the language, as ILL NINO or SEPULTURA did, so that over time the borders of the language will shrink.''

,,Practically if you are not in all these different platforms it is difficult to be part of the industry'', Max Zuccarino

What made you decide to (also) release your songs through platforms like ReverbNation?
Max: ,,Nowadays the digital world is very important. Practically if you are not in all these different platforms it is difficult to be part of the industry. So the decision was born based on wanting to increase the reach of our music nationally and globally.''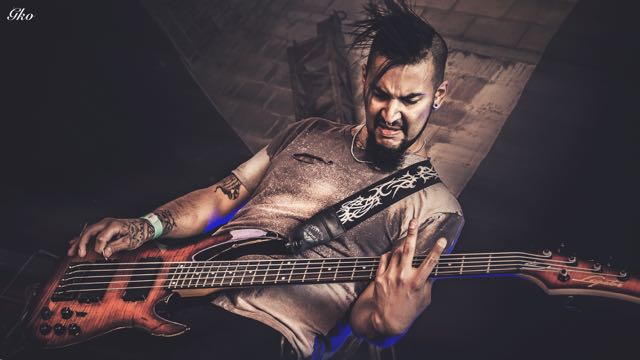 Max

How important are social media and the Internet for spreading the name of Fallen From Skies and how do you use it?
Max: ,,Fundamental! It is our window to the world and we use it as such. Thanks to these networks we have reached unthinkable places, for example our biggest impact is in VIETNAM, hahaha. That would be impossible if we did not use all our social networks. On the other hand, we are always supportive to invest up to the last cent in this, and as a result we always do advertising campaigns, especially on Facebook and Instagram for our sponsors and together promote the name of FALLEN FROM SKIES as a band.''

How and when did you guys meet?
Gino: ,,Well, originally all the members were Uruguayan, since the band was founded in Montevideo, Uruguay, but in 2015 the band moved to Santiago de Chile where for personal reasons of the band members, the band suffered a break, with leaving me as the only band member left. I decided to stay and rearm the project. Personally it was never something I sought but the casualties of life caused that little by little people from different countries that already lived in Chile came in. In 2017 we moved to Mexico City where we met musicians from Venezuela and finally we consolidated ourselves as URUGUAY – ARGENTINA – VENEZUELA.''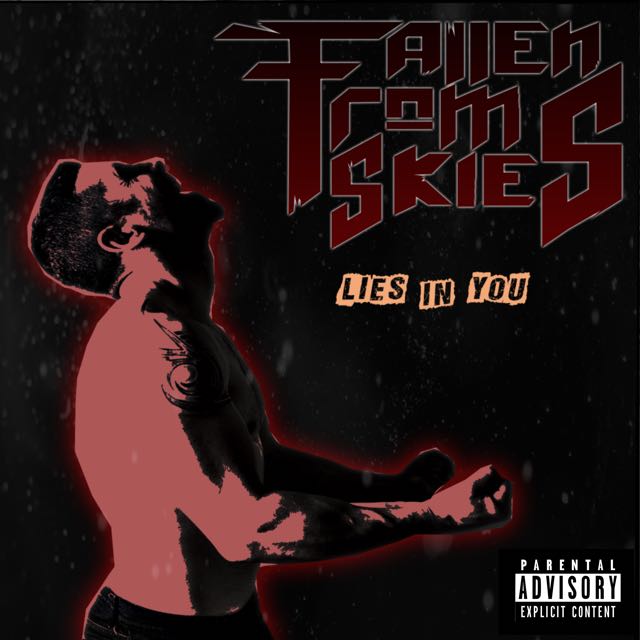 You released 2 EP's and preparing a new EP release, `For This New'. Why not releasing a full length CD? What is the progression of the band and songs with the new EP? And is working with producer Christopher Mora (Black Veil Brides, a.o.) an important progression?
Gino: ,,The real reason is that money is scarce and we prefer to do less but aim for a higher quality. Regarding the second question, the progress is very noticeable at a compositional level, as we constantly try to listen to everything that is on the market, which has helped us to evolve within our own musical identity but without forgetting that this is a market where competing with a good product is fundamental. Working with Christopher Mora was more than an advance. He is a very special producer and he made Fallen From Skies sound like we imagined it.''

,,We are willing to continue doing it until we get it'', Gino Bianchi

How important are the lyrics for the band and what are they representing?
Gino: ,,Fundamental and they are the pillar of Fallen From Skies. The lyrics represent our way of seeing and wanting to see that a human being can be better connected at a spiritual level, without the need of a dharma.''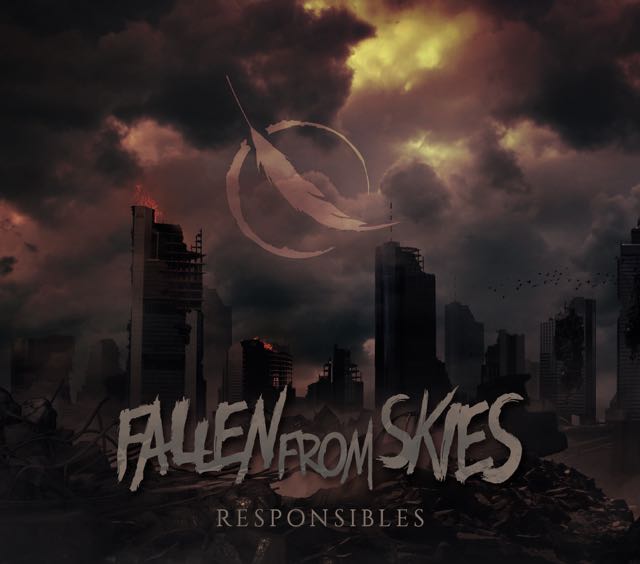 How far would you go for success?
Gino: ,,It really depends on what we call success. From our point of view, success would be to achieve what we have been talking about and obviously live from this. Under this concept, we have been giving everything, like leaving family, friends, countries, going through hard times but we are willing to continue doing it until we get it.''

What drives you as a band?
Max: ,,The passion for what we do and the internal commitment of each one to get ahead, making the world a better place for all.''

What is your biggest achievement so far?
Gino: ,,My biggest achievement has been keeping this band over time and despite of many set backs in life I never gave up. That I always kept going, signed with brands that believe in us, such as EMG or LEGATOR GUITARS and to be able to play on 2 tours in South America and 1 in Mexico.''

How do you get your live shows?
Max: ,,Currently they come two ways. We receive invitations and proposals at contact@fallenfromskies.com and it is my task to get shows. I am something like the manager and PR-guy of the band, so I am constantly sending mails, knocking on doors, and going to shows looking for an opportunity for presentations of the band.''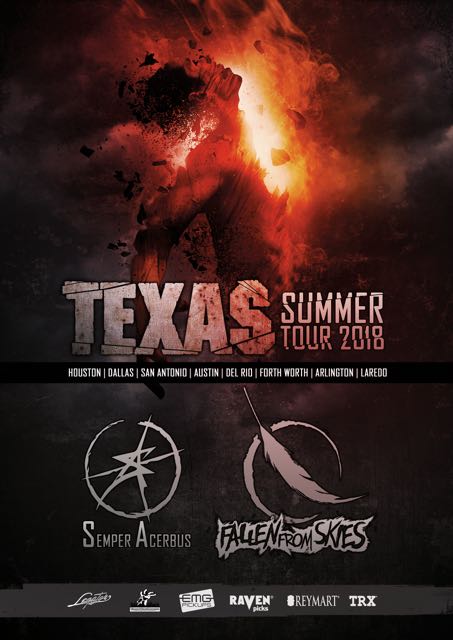 What can people expect when they come to see a Fallen From Skies live show?
Gino: ,,A great party to have a good time and have fun in good company, where you can absorb a lot of positive energy.''

What is in the agenda for the band the upcoming months?
Max: ,,Well, in July we will be presenting our EP `For This New', we have a tour through Texas and some shows throughout Mexico. Then the recording of the 3rd EP with Chris Mora also, in his studio in ADKINS, TEXAS and the idea is to present it next year in the US, followed by a bigger tour.''
—
Follow FALLEN FROM SKIES on Facebook, Twitter, Instagram, YouTube, Spotify, Reverbnation and visit their Webpage here.