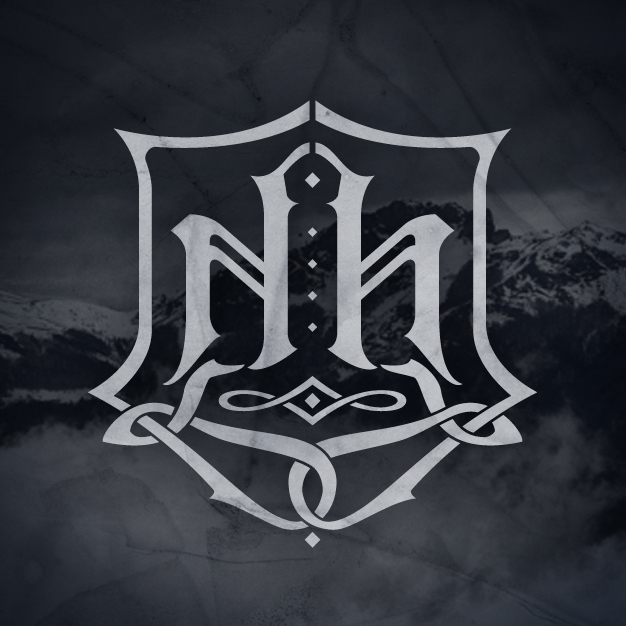 In The Spotlight: NORTH HAMMER
Q&A with Andrew James
Recently HeadBangers LifeStyle teamed up with the nice people of ReverbNation for the second time to give 5 new promising bands or artists a chance to extra promotion and exposure. We were overwhelmed by the number of bands that submitted their songs. Believe us when we say it was hard to choose because there were many promising bands and artists between them. At the end of the day we received almost 1200 submissions. Now it's time to put the winners in the spotlight. The second band we want to introduce to you is NORTH HAMMER.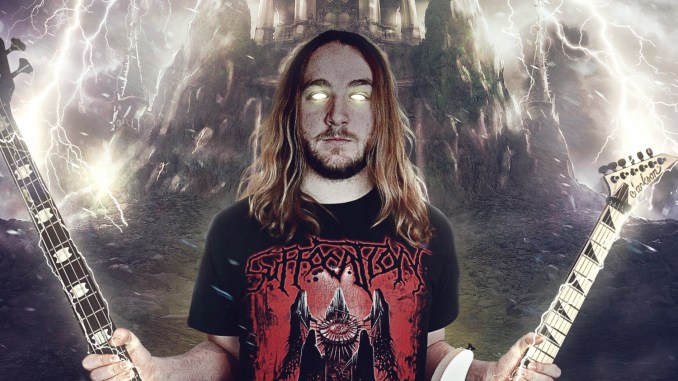 Andrew

North Hammer is actually a one-guy band from Alberta [Canada] who shows an interesting passion for death/folk metal, fantasy themes and Viking lore. HeadBangers LifeStyle got curious and asked Andrew James, the guy behind the wheel, a few questions as an introduction to the HBLS readers.

What sparked you to start the studio project NORTH HAMMER in the first place and why do it almost on your own?
,,The project started as a high school thing with some friends. We were all into folk metal bands and popular fantasy movies, books et cetera but it never really came to fruition. Later in my university years I was just writing North Hammer on my laptop for practice in song writing. It ended up being decent enough to throw it together on an album. However, I didn't want to wait to find people and teach it to them, so I just decided to do it myself.''

What did it take to write and record the debut CD `Stormcaller'?
,,I think most people who write good songs today have a grasp of how other instruments work and what are familiar patterns. So knowing a little bit about all the instruments when you're trying to write a song is necessary. To record wasn't anything different; I would just play all the songs on rhythm guitars, then go in the studio and record those parts, and then basically its rinse and repeat for every other part of the songs until you have all the parts.''

You recorded all the instruments and vocals, except for the drums. Why didn't you face that part of the adventure yourself?
,,I mean in essence I wrote a watered down version of what you hear for the drums. Doug did me the favour of spicing up some sections or beats but some of them are exactly as I wrote them. I do play drums a little bit as well just not quite to the extent of the album, so it just came down to time again. I didn't want to spend however long building up the chops to play the songs when I had a capable drummer to do it for me.''

What makes Doug Helcaraxë Nunez the right man to handle the drums?
,,Doug is another local metal musician in Edmonton for one, but also he is a dude who absolutely lives and loves folk metal and therefore he would be familiar with the beats and style that I was chasing after for the album.''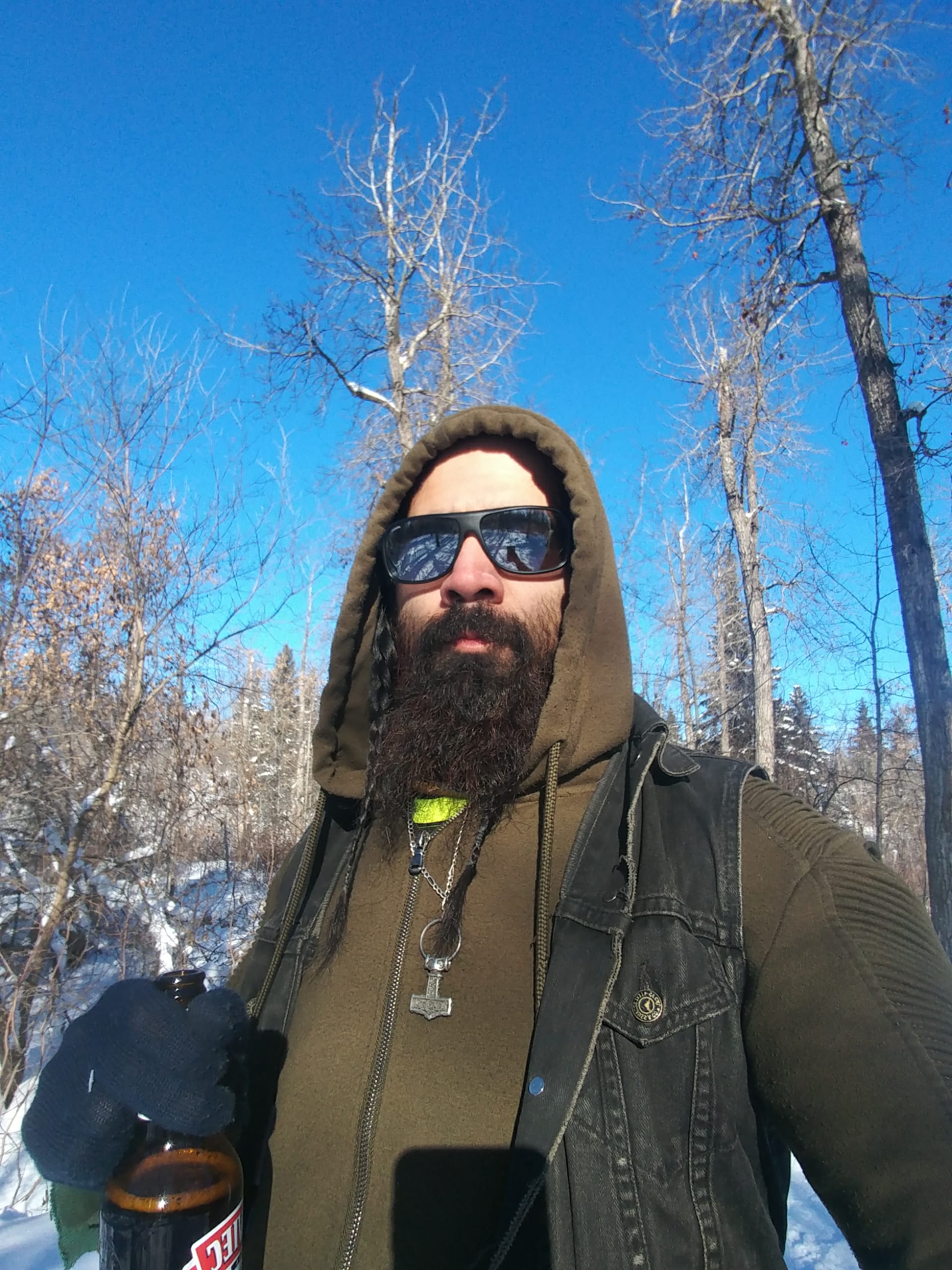 Doug

Why should people buy or at least listen to `Stormcaller'?
,,It's for those people who love riffs really, it's a ton of riffs influenced by early Ensiferum with a sprinkle of Wintersun and Amon Amarth.''

Describe your music in 3 sentences maximum.
,,North Hammer is a melodic death/folk metal band with lyrics based on fantasy themes and Viking lore. Musical inspiration draws from Ensiferum, Wintersun and Amon Amarth.''

How important are the lyrics for you and what are they representing?
,,The lyrics are super important for me; the last album was a concept album of a hero's journey. However, it was my first time ever singing or writing lyrics and I'd like to bring more of myself into the next one, reflecting on values in a fantasy Viking setting rather than just writing a fantasy story.''

What do you want to achieve with NORTH HAMMER?
,,I love playing live shows with my other bands and I want nothing more than to play in a room with people who are as into chanting songs and rocking out as I am. So of course I'd like to take this as far and as big as it can go so I can play for that community of people.''

What makes NORTH HAMMER different from other bands in the genre?
,,I'd like to think that it is unique, purely because I take influences from so many places and try and incorporate them into my music. I don't mind getting extreme and death metal with it, or folk, or add in some Wardruna tribal songs, use synth or a string quartet. In the new songs I'm starting to just serve the music rather than submit to the confines of a folk metal genre, the classic folk melody over some power chords.''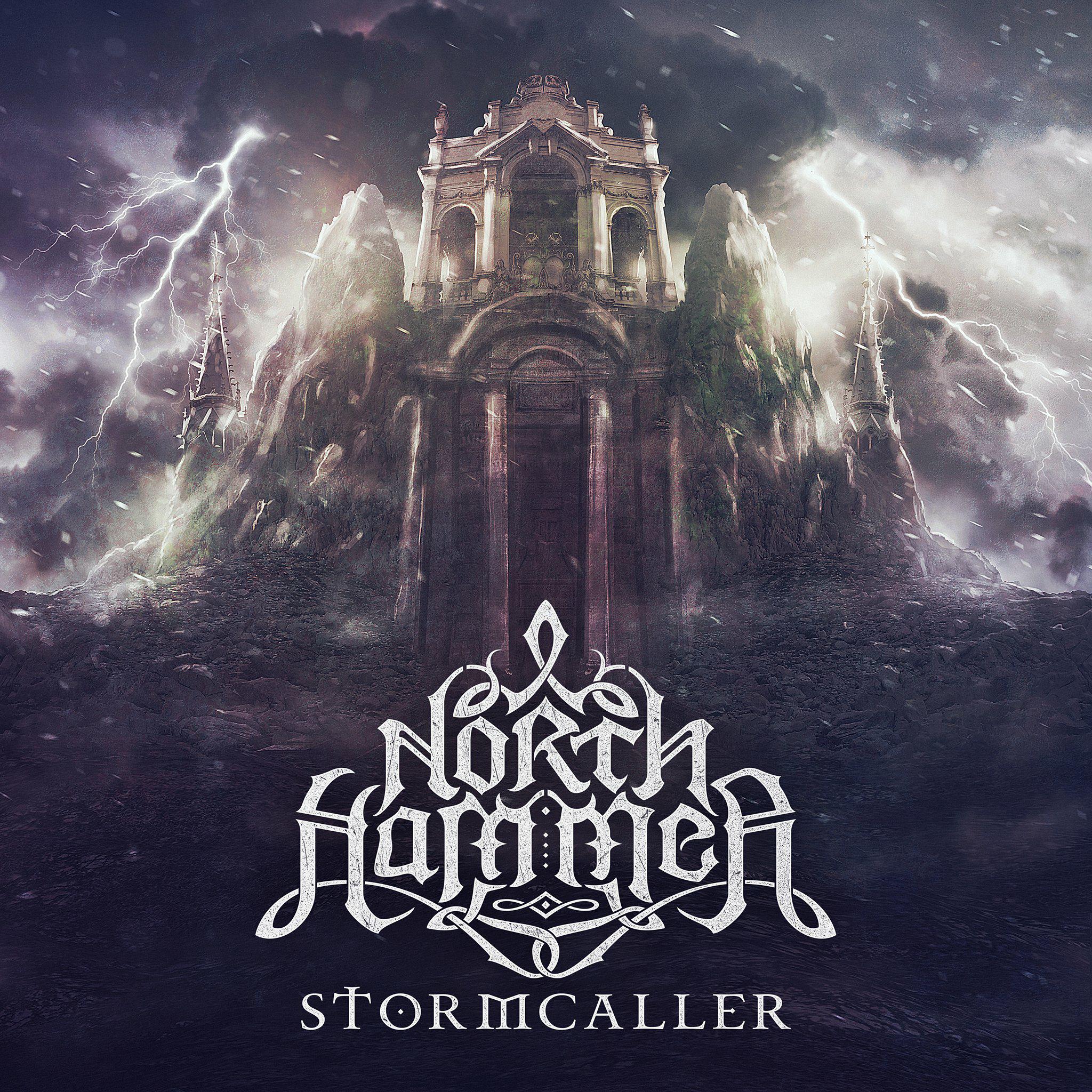 What made you decide to (also) release your songs through platforms like ReverbNation?
,,I think platforms of all varieties have something to offer, if you put it there and it reaches 1 person it will have been worth it.''

How important are social media and the Internet for spreading the name of NORTH HAMMER and how do you use it?
,,Internet and social media are so, so, so important. I have literally never played a show with this band and yet I've had the opportunity to make it into some amazing magazines, and they like it because of Internet. Marketing is over half the battle I would say, not that the quality of the music isn't important.''

How far would you go for success?
,,I mean I'm not about to kill a dude or something, I don't think running yourself into the ground is a healthy idea either. I just know that if I keep putting in the hard work, that eventually things will start to come together.''

What drives you as an artist?
,,I write music as an emotional release and I am driven to get out there and play shows to meet those people who are touched by music in the same way.''

Your biggest achievement so far?
,,Hmm, that's a tough one. I think just literally pulling together an album by myself was certainly a milestone, but making it into Decibel Magazine was also pretty rad.''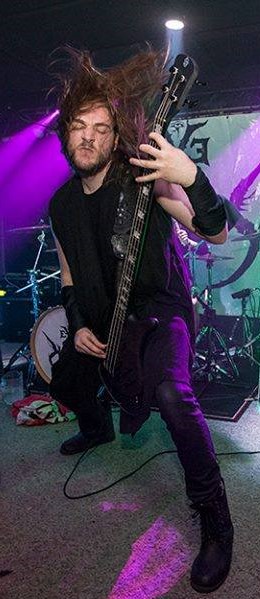 Andrew

Are you planning to do live shows and how will your organize that?
,,I am looking at doing live shows. I have a developing line-up in the works currently. It's going to be a 5-piece band with some backing tracks for the orchestral lines et cetera.''

What do people miss when they don't experience NORTH HAMMER live show?
,,First and foremost you are missing the opportunity to connect with the other people who feel the exact same way you do about the music, which is a pretty rad feeling. You are also missing rad live symphonic metal with hopefully some live shops props that's wrapped together for a good experience.''

What is in the agenda for the band the upcoming months?
,,Currently I am pre-producing the next North Hammer record so that Doug can learn it as well and so I can ornament melody lines and really polish the song outside of a midi format.''
—

Follow North Hammer on Facebook and listen to Norh Hammer on bandcamp here.