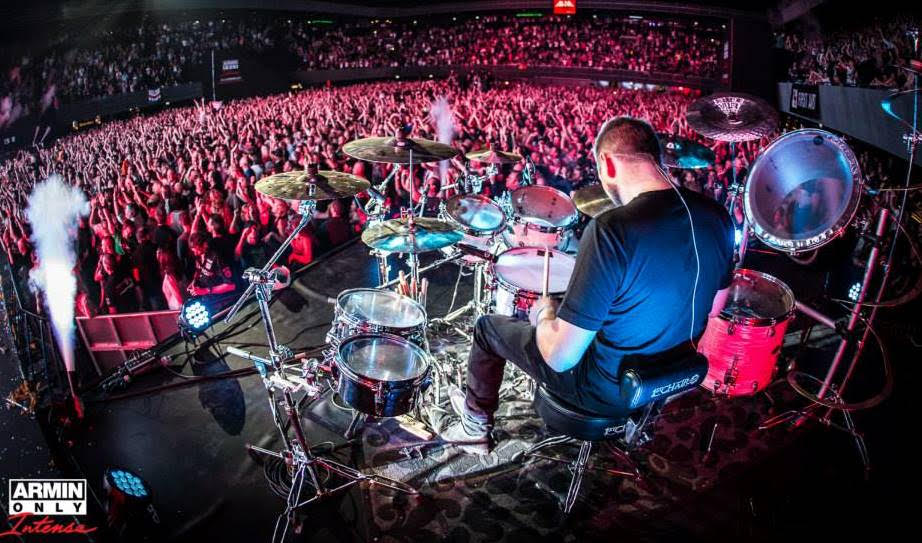 KOEN HERFST (Drummer)
Teaming Up With Dance DJ Armin van Buuren
He established himself a name as one of heavy metal's finest drummers in the Netherlands, alongside Ed Warby (Hail of Bullets, Ayreon, Elegy) and Dirk Bruinenberg (Elegy, Adagio, Dial, etc), proclaiming the crown of the metal future. Ed Warby even once said: "Koen is by far the most hard working drummer I know, this guy's heart even beats in paradiddles if you ask me!" Being awarded multiple times by Slagwerkkrant, the Dutch leading drummers magazine, as Rock/Metal drummer of the year and top 3 of drummers overall, voted by his fellow drum buddies. His resume features renowned names like Dew-Scented, I Chaos, ReVamp, Epica and After Forever whom he either recorded or toured the globe with. His versatile styles range from Death –and thrash metal, all the way to crossover and dance music. That last style being the focus of our interview as Koen is teaming up with the world's number 1 dance DJ Armin van Buuren for his The Best Of Armin Only shows at a sold out Amsterdam Arena.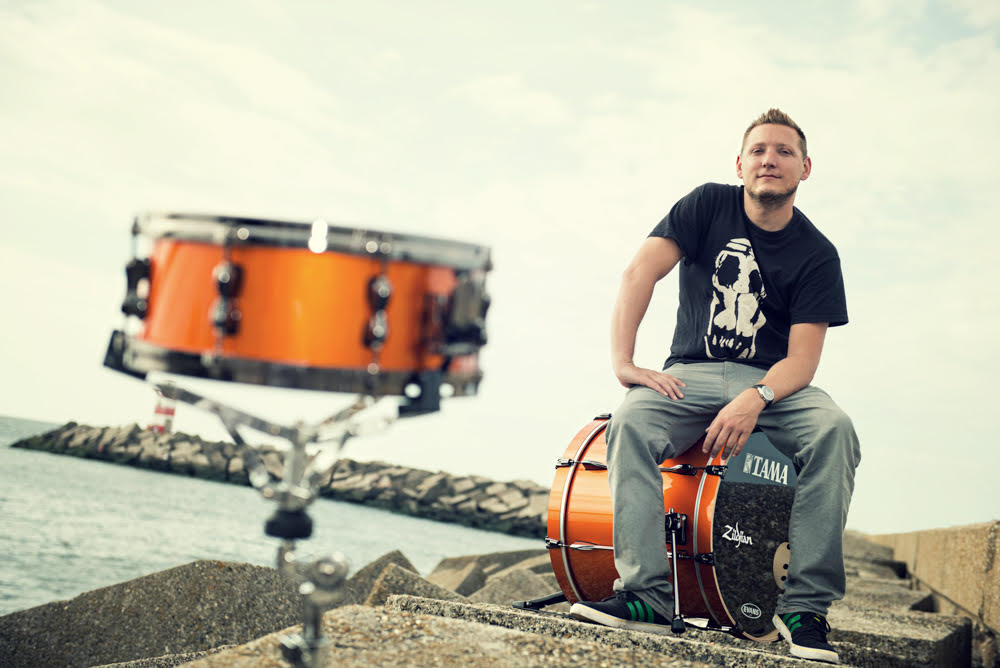 Prior to the kick off of this crowd pleasing high tech dance event, we get to see Herfst performing at a sneak preview, the dress rehearsals of the show, performed at Brabanthallen in 's Hertogenbosch. Also sold out twice but mainly packed with youngsters and teenagers, as this is the family friendly version of the upcoming 18+ shows at the Amsterdam stadium. A glimpse of what may be expected this weekend.

Koen, how in the world does a heavy metal drummer like you end up in the entourage of one of the world's leading DJ's?
,,When I was playing in my first band Bagga Bownz, our guitarplayer was Eller van Buuren, indeed: the brother of… A few years after the release of our album, Armin approached me to record a new track loosely inspired on a track off of our debut. That particular song, ,,Mirage'', also the title track of his album, features a section that is pretty heavy!''

Since then you went on tour with the Armin Only shows that took you all over the globe. The new `Best Of Armin Only' shows at the prestigious Amsterdam Arena sold out in no time and the show premiered last weekend with two sneak previews at the Den Bosch' Brabanthallen, also sold out. How did you experience the first round of the new tour?
,,It was exciting to see all of the artists from the "Mirage" tour as well as the "Intense" tour on the same stage together. It brings back a lot of sweet memories from the past tours and makes it more exciting to join forces for the upcoming big shows at the Amsterdam Arena.''

What do you personally expect from these immense shows?
,,Believe me: This is going to be spectacular! I believe it actually will be one of the biggest indoor dance events ever in the Netherlands. The Amsterdam Arena: well… Just amazing to perform there as an artist!''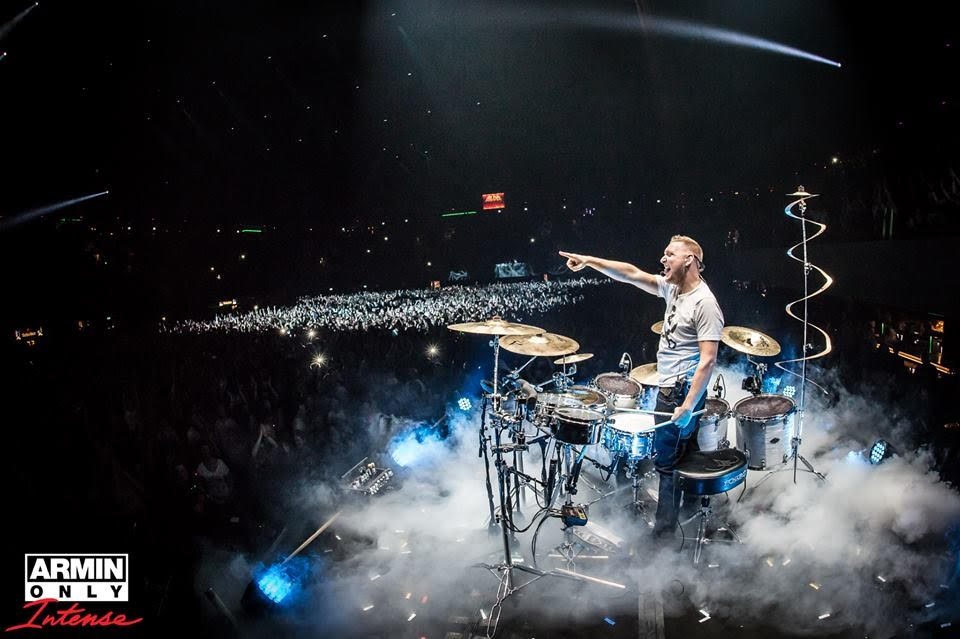 Being the drummer of extreme metal bands like Dew-Scented and I Chaos you rehears and tour with the typical expected band setting. How different are the rehearsals for a mega show like Armin Only?
,,Totally different! Everything is planned to the extreme. It's honestly more like a run through a tightly planned schedule rather than a (band) rehearsal; Me and the team have to assure everything runs tight as a Swiss clock with the production running a tight schedule of lead times, while I rely on my click track for efficiency, and Armin of course! The actual rehearsal therefor rather is the fine-tuning of the visuals rather than our musical side of the production.''

What's the biggest difference between touring with your bands and touring with a number 1 dance act like Armin?
,,The audience! During an Armin world tour we perform in front of an audience of 15.000 – 25.000 people every night, which at the Amsterdam Arena is going to be three times that size. That's massive! With a band I played in front of these huge crowds only at Hellfest in France and Graspop in Belgium, both prestigious festivals.
Aside that I am one of the 'guest performers' in Armin's shows, meaning you are not onstage throughout the entire show. From the moment of your cue you have to charge yourself to the max and seize the moment, rather than thrive during a regular gig. It has to be spot on… These shows are big productions with perfectly timed interaction of light, pyro techniques and visuals; it's an entirely different setting. The visual spectacle and the music go hand in hand creating an intense experience for the spectators. You're a wheel in the clockwork that makes it tick.''

On a big stage like this where you can only relay to the DJ boot in the distance, don't you miss the interaction with your fellow musicians?
,,Not at all! I'm in constant eye contact with Armin or Michiel/Eller during our performance. And, I am closer than ever to the audience!''

But isn't the interaction essential onstage?
,,Nope; I'm an element in this show rather than being the drummer laying the foundation for the band….''

Do you have input in the show and elements of your performance?
,,I have a certain freedom on how to fill in my guest spot. Towards the end of my drum solo on the last tour, I even used a headset to interact with the audience, something I had never done before… so why not start to do so for an audience of 15.000?!!''

You also get a say in the setlist of the show?
,,Armin creates the setlist and the exact cue for your spot is also in his hands during the show. You really have to be on edge awaiting your cue!''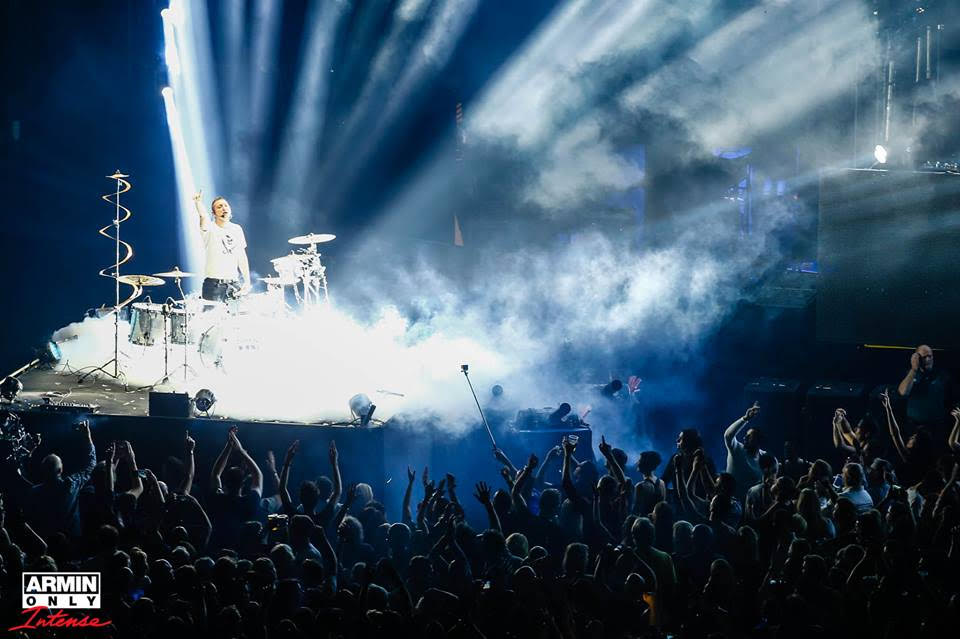 How do these dance events affect you personally, and does the dance scene also influence you as a musician?
,,I'm definitely affected by these events, seeing thousands of people going wild every night. Especially the harder tracks are appealing to me. They even have more poise and power than many metal tunes nowadays. That influences me as a musician also. I have always been combining styles in the past, and dance became a fragment of my music. Something that strikes me is the fact that the most empty and basic tracks work best during a show. It adds to my perception of music….''

Being a part of the Armin Only shows how do you experience the overload of attention on national radio and TV?
,,That just how it is; Metal isn't labelled 'alternative' for nothing, right? And I still manage to find my tunes on web radio and spotify'' 🙂

But doesn't it annoy you, being a metal head that there seems to be no room left for hard rock and heavy metal on radio?
,,I can't recall it has ever been any different. It basically doesn't bother me, there's enough other outlets on radio that broadcast a nice chop of noise.''

As a performer you have a diverse and agile style of performing. You're hitting hard and performing loud without skipping a beat, variety is key in your playing. Who influenced you most?
,,A lot (of course)! My biggest influences as a teenager are Mike Portnoy (Dream Theater, The Winery Dogs), Terry Bozzio (Missing Persons, Frank Zappa), jazz/fusion drummer Dave Weckl and his band, Vinnie Paul (Pantera, HellYeah!) and John Otto (Limp Bizkit, The Killer and The Star) to name just a few. Meanwhile I lost count, so many, but in metal a little less: There's so much going on on Facebook and YouTube! Just check out jazz drummer Maison Gudry and Justin Brown, or session drummer Kaz Rodriguez…. All monsters!''

Koen Herfst's style is pretty hard to label, but if I have to pin you it would be a combination of the best technical variety of Mike Portnoy mixed with the agile punk of Dave Lombardo (Slayer). How do you classify your own style?
,,That's a tough one indeed…. I think I'm most influenced by the technical abilities of Portnoy as well as the blunt force brought to the plate by Vinnie (Paul), combined with the John Otto groove and the melody and musical variety of Terry Bozzio… these were pretty defying…''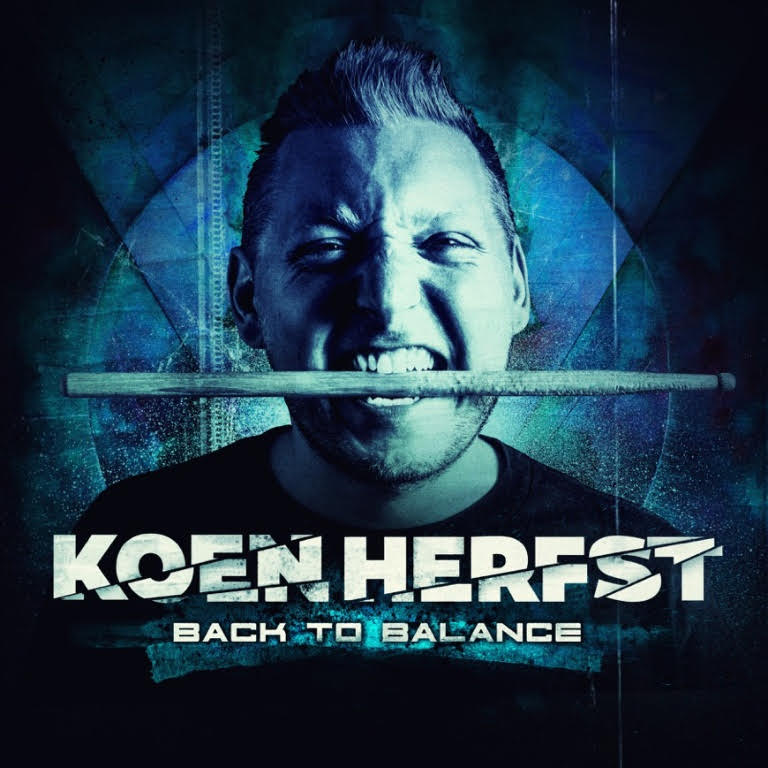 Your solo effort `Back To Balance' already lies 2 years behind us. How do you look back on it nowadays?
,,I'm still insanely proud! Envisioning it is one thing, but eventually putting everything into motion to get the job done is an epical challenge. From all 25 guests involved up to mixing and putting together the artwork and eventually releasing it.''

On this debut you brought together a varied collection of international musicians to lend their talents for this excellent piece of work… I do however miss Armin van Buuren…
,,Don't forget that Armin is a huge star worldwide, and you don't just ask him to participate on your album. Plus, `Back To Balance' is very prog/metal oriented. But hey; who knows what might happen in the future. For now I am grateful to be part of this and every experience along the way.''

Will there be another Koen Herfst album?
,,Definitely! To be more precise: I'm almost done composing the songs for my new album! It's going to be a concept album with a movie to accompany it. It will be very heavy, not only musically! So we have to do another interview about that soon…''

Throughout the years you have lend your talents and skills to numerous bands and projects, both in studio and on the road. What are your most fond memories and how do your look back onto those experiences?
,,There's a lot. Looking back it's hard to imagine all these experiences. World tours, European tours, arena's, mega festivals, and performing from most ridicule small damp underground venues all the way up to Madison Square Garden (!). With Armin as well as with the many bands I toured with, and let's not forget last year's tour with Anneke van Giersbergen (The Gathering, Agua De Annique,) and The Gentle Storm. An exciting experience. There's no 'most cherished moment' in all of this, there's been too many. The good thing to the hard rock and heavy metal community is that it all is very comfy and relaxed, but it's a shame many act degrading towards other genres and styles. Like I said: I'm digging many diverse styles and love to combine the best.''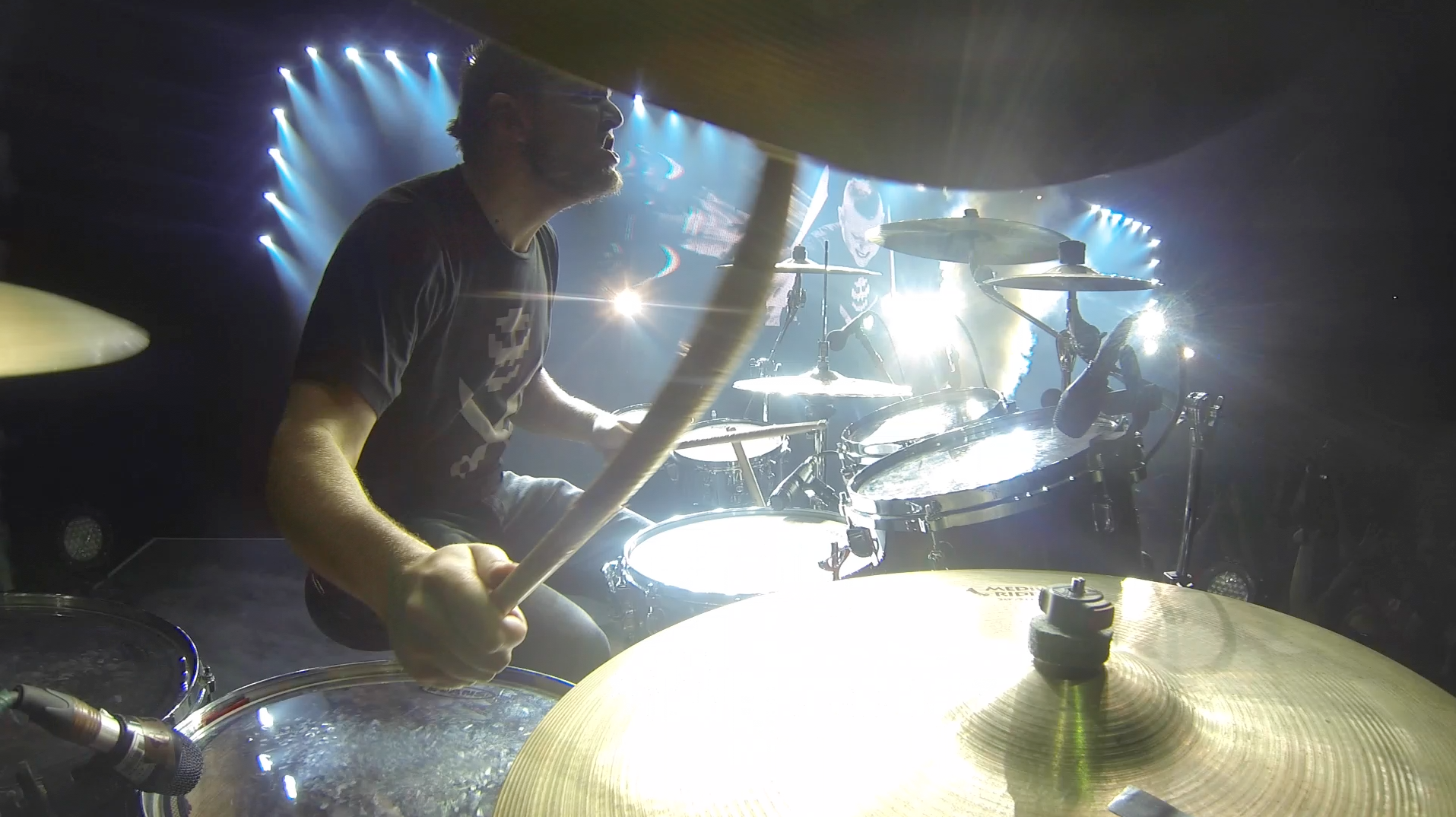 How does the future look for Koen Herfst and his bands?
,,I recently quitted both, Dew-Scented and I CHAOS. I realized I'm not always comfortable onstage performing with those bands anymore. It's related to the limitations of the genre were diversity to me prevails for me as a musician. It's because of that that I'm focussing on my new solo album and a brand new band for the future. It's rewarding to build something from the ground up again and focus, even though it's a tough a long process, and a lot of work. For my new band I also compose a large part of the music and I come to realize that I prefer to create music rather than perform most of the time as well. Aside from that, I'm keeping all options open; which feels great. And don't forget I host my own annual festival HERFSTFEST on the 15th of October at Den Haag's Paard, the 3rd edition already!''

Aside your aspirations for heavy metal's loudest and the Armin Only dance escapades, you also recently recorded a completely different EP together with percussionist Vernon Chatlein. Collections of rhythmic songs with a rootsy feel to it. How did this all evolve?
,,I met Vernon during the DrumDrieDaagse (3 days of drums) and we literally said "Let's do something with drums…" no more no less. Like that! Because Vernon counts rhythm entirely different than me, he times in triplets (3) like in jazz as were I count binary (2); the name 3MEETS2 was born. We have an excellent chemistry binding us together and we will be composing and recording together for sure. A second EP is evolving….''

It's a shame these releases, much like yours, don't reach the vast majority of listeners and musical adepts. Isn't that frustrating at times?
,,My debut `Back To Balance' generated quite some attention; especially taken in consideration it was a progressive release. Great reviews, not only in metal zine Aardschok but in many mainstream music magazines, as well as airplay on national radio like Veronica aside the local stations were very rewarding. Really: mainstream artists more than once asked me how I pulled of all this media attention! The 3MEETS2 release is focussing on a smaller audience and it appeals more to drummers than a general audience. It is exactly why we kicked it into motion with a live stream, which had attracted quite a big audience.''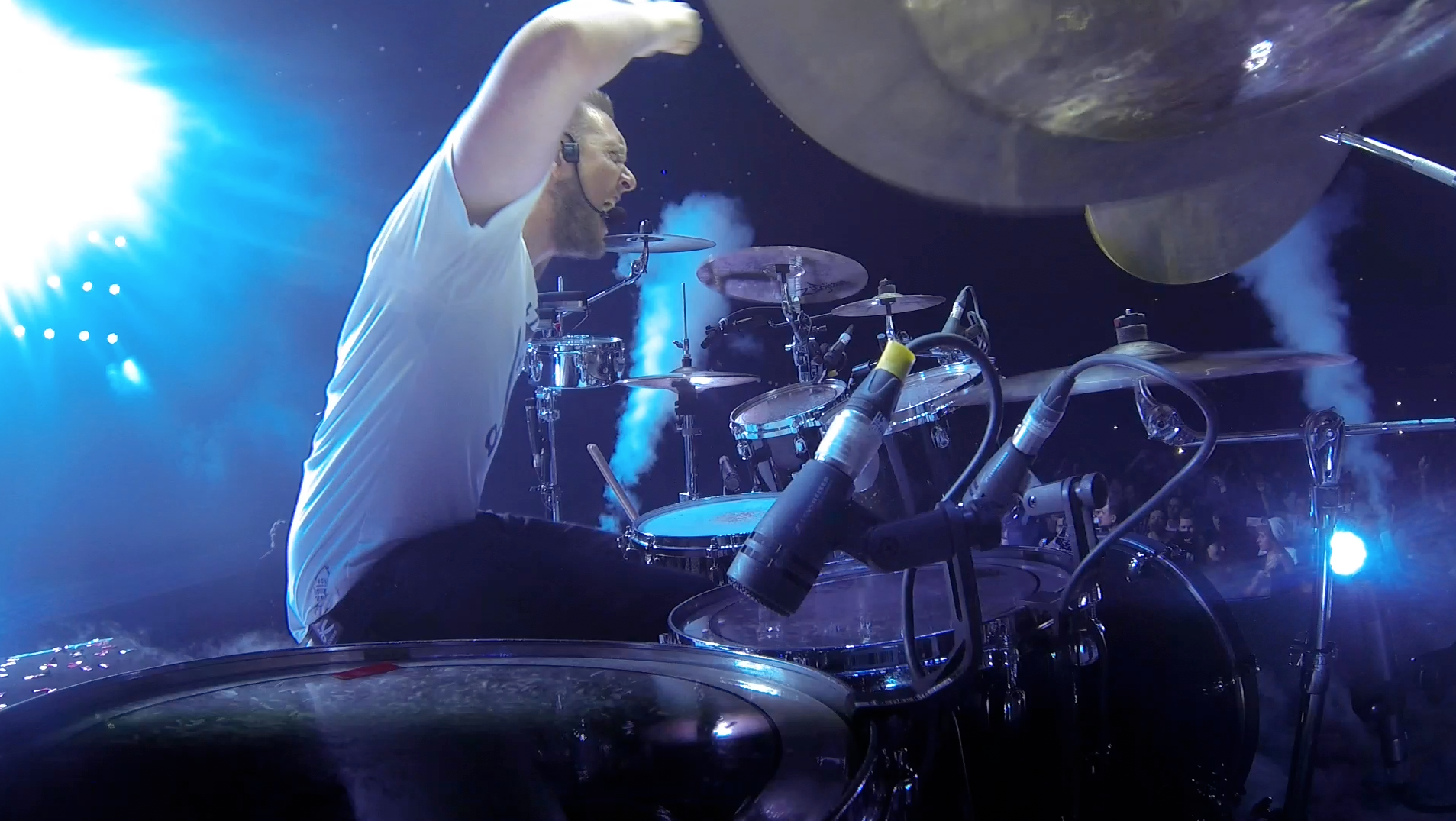 It is exactly what makes Koen Herfst also stand out as a recording artist with his solo album in the past. Not only does he manage to capture the spirit and thrice of his vivid style of drumming, he also manages to attract listeners and fans world wide with his modern approach of multi media outsourcing. Herfst is active on most platforms and updates frequently. He creates a buzz and makes it last….
Koen adds, if you want to stay up to date regarding the progress of his new album as well as the future of Koen's endeavours; check out his socials. For those who have not had the chance to experience the excellent Koen Herfst debut album `Back To Balance' make sure to follow the link Koen supplied for our readers:
https://open.spotify.com/user/koenherfst/playlist/25ApPT4kpZGtJV3v7aWInI
—
Follow Koen Herst on Facebook and visit his Website.