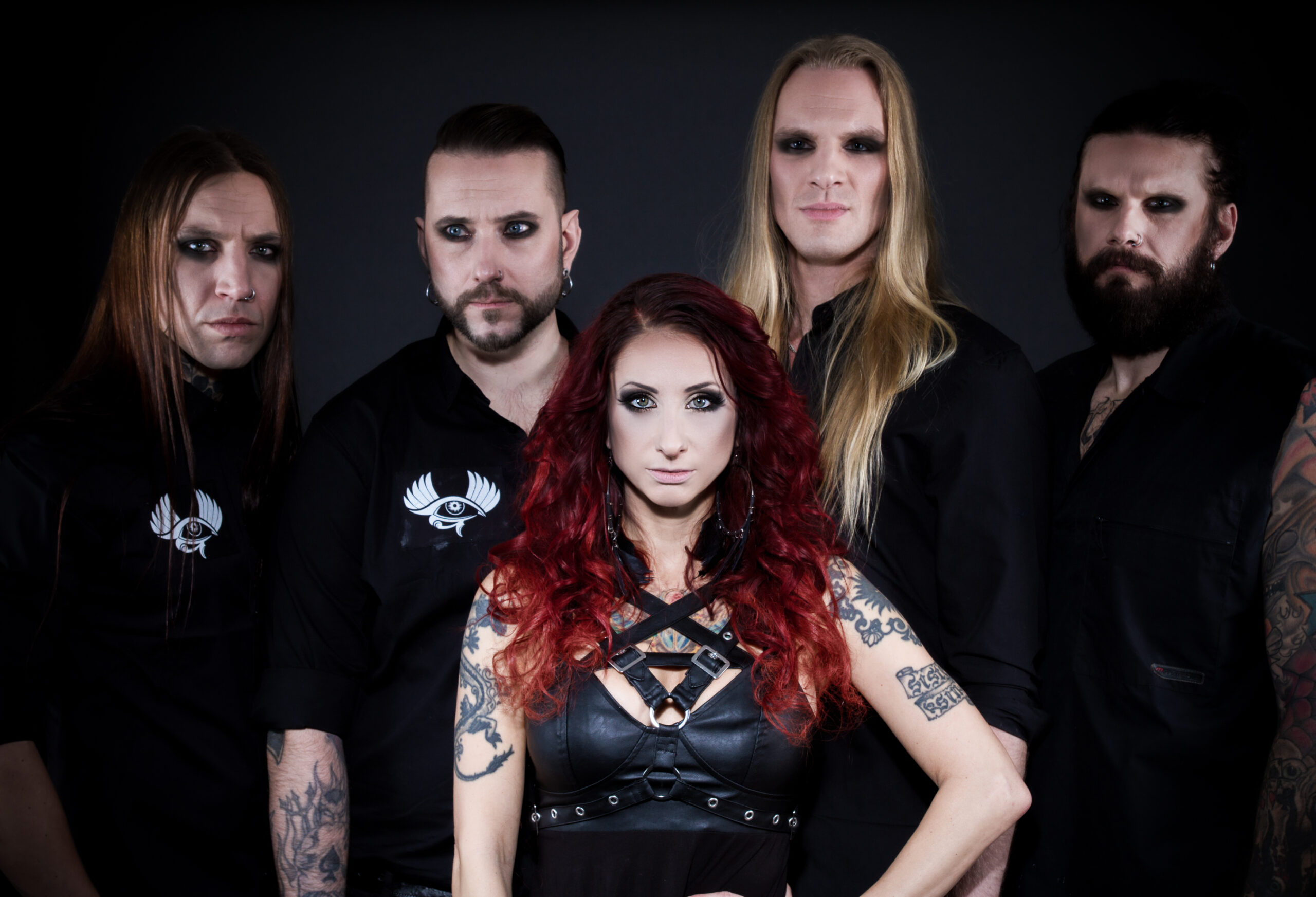 LIV SIN
Metal Deluxe
For 13 years singer Liv Jagrell had great success being the leading front lady of the Swedish `old school' metal band Sister Sin, but when the band pulled the plug late 2015, quitting as a vocalist wasn't an option. Liv took matters in her own hand, made a phone call to producer Fitty Wienhold [bass player for U.D.O. and Dirkschneider] to join forces and got producer Stefan Kaufmann [former drummer of Accept] on board as well. Liv found herself new talented band members, called her new band Liv Sin and debuted with `Follow Me' on April 28th this year. HeadBangers LifeStyle talked with Liv about her new mission in live.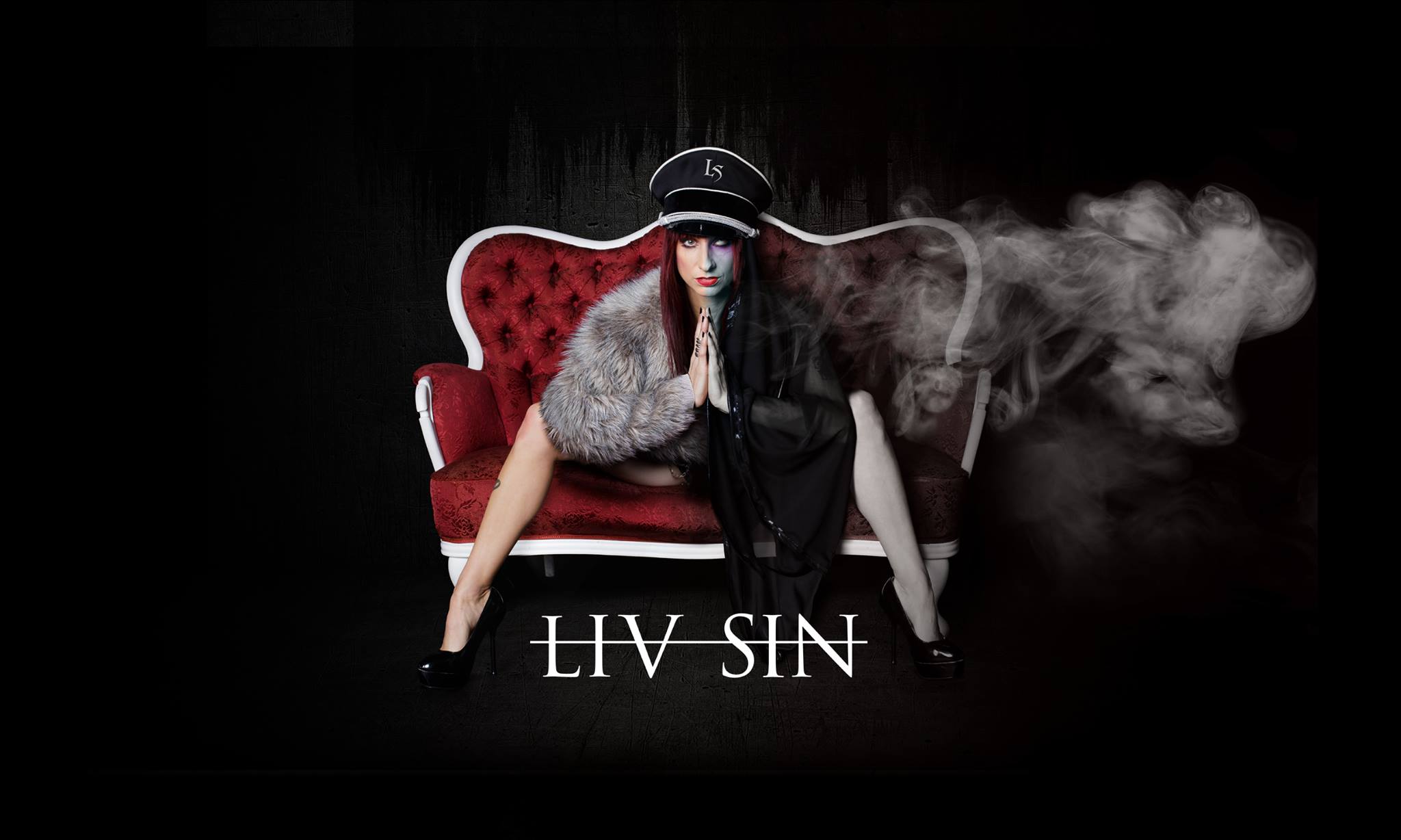 What has been your biggest challenge since your former band Sister Sin called it quits 2 years ago?
,,To start all over again. But I wanted the fans to see I was continuing as a musician and that I was not giving up. It really has been a challenge to start something totally new, to find new band members, to find people who can help with song writing, a producer, a label, just everything you know. I am happy I actually made it through to do that.''

What requirements did you have when you formed Liv Sin?
,,I am not the monster that is hiring people. I wanted to have people who really wanted to be in a band for the music and not to party or whatever. I also wanted band members who could understand what kind of music I wanted to play. For me the guitarist was very important because I want to make guitar based music with Liv Sin. So I have been really careful with choosing my band members and I wanted a bit more grown up musicians. If you want to do this professionally you have to act professionally and you have to act like it is a job. I found really good guys who are doing this because they love playing music and love being on stage. They don't care so much about everything around it. We are all part of the company, we all contribute in making the music, doing social media and stuff that needs to be taken care of. Except for doing the interviews because I am the only one who can talk about my former band Sister Sin for example.''

Did you know right from the start which musical direction you wanted to go with Liv Sin?
,,Absolutely! I wanted to go heavier than we did with Sister Sin, more towards a metal-metal sound.''

Why did you made a phone call specifically to Fitty Wienhold, the bass player for U.D.O. and Dirkschneider, to help you out with Liv Sin?
,,I toured with U.D.O. a couple of times with Sister Sin and I got very close with Fitty. He was like a mentor for Sister Sin and especially for me. He could sneak up on me before I was going on stage giving me small advice. He always told me he wanted to do something together, produce Sister Sin or me. That's why I contacted him immediately and he was very happy I did because he said he has been waiting for it. I started the whole process with Fitty and Stefan is the one who did the actual recordings and the production. They were both like teachers to me and every day I learned something new.''

What skills did you learn from them?
,,Me and my guitarist Patrick [Ankermark] wrote the songs but Fitty and Stefan kept an eye on the whole creative process, to see if everything was going in the same direction and they helped making `Follow Me' a cohesive album. They never downed our songs, but they actually helped us clean up the songs. If there was too much guitars, or drums or too much of everything they took the essence of the songs. They made the songs simpler but that also made them better because it supposed to be heavy metal and not jazz music or what ever. We want to make people headbang and write songs with melodies and hooks that people maybe remember. Stefan was also very good in managing me to try out some different vocal styles. I really wanted to do that, like experimenting a little bit with growling for instance but he brought out even more. He also kind of pressed me to do all the Rob Halford kind of screams, which I love. I think Stefan really got the best out of me and I know now what I can do as a singer.''

Is writing songs a constant process for you, ideas popping in your head all the time, or is it a process you have to focus on?
,,No, not for me. When I was in Sister Sin I didn't write any music or lyrics and never got to actually get into that constant process. Instead I had to kind of shut it off for ten years so I never got to know that creative side of me because the drummer [Dave Sundberg] and the guitarist [Jimmy Hiltula] of Sister Sin wrote all the songs. They were good at it and it just kind of worked that way. The lyrics were always good too so I never questioned them. Though in the beginning I have tried to present some ideas and get my lyrics in but it never happened. Then I just stopped writing. Now I have to chance to prove myself and I am relearning to write music and lyrics. I might get into that constant process but so far I just have been working very hard to just get the album out. Patrick already started writing new songs while I haven't got any lyrics out yet. But when the time is right they will pop up. I am sure of it.''

Do you consider yourself an easy musician to work with or are you a pain in the ass?
,,[Laughing] I am very easy to work with and I do everything they tell me, but of course I have my opinions. Considering my past with Sister Sin I am used to people telling me what to sing. This time I definitely wanted to try things out first and then decide what was best is for the song. The only thing is during recordings I can get a little bit tired in my head after a while. Then I start stumbling across the pronouncement and words, which takes longer to record a song.''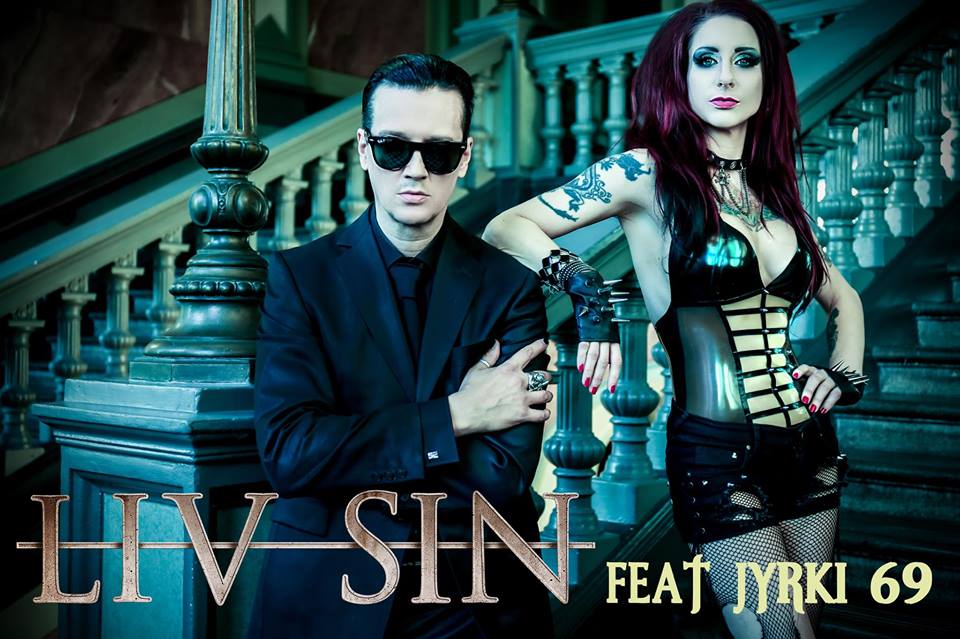 Is there a special reason you wanted to record a duet with 69 Eyes singer Jyrki69, which is ,,Immortal Sin'', a cover of Fight?
,,For the last 10 years I knew I always wanted to do a duet with Jyrki69 one day because he has a really interesting voice. In the studio Stefan and I were playing around a little bit with the song ,,Immortal Sin'' of Fight but it wasn't supposed to be on the album. But we liked the idea of doing a cover of this song only the vocal key was a little bit too low for me actually. Then Jyrki69 popped up in my head. I contacted him and he had time to come down to the studio to record it. He said he also wanted to do a video for it so we did, which is of course good promotion for us.''

Who is Liv Jagrell on `Follow Me'?
,,I don't think it is much different than I was with Sister Sin because I have always considered myself being my true self when I am on stage. That is where I am more comfortable and more relaxed, even though I am nervous or things can sometimes go wrong, I feel I belong there. When I am on stage, it feels like my home. It is the same with this band. It doesn't matter if I am working with other musicians now, I still feel at home on a stage, I feel I am my true me.''

What makes you so dedicated to heavy metal?
,,I don't know. I am just very dedicated to music and heavy metal has been THE music for me. I listen to a lot of other styles of music too. I like a little bit of reggae. I really enjoy listening to Aretha Franklin, Eva Cassidy, two amazing singers. I just do love music, but for me heavy metal is something with the guitars. When I first started out I wanted to be a guitar player. There is something with the heavy guitars that makes it just go right through me and kind of makes me want to listen even more to the music or get into it. I can't explain it more than this.''

Why didn't you end up as a guitarist but as a singer?
,,Because I wasn't such a good guitarist [laughing]. I was an okay rhythm guitarist but I wanted to be the best solo guitarist. I had Jennifer Batten, who played with Michael Jackson back in the eighties, as my idol. She was amazing, doing all this tapping but it never worked for me. I don't have it in me. I have the rhythm in my body but not the solo guitar. I decided if I can't play solo guitar I become a singer instead because I wanted to be the middle of everything. As a singer I had different role models, Rob Halford, Sebastian Bach, Dee Snider and Glenn Hughes. When I got older Angela Gossow of Arch Enemy became a role model for me. Not vocally, since I am not the growl singer, but just the way she was on stage and her whole energy.''

What gives you the adrenaline rush on stage?
,,The energy you feel between the band and the audience, at least when it is there. Sometimes it is not there and then it isn't so much fun [laughing]. But most of the shows you give all your energy to the audience and when they get into the music they give back their energy. I just love that and that is what gives me the adrenaline rush. And yes it is addictive, like any other adrenaline rush you get high on and makes you want to have more of it. I remember the best shows with Sister Sin were because of the audience. I still get goose bumps when I think of it.''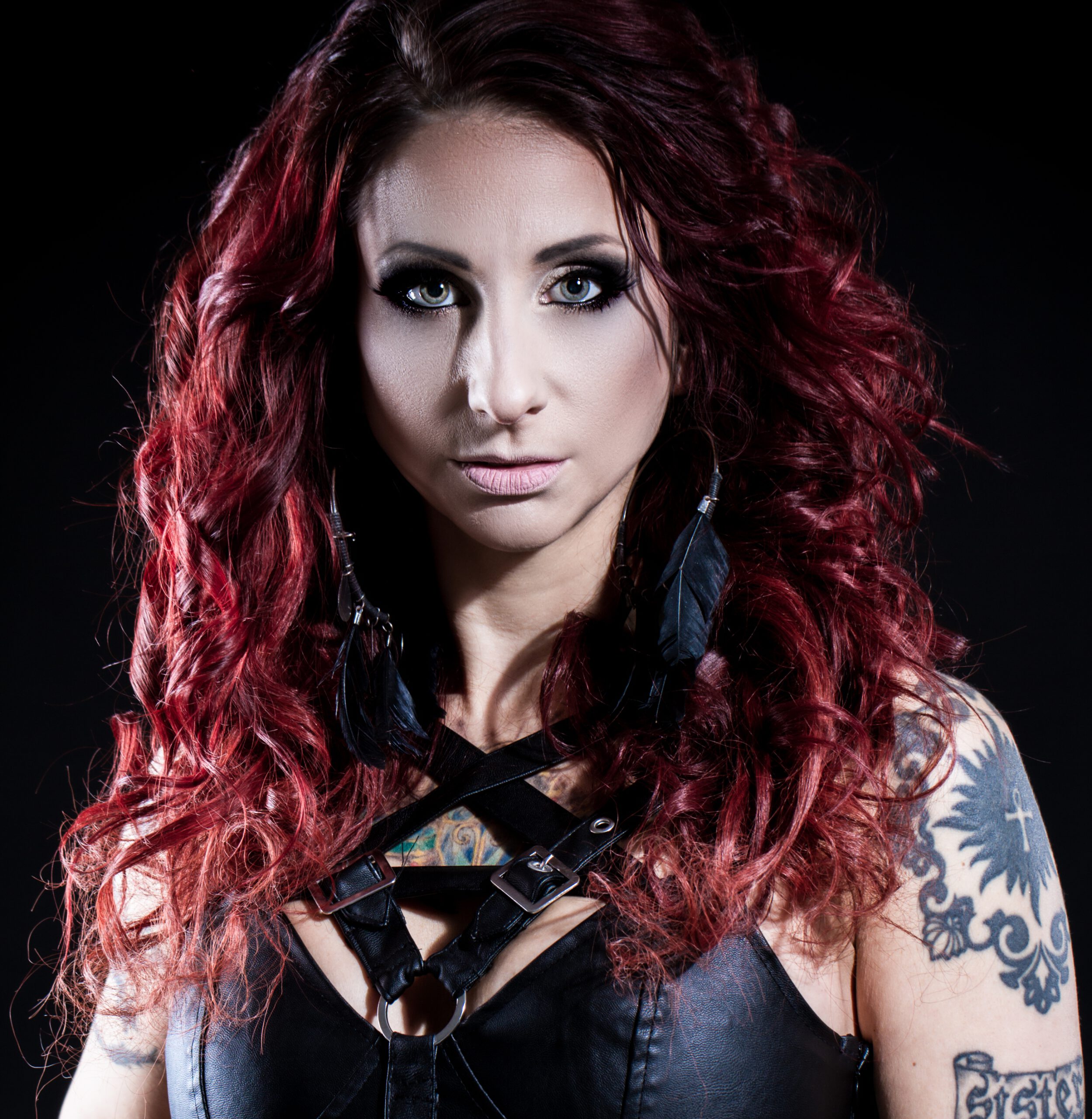 Is heavy metal a lifestyle for you?
,,Probably not if you ask the people around me because I am not very heavy metal in my daily life. I work as a personal trainer. I do a lot of yoga and I am a vegetarian, actually almost vegan. I am not a real party person. I like a glass of wine but I don't like to party all night. I maybe not so metal but for me it is about the heavy metal music and it doesn't matter what you do around it.''

Are you a person who wants to get everything out of life?
,,I am not the type of person who takes so much time off. I am actually a person who has a very hard time to relax. Even when I am a day at home I move around anyway. I just can't sit still, I have to do something all the time. I have a lot of energy so I guess it is good I am in a band, jumping around on stage all the time.''

What dream do you have as musician?
,,One of my biggest goals is to be able to make a living out of music. I still would like to work a little bit on the side as a personal trainer but I would also like to have a choice to do it when I feel like it instead of have to do it because I need the money to make a living. I would really appreciate it to live on music. I don't need much, I don't care so much for money but I would like to make a living out of it so I can focus on the music.''

Which new young good metal bands have you recently discovered?
,,An American band called Beasto Blanco. It is very groovy and I like it. And the Swedish band Nightrage who reminds me a bit of Arch Enemy and Children Of Bodom kind of metal. Those two bands are kind of new in my playlist.''

What are you most looking forward to at this moment?
,,Playing at festivals this summer. I love playing at festivals, outdoors, and bigger stages so I can move a lot. At the moment we are mainly booked for smaller Swedish festivals and we will play the Basinfirefest 2017 in the Czech Republic. I just love the atmosphere at festivals because people are happy, they go around, there is music, it is just wonderful. Hopefully we will go on a European tour this fall. We are working on that.''
—
Follow Liv Sin on Facebook and visit the website here.