MARK WOOD
A true string master who rocks!
Mark Wood is the man behind the invention and development of the electric violin, which evolved into the Viper violin, commonly used onstage in rock concerts and classical settings worldwide. His classical background combined with his interest in rock music in general led to electrifying strings, widening possibilities and blending modern music with classical arrangements. Not only is Mark the driving force behind the development of what became the benchmark in music, Wood is also known for his talents as a composer and arranger for both, the rock world and classical world of music. His expertise often sued for big rock shows and operas blending classical partitudes with modern music. Best known is his work with the Mark Wood Experience `Rock Symphonies'-shows and for Paul O'Neill's annual Trans-Siberian Orchestra which travels the stages in the USA for many weeks around Christmas and New Year's Eve. As a performing artist Mark Wood has toured all over the world sharing the stage with the biggest names in the world. From Paul McCartney & Billy Joel to Kanye West and Celine Dion, Wood has widened the horizon of music in general. Aside his work as a performing artist and inventor, Mark Wood is an Award winning composer recording commercials and tunes for brands and events such as the Olympic Games and The Tour De France, landing him an Emmy Award. On top Mark finds time to compose and record music such as the latest release `Turbow', one of the best instrumental, shred releases of 2016. In the light of this jaw dropping new `Turbow' album HeadBangers LifeStyle had a long talk with the one and only Mr. Wood.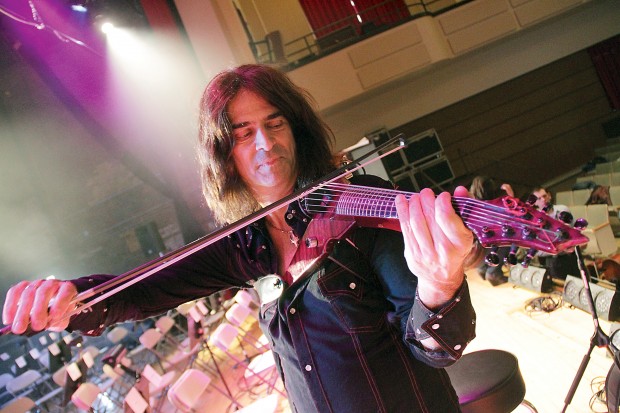 Mark Wood with TSO (photo credit Larry Fisher)

Mark, first of all I want to congratulate you on the new `Turbow' CD. It's an astonishing piece of work and in my opening I mention it being a lot more metal than most shred CD's released nowadays. How do you look at `Turbow' yourself, now it's being released?
,,First of all for thank you for enjoying my work. Yeah, it was a long time coming. After endless tours and building of the Trans-Siberian Orchestra, being an original member, I have been writing and recording in hotel rooms, studios and my home for a couple of years. Although a lot of credit goes to my family: My wife's support, Laura Kay who is also my singer, and my son, Elijah Wood. He is my muse. He directly inspired me and kept on me for years to record new material.''

What's your take on the current hard rock and metal scene nowadays, a lot has changed you think?
,,Nothing has changed basically. The bottom line will also be: Does it rock?! Are the songs good? Are the riffs gigantic? From the Foo Fighters to Shinedown and Five Finger Death Punch, I love it all.''

You were the first violin player that made name in metal. How do you look back on those ground breaking early days?
,,Wow, what a journey!! I'll never forget discovering Eddie Van Halen and Randy Rhoads when I was a student at Juilliard and I could not believe their commitment to not only virtuosity but the nuanced and magical blues feeling that was also in their playing. Coming from Julliard School Of Music and a disciplined classical background the rock guitar was the musical God of the time. Not the violin. Remember, for the last several centuries the violin was the choice of not only Paganini, in the 1800's but also countless virtuoso's from the last 400 years. The violin ruled the musical virtuoso world. Then Jimi Hendrix dropped the musical atomic bomb! And overnight, the guitar became the new virtuoso lead instrument! So, here I am at Juilliard in a small box, not being creative or innovating, I left to pursue rock/metal violin! I never had any interest in playing the guitar, the violin was so special and believe it or not, FAR better suited to playing rock 'n roll!! Yes, there were a couple of very special rock violinist, namely Sugarcane Harris and my biggest influence: Jerry Goodman. Other than those great players, my ear immediately went to the guitar. Van Halen, Steve Vai, Jeff Beck, Duane Allman, and countless others shaped my study after Julliard.''

Was it tough to get accepted in rock music in those days?
,,Not in the guitar world. They all loved what I was doing, because they were also influenced by virtuoso violin players like Paganini. In the classical world I was banned. Juilliard turned its back on me for 20 years, until my teacher passed away, and then they commissioned me to write an electric string quartet: `Nest Of Viper'.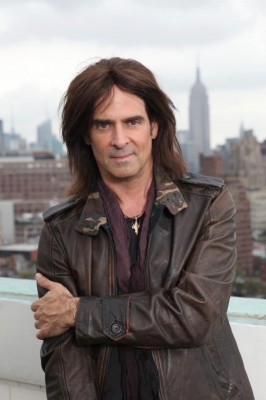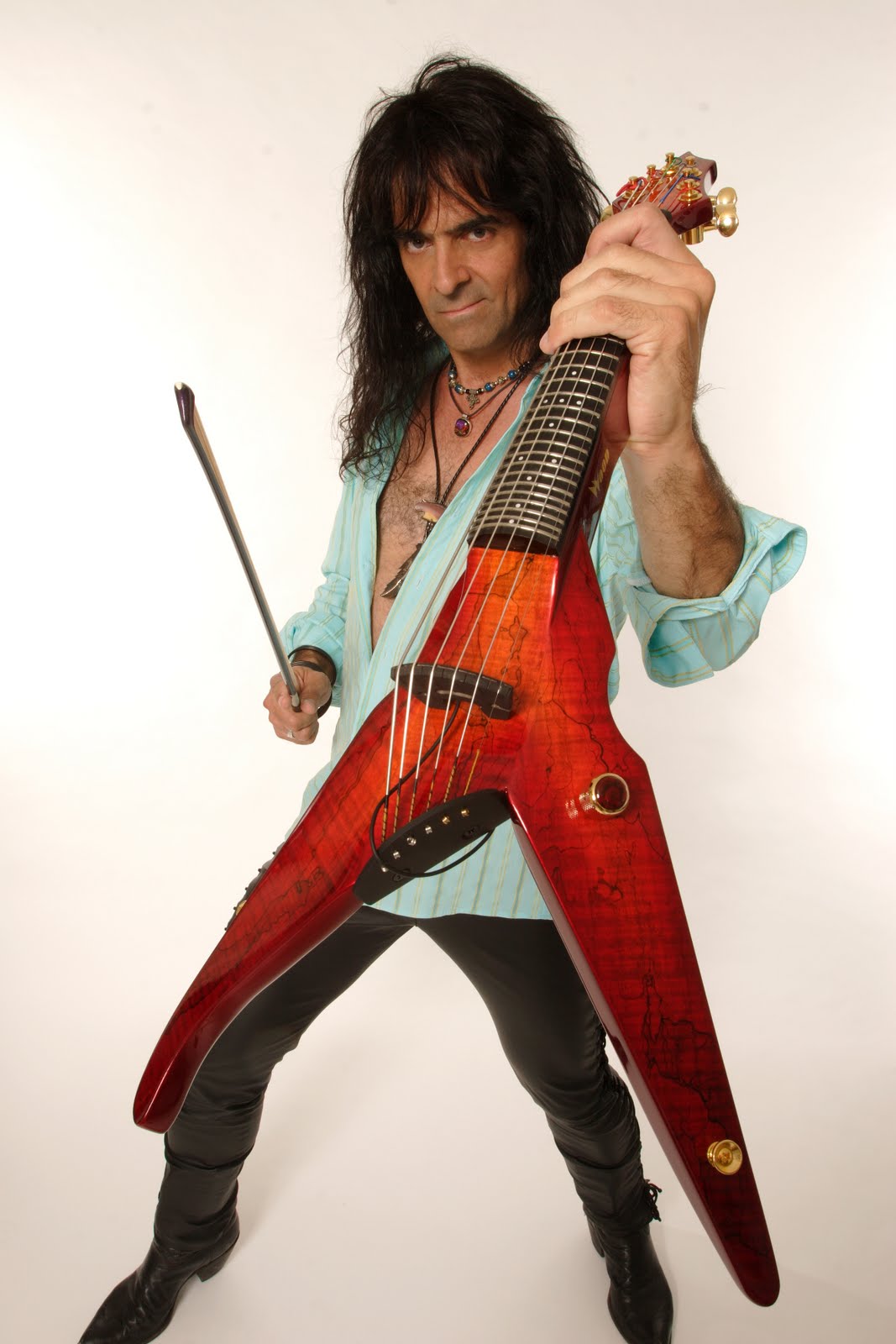 (Photos taken from Mark Wood Facebook)

You released a couple of records (5) under your personal banner and also released a band album Wood in the past, which I personally saw as the right step bringing your music closer to the metal scene. What made you decide to discontinue Wood?
,,Thank you! I thought so too! But remember, the year I released my second record `Against The Grain', Nirvana and Soundgarden with their grunge music took over and all us virtuoso performers were pushed aside. No one wanted to hear 16th notes….only 8th notes!''

I always have seen hard rock and heavy metal closely related to classical music from the past. You being classically trained and a violinist how do you rate classical music and the metal scene? Do you also think both are closer related than most fans initially did?
,,Absolutely, classical music tends to be a little more varied, but some classical music from Vivaldi to Paganini can sound pretty metal!''

Nowadays the acceptance is (in my opinion) better thanks to musicians like yourself and big projects like Trans-Siberian Orchestra. Do you think this will furthermore change in the future?
,,Absolutely! This will be one of the new innovations of the `rock orchestra' style. We've been doing this for many years with the prog music of YES, King Crimson, Pink Floyd, etc…. When we formed the Trans-Siberian Orchestra we had no idea if anyone would like us or show up at our concerts! Look at it now…''

You also paved the road for other bands and acts involving classical instruments. Apocalyptica for instance, and lesser-known EKLIPSE (a gothic string section) are gaining more and more momentum amongst fans. What's your take on this evolution?
,,One area of the music field that is still evolving and expanding. There is still a majestic quality to it all. Melting America with Europe.''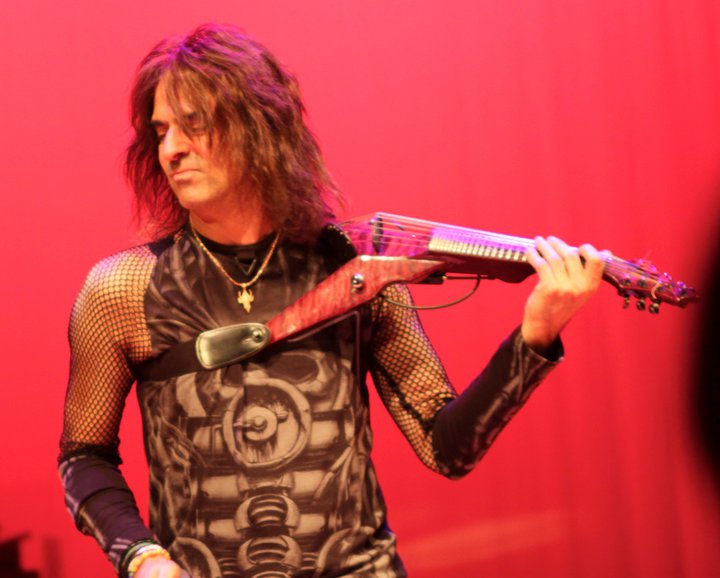 (Photo taken from Mark Wood Facebook)

Composing new music on electric violin, how do you start?
,,A good riff is imperative. That starts the process, then melodies and more melodies.''

How much different is it to compose a tune on violin instead of guitar? I mean, a hard rock song is most likely composed on guitar, as where you have to compose and add guitars later.
,,Because it is a bowed string instrument not a percussion instrument like the guitar we, as string players, have an unusual arsenal of new techniques still being invented.''

`Turbow' is a blend of guitar shred combined with violin interaction over an almost epic musical setting. The music is pompous and orchestrated moving into progressive direction. Did this occur naturally or does one not go without the other (classical arrangements tend to take metal music into a slightly progressive direction)?
,,Oh, yes…they are intertwined. Remember I'm a Juilliard classically trained violinist first and foremost, so that drives the virtuoso power.''

,,Luminocity'' and ,,Labour Of Love'' are both strong compositions which could easily fit on any movie soundtrack. Is the cinematic appeal important?
,,Thank you… Yes, I love my music to have a movie like quality.''

,,Fan To The Flames'' is an eclectic track with lots of style changes. It breathes a Vai-Zappa-ish atmosphere with hectic elements…
,,I'm big fan of Brian May's (Queen) diverse guitar playing! I love Queen's rock feel! I had fun recording this song together with my son Elijah on drums! He was 18 years old when we recorded this.''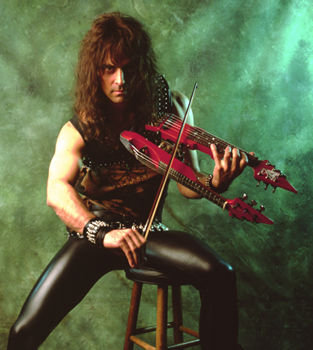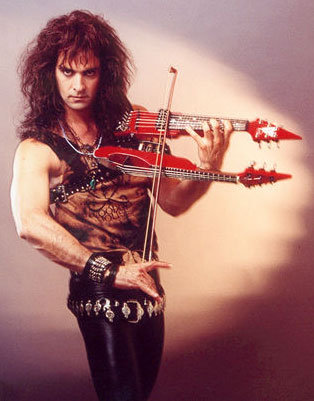 (Photos taken from Mark Wood Facebook)

How important is a song title in an instrumental tune and do you ever start composing with a song title in mind with music taking shape around it?
,,Nothing's more important than the melody. The song title is sometimes last and can change along the writing process.''

You recorded with Jon Bivona (TSO) and Steve Costello, did they have an influence on the direction of your music?
,,They both are great guitar players bringing different emotions to the songs!''

The title track in my opinion is more or less a showcase of what is possible on an electric violin, am I right?
,,Yeah, I'm a fire sign, Sagittarius! Everything seems to be on fire with me!''

I'm curious to find out how the musician Mark Wood looks upon his achievements as the developer of the Viper and Stingray violins, which settled his name in music. Mark's invention and the founded company Wood Music redesigned the instrument for the first time in 400 years. His violin is often referred to as the Stradivarius of electric violins which (of course) makes him a proud man. The Viper violin offers a musical as well as a visual punch and the instrument is widely accepted and picked up by musicians touring with artists in the likes of Lady GaGa and Carrie Underwood. We head into a different direction with him.
Mark, you are also the mastermind behind the electric Viper violin, how did this evolve, and where does it stand in your music?
,,My invention, the 7st Viper, gave me my life and voice in my music! I built the first electric solid body in the 70's when I was 12 years old. A 4 string electric viola… Then I build the first 5 string, 6 string, and 7 string versions. I was the first to put frets on an electric violin. Playing a 4 string violin was too limiting for me. It was like playing a piano with just 3 octaves, where I wanted all 88 keys! I have the entire orchestra in my instrument. Violin viola/cello and bass. It is the first `floating' violin in the world, with my patented chest support system.''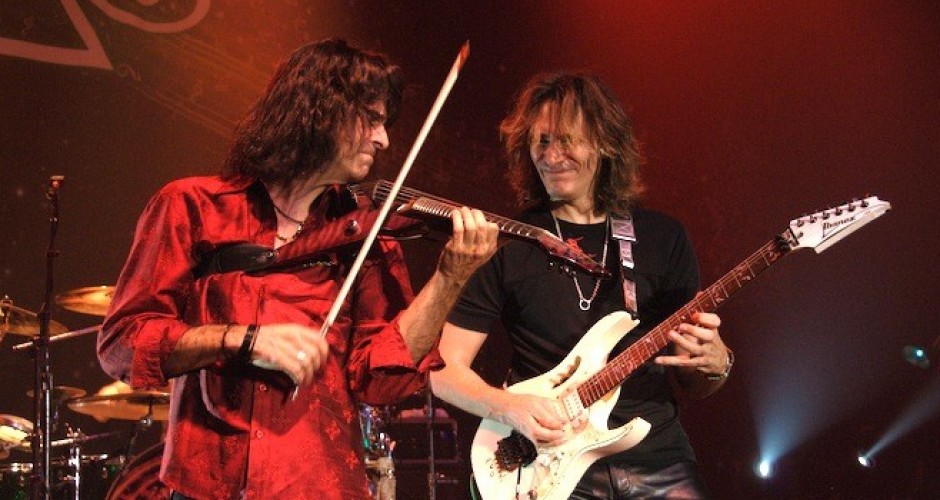 Mark Wood and Steve Vai

You recorded and performed with the biggest names in music. How much different is it to step onto stage with TSO, or Billy Idol and Kanye West for instance?
,,What an honour to perform with all these great artists! Billy Joel, Paul McCartney, Steven Tyler, Lenny Kravitz, etc. Humbling to say the least! I also enjoy performing with a `band' like TSO. We started the group over 20 years ago in NY with a group of friends and boom! TSO was born.''

As a music and violin ambassador your reach extends much further and you are also a teacher in music. How hard is it to combine your career in all these different directions?
,,They are all intertwined. Spreading the message of how cool the violin can be and supporting music programs through out the world. It all allows sharing the idea of great music.''

Where do your interests extend the most, what is your main interest and goal?
,,To grow the music world with diversity and artistry.''

Anything else we need to know or you want to share?
,,This was quite complete, thank you!''

Thank you for taking time for us and thank you for making metal music such a varied and fun musical direction!

Mark Wood's true passion is music in general and music education. His program Electrify Your Strings (EYS), now in its 17th year, is an intensive rock and roll workshop for school music education departments that boosts student self-esteem and motivation and helps raise money for music education. Today EYS visits upwards of 75 schools per year and there is a waiting list of schools wanting to participate. The organization has been featured on The Today Show and CBS Evening News and in countless local media outlets.
With more than 100,000 students reached, millions of dollars raised to help high school music departments across the US, and dozens of school orchestra programs saved from the chopping block because of funds raised through his efforts, Mark Wood has proven himself a man of ideas, action and results. Showing no signs of slowing down, the multi faceted visionary continues to write, perform, record, invent and…. Inspire!
As a matter of fact, Mark Wood is just getting started!
—
Follow Mark Wood on Facebook and visit his Website