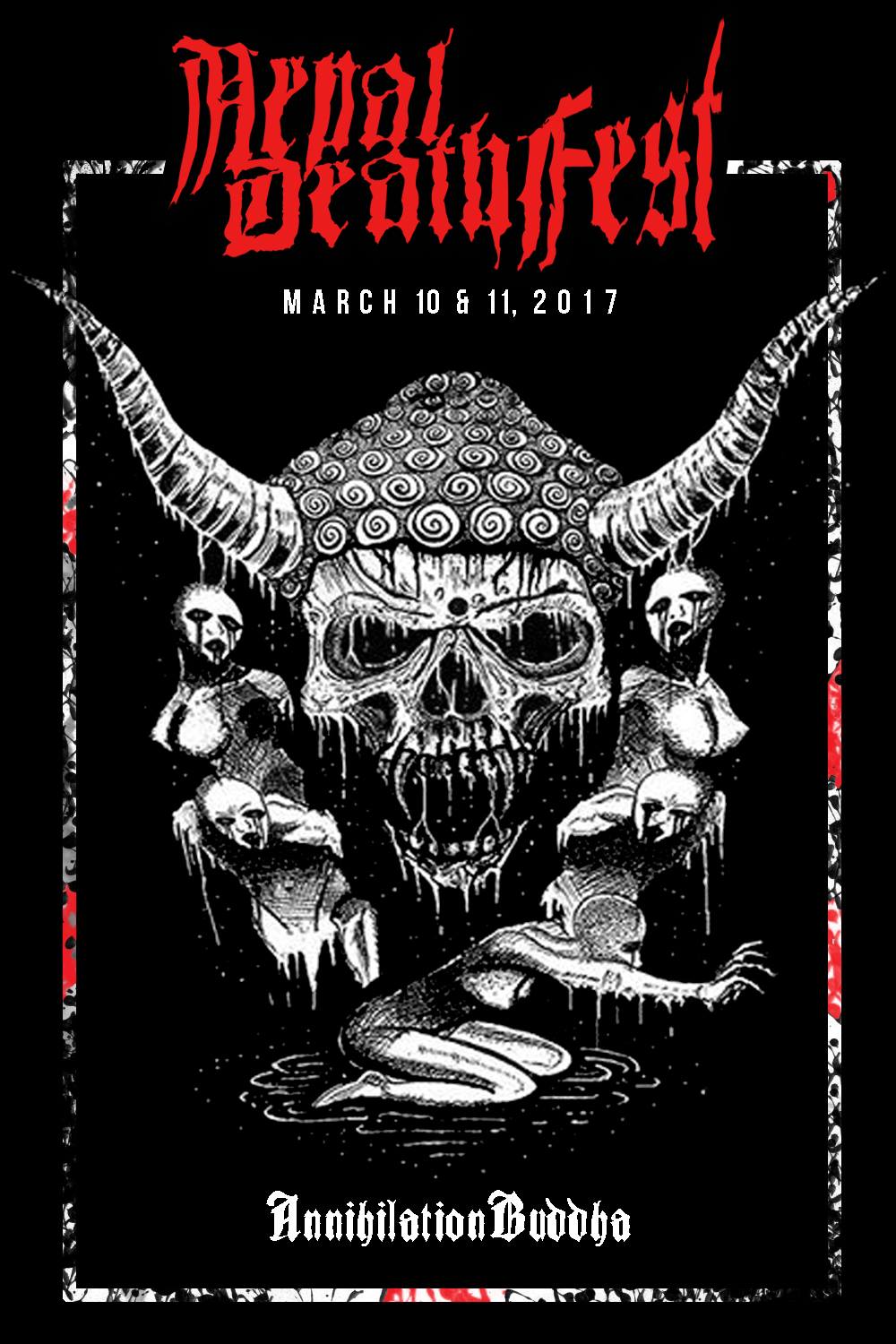 NEPAL DEATHFEST 2017
Taste The Rancid Flavour Of The Real Underground
Welcome to the 4th Annual Nepal Deathfest 2017 in Kathmandu, Nepal. Bands and fans are coming from all over the world to attend and everyone is invited. Even the uninformed, the unfamiliar and the unradicalized. On March 10th and 11th 2017 bands from India, Japan, U.S., Germany and Bangladesh will converge into one of the most alluring and mystical power centres of the world, Kathmandu, to bring you the latest in extreme music overload. If you are planning to be in Asia in that time frame, do plan to stop by Nepal to taste the rancid flavour of the real underground.



Nepal Deathfest has booked the most offensive and outrageous groups available on earth to inflame your eardrums and send you to 7th heaven. Please attend and feed your addiction for outer and inner space experiences at NDF 2017.
Every country can take arms against oppression. Even those who have no power, no direction, and no idea what to do, can raise their voices, their banners, and their fight for freedom through gentle means and loud voices. Come and check it out.

The first day of the event, on March 10th, will open with new local power house Disxcord. The day's line-up will follow with Scutter, Rog, Error, Snuffx (India), Nude Terror, Strangle and Congenital Death from USA will close the show.
Don't miss this day to hear the "raw primal darkness" that sets Nepali death metal apart. What makes Nepali death metal bands special? Matt Bacon said: ,,Nepalese death metal is defined by its primitive brutality, but beyond that there is a sense of raw primal darkness that you just don't get in western metal.'' (Entertainment, 8/2/15).

The second day, on March 11th, will begin with one of the finest death core act of South Asia's Desperate Mile warming things up for the following dynamite bands: Corpse Sick, Aakrosh, Warhound (Bangladesh), Corbata (Japan) and might Defeated Sanity from Germany will end the 4th edition of Nepal Deathfest.
For those of you who may know about the dynamic music scene in Nepal, it comes as no surprise that the number of fans of extreme metal music has been growing for years. They were ripe for organizing into Nepal's unique organic way to connect fans with the music they loved. So four years ago, Brutal Pokhara's Zivong Gurung and Vishal Vol of Eumsn (Extreme Underground Metal Society Of Nepal) started Nepal Deathfest. Due to their undying passion for the underground movement, and their talents for organization, the Deathfest has yearly expanded the presentation of the most brain bashing bands from around the globe and proved to be the largest gathering of the underground community in South Asia.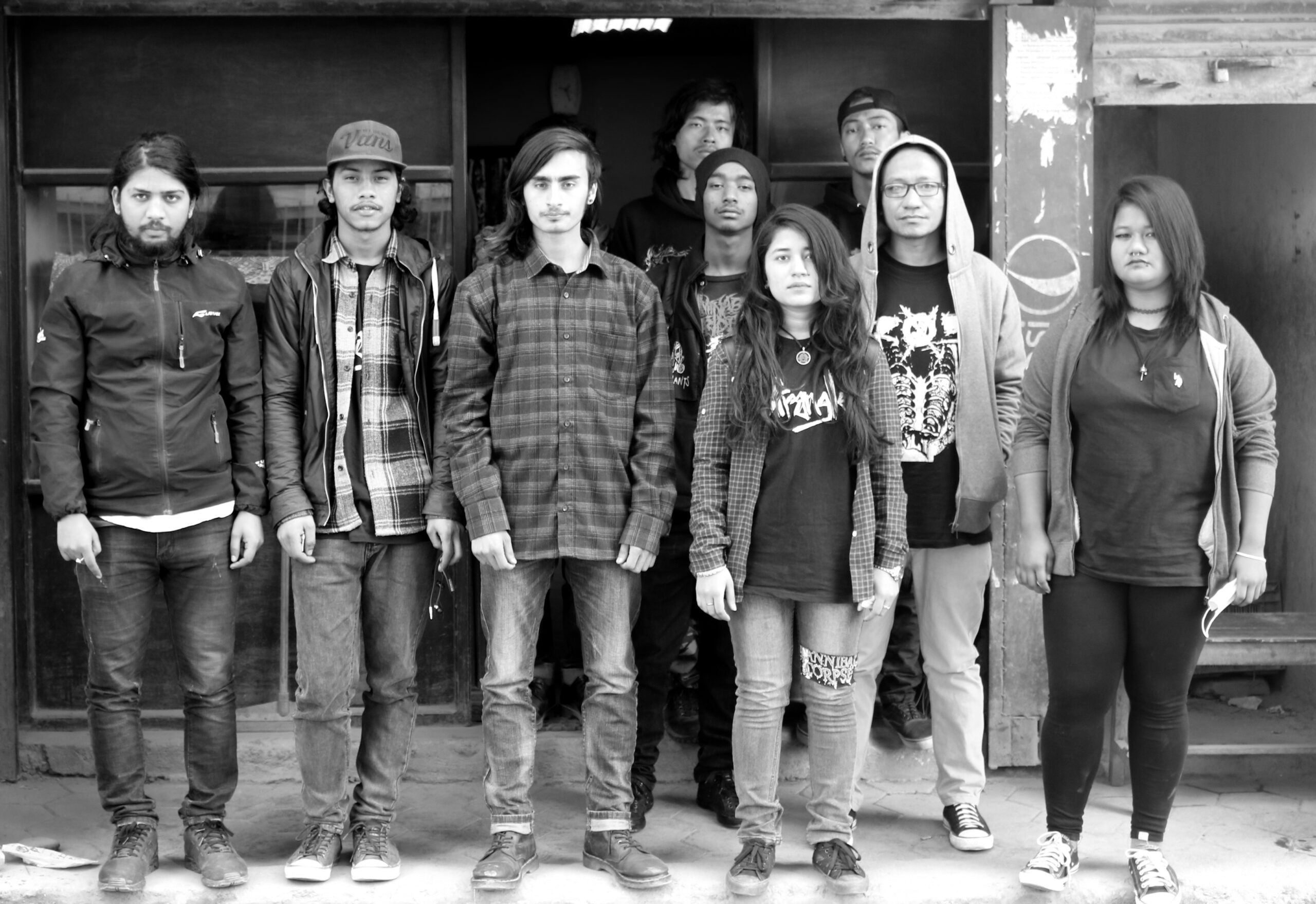 Nepal Deathfest PR Team

I asked Vishal Vof of EUMSN a few questions that had been burning in my mind.

Vishal, do you have different partners for each Fest?
,,Kind of, yes. We are always open to any organization or media who wants to be part. But this year there's a special group who's working hard to make this edition more than successful, and the boys Viking Da and Siroz da too. Also without the guys from Aakrosh, Nude Terror, Desperate Mile and Error, this fest would have never made this so far.''

Do you ever get to watch full sets during the Fests?
,,No, because I am always so busy putting things together for the other sets and details of the show. But I do take out a little time to see each band live. I enjoy myself a lot if the show runs smoothly.''

Obviously, you are an organized guy who has his shit together. Do you ever consider doing more mainstream festivals? In other words, why do you keep it underground? Is it because you don't care about mainstream metal or money?
,,Actually, these days, so many bars, alcohol houses and other types of venues send me requests for shows. When I look at those deals, it's all about them and their products. They want to use EUMSN for their own benefit. So it's better we keep EUMSN to ourselves and not for the masses or any corporate houses. We enjoy EUMSN as long as it unites people, promotes new bands and EUMSN can continue to support those who need us.''

You spent a lot of time in a touring band, Wakk Thuu. How much does that help you put together a festival?
,,Wakk Thuu has helped me and brought me those people who are now part of EUMSN. They're loyal, die hard and extremely dedicated to what we're doing today. I would have never brought EUMSN this far without Wakk Thuu.''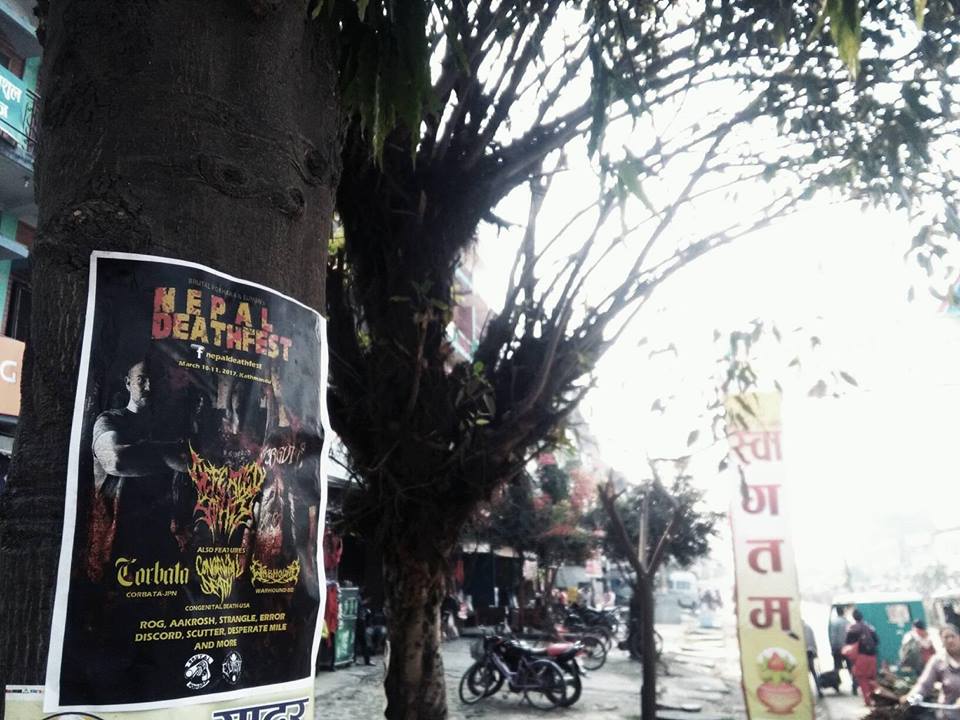 What do you love so much about the music?
,,This music reminds me that I'm still a human who's here to love and share. One can easily notice that during our shows, we stand together as one. We are concerned about the same issues and we share a strong bond of love and passion.''

Tell us a little about the future of Deathfest.
,,As long as there remains passion in EUMSN members, this Fest will continue. I do hope that someday it will become open air. We are here to stay.''

Can you offer any words of wisdom?
,,Do not forget to love. People have forgotten to love and that's why there is such a division in our society. And flags have divided us more than anything. National flags, politician flags, religious flags. What are all these? Someone just made these flags to divide us, but this Fest can unite us.''

I guess this means that the future of the extreme underground music movement is unknown, but as long as young Nepalese remain unemployed, underutilized and under surveillance, the foam of ferment will rise to the top and spill over to the Underground.
—
Visit the Facebook Event Page of Nepal Deathfest 2017 here
Visit the official Facebook Page of Nepal Deathfest here
Visit the official EUMSN Facebook Page here
Visit the official Brutal Pokhara Facebook Page here