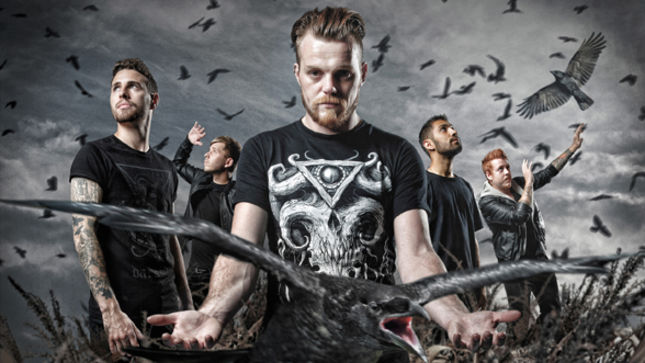 THE RAVEN AGE
"In 5 Years We Will Be Headlining Wembley Stadium" (George Harris, guitarist)
The Raven Age, an English melodic metal/hard rock band, hailing from London, was formed in 2009 by guitar players Dan Wright and George Harris; yes, the son of…. Five years later the band recorded and released their self- titled EP and in the beginning of this year they released their first full-length album called `Darkness Will Rise'. In a rather short time The Raven Age have achieved what most bands can only dream of, as these guys have been on tour with two of the greatest metal bands ever, being Anthrax and Iron Maiden. Recently co-founder and guitar picker Dan Wright was replaced by Tony Maue and The Raven Age are now on their first headliner tour; before their show in Tilburg (NL), I had the chance to talk to George Harris.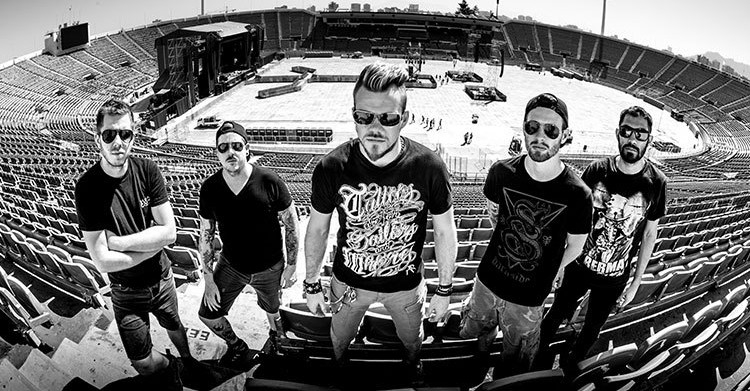 Well, George, does it feel good to be back in The Netherlands?
,,Yeah, definitely, we love playing here, we are really looking forward to the show tonight.!"

Are you already working on new material, perhaps?
,,As a matter of fact, we are, yes. However it is still in the early stages, we have loads of ideas and we are all pretty excited about writing new stuff but we really have no idea when the new material will be ready; maybe next year, who knows, but be assured we are working on it!"

You have been on tour with Anthrax and Iron Maiden and now you are on your first headliner tour, how is it going so far and what are the differences between those tours?
,,We went out with Maiden for six months and that was brilliant for us as such a young band; we visited six continents and it was amazing. The tour with Anthrax was also a great learning experience for us as Anthrax is really a massive metal band and we were really nervous for their fans, but it worked out very well. The guys from Anthrax are really cool and they gave us a lot of great feedback and advice what to do, and especially what NOT to do [laughing]. Our first own tour is going great actually, better than we expected. Playing for our own fans is really different, but it is really a challenge for us to win over new fans as well."

Could you describe the sound of the Raven Age to an alien?
,,Uh…..I think we label ourselves as a melodic metal band."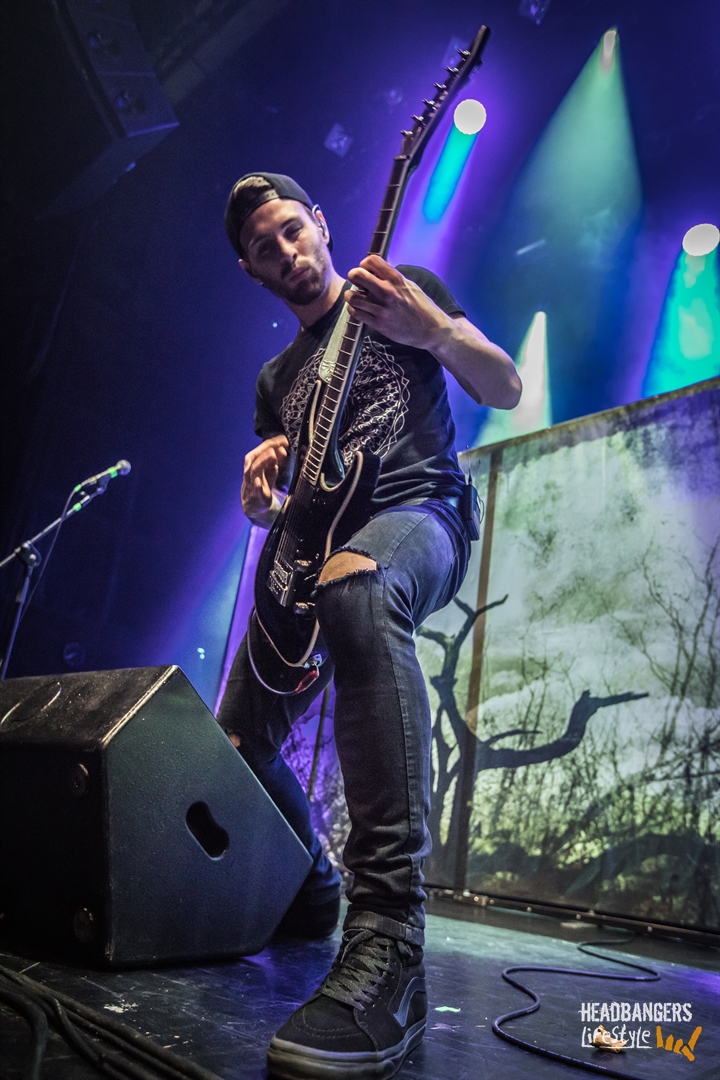 (George Harris, photo by Rob van Dalen)

What was your first contact with metal/hard rock music?
,,Good question, let me think, well of course that sort of music runs in the family, so metal and rock was the first music I heard; when I was 13 I liked and listened to Green Day and The Foo Fighters a lot. When I grew older my favourite music became heavier and heavier and I really became a metal fan later on; one of my favourite bands became Killswitch Engage.."

What was the first album you bought?
,,Well, I got some money from my nan for X-mas and I bought two CDs, which were actually on sale…. They were `B-sides and 2003 Rarities' from The Deftones and `Frail Worlds Collapse' from As I Lay Dying, a very heavy album."

What was the first gig you went to?
,,That was at the Brixton Academy and I saw Audioslave there and as they played ,,Killing In The Name Of'' I was blown away, that was amazing and I knew that I wanted to be on stage as well and get the same kick as these guys from Audioslave…."

Do you have a musical guilty pleasure?
,,Good question again, well I certainly have.. let me think, I would go for Adele as she has a great voice, yeah, I go for Adele [laughing]."

Any hobbies besides music?
,,Yeah, I am really into sports, I like to play football every week with some of my mates and I play tennis, badminton, squash; but I also like to go to the cinema and chill out."

What is the last album you bought?
,,The new Trivium album called `The Sin And The Sentence', I pre-ordered it [laughing]."

What do you collect?
,,I am not really a collector although I have quite a couple of CDs, I know this is probably a boring answer….."

Do you have a musical hero?
,,That is a tough question, I really would not know…. Well Dave Grohl once had a massive influence but to say he is my musical hero… as I said tough question…"

What is the most important metal song?
,,Personally, that would be ,,The End Of Heartache'' by Killswitch Engage. I heard and liked that song at a crucial time in my life when I was getting into that sort of music. I heard that song on the TV, I saw the video and I was blown away; sheer magic!!"

Best metal gig?
,,Again a very tough question….when I was 16 As I Lay Dying in London."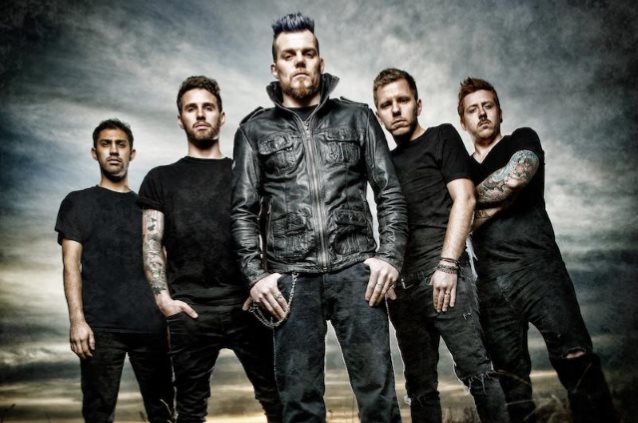 With which metal musician would you like to work in the future?
,,Let me think, again… That would be Mark Tremonti. I toured with him and he is really a nice guy and a great song writer, so I would love to work with him, yeah."

Which metal/rock album brings you in a good mood?
,,Good question, again…in fact all new metal albums."

Who came up with the name of the band and what is the story behind it?
,,Well, I did. I was reading something about the Tower of London at the time and I came upon the legend of the ravens [the legend is that if the ravens of the Tower of London leave the Tower the British Empire will fall, and therefore they clip the wings of the ravens so that they cannot fly away… MK] and I thought that it was a great name for our band, so.."

Where will The Raven Age be in five years' time?
,,Headlining at Wembley Stadium [laughing]…. That would be great, right? I would not know really, hopefully we will still be doing our thing, as we really love doing it. We must keep playing and we must keep growing and we need to play in bigger venues in the future. We want to play in the Brixton Academy as we saw all our favourite bands there! If we could pull that off that would be really awesome!!"

What are your personal ambitions?
,,Get better as a guitar player, carry on writing and write better music. Write good and interesting lyrics as I think that it is really difficult to come up with good lyrics. Good lyrics are important for The Raven Age as our fans are really into it and our lyrics lift some of our fans up and that is a really good thing. I did not know that writing lyrics was so difficult and I never thought that I would be writing lyrics in the first place."

Do lyrics of a song need a message?
,,Not necessarily and we absolutely want no brainwashing or something like that; we want to retell a story and that's it."

How did you learn to play the guitar?
,,By myself, actually. I started with the bass guitar and my dad taught me a couple of things, but when I was 12 I stopped playing the bass and switched to acoustic guitar and later on electric guitar. I did not have guitar lessons, I figured almost everything out by myself and I still do [laughing]…."

Do you have a guitar "hero"?
,,Not really, I like melodic guitar solos, think of Slash for example…."

Will The Raven Age be playing on summer festivals in 2018?
,,Yeah, we will be playing summer festivals in Europe for sure. This year we did Graspop and it was awesome although we had to play very early and almost everybody was still hung over [laughing]…."
—
Follow The Raven Age on Facebook and visit the Website.