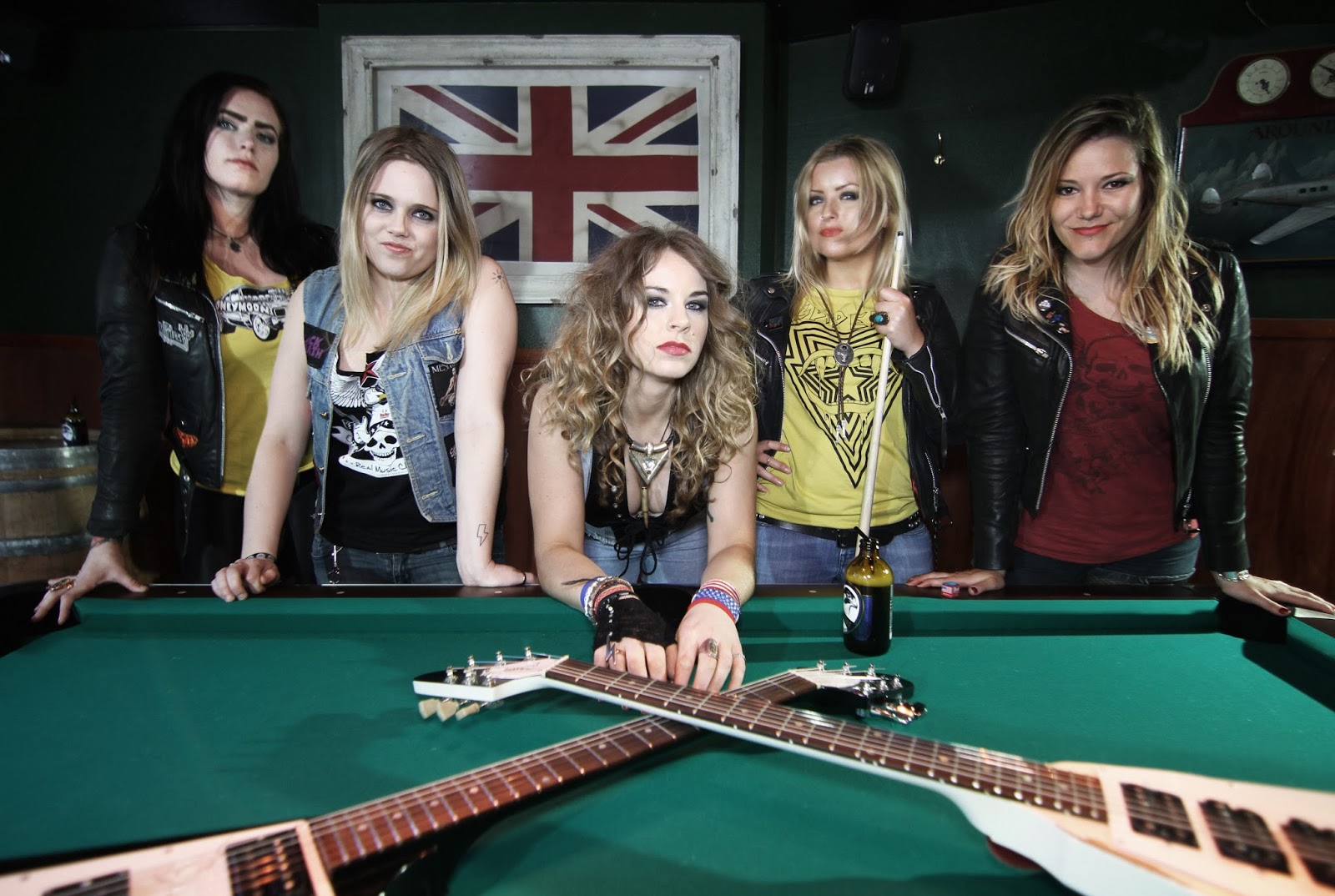 THUNDERMOTHER
Rock 'n roll is not dead!
Female musicians have always been around in rock music but they became much more present since the rise of hardrock and heavy metal. During the seventies we had bass playing rock chick Suzi Quatro, all female teen rock band The Runaways and of course Heart, featuring the talented sisters Wilson; all paving the way for a new genre that was about to happen. In 1980 the New Wave Of British Heavy Metal turned the rock scene upside down and that same year all female London based heavy metal band Girlschool released their debut `Demolition' as their answer to Motörhead. Since then many female artists wrote their own musical history and today the metal scene is crowded with (successful) female musicians and singers, performing in all subgenres, sounding from angelic until heavily grunting and screaming.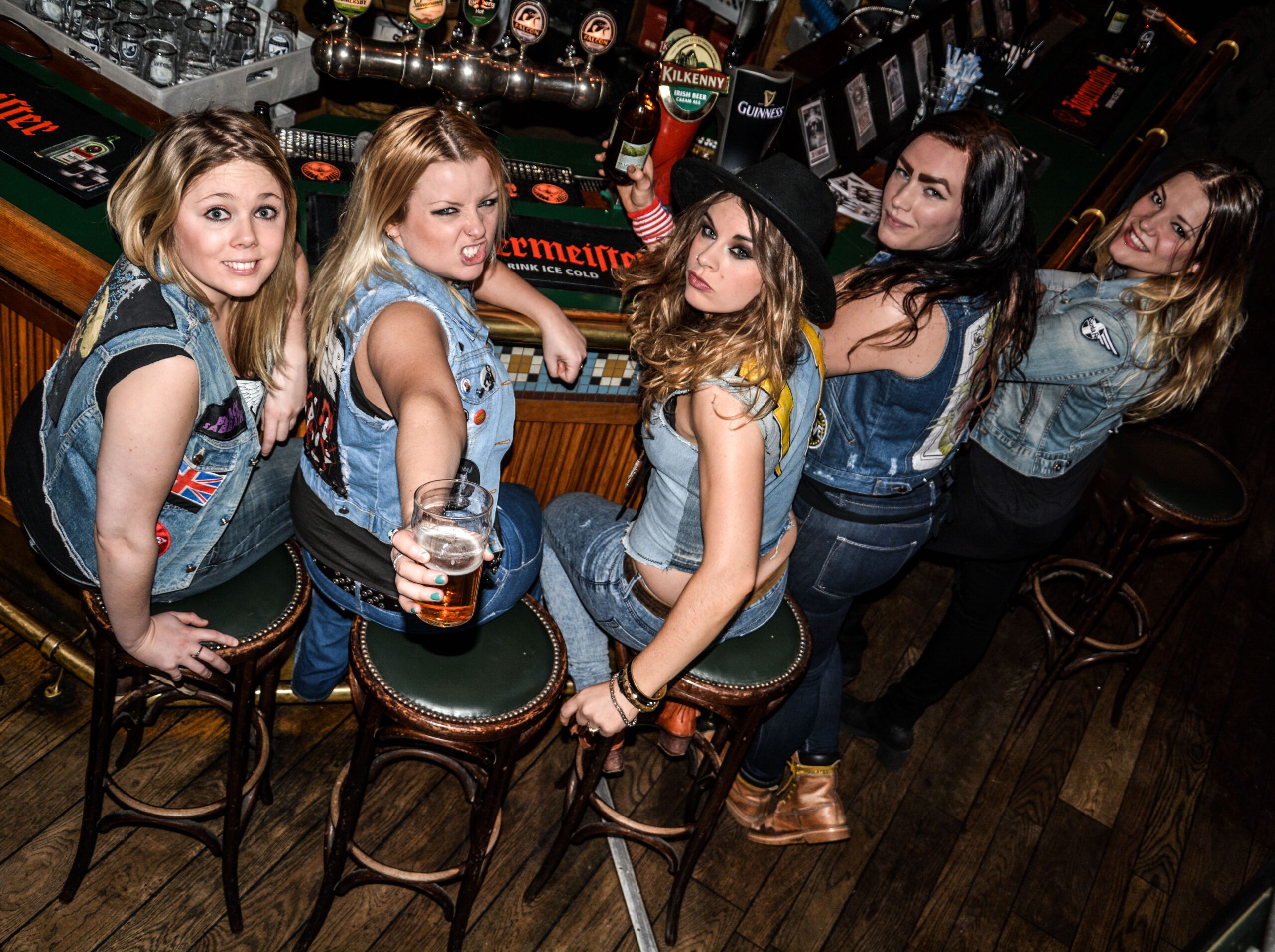 Photo by Linda Pettersson

A relative newcomer is Thundermother from Stockholm, Sweden, once started by guitarist Filippa Nässil in 2010, who had a dream, a vision and one song; ,,Shoot To Kill''. Thundermother turned out as a five-piece all girl hardrock band that plays loud, AC/DC inspired rock 'n roll and hits the road whenever they can. With their debut `Rock 'N' Roll Disaster' (2014) Thundermother conquered homeland Sweden but with their brand new cd `Road Fever' Filippa Nässil (lead guitar), Clare Cunningham (vocals), Giorgia Carteri (bass guitar), Linda Ström and Tilda Stenqvist (drums) are ready for worldwide success. HBLS talks with Tilda Stenqvist for an introduction.

What are the motto, spirit and mission of the band and is it different from the early days?
,,Our motto in the band is to have a lot of fun in all we do!! Without the fun it's hard to rock and roll! Since we're such great friends and love what we do this usually isn't a problem haha! Our mission definitely is to show the world that rock 'n roll is not dead!! As long as people appreciate what we do we will keep doing it!''

Was Thundermother meant to be an all female hardrock band or did it just happen?
,,Actually Thundermother hasn't always been an all female band. In the first line-up there was a male drummer for example. But since then there have been some changes in the line-up throughout the years and Filippa, our lead guitarist and founder of Thundermother, wanted it to be an all female band. So she decided to go look for female musicians.''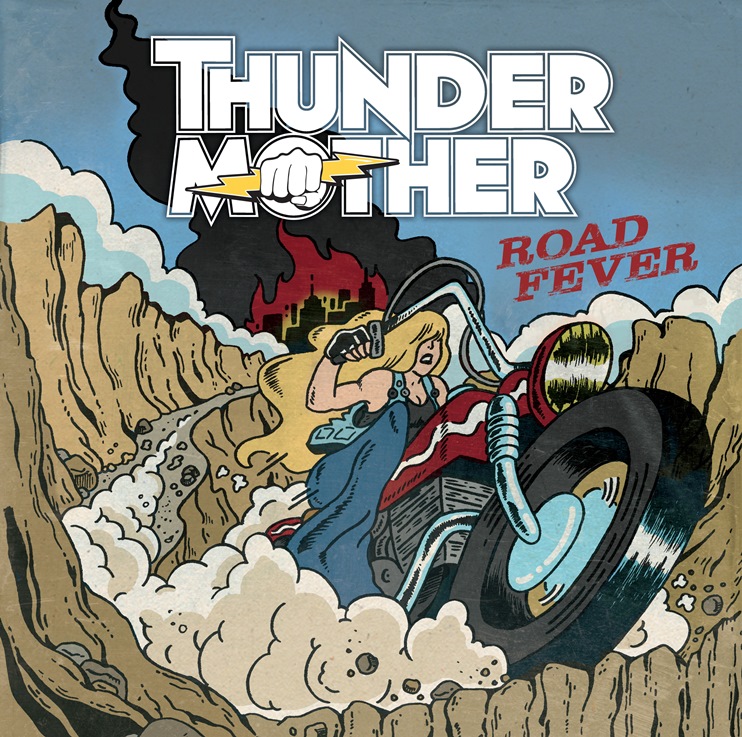 During what kind of circumstances is the new album `Road Fever' written and recorded?
,,Filippa has written most of the songs for `Road Fever'. On our way to a gig about one and a half years ago she sat us all down and introduced a bunch of songs. Then we all picked out the best ones together. Once we entered the studio to record them, new ideas popped up and so there were some changes made in lyrics and arrangements for example.''

Is the recording and writing process different from `Rock 'N' Roll Disaster'?
,,`Rock 'N' Roll Disaster' was almost solely written and produced by Filippa and we all recorded our parts in different studios. I recorded my drums in southern Sweden, Linda recorded her bass in Gothenburg and Clare did her vocals in Wales (since she lived there at the time). We recorded `Road Fever' all together in a studio in Stockholm, which was great since we had the support of the whole band and everyone could contribute with ideas in a better way. Also the sound and feel between the two albums are a bit different. `Rock 'N' Roll Disaster' has a lot of seventies Classic Rock feel to it whilst `Road Fever' has more variety and influences in the songs and it has a more retro sound.''

What are the required ingredients for a good Thundermother song?
,,Required ingredients for a Thundermother song are kick ass guitar riffs, 4/4 drums, pumping bass and Clare's whiskey voice on top of it all! Both our albums have a lot of energy and fun, which is what we're all about!!''

Thundermother is old school oriented, not only the music but also when it comes to look and image. Why this fascination?
,,Our fascination about this is because we just love the old school style, music wise and fashion wise. It goes hand in hand I guess!''

What can people expect of a Thundermother live show?
,,At a TM live show the audience can always expect some kick ass rock 'n roll and a lot of energy! Our goal at every show is to make the crowd see the fun we're having and to make them feel a part of it!!''

Thundermother is nominated for `Hardrock of the year' and `Group of the year' in Sweden's biggest free monthly magazine GAFFA. Did you see that one coming?
,,We were thrilled to learn we were nominated for `Group of the year' and `Hardrock of the year' in GAFFA! Of course a nomination is something to hope for but the competition is hard so we feel really happy we got picked out for these nominations!! It shows that our hard work pays off!''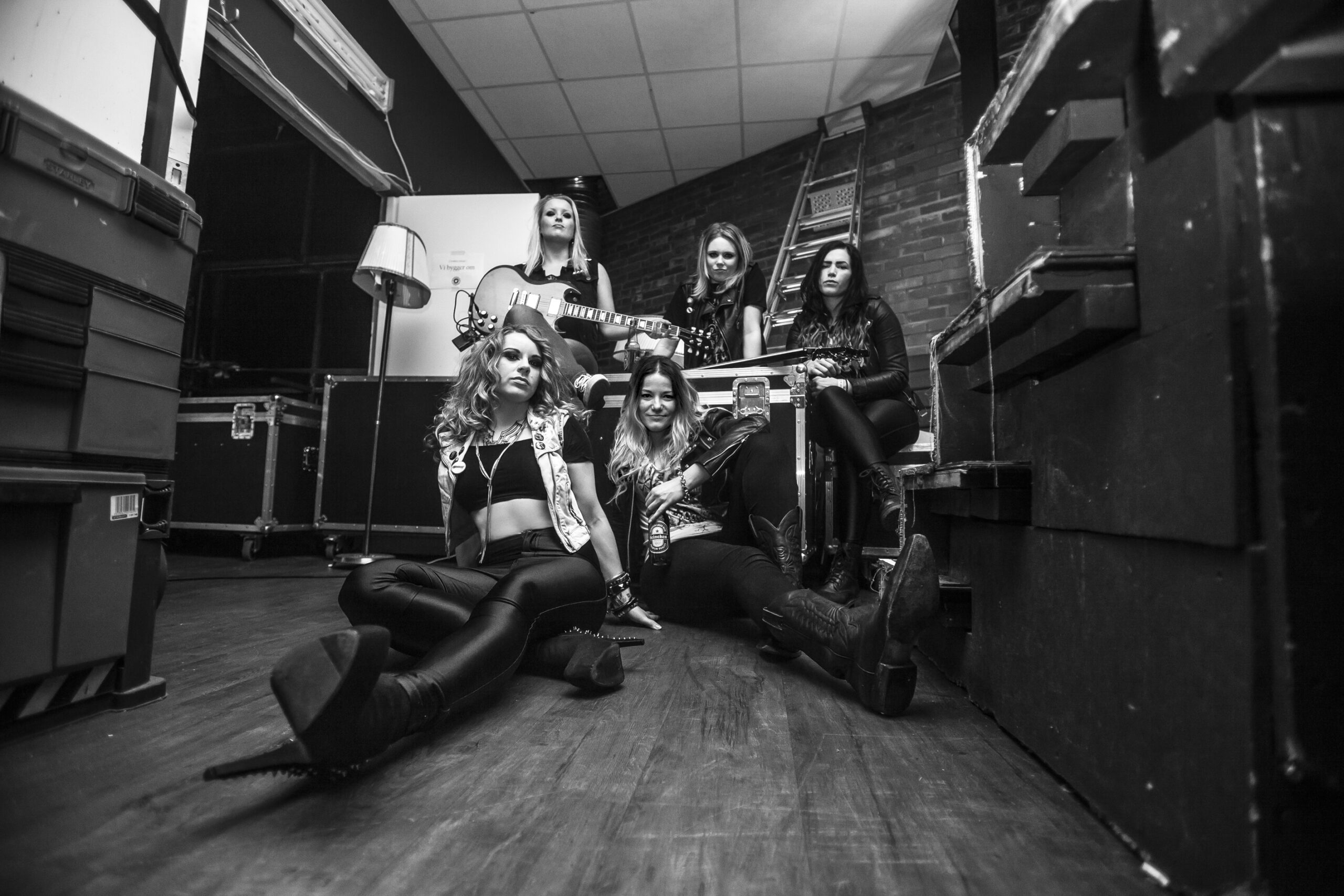 Photo by Philip Truong

Thundermother gets a lot of positive response and attention from fans, other musicians and media. Were you prepared for that or is it still overwhelming?
,,We enjoy what we do and to know that fans, other artists etcetera do too, feels great!! It is always a little bit nerve wrecking to release a new album so I guess you have to be prepared for all kinds of response, both good and bad. But all the positive response we've received can absolutely be a bit overwhelming sometimes!''

What have been striking you the most so far since the new album is out?
,,Again, the great response and reviews of the album has been amazing for us to receive, so I guess that's what's been the most striking!''

What has been disappointing for you so far?
,,I must say nothing has really disappointed us so far after the release! We're happy with the outcome of the album and of course the positive response from fans and media gives us nothing to really complain about!''

What are the highlights for Thundermother so far?
,,The highlights have definitely been all the cool gigs we've had, both in Sweden and abroad. It's amazing to go on tour with the girls to play rock 'n roll and meet new people!''

Do you live and breathe Thundermother or do you have a `regular' live as well since bills need to be paid?
,,We all pretty much live and breathe Thundermother as much as possible! But like you say, we also have to pay bills, so we all have to have day jobs to earn the extra money!''

What are your plans for the future?
,,To do some gigging in the spring of 2016. We will also start to work on new material for a third album, which we're of course very excited about doing!''

—
Header photo by Ren Valdes.

Visit Thundermother on their website and Facebook.

Official video for the track ,,It's Just A Tease" from the album `Road Fever'.