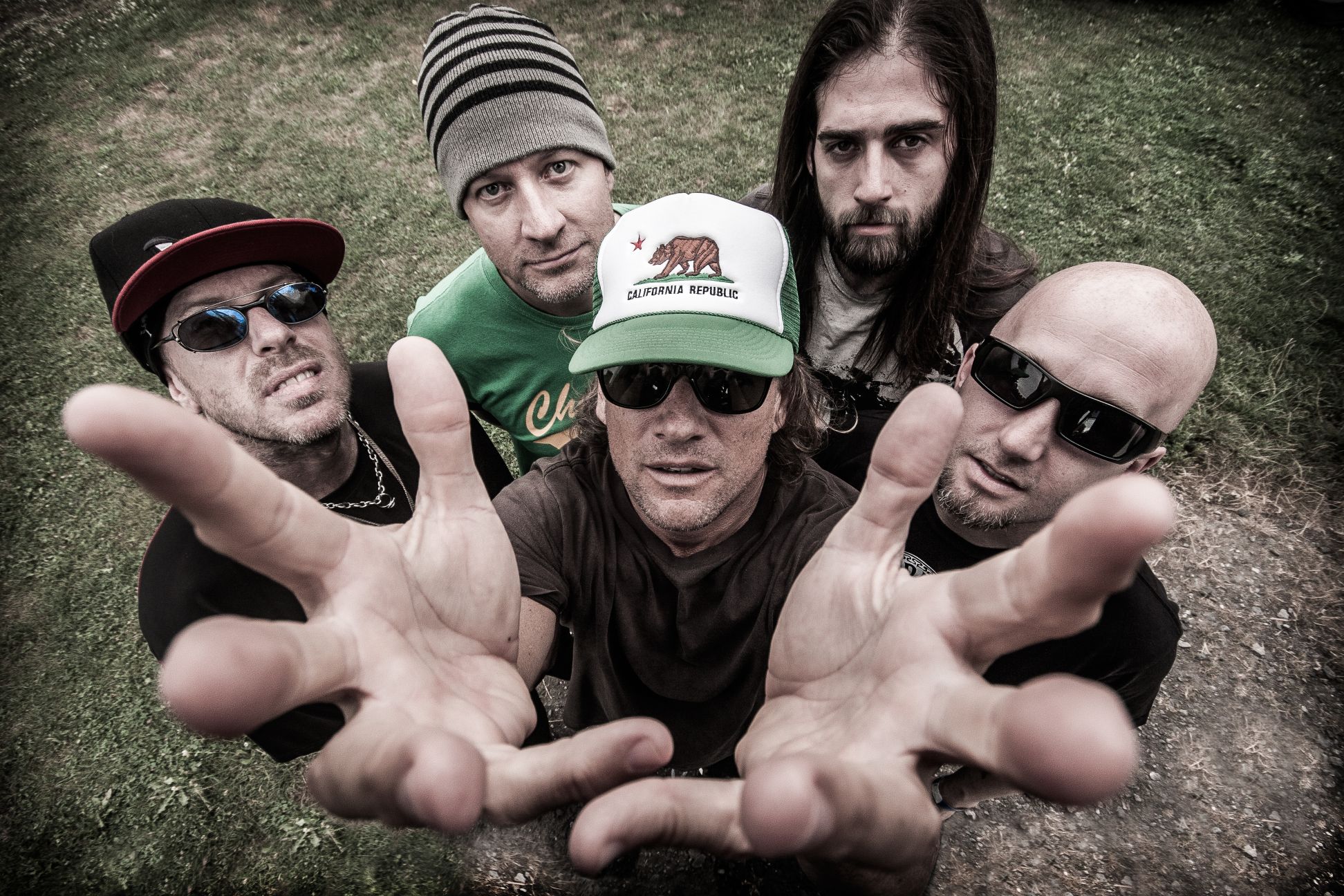 UGLY KID JOE
Unfairly labeled a "funny joke" pop band
The challenging thing about doing interviews at festivals is that it is often chaotic. Artists want to relax before or after a show, watch their colleagues perform on stage or are simply too hyper to sit down for a serious conversation. Singer Whitfield Crane and guitarist Klaus Eichstadt from Ugly Kid Joe are still on a high from their show at Graspop when they sit down with me. Because we have to change location halfway during the interview I start out with two but end with one interview partner.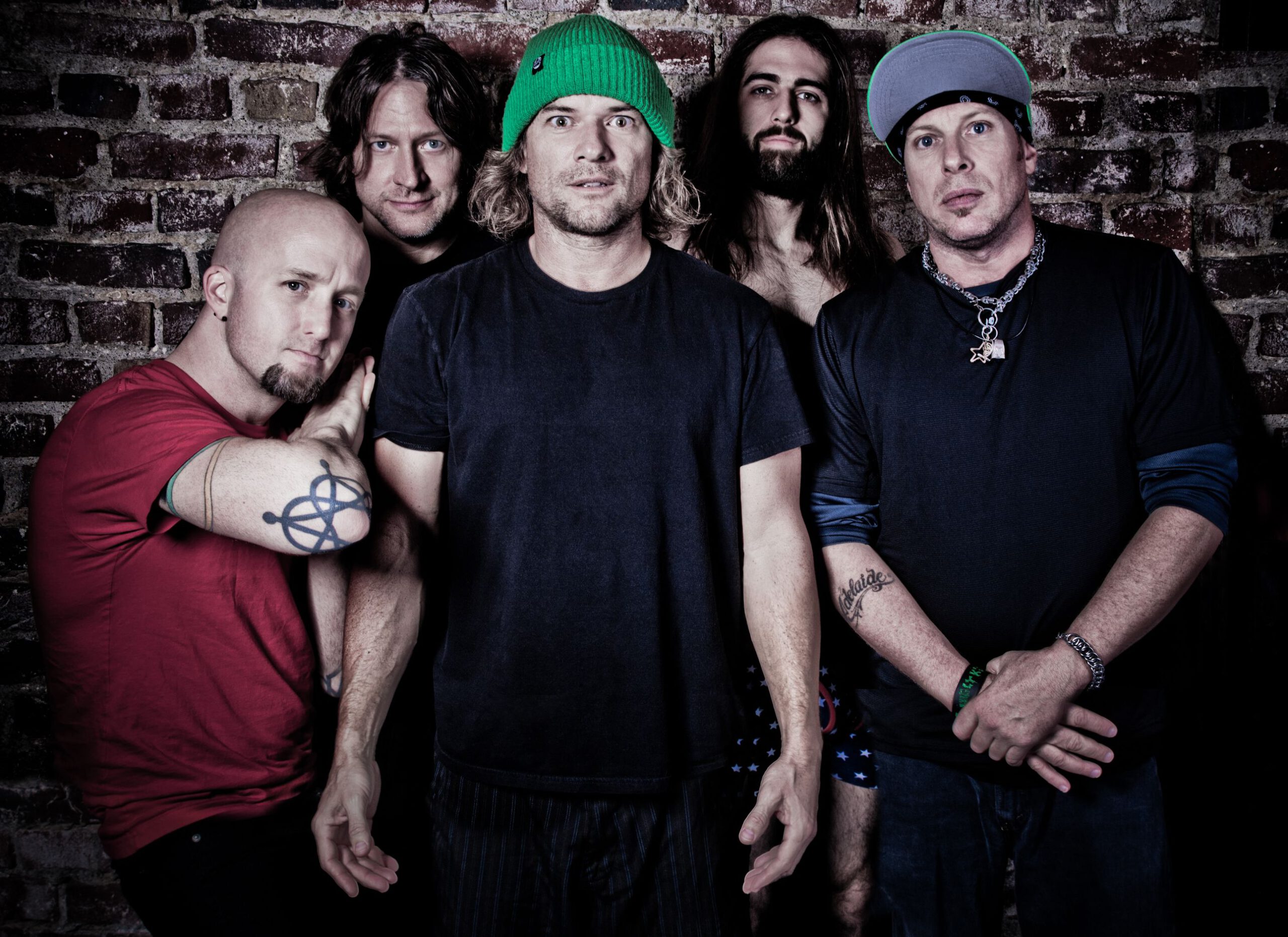 Ugly Kid Joe (photo by Julia Scheibeck)

Ugly Kid Joe was formed in 1991 by childhood friends Whitfield Crane and Klaus Eichstadt. After initial success with songs like ,,Cats In The Cradle'' and ,,Everything About You'' and records like 'As Ugly As They Wanna Be' [1991] and Ámerica's Least Wanted' [1992], which are platinum sellers, they reach stardom. The band goes on hiatus between 1997 and 2011. In 2012 they release the EP 'Stairway To Hell' and have been touring ever since. In 2015 they released their latest album to date 'Uglier Than They Used Ta Be'.

Gentlemen, what is the difference between Ugly Kid Joe then and now?
Klaus: ,,We're older, a little bit wiser, we're still a lot of the same elements that we had back then. I know Whit since he was fourteen and sometimes when we hang out we completely regress to when we were fourteen again, and sometimes we are fifty. We do music because it is fun and getting together is stupid.''

,,We've always been grateful but now I understand why.'' -Whitfield Crane

Do you enjoy it more now? Or enjoy it in a different way?
Whit: ,,My answer on the first question is the same as on the second question. When I was a kid I felt music; and music took me on this journey, and I was really excited about it, I got to meet my heroes, straight up. I'm in love with music and I had my posters on my wall and all of a sudden we got to meet all these guys. Back then I couldn't separate business and music versus just rockin'. There was so much happening around me as a kid and I wasn't ready for it. Nowadays we are managing ourselves and we came back to play music. The gratitude is the same but now I am older and I can separate it all, I enjoy the moment. Nobody is leading me now on a bullshit path, we are all leaders now. We're miraculously alive and we have a reprise. We are touring since 2012 and it's nothing but joy and we're grateful. We've always been grateful but now I understand why. You don't get to do this. I wanna sing songs, not many people get to do that and certainly not twice.''

Have you seen your audience change compared to the nineties or do you still see the old fans as well?
Klaus: ,,Absolutely, we have people coming to our shows and literally bring their kids. The parent would say: I was a huge fan and UKJ was my first concert when I was fifteen. I'm bringing my kid wanting it to be his first show as well. First we were like haha, we're the second generation, but actually that is really cool. We also have 20 year old kids at the show who saw us on YouTube, obviously we don't have hits on the radio now. It's more underground now.''
Whit: ,,Where we belonged, were we belong!''

That moment we are kicked out of the interview booth and decide to continue outside which is also the moment Whitfield decides to run off. Klaus however has all the time in the world.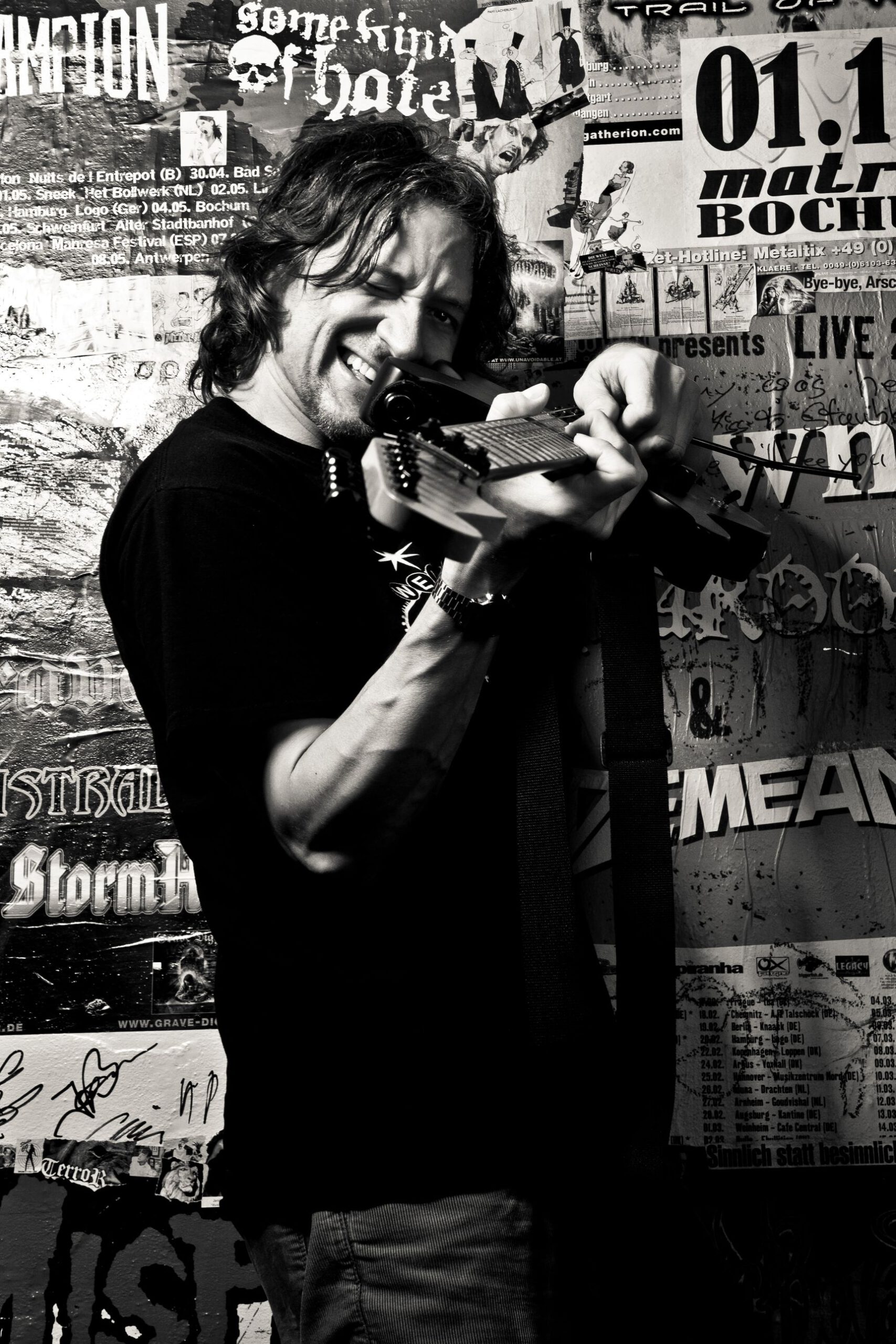 Klaus Eichstadt (photo by Julia Scheibeck)

What was the worst festival you've ever played at?
Klaus: ,,Mmm, can't think of it off hand. Think recent memory, we did the Gods Of Rock in Milan [2012] but the reason that was so bad was because it was 49 degrees Celsius and there was a massive strike from public transportation so nobody was coming. Guns N' Roses was headlining so we were super excited and the anti climax was that hardly anyone could make it to it. And that was after Download and Graspop, all the insane ones. Those festivals had raised the bar so probably it was still great, but for us it was disappointing.''

What festivals did you like the most?
Klaus: ,,Graspop is one of the top ones for sure, as is Hellfest. And of course in the early days we did Rock Am Ring in Germany which was insane and then I probably would have to say the Hollywood Rock Festival in São Paulo, Brazil in 1994, that was total madness. Imagine 80.000 Brazilians in a soccer stadium going crazy as hell, that was impressive.''

,,Dave offered his studio for free, so it was a no brainer.'' -Klaus Eichstadt

UKJ reunited in 2011. Did it need a lot of convincing?
Klaus: ,,No, it didn't really. Whit and I grew up together so we started out as friends, started loving music together, then eventually started a band that became UKJ, became mini rock stars for a few years, then broke up, all in good terms, not big drama's. After the band broke up we all stayed friends. Everybody did other stuff and UKJ was just a fond memory. It wasn't until 2010 that Shannon [Larkin], who became the drummer in Godsmack in 2002, worked with Dave Fordman [producer of Evanescence, Slipknot, a.o.] again. While recording, the idea started to revive UKJ. They called us randomly one night, we found Cordell [Crockett] and we all said hell yeah, why wouldn't we do that! Shannon has always been my favourite drummer; Dave offered his studio for free, so it was a no brainer. The five of us had the best time ever while recording the 'Stairway To Hell' record.''

Recording is one thing but then you have to bring it on the road.
Klaus: ,,I wasn't even sure if we would tour. We started asking around and received very positive feedback. Whit's favourite thing is playing live so he took the bull by the horns; I'm a bit more reluctant. He went for it and before we knew it we have been touring for 5 years.''

,,Fuck it, we sold millions of albums, toured with our heroes Ozzy, Van Halen, we had the best three year run a kid could ever dream about.'' –Klaus Eichstadt




But the ambition must be different?
Klaus: ,,Totally different, we were 24 when we first came out and really wanted to proof ourselves. We had a hit which was amazing for us but also pigeonholed us as a funny joke pop band and we thought we were a good part heavy metal band. We opened for Ozzy and were never booed off any stage, we had great runs. As a 24 year old kid you just enter into it and wanna do good, you wanna be ambitious, wanna be successful but more than money and success you want to be able to listen to your own music released. I was a stress case as a kid. When we got bad press I could be down for a long time, it got to me. But then came a time I thought fuck it, we sold millions of albums, toured with our heroes Ozzy, Van Halen, we had the best three year run a kid could ever dream about, so fuck everybody. Now with the reunion I don't care what anybody thinks, as long as we do it. 'Stairway To Hell' is my favourite album and I don't have to prove myself to anyone. ''

What makes it that you and Whitfield are best buddies since you were teens?
Klaus: ,,I think he's fearless in a heartfelt way. His passion is 100% real and he wants to be out there. He doesn't over think things. He is living in the moment which I'm not. I am always worried about the future, always doubting songs if they are not written in a certain way. The fact that he is the total opposite of me might be the reason we get along so well. We simply know each other inside out.''

As a special surprise during the Graspop show you brought out Amy Lee of Evanescence. Was that planned?
Klaus: ,,You know, Dave produced the first Evanescence albums and knows Amy since she was 20 years old, so when he noticed they were on the same schedule he called her. She only knows him as a producer but knows he was a guitarist of UKJ. I think this was the first time ever she saw him play. Dave asked her if she wanted to play a song with us and she immediately said yes. Both were unknown when they first met; and there is a connection. I think they rehearsed the song once before playing it live and it was a great and special moment.''
—
Header photo by Maik Wiens

Follow UGLY KID JOE on Facebook and check out their website