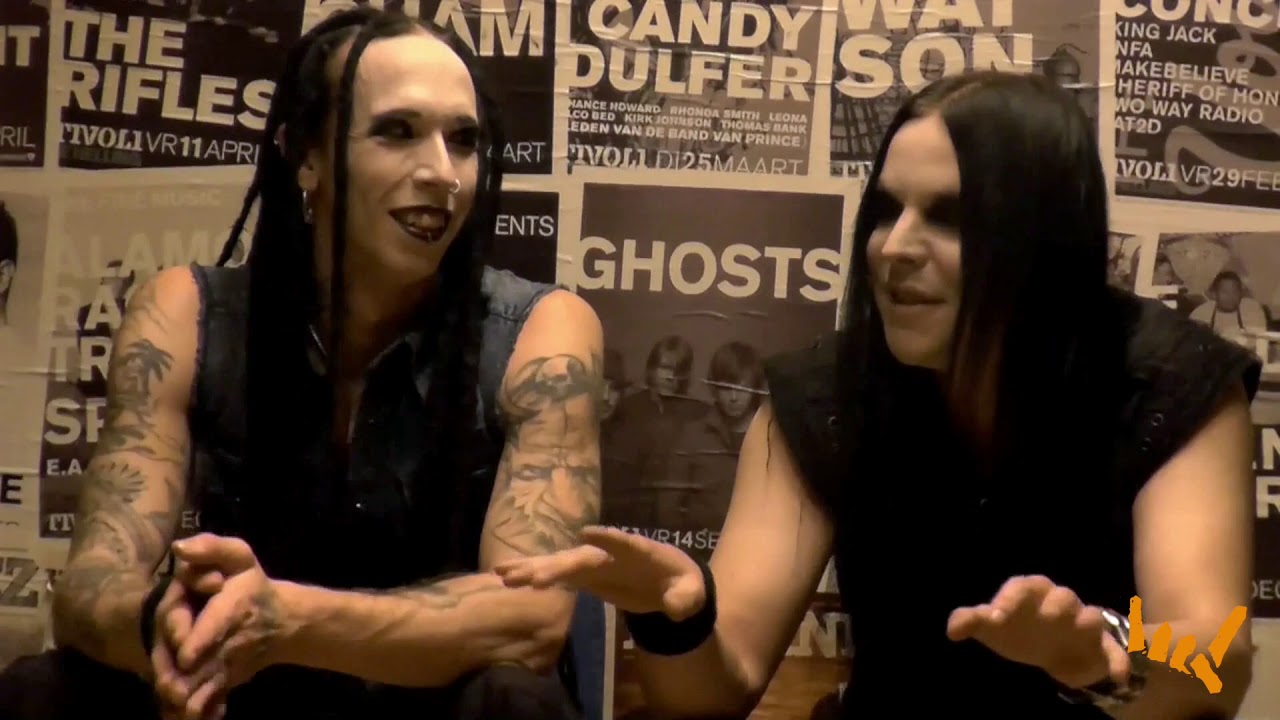 HEADBANGERS LIFESTYLE FROM THE ARCHIVES
Skinny and Nighmare of DEATHSTARS
In November 2014, which was way before this E-zine was officially launched, HeadBangers LifeStyle's `Lilo' had a backstage encounter with Skinny Disco [bass player] and Nightmare Industries [lead guitar] of the Swedish glam horror shock rock band DEATHSTARS about deadly sins and their new CD `The Perfect Cult', right before their gig in Tivoli De Helling, Utrecht [The Netherlands].
Unfortunately, somehow the recording ended up in the archives without being published. Until now….

[Apologies for the few unexplained volume drops and quality, hope you all enjoy this video anyway.]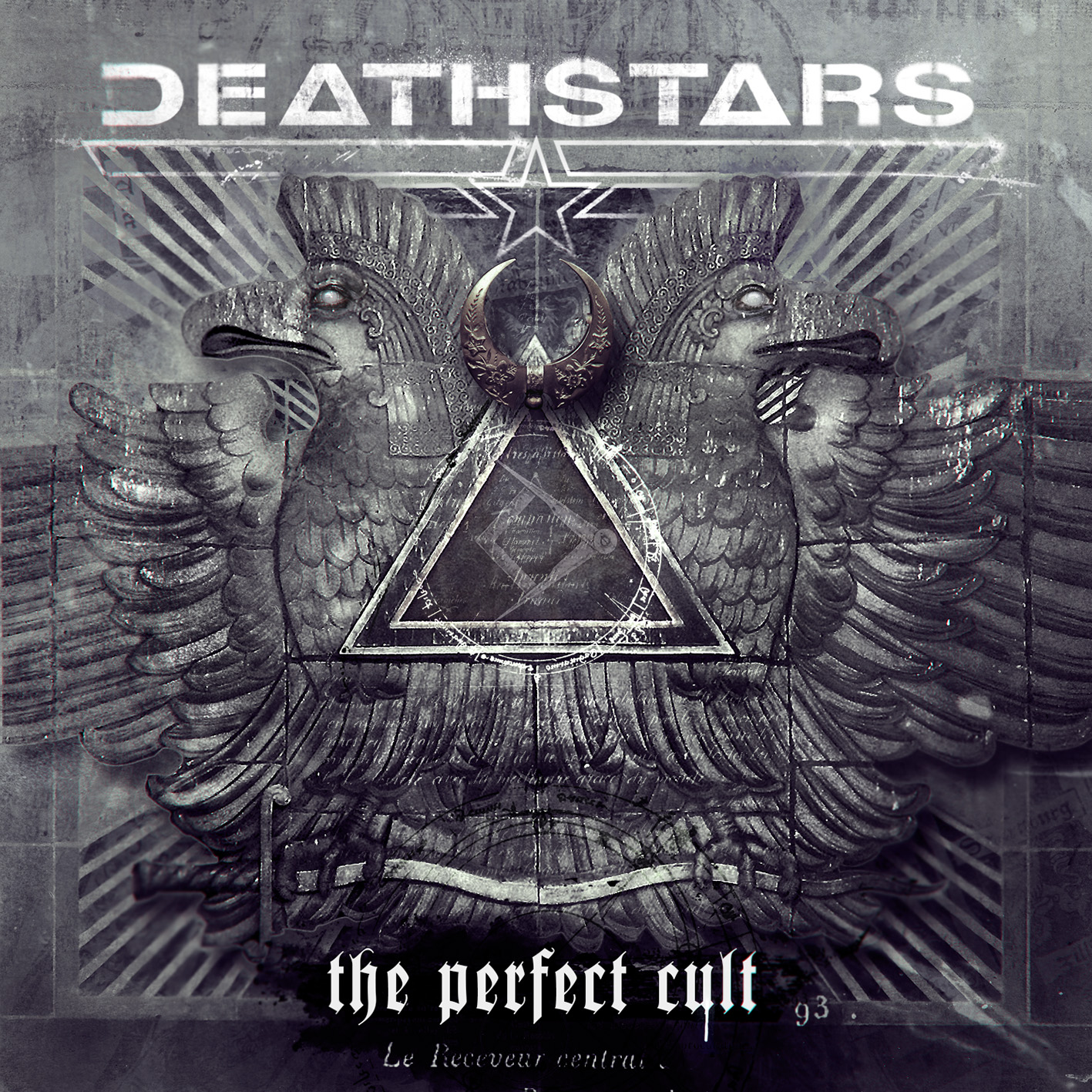 In 2000 the notorious Swedes entered the underground scene, but it was until 2003 Deathstars released its full length debut `Synthetic Generation' via Nuclear Blast. Although there has been some turbulence in the line-up the following years after, the band released 3 more kick-ass studio albums [`Termination Bliss', `Night Electric Night' and `The Perfect Cult'] and expended its growing fanbase. Their future seemed assured and tthe official break, that was announced in 2015, was quite a surprise.

In 2018 things started slightly moving again. Deathstars got back on stage and also played a bunch of wellknown Summer festivals last year. A European Spring Tour 2020 was sceduled, they reunited with guitarist Cat Casino and the word got out the guys were in the studio to record the longawaited fifth studio album.

But on 20 February 2020 the following official press statement was released:

DEATHSTARS – POSTPONE THEIR EUROPEAN TOUR AND UNLEASH NEW TOUR DATES!
Sweden's infernal fivesome postpone their European tour: After a four year live absence, the death glam sensation DEATHSTARS returned to the stage last summer, playing some of the world's biggest festivals, and now they plan to come back with their upcoming European tour for autumn 2020. Due to delays with the recording process, the band has been forced to postpone the spring tour dates. All tickets purchased will be valid for the new dates and venues.
Singer Whiplasher Bernadotte states: "We regret to inform you this, but because of family matters and a complex period of personal responsibilities, the new DEATHSTARS album will be released post summer 2020 – instead of late spring – and tour will commence just after. Sometimes scheduled darkness isn't ready for the chaos of reality. Scheduled or not – when the dark does what the dark does best – it's darkness, even in fall 2020. Get ready!"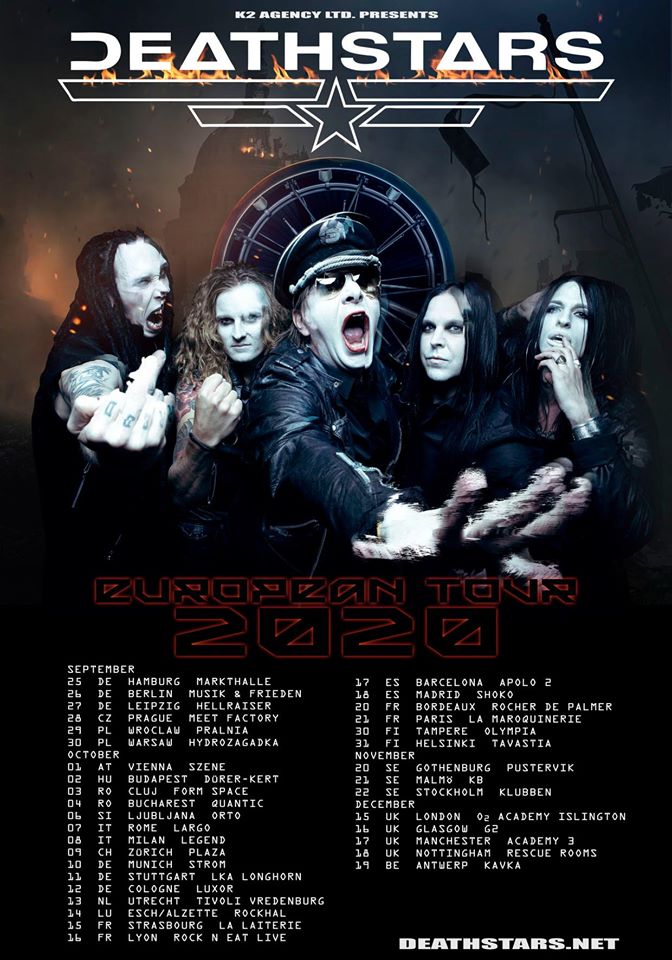 —
KEEP UPDATED:

Deathstars Facebook here
Deathstars Website here

Don't forget to subscribe to our YouTube Channel here

#deathstars #headbangerslifestyle #hbls #hblstv #lilorocks #hyraw #hyrawclothing