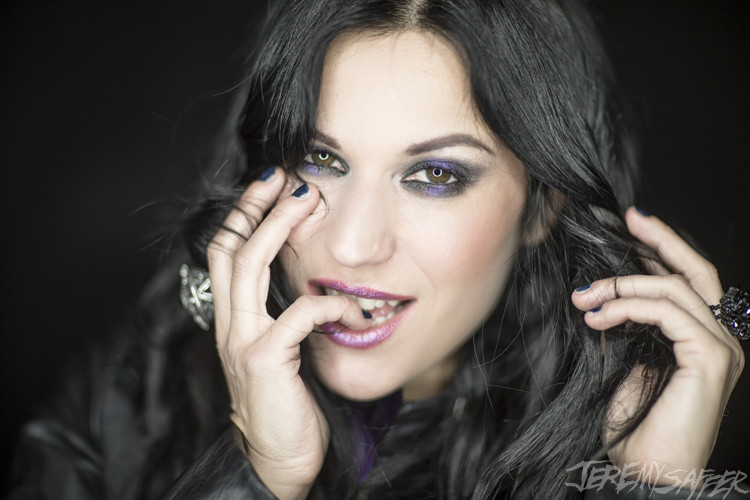 BEAUTY AND LIFESTYLE PROFILE
with Cristina Scabbia, singer of Lacuna Coil
Cristina Scabbia, singer of Lacuna Coil, hailing from Milan, Italy, is definitely a notable appearance in the (gothic) metal scene; she not only has a very recognizable voice but she also has a great looking and energetic stage presence. Cristina is in the business for over twenty years now, she has travelled the world with Lacuna Coil (and still does), she made seven successful studio albums so far and `Delirium', CD number eight, is on its way and will be released on 27th of May. Cristina has established herself as an artist and she definitely invented her own fashion and make-up style. HBLS recently took the opportunity to talk with Cristina about her make-up behaviour, her interest in fashion and her life on the road.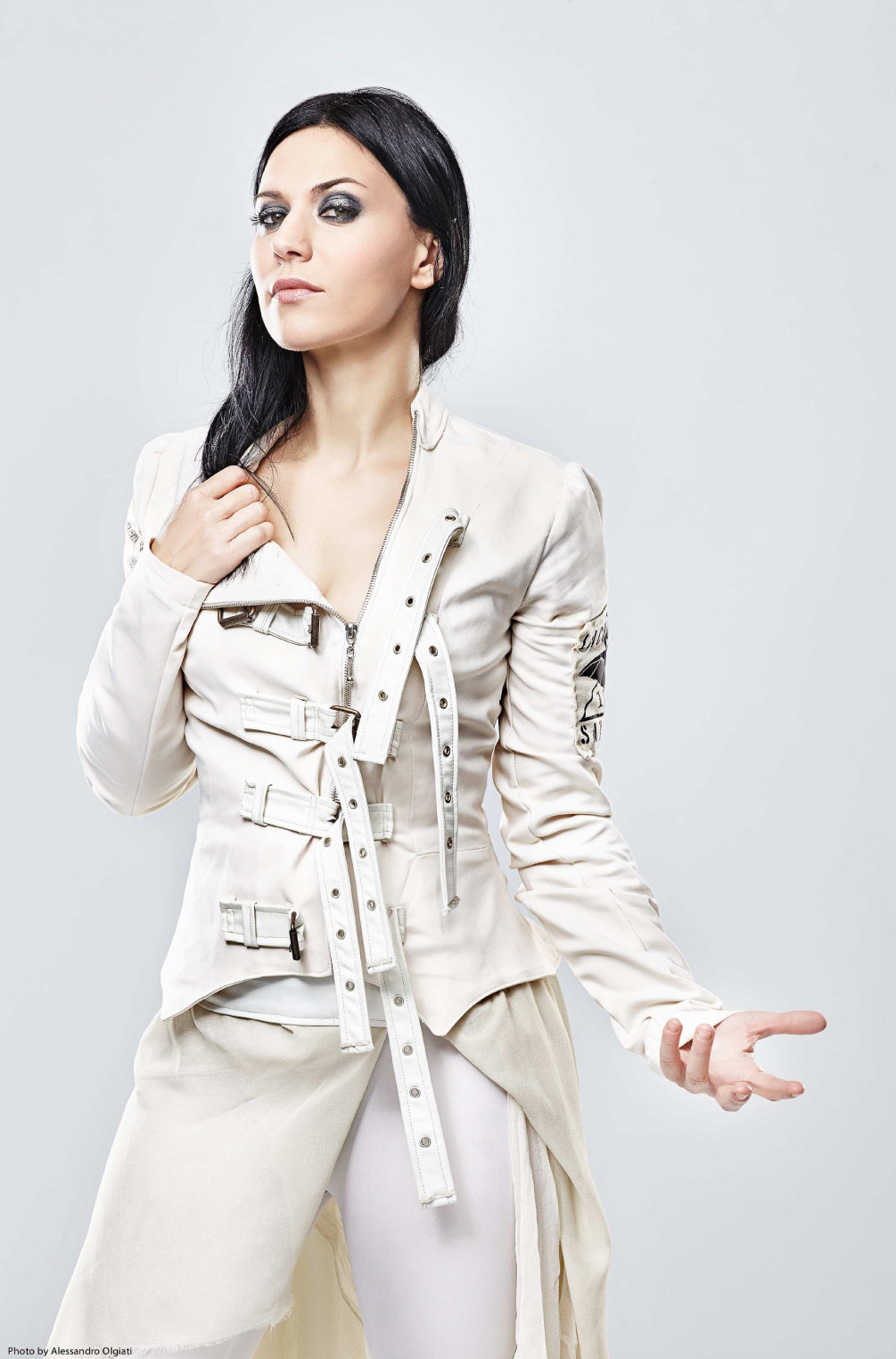 (Photo by Alessandro Olgiati)

What do you consider as the Cristina Scabbia beauty and make-up signature?
,,The one I call `raccoon look'. I have been using it for years now: A heavy sort of smokey eyes style with carbon black eyeshadow surrounding both whole eyes and heavily in the lower part of the eye as well.''

What beauty, hair and body products do you mainly use?
,,Speaking of daily face routine I have been using an amazing French moisturizer named Lait-Crème Concentré of Embryolisse. I found it out years ago when a make-up artist from Milan put it on my face and it felt amazing to have it on. It still does. Speaking of make-up brands, I am using different brands as Anastasia Beverly Hills, Becca, Bare Minerals, Kat Von D, Urban Decay, Benefits and Jeffree Star products. For my hair I don't have a favourite brand, as long as they have no sulphites. My favourite conditioner is by Sensei (for normal hair). It really makes my hair soft and easy to comb. Speaking of combing, I just recently found out a cool tool: The Tangle Teezer, a compact brush in a special kind of plastic that easily detangles your hair. Another must in my beauty bag is the Beautyblender, amazing to make any foundation, concealer or blush application easier and flawless.''

Do you have a style icon that inspires you?
,,I like to combine styles and I like contrasts. A very masculine suit with classy high heels for example. In general I get inspired by everything I see. It can be a style icon or the regular girl walking around. I am very curious about what is happening around me and often I check videos and go to runway shows in Milan. About people I admire, styling wise, I can name Madonna (always looking great and ahead of time in fashion) and Daphne Guinness, very elegant and dark. She is gorgeous and so classy!''

Did your make-up behaviour change over the years?
,,It did indeed. Not only because I am more experienced and also because I kept an eye on the various make-up artists I had the chance to work with, but also because new techniques and products came out and the results are changing.''

What is your best make-up tip?
,,There are different things I can suggest. One trick, that is not a trick though; to me it is very important to have good brushes to apply make-up with. Some people think they are expensive (they are right sometimes) but they are definitely an investment on your look. I prefer to use quality products that I know I love, so even if I spend more money I know I will use them until they are gone. Applying an eye primer will be the key if you really want the colour of your eyeshadow to fully pop out and it'll help to make your look to last longer. One cool trick to make your upper lips look a little bit bigger (it is not a new trick but maybe some people don't know it yet) is highlighting your cupid bow and then you apply lipliner or lipstick. Highlighting the upper part of your mouth will also allow you to see a sort of `white line' that you can follow to draw a line that exceeds your lip line and have the plump effect in a nice, natural way.''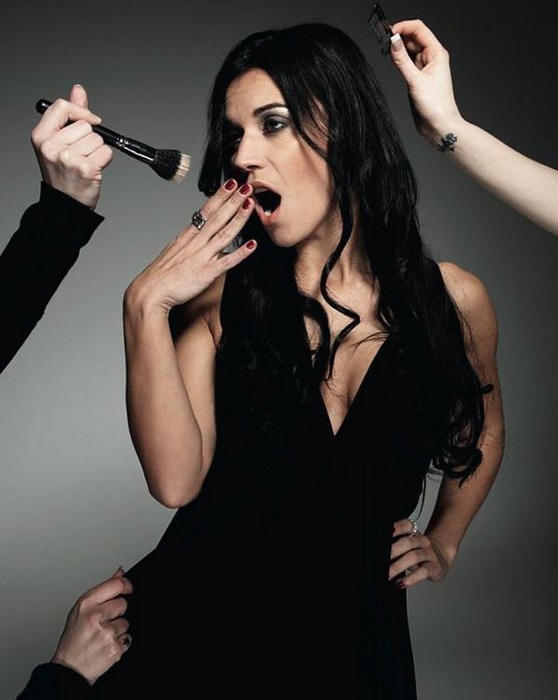 How do you deal with a `make-up hangover' after long touring or late night events?
,,I just bought a setting spray that I found really effective, it is `All Nighter' by Urban Decay. It is supposed to make your make-up last up to 14 hours and I have to say it worked on me pretty well. Some people might find it weird that applying a liquid on your face will make your make-up last longer and not melting it, but it dries really quickly and the alcohol in it really sets the make-up. I also always bring compact powder products, foundations and blushes in my purse and (another must for me) a black kohl pencil (now I am in love with the 24/7 Glide-on-eye Urban Decay) that I smudge with a brush and turn into a sort of eyeshadow.''

What is your best remedy for a bad hair day?
,,If it is super temporary, water and a good brush to keep the hair down will make it. If I want it to last longer, Argan oil or any nice oil for hair will do. I start with a small amount, as nowadays oils are really concentrated and rich. You don't want to look like you didn't wash your hair for weeks, right?''

Do you put a lot of effort in staying in shape? Is sports fun or a pain in the ass for you?
,,Awww, unfortunately not at all, I am pretty much what you could call a lazy bum. I subscribed to a gym close to my house but haven't been going there frequently. I know, I should but sometimes I get caught in a lot of other things and whenever I have some free time I just try to rest on my couch!''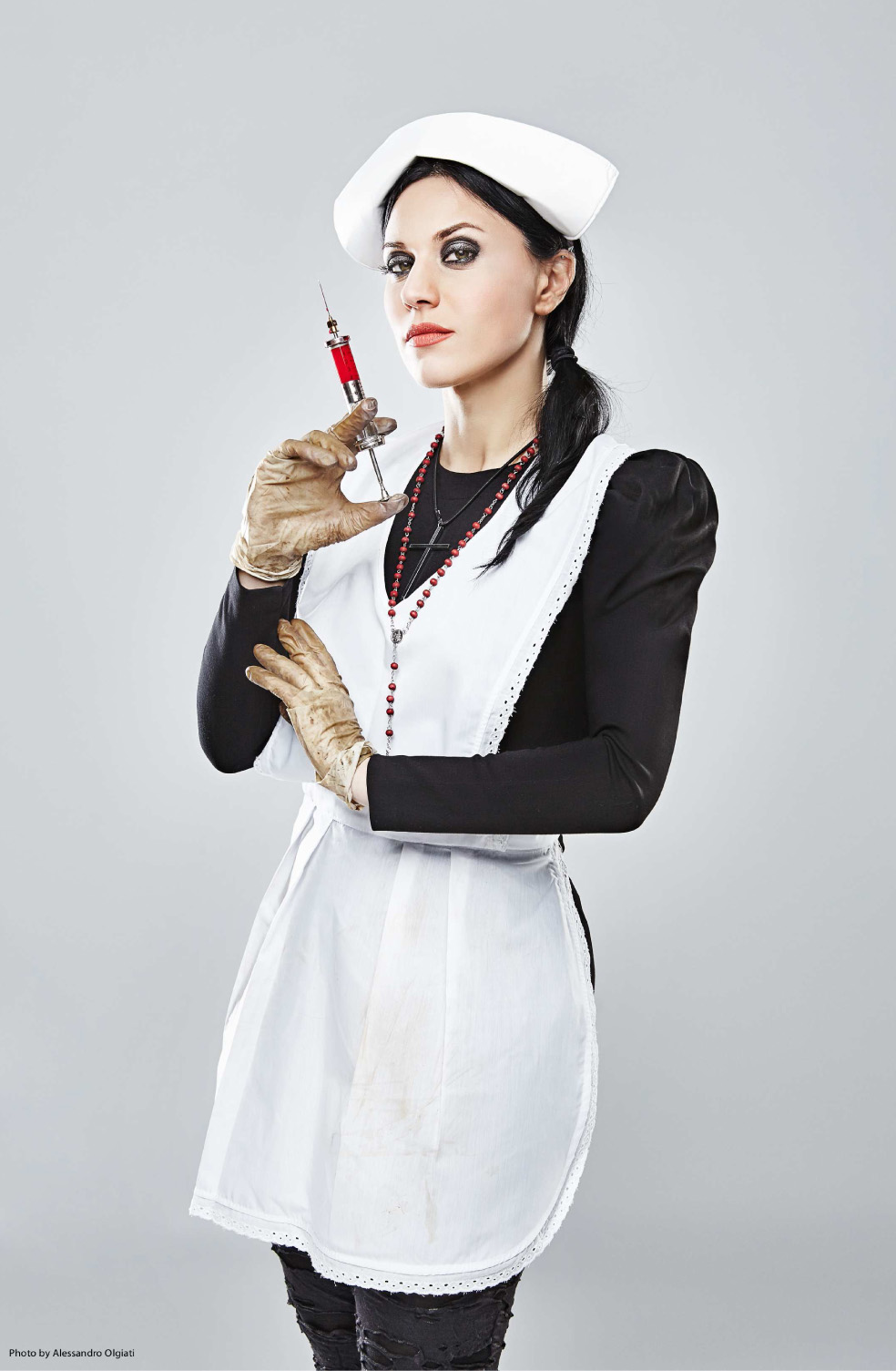 (Photo by Alessandro Olgiati)

How do you prepare yourself for a show?
,,Concentration is the most important thing for me. I literally turn into… another side of myself to get ready mentally. Some warming up exercises for the voice is always good of course. It helps to make a better show and it keeps the voice in shape, even if sometimes there's simply no time for that.''

How do you come up with your stage outfits?
,,We always think about the main theme of the record we are working on and mash up things the way we want. We either get clothes we like and we then personalize them or we have them custom made for us based on our drawings. For the outfit you see on the promo pictures for `Delirium' our latest record that will be out on May 27th, I collaborated with a very talented Canadian girl, named Tamara Reid – Claros and her brand `Pretty bastard', sending each other ideas through e-mails.
When it's time for a new outfit (we always like to change with every cycle) we always have to think about them also in terms of being easy to carry, being washable and comfy as we usually move a lot onstage.''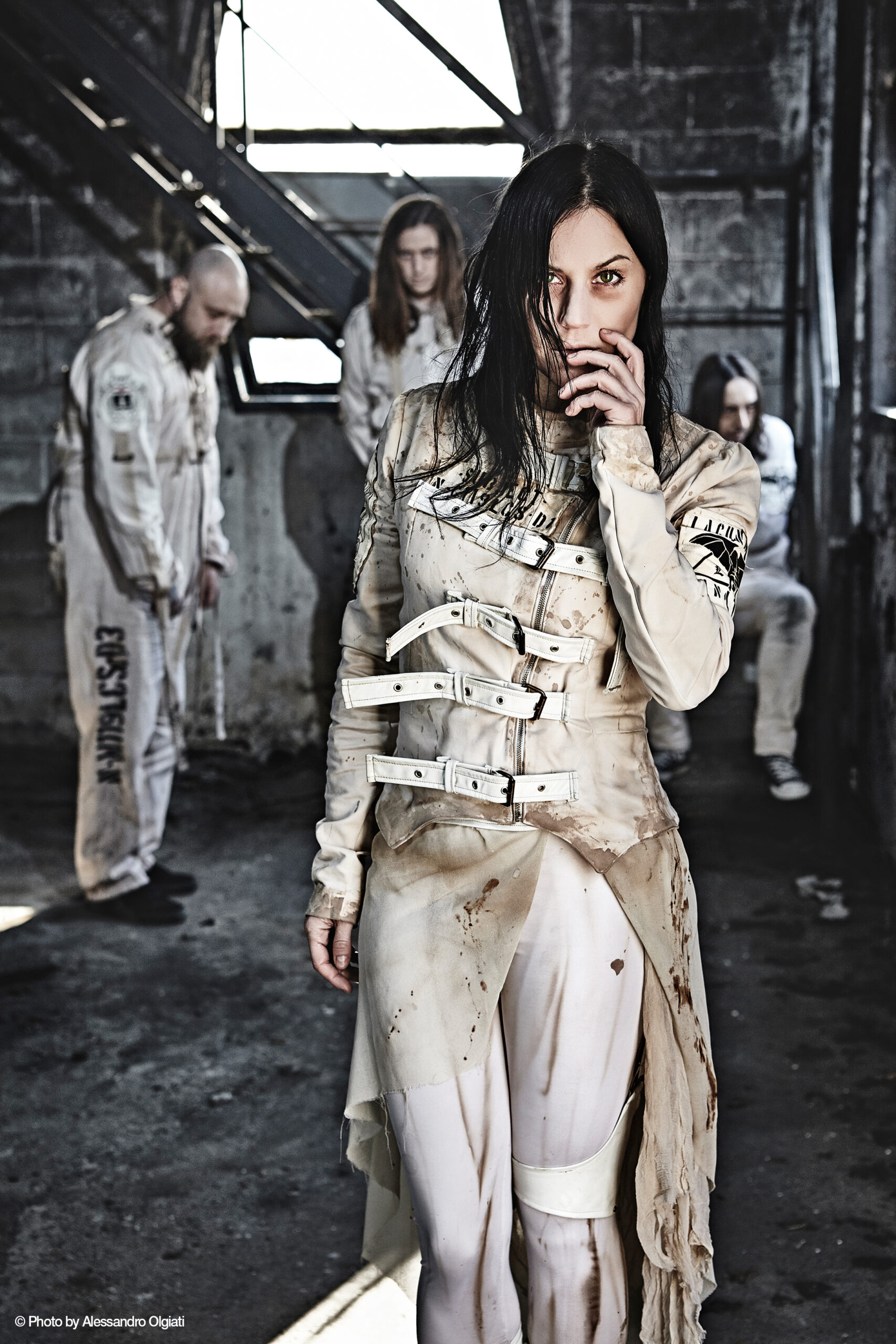 (Photo by Alessandro Olgiati)

What style of clothing makes you feel comfortable wearing when you are not in the spotlights?
,,Mostly leggings with a middle length black long sleeve shirt and biker boots.''

What is the best advice you have ever got during your career?
,,I had lots of interesting conversations that, even if they were not real advice, gave me different perspectives. If I can recall one cool advice it came from one of Dio's (Ronnie James Dio) old managers who taught me a great recipe for a very effective tea that helps to keep the voice in shape. I used it lots of times.''

What did you learn of being so many years in the music business?
,,That I am blessed. I certainly work hard but I do what I love for a living and not a lot of people can say that.''

Do you need a certain attitude to manage frequent and long tours for years, like you do?
,,Absolutely! It is definitely not a life for everyone. The rock 'n roll style is something you really have to… feel inside of you. Traveling all the time and sacrificing a big part of your private life is not easy but it is also so rewarding if you love what you do.''

Are you an efficient traveller or is it still difficult to decide what to bring in your suitcase?
,,Still difficult… I still bring more stuff than will really use in the end. But hey, I am a woman; I am allowed to bring extra shoes, right?''

Do you consider yourself as a role model for younger girls? What advice would you like to give them?
,,I don't consider myself a role model but the fact that I get so many e-mails and nice words whenever I talk to young women on the road made me believe that maybe I am in some ways. I always tell them that they have to believe in themselves because no matter what, it is impossible to make everyone happy, so the key is to make ourselves happy and conscious of our own unique potential.''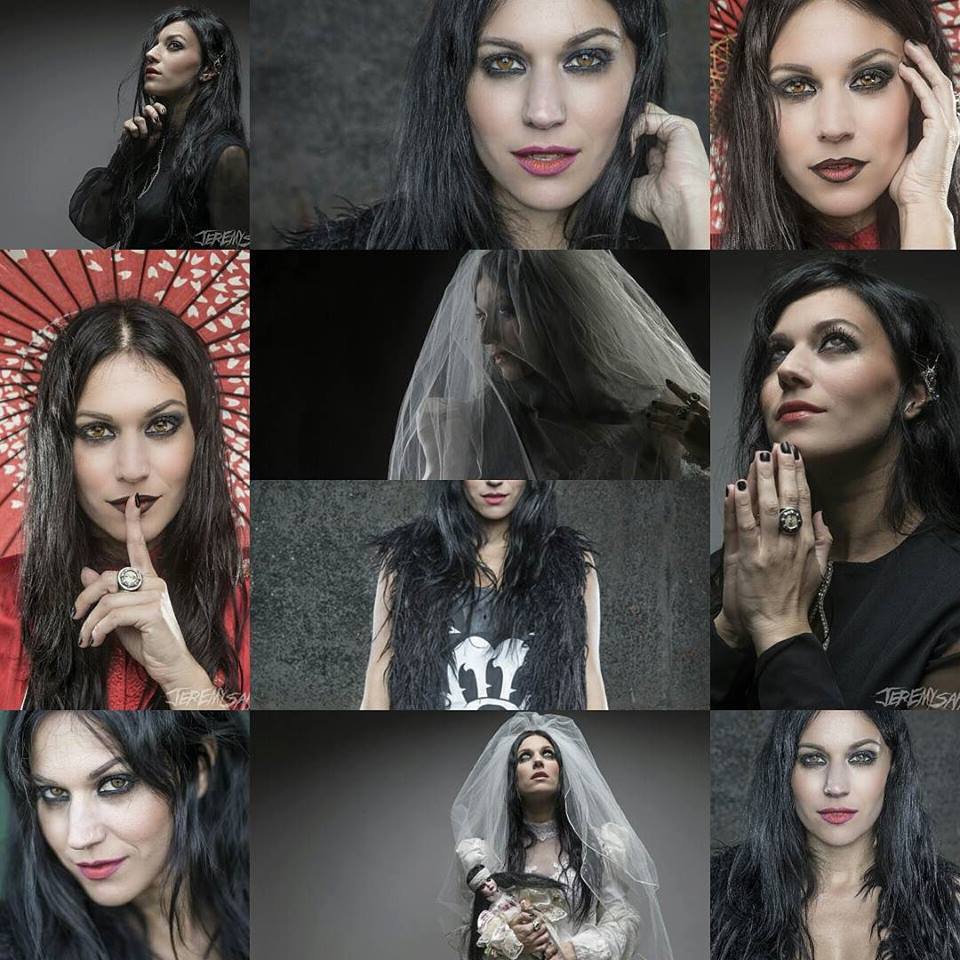 Photos by Jeremy Saffer

This year you are a `calendar girl', created by Jeremy Saffer? What can you tell about this little adventure?
,,I met Jeremy years ago, Lacuna Coil was actually the very first band he has ever shot. I saw him growing into a phenomenal and very unique photographer and I could not be more proud of him, I love him and his work so much! We had the chance to do some photo-shoots while I was on tour and some selected pictures ended up in this calendar that got sold out in a short time. I am sure I will work with him again!''

What are your favourite apps at the moment?
,,Besides Facebook, Instagram, Periscope and Twitter (I personally take care of all my socials), there is one called MSQRD that is lots of fun, especially if you're just goofing with your friends. I just downloaded one app called Master Tour that is really handy for whoever does my job. It keeps you updated on tours and schedules. A sort of tour book in your smartphone.''

Is there anything you like to collect, or have a special interest in or always bring home from travelling?
,,I collect my flight boarding cards. I have so many now that is ridiculous but I think one day it'll just be cool to see them all together and realise how much I've travelled in my life.''

What is your motto in life?
,,Live in the present and make it beautiful. I never think too much about the past or the future. The past is… gone and we will never be able to plan the future the perfect way.''
—
Follow Cristina Scabbia on Facebook, Twitter, Instagram and Lacuna Coil Website.
Header photo by Jeremy Saffer

Album track ,,Delirium" taken from new album `Delirium'