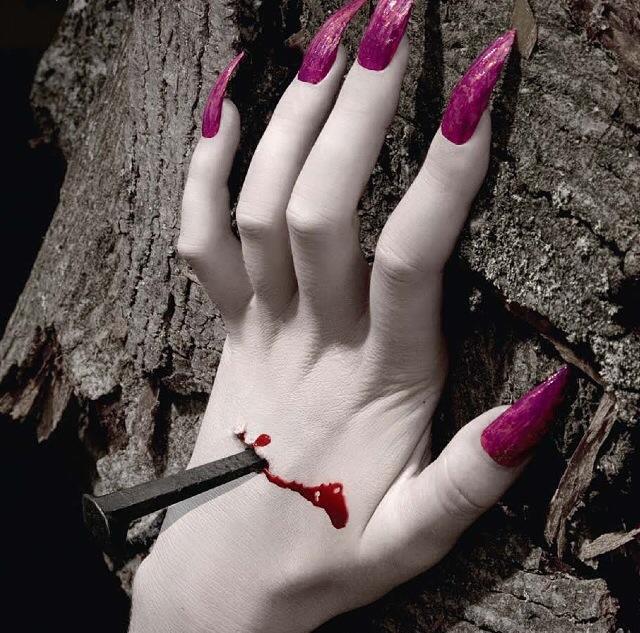 Q&A: Scary Beauty Tips And Tricks
Inspiration for Halloween by Merit Bertilsson
Make-up artist Merit Bertilsson is the owner of Make Up Store Eskilstuna (Sweden). She is two times awarded for best Make Up Store worldwide and one time awarded as best marketer of Eskilstuna (Sweden).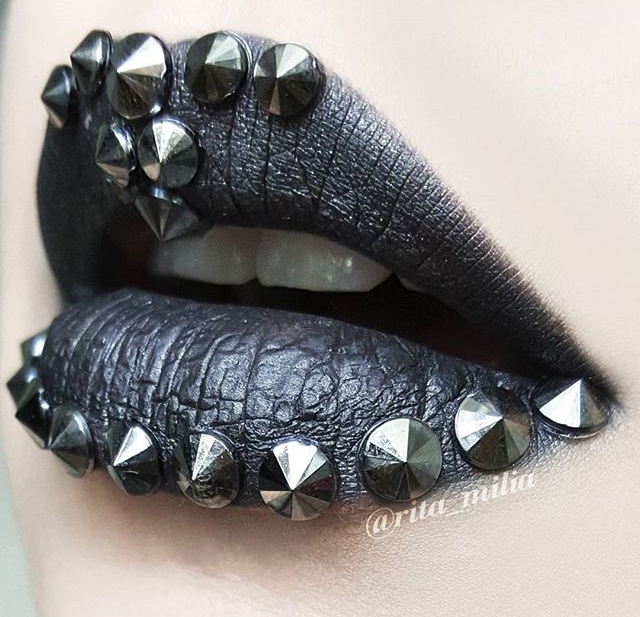 Make Up by: @rita_milia

Q. Can I create a Halloween look with a low budget?
A. ,,Absolute! You only need a black eye pencil, dark grey eye shadow and white powder or white eye shadow to create a spooky, skeleton look. Dark grey eye shadow is also perfect to use as a blush and to fill in all the lines in your face. The eye pencil can also be used to make your lips black or to draw a spider web, cracks or scars on you face for instance. If you don't want just black lips you can add some red lip pencil over your black lips. To create an even scarier look you can add the same red lip pencil in your inner eye/waterline.
If you have purple eye shadow you can add that under your eyes as well. You can also mix purple eye shadow with grey eye shadow, which makes you look really sick, especially if you first make a really pale skin tone with white eye shadow or powder. Actually, Make Up Store has a product called `Neutralizer Purple' that can make your regular foundation really, really pale!!''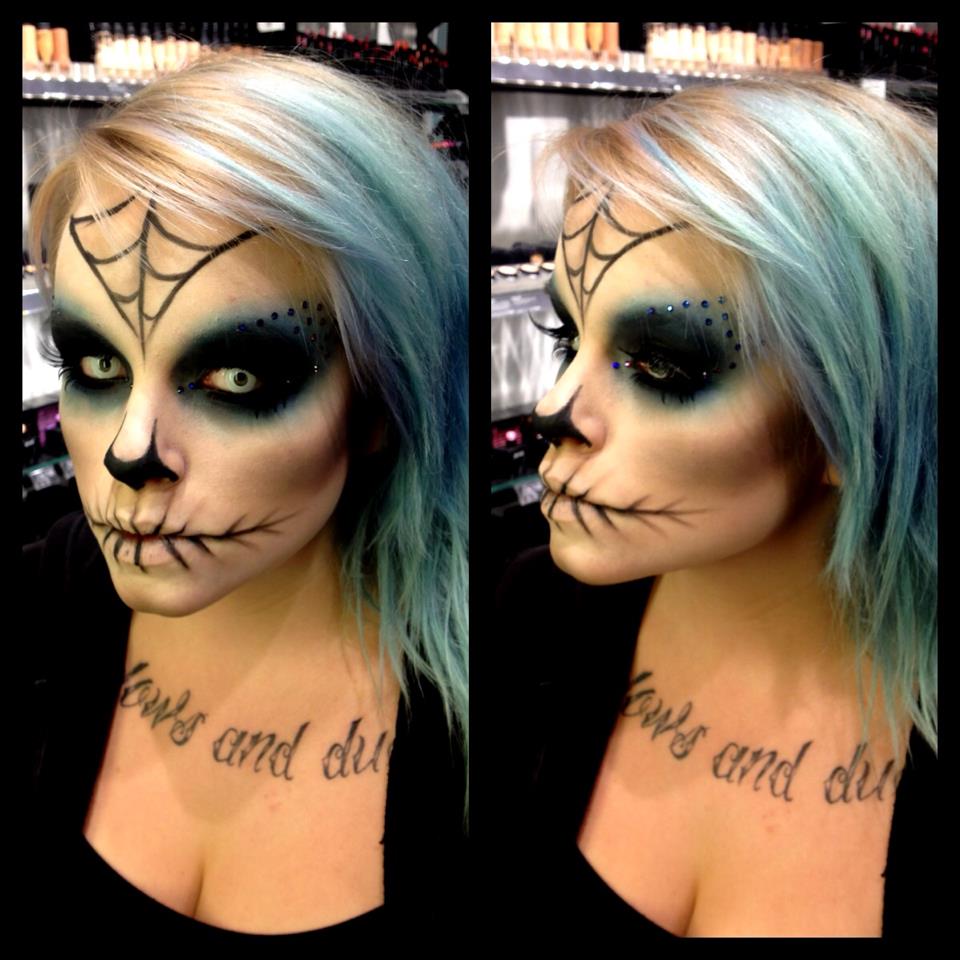 Make-up by Gina Eklindh for Make Up Store Eskilstuna

Q. When do I need to use theatrical make-up instead of regular make-up for a Halloween look?
A. ,,For instance when you want to have "real looking" scars you need wax that you can build up skin with or for instance cover your eyebrows and add new ones if you like. You also need liquid latex if you want to build up layers of skin. In Sweden we have buttericks.se, they have everything you need for a really scary Halloween.''

Q. How can I create a more gorgeous Halloween look?
A. ,,If you want a bit more glamorous Halloween make-up you start with a slightly more white base (foundation, BB Cream or CC Cream) than usual.
 Add a bit "colder" contour (where you accentuate your facial lines), preferably with a gray/brown shade. Use deep red lipstick and go for a smokey eye with black eye shadow. Only make the smokey eye heavier then usual and fade out the black eye shadow with gray eye shadow around it. Use some white eye shadow for the highlights under the eyebrow and on the cheekbones. Use some glitter on the eyelids to make it extra glamorous. To finish your red lips use a red lip pencil to draw a blood drop or two in the corner of your mouth. It's easy and effective. And let's not forget the eyebrows. If you want them really black just use liquid eyeliner to fill them in. Take a brow brush, spray hairspray on it and model and fixate your eyebrows. This way you can create nice sharp eyebrows. In case you have really light eyebrows you can spice them up with any color lip pencil or eye pencil to get a surrealistic look. Make sure you use a flat, little harder brush to even the color.
For more inspiration I can recommend two of the greatest make-up artists of Sweden, a visit is a must!!:
lindahallberg.se and makeupbylina.devote.se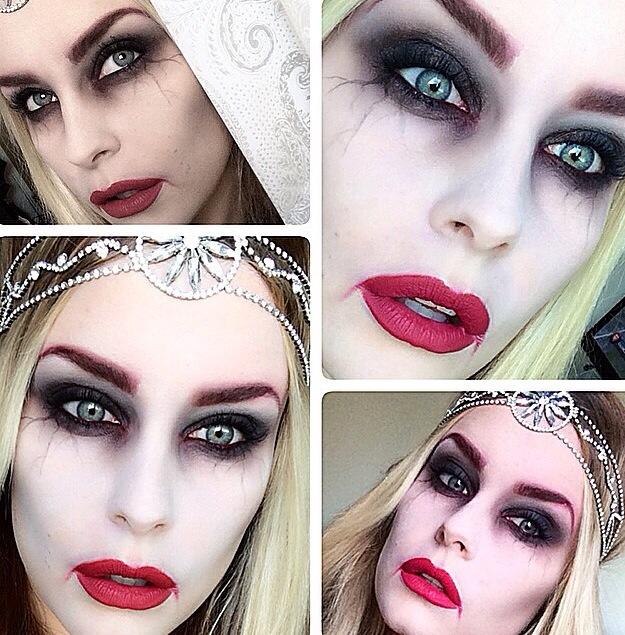 Make Up Store Stockholm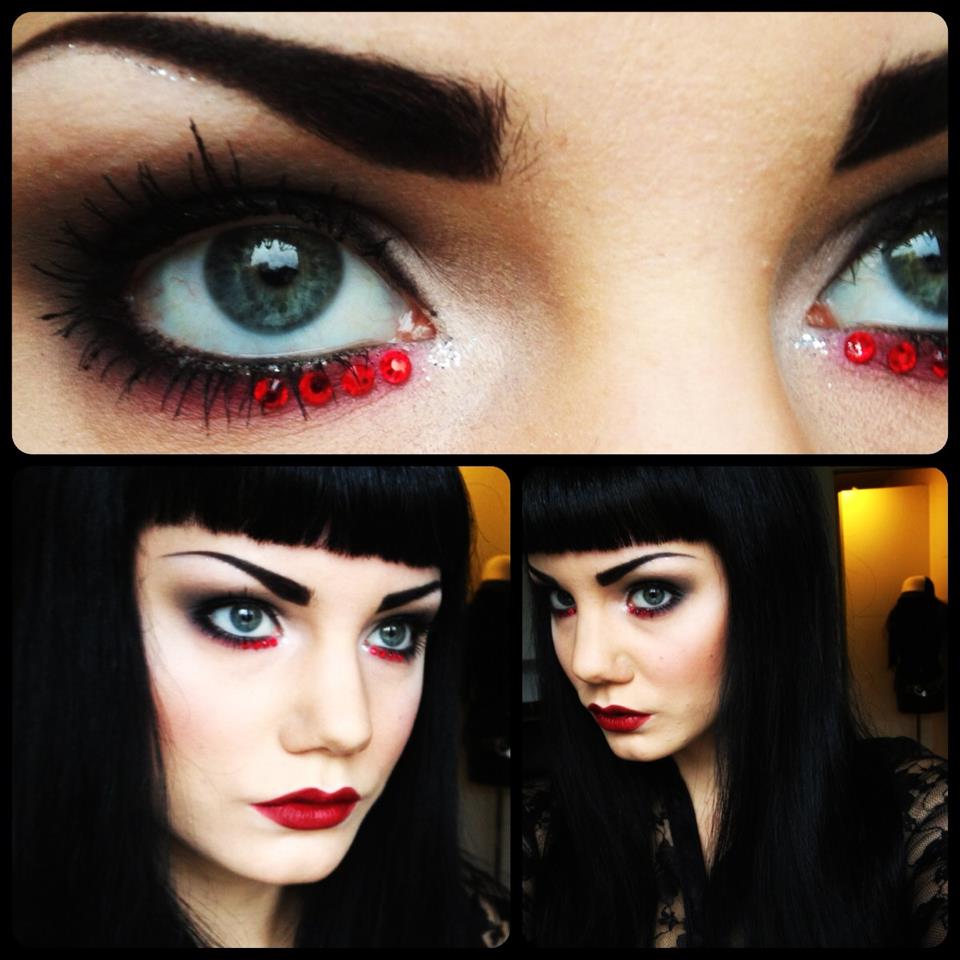 Make Up Store Eskilstuna

Q. What is the best colour combination to use?
A. ,,I have three makeup guides for you. If you have a theme but you don't want to look too scary all three makeup guides might be a good help. The first two are nice for Halloween if you want to do a glamorous look with a twist. The first makeup guide has a little warmer look and can be perfect if you want to be a devil and the second one is good if you want to be a gorgeous vampire!''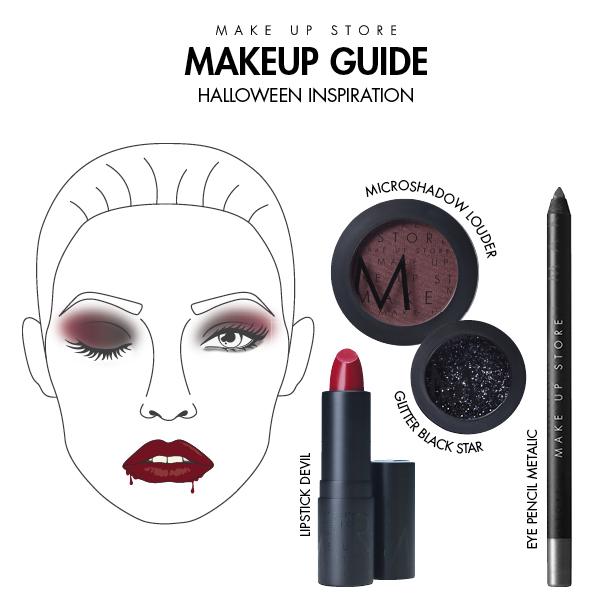 Make Up Store Stockholm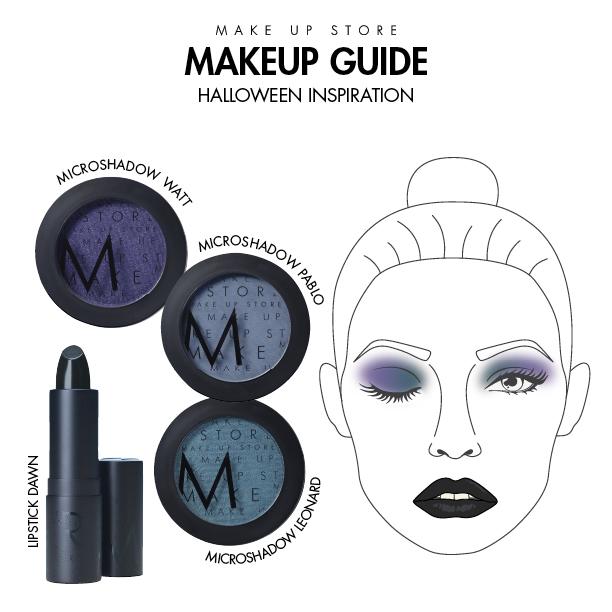 Make Up Store Stockholm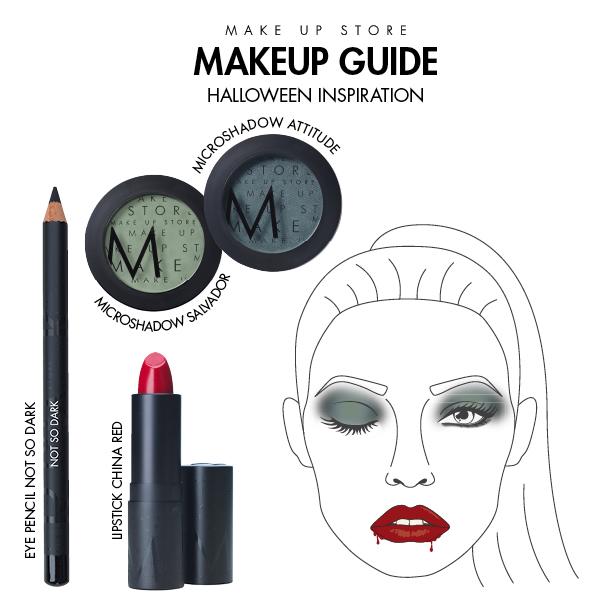 Make Up Store Stockholm

Q. Do you have tips for creepy looking nails?
A. ,,If you want to do it simple, fast and low budget, just take red nail polish and polish only the top of your nails to get a bloody look. You can also get a cool effect by doing this with black or grey nail polish. If you have a bigger budget I advise you to visit a nail parlor to get yourself some really long, sharp claws with suitable patterns for Halloween.
Glitter nails is so easy to do by yourself: You need one or several nail polishes, a flat eye shadow brush, loose glitter and glossy top coat! Apply a thick layer of polish and dip the brush into the glitter and tap the brush with your finger a couple of centiimeters above the nail so it will spread evenly. Apply until you are happy with the amount if glitter! Then apply a topcoat for luster and durability. Another tip is to take a make-up sponge and cut it in really small pieces. Pick up a piece of sponge with a tweezer and dip it in, for example, black nail polish and press it on a part of the nail. Do the same with red and maybe deep blue or grey nail polish! Take a new piece of sponge for each color. When it's ready it will look like marble.''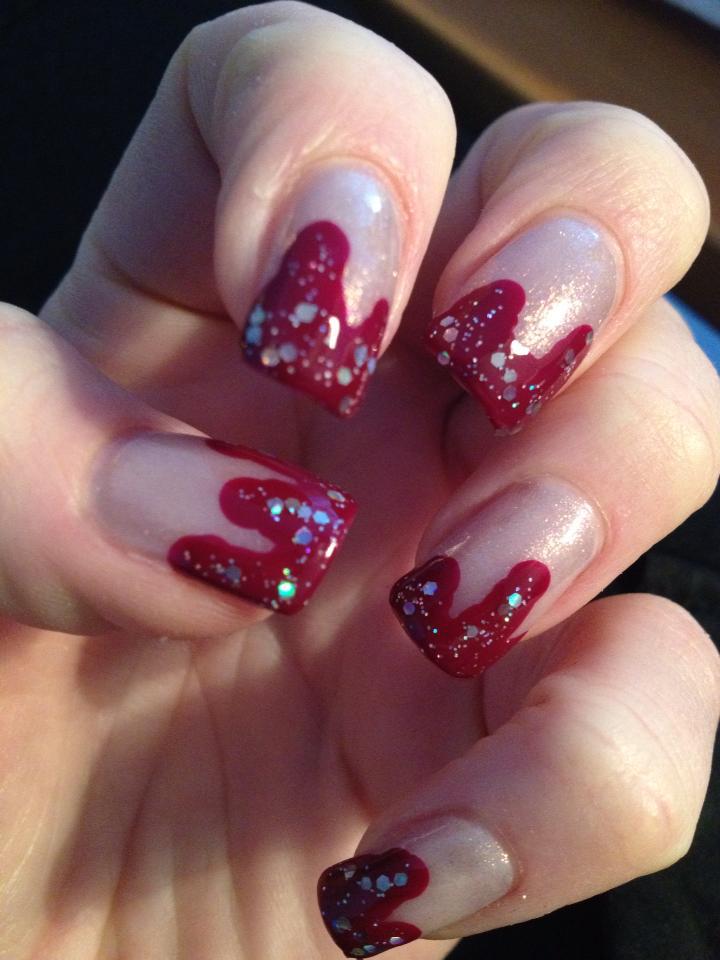 Make Up Store Eskilstuna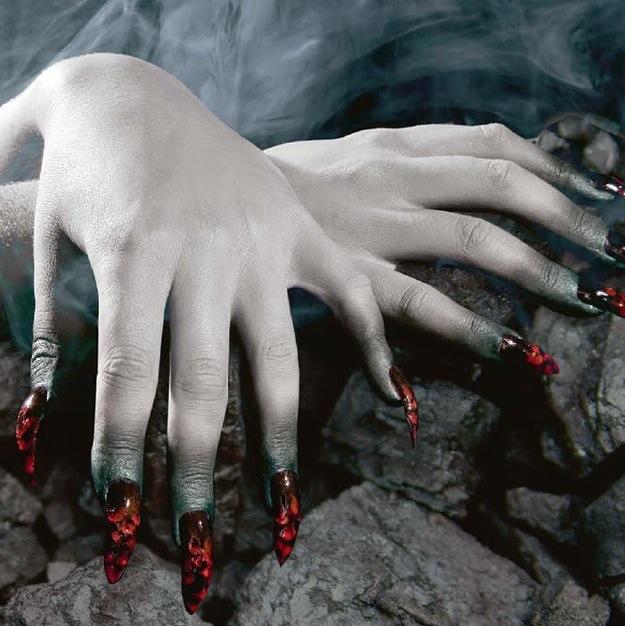 Make Up Store Stockholm

MORE INSPIRATION: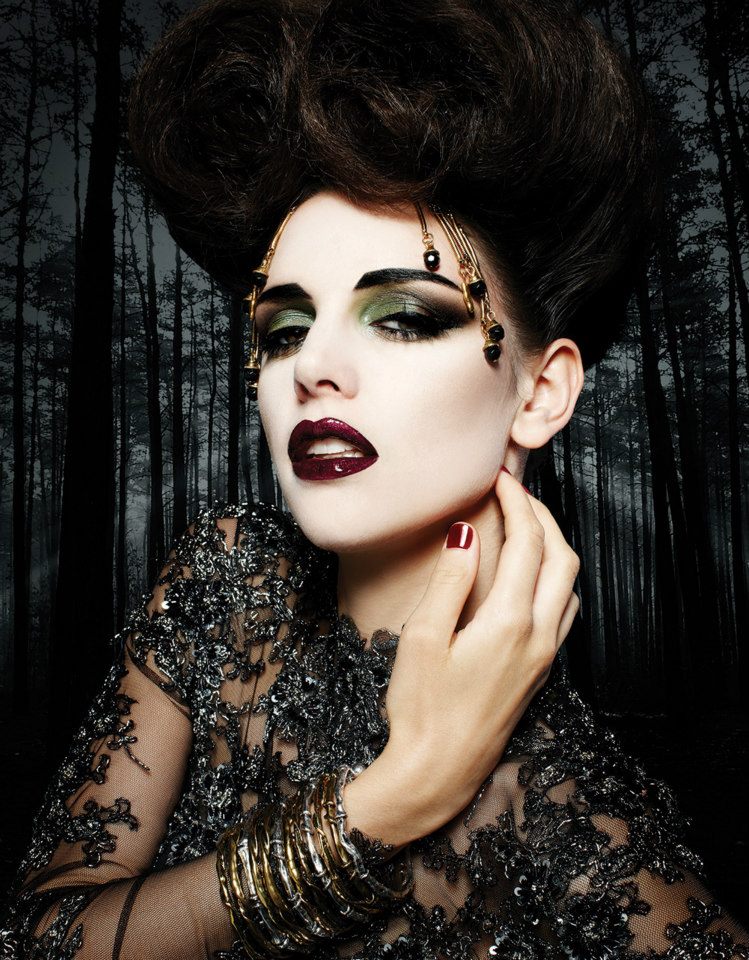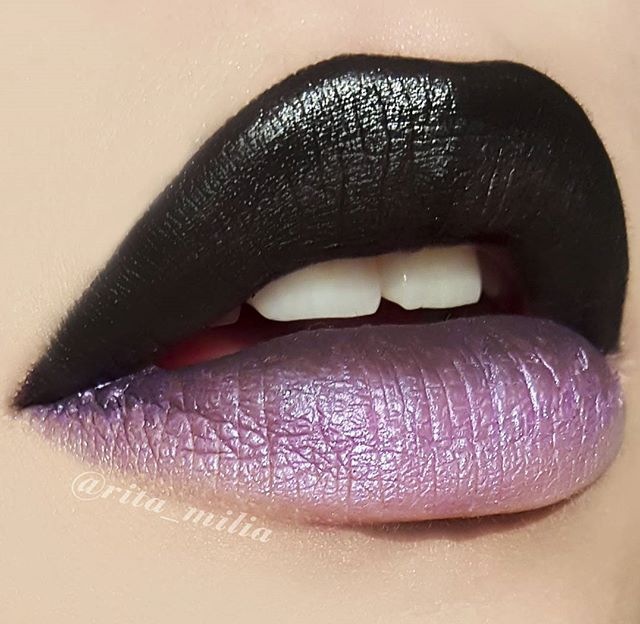 L: Make Up Store Stockholm R: Make Up by @rita_milia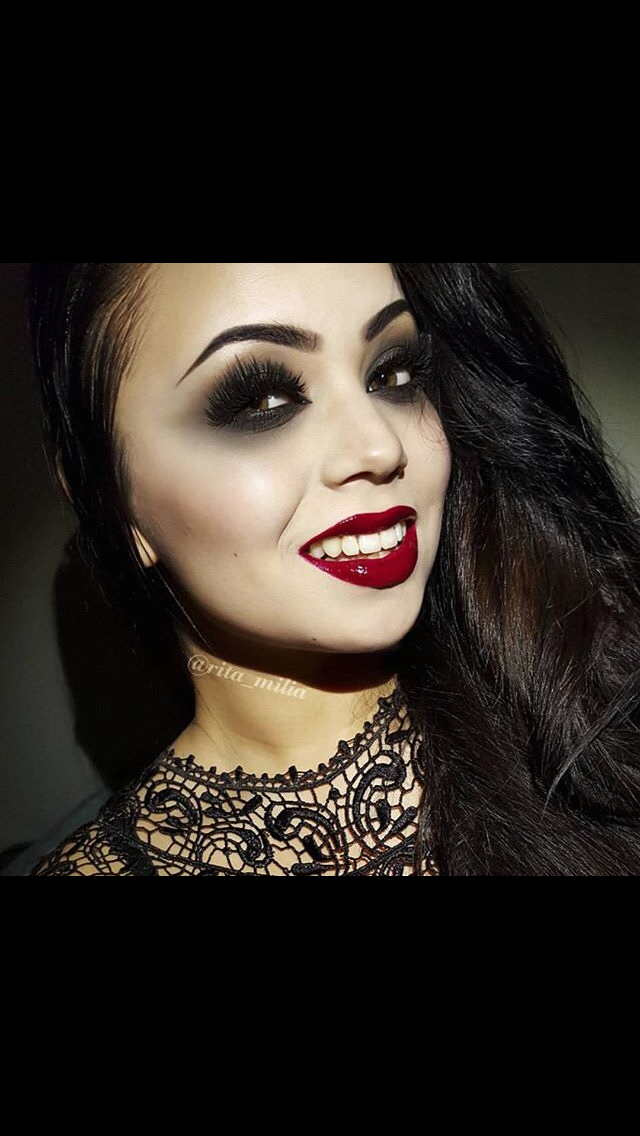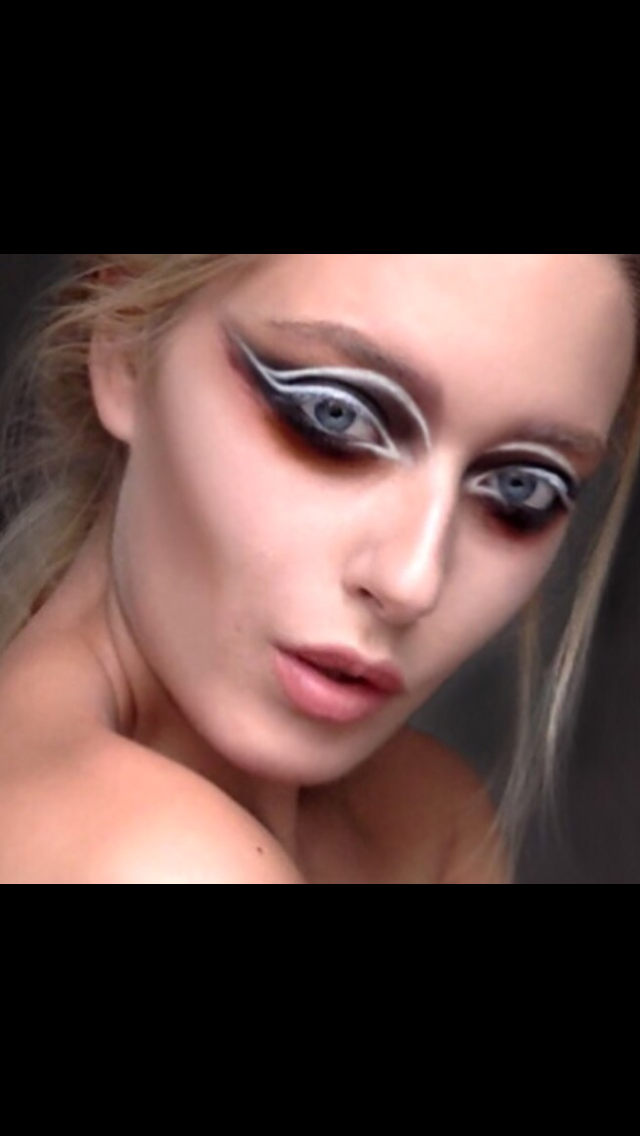 L: Make Up by @rita_milia R: Make Up by @tovedevahl
—-

Want to learn more about make-up? Be sure to like Make Up Store Eskilstuna to stay updated!