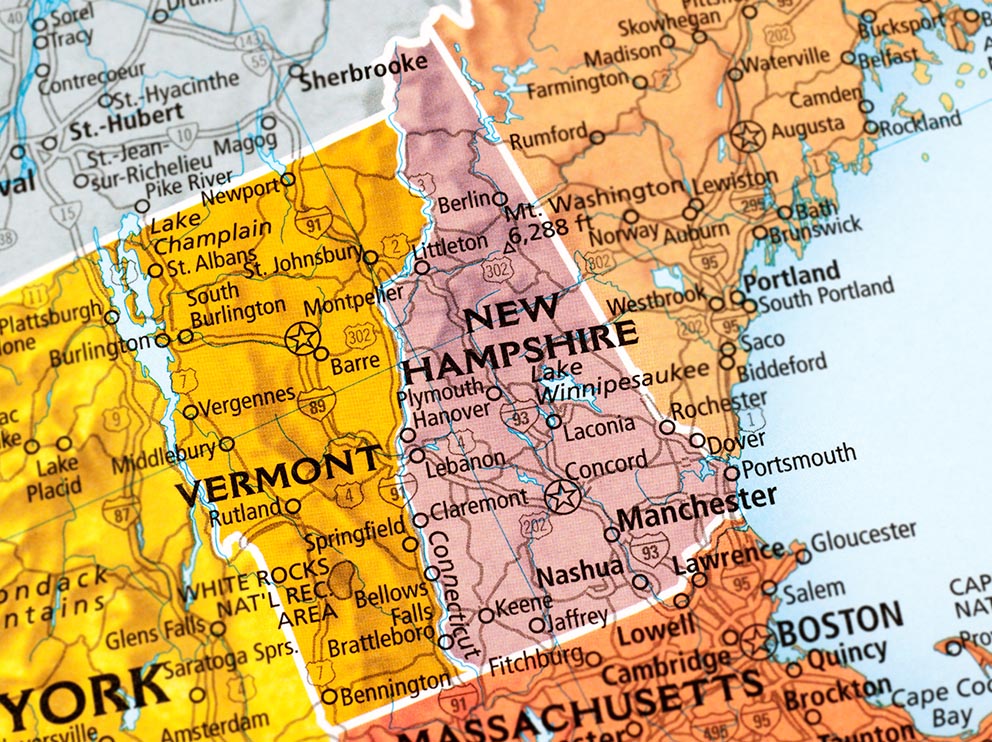 Culinary Beer Destinations
Vermont-Brew, Coffee & Dining in the Green Mountain State
The state of Vermont located on northern section of the USA east coast, has in years past quickly garnered a reputation of a culinary and brewing wonderland for travellers across the world. The state's lack of industry has spurred a creative growth of homegrown artisanal cottage industries, as a form of expression as well survival. From the famous Vermont Teddy Bear to the Green Mountain Coffee brand- and let us not forget Ben and Jerry ice-cream- the creative Vermonters have stolen our hearts and taste buds with their ideas and creativity.

Beer kettle at American Flatbread

For folks that enjoy a great micro-brew beer, this is the state that proudly has breweries all over the map. Some are on a national scale as well restaurants brewing their own beer to pair with their menu. Popular beers from Vermont found in bars and stores across America are Magic Hat, Harpoon, Trout River and AlChemist. The combination of clean water, creative labor and farmland have been instrumental to the growth of the beer culture. The existence of many colleges and universities is also a benefactor, since students love beer pubs and enjoy trying new experiences that include a local cultural feel intertwined with supporting local causes.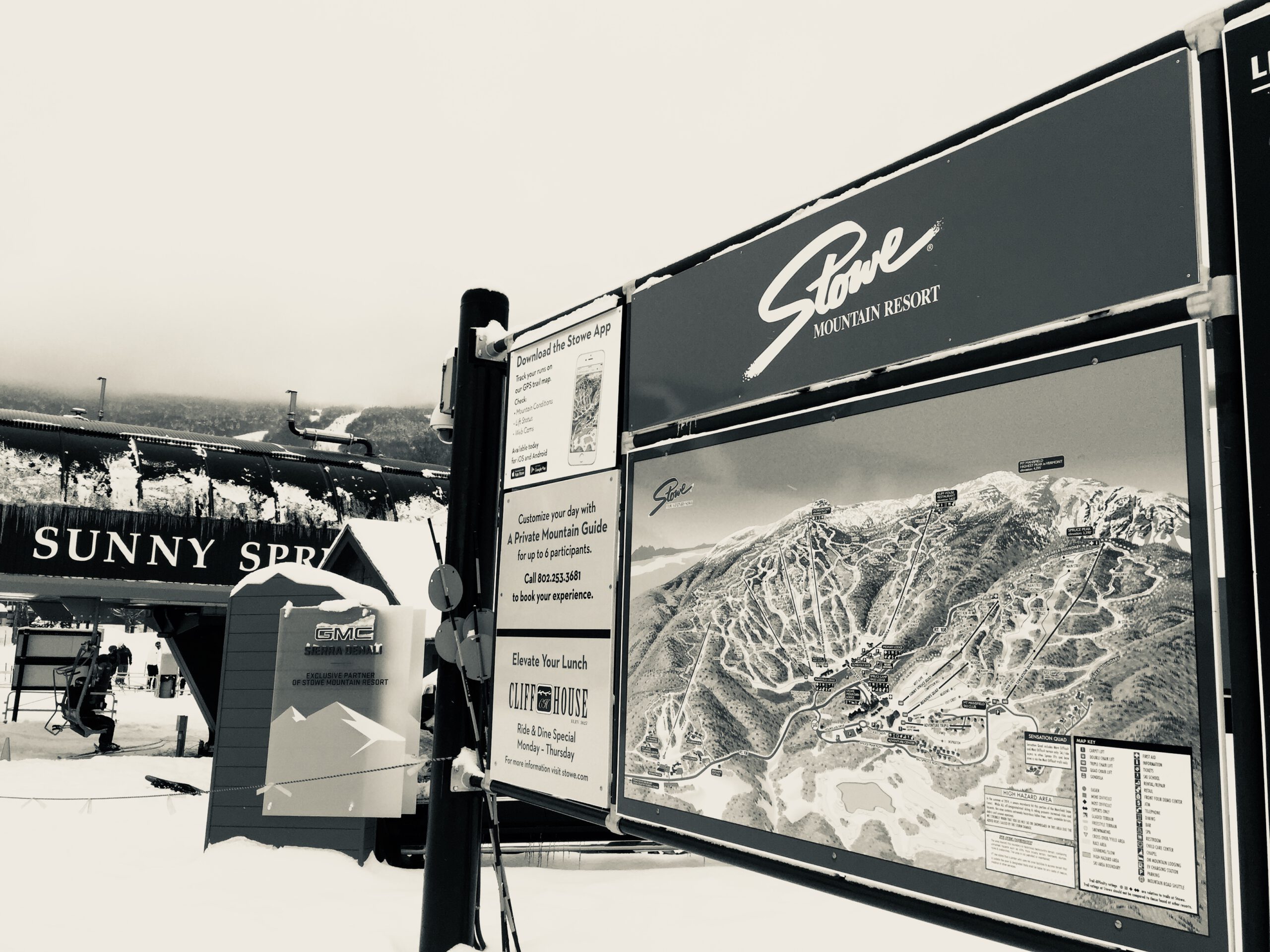 Map of Stowe trails

This year I decided to enjoy a short culinary winter tour of some areas of Vermont, after a recent business trip visiting the state in September for a sponsored food show in Stowe at the beautiful Stowe Mountain Resort. "Make sure you check this area out in the December!" the front desk operator assured me upon my departure from the hotel after the trade show. Regardless, one can argue that the ski town of Stowe without the presence of snow remains idyllic with its charming Austrian chalet inspired architecture and cottage artisanal industry around every bend. A beautiful place also in summer and fall I was told when asked.

A week in advance I habitually checked the weather forecast in northern Vermont, observing an indication of possible December snow. The forecast promised was what I was looking for, so the intended trip was on schedule and a definite go. Visitors driving from the south or west, will find themselves at best cruising on Interstate 84 with Connecticut as the final state before heading North on Interstate 91 towards its bordering state Massachusetts. The town of Waterbury, Connecticut off the exit along the way, offers a classic Italian restaurant "Diorio" if you desire a great Italian American dining experience. A "Grande dame" of Waterbury dining dating back to the 1920s, this "classic" New American–Northern Italian serves up "superb" cuisine in an old-fashioned setting complete with acid-etched mirrors, the original marble bar, mahogany booths and black-and-white tiled floors. Since it was around dinner time, I decided to stop in for a bite, lured by some of the listed classic menu items such as Italian Hot Stuffed Long Peppers, Broccoli Rabe & Sausage and well-prepared Risotto. The dishes were perfectly prepared and great with a glass of Straccali 2012 Tuscany Chianti red, labelled a dry wine, perfectly matched the menu items. Desserts were not particularly exciting, nonetheless the homemade Crème Brulee with a perfect glass-like crisp burnt sugar coating was very well executed and spot on.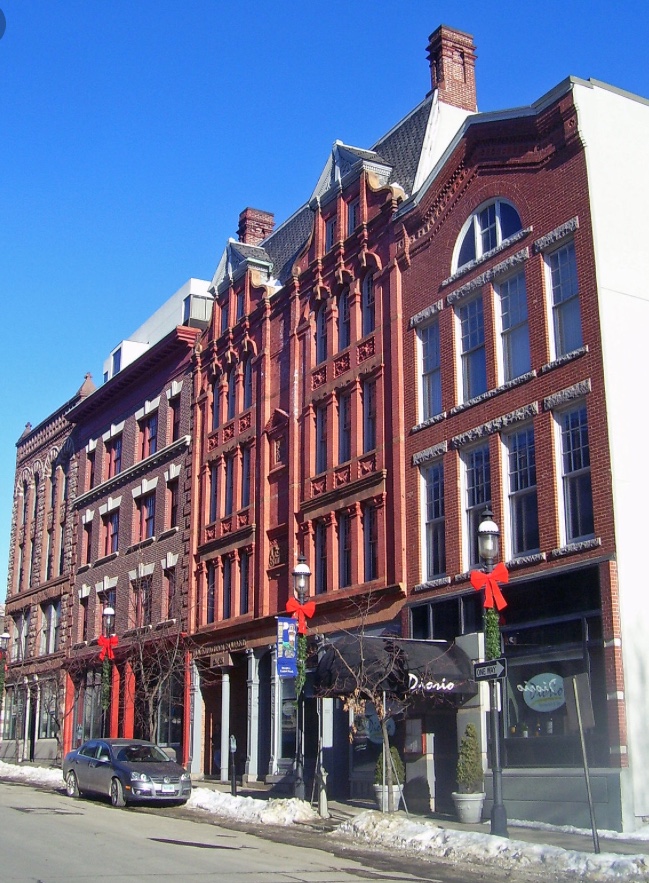 Italian restaurant Diorio in Waterbury

The next state to enter while heading north on Interstate 91N, is the historic state of Massachusetts. An interesting stop to make after entering the state is at the historic town of Deerfield exit. Aside from a convenient gas station with very low gas prices, you will find the flagship store of the famous Yankee Candle company which during holiday seasons is decorated to the hilt, with a historic candle making shop featuring seminars and candle making classes. Steven Spielberg used candles from the historic section of the store for his legendary 1997 movie AMISTAD featuring renown actor Morgan Freeman. The store itself is almost a mini shopping center, selling also cooking equipment, food, local products, maple syrup and toys. Kudos to the seasonal decorations, which are meticulously arranged to enhance the season. A few minutes down the road you will find the historic center of Deerfield, which has retained its original buildings from structures dating back to the American revolution. A meticulously kept town.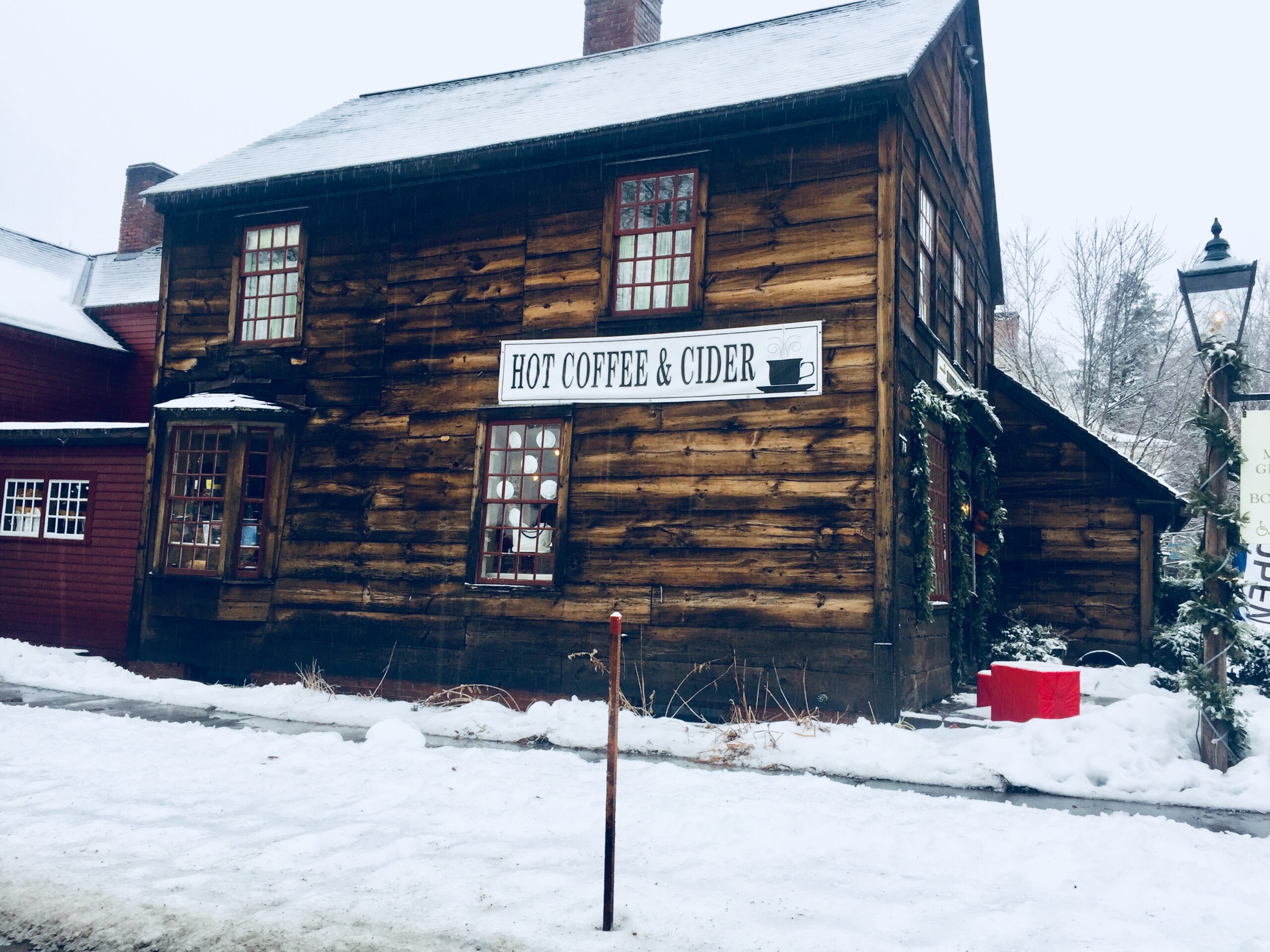 Historic Deerfield MA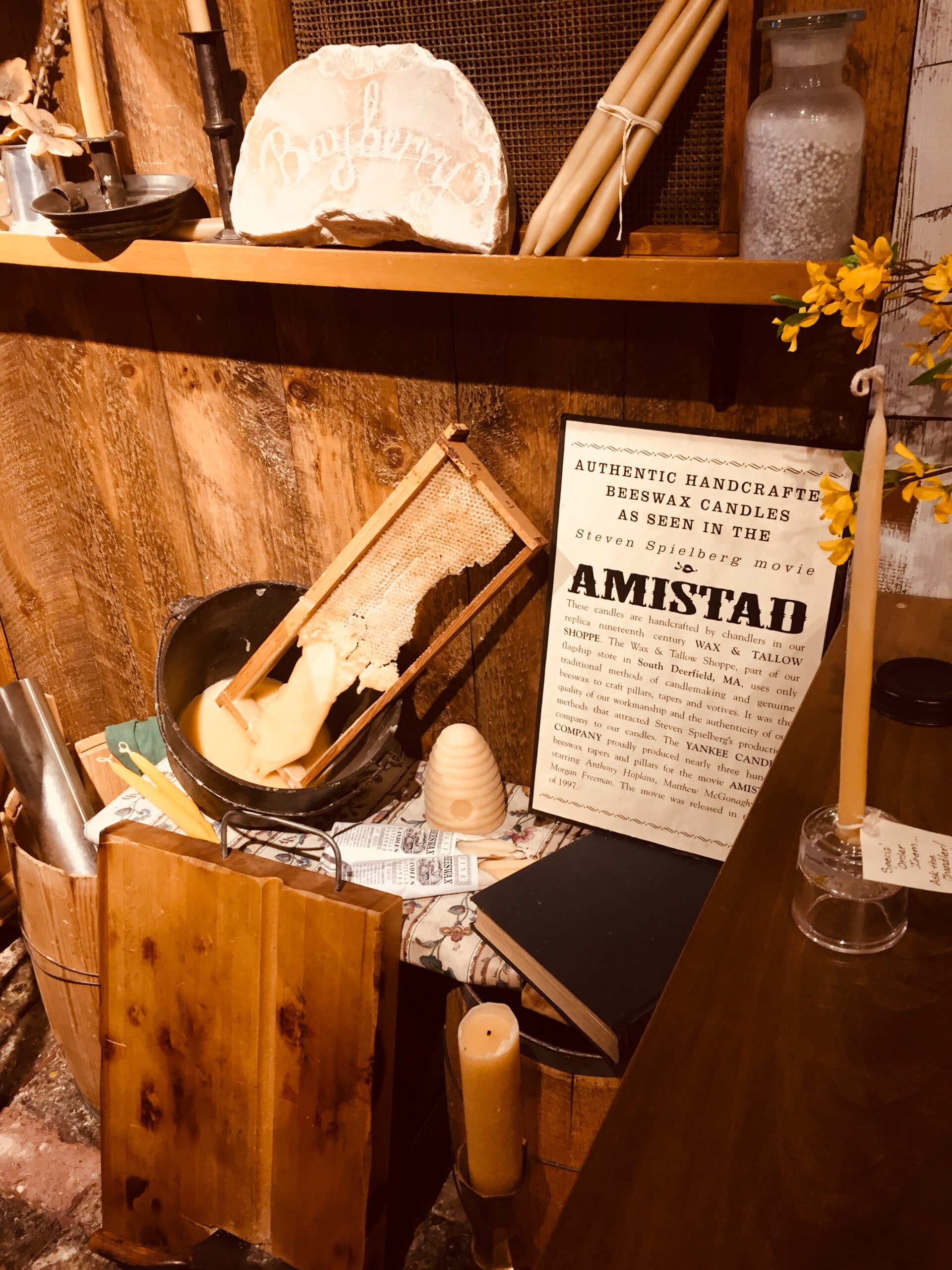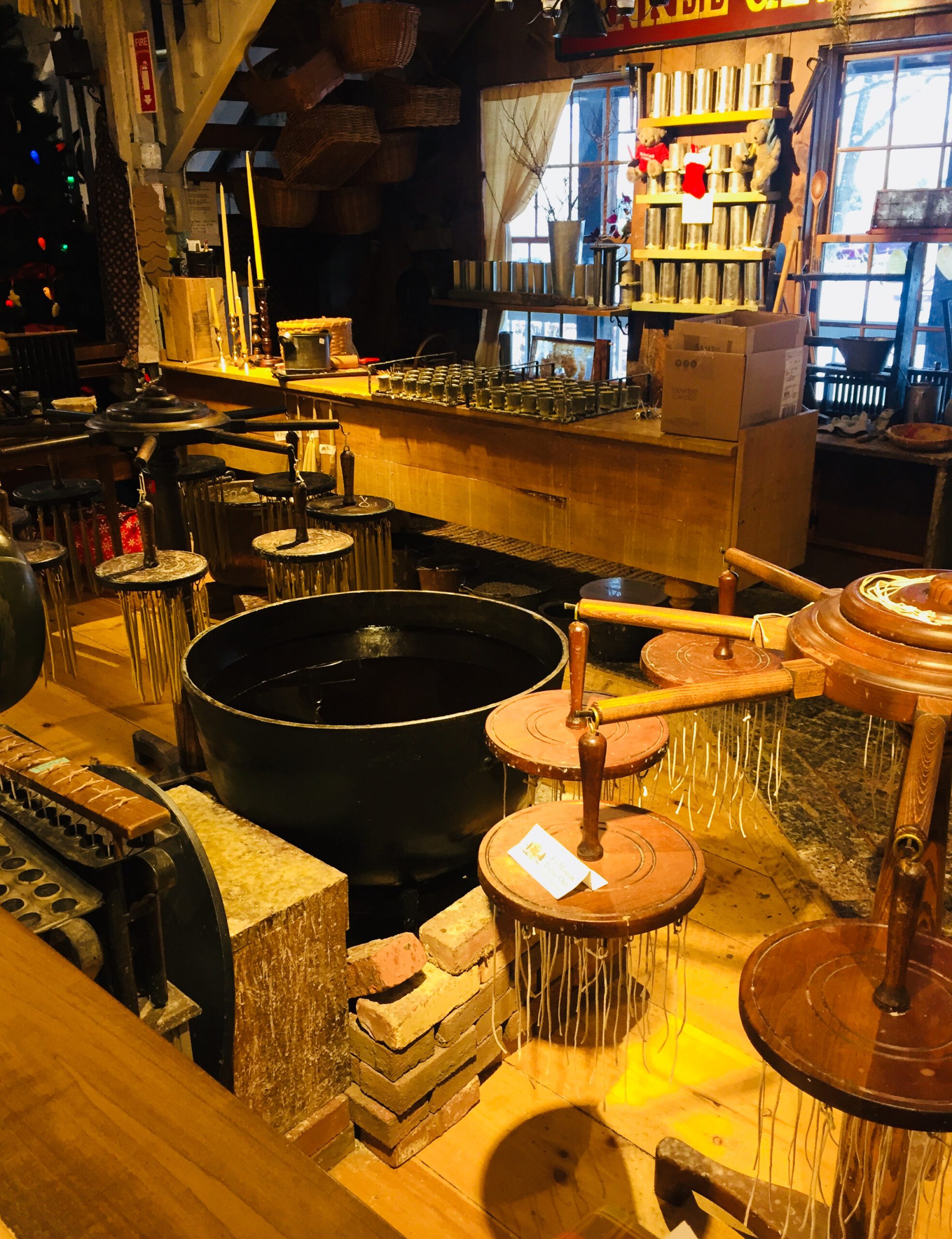 L: Historic candle props. R: Candle Factory yanked candle.

The initial weather forecast appeared to be off, since the expected snow was now an icy rain, which created slippery and black-ice conditions on Interstate 89 N. While carefully maneuvering around the multiple accidents of careless SUV drivers skidding into the median, I was content to see the first snowflakes as I got further north after crossing into Vermont towards the state's capital Montpellier.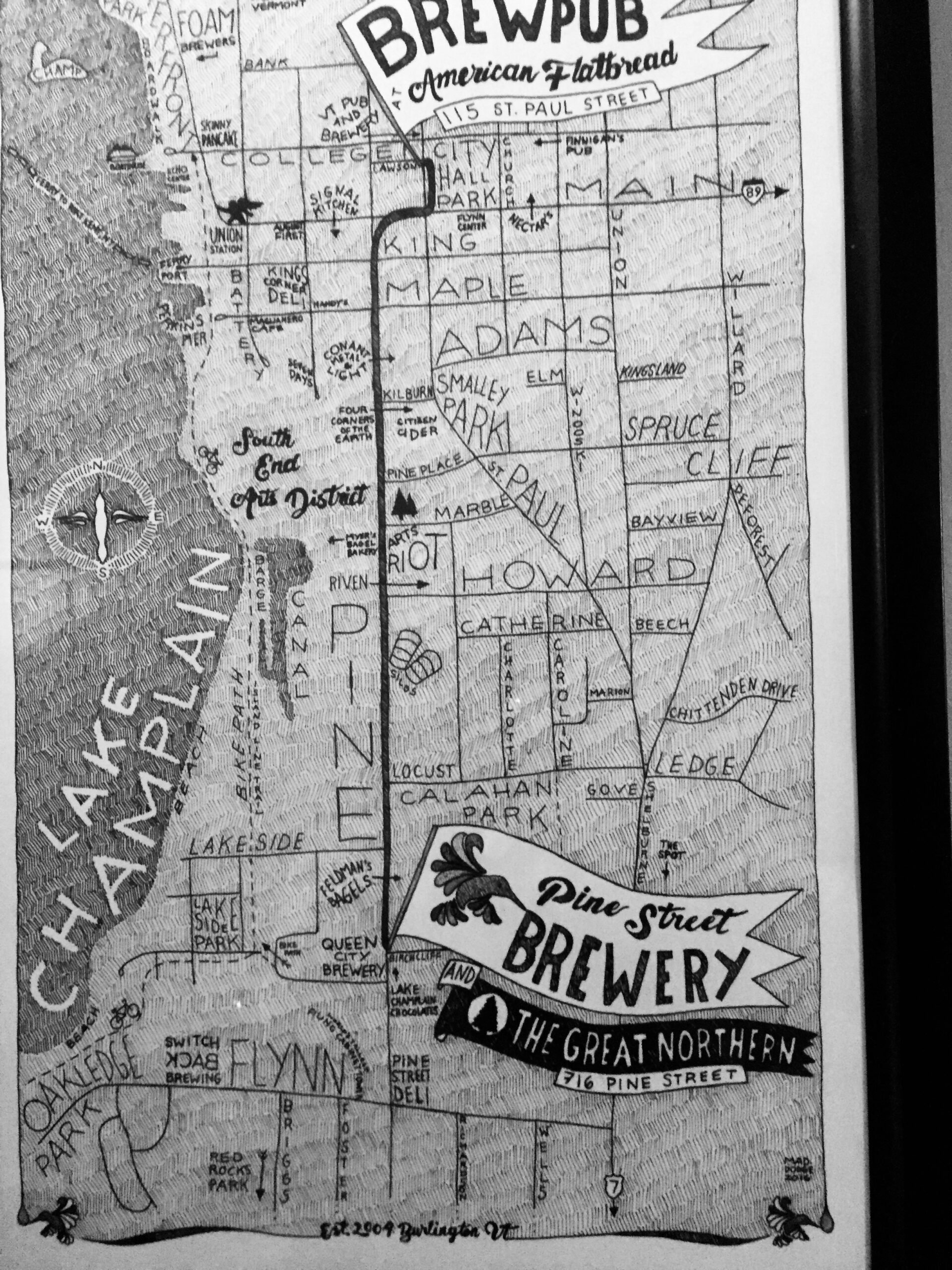 Historic map of Burlington

My destination Burlington, VT, confirmed its reputation as the snow capital of Vermont, rooted close to the Canadian border near Montreal and Quebec. In less than minutes, a heavy snowfall concealed the black asphalt highway, immediately changing a dreary ice-rain scenario to a festive winter wonderland landscape.

The GPS was set for the Church Street district, the bustling center of the college town of Burlington in search for the popular restaurant/brewery American Flatbread Hearth on the neighboring Saint Paul street. After filling the parking meter with quarters while barraged by falling snow, I quickly crossed the street in search for warmth and shelter.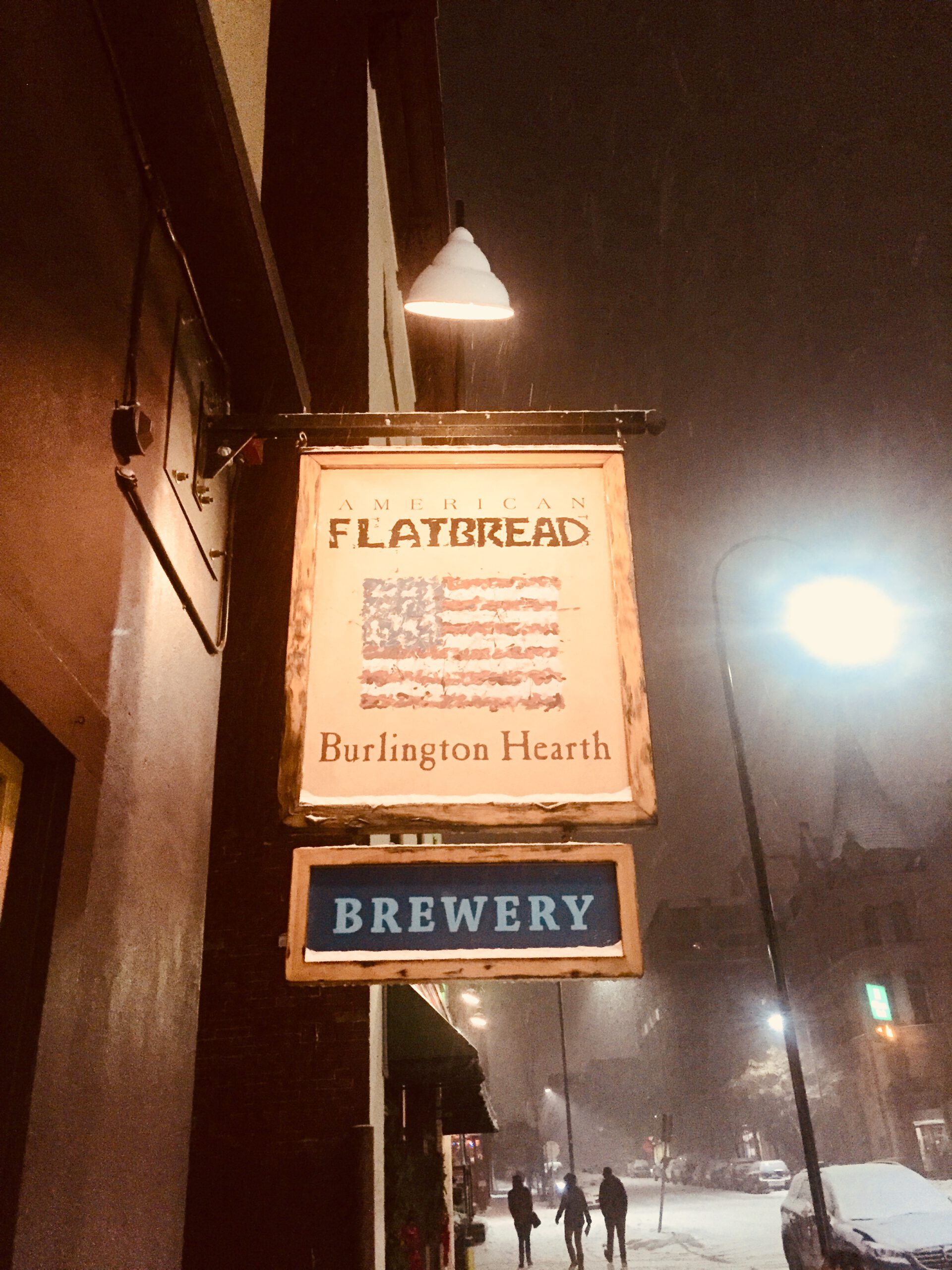 American Flatbread

This is the place for local brews and fabulous flatbreads topped with local, organic ingredients baked before your eyes in an open, wood-fired oven and home of Zero Gravity Craft Brewery. The beautiful igloo-shaped open fire pizza ovens in the warmly lit wood paneled restaurant was packed and a hospitable place to be while large snowflakes floated down like goose feathers on the park located across the street. The flatbreads are pizza-like round and come in two sizes. They arrive quickly to the table and are crispy, oven-hot and well dressed in local ingredients. The flatbread special I ordered featuring arugula, Jasper Hill Blue cheese, walnuts and caramelized onions was a perfect union, followed by a variation of flights of the microbrew beer that can be ordered in many sizes. I prefer experiencing a myriad of style by going with the small size for tasting's sake. As a fan of light and fruity yeast beers, I sampled Touch of Drei –6.2% Organic Saison with Brett– Bernie Weisse 3.2% Berliner Weisse– Funkytown 6.8% Wild Ale and Conehead 5.7% India Pale Ale. The pure beauty of microbrew beers is always the freshness and the creativity showcased. American brewing has come far and easily matches European brews in styles and quality.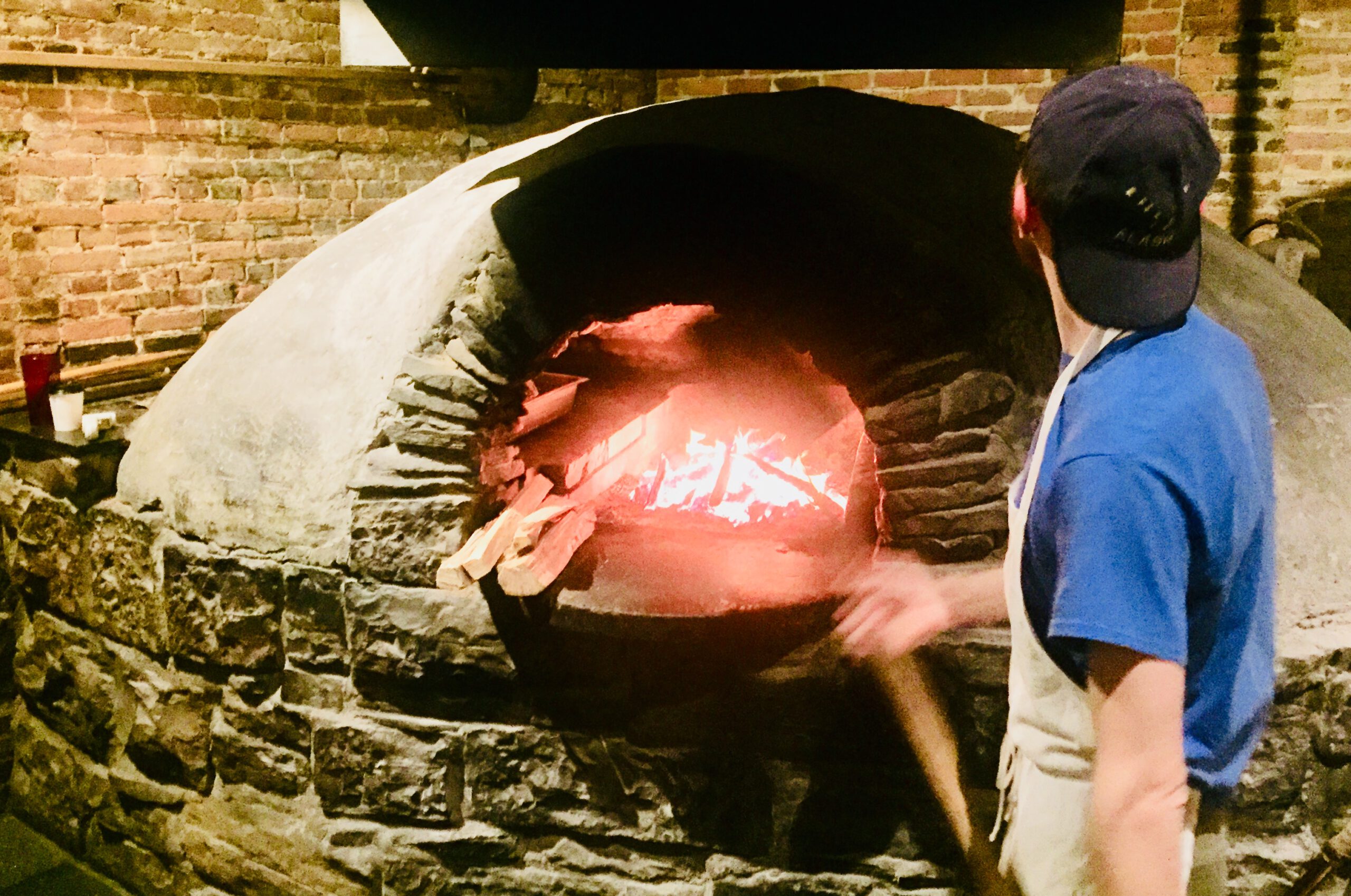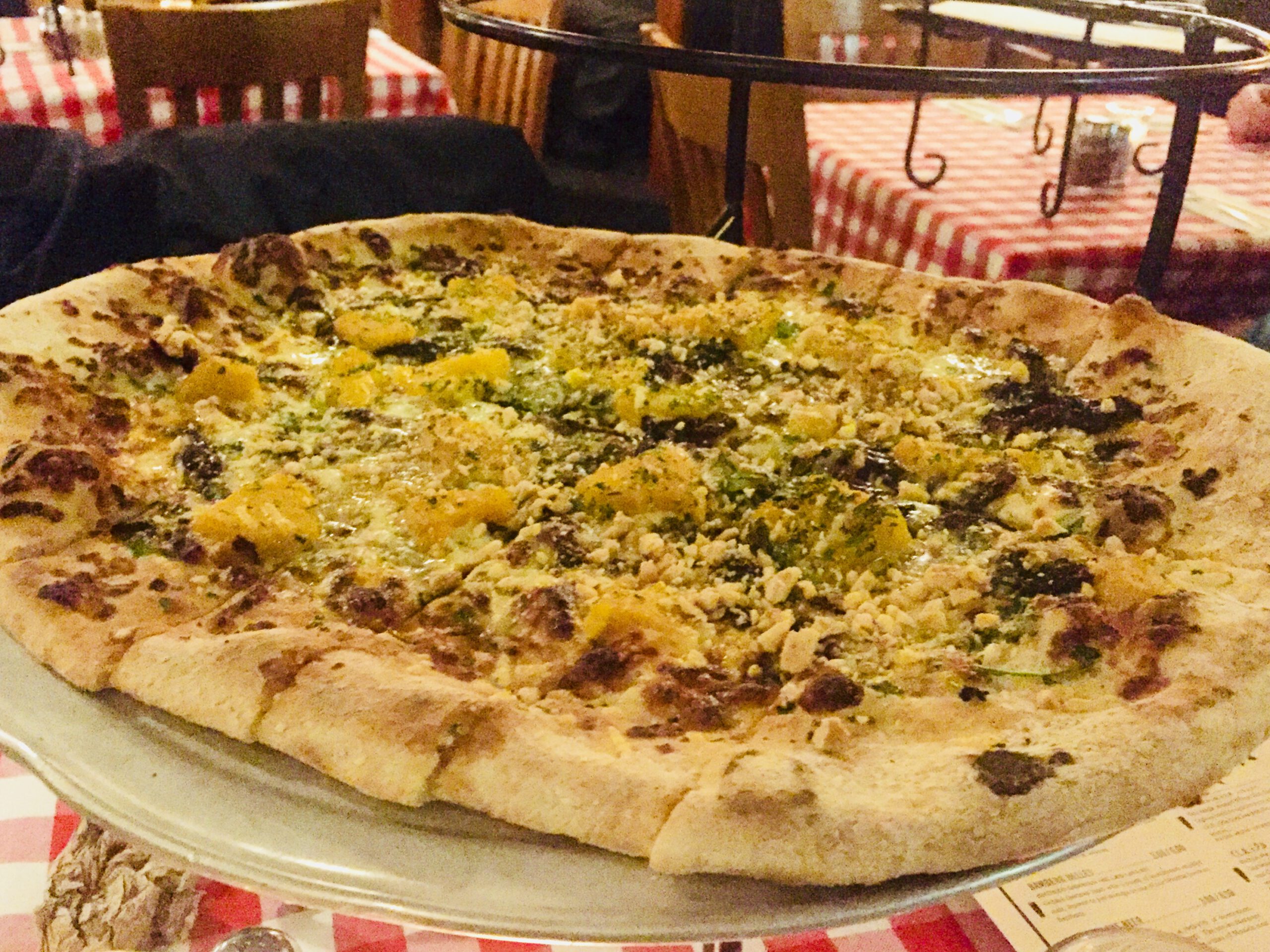 American Flatbread

For dessert head next door to American Flatbread sister restaurant Monarch & Milkweed for a hot cup of cappuccino paired with the excellent homemade desserts such as crème fraiche glazed Gingerbread or Coconut Cake while overlooking the scenic park adorned by old fashioned street lanterns. If it is early in the evening, head down the street to Church Street to indulge in some shopping at local Vermont product stores intertwined with some national outlets. Check out the Vermont Flannel shop for some authentic quality flannel clothes or pamper yourself with Vermont's famous Ben & Jerry's Ice-cream. Irresistible!

The following morning, a gust of bone-chilling artic air greeted me outside the hotel, while scraping snow off my road salt blemished car. I headed back to downtown Burlington to explore some more of the downtown and enjoy a brisk walk along the historic harbor of the Lake Champlain waterway which during the revolutionary French- English war, was a vital part of ferrying troops and supplies. The movie Last of the Mohicans with Daniel Day Lewis stems from that period if you need a reference of activities from back in the day. After finding a parking spot close to the waterfront, I was easily able to find a walkway in the park that runs along the elevated water's edge. Statues and historic memorials are strategically placed along the path, explaining the vital advantage point that defenders had from this area against English ships. In the town center, it was bustling with last moment holiday shoppers looking for unique Vermont style gifts. A popular lunch spot was the acclaimed restaurant The Farmhouse. This lively brunch spot is famous for their local food and selection of beers. It has won awards as a great brewpub as well "Best Bourbon bar". The menu indeed is loaded with great beers and cocktails using local ingredients such as maple syrup (the Vermonter pride) and farm to table ingredients. The tap room features Vermont's finest beers presented in conversation with rare beers from around the world on over 30 taps. The deep bottle list features rare and vintage offerings. A unique beer to try is the Good Measure Spud's Web…Northfield, VT | 12oz | 8.6% Imperial Rye Ale w/ VT grown Sweet Potatoes. Creative and unique. A great brunch cocktail is VT Sour………Cognac, maple syrup, lemon, Marquette Float with taste patterns of sweet-tart, vinous, memorable. The local store-keepers told me this place has the best burgers with home-made frites. They were indeed not kidding- the burger choices are beautiful and every detail from bread-bun to meat is well crafted and thought out. The accompanying pickled onions and sweet bread pickles are icing on the cake. The crispy hand-cut frites were addictive. Burger choices to be had are listed as following example;
LaPlatte River Angus Farm Beef w/ bacon, cheddar, arugula, pickled red onions
Farmhouse Veggie w/ Spring Brook Farm raclette, mushroom conserve, arugula
Misty Knoll Free Range Turkey w/Bayley Hazen blue, apricot mostarda, arugula, smothered onions
Vermont Heritage Grazers Pork w/ cheddar, sunny-side up farm egg, kimchi
VT Bean Crafters Black Bean w/CVC smoked queso fresco, jalapeño jam, arugula, herb crema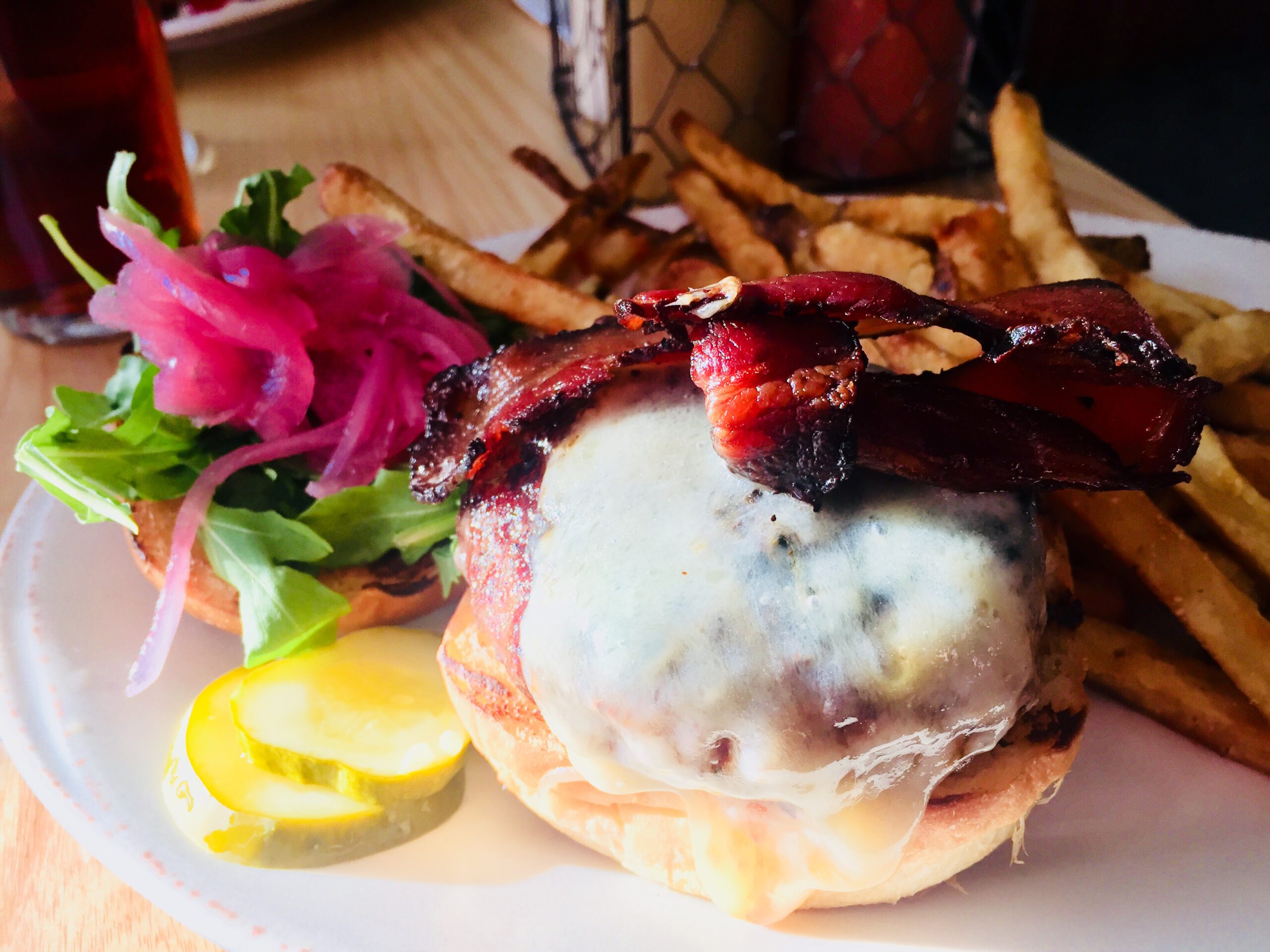 Burger at the Farmhouse

If you are looking for a great appetizer or a snack to accompany a brew, try the House Charcuterie Board -grilled bread, whole grain mustard, pickled red onions, country pâté, duck rillettes, and chicken liver mousse- really a treat. If you crave your eggs on Sunday, have the Cheddar Grits & Eggs with sunny-side up eggs, artisanal bratwurst, braised kale and chimichurri – a dream on a plate.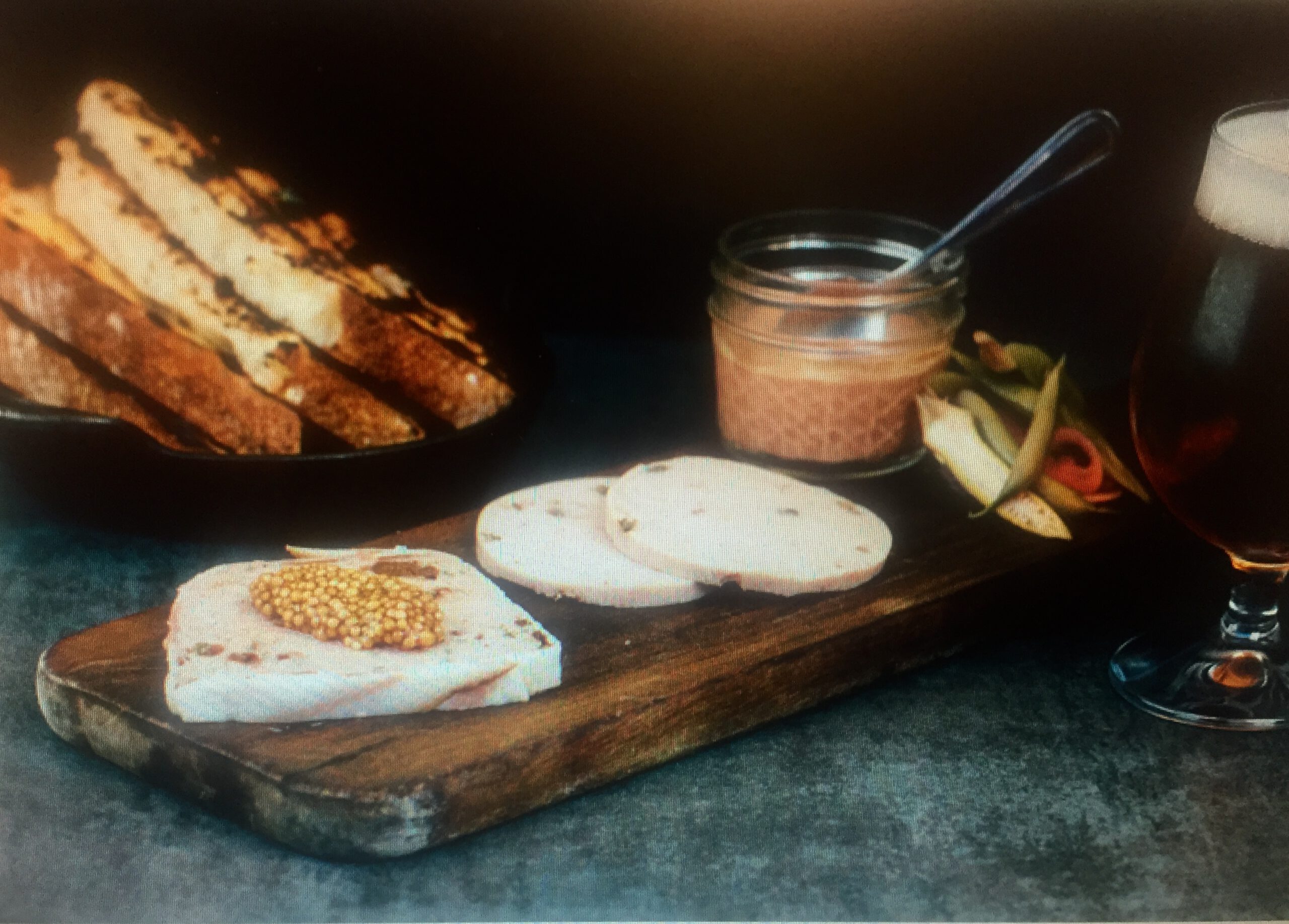 Charcuterie at the Farmhouse

South of Burlington on the shores of Lake Champlain is the small town of Shelburne which is the home of The Vermont Teddy Bear Company, one of the largest producers of teddy bears and the largest seller of teddy bears by mail order and Internet. The company handcrafts each of its teddy bears and produces almost 500,000 teddy bears each year. At the entrance off the road, there is a gigantic teddy bear designed to enhance your selfie moment or group picture. On the way back, stop for coffee and grab a bottle of good wine for the hotel room at Village Wine and Coffee on Shelburne road, who specialize in smaller and family run wineries from around the world with over 800 wines in stock and access to thousands more. Many of the wines are biodynamic or organically farmed and even though they may not be labelled as such, they firmly believe in the stewardship and health of the vineyards and the people who farm them. Traceability is the most import aspect in helping those select wines. The cozy coffee shop consists of espresso based drinks and great Fair Trade organic coffees, along with home baked pastries from High Meadows Bakery.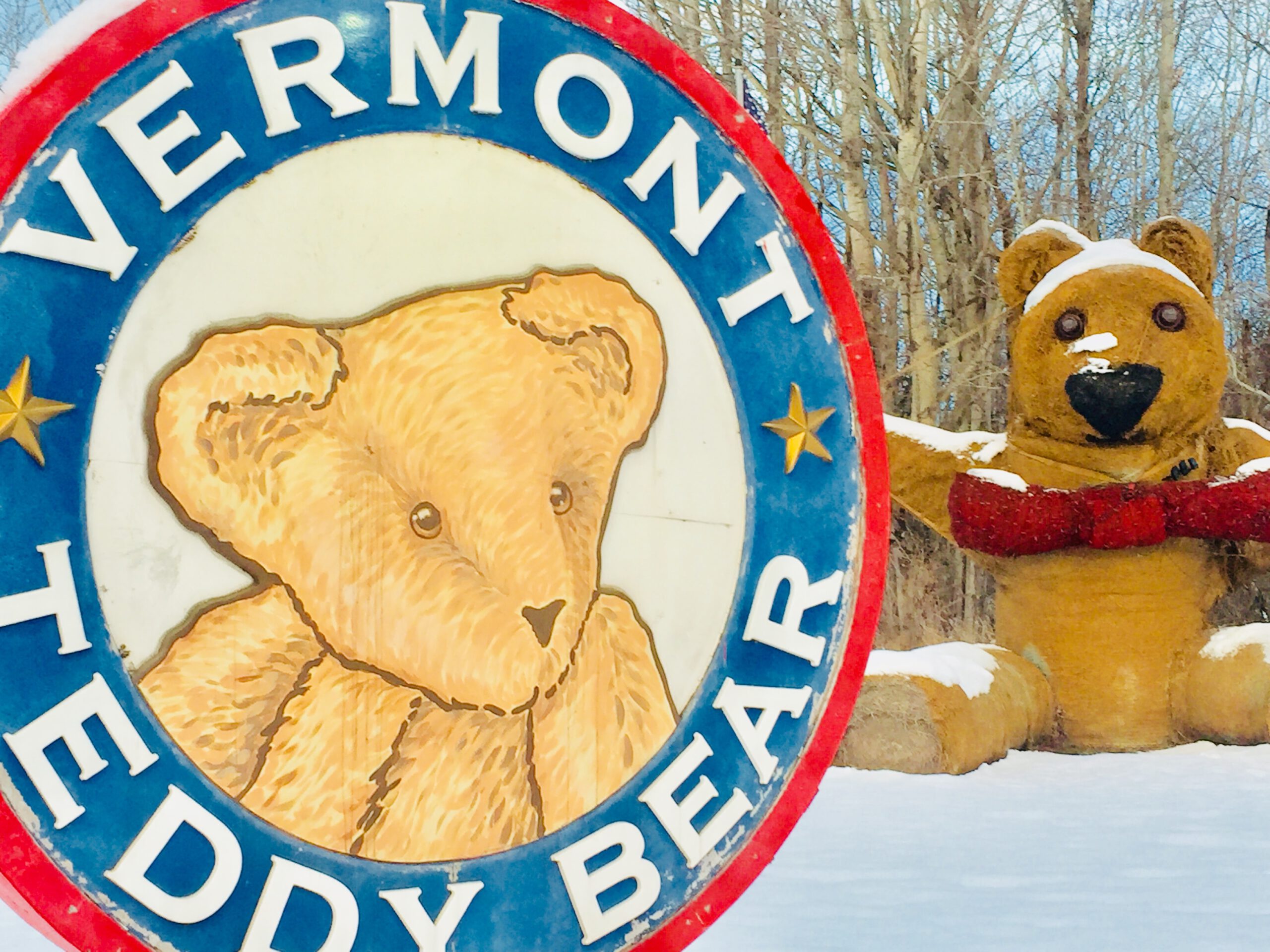 The Vermont Teddy Bear Company

Back in Burlington upon local concierge recommendation, dinner was relished at Bleu Northeast seafood located in the downtown Marriott's Suites hotel. Executive Chef Doug Paine celebrates the connection of Lake Champlain to the sea by sourcing the finest regional seafood networking with local and regional farmers, purveyors, and fishermen to source the menu, with daily deliveries from the ports. Inspiration is drawn from Montreal and the St. Lawrence Region, as well the New England coast and the Maritimes. The restaurant is deftly designed in blue and teak colors with a casual temporary feel with some tables overlooking Lake Champlain Park. Calamari is always a favorite on my list pending it is correctly prepared. Here the Crispy Calamari w/shaved fennel, pickled peppers, cherry tomatoes, harissa aioli arrives decoratively in a deep soup bowl and super-tender to the bite with an excellent dipping sauce crowding out the usual tired marinara sauce. Marinated Swordfish with dry roasted tomatoes and olives, creamy soft polenta and romesco sauce is the star dish here, guaranteeing a very fresh sword fish cut. The cider glazed Salmon with Brussel sprouts, sweet potato hash and horseradish crème has Vermont hints intertwined in the flavor pattern. The dessert menu here is exciting, a platform where normally most restaurants fail, is here done right. Crème Brulee Cake with blackberry puree and meringue is exceptional and memorable.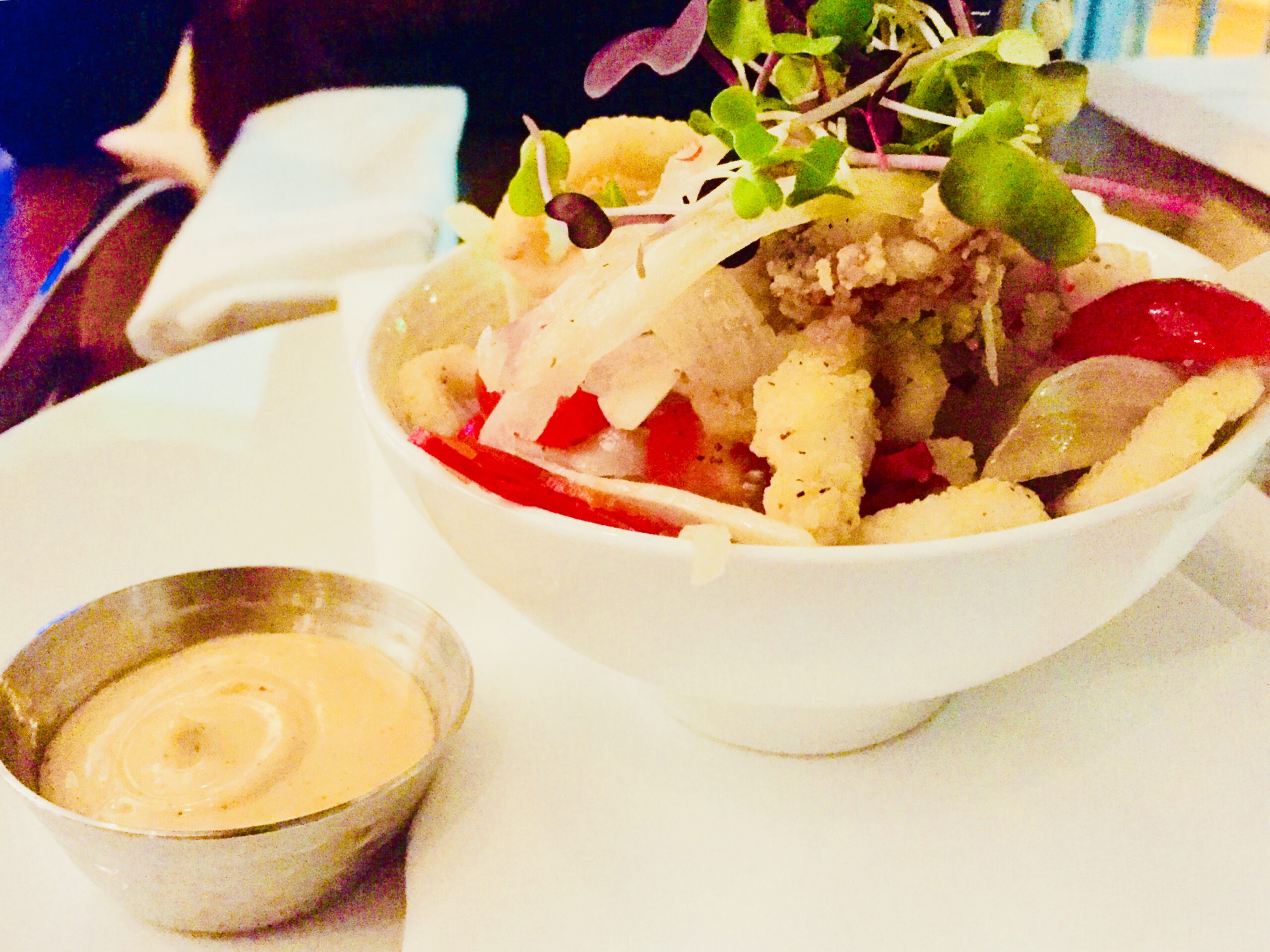 Crispy Calamari

The Cheese plate is spectacular proudly featuring exclusively Vermont chees with a selection of 3 cheeses, jam and grilled bread. As listed below are popular Vermont cheese offerings, another example of Vermont Artisanal spirit and craft.
Bayley Hazen Blue: Cow's milk bleu, Jasper Hill, Greensboro VT
Inspiration: Washed rind cow's milk, Mt. Mansfield Creamery, Stowe VT
Smoked Gouda: Maple smoked goat's milk, Taylor Farm, Londonderry VT
Coomersdale: Natural rind sheep's milk, Bonnie View Farm, Craftsbury VT
Bijou: Delicate rind, soft goat's milk, Vermont Creamery, Websterville VT
Triple Cream: Bloomy rind cow's milk, Champlain Valley Creamery, Middlebury VT
By conversation with a storekeeper I had heard good things about Hotel Vermont directly next door to Seafood Bleu, and thought it would be a great place for an after-dinner drink at its restaurant Juniper – specialized in local cuisine and serving breakfast, brunch, lunch, and dinner with a great bar with a cozy wood burning fireplace. It's hard to get a dinner reservation here, so schedule ahead of time. It is also run by the same Executive Chef of Bleu next-door. This boutique hotel represents proudly its namesake in terms of decorations and local product practice. It has great drinks served at the Nordic sleek designed bar and a super friendly staff. The fireplace permeating that pleasing burning wood aroma is wonderful on cold snowy night with a nice glass Bourbon or Cognac slipped between your fingers. The firewood supplys promptly managed to by the bar, so no worries of the fire subsiding.

After this brief interlude of bliss, it was time to navigate the icy roads back to the hotel with another snow forecast in development in the overnight hours.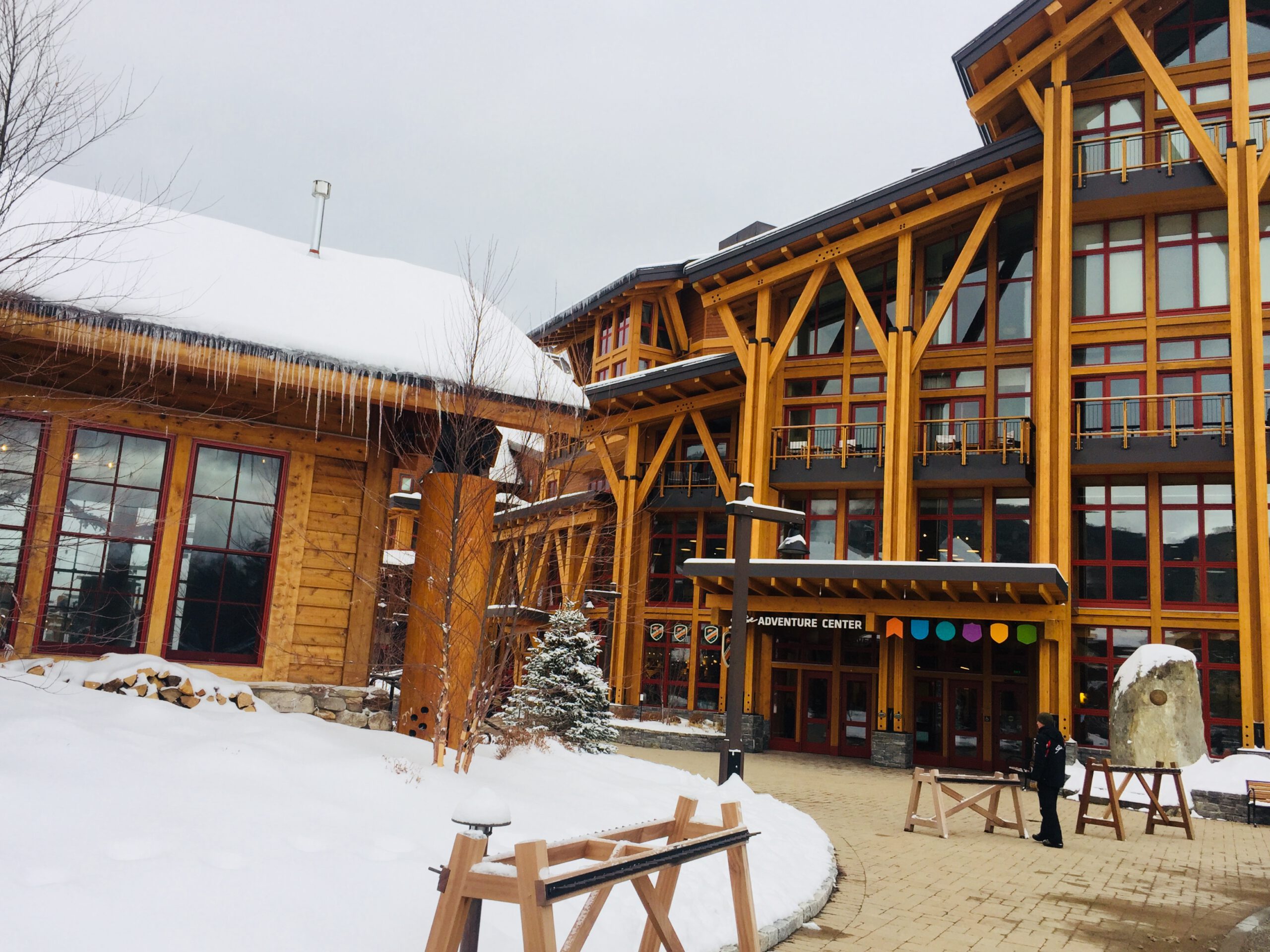 Stowe Mountain Resort
On the final morning of my culinary road trip, I am happy to observe fresh fallen snow, yet an absenteeism of more coming down which will make the trip to my next destination a considerably easier drive. I am again returning to the quaint town of Stowe, Vermont, which is listed of one of the top ski-resort towns in the USA. The well-plowed roads leading to the action are constantly maintained for the revenue generating visitors, to get into town safely and quick. During the slow ascending climb to the Stowe Mountain Resort, the snow-covered chalet-like hotels and lodges take you back to a small Austrian ski-town and the serenity it transcends. Upon arriving at the Stowe Mountain resort after a short delay driving anxiously behind a monstrous snowplow, I parked in the lot behind the hotel, which offers complimentary parking for the first hour. The resort was buzzing with folks enjoying a day of skiing on fresh driven snow and relishing the warmth of the crackling fireplaces in the various buildings. In the bar above the main entrance, local Vermont beers and international wines can be enjoyed accompanied by some fabulous jumbo spice rubbed Chicken Wings w/ Middlebury Bleu cheese dressing. This is a perfect match with a cold regional microbrew beer such as Long Trail Limbo IPA 28 IBUs 7.6% ABV.

Upon my departure from Stowe Mountain lodge, fresh snow regained its strength from the ship hull grey painted sky whereas now caution had to be taken upon descending from the elevated area. The final stop of my trip was the greatly anticipated visit of the famous Von Trapp Bier Halle and Lodge, just a short 20-minute drive from Stow Mountain Lodge.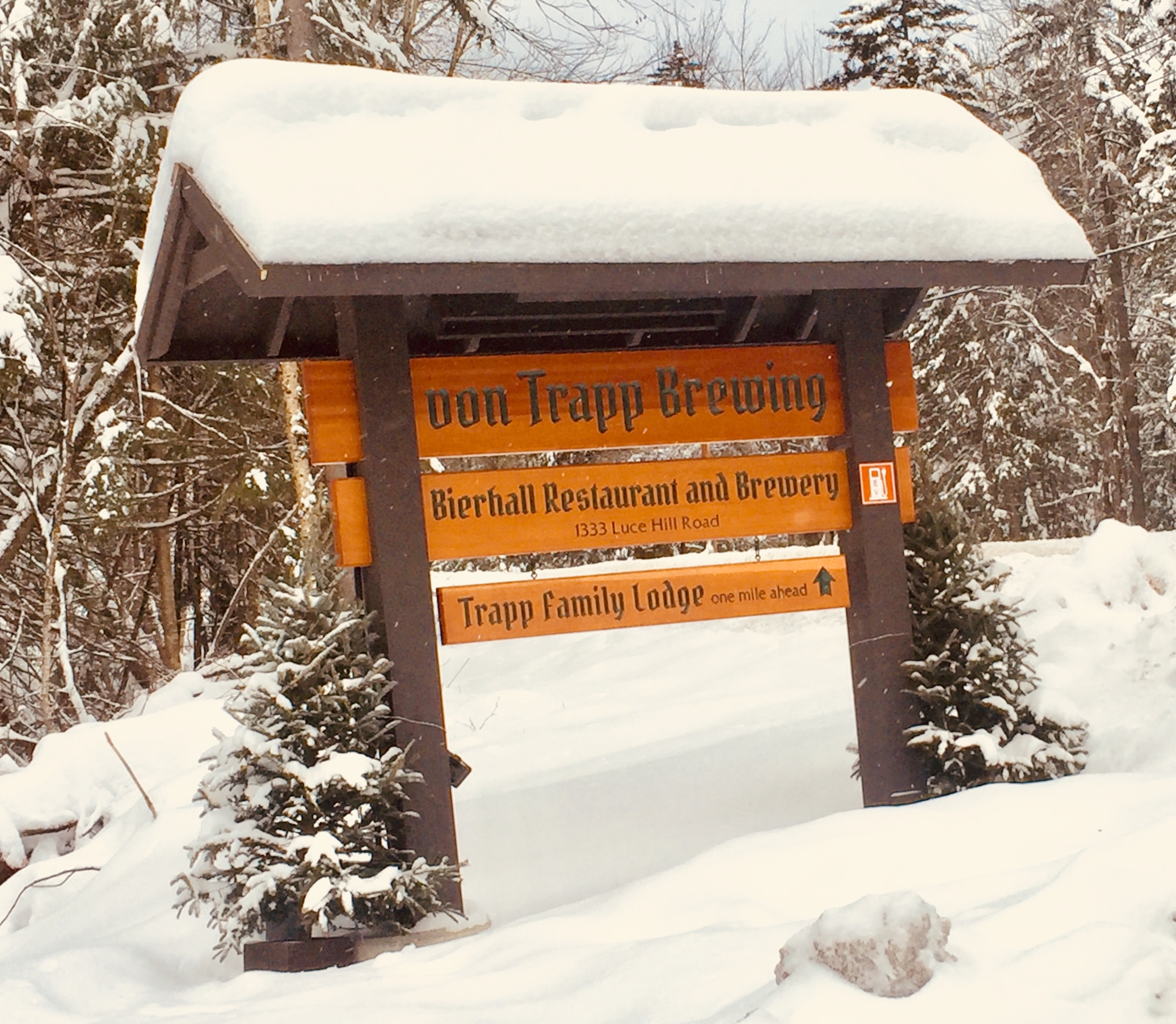 In the early 1940s, the Von Trapp family toured the United States as the Trapp Family Singers before eventually settling in Stowe, Vermont on an enchanted farm with sweeping mountain vistas reminiscent of their beloved Austria. In the summer of 1950, they began welcoming guests to a rustic, 27-room family home/lodge. After a devastating fire in 1980, the original structure was replaced by the new Trapp Family Lodge, a striking, 96-room alpine lodge situated on 2,500 acres offering magnificent indoor and outdoor resort amenities. The Von Trapp family saga is also the inspiration for the world renown Sound of Music movie and theater play.

It was more than a decade ago when Johannes von Trapp started thinking about starting a brewery at his family's lodge in Stowe, Vermont. He had a dream to brew an American version of the tasty lagers he enjoyed so much during trips to the countryside near his ancestral Austrian home.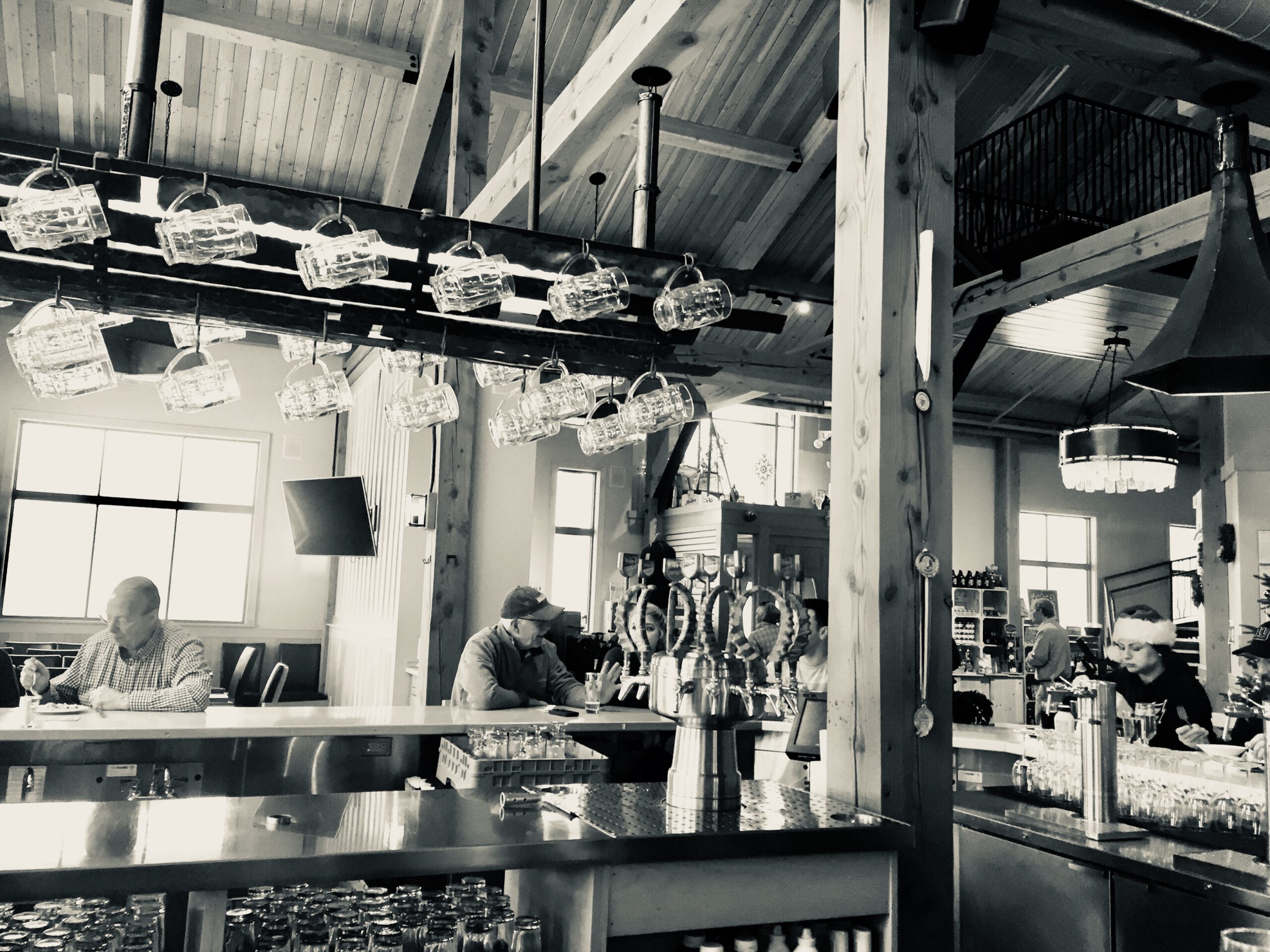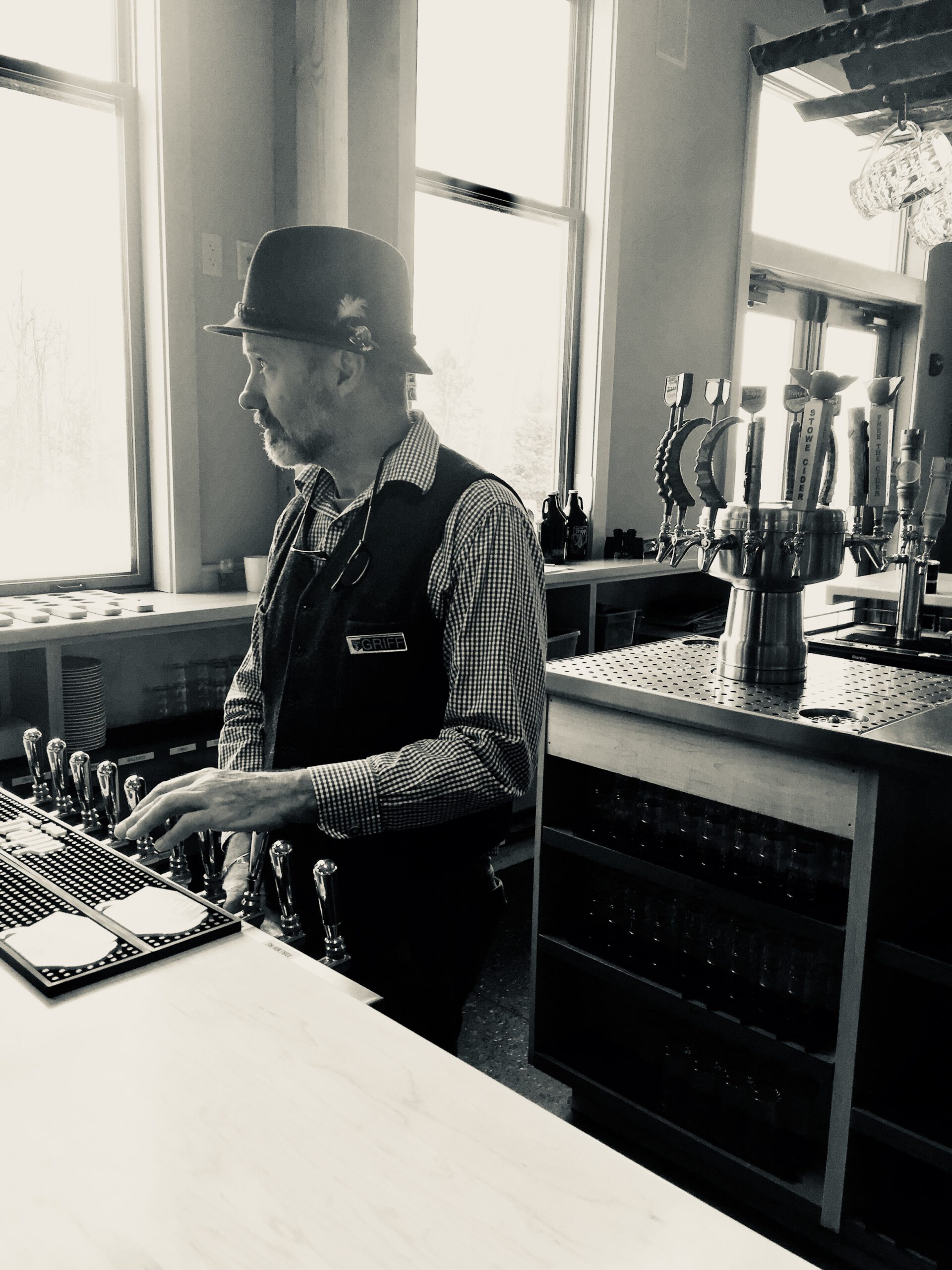 Von Trapp Beer Hall

With this dream in mind, Johannes proceeded to start a brewery at Trapp Family Lodge. It became a reality in the spring of 2010, when Von Trapp Brewery officially opened. The beautiful brewery was originally a modest facility located in the lower level of the Lodge's deli bakery. Now currently they brew around 50,000 gallons of lager each year, with brews available year-round and seasonally. In 2015 they opened a new 30,000 sq. ft. brewery located on Luce Hill Rd. featuring a Rolec Brew House and capable of producing up to 50,000 barrels of beer annually. You can enjoy their beers at the Lodge or in multiple restaurants and bars throughout Vermont, New Hampshire, Massachusetts, Maine, Rhode Island, New York, Connecticut, New Jersey and Pennsylvania. I am proud to have done a beer pairing dinner with them last year, featuring Austrian specialties I prepared for the participants and vowed to visit one day and enjoy the beer this time right at the source at the spacious bar in the Bier Halle. Upon entering the Bier Halle, you will find a well-stocked gift shop selling glass beer boots, 6-packs and t-shirts. One can proceed to climb up the stair in the lobby and from a balcony overlook the large production hall with glistening beer tanks, which I enjoyed with great interest as a fan of microbrews and beer history.

After taking this quick tour, it was time to indulge in a fresh brew and some Austrian inspired cuisine that satisfies the soul and body during cold weather.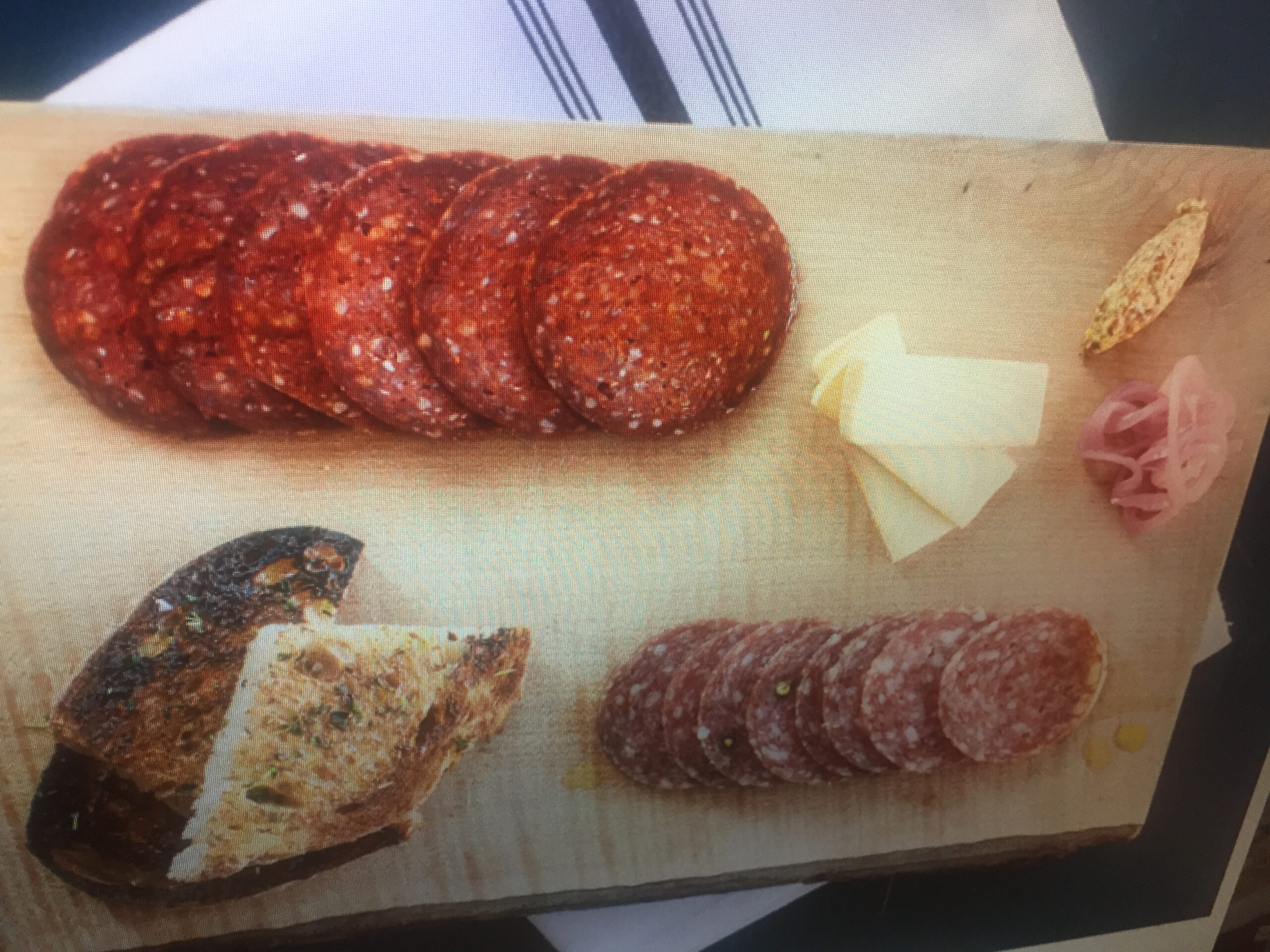 Charcuterie at Trapp Lodge

Aside from the classic Austrian beer offerings such as Oktoberfest, Pilsner, Dunkel and Helles, I decided on the Vienna 5.2% ABV 33 IBU, named for the city that created the style, an amber lager, malt forward with a grassy, cracker-like hop aroma. A classic blend of German malts and hops develop lingering flavors of biscuit and caramel on the finish. To pair precisely with the light beer, the Chicken Schnitzel with apple kraut, braised red cabbage, arugula, lingonberry vinaigrette and Von Trapp farm fried egg was a perfect match. Other good choices to pair with the beer selection were the Von Trapp Pretzels with house mustards, Lager Cheese soup made with Helles lager and Vermont Cabot white cheddar and Austrian Style cured Sausages with a local Cheese Platter.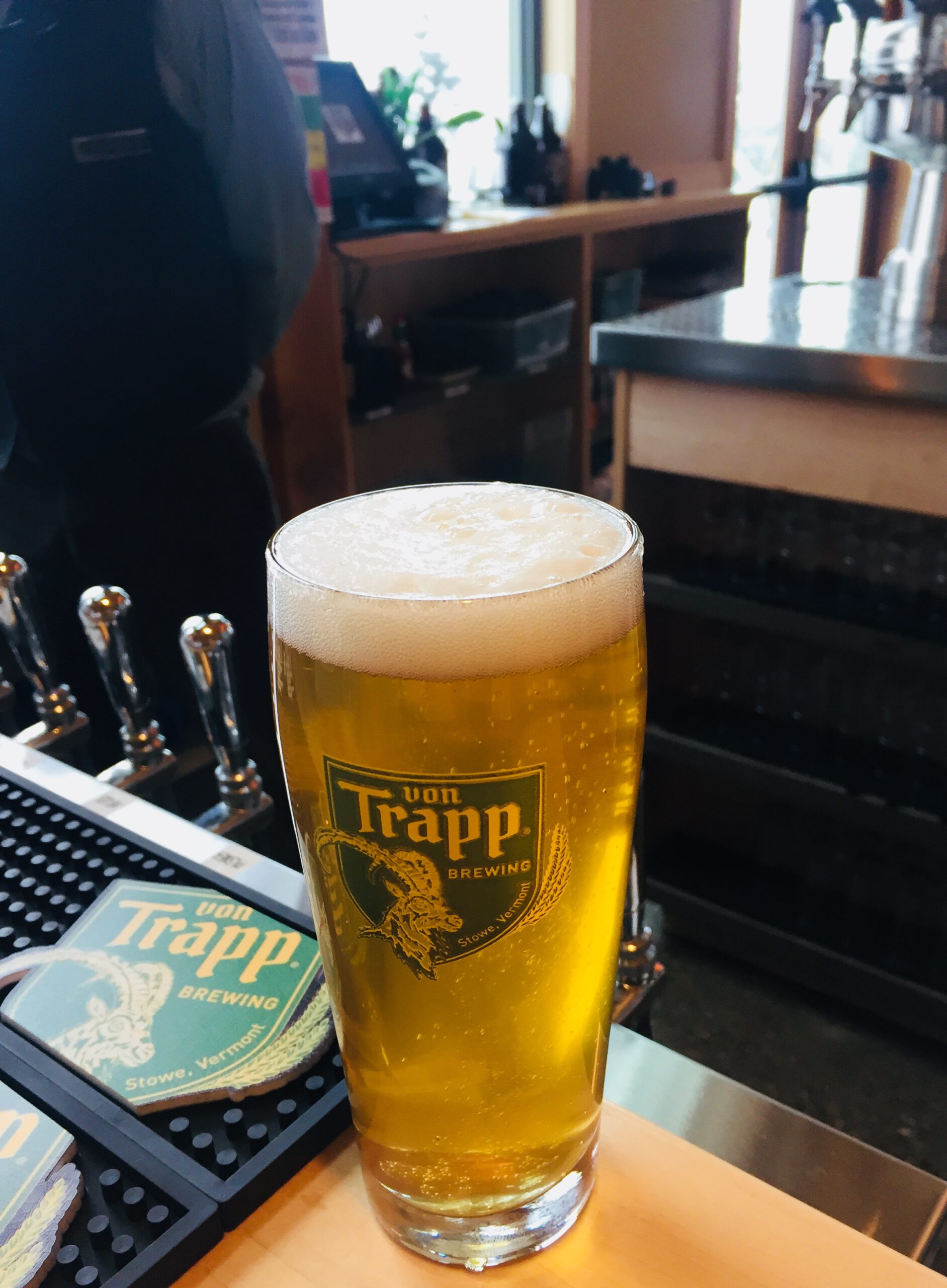 Vienna Lagar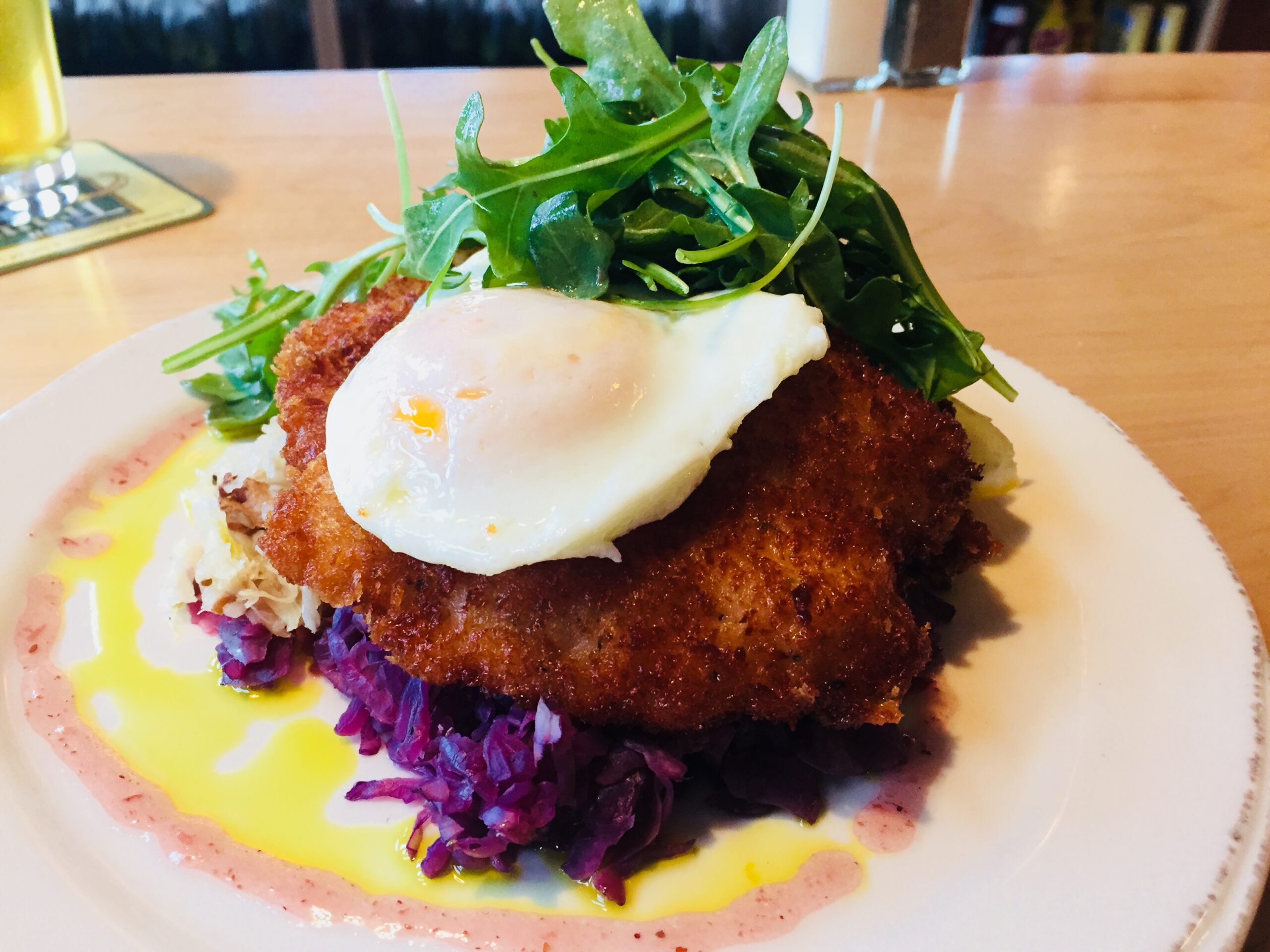 Chicken Schnitzel

For dessert upon recommendation I opted for the warm crispy Apple strudel with Schlag (fresh whipped cream). Strudel can be a hit or miss, depending on the ingredients. This one was perfect, with a crisp puff pastry crust, fresh apples and rum-soaked raisins- Austrians are indeed the masters of Apple Strudel.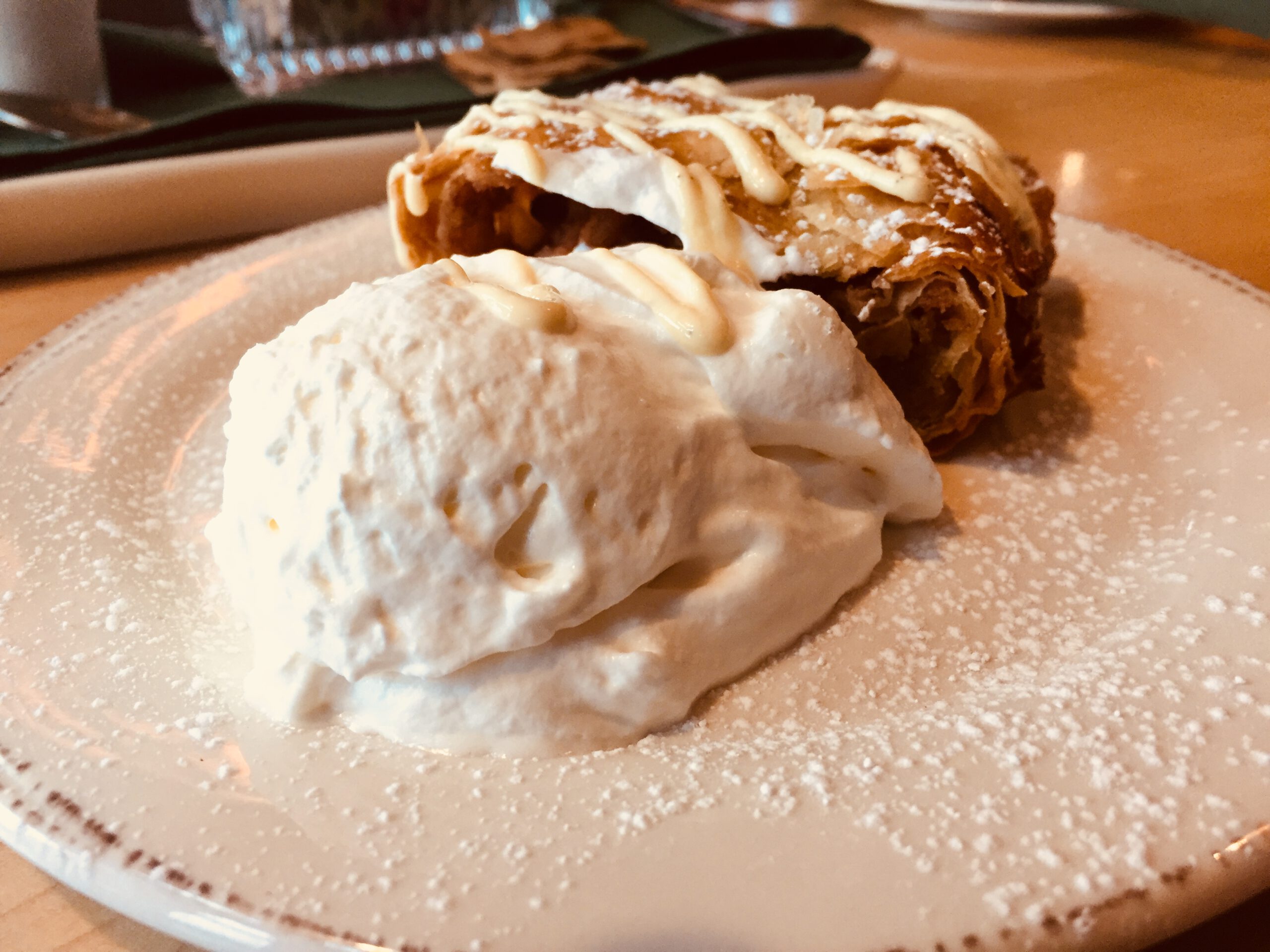 Apple Strudel

With the wind taking on intensity outside and snowdrifts accumulating, it was time to start driving back to avoid the roads worsening. Once on Interstate 89 going south, I was happy to observe a well-maintained highway and the sun slowly appearing in the afternoon sky, transforming the snow crusted mountains with frosted pine trees to a scenic spectacle. On a special note for travellers, rest-stops and visitor centers in Vermont are fantastic in terms of cleanliness and a museum-like display of Vermont treasures and historic data. You can even grab a complimentary cup of Green Mountain coffee with a charitable donation and a smile from the volunteer behind the help desk, always willing to accommodate a visitor with good advice. With a smile on my face and a hot cup of Green Mountain coffee in my hand, I continued my journey home with fond thoughts of the Green Mountain State, pledging to return in the summer for another culinary adventure in this welcoming state. In review, it became apparent to me that Vermonters are proud of their culture and heritage. They strongly remind me of the Dutch culture, one of ingenuity, creativity and a respect for nature. I highly recommend microbrew aficionados and foodies in search of the holy grail of homegrown cuisine Americana, inspired by traditions of Europe, to pay Vermont a visit.

Oh, and in case you wonder what bands I have been listening to during this road trip? Saxon, Judas Priest, Thin Lizzy, Motörhead, the good old metal stuff.

Please find below my travel log directory and a list of brew related options.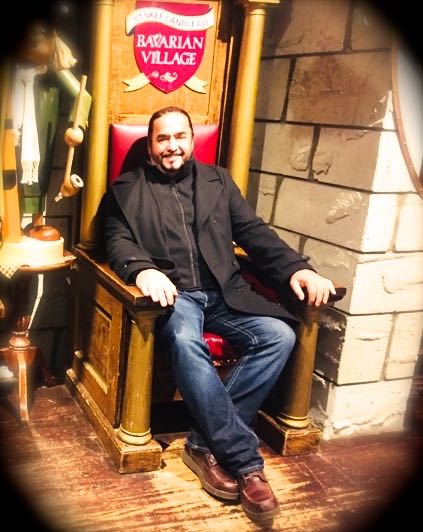 Author at Yankee Candle

TRAVEL LOG
Diorio Restaurant & Bar
231 Bank St, Waterbury, CT 06702 · ~84.8 mi
(203) 754-5111
diorios.com
Yankee Candle Flagship Store
Address: Routes 5 And 10, South Deerfield, MA 01373
Phone: (877) 636-7707
yankeecandle.com
American Flatbread Hearth & Brewery
Address: 115 St. Paul St, Burlington, VT 5401
Phone: (802) 861-2999
americanflatbread.com
MONARCH & THE MILKWEED – 111 SAINT PAUL STREET – BURLINGTON, VT
Pastry shop, fine diner & cocktail bar
The Farmhouse Tap & Grill
160 Bank St, Burlington, VT 5401
(802) 859-0888
farmhousetg.com
The Vermont teddy bear Company
www.vermontteddybear.com
6655 Shelburne Rd, Shelburne, VT 05482
(802) 985-3001
Village wine and Coffee
5288 Shelburne Road, Shelburne, Vermont
(802) 985-8922
villagewineandcoffee.com
Bleu Northeast Seafood
25 Cherry St, Burlington, VT 05401
(802) 864-8600
bleuvt.com
The Vermont Hotel
Address: 41 Cherry St, Burlington, VT 05401
Phone: (802) 651-7337
Hotel class: 3-star hotel
hotelvt.com
Stowe Mountain Resort
The Den
Address: 7416 Mountain Rd, Stowe, VT 05672
Customer service: +1 8002534754
Dining info: 802-253-3000
stowe.com

Von Trapp Bier Hall/brewery
1333 Luce Hill Rd
Stowe, Vermont 05672
(802) 253-5750
vontrappbrewing.com
Von Trapp Lodge
A Little of Austria…A Lot of Vermont ®
700 Trapp Hill Road | P.O. Box 1428
Stowe, Vermont 05672
Phone: 1-802-253-8511
Craft breweries of VERMONT
As of March 2017, there were 29 breweries operating in Vermont that could be described as craft breweries. Several produced too much beer to qualify as true microbreweries. In 2013, ratebeer.com named Hill Farmstead Brewery the best brewery in the world.[2]
Other Brewpubs
Brewpubs on Hiatus
Defunct breweries and brewpubs
Homebrew clubs
Beer festivals
—