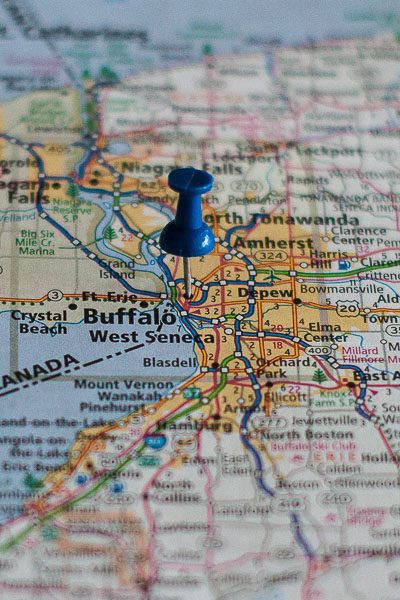 CULINARY BREW & WINGS DESTINATION
Buffalo, New York, USA (Birthplace Of Buffalo Chicken Wings)
What I comprehended 20 years ago, I have re-confirmed today – travelers across the globe are contagiously catching on to Buffalo, New York as the uncrowned queen of American cities and a mecca for great food and brew, especially Buffalo Chicken Wings!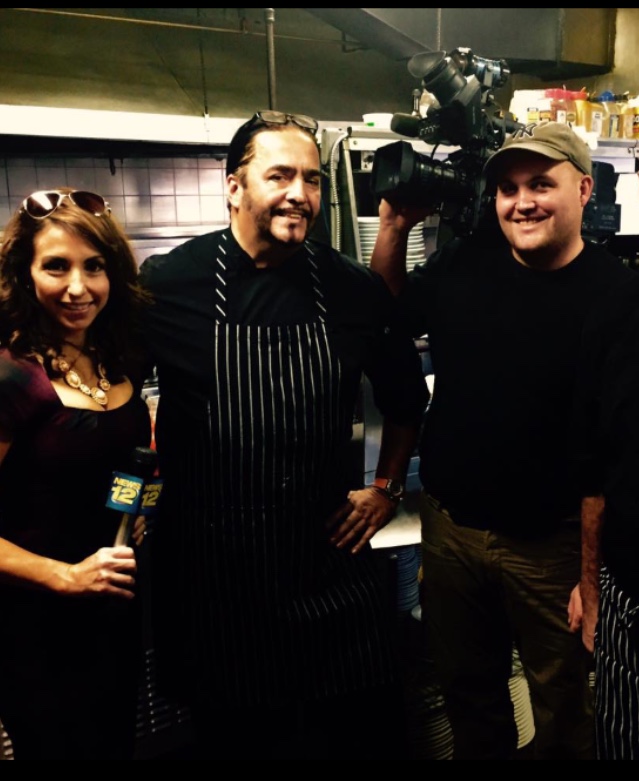 Promoting Wingfest News

Buffalo is a second home for me as author of the nationally published bestseller "Chicken Wings Across America- 150 ways" (Kensington Publishing). In early 2000 I received a pleasant call from a renown Buffalo Food broker executive Drew Cerza who was hatching a plan to organize a Buffalo Wing Festival in its moniker city of Buffalo. Drew was picking my brain and gathering spiritual support to pull off this daunting task. Two years later I was standing next to him in Rockefeller Plaza, New York, cooking on THE TODAY SHOW a dish called Buffalo chicken wings in promotion of the festival launch. This national TV show is regarded the highest rated TV morning show in the USA and the preparation for it was daunting yet exciting. My book publisher was speechless upon the news and quickly the printing of additional copies was ordered in anticipation of demand knowing I would be in front of millions of viewers on a national scale. After setting the host nearly on fire cooking chicken wings before a live audience, Drew and his wife Jody became good friends and my extended Buffalo family. In succession of the TV appearance, I was called in by the producer of FOX NATIONAL NEWS "FOX & FRIENDS" morning show to do another chicken wing demo. This was the beginning of more TV appearances to come where Drew and myself on a yearly basis would be promoting the festival on local and national TV supported by Franks RedHot sauce and the Bender Hammerling marketing group.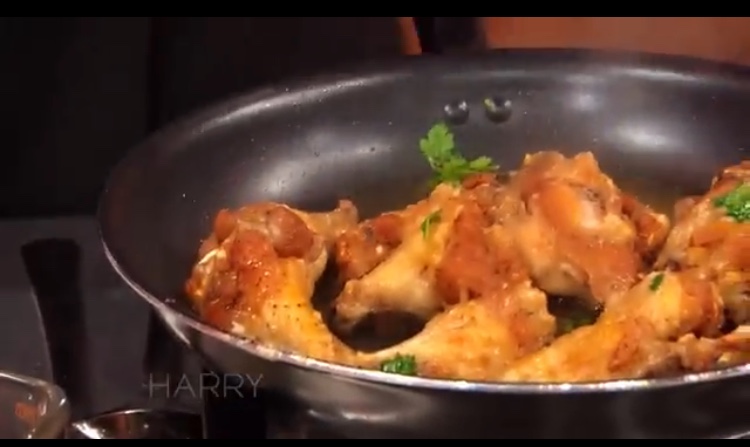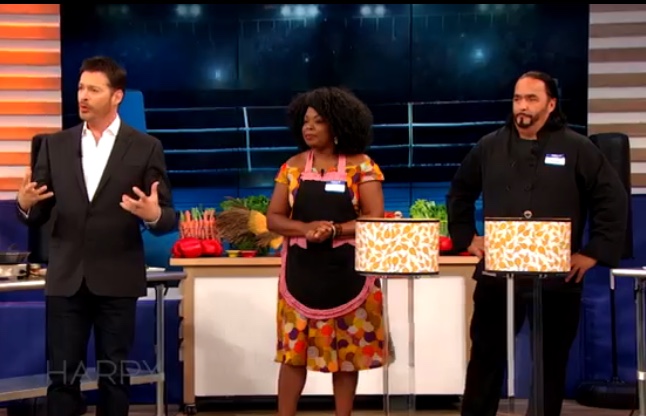 My Tequila Wings (L) – On the set (R)

From that point on in 2002, on every Labor Day weekend I would be taking the yearly road trip to the mecca of chicken wings in concurrence with the wildly successful National Buffalowing festival held in Coca Cola field baseball stadium, home of the Bison's. The long road trip from NYC was soothed by listening to loud metal tracks of Saxon, Judas Priest, Motörhead and Aerosmith. This was mostly needed to keep me awake, since I was always leaving and going to chef related tasks around the festival.

In 1998 before this yearly adventure, I made my first visit to Buffalo while writing and researching my book "Chicken Wings Across America". The drive from New York city to Buffalo is a lengthy seven-hour road-trip of infinite highway dashing past rolling farmland with intermittent rest-stops vending tasteless chain food and snacks. A sigh of relief is accredited, when you finally hit the tolls near the Buffalo Airport and gladly donate to the NY thru-way authority a hefty coin when coming from NYC. Once entering the suburbs of Buffalo, statues in honor of the American Buffalo (Bison) are proudly displayed on every turn.
As I exited off the highway in search for the famous Anchor Bar, home and birthplace of the original Buffalo Chicken wing, I could not help but noticed streets lined up with multiple bars and a sprawling theater district. Buffalo is a town with great bars, especially on the notorious CHIPPEWA STREET, which is the official party central for the thousands of college students who descend upon the city's colleges every year seeking insolvency of their parents in this distant and isolated city. The theater district is a token that Buffalo is a self-reliant city, a necessity being 7-hours away from NYC, if one is seeking a nightlife or arts and culture. Downtown Buffalo was once the symbol of prosperity in the late 19th and early 20th centuries due to the connection of New York's seaboard and the Erie canal which was the busiest inland seaport. Couple this with electricity being powered by nearby Niagara Falls and it is understandable why you will find the most stunning architecture in New York state as you cruise around town, especially on Delaware Avenue where my hotel was.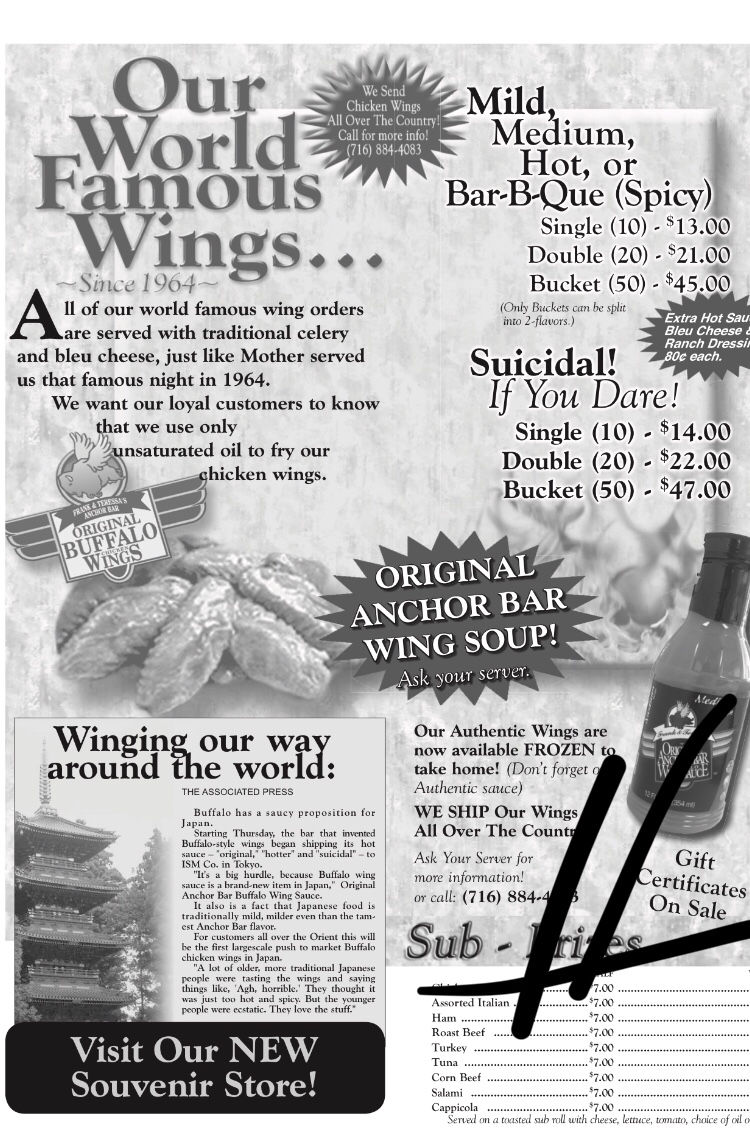 Anchor Bar Menu

After settling in at the hotel, I walked a few blocks over to the Anchor Bar, nestled on a corner of Main-street, a building artfully decorated in painted murals showcasing its claim as the birthplace of the mighty chicken wing. I had a meeting set up with gracious owner Ivano Toscani who successfully took over the reigns after original owners Dominic, Teressa and Frank Bellissimo decided to retire.

Frank Bellissimo, who founded the bar with Teressa in 1939, told everyone that the invention involved a mistake—the delivery of chicken wings, instead of necks, which the family typically used when cooking up spaghetti sauce. To avoid wasting the wings, he asked Teressa to concoct a bar appetizer; the result was the wing we know today.
Dominic—Frank and Teressa's son, who took over management of the restaurant sometime in the '70s—told a slightly more colorful tale : "It was late on a Friday night in 1964, a time when Roman Catholics still confined themselves to fish and vegetables on Fridays…Some regulars had been spending a lot of money, and Dom asked his mother to make something special to pass around gratis at the stroke of midnight. Teressa Bellissimo picked up some chicken wings—parts of a chicken that most people do not consider even good enough to give away to barflies—and the Buffalo chicken wing was born."
Although many have claimed to be the inventor of the Buffalowing, the location and high profile of the Anchor Bar helped catapult the tasty appetizer to a national scale. The rotation of sports teams visiting the city and the Anchor Bar helped spread the word around nationally. When visiting the restaurant, it is indeed confirmed by the presence of 'the wall of fame' in the dining room, plastered with 8×10 autographed B&W's of visiting celebrities and sports stars. A noticeable photograph of famous health fitness guru Richard Simmons writes- "Got to health". Many have laughingly perceived it as "Going to hell", in terms of the fried and hot sauce doused chicken wings.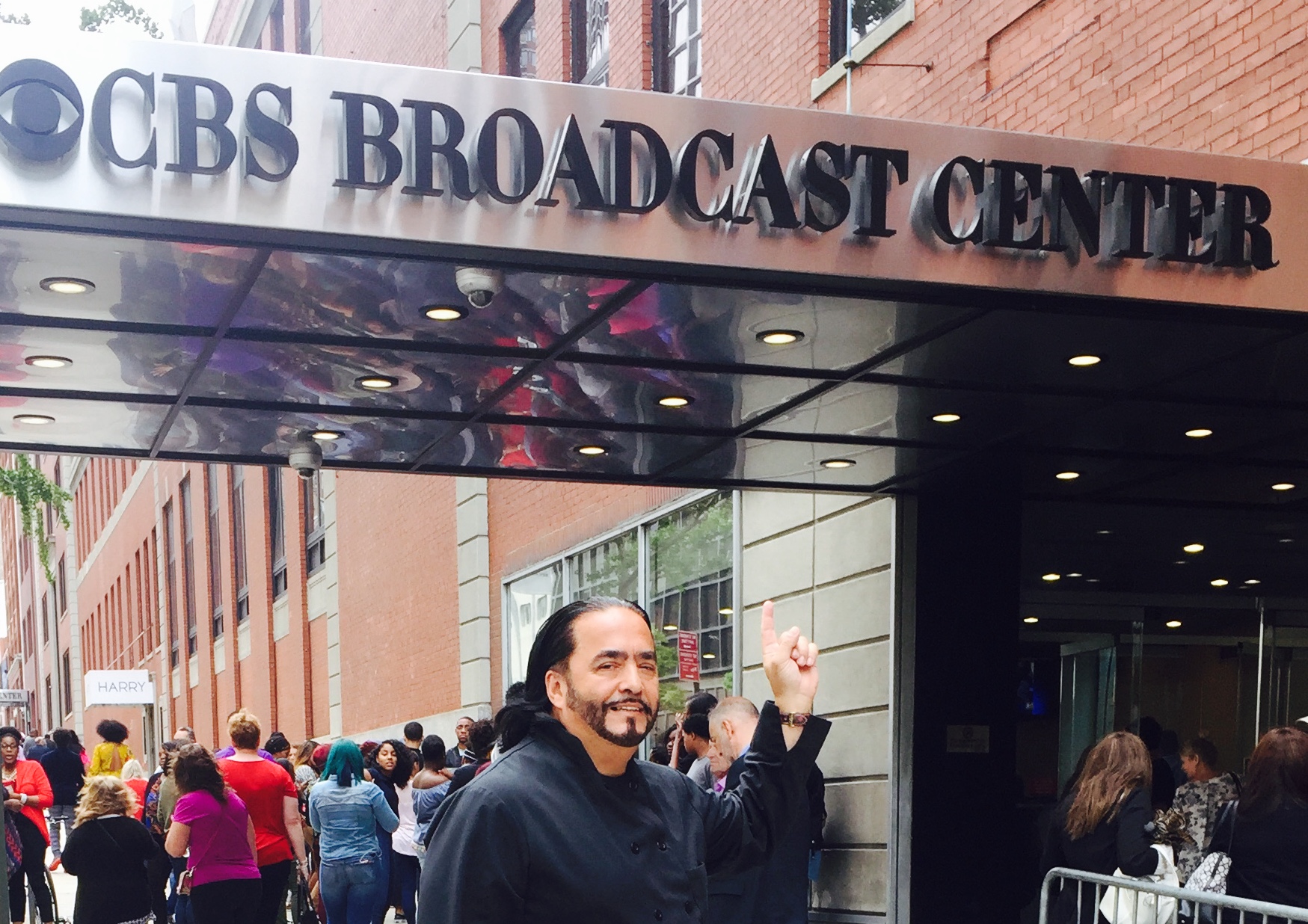 Ready For Wing Action
Summer 1998-Anchor Bar owner Ivano is sitting at the bar center stage of the restaurant and greets me with warm Buffalo hospitality. "Let me give you a tour behind the scenes!" he beckons as we walk into the L-shape kitchen. On the elongated side of the kitchen is a battery of fryers for the chicken wings, while the smaller section is designated for the Italian dishes as a reminder of the bar's Italian heritage. "Here in Buffalo we fry the wings naked with no flour or breading. Then we toss it in a mixture of Franks RedHot and margarine!" Ivano claims while pointing at the cook preparing a fresh batch of wings. "In that corner, do you see those boxes? We ship wings across the country like crazy. After we cook them we freeze them and then ship them off!" he explains while walking over to grab the box in question. We walk outside the kitchen to the back to look at the special massive walk-in fridge that stores thousands of chicken wings waiting to be fried. The walk-in fridge has the chicken wings trayed in perforated pans to remove excess water to produce a crispy wing and save the fry oil from being rancid due to too much moisture. After the quick tour we have lunch in the rustic dining room as we try mild Buffalo Wings with Blue cheese and celery sticks and a Western NY classic of stuffed hot Italian long peppers. The presence of cold beer and water on the table are welcome in indulging the spicy treats. Upon my departure after a book-related photo shoot, I noticed the little merchandize shop selling t-shirts and bottled Buffalowing sauce as souvenirs for those visiting from out of town to this holy grail of the chicken wing. This memorable research visit would not be my last since the future of the Buffalowing was wide open and the best was yet to come.
In 2007, Iron Chef and Food Network personality Bobby Flay appeared at the Anchor Bar for a Buffalo wing "throw-down" with the beloved "Wing King", Drew Cerza. On the August 8, 2008 episode of Primal Grill with Steven Raichlen on PBS, Raichlen said that "the Buffalo wing was born at the Anchor Bar in Buffalo, New York in 1964." In April 2003, the Anchor Bar was given the "James Beard Foundation Award."- given to restaurants "that have timeless appeal, beloved for quality food that reflect the history and character of the community. While many wing chain restaurants sprouted across the country, the Anchor Bar finally branched out and now boasts five New York State locations and three in Canada. In addition, the city of San Antonio, Texas became the first out of state franchise to proudly carry the Anchor Bar flag.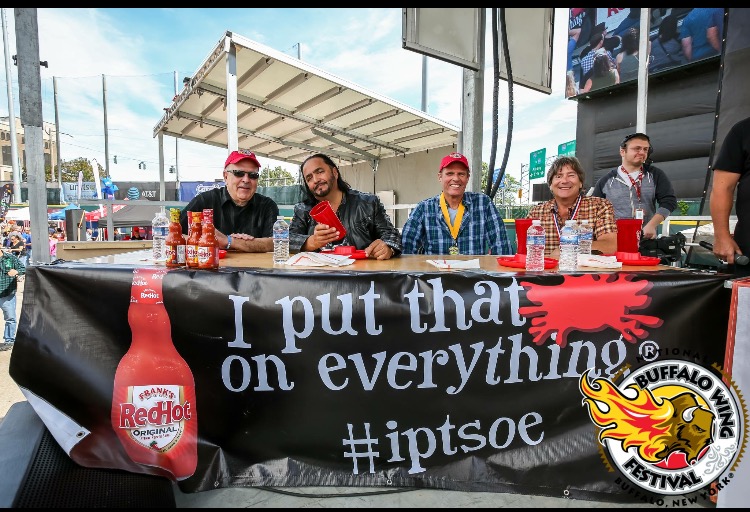 Judges table

Fast-forward to 2002, I find myself seated as a Official chicken wing judge next to Anchor Bar owner Ivano Toscani and Buffalo News columnist Donn Esmonde who wrote a piece asking why Buffalo had no wing-fest based on a movie called Osmosis Jones. Actor Bill Murray starred as a compulsive eater with a goal of attending the Super Bowl of junk food- The National Buffalo Wing Festival. Inspired by the article, Buffalonian Drew Cerza, now fondly known as the Wing King decided to make the festival a reality back in 2002. Buffalonians who know Drew Cerza call him "a guy who get things done."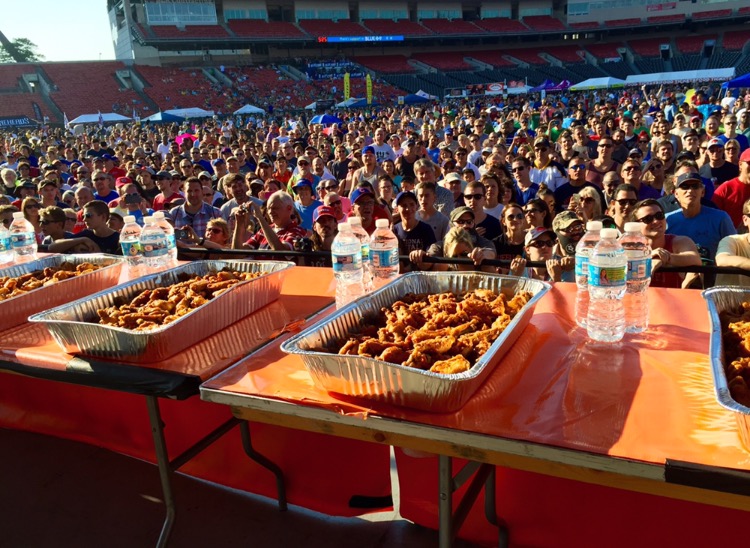 Ready To Compete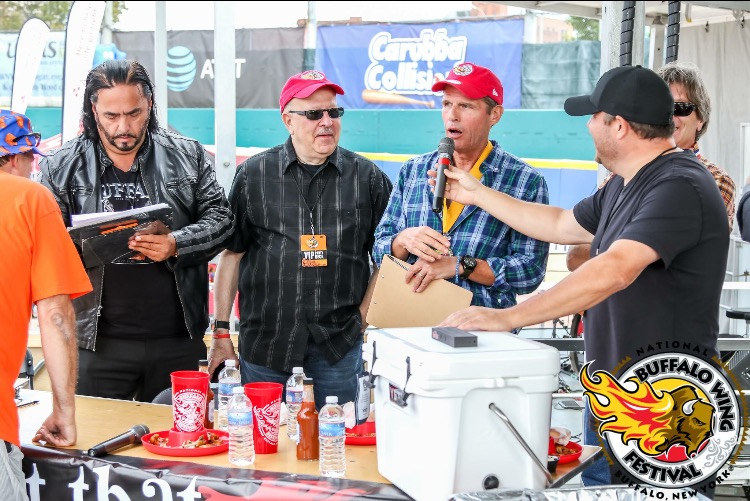 Judges Chef Armand-Stan Friedman-Donn Esmonde-Scott Lowry
From that point on throughout today, the festival has been an international draw with 80,000 visitors each Labor Day weekend from around the world. For many visitors and myself, Buffalo became my second home based around the festival. New friendships were made with participants as we all became part of a big family, who meet for a reunion each year. From 2002 on, festival founder Drew Cerza and myself, became ambassadors for the festival with Drew and I (or individually) featured on the Food Network's "All-American Festivals," "Unwrapped," and "Emeril Lagasse Live;" the Travel Channel's "Bar Food Paradise," "Taste of America," and "Food Wars;" NBC's "The Today Show," ABC's "The View" and "Regis and Kelly;" CBS' "Morning Show;" FOX Network's "Fox and Friends;" PBS and the BBC, News 12 Westchester, PBS Mountain Lake Roadside Adventures and the Harry Connick Jr. Show. In addition, I was retained and featured as a consultant for the national paper USA Today as a consultant for the Best Chicken Wings in America, 2012" and managed to convince the producers of PBS Mountain Lake producers show "Roadside Adventures" to film a show feature about the festival and the Anchor Bar.
The U.S. Chicken Wing Eating Championship at the festival is a great draw and is a sanctioned by the International Federation of Competitive Eating (I.F.O.C.E.).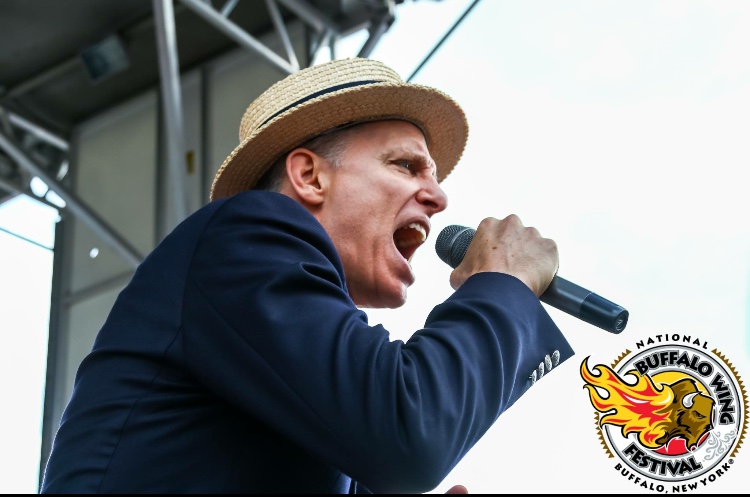 Competitive Eating Star Emcee George Shea at work
For years massive crowds have been adoring the serious eaters with hilarious names and characters alike pro-wrestlers. Under the watchful eye of I.F.O.C.E judge and founder George Shea- famously recognized from the Nathan's Hot Dog Eating Contest, held each year on Independence Day in Coney Island, Brooklyn, New York-the wing-eating contest sets sail. While TV camera's roll, preceded by music of house band Heavenly Chillbillies (Earl Irving) with Wing-fest/house photographer David Marino capturing timeless moments, the eaters ferociously stuff themselves with as many wings humanly possible in 12 minutes cheered on by tens of thousands. Many of these eaters have been featured on various national TV shows, such as early legend Cookie Jarvis, Joey Chestnut and Eric Badlands Booker. The festival is always looking for new talent in the amateur competition as featured in the information following.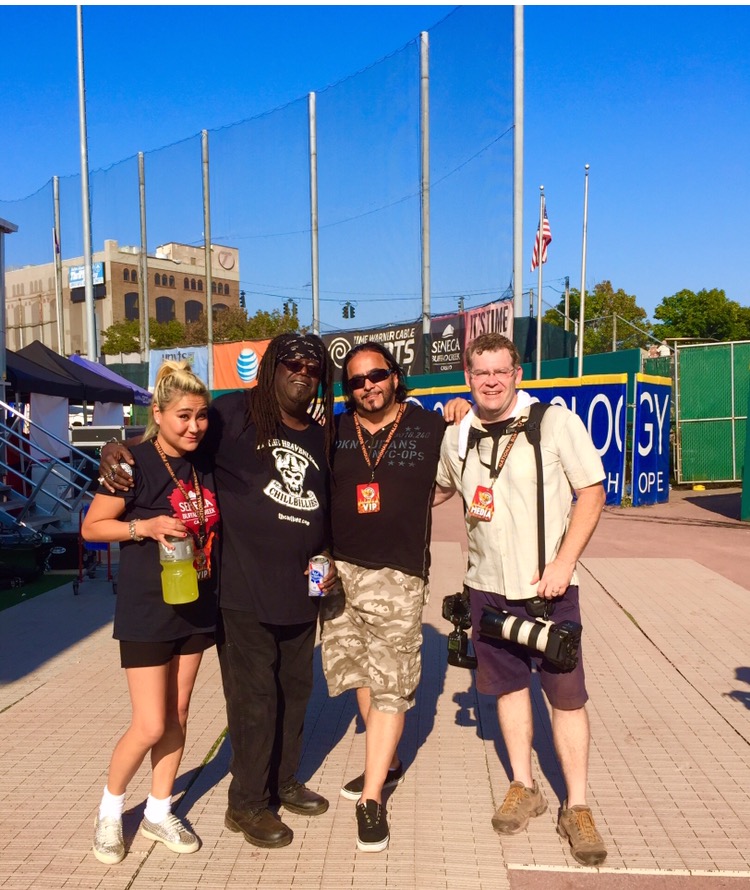 Female star eater Miki Sudo, Earl Irving King Of Buffalo, Chef Armand, photographer David Marino

To register for the 2018 competition, visit the I.F.O.C.E website www.ifoce.com.

2017 US Chicken Wing Eating Championship Contestants
Joey Chestnut – 220
Gideon Oji – 183
Carmen Cincotti – 181
Geoffrey Esper – 176
Darron Breeden – 170
Sonya Thomas – 119
Jim Reeves – 109
Eric Badlands Booker – 85
Jacob Gauda – 80
Ronnie Hartman – 68
Bill Myers – 68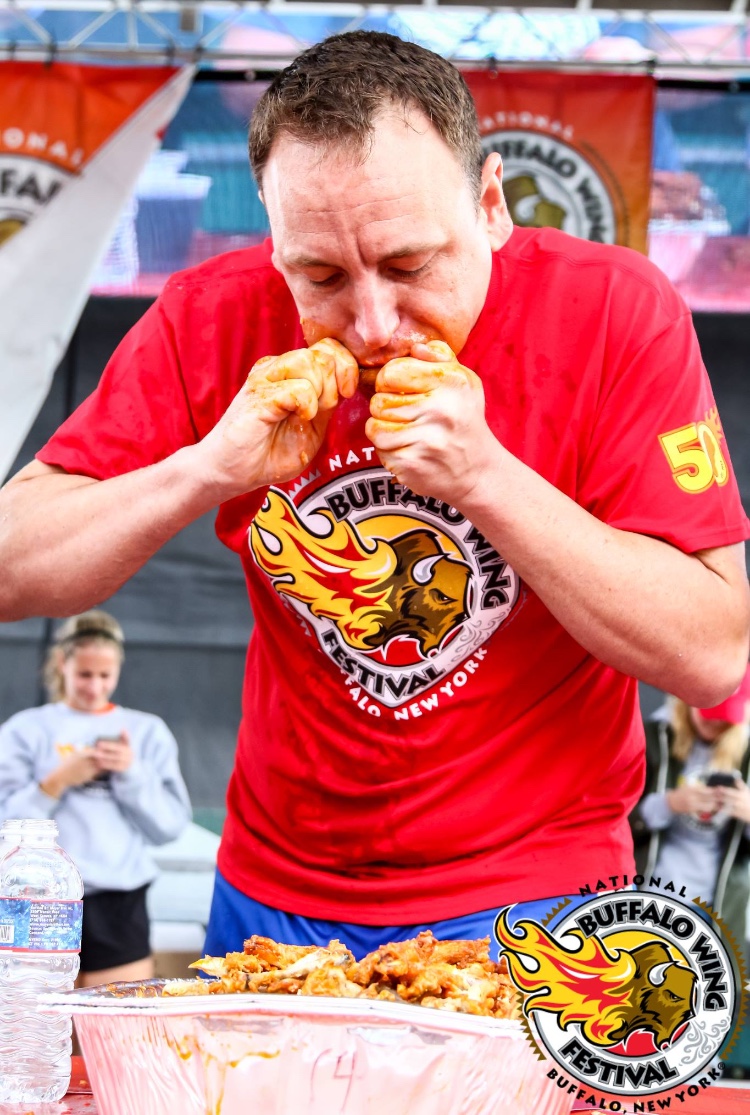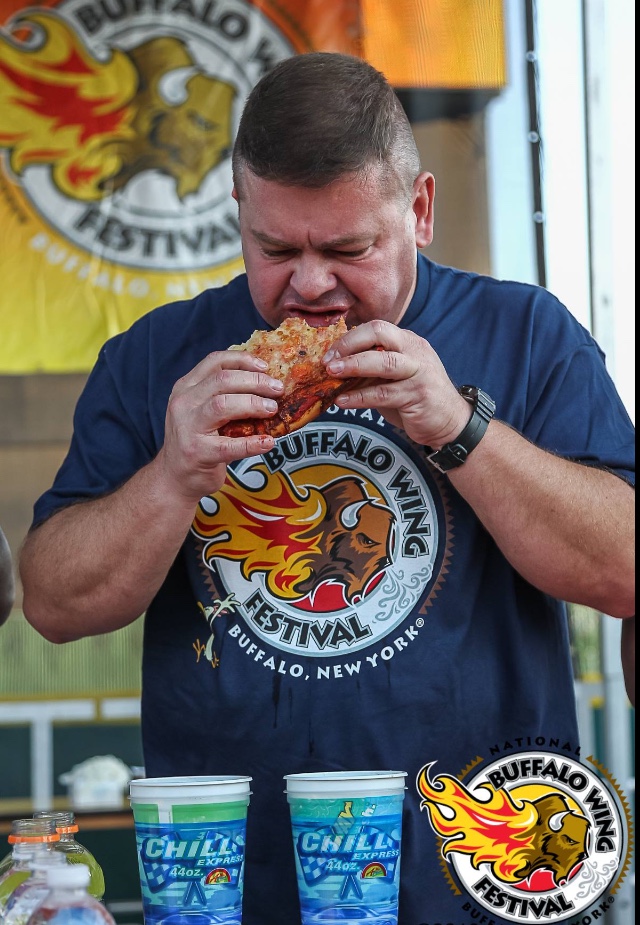 Superstar Joey Chestnut Tears It Up (L) – Buffalo Jim Reeves Eats Away (R)

A hall of Flame was eventually instituted by Drew Cerza, chairman/ franchise guru Stan Friedman, Donn Esmonde (Buffalo News) and Bryan Wittman (Disney Parks & Resorts) to honor people and institutions who have contributed to the Chicken Wing movement such as Buffalo Wild Wings founder Scott Lowery and the Anchor Bar family.
Many food festivals are thriving yet the Wing Fest's unrivaled popularity is a result of raising approximately $200,000 for local charities and serving almost 3 million chicken wings with 100 sauce varieties to over half a million hungry visitors over the years." In 2010, the festival was video webcast live to over 84,000 online viewers.
Founder Drew Cerza has received many awards from the city of Buffalo and bureau of tourism for bringing the city of Buffalo back on the map as a "must place to visit" and the applauded return of many new businesses downtown as well the revitalization of the waterfront. The city's revitalization reached its top level in 2017 as newspapers, magazines and websites across North America and Europe featured over 130 articles about the city's redeveloped waterfront, restored architecture and new restaurants, hotels and breweries. Publications like USA TODAY, the Globe and Mail, the Toronto Star and Lonely Planet all agreed Buffalo earned the No. 1 spot on last year's list of America's friendliest places. Buffalo is packed with great places featuring micro brews beer and unique foods, such as Big Ditch Brewing Co., Lafayette bros., The Flying Bison's Brewing co., Buffalo brewing co. and Gene Mc McCarthy's Brew Co. in downtown. The notorious wing favorite Gabriel's Gate, Allen Burger Venture, Founding Fathers and Fat Bobs Smokehouse are must try in hipster/restaurant heaven neighbourhood Allentown. Noteworthy is Founding Fathers Pub, one of Esquire's best bars in America where the nachos are free.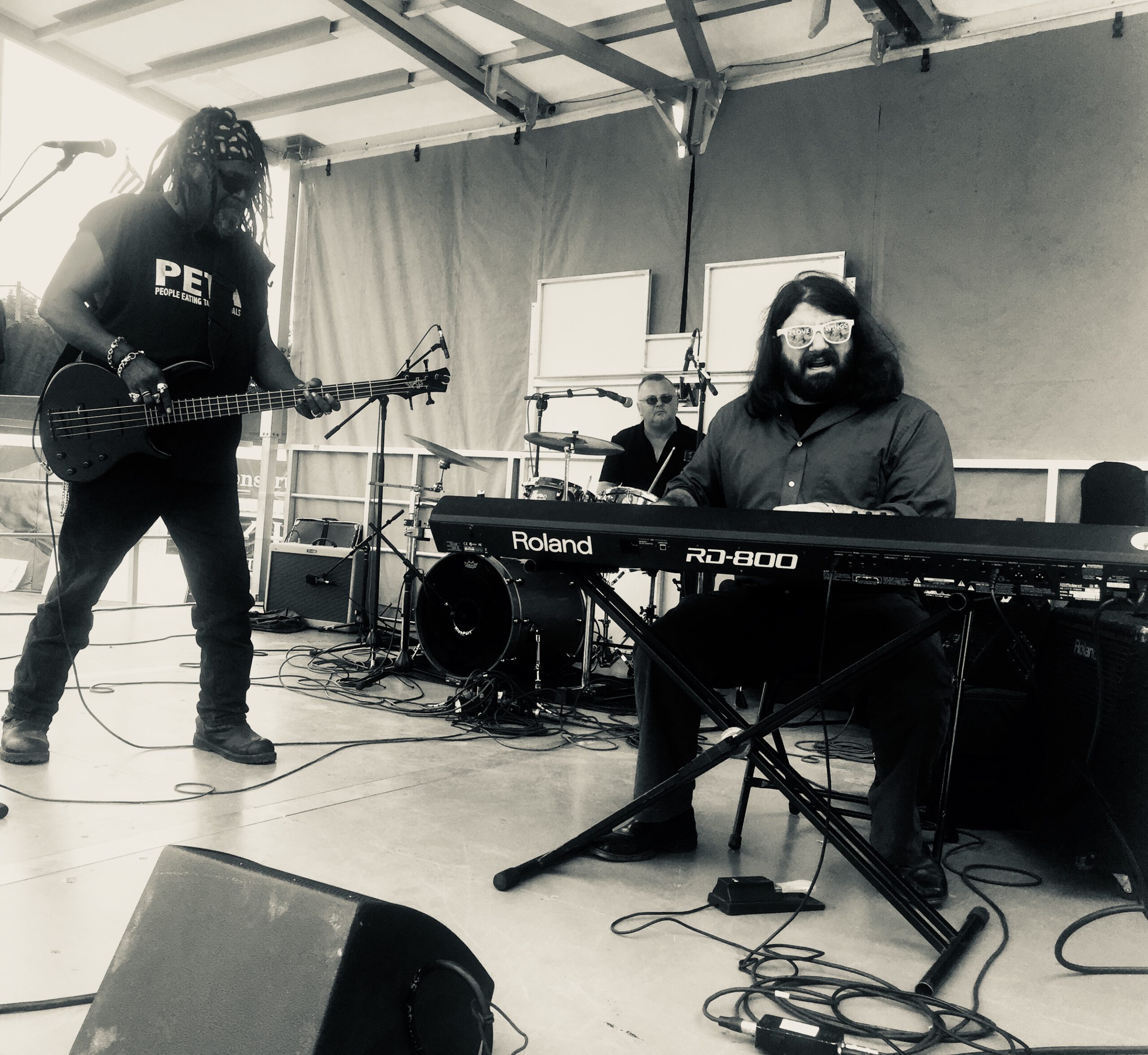 Heavenly Chillibillies

For those who love jazz, visit the Historic Colored Musicians Club and Museum, a unique jazz club of its kind in the U.S. The venue just celebrated its 100th year. There is a classic venue upstairs to indulge in some top-notch jazz performances and make sure to visit to the newly opened interactive museum downstairs.
I always try to head down to Canalside to enjoy festivals, take a river cruise or enjoy the many restaurants and bars on the water, notwithstanding checking out the battleship museum for an authentic naval experience. Buffalo is proud of its military contribution and monuments are everywhere to admire in respect. Stroll along the Bird Island Pier for a great view on the Niagara River. The evenings are wonderful with the Niagara lighthouse lighting up the waterside. Speaking of Niagara, many visitors also drive a short 40 minutes north to admire one of nature's great wonders-Niagara Falls.
In closing, other noteworthy typical Buffalo foods to try is the Polish cuisine at Polish Villa on Union Rd for great stuffed cabbage and strudel. Buffalo has a big Polish heritage and great European bakeries such as Chrusciki bakery. The world-famous Beef on the Weck, a German heritage feature, can be found at Charlie the Butcher (www.charliethebutcher.com) at various locations including Williamsville, NY. (Recipe below)
Buffalo is a great food and brew town, and those who pay a visit will be forever bonded with the city and its residents.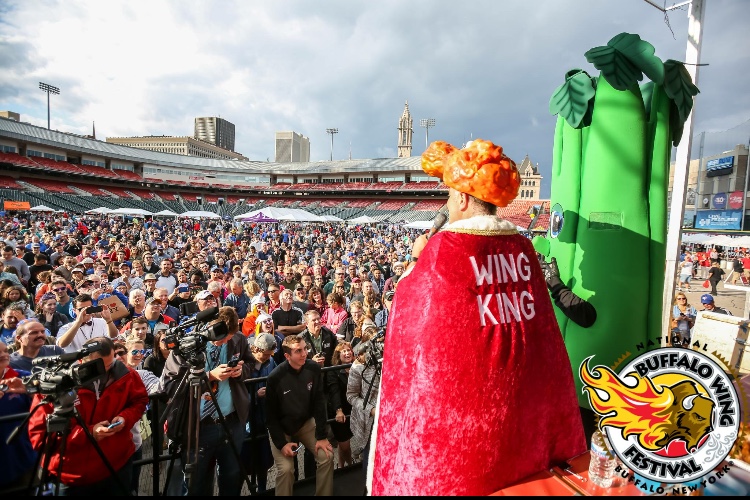 Wing King Addresses Crowd
Below listed are great chicken wing places in addition to Gabriel's Gate and the Anchor Bar. A traditional recipe is listed below.
Additional Wing Joints:
Bar Bill Tavern, 185 Main Street, East Aurora, N.Y.; 716-652-7959; barbill.com
Duff's Famous Wings, Original 3651 Sheridan Drive, Amherst, N.Y.; 716-834-6234; duffswings.com;
Five Points Bakery & Toast Cafe, 44 Brayton Street, Buffalo, N.Y.; 716-884-8888; fivepointsbakery.com
DO IT YOURSELF BEEF ON WECK
While no one carves up a Beef on Weck like Charlie, here's a recipe to hold down the cravings between visits.
Ingredients:
1/2 cup pretzel salt
1/2 cup caraway seed
1 tbsp corn starch dissolved in 1 cup cold water
1 cup boiling water
1 dozen hard (Kaiser) rolls
3 lbs. Charlie The Butcher's cooked roast beef or store bought
32 oz. beef au jus
12 oz. fresh horseradish
Instructions:
Combine pretzel salt and caraway seed and set aside. Preheat oven to 350 degrees. Add corn starch and cold-water mixture to boiling water, bring back to a low boil while stirring. Remove from heat and let cool. Place rolls on a cookie sheet. Brush corn starch mixture evenly over top of hard rolls. While still wet, sprinkle pretzel salt and caraway mixture evenly over top of hard rolls. Be careful, the salt will look as though it has disappeared when it gets wet, don't use too much. Place rolls in 350-degree oven for 5 minutes or until corn starch mixture has dried leaving pretzel salt and caraway adhered to the top of the roll.
Heat au jus to a simmer. Dip 4 oz. portions of sliced roast beef in au jus until beef is warmed through. Be careful not to leave the beef in the au jus for too long as it will continue to cook the beef making it well done. Place dipped beef on the bottom of a sliced Weck roll. Add a dollop of fresh horseradish. Dip the cut side of the top of the Weck roll in warm au jus and finish building the sandwich. Enjoy.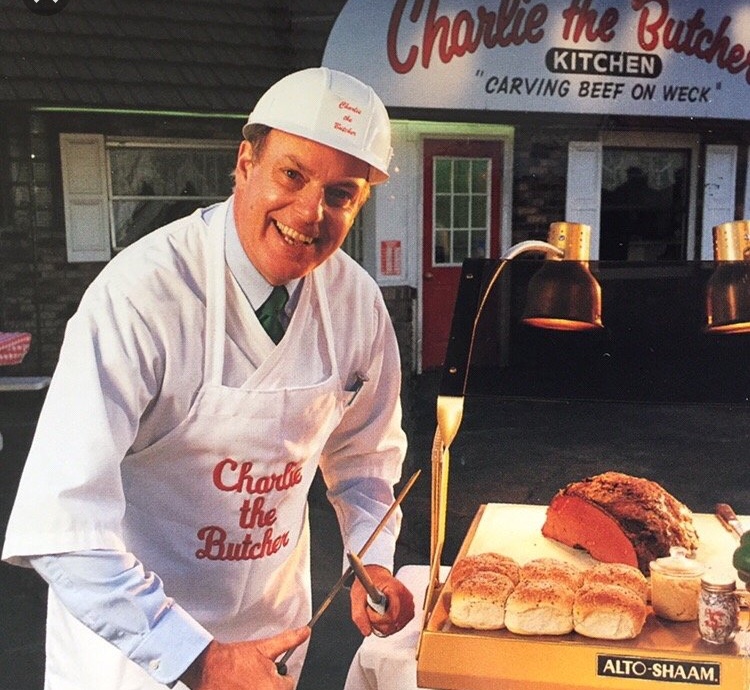 Charlie The Butcher
FRANK'S REDHOT ORIGINAL BUFFALO CHICKEN WINGS
Discover just how simple it is to make this Buffalo wings recipe right at home.
Makes: 6 servings
Prep Time: 10 min
Cook Time: 30 min
Top of Form
Bottom of Form
Ingredients
2 1/2 lbs. chicken wing pieces, seasoned with a little salt and pepper.
1/2 cup FRANK'S RedHot® Original Cayenne Pepper Sauce
1/3 cup butter or margarine, melted
Directions
BAKE wings in a greased foil-lined pan at 450 °F for 30 min. until crispy, turning once.
COMBINE Frank's RedHot Sauce and butter in bowl.
TOSS wings in sauce to coat completely. Serve with blue cheese dressing and celery sticks.
NOTE: If you have a good deep fryer, you can fry the wings and toss them in the sauce.


LINKS:
www.anchorbar.com

www.jenreviews.com/how-to-make-hot-wings/

BREWERIES:
BARS / EATERIES:
Shango – 3260 Main St, Buffalo
ABV (Allen Burger Venture) – 175 Allen St, Buffalo
Coles – 1104 Elmwood Ave, Buffalo
Lenox Grill – 140 North St, Buffalo
Fat Bob's Smokehouse – 41 Virginia Pl, Buffalo
Ulrich's Tavern – 674 Ellicott St., Buffalo
Allen Street Hardware – 245 Allen St, Buffalo
Broadway Joe's – 3051 Main St., Buffalo
Anchor Bar – 1047 Main St, Buffalo
Lagerhaus 95 – 95 Perry St, Buffalo
JP Bullfeathers – 1010 Elmwood Avenue, Buffalo
Mr. Goodbar – 1110 Elmwood Ave, Buffalo
Gabriels Gate
STORES:
HOMEBREW:
—