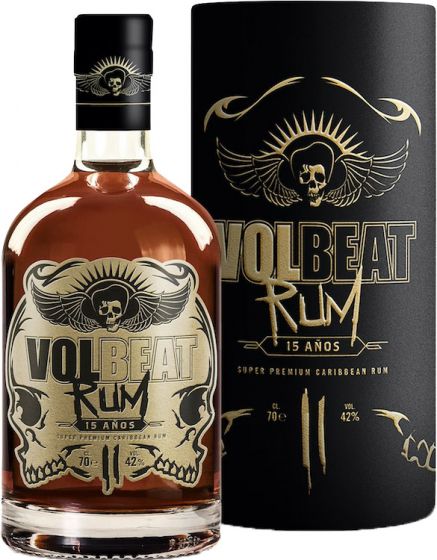 HEAVY HANGOVER
Volbeat Rum
Volbeat is one of the most popular bands of the last decade and one of the finest to have originated in Denmark. The band fuses rock 'n roll beat with driving melodic metal riffs and this cocktail is enhanced by the charismatic and rousing voice of Michael Poulsen. With the band's persistent drive comes an even so persistent rise in the ranks or hard rock and rock in general. Poulsen and his men have sprouted a wide range of merchandise while touring and they make it hard to pick a favourite for female and male fans. With the addition of their own craftbeer as well as their favoured first Rum batch, the band also came onto my radar for review for our Food & Beverages section.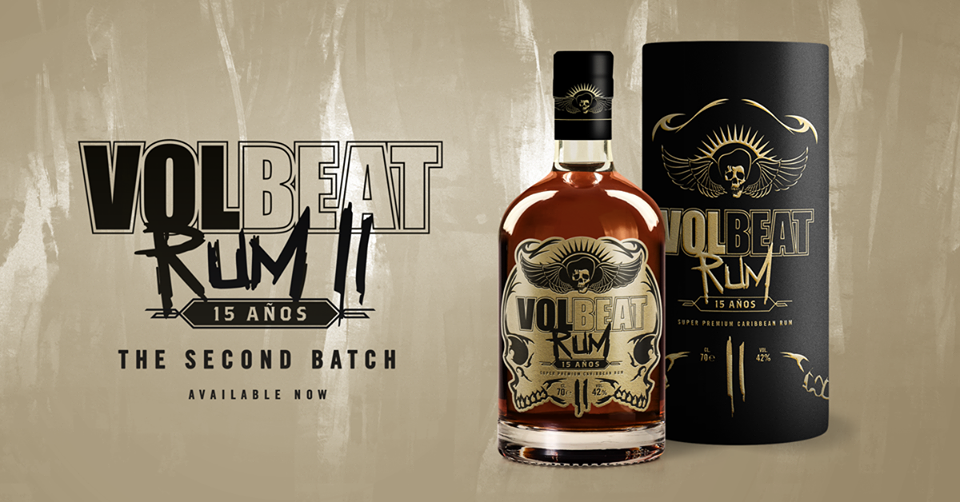 Introducing this second batch Volbeat Rum 15YO, which is the ultimate blend for all outlaw gentlemen and shady ladies. In this exquisite 15 Year Old blend flow the finest rums from Guyana and the Dominican Republic, which – just like bass and drums to their music – form the foundation of the drink. Jamaican pot still rums bring along some shimmy, Trinidad samples provide some harmonies, Barbados distillates explode like a lead guitar, and Guatemalan rums get the high notes out. Volbeat Rum 15YO is a highly aromatic treat with notes of dried fruits, wood and caramel, leading to a groovy and long finish. Singer Poulsen himself is absolutely delighted with the result. To create Volbeat Rum 15YO, the band had joined forces with Marselis Wine and One Eyed Spirits, for creation of this second batch of rum.
VOLBEAT RUM
15 AÑOS 2ND BATCH
42 % ABV
Recently gotten squinted with Motörhead's first Rum release, this Volbeat is an immaculate addition to my personal collection, and likely a collection to the fans of their music. Where the Motörhead Premium Dark Rum is a well-balanced and smooth love potion, reminiscent to widely renowned Jamaica Rum, Volbeats 15YO moves sideways into a wider direction, likely more appealing to Rum aficionados.
The slightly more complex blend definitely reveals Poulsen's personal involvement, being a devoted lover of good Rums himself. Pouring the dark rum doesn't immediately make it stand out. A dark cola-like appearance is differing with the sweet and pleasant nose consisting of vanilla and brown sugar, with complementing notes of dark-ish chocolate. Though it doesn't whelm as such, my mind is leading me to German Christmas markets with rum infused Glühwein with a little chocolate twist. Nice! Tasting Volbeat's Rum is however something else. Abandoning the genre specifics it evolves in a deeper and appealing grandeur. It reveals typical smooth notes of vanilla and brown sugar, present in its nose, but it is fused with oaky bourbon like sub notes that also injects a spicy tinkle on the tongue. Though not dominant, it adds to the varied and deeper taste. The overall taste impact also reveals some caramel, rich wild honey and molasses. My second sip blooms with caramellic honey dripping greatness and the subtlety of molasses with coffee hints, and alcohol present in its warm full body. Deeper below the Rum blooms with fresh fruit, with a pineapple reminiscent scent and taste. It now also reveals a distant aftertaste of black tea with little bitterness, adding a different spec to the dominant sugary taste of rum.

The finish is long and powerful, and equally intense, making it a highly enjoyable Rum indeed.
Though it is priced accordingly, this Volbeat Rum is an appealing taste explosion with longevity and grandeur, matching the expectations. It has enough depth and variety to keep attractive for both, fans and Rum fanciers. The bottle itself comes with a nicely designed gold label bearing a beret wearing skull with wings, much like an Airborne special forces logo. The opposing skulls making the outline of the label add nicely to the Volbeat black and gold logo. Enhancing its presentation is the matte black container with gold imprint, sturdy and tough in order to protect your liquor.

As I tasted the Rum, it called out for their `Beyond Hell, Above Heaven' album instantly. With Spotify opting to play ,,Lonesome Rider'', following ,,Heaven Nor Hell" and ,,Fallen", they had me hit the repeat button. Appropriately finishing my tasting with a rerun of ,,7 Shots", I fell short of that count, but it tugged me in nicely.


—
WHERE TO BUY?
Netherlands here
UK & USA here
Germany & European mainland here and here
Brands For Fans here


#volbeat #rum #headbangerslifestyle #hbls