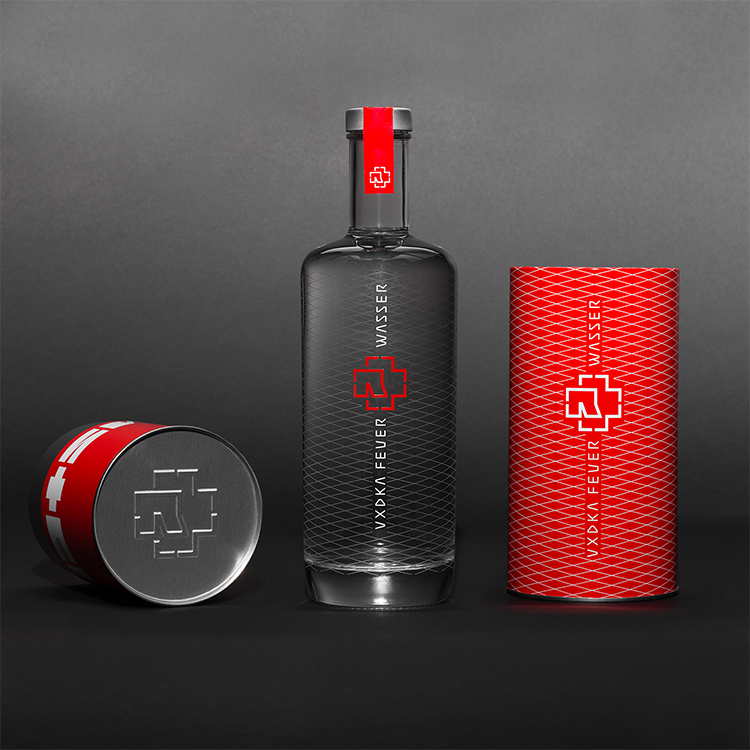 HEAVY HANGOVER
Rammstein Vodka
Feuer und Wasser kommt nicht zusammen Kann man nicht binden sind nicht verwandt In Funken versunken steh ich in Flammen Und bin im Wasser verbrannt Im Wasser verbrannt
Following the release of their Rammstein Reposado Tequila with the ultimate Rammstein trademark cap, and the impressively well-crafted Rammstein Premium Rum, the band adds an additional flavour to their expanding wide range of band branded merchandise. Feuer + Wasser lends its name from the "Rosenrot" live cracker and perfectly covers this Rammstein Vodka. The presentation certainly matches the band's high standards. A crystal clear, specially designed upon demand, bottle comes in a red solid metal case matching the bottle in contrasting colour setting. The dominant Rammstein logo is embedded in the continues diamond art covering both, bottle and case. Intervening the bottle's VXDKA FEUER WASSER with the squared Rammstein R-logo.
The Vodka itself is a crystal clear multiple distilled Berlin handcrafted spirit filled off in limited quantities upon band demand. Feuer + Wasser is distilled in column still throughput process. Unlike pot distillation the column still often contains a higher proportion of water as well as flavour- and aroma-giving compounds, the congeners.
The process also offers a cleaner and purer distillate with little sub notes instead of the fuller and richer pot distillery more often used for Scotch, Cognac and Rhum agricole.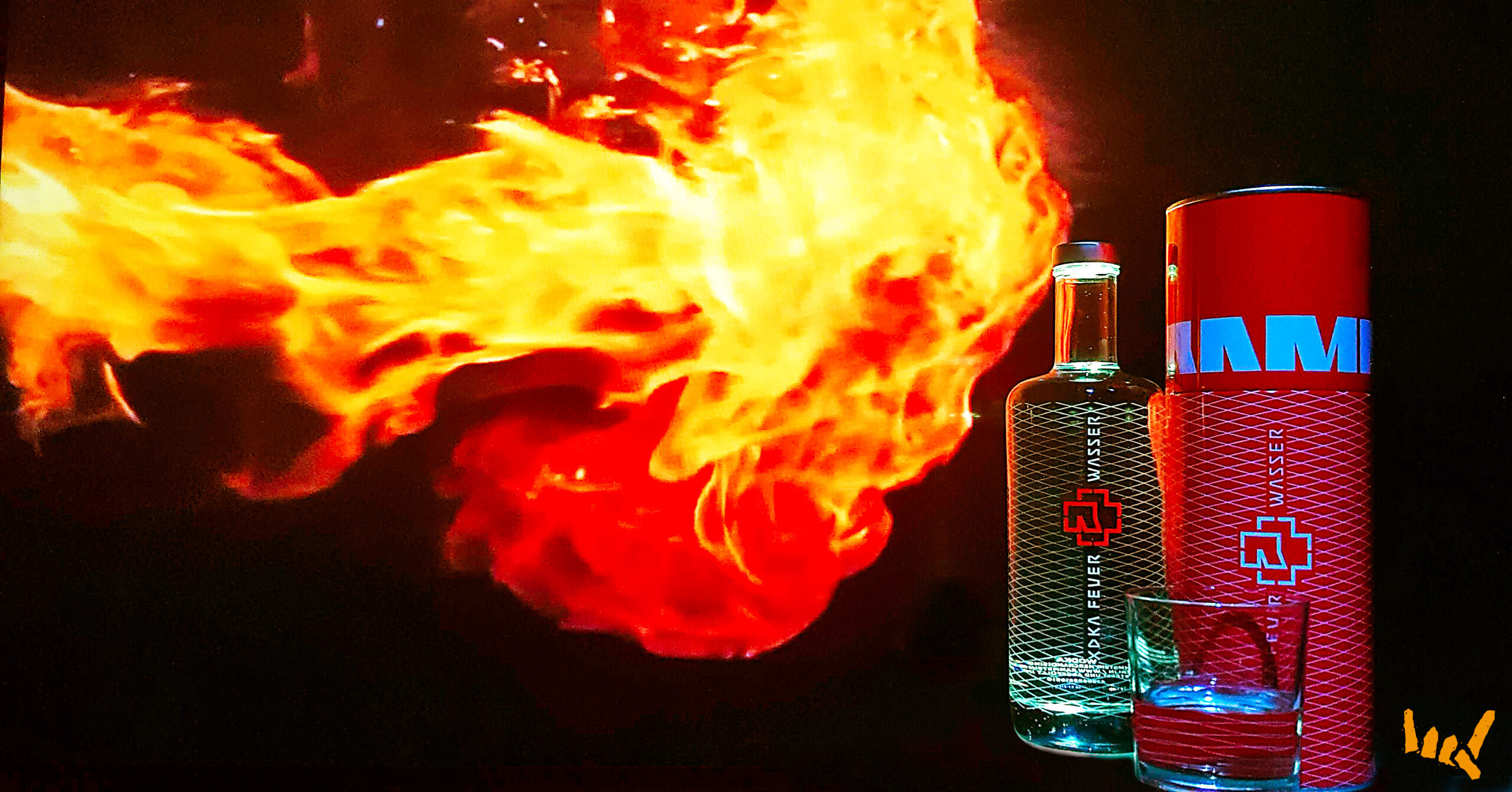 RAMMSTEIN VODKA
Feuer + Wasser
40 % ABV
With the typical column still production process used for Feuer + Wasser, you can only expect the typical Vodka clean flavour. Receiving a fare share of moonshine wodka from my many Polish friends and co-workers over the years trying to conquer my prejudice, I slowly but surely started to like the spirit's taste and aroma. It wasn't however until I got acquainted with the Russian Beluga Noble Vodka that I really started to enjoy. Encountering Debowa's palette of varied oak and walnut Vodkas eventually did the rest.

Feuer + Wasser is not on par with its Russian clear counterpart, but does have reminiscent taste but sparkles igniting that specific richness of taste. Opening the bottle upon first pour the Vodka aroma hits your nostrils. Though it is a typical aroma, Feuer + Wasser immediately reveals one of its key features; subtlety. It is less harsh and dominant, balancing with a light fresh tone and faint wisps of lemon and light spices. I'm impressed upon my first sip as the aroma blends with taste. Spices are still vague, but the lemon grass and zest notes dominate in freshness. The aftertaste, though typical vodka, also bears some gentle subtlety of sweet tones.
But, as my Polish friends demand, Vodka needs to be slammed as a shot. Pouring my next glass I grab my armrest to slam it down, prepared to be hit by a freight train. As the fire burns down my throat expecting to swirl my head with the alcoholic, I'm again surprised by this keenly crafted drink. It's zesty style and grainy sub notes are more dominant, but the fresh subtlety remains present. There's also a light metallic taste in the aftermath of the burning sensation, but it fades easily.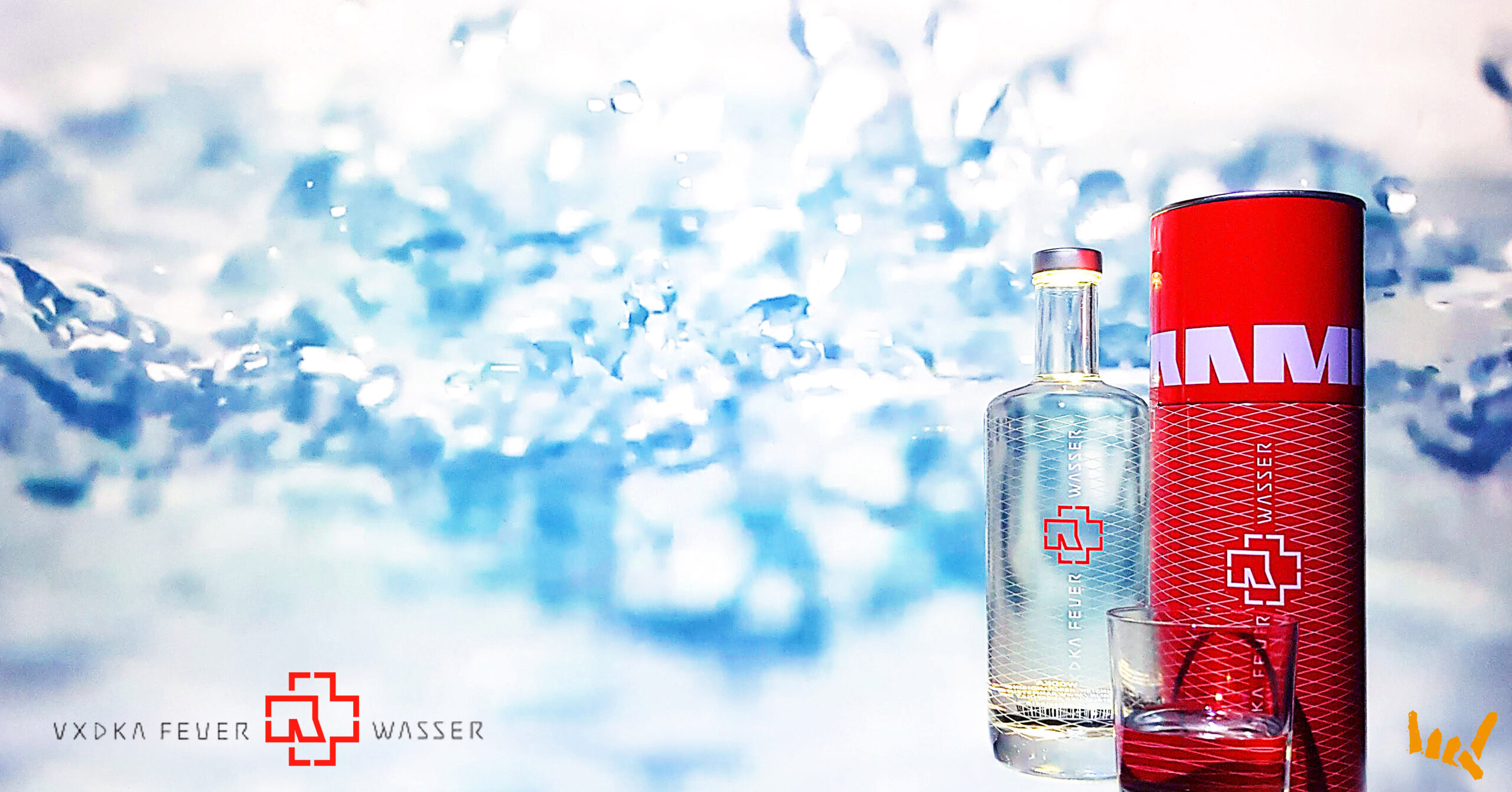 As it is my weekend mode kicking in, I decide to bring food to the table and enjoy this spirit paired with a Rammstein live video. Spicy chicken wings seasoned with Indian sateh spices and pepper, potato chips with sea salt, all accompanied by 2 French cheeses and an over-baked baguette as my side dish. Though unplanned they freakin' pan out perfectly. Feuer + Wasser cleansed the palate and between my snacks perfectly. The metallic notes have disappeared entirely and the saltiness of both snacks perfectly pairs with the Vodka. It especially gels with the wings and cheeses, though I'm not going shot-crazy. With the bottle slowly warming up to room temperature, it keeps pairing well with the saltier soft cheeses. (Port Salut and Brie.) With Rammstein's ,,Engel" and ",,Mein Herz Brennt" playing on 10, I am in for a great night collecting my tasting notes.

My expectations weren't running exceptionally high for this spirit. With Debowa and Beluga Vodkas dominating the Vodka market I simply did not expect a first issue to be challenging them. I admit that it isn't fair to compare Rammstein's Feuer + Wasser with these top-notch counterparts, but it sure as hell challenges them. It is more subtle than expected, and it links well between Debowa and Beluga, reminiscent to a clean and improved Zabrowka Bison Grass Vodka.
It is definitely good value for the money and above all; a great addition to your Rammstein collection.

GOOD TO KNOW

WHERE TO BUY


#rammstein #vodka #feuer #wasser #headbangerslifestyle #hbls #awayoflife #spiritsforrock #brandsforfans #heavyhangover