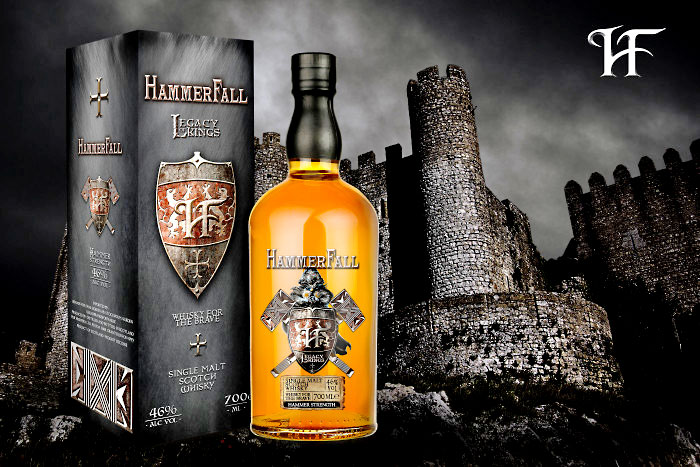 HEAVY HANGOVER
HammerFall Whisky
We set in motion our Food & Beverage pages as a tribute to the rock 'n roll lifestyle we endure. Our beloved bands have expressed their love for beverages since the beginning of time. From the early days onwards our heroes addressed their love and devotion for a good beverage after show or pre-show. Just think of the inseparable Lemmy and his Jack Daniels or the wine entrepreneur Saxon's Biff Byford is. Amon Amarth's horns of beer are raised frequently at festivals and most die-hard fans of Motörhead, AC/DC and Iron Maiden are proud owners of the beer brand and merchandise tied to it. It's as collectable as it is pleasant to have. It enriches your experience of collecting your favourite band's merchandise and everything connected, as well as it makes you enjoy the music with the attached beverage. Amidst all the many beers and wines we will discuss in our upcoming publications, we also find the occasional and, in my opinion, mandatory whisky.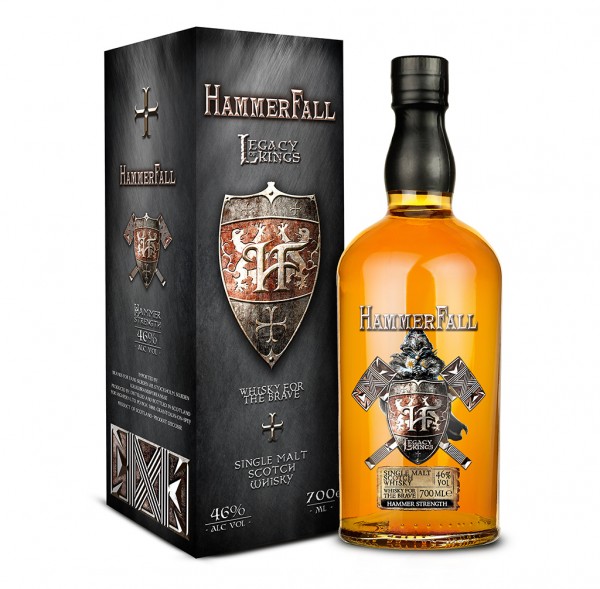 HAMMERFALL WHISKY
`Legacy of Kings'
Single Malt Scotch
46% ABV
First off in my tasting is the limited edition HammerFall whisky. A single malt Scotch I managed to obtain two years ago at a festival. The 5.000 bottles limited edition was released at the end of 2014 and comes in a niche bottle with band logo. Boxed in a nice cardboard Hammerfall case it adds to the experience of collecting.
Leaving it untouched for 2 years I open the bottle with a bit of pain in the gut, but it is a good pour and excellent evening to enjoy a glass or two. While outside a storm is raging the fireplace offers me a perfect setting to enjoy the rich flavour of this single malt. Once poured the somewhat tawny but full gold colour of this whisky is wonderful and warm.
`Legacy of Kings' hits you rather dry but eventually flourishes with taste as a drop of water is added to crack it open. It's a proven technique that not everyone applauds to, but in this case it works excellently to reveal the swirl of tastes. Though the perfume is slightly bold and piercing, its taste is exquisitely balanced. Matured for 6 years on bourbon and sherry casks adds a nice complex tone that evolves as your glass warms. A soft touch of vanilla and a little tobacco refine the taste.
Malted barley and yeast classically distilled for a great enjoyment, and the long lasting taste is an absolute delight. Even though this Single Malt isn't an extremity in scent, the body and long lasting taste ad a lot of joy to the tasting.
Enjoy this one with one of the band's album spinning in the background, or any classic metal record. In my case it was `Plastic Green Head' by doom gods Trouble, funny enough.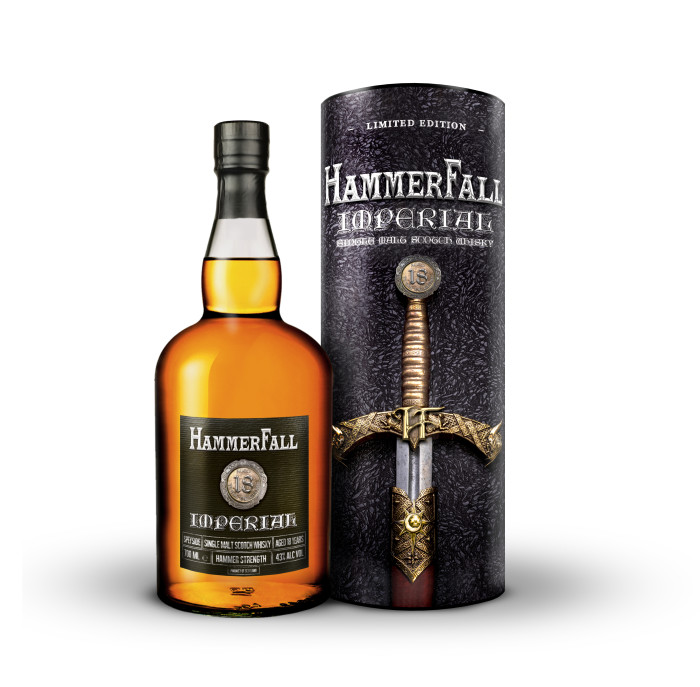 HAMMERFALL WHISKY
`Imperial 18'
Single Malt Scotch
43% ABV
Unlike the `Legacy of Kings' whisky, I don't own this `Imperial 18'. This Spey side single malt was bottled and released in 2015 upon the success of the `Legacy…' edition. The story behind its release is that it was to celebrate the 18 years since the release of their CD coinciding with the 18 years of casket lagering of this whisky.
`Imperial 18' was limited to 1.200 bottles only and is highly collectible. At a price of approximately 100,- up to 120,- euro's it is out of my league and even though it lures me, I simply cast aside the collectability of it. Anyone willing to add his or her review of tasting is more than welcome to chip in.

`Imperial 18' is still available and is offered on several sites worldwide. A little browsing will lead the way:

The Netherlands:

UK & USA:
Germany & European mainland: