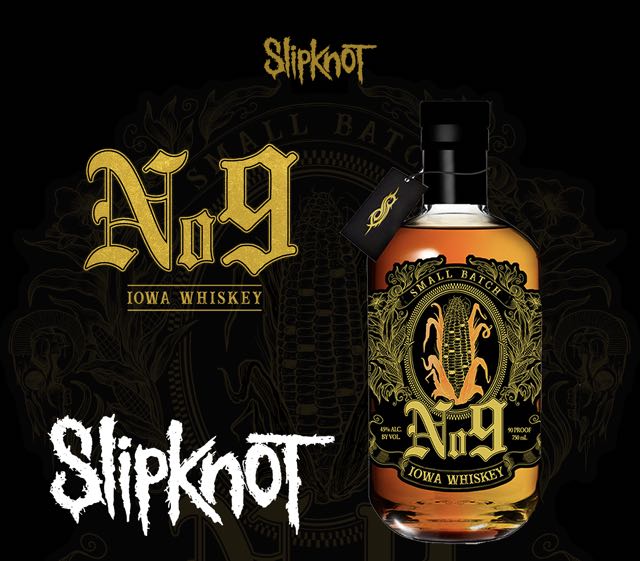 HEAVY HANGOVER
Slipknot's No. 9 proofs to be anything but a disaster piece
Tales of the unexpected just became reality with Slipknot's very own Whiskey release coinciding with their currently running world tour. With sold out venues in Europe fans were offered to score their own bottle and have it signed by members of the band. A unique launch, which made the mysterious band approachable and saw long lines of waiting fans spending hours in the rain to get their shot. Literally, as well as verbally, with the band signing and the unique possibility to shoot a picture and slam a shot. Well, the latter to be in the warmth comfort of the waiting line with friends sharing and opening.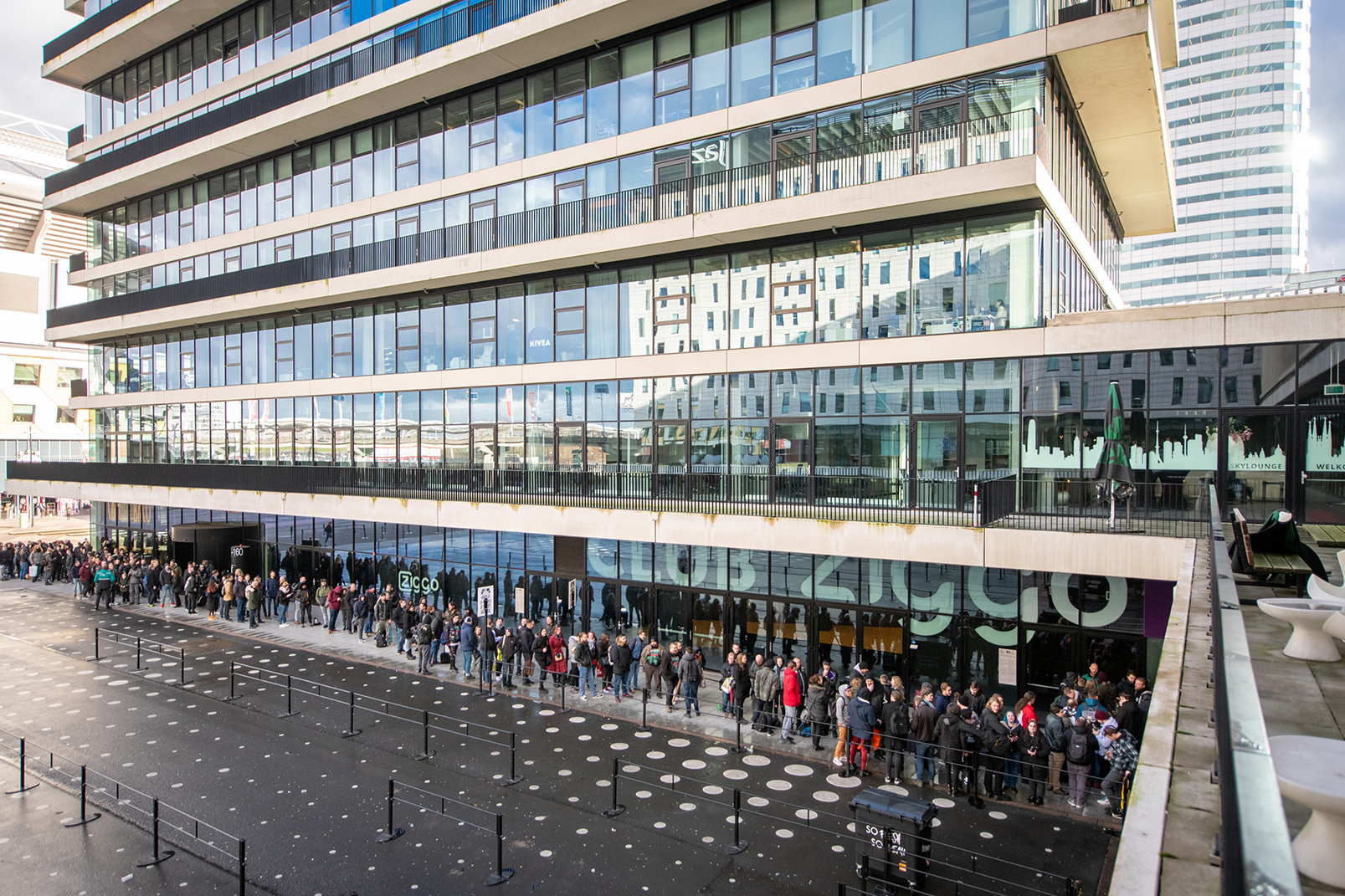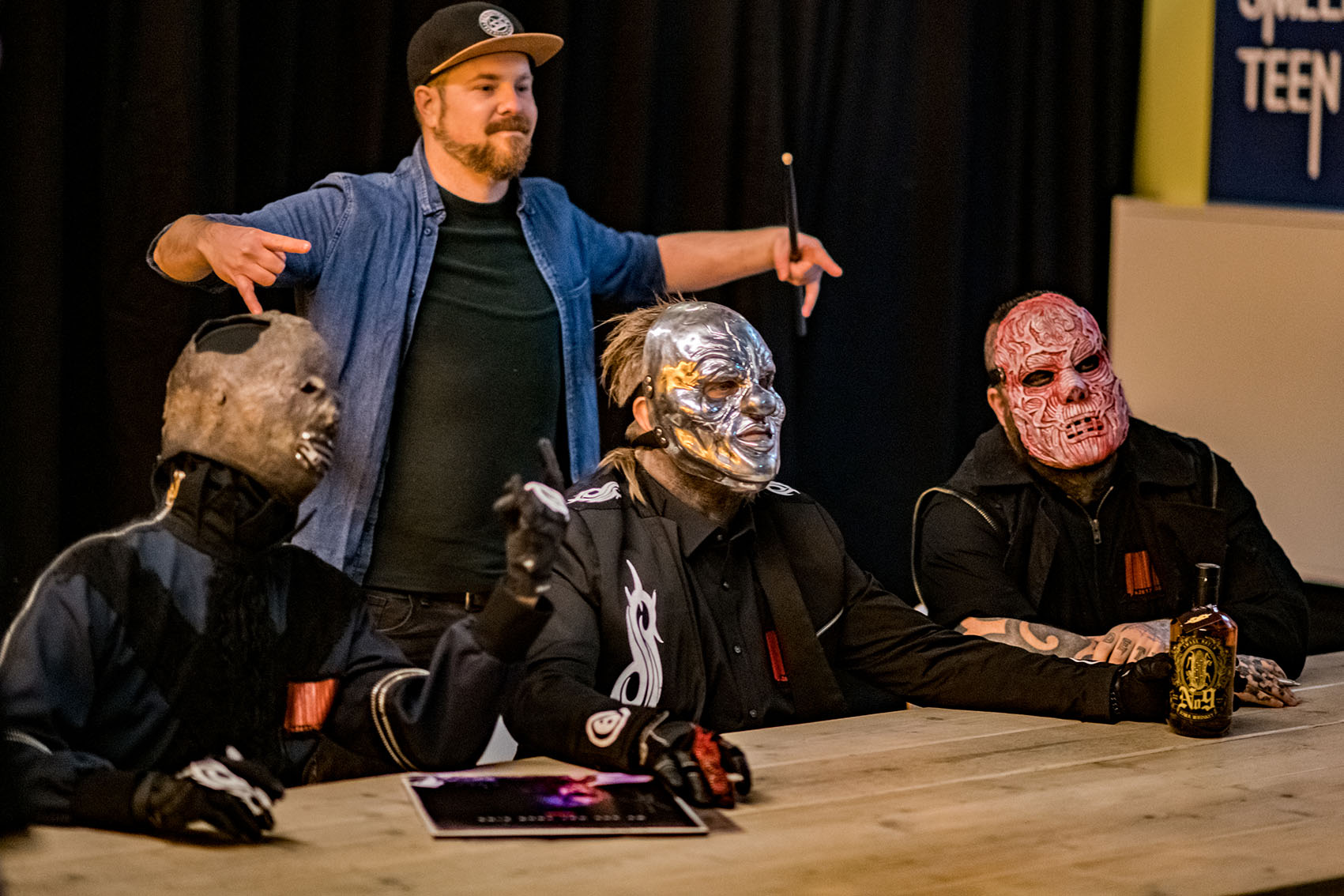 The stunt was cunning and led to much appraisal obviously, but for us it all filters down to the spirit itself. The spirit of rock and metal, breathe in to flames on this small batch No. 9, packing a story. The story of collaboration and hardworking applying to Iowa's oldest distillery and one of the bands that redefined the boundaries of metal. The marriage of Iowan stubbornness and uniqueness caught in a bottle of mashing brilliance. Cedar Ridge Distillery and Slipknot vividly envisioned where they were going with this mash of 51% Iowa corn – 35% malted Rye and 14% 2-row Malted Barley. With percussionist Shawn 'Clown' Crahan at the helm while blending, the personal involvement of Slipknot themselves is high. They gave direction and definitely went for quality over quantity to "Execute" a top-notch blended Whiskey.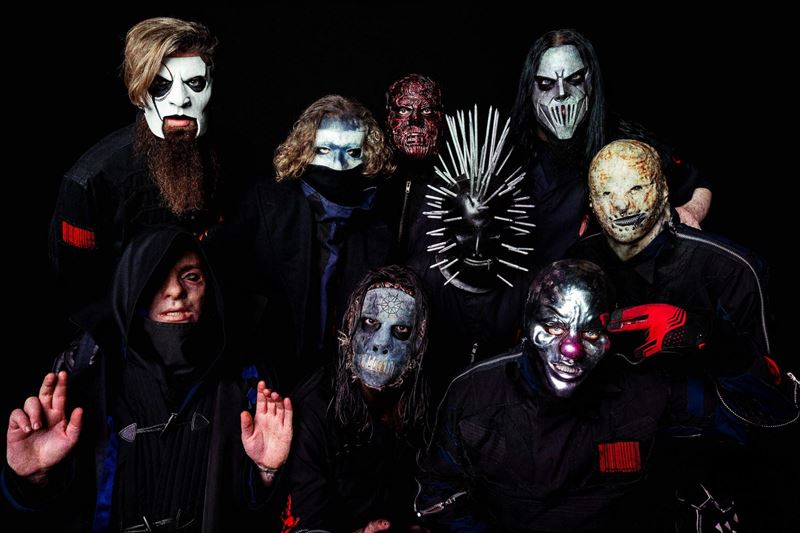 SLIPKNOT
Small batch No. 9 [0.7lt]
Iowa Whiskey
49 % ABV
The blend of 3-4 year old straight Rye and straight Bourbon mashed and fermented in American oak casks surely lives up to its expectations. Though the presentation of the bottle itself is plain and simple, with referral to the band only on the back label, this Whiskey is everything but ordinary. A 45% ABV (not "AOV") is sturdy and makes the Iowa distillery round up with Kentucky's finest hard hitters. The presence of the band being minimal on display, with all their trademarks discarded pretty unexpected, the presence of Iowa corn is. No. 9, the name however is of course pun to the fact all members are numbered 0 to 8, making it nine. This No. 9 to be considered the ninth member is the equation to be answered by the band themselves. Harvested at one single farm, the corn is of high significance to its creators.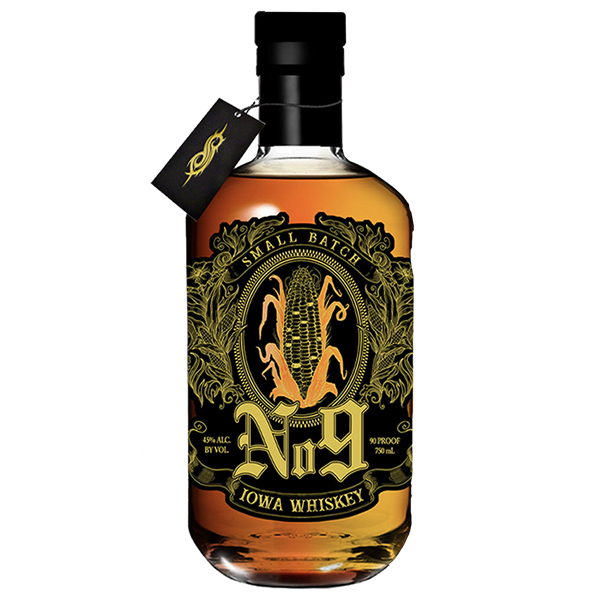 Key in this Whiskey is the presence of corn and its rye percentage, which is very typical for most of Cedar Ridge's award wining distils. But in terms of flavour I tend to favour the 2-row malted barley not being discarded off easily in the presence of this No. 9. With many craft brewers also leaning towards the full flavours of a 2-row over the 6-row variant, it simply offers a more malt and fuller flavour that fuses extremely well with the dryer feel of the corn base and the Whiskey's overall (tiny) sweet 'n sour mesh and spicy flavour of its rye. Rye grain imparts this spicy jalapeño-like flavour with fruity finish that blends well with the sweeter notes of American Bourbon. Taking this blend in consideration you pretty much have the foundation of this high class No. 9 immediately mapped out in flavour and style.

Upon first pour, straight after popping the cork (or kill pop it?), has a nice full wave of sweet honey and Rye hitting your nostrils. The jalapeño and dill scent is remotely present and fades as a blend of smoked green peppers. The corn and barley bring a somewhat toasty note to the forefront with a nice and crisp alcoholic welling breeze. Caramelized unions come to mind as a blend of the sweetness and spice, which I find hard to put in perspective of the palate that slowly reveals deeper notes of citrus and toffee. Second taster makes the variety of tastes swirl with some buttery caramel and chocolate chip cookies, likely hailing from the corn. Cracked pepper and jalapeño finish the long lasting taste that is a bit subdued in the alcoholic strong foundation. Tongue-feel is smooth and somewhat (corn) dry and has a floral finish topping it off.
Pouring it on the rocks did add some value with more citrus and chelate hints taking over. Floral nose opens the palate to the same floral sensation and deepens both, scent and taste. Little cinnamon notes with nutmeg. The smooth mouth feel has the buttery caramel taste and corn giving it somewhat of a popcorn sweet aftertaste that is very enjoyable.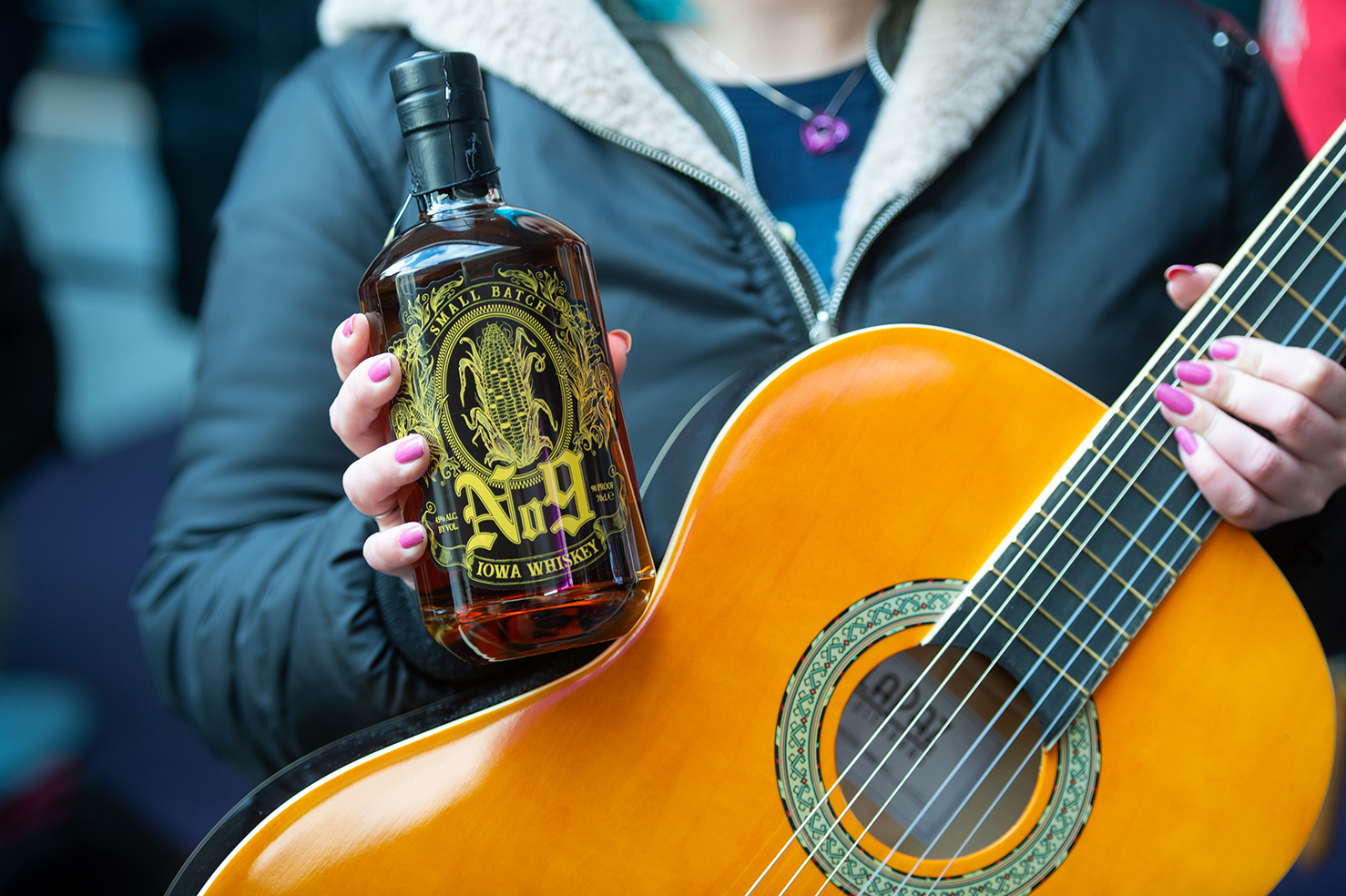 With the clown being involved in the creation of the blend this Slipknot No. 9 predominantly deserves to bear the No. 9 seal and Slipknot name. No. 9 also reveals the band's proud Iowa roots being carried out almost as a legacy by turning to Cedar Ridge for distilling this excellent whiskey. Blending the mashes of American Bourbon and Rye Whiskey makes it an easy accessible and highly enjoyable endeavour that hopefully sees successors down the road. There is a No. 9 reserve with an according Mashbill but 99 proofing of 4-5 years, currently only accessible in the US I hope to be able to review as well. But for now I stick to this exquisite blend. I was rather "Sceptic" on this release, but it easily won me over. Cedar Ridge and Clown did a great job and delivered mayhem without creating "Dead Memories" and made me not "Spit It Out". (I apologize for putting these in here…)

Folks that don't want to read all the jibber jabber of scents and tastes rather than the tasting experience itself, I can only ask to put away their glass and take in the scent of the richness the day after. With all alcohol vaporized, you will immediately notice the richness of the bouquet and upon your next nip you are aware of the Whiskey's rich scent and will pick up on my endless rambling above. I'm convinced it will broaden your experience and widen your horizon opening up to the experience of tasting great whiskeys and bourbons.

"Only One" MUST HAVE for fans, but better buy a few as long as supplies last!
—
GOOD TO KNOW:

The management of Slipknot asked Spirits For Rock, a division of Square Dranken [NL], to launch No. 9 in Europe.
Together with Slipknot, Spirits For Rock orginized Whiskey signing sessions in The Netherlands, England, Poland, Germany and Denmark.
Spirits For Rock is the official distributor for Europe and No. 9 is available in The Netherlands, England, France, Germany Hungary, Poland and Denmark.

Spirits For Rock Website here


#slipknot #no9 #whiskey #spiritsforrock #headbangerslifestyle #hbls #awayoflife #heavyhangover