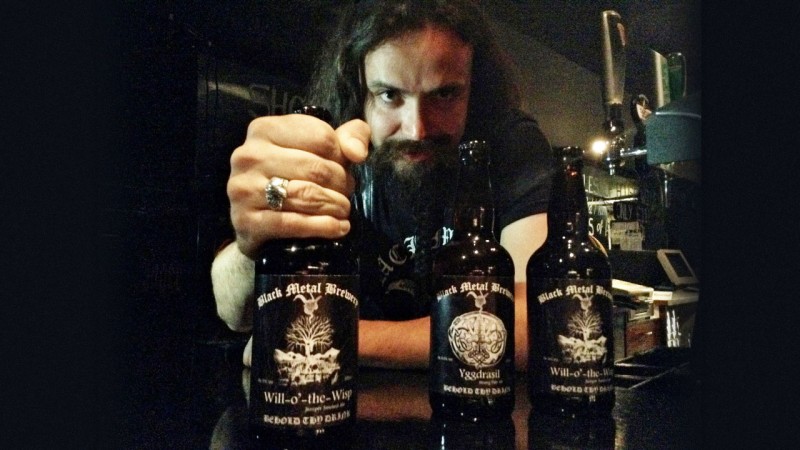 JAAN RÄTSEP
The Guy Who Is Running Black Metal Brewery
Upon my tasting of this brewers' two craft beers I got more and more intrigued by the story behind this brewery. The Scottish brewery links music from the past and drinking to it as a ritualistic and festive event with the pleasure of relaxation and any necessary degree of madness by combining sacred elements with sound and drinking. Indeed, we see this happening at festivals where we slam down beers when the pace of the music goes up. Pilseners have been the standard for decades with beer tanks being emptied by the dozen adding up to the celebration of metal music. Eindhoven's Dynamo Open Air in the old days had tankers in the nearby canal to cope with the high demand.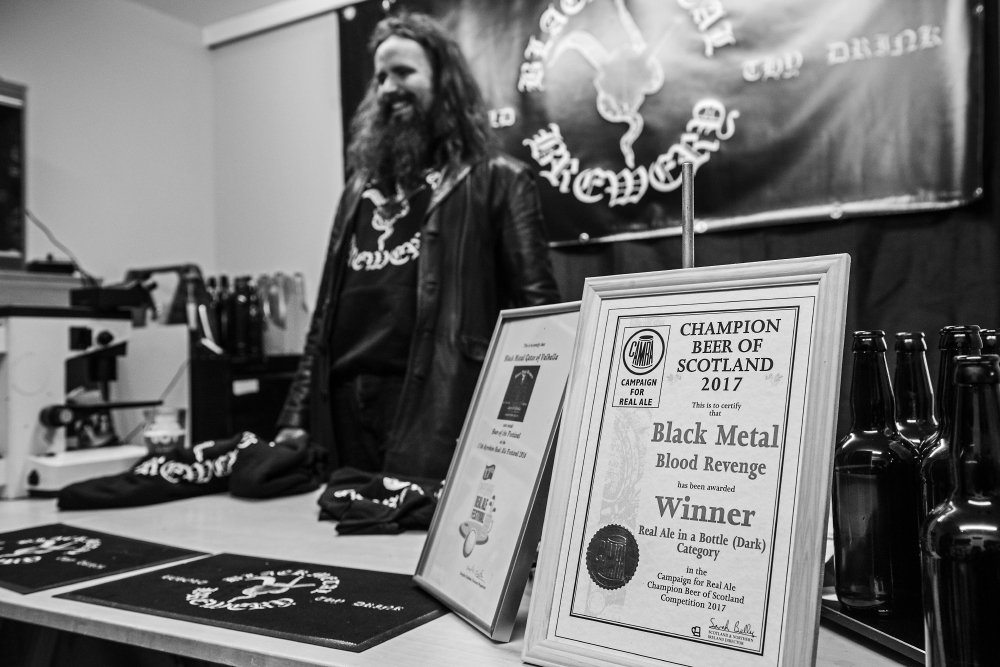 With taste changing and the exploration of craft beer in general, metal heads turn to embrace the diversity in styles and taste. Craft beer is strongly connected to music and music aficionados are open to the many styles matching their moods and matching the swings of mood presented on albums. The connection of styles and taste simply add up to the joy and experience. Bloodstock in the UK featured Black Metal beers and French Fall of Summer festival presented their attendees a bar with over 15 different craft beers mainly from brewers from the area. An initiative well received as many of the beers sold out on day 1!

It all seems to add up to the trend of craft beer breweries getting widely accepted and appreciated. Other than the band-related releases this time I reach out to the brewers of the Black Metal Brewery for their story and view on recent acceptation of craft beer in the world of hard rock and heavy metal. Thus I talk with ('fresh' daddy) Jaan Rätsep, the head brewer and director of Black Metal Brewery who plays bass in a band (he doesn't like to be called a bass player per se) and metal aficionado…. And it turned out to be one big feast of fun!

Jaan, can you tell us a bit about how you (as Estonian) landed in Scotland to start Black Metal Brewery?
,,At the moment I'm smashed after two days not sleeping, so maybe the best time to answer your questions.
Right. I came here to study in Edinburgh for a bit in 2003 to get more of a grip on molecular genetics… got fucking steaming. Like 14 and a half years ago. I remember good bits. Of fucking course, memory is selective. For sure – Scotland seems to favour me… and I like it, too. Otherwise you get hit with a golf club in Dalry road by a bitch. I got born in Tallinn, what is now Estonia, grew up in a fucking beautiful forest land by the Baltic Sea, miss it a lot. Teenage years in Moscow in the 90's. That would be a (w)hole different interview if I am to talk about those times. Then Alba for over 14 years…, fuck knows how I'm still here. Means it is fucking good. Originally I have been in science, focusing on molecular genetics, laboratory and field research, until I went full on brewing. Infernal Hails to all the folk who have been supporting throughout the years – be it science or brewing or both – or generally real people.''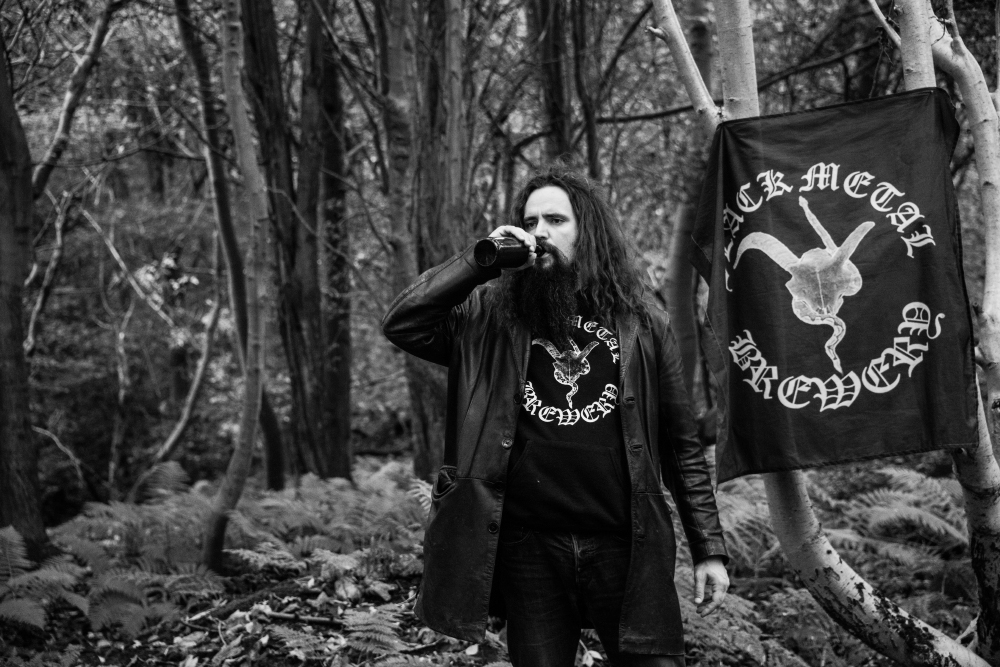 Founded in 2012, Black Metal Brewery slowly gains momentum. How do you look back on the evolution of your brewery and the chance in the market of beers?
,,Well, "momentum" "market" terms are all shite. I do not exactly believe in "capitalism" or whatever popular terms those pussies use. Recently I've read something like "capitalising Black Metal" – fuck you fuck, come for a day, work like a bitch, sweat – and then we see, how you "capitalise". I do not much believe in socialism either, was born in USSR.. if anyone remembers it, ugh ugh. There have been years of home-brewing and being "alco-punk-black metal" – whatever you call it, brewing, playing, smashing, getting fucked, studying and researching… at some point (maybe 2013) I went on to build a 100-litre system at a farm, then at some point quit a PhD – cannot be proud of not completing the task but I saw the way and could not compromise. Then went to brew on a 1000-litre system, invited by a local brewery Top Out who were brewing out of their passion for mountain climbing… and also metal, even though they don't show much of their metal part these days – they are still true. At the moment got my own premises next door, 200 sq. meter.
Evolution of the brewery is connected to pure vision and the Path. Market – I think there is a big overlap of people from metal subculture – as well as not-so-metal people who are real fans of good real ales. Guess it is a good thing – and also confirms that BMB doesn't brew piss. Market – funny thing it is, one pint – one vote, hehe. Anyway, as I have always said – the best thing is that the "consumer" votes with the pint. One pint – one vote. The closest to fucking "democracy"?!''

Evolution.. from what I remember, you were brewing with Pan (aka Ronue, drummer from Daemonolith)?
,,Aye, best friend for over 13 years, and he was a Father co-Founder, and great drummer – one of the two best ones I have ever known in person. Fucking fell out half a year ago, even though some things might get re-established. Currently kind of disbanded – in a way. Pan has contributed a lot, he has also worked with yeast on professional level in the past – so he knows the beast and the yeast really well. We are probably going to pick up some mushrooms this weekend, then we shall see. It is the season. Everything is in the dynamics. Like… Yesterday I did not fuck your mother.
Currently I am running the brewery on my own. There are dedicated volunteers and students on internships, great-motivated folk that have been keeping the brewery afloat. In general, BMB stands "on shoulders of giants" – there has been more than plenty of folk involvement, in many critical moments that have facilitated survival and development.
With that input of a "tribe" – the brewery went from home-brew scale to 100-litre pilot gas-powered system at a farm – and forward to establish and develop the current 1000-litre production, further development, gaining and developing 200 square meters of storage – and many more developments on the way. "Our name is the Legion for we are many" – indeed, ugh ugh.''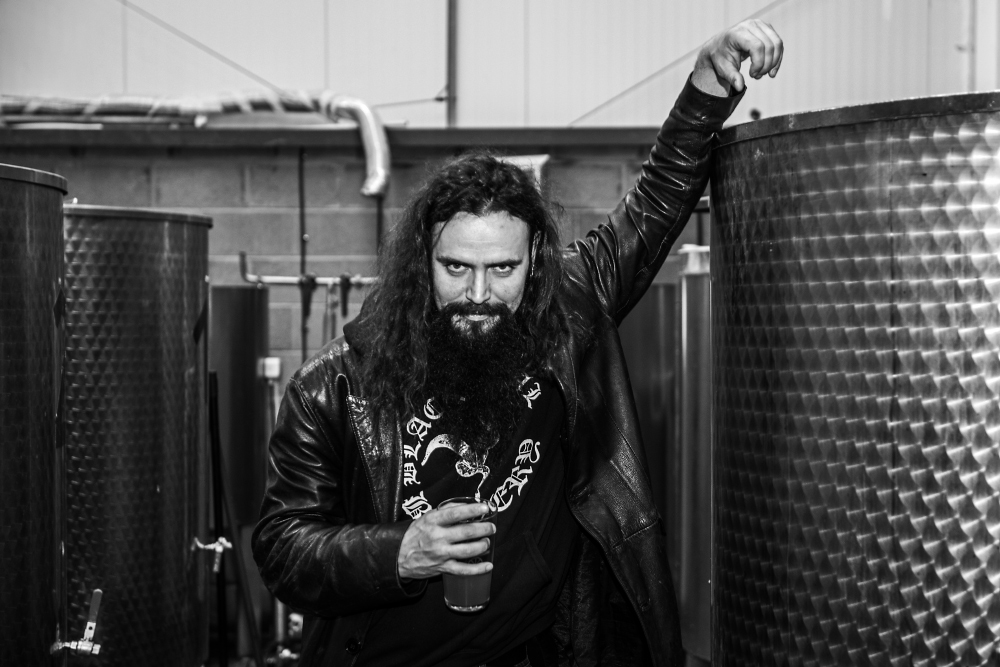 Why the name Black Metal Brewery?
,,Because fuck you. You like Black Metal. You like good beer. Then you make some properly good beer.. some good Black Metal (here Nehtan comes in, waving his arse buttocks in a church). Anyway, Hail Black Metal and Hail the Ale!!''

Black Metal Brewery deploys liquid soundtracks for metal heads?
,,Music and "intoxicating" beverages have always come hand in hand. In this case it is the actual ale produced by metal heads for metal heads. I hear a lot about promoting the "brand" and developing the mainstream success – however, I think that would totally kill it. The real liquid music shall be there, but a simple plain commercialization would just suffocate the core idea.
To be honest, the actual term "liquid soundtrack" got coined by a friend called Myroslava Hartmond, she is now running an art gallery in Kiev – and other projects, I guess… not talked to her in ages and she is probably out of metal for a while. Not sure. Ask her. But yes, always been developing liquid tracks as songs. You brew – you compose. So far, one EP has been recorded a while ago, let's say. With the input from Sean Parry – Yggdrasil, Will-o'-the Wisp, Blood Revenge, Gates of Valhalla, Jotunblood and Battering Ram – well, the full album has already been completed.
There is also a liquid track called "Louhi", by the Finnish witch.. However, as Pan has left the operation, I am not brewing it any more. There are two collaboration brews/tracks – first is "Nekropolia" made together with Ants from TANKER brewery and "Bestia" band – he has slaughtered some pines at the ancient Estonian cemetery and we made an amazing brew.. Second – the collab with another so-called "satanist cunt" from Sheffield's Steel City Brewing – and we made a spoiled rye beer perverted by Lactobacillus called "Kvassphemy", pH 3.5. I think the album is ready.''

The brews from Black Metal stand out with their typical black metal artwork. Enlighten us about this choice….
,,Because. Endarken you, never met you, fukker! As far as I remember, ugh ugh.
You do what you see – and what is "typical"? As for some (most) of the existing art works – thanks to Sean Parry. However, I guess he is busy – as he disappears for months if not years at a time. Well, he is now über famous – and following his own path. Just hope he finally remembers and honours BMB and Scotland again – and we can have a fight and a drink!''




How did you get together with tattoo-artist Sean Parry?
,,We never really got together, we are a kind of hetero (shame nowadays, eh?). Anyway, I met this homo cunt at.. Bloodstock.. 2009? I just remember talking to someone in the queue to the hygiene units then – "you've got whisky? I've got mead!", then someone shouting at me for giving whisky from a thermos to a 12-year old. And fighting for fun. Sean at that time was "just" a talented painter, then he switched to tattooing – and he is a left-handed genius – within a few years his progress was outstanding. Any type of Celtic knots or Viking artwork. Now he went quite far, needless to say.''

How big is his input?
,,Great and true. He must have sided with the Norns. Probably fucked one of them. Possibly in an eye socket. Probably all three.''

Tell us a bit about the process of a new creation of artwork?
,,I always had a description, little to do with directing the artwork, it is a vision. Sean, for instance, could always see what I meant and there has never been a need for explanation.''

Does he taste the new brew and puts the taste to art, or do you provide a certain outline for him to work onto?
,,No, it is his vision. Always trusted him on that. But we have downed plenty, for sure – and there is still plenty. And "Hey Sean yer cunt there is still plenty" – could I use the opportunity to send the message to the bastard? Ugh ugh.''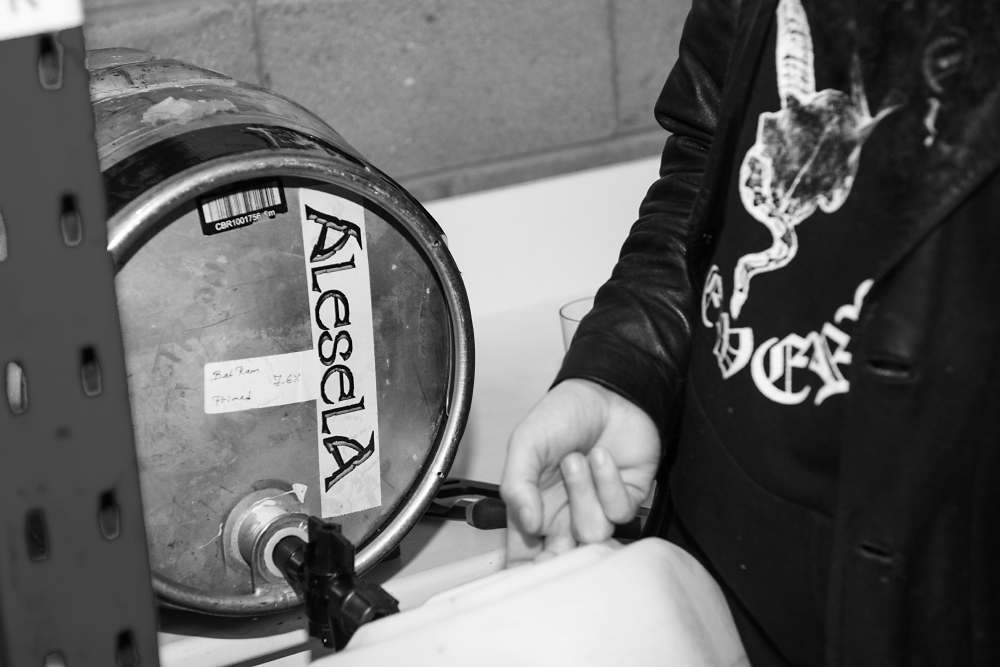 Doesn't it limit options in retail, as a lot of beer enthusiasts might scare away from this dark artwork?
,,Go fuck yourself.''

What are your musical influences and which bands do trigger your creativity when it comes to matching a taste with a musical style?
,,What is your favourite colour? Ugh ugh.''

What are you favourite bands and which bands can you bring to our attention?
,,See above! However, my friends.. can think ooof Necrosadistic Goat Torture, Daemonolith, Skeleton Gong, Satarial.. Folk that has done something – and I know those cunts in person. Would you like me to name Bathory, Celtic Frost and Venom? Falling asleep with Burzum or Mare Cognitum or Drudkh or Nocturnal Mortum…, whatever? Not a question…, but drunkenly – still answered. Ugh ugh. There is music from many bands, inspiration is from Abyss. Not Tedgren's creation, though)).''

You play bass, anything you do in music yourself, other than brewing?
,,I have not played bass since 2012, I think. Or any instrument – but the brewing equipment. There has been a time playing in Moonrape. I would say it was fucking great. I only played three gigs – Edinburgh (at Black Metal Ritual III, organised by Nehtan in 2010), then London and Glasgow in 2012, as well the last gig of Daemonolith). We also recorded a fine demo in a church in Edinburgh. Desecrating it in the meantime)). The record might be still alive – but to release it or not is all up to Dave (aka Nehtan). That was 2012.. now it is 2017 since the birth of a certain idol, ugh ugh. All questions to Nehtan, in any case – be it released or not.
I do not believe in death of Moonrape, as well as I do not believe in a total break up of the folk that have been totally bound together for the eternal drive – more like the "wheel of Sansara" – the term mainly used by the "neo-hippies" nowadays, we have all been crushed with – and everyone to his own – however, the alliance might well rise up again and stronger than ever. But that is going to take time, for sure.''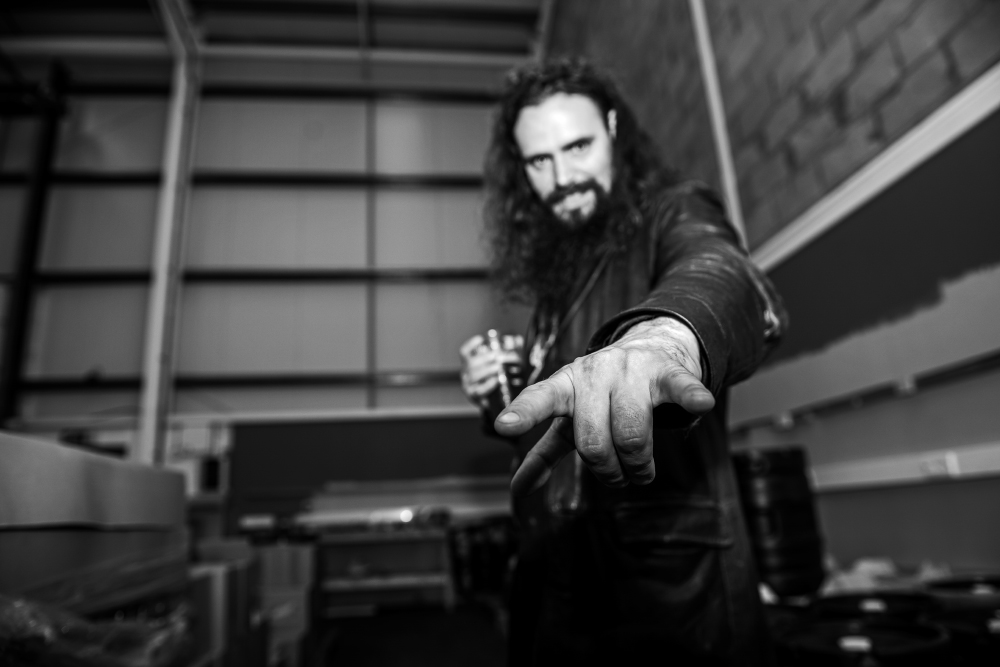 When I name a band, can you add a style of beer…. For example:

Rush – ,,Easy drinking, sentimental… add a fucking Rainbow to it and enjoy your pint of whatever.''

Marduk – ,,Pan's new born child been falling asleep to it on full volume.. The beer that can put your child to sleem, basically. Not a specific style. Heavy, nevertheless.''

Trouble – No beer.. Give them more coke!''

Dream Theater – ,,Sipping some complex formula, tasting, head banging.. going back to maths. After savouring the glass, too.''

Judas Priest – Sparkling lager.. sparkling more! With some gay notes. Just watch your arse.''

Cradle of Filth – Probably not a beer. However, if you drink it from a cunt..''

Bathory – ,,Good stuff. Hail the Ale!!''

Anything you want to add as specific band matching a style of beer?
,,No, I think it is bullshit. Maybe ask Mayhem to match Enslaved, or Enslaved to match Impaled Nazarene. Ugh ugh. Ale is the music on its own.''

Can you give examples of bands which helped creating your current brews with their music matching your mood and taste of the beers?
,,All.''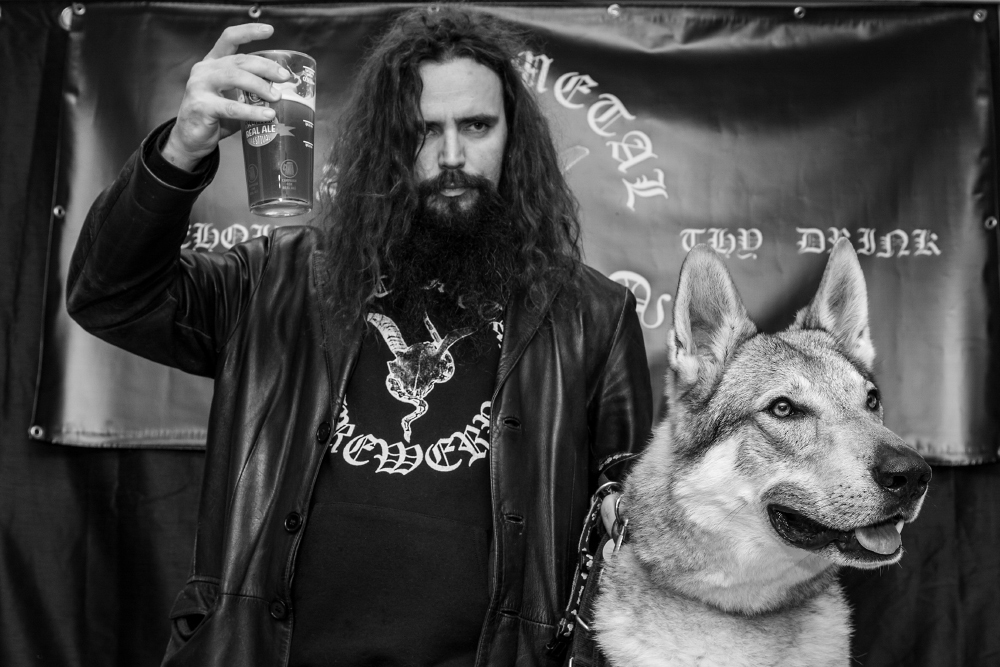 How do you start a new creation yourself?
,,When I fucking see it.''

The craft beer market is widely expanding extremely, how does this affect your brewery?
,,I go my way, if you would like a detailed analysis – don't hesitate to get in touch, ugh ugh.''

What can we expect from Black Metal Brewery in the near future?
,,To get you fucked!''

Do you have to keep the momentum going now the market is expanding this rapidly, or do you remain to follow your own path?
,,There is no other path. If necessary, I cut it with an axe.''

With the market of music and the experience of music in general changing, isn't it an option to bring your brews to the market by mail-order companies specializing in heavy metal?
,,No. I think it is way too mainstream and gay. Just fucking drink Black Metal Brewery ales, support – and enjoy. Enough. I don't want to "grow big", fucking bullshit. Main thing is not to shrink like dick on speed.''

When can we expect you on the European mainland and The Netherlands?
,,Soon.''

Anything you want to add?
,,BEHOD THY DRINK!! ANYTHING ELSE? 🙂 Hail The Ale!!''

Jaan certainly ain't the archetypical brewer by far. The man explodes with humour and is unstoppable when he gets into his comfort zone. He just became a dad and spent his endless and sleepless nights answering my questions and returned to the drawing board to revise his statements over and over again. Thus the interview evolved and I think I'll don't edit as I don't want it to turn all whimpy and wussy.

THIS IS BLACK METAL BREWERY, THIS IS JAAN RÄTSEP!
—
Follow The Black Metal Brewery on Facebook and visit the Website here.