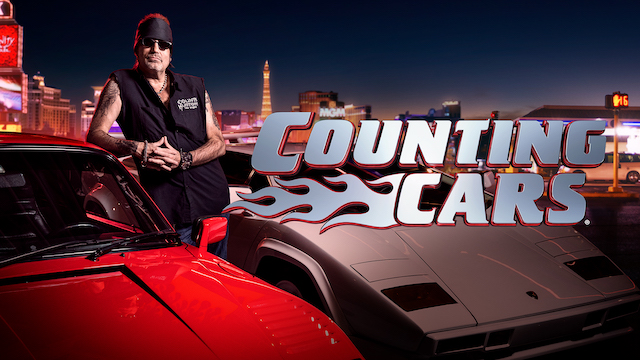 Rock musicians spotted in Counting Cars
About cool cars and choppers
THE COUNT
Counting Cars is an American reality TV show that is hosted by Danny `The Count' Koker. It is a Pawn Stars spinoff that is filmed in Las Vegas, Nevada and broadcast on History Channel.
Counting Cars debuted August 13, 2012 and so far nine seasons have been filmed. Every episode Danny and his crew do an amazing job restore, customize and modify classic cars, motorcycles and other cool vehicles at the Count's Kustoms workplace. Their craftsmanship is impressive and you also get loads of interesting background information along with it as well.
It is obvious and definitely no secret Danny is a rocker. Besides his passion for classics on wheels, he is also the lead singer of the hard rock band Count's 77 and he runs his Count's Tattoo Company, that actually formerly was a partnership with Mötley Crüe frontman Vince Neil. The fact that rock musicians often go hand in hand with expensive cool cars and motorcycles, it is no surprise that every now and then a famous rock 'n roller shows up on an episode of Counting Cars. We have listed a few happy rocking Counting Cars customers for you.
1. ALICE COOPER – HORROR LEGEND
Alice Cooper Returns. A Counting Cars Sneak Peek. New Season Premieres September 15, 2021.
The rock legend left his prized Avanti in the Count's hands.
2. TOMMY LEE – DRUMMER MÖTLEY CRÜE
In Season 7, Episode 3, 2018 The Count and his team took care of Tommy Lee's Chopper after a bad accident.
3. DEE SNIDER – FRONTMAN TWISTED SISTER
In Season 6 a "Twisted Chopper" was custom made for Twisted Sister frontman Dee Snider.
4. GEORGE LYNCH – GUITAR HERO
In Season 4 guitarist George Lynch, known for Dokken and Lynch Mob, takes his 1965 Buick Riviera to Count's Kustoms for some rockin' customizations.
5. DJ ASHBA – FORMER GUNS 'N ROSES GUITARIST
In Season 6 former Guns 'N Roses, Sixx:A.M. guitarist DJ Ashba brings in his 2004 Lamborghini Murciélago for a black satin finish. The Count and his team know how to handle this.
6. PAUL SHORTINO – ROCK SINGER
In this scene, Danny takes his latest restoration project a '69 Cadillac Deville to Paul Shortino. Shortino is known as singer for Rough Cutt, The Cutt and Quit Riot a.o. and is an absolute Cadillac fan.
7. JUDAS PRIEST
The Count give the guys of NWOBHM legend Judas Priest a tour in his museum showing his favorite cars.