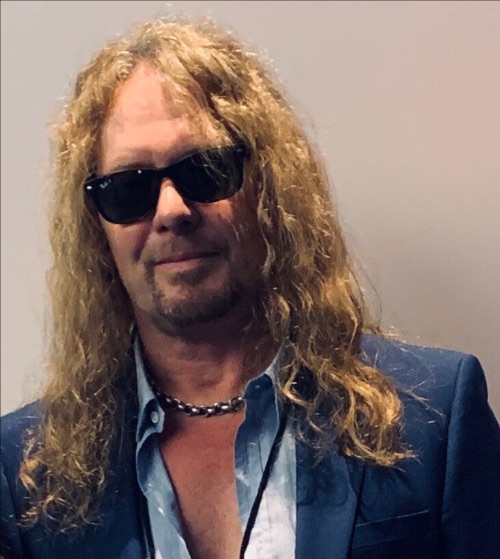 Guitar Legend JOHN SYKES Signs Global Deal With Golden Robot Records
New Solo Album Scheduled For Release Later This Year
Golden Robot Records is pleased to welcome guitar legend John Sykes to their already impressive roster of artists. John recently signed a worldwide deal with Golden Robot Records, which will see his long anticipated forthcoming new album released later this year.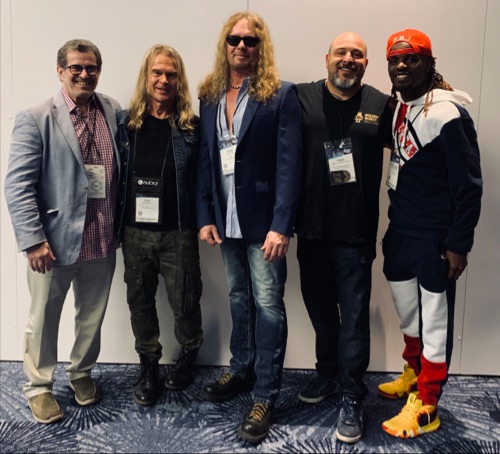 L-R – GRR's Derek Shulman, Tony Franklin, John Sykes, GRR's Mark Alexander-Erber & Fred Boswell Jnr @ Namm 2019




John Sykes is now part of an international roster that includes such iconic artists as Skid Row, King's X, Gilby Clarke, Guns 'N' Roses keyboardist Dizzy Reed, Little Caesar, RavenEye, The Lazys and the all star A New Revenge which features Tim 'Ripper' Owens, Keri Kelli, Rudy Sarzo and James Kottak. Golden Robot Records is also home to an incredible line up of Australian acts, led by Rose Tattoo, The Superjesus and Misex and featuring Steve Kilbey, Palace Of The King, Jailbirds, Fyre Byrd, The Kids, Destrends, Flickertail and many more.


'It's about time and with my global signing to Golden Robot Records, I feel I have found the right home for my music," explains Sykes.

"I have heard the album and its going to be huge. I was just in LA with John as he walked around NAMM it was like walking through with ELVIS THERE IS SO MUCH LOVE FOR HIM!"
exclaims Mark Alexander-Erber, Golden Robot Entertainment Group Founder and President.

'It's time that rock fans throughout the world heard a musician who plays and sings from the heart. I'm just happy that John with so much incredible and authentic talent has decided he finally wanted to share his music with rock fans throughout the world and can do that with the team at Golden Robot. This is truly an inspirational moment for rock music fans everywhere.' says Golden Robot Records Executive Chairman of Worldwide Expansion, Derek Shulman

With a career spanning almost 40 years, British born Sykes is one of the most respected and revered guitar players in rock history! Starting his career in 1980 with the New Wave Of British Heavy Metal act Tygers Of Pan Tang, John would soon join Thin Lizzy (co-writing the much covered, ,,Cold Sweat") and later Phil Lynott's solo band. In 1984, with Lynott's blessing, Sykes joined the legendary Whitesnake for their 'Slide It In' album. The tour for which ended with a now iconic performance at Rock In Rio in front of half a million people!

Whitesnake's self titled '1987' album went on to sell over 40 million albums and features the Sykes penned classics, ,,Still Of The Night" and ,,Is This Love", which are still regularly played on rock radio to this day. After Whitesnake, John formed the revered supergroup, Blue Murder, featuring Tony Franklin on bass and Carmine Appice on drums. Their highly praised debut album not only showcased John's signature melodic licks but his unmistakable singing voice as well. In 1994, Sykes reformed Thin Lizzy with original guitarist Scott Gorham and he continued touring with the band until 2009.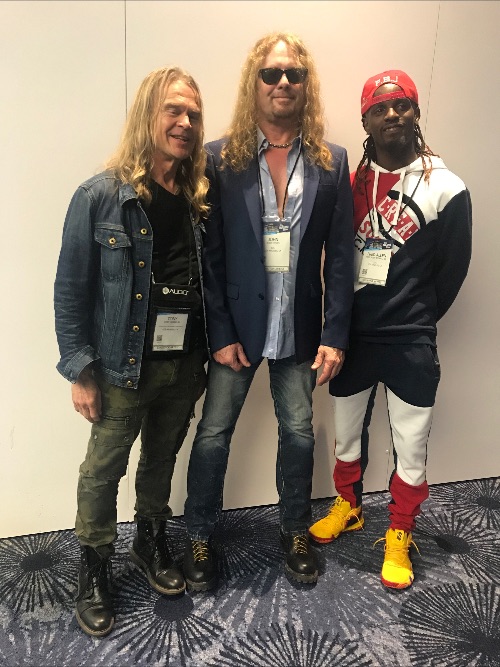 L-R-Tony Franklin, John Sykes, Fred Boswell Jnr




As a solo artist, John released four albums between 1995 and 2000 and contributed guest solos for Derek Sherinian on his 2004 solo album. In 2006, Gibson Guitars honoured Sykes by producing an 'Inspired By' Les Paul modeled after his 70's era Custom model. Both versions of the guitar, an 'aged' look, recreating the exact look of his original, and the VOS brand new model, sold out immediately and are now highly sought after collectors items worth many times their original value.

John recently gave his first interview in over 8 years at the NAMM show in Los Angeles to Jason McNamara from Jason Video Music Tokyo

Watch it here



John will be hitting the road in support of his new album in mid 2019 with his newly formed band that features long time collaborator and Blue Murder band mate, Tony Franklin and newcomer Fred Boswell Jr. on Drums