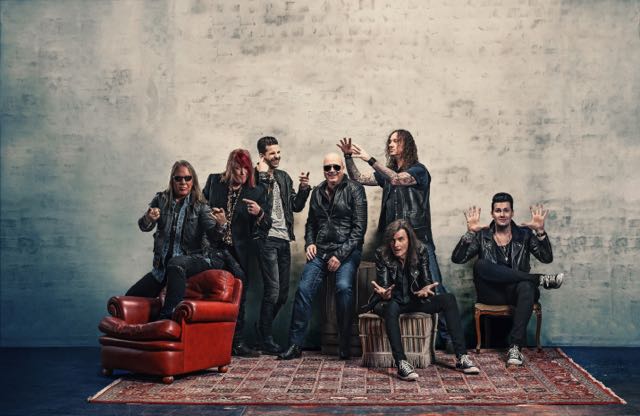 HELLOWEEN RELEASE NEW SINGLE ,,BEST TIME"
And reveal lottery Crack The Riddle
+++OFFICIAL PRESS RELEASE NUCLEAR BLAST+++
NEW ALBUM `HELLOWEEN' OUT NOW! – RELEASE NEW SINGLE ,,BEST TIME" – REVEAL LOTTERY "CRACK THE RIDDLE"
Today is the day the whole metal community and fans worldwide have been waiting for: HELLOWEEN are releasing their new album "Helloween".

"With superb songs, a stellar production and supercharged individual performances, Helloween punch the reset button and hit back with an absolute monster of an album", says Dave Cockett of UK's FIREWORKS magazine. "All expectations have been fulfilled. There's nothing nostalgic or dated in this album. 'Helloween' defines power metal for the years to come", adds Hakos Pervanidis of Greek METAL HAMMER. Axel Meuriche of French MY ROCK calls the album "epic, powerful, outstanding. Obviously, THE record that no one would have dare to dream about before."

The reactions worldwide are overwhelming. With the highest amount of magazine coverstories and interviews ever at Nuclear Blast, HELLOWEEN also wrote history for their record label. "This album is more than a masterpiece – this album is heavy metal history",says Markus Staiger, CEO of Nuclear Blast Tonträger Produktions- und Vertriebs GmbH. "It is my lifetime record, the most important one I have ever been involved in. We have fantastic physical products, we did everything we could – without thinking about budgets or limitations. Everyone involved gave 110% and I am so damn' proud of this album! In my opinion it is the best one HELLOWEEN ever did!"

Get the album here: https://nblast.de/HELLOWEEN-Helloween
The album is available as 2CD – Digibook, 1CD – Jewelcase, 3LP – Hologram-Vinyl in Trifold, 2LP – Vinyl in Gatefold (picture vinyl + div. colors), 2LP/2CD – Earbook Edition, 2LP/2CD – Deluxe Boxset (black vinyl and splatter vinyl), Cassette & Digital
Today, HELLOWEEN also release their third single, called "Best Time". Lyrically the song by Sascha Gerstner reminds of the good old days, musically it´s convincing with confident HELLOWEEN style guitar harmonies and a chorus that stays in your long-term memory after hearing it for the first time.
Watch the lyric video for the song here: 
TRACKLISTING "HELLOWEEN"
01 – Out For The Glory
02 – Fear Of The Fallen
03 – Best Time
04 – Mass Pollution
05 – Angels
06 – Rise Without Chains
07 – Indestructible
08 – Robot King
09 – Cyanide
10 – Down In The Dumps
11 – Orbit
12 – Skyfall
Bonustracks Mediabook & Vinyl:
01 – Golden Times                         
02 – Save My Hide                        

Bonustracks Earbook
01 – Golden Times                         
02 – Save My Hide                       
03 – Pumpkins United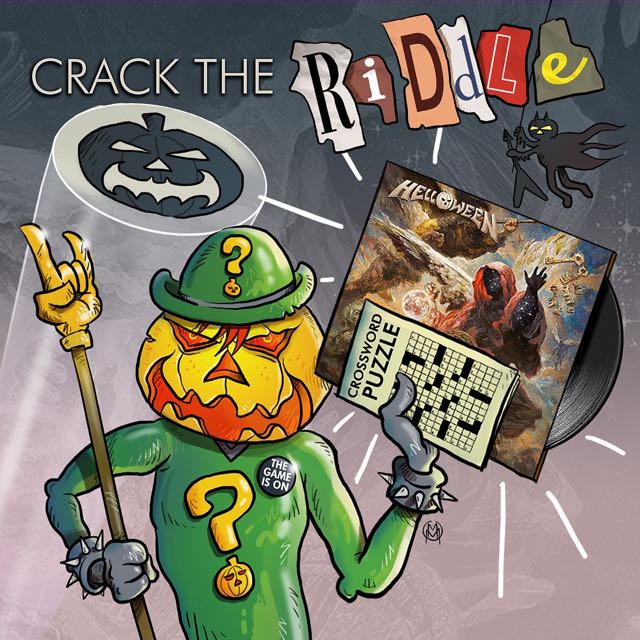 But there is even more to come: Join HELLOWEEN on their lottery CRACK THE RIDDLE.
Fans can win two tickets and a meet & greet for every country of the upcoming world tour!
In the artwork of the mediabook, earbook & boxset edition of their upcoming self titled album, HELLOWEEN have included a game called CRACK THE RIDDLE. Fans have to find the solution code throughout the entire booklet to participate. Lottery win is two tickets for a concert of their choice* including a MEET AND GREET WITH THE BAND! The band will draw a lucky winner for every country of their upcoming world tour!
All fans have to do is enter the solution code on helloween.org and keep the fingers crossed!
The lottery begins today with the release of the album HELLOWEEN and ends July, 31st.
The lucky winners will be notified via e-mail on Halloween (October 31st, 2021).
On top, every participant of the lottery will receive 10% off the next order in the official HELLOWEEN online store www.pumpkins-store.com by using the discount code displayed at the checkout.**
*Does not include any compensation for travel and accommodation
**Offer is valid until July 31st, 2021. Cannot be combined with other offers or previous orders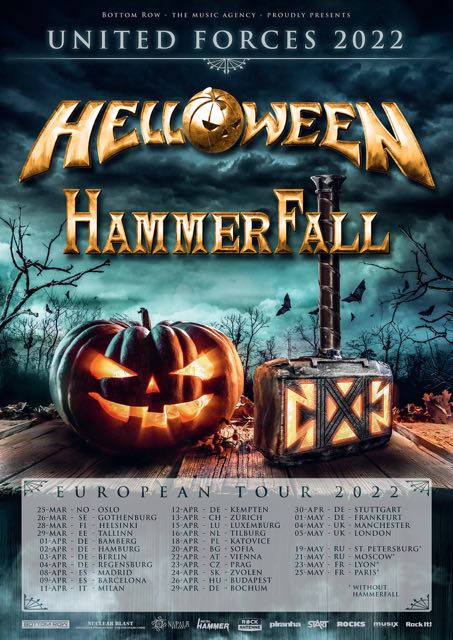 WHAT IS WORTH WAITING FOR: UNITED FORCES TOUR 2022
We all have to stick together to stand and endure this agonizing live music gap and because extraordinary circumstances require extraordinary measures, HELLOWEEN invited their friends from HAMMERFALL to join them on their European tour in order to create a tremendous metal-package together. The UNITED FORCES TOUR 2022 called alliance is not only the full HELLOWEEN experience, on top the fans will enjoy fine Swedish steel out of the HAMMERFALL forge. Both bands will have brand-new albums in their luggage and the European fans will be able to listen to the new songs live for the very first time on the UNITED FORCES TOUR 2022. The long–awaited end of the dry spell is in sight – coming with a double dose in March, April and May 2022 as we have to catch up two years of METALPARTY to get cured from a lot of withdrawal symptoms!
Andi Deris:"We are 'hammered' to have our friends from HAMMERFALL with us on tour! Back in 2002 the band produced their album "Crimson Thunder" in my studio in Tenerife and we had a lot of fun back then." This mega-package is delivering the appropriate metal-spectacle to enter the stage with full power! Oscar Dronjak can hardly wait: "We are so ridiculously excited about this! Not only do we get to go out on tour again after two looooooooong years of stage draught, but we get to do it with a band that we love and was a great inspiration to us in forming HAMMERFALL in the first place. The UNITED FORCES TOUR will be something truly special, you can count on that!"
For the dry run up front, HELLOWEEN is releasing their fantastic new album and with the unification of their three vocalists Kiske,Deris & Hansen the album reminiscences to all eras of the band's history. This already is a sensation in itself, but also HAMMERFALL is ready to release a brand-new record before the tour starts. A great forerunner to get warmed up for the double load of live power with the ultimate UNITED FORCES TOUR 2022. And whoever misses the just announced dates was probably never infected by the metal virus …
HELLOWEEN & HAMMERFALL
UNITED FORCES TOUR 2022
presented by Metal Hammer, Rockantenne, Piranha, Start, Rocks & Rock It
25-Mar-2022 NOR Oslo – Sentrum Scene
26-Mar-2022 SWE Gothenburg – Partille Arena
28-Mar-2022 FIN Helsinki – Black Box
29-Mar-2022 EST Tallinn – Noblessneri Valukoda
01-Apr-2022 GER Bamberg – Brose Arena
02-Apr-2022 GER Hamburg – Sporthalle
03-Apr-2022 GER Berlin – Verti Music Hall
04-Apr-2022 GER Regensburg – Donau Arena
08-Apr-2022 ES Madrid – Wizink Center
09-Apr-2022 ES Barcelona – St. Jordi Club
11-Apr-2022 IT Milan – Lorenzini District
12-Apr-2022 GER Kempten – bigBOX
13-Apr-2022 CH Zürich – Samsung Hall
15-Apr-2022 LUX Luxemburg – Rockhal
16-Apr-2022 NL Tilbourg – 013
18-Apr-2022 PL Katovice – MCK
20-Apr-2022 BG Sofia – Arena Armeec
22-Apr-2022 AT Vienna – Gasometer
23-Apr-2022 CZ Prag -O2
24-Apr-2022 SK Zvolen – Ice Stadium
26-Apr-2022 HU Budapest – Papp Laszlo Sportarena
29-Apr-2022 GER Bochum – Ruhrcongress
30-Apr-2022 GER Stuttgart – Schleyerhalle
01-May-2022 GER Frankfurt – Jahrhunderthalle
04-May-2022 UK Manchester – Manchester Academy
05-May-2022 UK London – Brixton Academy
19-May-2022 RU St. Petersburg – A2*
21-May-2022 RU Moscow – Adrenaline-Stadium*
23-May-2022 FR Lyon – Transbordeur*
25-May-2022 FR Paris – Olympia*
* without HAMMERFALL
Tickets: https://bit.ly/2E1KcHE
Helloween tickets that have already been purchased remain valid