KAMELOT Announce Support Acts For 2nd Leg Of European Tour
For The Shadow Theory!
EVERGREY and VISIONS OF ATLANTIS will join the mighty KAMELOT on their European Tour in March 2019!
,,Ladies and gentlemen, we are super excited to announce our second leg of the Shadow Theory Tour for Europe! Joining us on this sonic and visual journey will be Sweden's own Evergrey and symphonic standouts Visions of Atlantis. We are super pumped to get back on stage in Europe and bring the show to some new cities!", states Kamelot's Thomas Youngblood.

This monumental trek begins March 8th in Nijmegen, Netherlands, and runs through March 23rd, in Prestatyn, UK. A complete list of dates can be found below.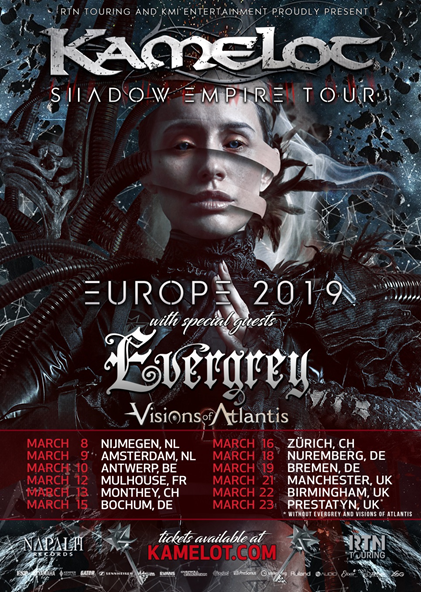 Evergrey's Tom Englund adds: ,,We're happy to announce that we will do some cool dates with our buddies in Kamelot in March! So make sure you join us in the cities we visit as this surely will be nights to remember for all involved!"

"Visions Of Atlantis will join the fleet of the Shadow Empire in 2019 and I am more than thrilled to share the stage with KAMELOT again! We had a great time together this year, enjoyed their powerful and flawless shows and felt intense vibes from their passionate crowd! We deeply thank KAMELOT for trusting in Visions Of Atlantis again and having us be the ones starting the game every night on this tour in March! EVERGREY are also bringing their forces and all together we will take you with us, through waves of bliss and pain, a blend of emotions your hearts will not forget!", states Clementine Delauney from Visions Of Atlantis.