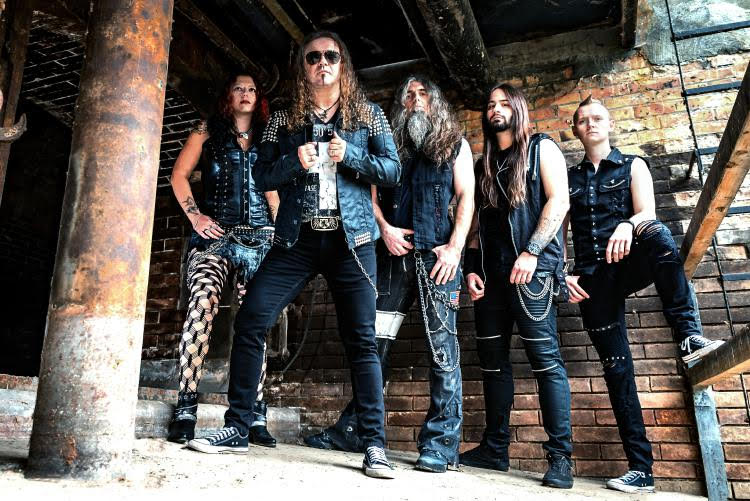 MYSTIC PROPHECY RELEASE THEIR THIRD OFFICIAL VIDEO
And Single for the song ,,Dracula''
MYSTIC PROPHECY release their third official video and single for the song ,,Dracula"; "THE METAL DIVISION" release tour starts this week
The track is taken from the band's upcoming album `Metal Division' out on January 10th, 2020.

Watch the video for ,,Dracula":




Get "METAL DIVISION" now here


Available as tri-fold digipak CD, Black Vinyl, Blue / White Split color Vinyl LTD. 100 copies, Transparent Green Vinyl LTD. 100 copies, Silver Vinyl LTD. 100 copies, Special LTD to 500 copies metallic boxset including digipak CD, Beanie, Lanyard, Autograph card, ROAR Music CD Compilation and also in streaming/download format!

MYSTIC PROPHECY return with a new ground-breaking Heavy Metal masterpiece filled with massive riffs, anthemic hooks and furious melodies! "METAL DIVISION" is definitely the band's heaviest and best work to date and will elevate MYSTIC PROPHECY where they belong: to the HEAVY METAL pantheon!

"METAL DIVISION" will be released through ROAR! Rock of Angels Records, physically and digitally worldwide on January 10th, 2020.

MYSTIC PROPHECY alongside special guests MOB RULES will embark on a European Tour this week in support of Mystic Prophecy's anticipated new album "METAL DIVISION"!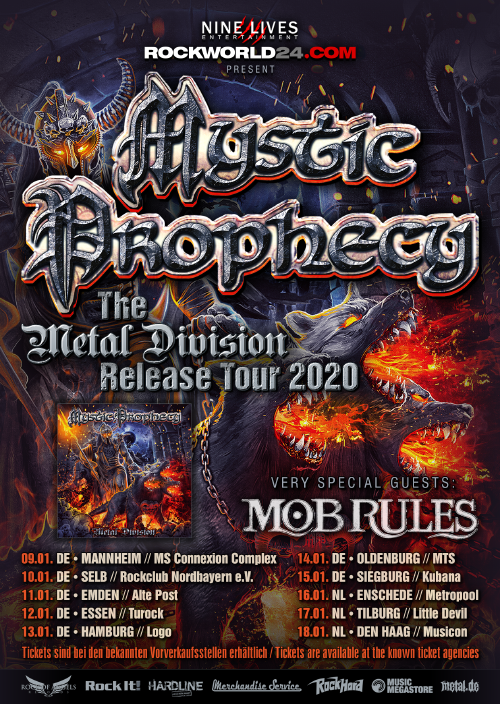 TOURDATES


"THE METAL DIVISION" release tour – MYSTIC PROPHECY + Very special guests MOB RULES
09.01.2020: Mannheim – MS Connexion – Guest: MOB RULES
10.01.2020: Selb – Rockclub Nordbayern e.V. – Guest: MOB RULES
11.01.2020: Emden – Alte Post – Guests: MOB RULES – ARTILLERY – SACROSANCT
12.01.2020: Essen – Turock – Guests: MOB RULES – WARRANT – GHOSTHER
13.01.2020: Hamburg – Logo – Guest: MOB RULES
14.01.2020: Oldenburg – MTS – Guest: MOB RULES
15.01.2020: Siegburg – Kubana – Guest: MOB RULES
16.01.2020: (NL) Enschede-Metropool – Guest: MOB RULES
17.01.2020: (NL) Tilburg – Little Devil – Guest: MOB RULES
18.01.2020: (NL) Den Haag – Musicon – Guest: MOB RULES


Presented by: Hardline, Rock Hard, Rock It !, metal.de and RockWorld24.com
Tickets are available at the known ticket agencies.



MYSTIC PROPHECY is:


Roberto Dimitri Liapakis – Vocals




Markus Pohl – Lead & Rhythm Guitar




Evan K – Lead & Rhythm Guitar




Joey Roxx – Bass




Hanno Kerstan – Drums


—
HBLS album review for Metal Division here

KEEP UPDATED
Mystic Prophecy Facebook here

#mysticprophecy #roar #headbangerslifestyle #hbls #awayoflife #mobrules #dracula