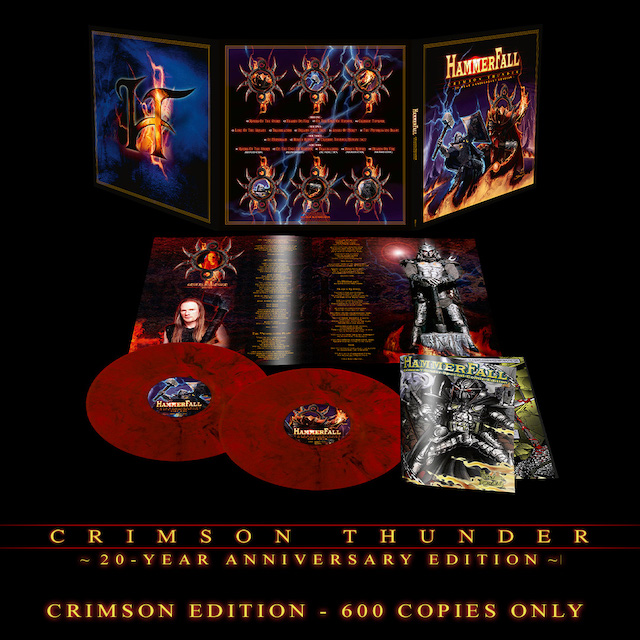 News | HammerFall Announce 20-Year-Anniversary Edition
Of `Crimson Thunder'
+++OFFICIAL PRESS RELEASE BY NUCLEAR BLAST RECORDS+++
HammerFall Announce 20-Year Anniversary Edition of `Crimson Thunder' and drop remixed & remastered version of Hearts On Fire.
Swedish Power Metal legends HammerFall recently announced their return to Nuclear Blast and celebrated a career milestone when it was announced that their albums Renegade, Crimson Thunder, No Sacrifice, No Victory and Chapter V: Unbent, Unbowed, Unbroken had all achieved gold status in Sweden. And stoking the flames even higher – it was revealed that Crimson Thunder had surpassed 60,000 sales and hit platinum status.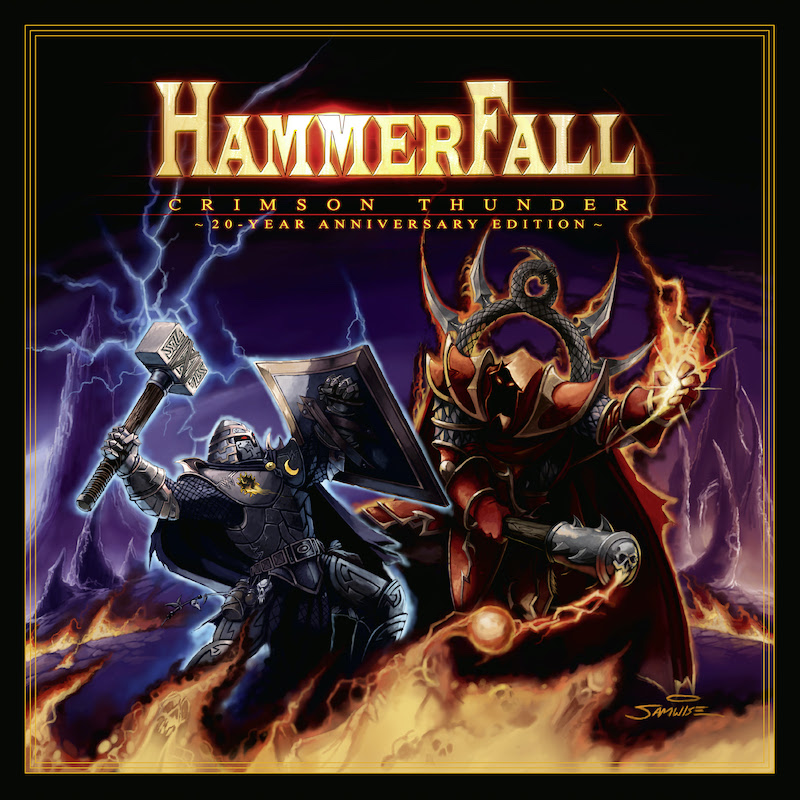 The band are proud to announce a special 20-year anniversary edition of Crimson Thunder, which will be released on April 28th via Nuclear Blast Records, continuing their retrospective series.
Their fourth studio album has been remixed and remastered by Fredrik Nordström and this definitive version will include previously unreleased pre-production tracks, a brand-new medley and live acoustic songs.
To give their fans a taster, here is a remixed and remastered version of their most popular song ´Hearts On Fire´.
Listen / pre-order HERE
WATCH THE VIDEO HERE:
GUITARIST OSCAR DRONJAK COMMENTS:
"There is a lot to look forward to with this release even if you're a die hard Templar with everything already in your collection: brand new album remix by Fredrik Nordström, never-before heard preproduction bonus tracks, exclusive acoustic live versions, this anniversary edition is packed with unique stuff that sees the light of day for the first time. This is our biggest anniversary edition yet!"
Crimson Thunder 20-Year-Anniversary Edition comes in following formats:
Digital Album
3CD Digi Box
Platinum Edition – 2LP Trifold Silver Vinyl
Crimson Edition – 2LP Trifold Marbled Red /Black Vinyl
Thunder Edition – 2LP Trifold Marbled Blue/White/Black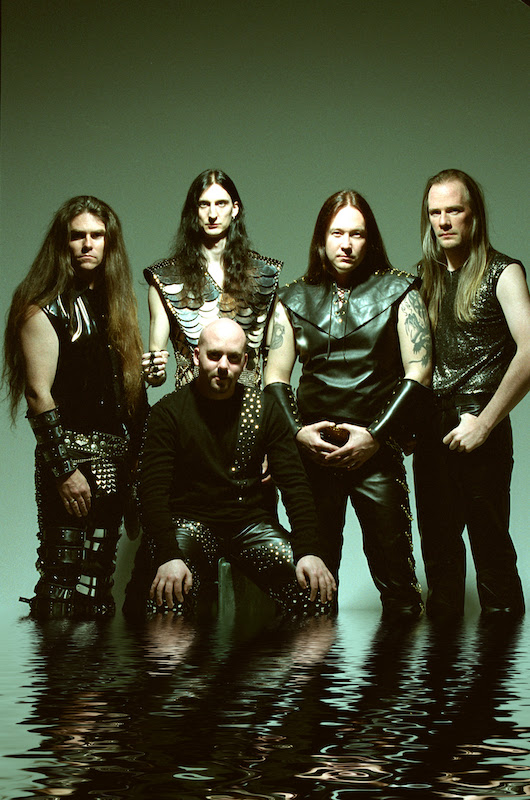 HAMMERFALL TOURDATES:
Europe:
24.03.23 SE Örebro – Frimis Salonger
25.03.23 SE Karlstad – Nöjesfabriken
31.03.23 SE Skövde – Skövde Kulturhus
01.04.23 SE Huskvarna – Folkets Park
14.04.23 SE Sundsvall – Club Deströyer
15.04.23 SE Umeå – Nolia
20.04.23 SE Malmö – Kulturbolaget
21.04.23 SE Kalmar – Kalmar Salen
22.04.23 SE Sälen – Högfjällshotellet
27.04.23 SE Stockholm – Cirkus
05.05.23 DE Bochum – RuhrCongress *with Helloween
06.05.23 DE Hamburg – Sporthalle *with Helloween
US Tour
12.05.23 US Houston, TX – Wharehouse Live
13.05.23 US Dallas, TX – The Factory
15.05.23 US Atlanta, GA – The Masquerade
16.05.23 US St Petersburg, FL – Jannus Live
18.0523 US Silver Spring, MD – The Fillmore
19.05.23 US Philadelphia, PA – Underground Arts
20.05.23 US New York City, NY – Terminal 5
21.05.23 US Worcester, MA – Palladium
22.05.23 CAN Montreal, QC – Théâtre Fairmount
23.05.23 CAN Toronto, ON – History
24.05.23 US Royal Oak, MI – Music Theatre
25.05.23 US Columbus, OH – The King of Clubs
26.05.23 US Chicago, IL – Riviera Theatre
27.05.23 US Minneapolis, MN – Fillmore
28.05.23 US Lawrence, KS – The Granada
30.05.23 US Denver, CO – Ogden Theatre
31.05.23 US Salt Lake City, UT – Metro Music Hall
01.06.23 US Las Vegas, NV – Brooklyn Bowl
02.06.23 US Inglewood, CA – YouTube Theater
03.06.23 US San Francisco, CA – The Warfield
04.06.23 US Roseville, CA – Goldfield Trading Post
Festivals:
24.06.23 NO Oslo – Tons Of Rock
15.07.23 AU Leoben – Area 53 Festival
12.08.23 ES Villena – Leyendas Del Rock
16.-19.08.23 DE Dinkelsbuehl – SummerBreeze
17.-19.08.23 CZ -Moravsky Krumlov-Castle Garden – Rock Castle