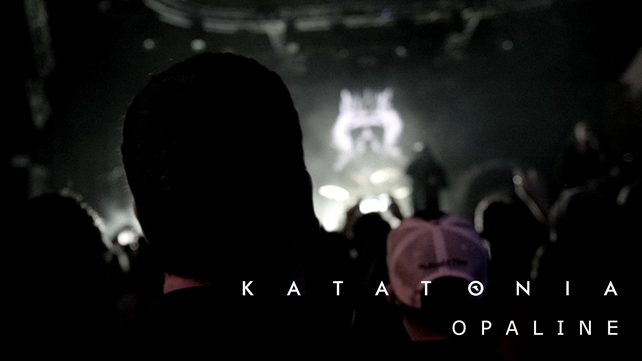 News | Katatonia New Album and Music Video
For the track ,,Opaline''
+++OFFICIAL PRESS RELEASE BY NAPALM RECORDS+++
Gloomy Metal Masters Katatonia unveil spectacular Napalm Records debut `Sky Void Of Stars' (out now). New music video and Tourdates.
The day has come to dive into the most beautiful realms of melancholy, as Swedish grand seigneurs of gloom Katatonia have finally unveiled their Napalm Records debut and new studio album, Sky Void of Stars. With Sky Void of Stars, Katatonia have already enthralled critics and fans worldwide – resulting in extensive streaming and video views as well as various cover stories. On top, the album ranks at #1 on several soundchecks like German Rock Hard and Legacy Magazine.
With a captivating, story driven music video for hypnotizing "Opaline", the entity around founding members Jonas Renkse and Anders Nyström not also emphasizes the release, but also teases their Twilight Burials EU & UK tour with Sólstafir and SOM – kicking off today in Tampere, Finland. The video shows impressions from the band's latest US tour and prepares fans for a unique live experience to remember. "Opaline" embraces Katatonia's intense, genre-bending style, significantly shaping the scene while still staying true to their own musical values.
Daniel Moilanen on "Opaline":
"Opaline. A bleak, yet thunderous anthem for our empty sky. A dim gaze upon a time deliberately fleeting like the migratory bird. A final single and a taste of the future?"
WATCH THE OFFICIAL VIDEO FOR ,,OPALINE" HERE:
Founded in 1991, Katatonia have continually embraced the dark and the light alike and – living through genre evolutions beyond compare – ripened their own particular form of expression. Carving their way from their nineties gothic-tinged doom metal to the ethereal post-metal entity they are today, the band is ready to showcase its brilliance and illuminate the void in the scene with Sky Void of Stars.
KATATONIA ON THE NEW ALBUM, SKY VOID OF STARS:
"Our 12th album, Sky Void of Stars, is a dynamic journey through vibrant darkness. Born out of yearning for what was lost and not found, the very peripheries of the unreachable, but composed and condensed into human form and presented as sounds and words true to the KATATONIA signum. No stars here, just violent rain."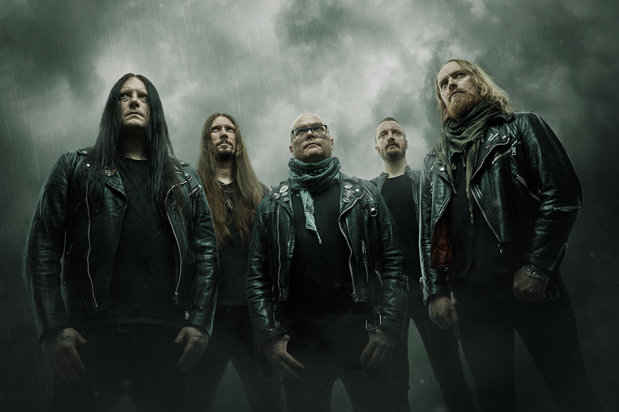 Emerging from the gloom, Katatonia is a beacon of light – breathing their unique, never stagnant, atmospheric sound through this new offering, all written and composed by vocalist Jonas Renkse. Album opener "Austerity" provides a courting introduction to the album. Crashing through the dark, it convinces with memorable, mind-bending rhythms as it shifts with elaborate guitar riffs that perfectly showcase the musical expertise and experience of the band. Topped off by the dark, conjuring voice of Renkse and mesmerizing lyricism, the gloomy mood for the album is set. Songs like down- tempo "Opaline" and moody "Drab Moon" fully embrace their melancholic sound while fragile "Impermanence" is accented by the original doom metal roots of Katatonia.
Like a dark star, these pieces relume the dreariness, creating an ambient auditory experience with memorable hooks while still inducing the crashing sounds of hard guitar riffs and pounding drums. The experimental mastery of the quintet and their atmospheric approach is purely vivid, making this album a thrilling sensation. With "Birds", the artists show off their explosive potential with a quick and energetic sound, proving their genre-defying style. Dazzling drums and heavy guitar riffs reflect the influence of their humble beginnings, while "Atrium" also plays into this highly energetic atmosphere, maintaining the gloomy ambience that characterizes Katatonia with epic sounds and poetic lyrics to get lost in.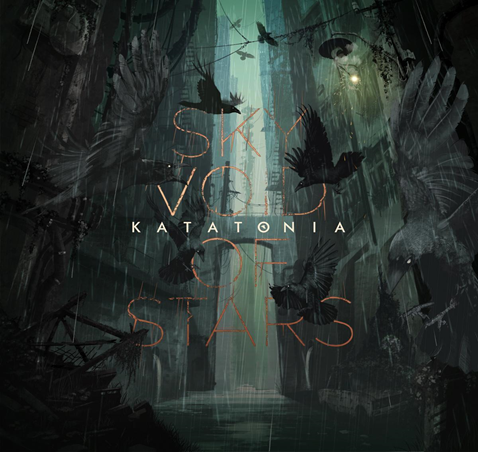 SKY VOID OF STARS TRACK LISTING
1 Austerity
2 Colossal Shade
3 Opaline
4 Birds
5 Drab Moon
6 Author
7 Impermanence (feat. Joel Ekelöf)
8 Sclera
9 Atrium
10 No Beacon To Illuminate Our Fall
11 Absconder (Mediabook Bonus Track)
VARIOUS FORMATS
Sky Void of Stars is now available in the following configurations:
Ltd. Deluxe Wooden Box (incl. Mediabook + Digipack Atmos Mix BluRay + Crow Pendant + Star Chart Artprint + Pin) – Napalm Records exclusive – SOLD OUT!
Die Hard Edition 2LP Gatefold Ink Spot / FOREST GREEN (incl. Slipmat, Patch, 12 pages poster) – Napalm Records exclusive – SOLD OUT!
2LP Gatefold DARK GREEN – Napalm Records exclusive – SOLD OUT!
2LP Gatefold MARBLED TRANSPARENT/DARK GREEN – OMerch exclusive
2LP Gatefold MARBLED CRYSTAL CLEAR/BLACK – OMerch exclusive
2LP Gatefold BLACK
1CD Ltd Mediabook (incl. Bonus Track)
1CD Jewelcase
Digital Album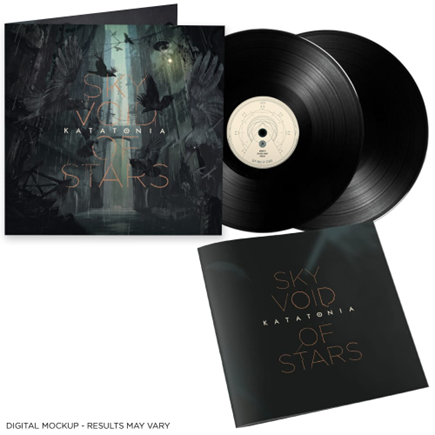 EXPERIENCE KATATONIA LIVE 2023*
Twilight Burials UK & Europe Tour
w/ Sólstafir and SOM
20.01.23 FI – Tampere / Tampereen Tullikamari (Pakkahuone & Klubi) – SOLD OUT!
21.01.23 FI – Helsinki / Kulttuuritalo
22.01.23 EE – Tallinn / Helitehas
24.01.23 PL – Warsaw / Klub Stodoła
25.01.23 DE – Berlin / Huxleys Neue Welt
26.01.23 DE – Cologne / Essigfabrik – SOLD OUT!
27.01.23 DE – Stuttgart / LKA Longhorn
28.01.23 CZ – Prague / ROXY Prague
29.01.23 AT – Vienna / Arena Wien
31.01.23 HU – Budapest / Akvárium Klub
01.02.23 DE – Munich / Backstage Werk
02.02.23 CH – Zurich / Komplex 457
03.02.23 IT – Milan / Live Club
04.02.23 FR – Lyon / Ninkasi Kao – SOLD OUT!
06.02.23 ES – Madrid / Kapital
07.02.23 ES – Barcelona / La Salamandra
08.02.23 FR – Toulouse / Le Metronum
10.02.23 GB – London / O2 Forum Kentish Town
11.02.23 GB – Manchester / O2 Ritz Manchester
12.02.23 GB – Bristol / Marble Factory
13.02.23 GB – Glasgow / The Garage
14.02.23 GB – Wolverhampton / KK's Steel Mill
16.02.23 DE – Frankfurt Am Main / Batschkapp
17.02.23 NL – Haarlem / Patronaat – SOLD OUT!
19.02.23 FR – Paris / Le Trianon
20.02.23 LU – Luxembourg / Rockhal
21.02.23 BE – Antwerp / Muziekcentrum Trix
22.02.23 DE – Hamburg / Gruenspan
23.02.23 DK – Copenhagen / Amager Bio
24.02.23 NO – Oslo / Rockefeller Music Hall
25.02.23 SE – Stockholm / Fryshuset Arenan
Latin American Tour
17.03.23 MX – Guadalajara / C3 Stage
18.03.23 MX – Monterrey / Cafe Iguana
19.03.23 MX – Mexico City / Cafe Auditorio
22.03.23 CH – Santiago / Club Chocolate
24.03.23 AR – Buenos Aires / El Teatrito
25.03.23 BR – São Paulo / Carioca Club
KATATONIA ARE:
Jonas Renkse – Vocals
Anders Nyström – Guitars
Roger Öjersson – Guitars
Niklas Sandin – Bass
Daniel Moilanen – Drums